Learn all about the dimensions and measurements of various loaf pan sizes. Whether you're just learning to bake or you've been in the kitchen for a lifetime, the size of baking pans can be tricky!
I love using a wide variety of loaf pans for my array of quick bread recipes and pound cakes, too. There is no end to the delicious treats you can create, but it's important to know how to choose the correct size of loaf pan.
Let's get ready to bake with this complete guide!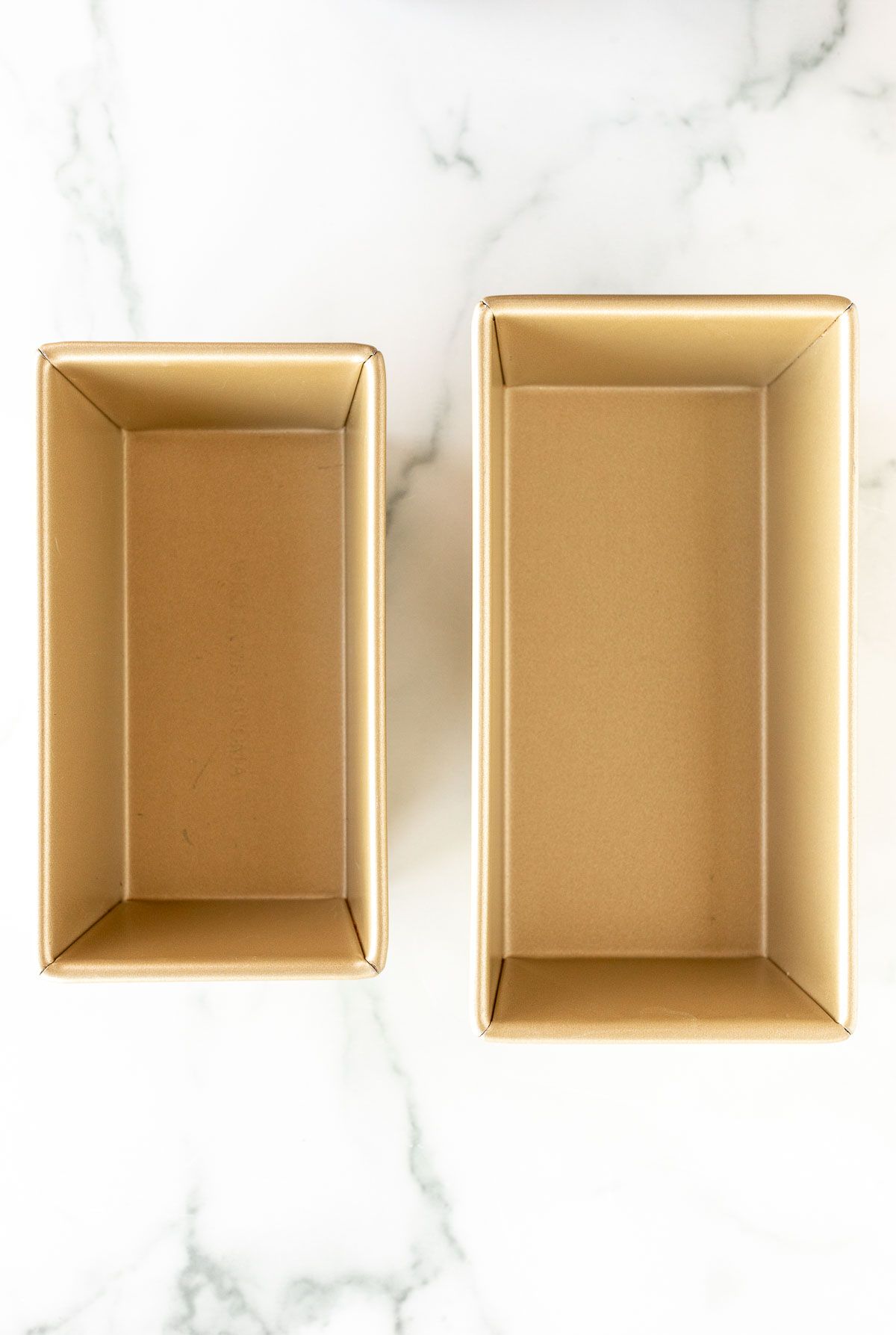 How do you know what size, shape and material to choose for your loaf pans? Should baking times be adjusted when you're using different materials?
Glass, metal, ceramic, stoneware, silicone… there are so many options! It can be confusing even for an expert baker.
One thing I know for sure is that baking is supposed to be fun, not stressful. I'm here to guide you through the options and making your next baking project a breeze!
In fact, I've already shared a complete guide to baking pan sizes. Today, though, we're taking a deep dive into loaf pans – which seems to be one of the most frequently asked questions I receive.
I've got so many incredible quick bread recipes (35+ in fact), so don't skip all the delicious ways to fill your loaf pans!
This simple guide will help you make quick choices when you're getting ready to bake. Don't forget to pin and save for later so you'll have it when you need it!
Use the drop down Table of Contents menu to navigate this post. I'm sharing traditional measurements, types and styles of loaf pans – plus sources for my favorites! Let's learn together!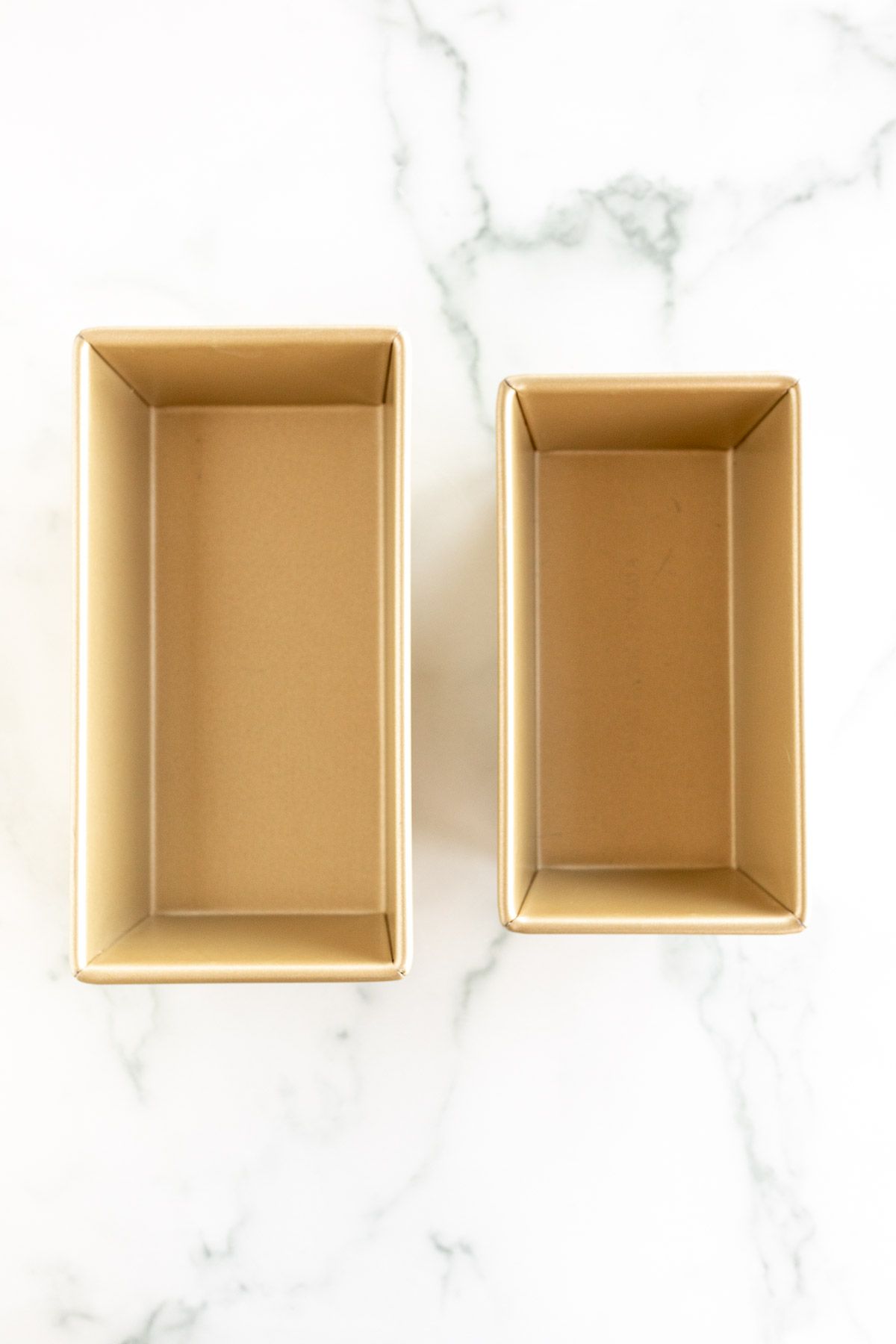 What Is a Standard Loaf Pan?
New to baking? Unsure of where to start? There's good news – you can make so many delicious recipes with nothing more than a classic, inexpensive standard loaf pan.
Here in the US, if a recipe is referring to a standard loaf pan, it's generally 8 1/2 x 4 1/2 x 2 1/2 inches. This is considered a one pound loaf pan, holding around 6 cups. In fact, if you're looking to buy a starter loaf pan, this is the one you'll need!
Another popular size to consider is a 9×5 loaf pan. This is the 1 and 1/4 pound loaf pan, holding about 8 cups.
Generally, each of these two popular sizes is just 2 1/2 to 2 3/4 inches tall. The difference between these two sizes might not seem like much… but the volume is what matters.
While this size difference might seem insignificant, it does result in a 15% difference in capacity. When it comes to baking, that can have a big impact!
Choosing the Right Size
What happens if you use the wrong size of pan? It's often not the end of the world, but it can certainly change the results of your recipe.
Under-filling the pan tends to work out just fine. Your recipe will bake a little faster and might not raise as high as you're expecting, but the results will still be delicious.
Over-filling the pan can end differently! Often, your batter will spill over, burning on the bottom of your oven. This will result in an uneven result – we've experienced burnt edges and raw center in these instances.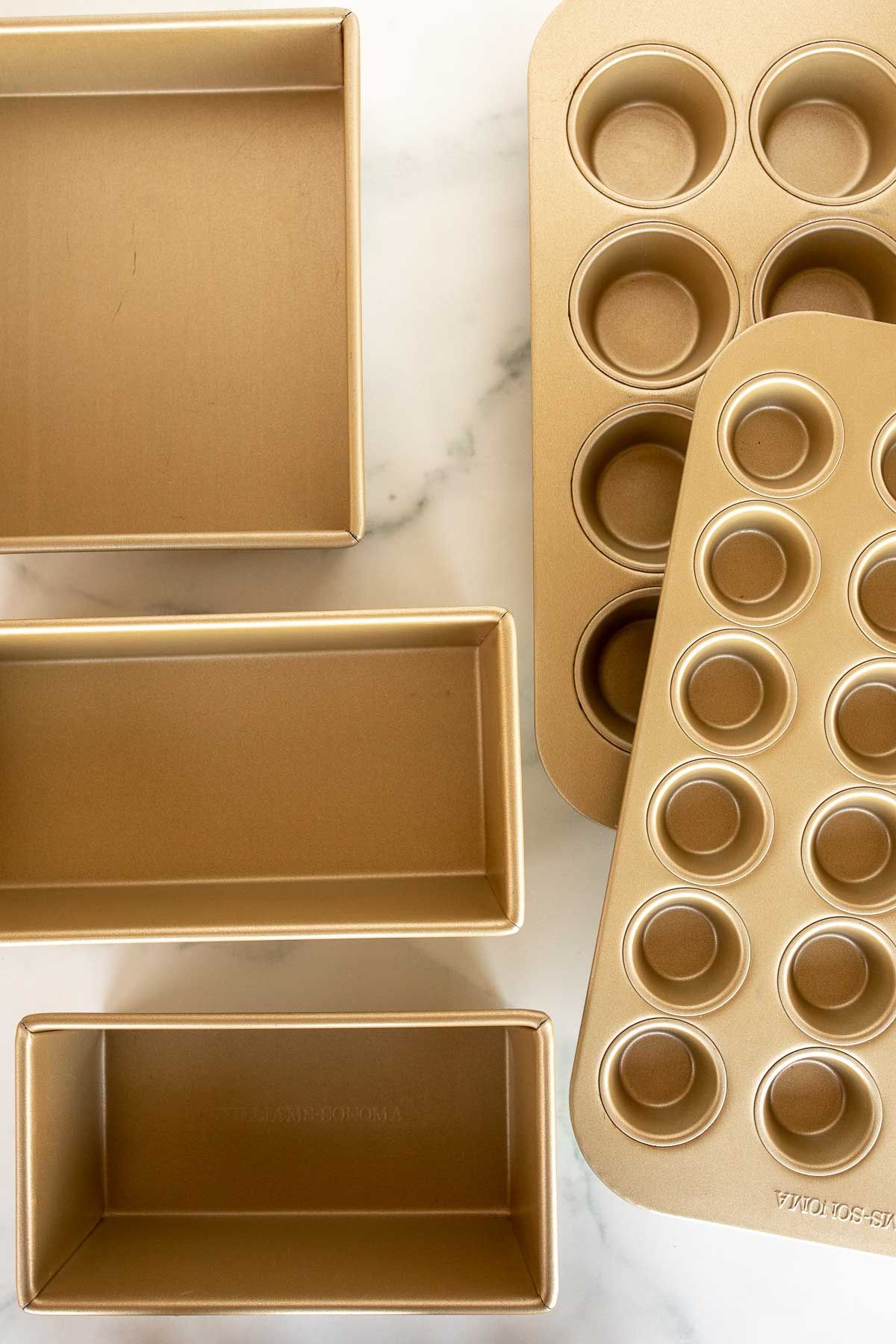 What if your Recipe Doesn't Specify Size?
If your recipe doesn't specify a loaf pan, go with the classic 8 1/2 x 4 1/2.
Here's a quick tip for how to know when your loaf pan is too full! If you've ever baked cupcakes from a box mix, you'll note that the directions suggest filling each liner 2/3 of the way full.
Similarly, 2/3 of the way full is the limit for your loaf pans! Don't over-fill your batter. Use it to make muffins or fill a second, smaller loaf pan. Mini loaf pans make wonderful gifts if you have leftover batter!
Tips
Are your quick breads short and low instead of rising high and fluffy? The size of your loaf pan may be to blame.
Loaf pan sizes are not insignificant, because the pan volume can make a major difference in your baking.
Don't overfill your loaf pan if you've got some extra batter. Use the leftover batter to make muffins.
On that note, if you're only filling a few of the muffin spots, use some water in the remaining openings to prevent warping.
Different Materials
There are so many options when it comes to the materials for your loaf pans, too! I've used a wide variety of materials over the years, and I tend to always come back to my metal pans as favorites. (With the exception of pies, where I love ceramic or glass.)
My favorite metal pans are linked below. Generally, it's not recommended to bake quick breads in glass, as this can change your bake time.
Silicone is another option that can work for some items. It tends to help with recipes that contain lower fat and oils, as it helps keep your baked loaves from sticking. Silicone won't allow for the beautifully browned top you're looking for!
Stoneware is great for loaf pans, but it's expensive and heavy. That makes it a little more cumbersome to store and use frequently!
Don't forget inexpensive metal, paper or ceramic mini loaf pans! I've used these in many of my favorite quick bread recipes and they make wonderful gifts. You can find them in the dollar section at Michael's Craft Stores.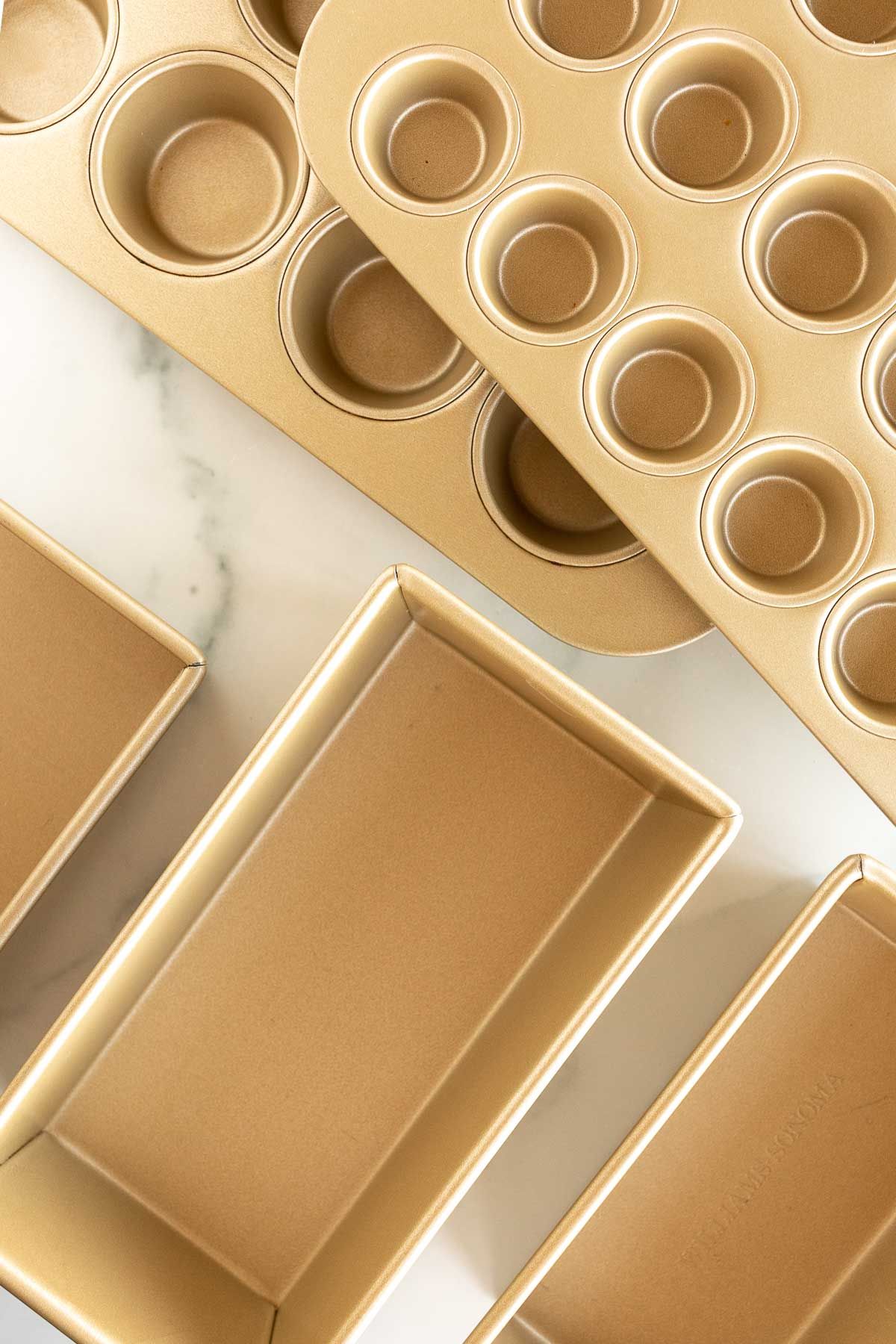 Frequently Asked Questions
Do glass pans take longer to bake than metal?
Yes! Metal heats up faster than glass, resulting in longer bake times for your glass baking pans. If you choose to use glass loaf pans, reduce your oven temp by 25 degrees and add 5-10 minutes to the bake time.
What is the best size loaf pan to buy?
If you're just getting started, buy the classic 8 1/2 x 4 1/2. However, if you're expanding your loaf pan collection, choose several sizes to ensure you're covered for a variety of loaf recipes!
Scaling up, down or substituting? You'll love this printable Measurement Conversion Chart!
Sources
I'm a big fan of the Goldtouch line from Williams Sonoma. It bakes evenly and washes beautifully. Their loaf pans tend to be a little deeper than other brands, which I like!
The measurements for their three sizes of classic pans are as follows:
1 lb. Loaf Pan: 8 1/2″ x 4 1/2″ x 2 3/4″ high; 1-lb. cap.; 1 lb.
1 1/4 lb. Loaf Pan: 9″ x 5″ x 2 3/4″ high; 1-lb. cap.; 1 lb. 4 oz.
1 1/2 lb. Loaf Pan: 10″ x 5″ x 3″ high; 1 1/2-lb. cap.; 1 lb. 3 oz.
I also love a pretty stoneware baking dish, as well as gorgeous cast aluminum loaf pans that come with the prettiest shapes.
Hungry for more easy recipes? Sign up for my free recipe club and have amazing recipes delivered directly to your inbox each week!