Made with just a handful of ingredients, pumpkin ice cream is going to blow you away. The bold flavor of pumpkin is sweetened and spiced and whipped into an easy-to-make ice cream.
It doesn't require cooking or an ice cream maker, and takes less than five minutes hands-on time. You've got to try this!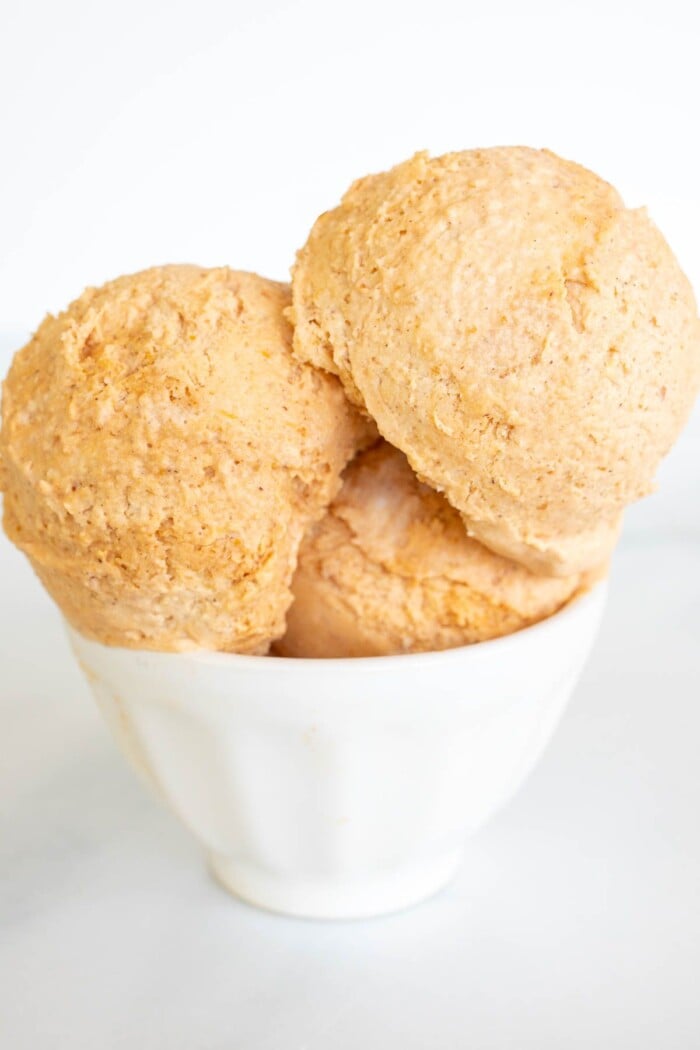 Seriously, when pumpkin season is on the horizon, I can't stop myself from making my favorite pumpkin and spice recipes. I mean, why not?
I serve Pumpkin Pound Cake and Pumpkin Chocolate Chip Muffins for breakfast and brunches. Pumpkin Sugar Cookies and Easy Pumpkin Bars are also regulars on the dessert table around here.
I am thrilled to inform you that pumpkin and its best friend, spices, once again unite for a delicious and decadent fall-inspired dessert – ice cream!
While it's true that pumpkin is most often incorporated into warm, baked desserts, but I'm here to tell you that it is equally as delicious in a frozen, creamy ice cream form. Mixing cool and creamy ice cream with spices and pumpkin is magic in every mouthful.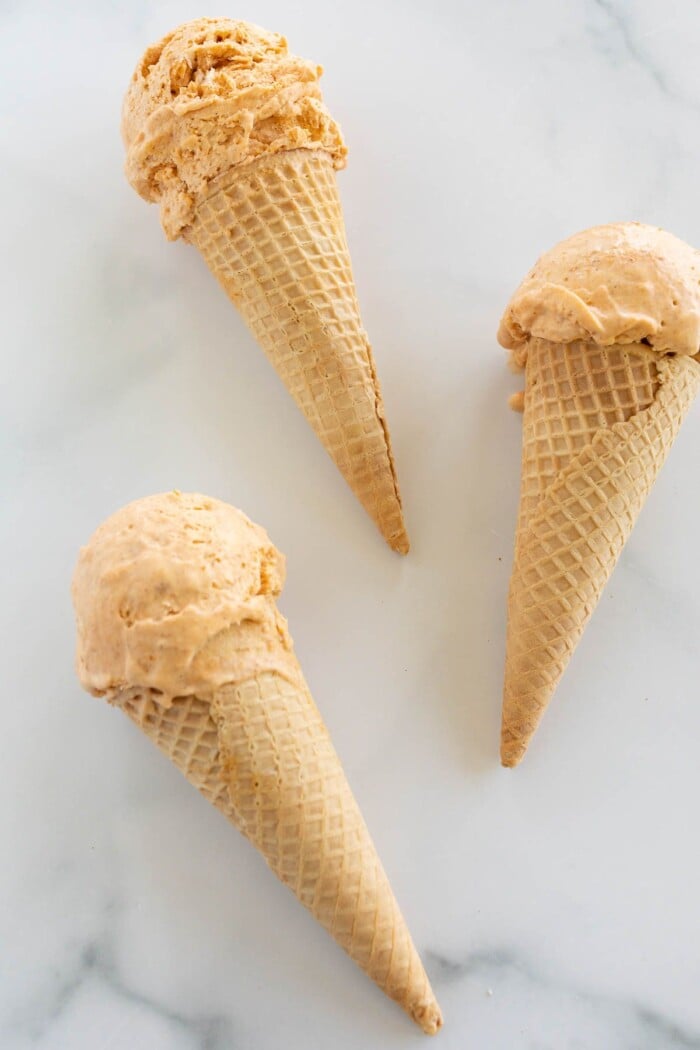 Why You'll Love this pumpkin ice cream
Smooth and silky
Like pumpkin pie in ice cream form
Perfect to serve at a gathering
No cooking or ice cream maker required
Pumpkin Ice cream Ingredients and Substitutions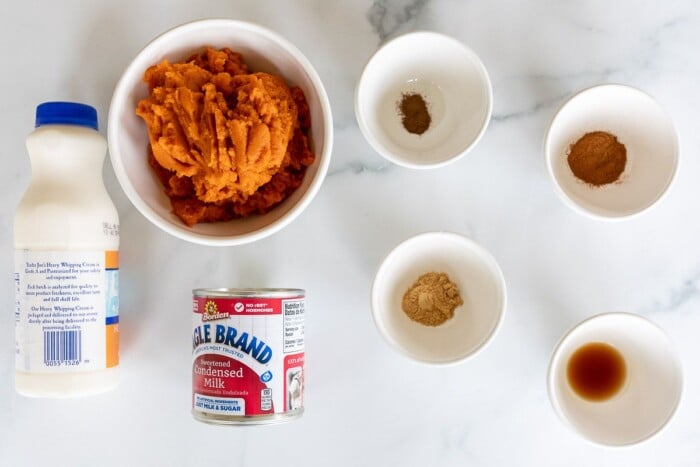 Heavy Cream – Heavy cream really makes the ice cream smooth and deliciously thick and creamy.
Sweetened Condensed Milk – This is the sweetener – in place of sugar – in this ice cream. The ice cream will be firm, but the condensed milk keeps it soft enough to scoop. Do not confuse this with evaporated milk.
Canned Pumpkin – Use a nice quality canned pumpkin – or your own if you grow and harvest your own pumpkins – for delicious seasonal flavor.
Vanilla – Pure vanilla extract works to enhance the other ingredients with its mild, smooth flavor.
Cinnamon – This is the spice that really livens up the pumpkin flavor.
Ginger – This spice pairs beautiful with cinnamon and adds a fun kick of flavor.
Cloves – Cloves are intense and it doesn't make of them, but it really adds a depth of flavor to the ice cream.
Variations
Pumpkin Pie Spice – Substitute 2 ½ teaspoons of pumpkin pie spice in place of the cinnamon, ginger, and cloves.
Add-ins – Crumbed cookies, cheesecake bites, chocolate chips, graham cracker crust chunks. Gently stir these in after the ice cream has set for a couple of hours.
How to Make Pumpkin Ice Cream in Just 3 Easy Steps
Beat the heavy cream until peaks form. Can use hand-held or stand mixer. You can determine if the peaks are ready by lifting your beaters out of the cream – if peaks form from the cream, it is ready.
Blend the rest of the ingredients together until incorporated.
Pour into a loaf pan and place in freezer until completely frozen. You can use any freezer safe container.
Watch the video where Julie will walk you through each step of this easy recipe. You will find a collection of recipe videos right here on our website with corresponding recipes.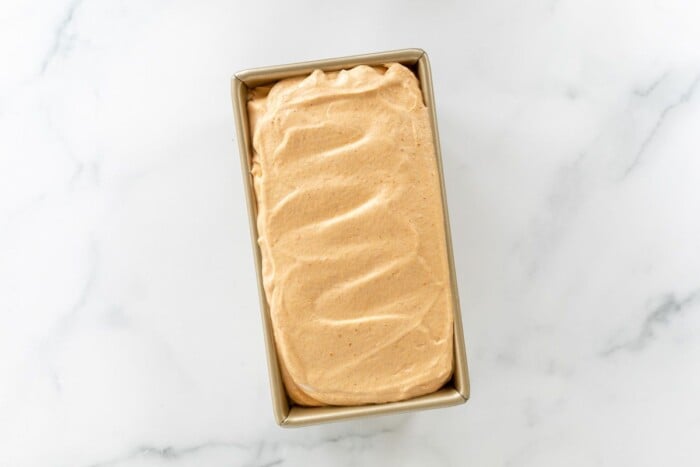 Serving Suggestions
Serve scoops of pumpkin ice cream with a sprinkle of cinnamon on top .
Serve with a Homemade Brownie for a fun flavor combination.
Place a scoop of ice cream between 2 Cinnamon Sugar Cookies (without the icing). Wrap individually with plastic wrap and freeze for 2 hours to harden the cookie sandwich.
Spread ice cream into a delicious Graham Cracker Crust or Shortbread Crust before freezing. Make sure to cover with plastic wrap before placing in the freezer.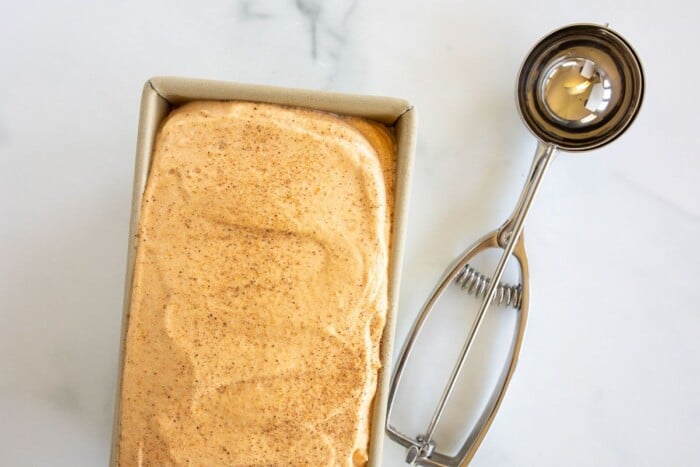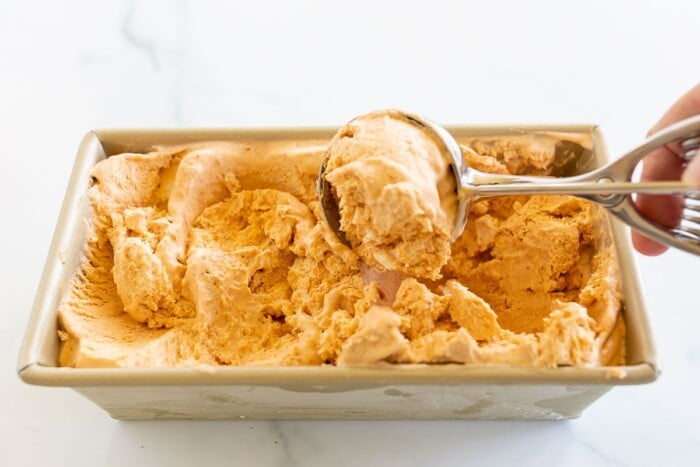 Tips
Make sure you mix the whipping cream until peaks form, but don't overbeat or will turn into butter!
Use cold heavy cream; it whips up better.
Fully incorporate the ingredients so no clumps of pumpkin remain.
Line your loaf pan with plastic wrap before pouring ice cream liquid in. When it is fully frozen you can lift up the plastic wrap and ice cream. Slice the ice cream to serve in squares.
Let ice cream fully freeze. This can take up to 6 hours, so plan ahead. It will still be delicious if you take it out a couple of hours early, but will be quite a bit softer.
The back of your freezer is usually the coldest, so put your ice cream container there.
Scaling up, down or substituting? You'll love this printable Measurement Conversion Chart!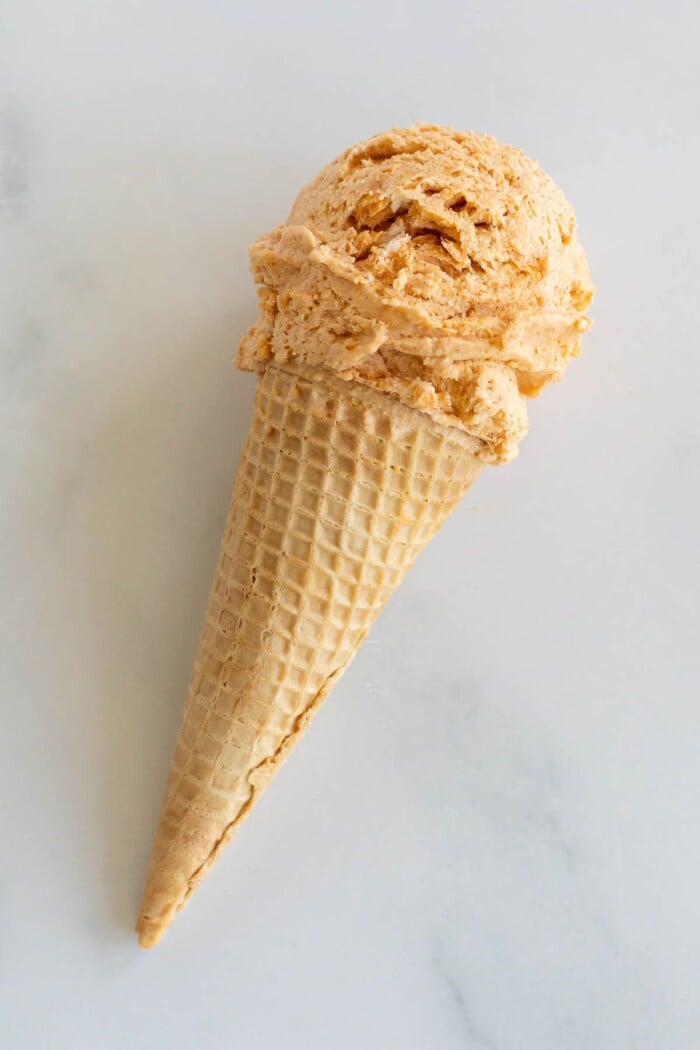 Shortcuts
Chill your mixing bowl beforehand so the cream will set up faster.
Combine your spices ahead of time.
Frequently Asked Questions
Can I replace the sweetened condensed milk with evaporated milk?
These two varieties of canned milk are very different and are not substitutes for each other. Sweetened condensed milk is a thick, intensely sweet syrup that aids in the consistency and texture of ice cream. Evaporated milk is not sweet at all and would freeze hard.
Can I use light or reduced fat ingredients?
Using light or reduced fat ingredients would work to some degree, but your results may vary. Heavy whipping cream keeps the ice cream rich and creamy due to its high fat content whereas a light cream would produce a grainier texture. You would probably have success using a lower fat sweetened condensed milk, but I prefer using the full fat variety because I'm eating ice cream!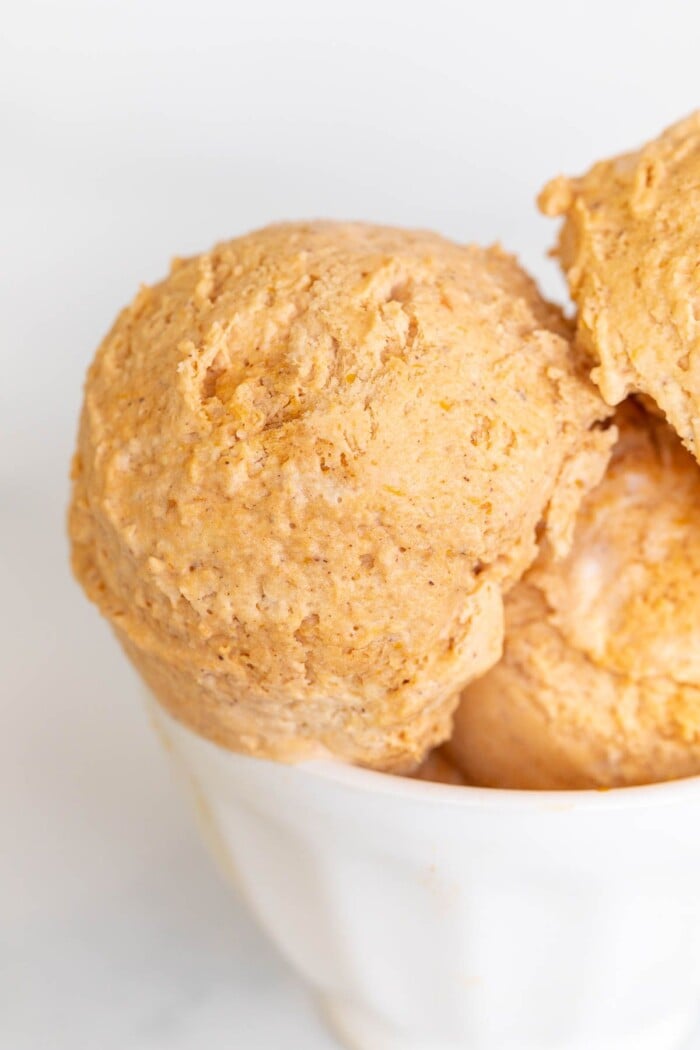 How to Store
Store any leftovers in a freezer safe container. Double-wrapping is a good idea, too. Place plastic wrap directly on the ice cream and then place container lid on top.
Fresh ice cream will taste delicious for 2 weeks. After that the ice cream will form ice crystals and not taste as fresh and creamy.
What to Do with Leftovers
Blend some pumpkin ice cream with a little milk for a delicious shake.
Use leftovers as a layer in an ice cream cake.
Dietary Considerations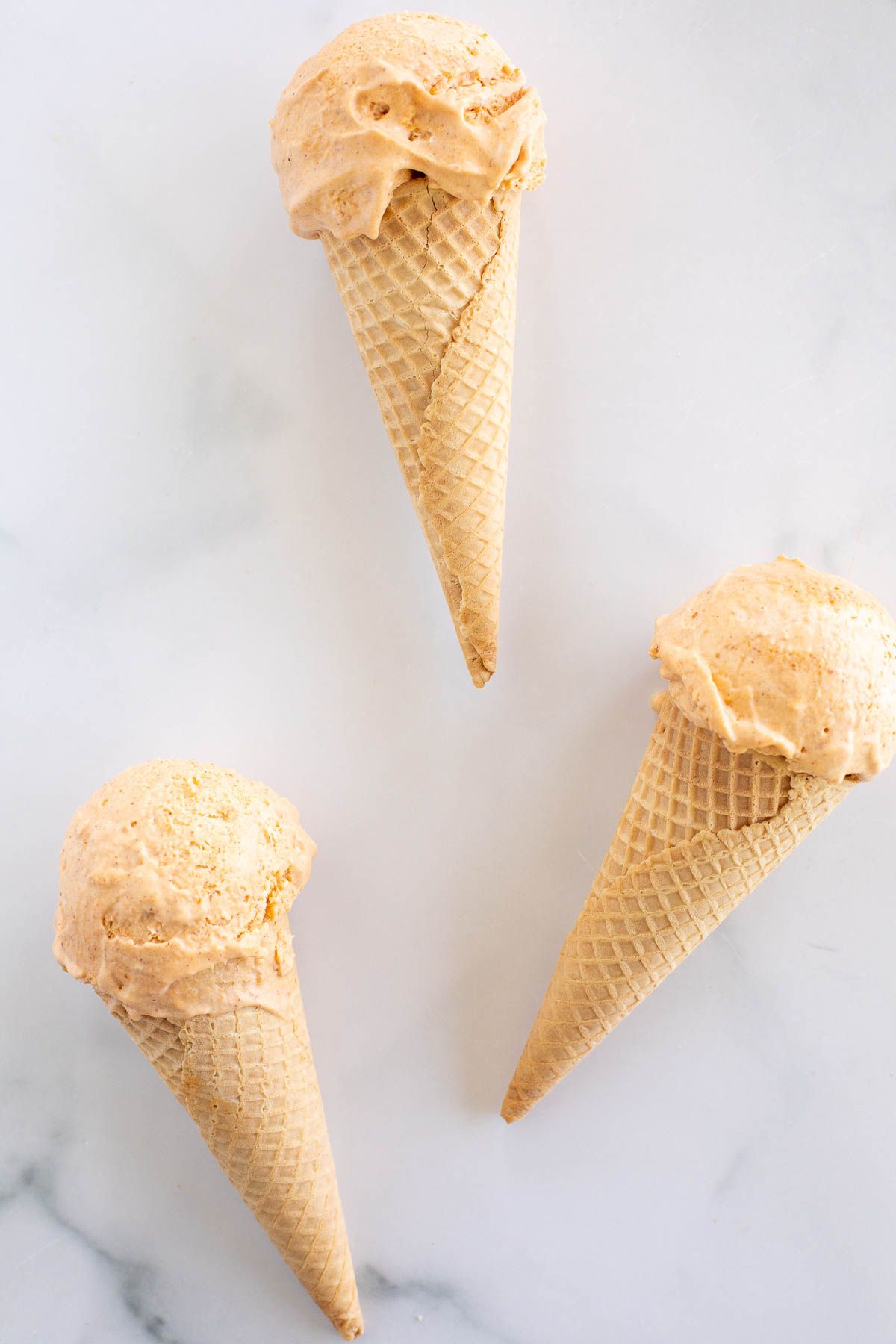 More Ice Cream Inspiration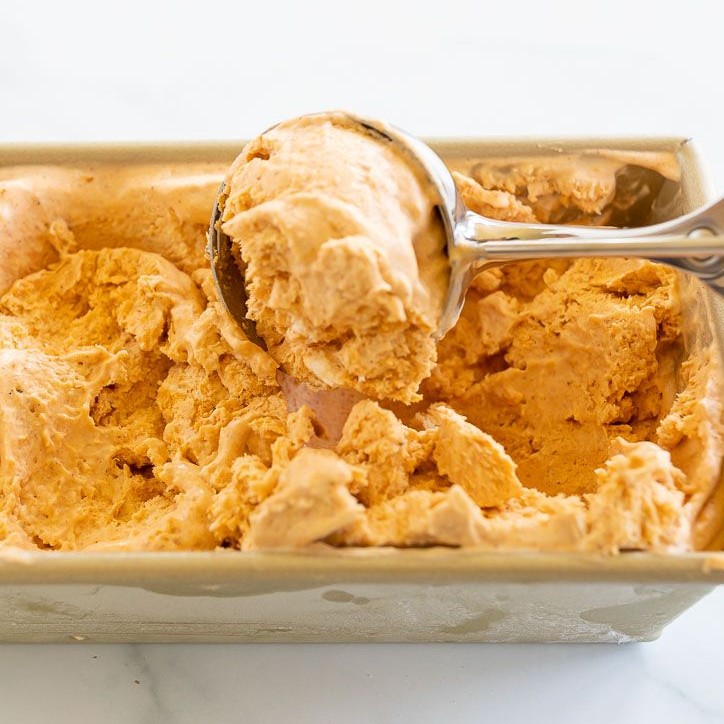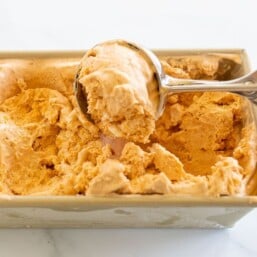 Pumpkin Ice Cream
A rich and creamy, perfectly spiced pumpkin ice cream that is incredibly delicious and easy to make!
Instructions
In a mixing bowl, beat cream until it forms peaks.

Blend in sweetened condensed milk, pumpkin, and spices until fully combined.

Pour into a loaf pan, or other freezer safe pan, and place in freezer until solid. It will take about 6 hours to fully freeze.
Tips
Tips
Use cold whipping cream.
To freeze faster, pour into smaller containers.
Blend in marshmallows or sprinkles for even more fun!
To Store
Freeze covered in an airtight container or covered in plastic wrap up to two weeks.
Substitutions
Pumpkin Pie Spice – Substitute 2 ½ teaspoons of pumpkin pie spice in place of the cinnamon, ginger, and cloves.
Add-ins – Crumbed cookies, cheesecake bites, chocolate chips, graham cracker crust chunks. Gently stir these in after the ice cream has set for a couple of hours.
Calories:
250
kcal
|
Carbohydrates:
23
g
|
Protein:
4
g
|
Fat:
16
g
|
Saturated Fat:
10
g
|
Polyunsaturated Fat:
1
g
|
Monounsaturated Fat:
4
g
|
Cholesterol:
58
mg
|
Sodium:
50
mg
|
Potassium:
105
mg
|
Fiber:
1
g
|
Sugar:
20
g
|
Vitamin A:
6181
IU
|
Vitamin C:
2
mg
|
Calcium:
120
mg
|
Iron:
1
mg
Estimated nutrition information is provided as a courtesy and is not guaranteed.
Explore More