Benjamin Moore Chantilly Lace
Looking for the perfect shade of white? Consider Benjamin Moore Chantilly Lace! This is a soft white tone with a subtle depth that works beautifully in a variety of interiors.
Benjamin Moore Chantilly Lace is a bright white that has just a hint of warmth to it so it doesn't feel stark… making it perfect for trim, cabinets, interiors and exteriors. It's the perfect compliment to spaces with blue hues or slightly cooler colors.
It's an incredibly popular shade of white, and it's easy to understand why! Keep reading to get all the details about this color, including where to use it, what colors it will work well with, and so much more.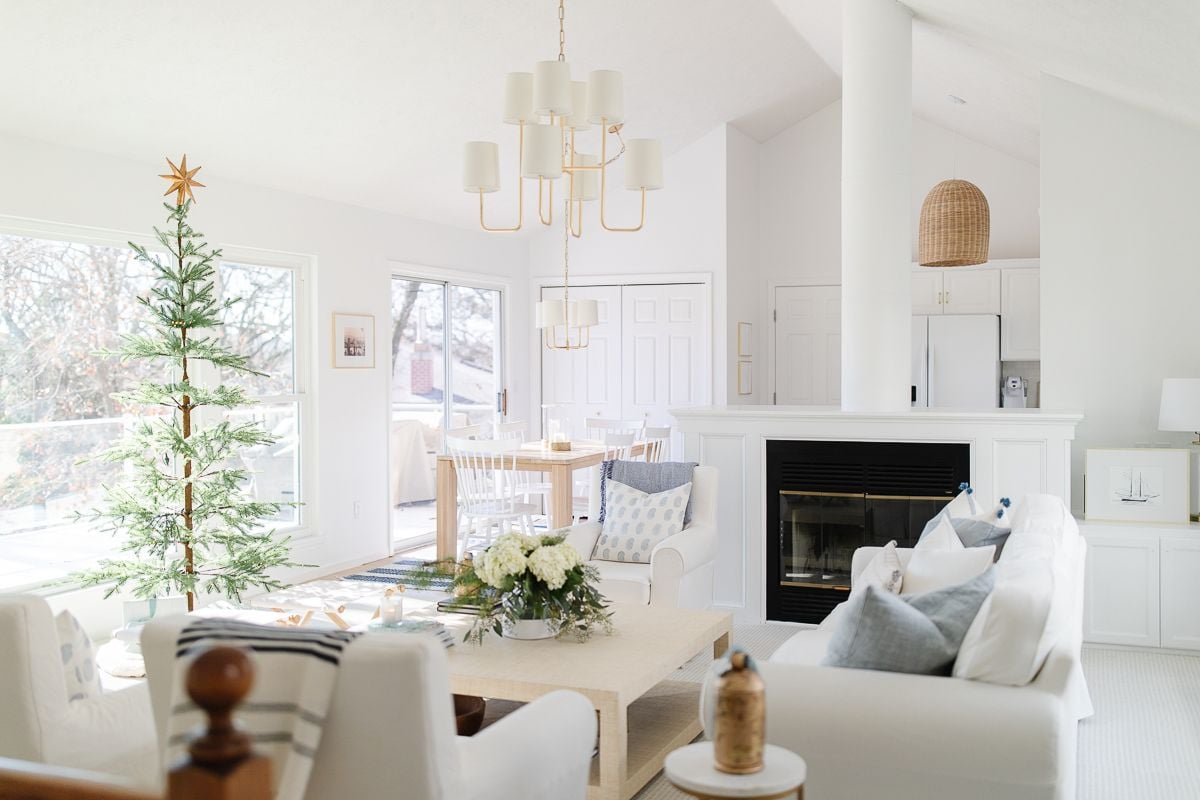 When we purchased the lake cottage several years ago, we were in a rush to make a paint decision so we could move in. We chose a color that had worked well for us in other rooms, thinking it was a solid choice: Farrow & Ball White Tie.
As much as we loved this warm, creamy off-white color in our St. Louis home, it felt a little too yellow at times in this home. With all the warm light that floods in at our lake house, it really reiterated how different colors can look in every room/home.
While you would never know it from the photos, it did feel a little too yellow there in real life – but don't worry, I still love White Tie! There were a few reasons we needed to paint, actually:
Doors and trim were original and had yellowed through the years
Some of our renovation projects have done damage to the walls here and there over the past few years.
We were just ready for a change.
I wanted something that felt a little softer and worked better with all the coastal modern blues we've used in this home.
That's where this beautiful white comes in! Although it's not my typical choice for a favorite cream paint color (you know I love those), I think it works beautifully in this home and I'm so glad we took the leap. Let's dive in to the details!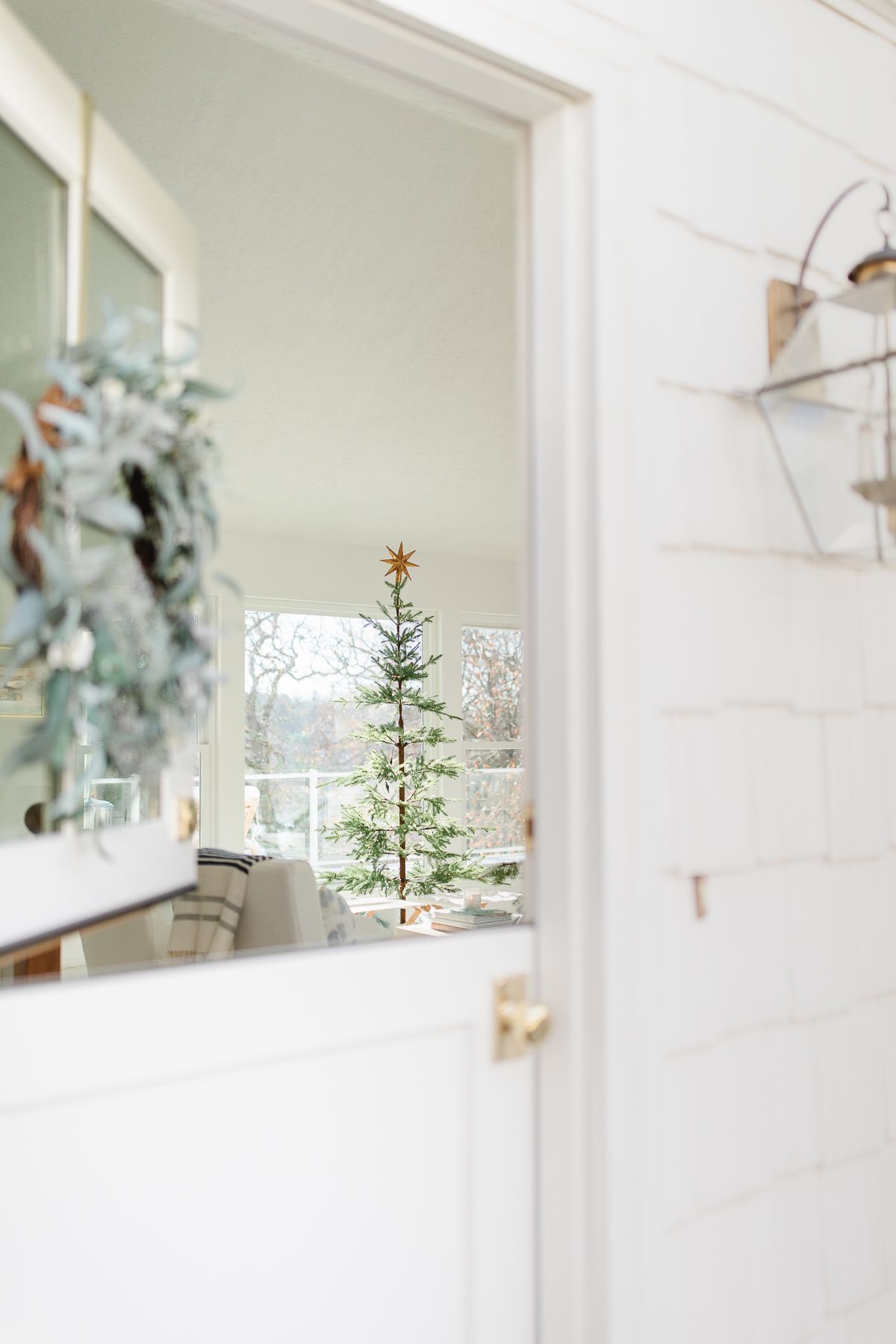 About Benjamin Moore Chantilly Lace
Benjamin Moore describes this color as "delicate and refined as the lace it was named after, this crisp, clean white evokes images of pure silk, soft linen and simpler times."

It is actually considered Benjamin Moore's whitest white paint color.
Unlike Soft Chamois, Swiss Coffee, Simply White or White Dove, this is a cooler white, with no yellow or cream. In fact, it leans towards a blue undertone.
When paired with warmer ivory or cream colors, or in North/West facing light, it actually leans just a touch gray. You'd never know it by looking at it on our walls, though!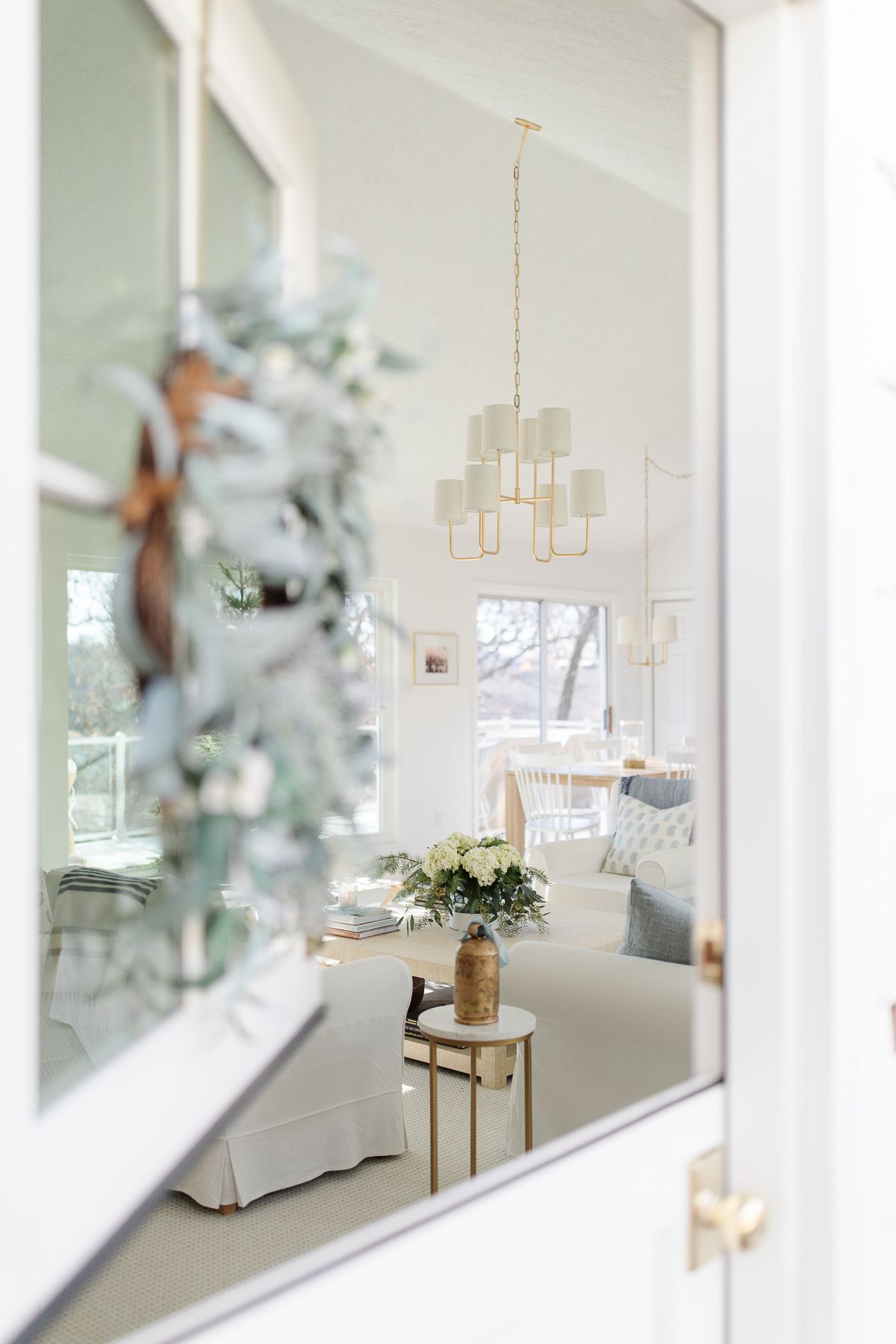 Chantilly Lace OC-65 Overview
Installations
Walls
Furniture
Trim – It's perfect for trim both indoors and out! It makes a great exterior accent color.
Cabinets – It really shines on cabinetry.
Exterior – It works well for exterior trim, masonry/brick and siding.
How it Feels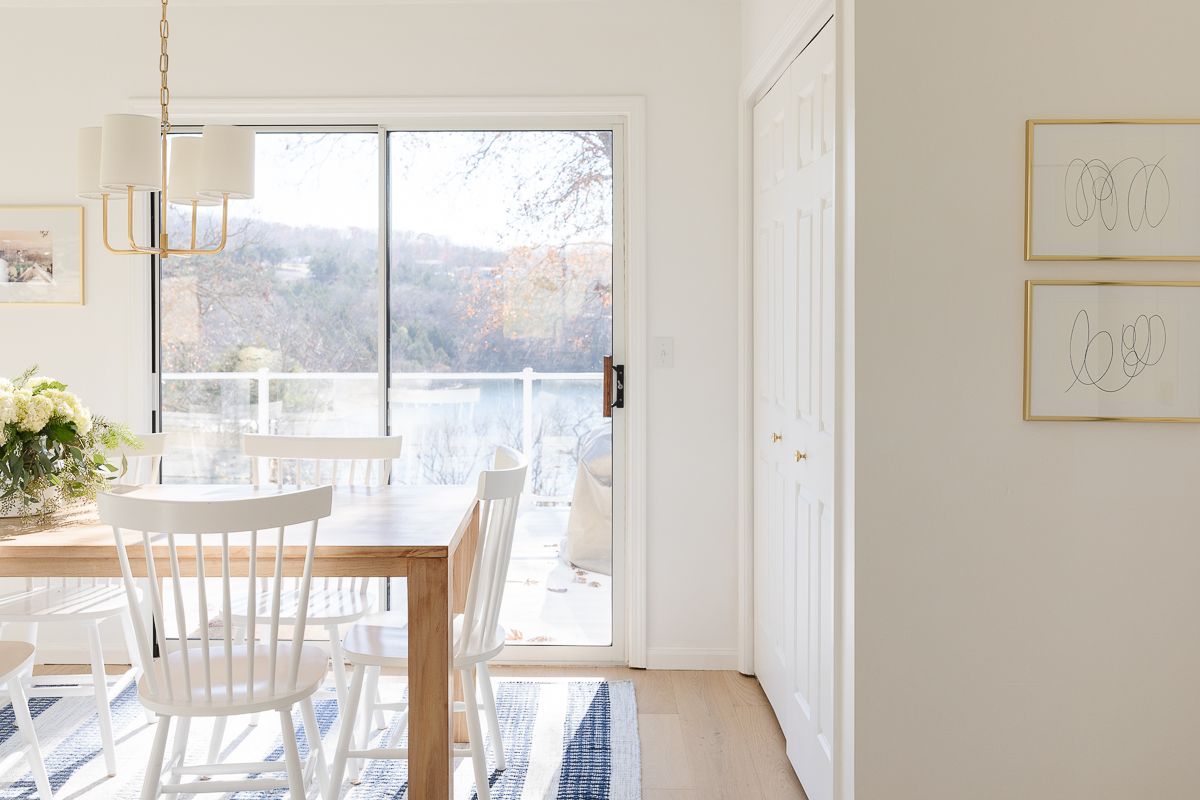 North / West Facing
If you have a North or Western facing room, it tends to read grayish blue – especially during the winter months.
South / East Facing
Chantilly Lace really shines if your home/room receives Southern or Eastern light. It feels soft and warm, yet clean.
Undertones
Chantilly Lace has very little undertones. It's close to a true white, so it will read different based on lighting conditions. It has a little touch of blue, often lending itself to grays and blues for accent colors.
Very Slight Blue Undertone
Slight Gray Undertone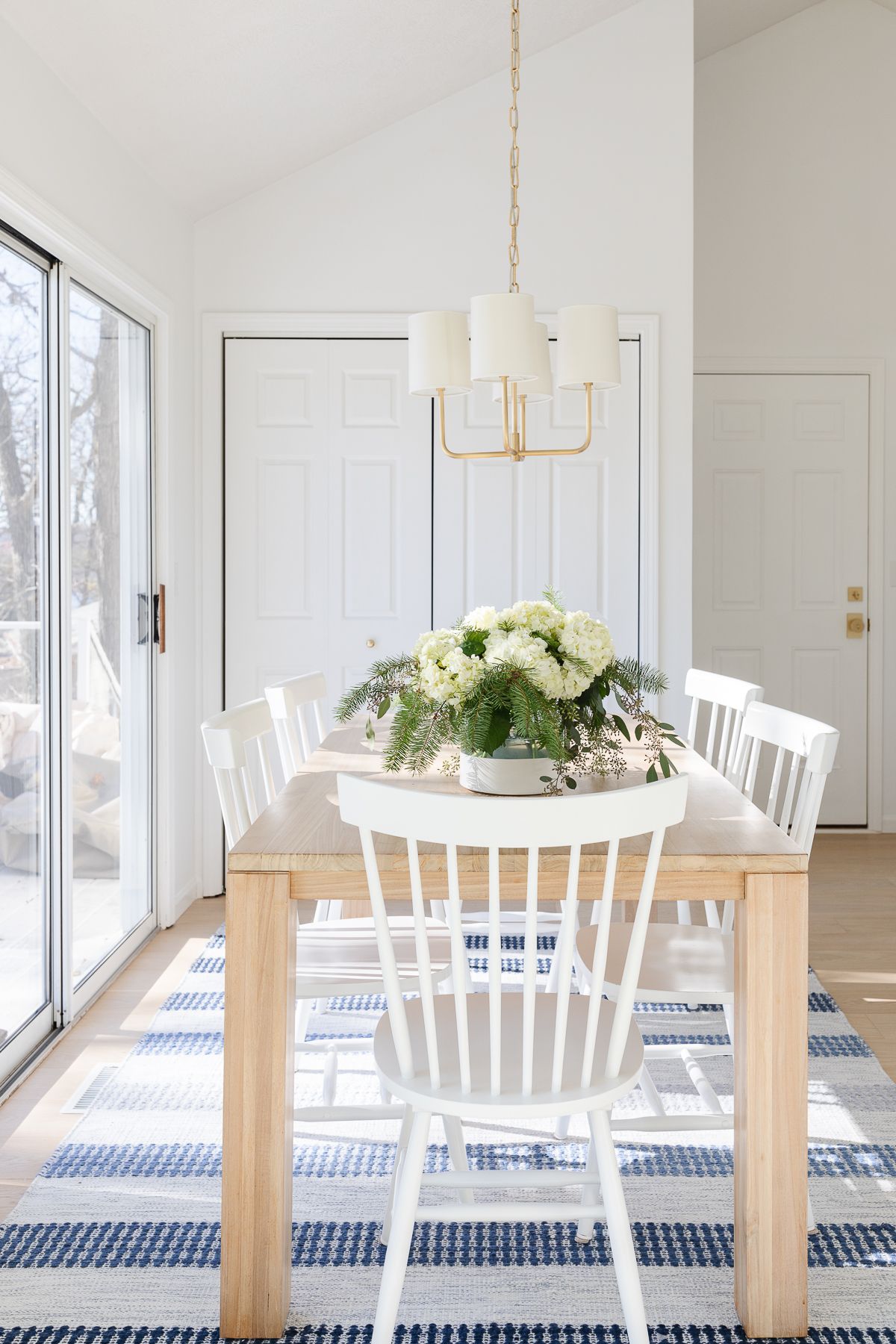 Light Reflective Value (LRV)
This color has a really high light reflective value of 92.2 out of 100. That makes it one of the brightest colors in the BM line-up.
As a reminder, LRV (Light Reflectance Value) is a system that measures the percentage of light reflected from a surface. It's a scale commonly used by designers and helps to show the lightness and brightness of colors.
The higher the LRV number, the more light the color reflects. So the more "white" a paint color is, the higher the number on a scale of 0-100. For example, White Dove has an LRV of 85 and Simply White is 91.7.
Recommended Sheens
Paint sheens can make all the difference when applying a paint color to your walls, trim, cabinets and more. The higher the sheen, the more light the color will reflect. For your walls, I tend to recommend an eggshell paint.
Styles
Modern
Contemporary
Farmhouse
Coastal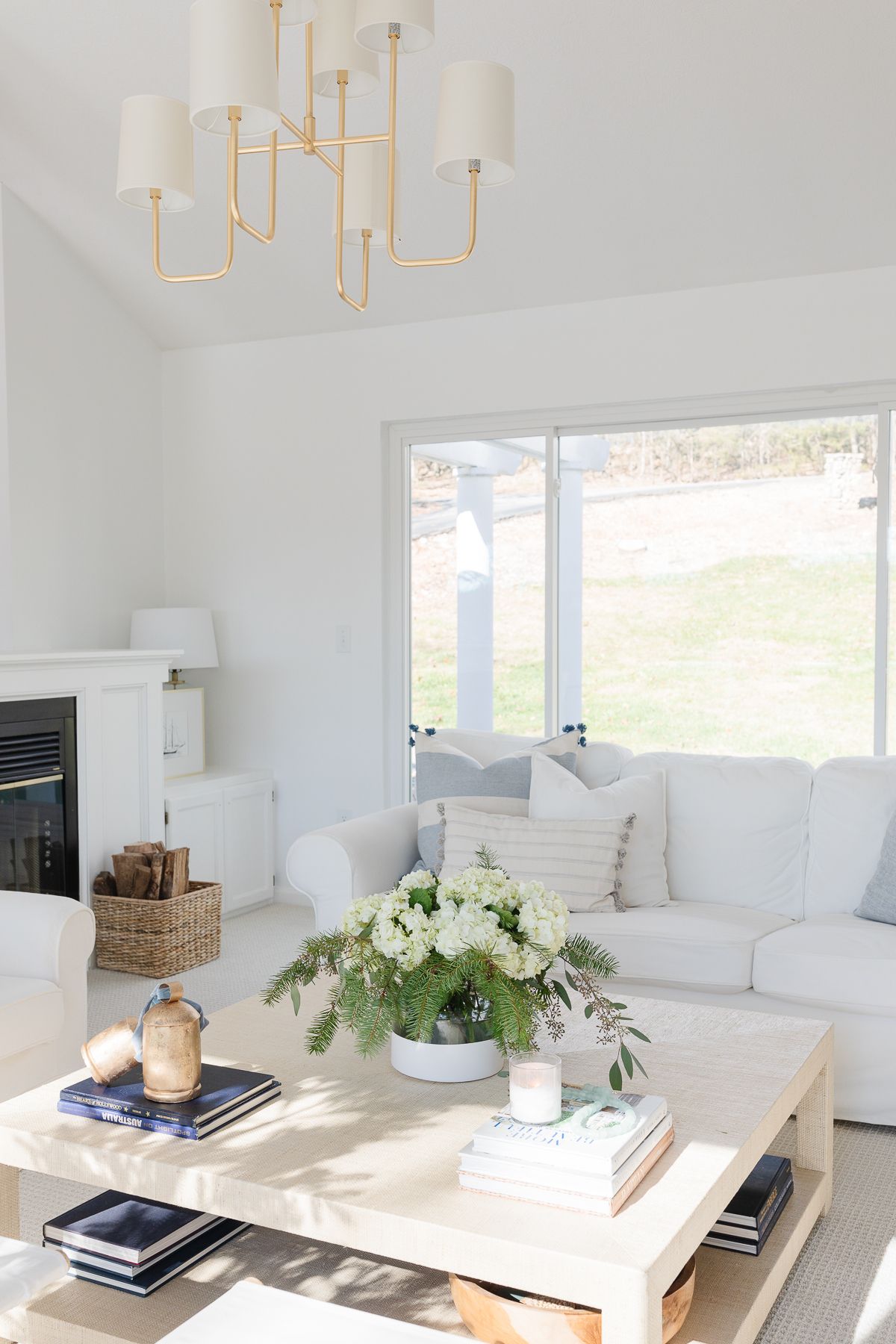 Colors to Pair Chantilly Lace With
It looks amazing with blues and greens, but works well with red, orange, and brown hues as well.
Trim Paint to Pair With Chantilly Lace
Chantilly Lace in a higher sheen (learn more about Painting Walls and Trim the Same Color here). Tone on tone feels luxurious while giving the illusion of space and avoiding conflicting undertones.
Accessible Beige – a newer trend in trim paint, is to use a deeper tone on the trim and baseboards of your home, paired with a brighter white on the walls.
Ceiling Paint to Pair With
Chantilly Lace in Ceiling Paint
Or simply choose an un-tinted white ceiling paint
Tips
Sample – I recommend starting with removable paint samples and then testing your favorites prior to committing.
Test near your finishes like flooring and cabinetry. Look at paint color morning, afternoon and evening.
Do not color match with a different brand. Different formulas yield different results.
Want to know a little secret? We've since painted our modern coastal living room again, after these photos were taken. We started with White Tie – felt too yellow. Moved onto Chantilly Lace, read a little too blue. We lived with it for a while and then repainted in Simply White! What can I say, I'm always researching paint colors!
Print this complimentary paint color chart to keep our paint colors organized for quick touch-ups!
Frequently Asked Questions
Is Chantilly White too white?
Well, that is a matter of opinion, of course! It's a very bright white, and when compared to other whites in a line-up, it will likely be the "most white" option.
Is Chantilly Lace stark?
While this color is a true white with a slightly cool undertone, it never feels stark in our home – it's a soft, simple, clean white.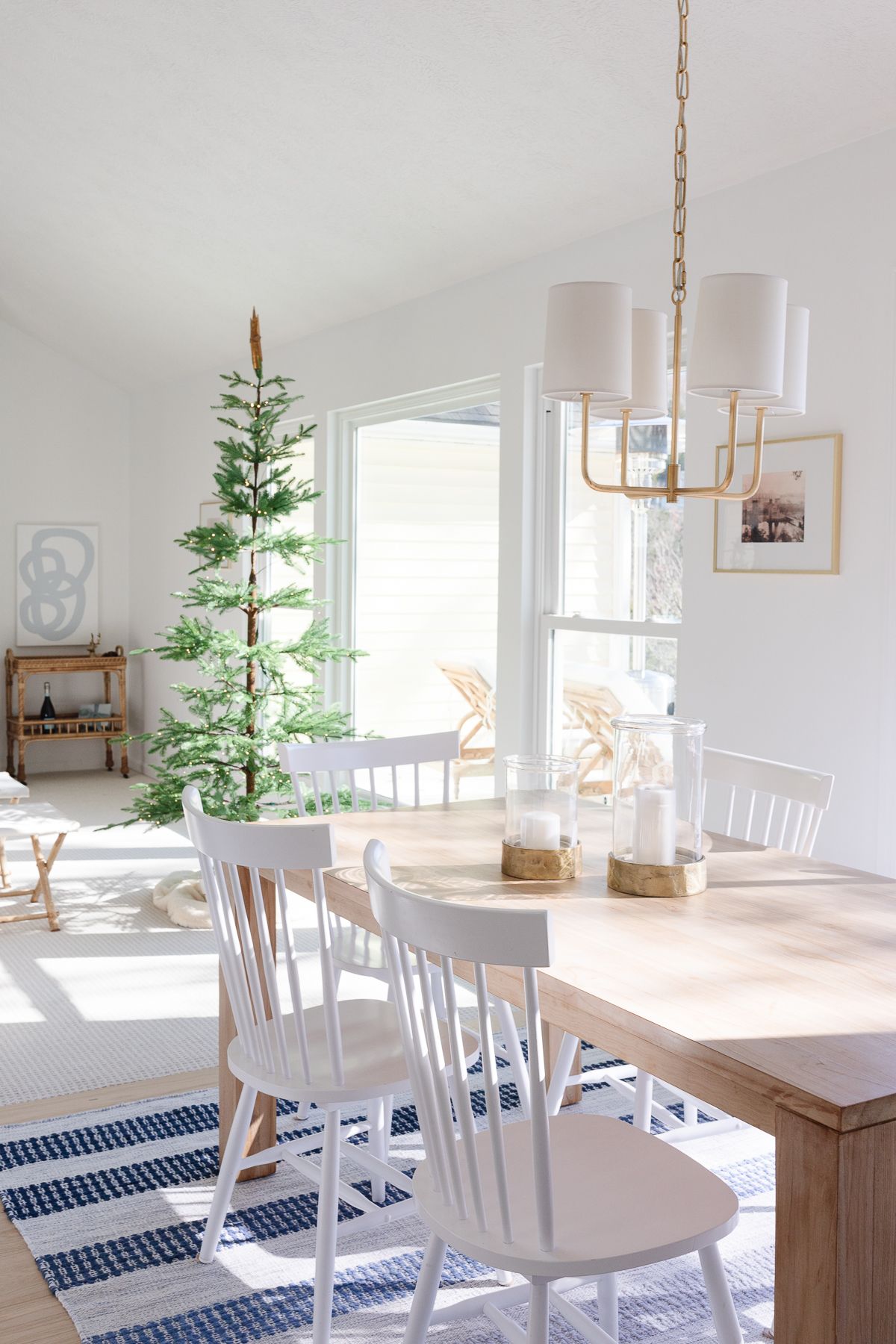 Color Comparisons
Whereas Chantilly Lace has the slightest cool undertone, Simply White has the slightest touch of cream. Simply White can read a little yellow in comparison, so be careful when placing this color next to true whites, marble countertops or white bathtubs and backsplashes.
Chantilly Lace versus Super White
Another popular Benjamin Moore white color is Super White. With an LRV of 89.09, the colors are very similar. However, Super White reads just a little cooler than Chantilly Lace, with a very slightly deeper gray undertone.
Chantilly Lace versus Sherwin Williams High Reflective White
High Reflective White is one of the truest white paint colors on the market. It has a higher LRV than Chantilly Lace, coming in at 93. It can read just a touch more blue/cold than Chantilly Lace!
Sherwin Williams Equivalent
When using a different brand, the formula is different, resulting in a difference in depth, undertone and temperature. Sherwin Williams High Reflective White or Pure White are similar, but certainly not exact matches.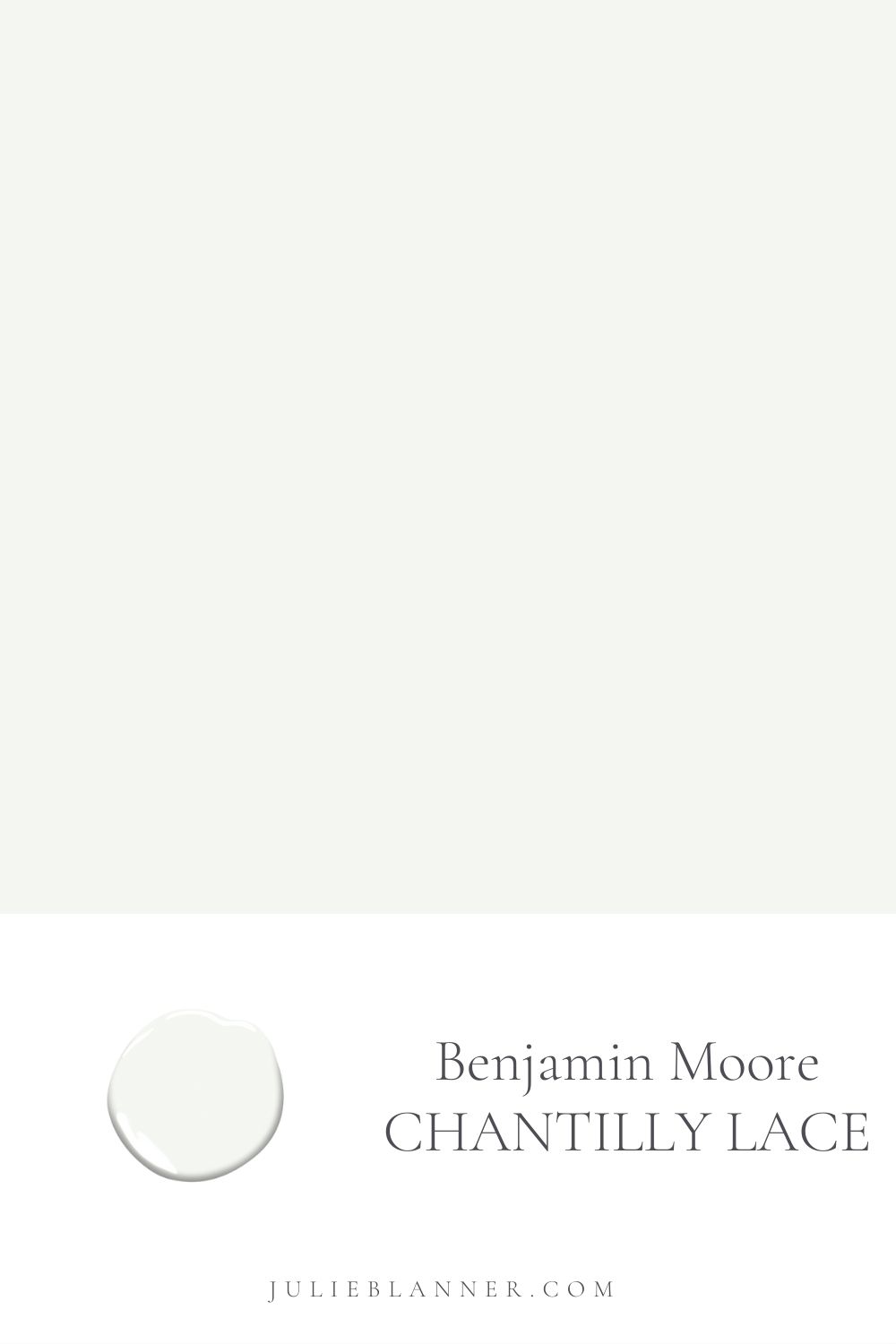 Designers Who Frequently Use this Color
Bunny Williams
Anthony Dunning
Genna Margolis
Kriste Michelini Interiors
Jamie Haller
It can be purchased at any Benjamin Moore retailer, including Ace Hardware.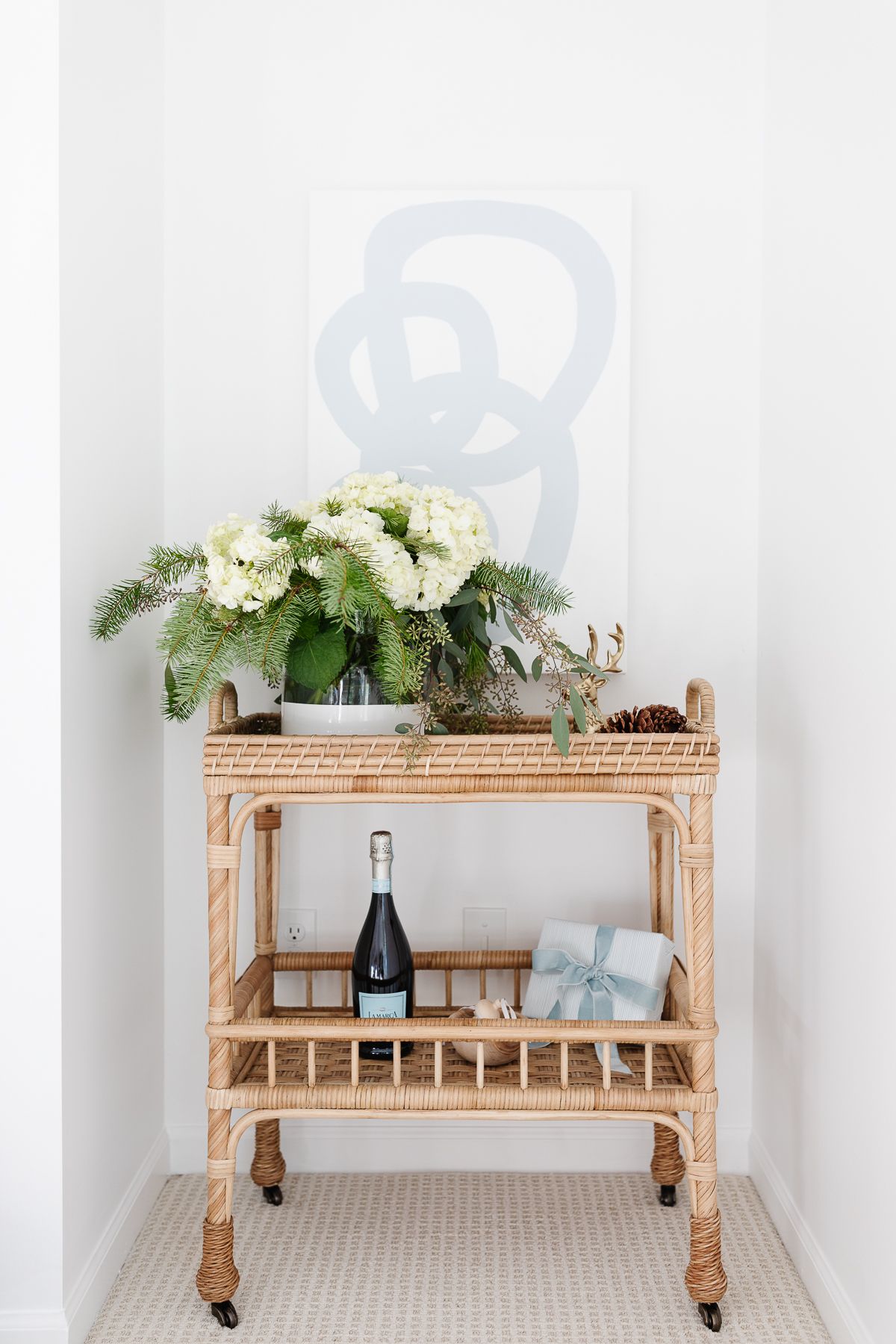 Let's keep in touch! Receive exclusive content, including never-seen-before photos, our favorite home decor DIYs and more!