Learn all about the most popular blue gray paint colors to choose from right now! Add a calm, cool and collected look to any area of your home – interior or exterior, with a blue gray color you'll love.
Interior designers have long loved these popular blue gray paints, and now you can try them in your own home! This is a round-up and review of the 13 prettiest blue gray paint color options from your favorite paint brands.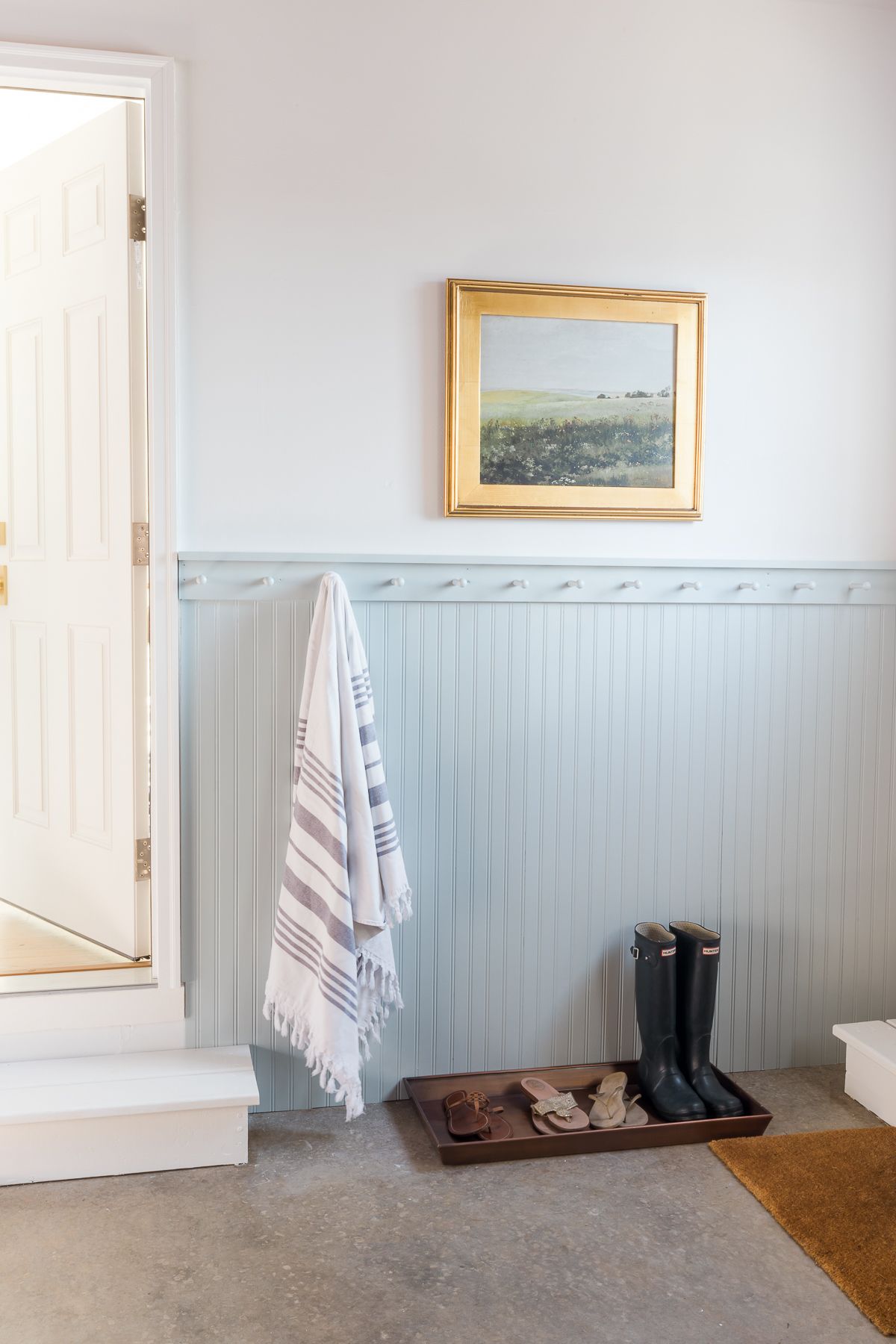 Choosing a paint color is hard. And while it makes a big impact in a room, it's very expensive to make mistakes! Ask me how I know.
You'd think that after years of chatting about paint here on the blog, and analyzing colors until I'm blue in the face, that I'd be a true professional! But believe me when I tell you, we still make plenty of not-quite-right choices.
That's why I've created a detailed series of paint tips and guides that can make your decisions easier. Learn from our mistakes so you don't have to go down that painful road!
Most recently, we've brought you an incredible round up of our favorite Warm Whites, Greige Paint Colors, Romantic Bedroom Colors, a complete guide to LRV, and our favorite Neutral Paint Colors we've used over the years. There's a paint guide for everyone around here!
Today, we're tackling my favorite blue gray paint colors! We sampled a few favorites when we built our little garage mudroom at the lake, and I thought it would be fun to compare and contrast them in this round-up.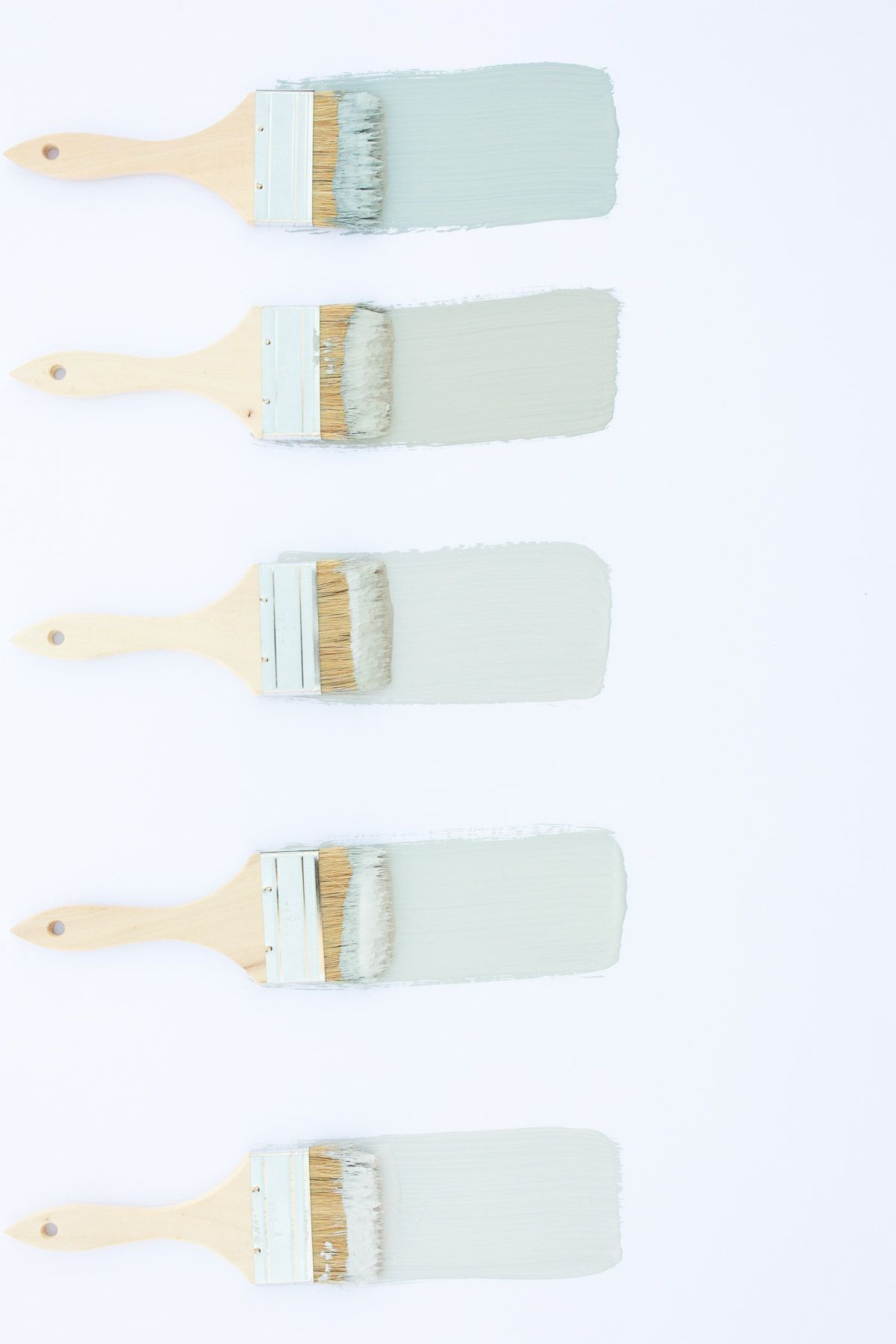 The Best Blue Gray Paint Colors
What's the key to choosing the right paint color in your home? Samples! Paint samples will change your life for the better!
I generally don't recommend painting directly on the wall to choose a color (I like Samplize instead, or painting on a foam board). However, in this case we were covering the drywall with beadboard so the brush lines wouldn't matter in the long run.
Blue gray paint colors tend to be especially beautiful and calming in bathrooms and bedrooms. No matter your personal style of decorating, there are many ways to use these colors in your home for a fresh new look!
In our lake cottage, we've used a fresh, nautical inspired palette that speaks to our style of Coastal Modern Home Decor. I look forward to using more of these pretty blue gray paint colors in the future, and I'll be sure to come back and share with you here!
First, a few of my favorite tips and tricks for choosing paint colors, and the answers to your frequently asked questions.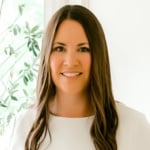 Tips
Paint colors darken as they dry.
Learn about Light Reflectance Value in my comprehensive guide: What is LRV?
Samples – Use paint samples! As you try different shades, you'll begin to recognize a pattern in the colors that feel good in your home. In fact, you should check samples on different walls throughout the day.
Keep all light sources in mind, as this can also change the way the color feels- read up on light bulbs, too.
Test near your finishes like flooring and cabinetry. Look at paint color morning, afternoon and evening.
Keep in mind that many blue gray paint colors will read more green in certain lights. Of course, you're choosing a gray blue color – meaning you'll assume that your gray has a blue background. In truth, there are a lot more colors at play… a blue background, green, and even red.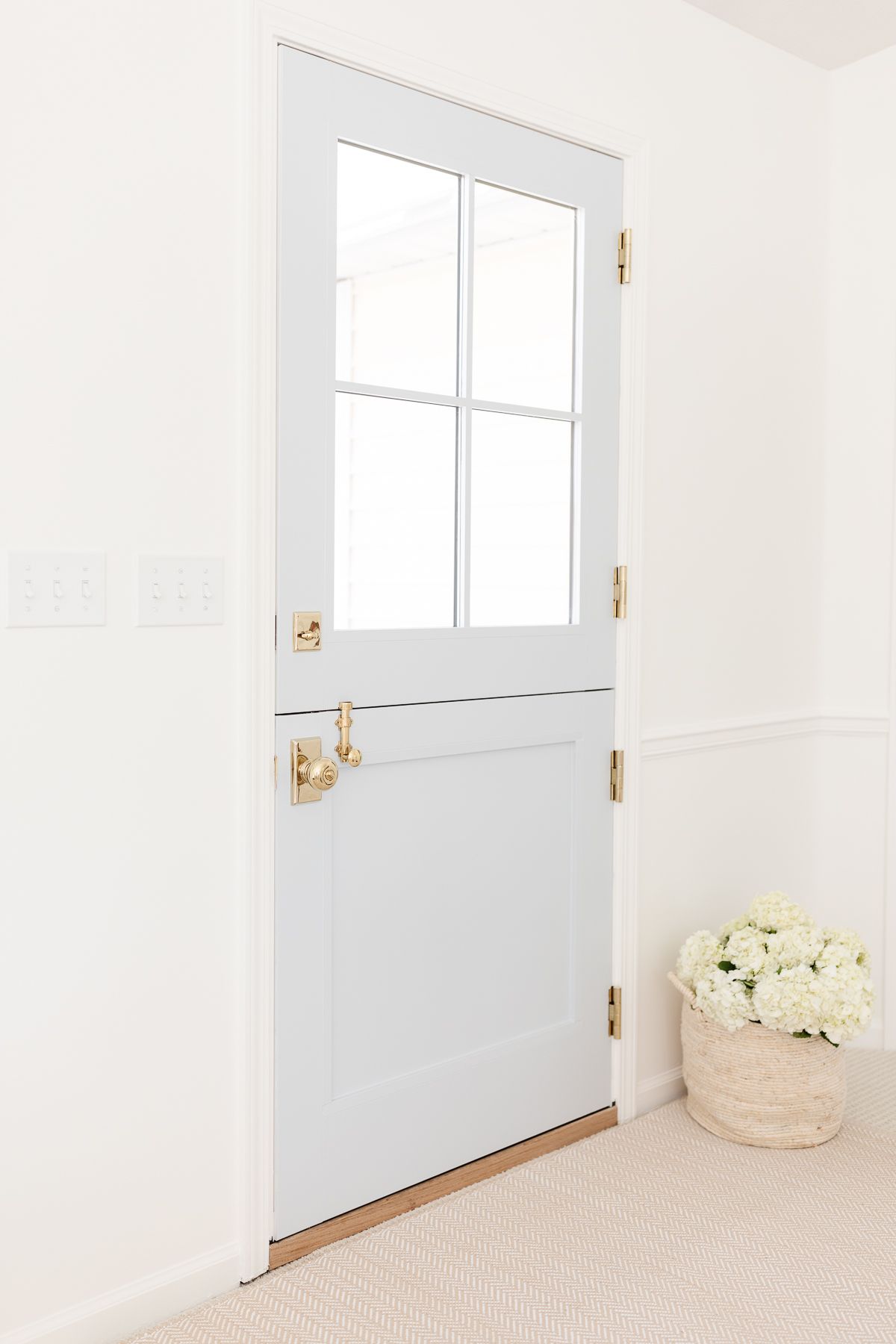 Frequently Asked Questions
What is a warm blue color?
Generally, a warm blue would have a purple background instead of green. Most of these blue gray colors have a green background, which makes them cool and calming.
Do blue and gray go together?
Absolutely! In fact, these colors work together so beautifully that it's easy to create a whole home color palette entirely of blues and grays.
Is a gray blue color considered neutral?
In many situations, yes. These soft blue gray tones can be a wonderful neutral in your home – working with a wide variety of accent colors, from warm to cool.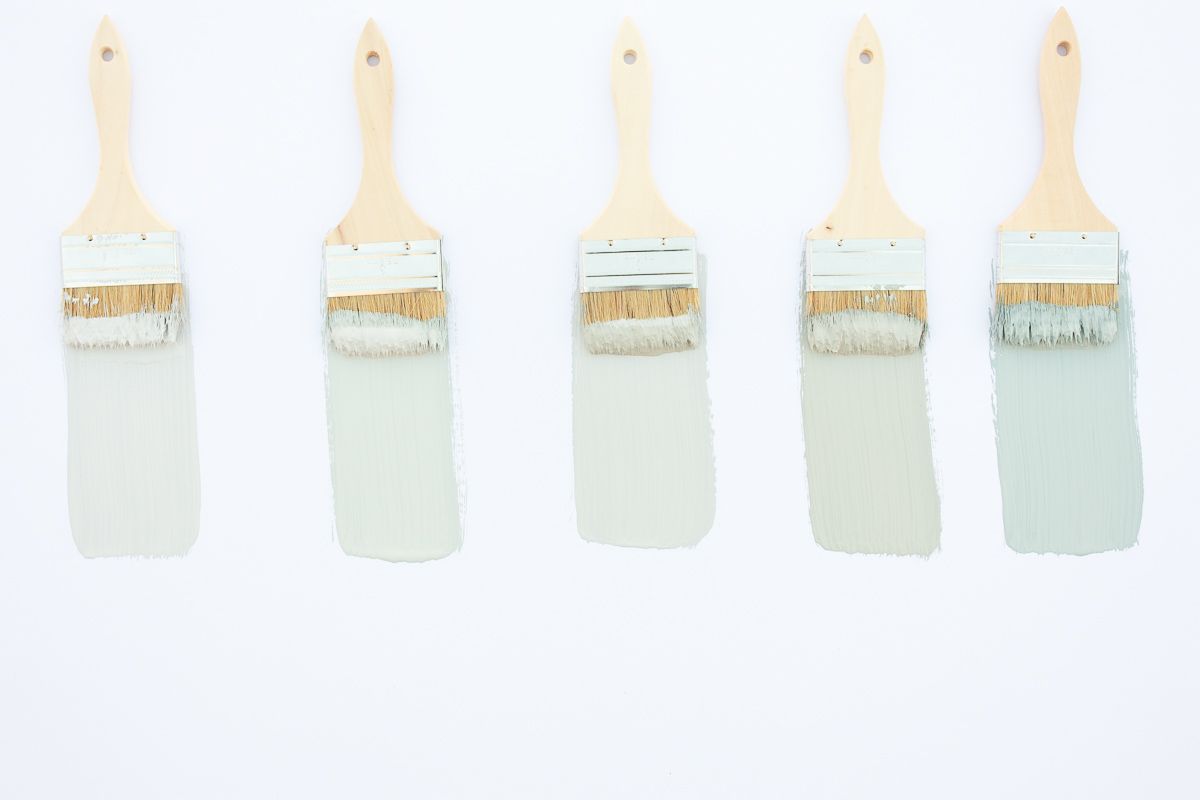 Best Benjamin Moore Blue Gray Paint Colors
There's too many too list here! We've chosen our top 13 for a great starting point.
Benjamin Moore Silver Gray is another favorite blue gray paint color to consider. This is a soft, pastel blue shade with gray undertones – perfect for so many areas of your home!
We used it on the Dutch Door at the lake, and I couldn't love it more!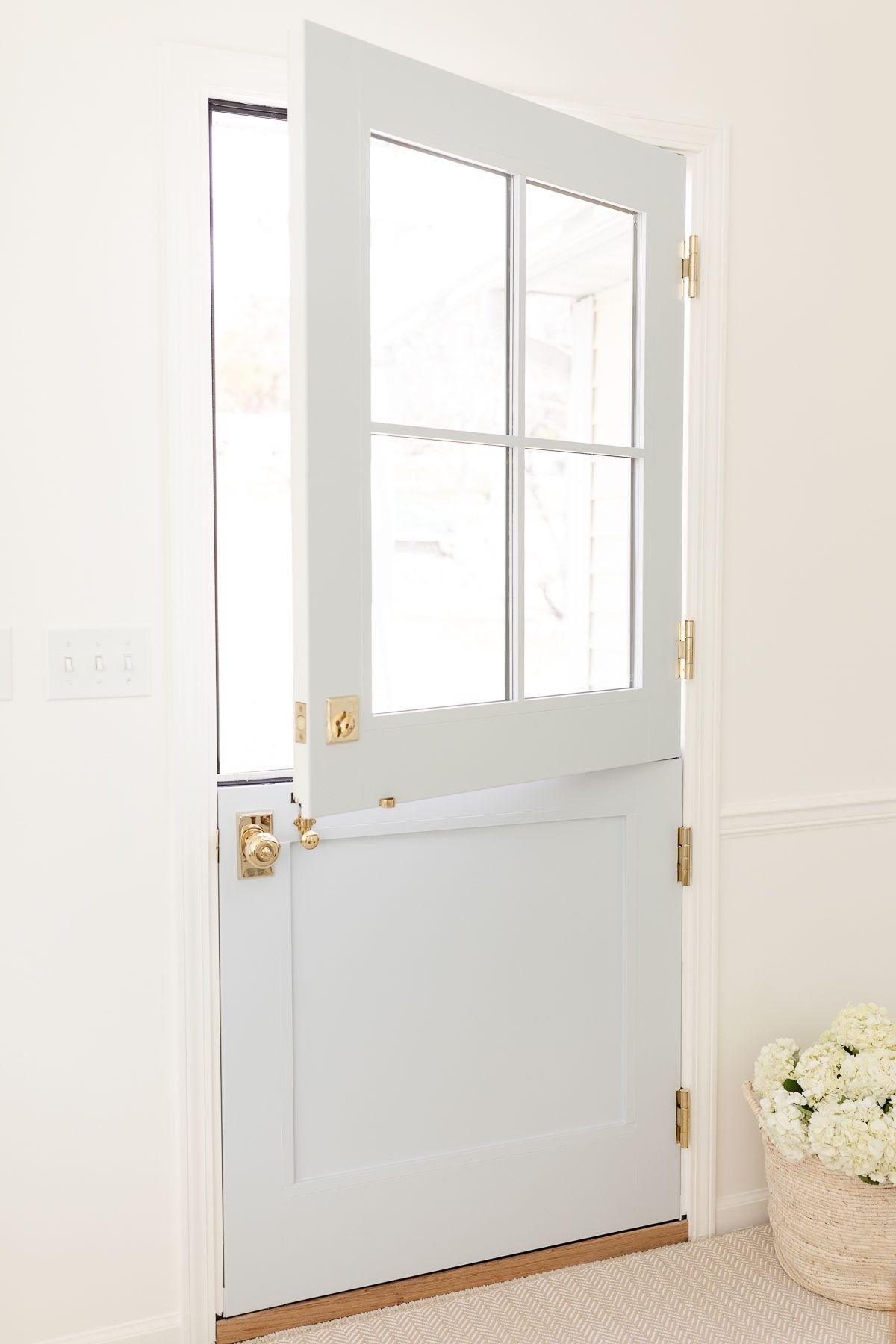 Silver Gray is a dramatic, yet muted color to strike the perfect balance. It's full of charm and has just the right amount of gray in the background.
Benjamin Moore Boothbay Gray
Boothbay Gray is the most "gray" of the colors that we sampled – in the photos in this post, it's second from right. I actually love this pretty color and hope to use it somewhere else soon!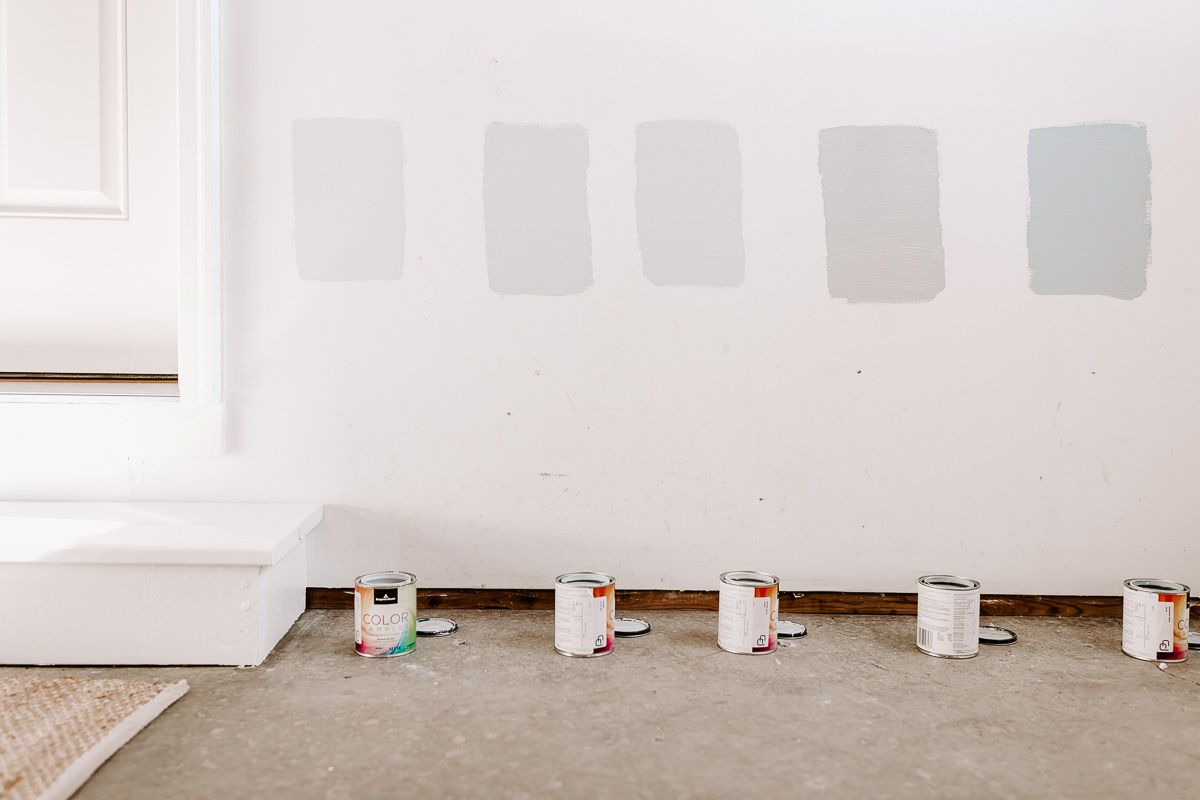 Benjamin Moore Santorini
Santorini (also known as Nantucket Fog AC-22) is the most vibrant gray blue of the colors we sampled on the wall above. You can see it on the far right of that image!
Pros: This is a rich, moody cool color that can be beautiful for contrast against your favorite whites and more.
Cons: It's the darkest color on this list, with an LRV of just 44.
Benjamin Moore Water's Edge
Water's Edge is one of the deepest blue gray paint colors on my list, and one that is very popular. This one has an LRV of just 30 – significantly darker than Santorini. Lots of green undertones make this a chameleon color that will change in different lighting situations. As you can see, it's incredible on doors and as an accent color!
Pros: It's a unique color that looks slightly green, blue or gray at various points of the day.
Cons: It's quite dark – not as dark as something like Hale Navy, but you'll want to ensure you're getting plenty of natural light wherever you use this color!
Benjamin Moore Silver Mist
This pretty blue gray paint color reads as more of a blue than some of the others on this list. It's a soft, silvery color with lots of gray to it, though! Silver Mist 1619 one has an LRV of 62.
Pros: This is a perfect mid-tone blue gray, as many designers love to hit the 60ish mark for LRV.
Cons: Be sure to try a sample of this color against your trim color, as it can make creamy whites read as more yellow.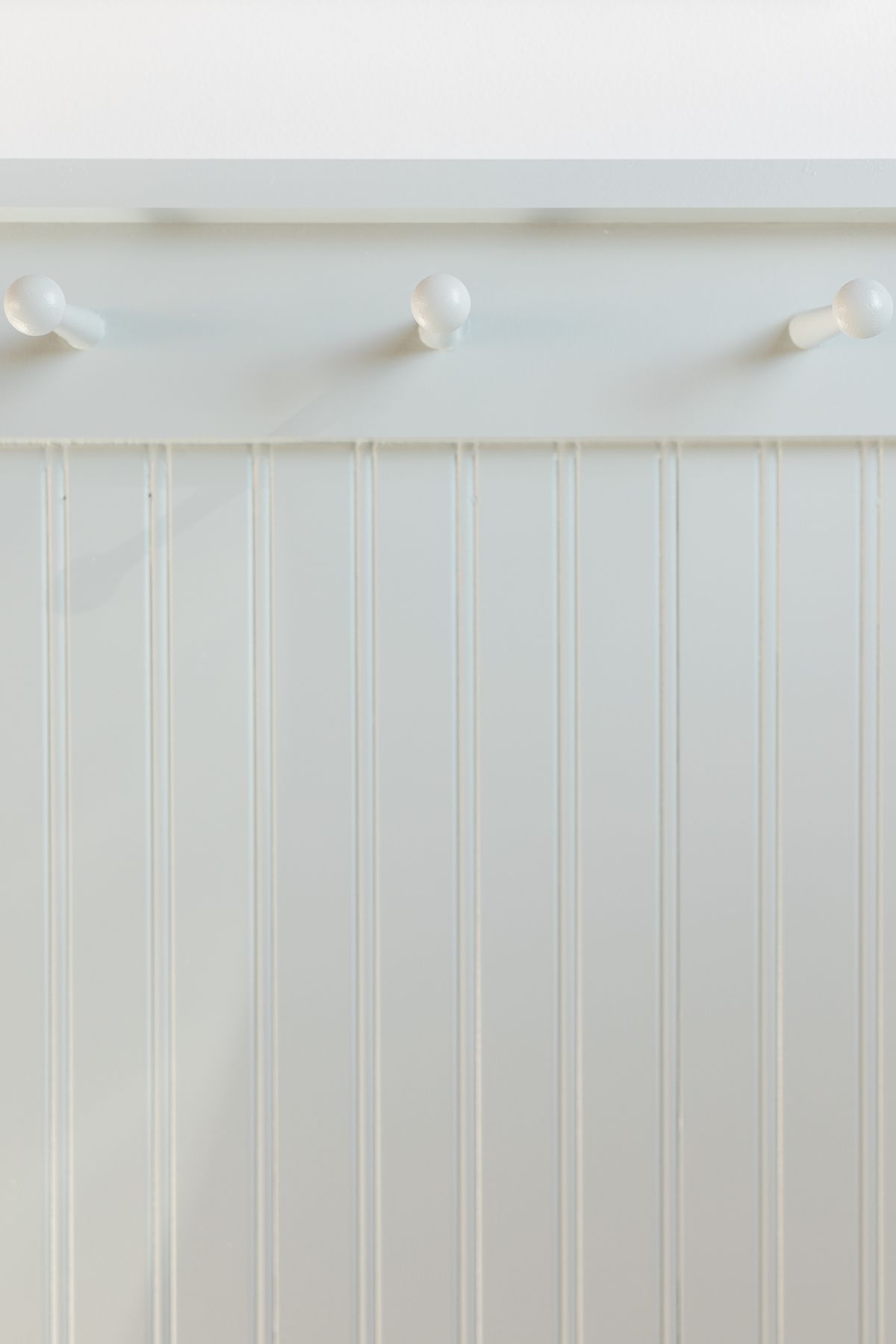 Smoke was the color we chose from all those samples on the wall, and it's easy to see why! Benjamin Moore Smoke has an LRV of 56, which means it's a great middle ground between dark and light.
Pros: It's subtle, muted and yet bold enough to make a statement on your walls, cabinets, furniture and more.
Cons: A touch more gray tones tend to show up under LED light bulbs.
Benjamin Moore Mt. Rainier Gray
An icy blue with an LRV of 60, this color beautifully reflects the clouds and sky. It's a soothing blue that has gray undertones.
Pros: Reads as more of a blue than most of the colors on this list… or is that a con? You decide!
Cons: This color has an icy feel, less warmth than most of these gray blue colors.
Best Sherwin Williams Blue Gray Paint Colors
Sherwin Williams Silver Strand
Silver Strand is one of the most popular blue gray paint colors around! It's easy to see why… this is a pretty mid-tone gray with a slight blue undertone. It's got an LRV of 59.
Pros: Easy to use in a variety of spaces.
Cons: Can read more gray than blue, and feels a little cold under certain lighting.
Sherwin Williams Krypton
Krypton has an LRV of 52, making it slightly deeper than some of the other options on this list! I love how it looks with a white like Chantilly Lace.
Pros: It's a striking, significant contrast from whites and creams.
Cons: It can be too bold for some spaces – use it sparingly and in rooms with lots of natural light.
Sherwin Williams Icy
Sherwin Williams actually groups Icy in with its purple colors. I don't find this one to be purple, but be careful where you use it as it does have strong blue undertones! This one has an LRV of 56.
Pros: It's one of the most blue colors on this list.
Cons: So much so, that it might actually lean purple in certain lighting.
Sherwin Williams North Star
With an LRV of 62, this is another mid-tone blue gray paint that hits the mark! As you can see, it's a great mix of blue and gray that works beautifully for a spa bathroom feel.
Pros: A crisp, soft blue with gray undertones
Cons: Darker and more gray at night.
Sherwin Williams Rock Candy
This is a pastel gray blue color that showcases some more purple undertones. It's an icy color that is beautiful with lots of natural light, with one of the highest LRVs on this list- 75!
Pros: Very light and in many lighting situations, won't have much contrast from your trim.
Cons: The purple background can be complex to work with. Be sure to try this color against your trim and look at it throughout the day!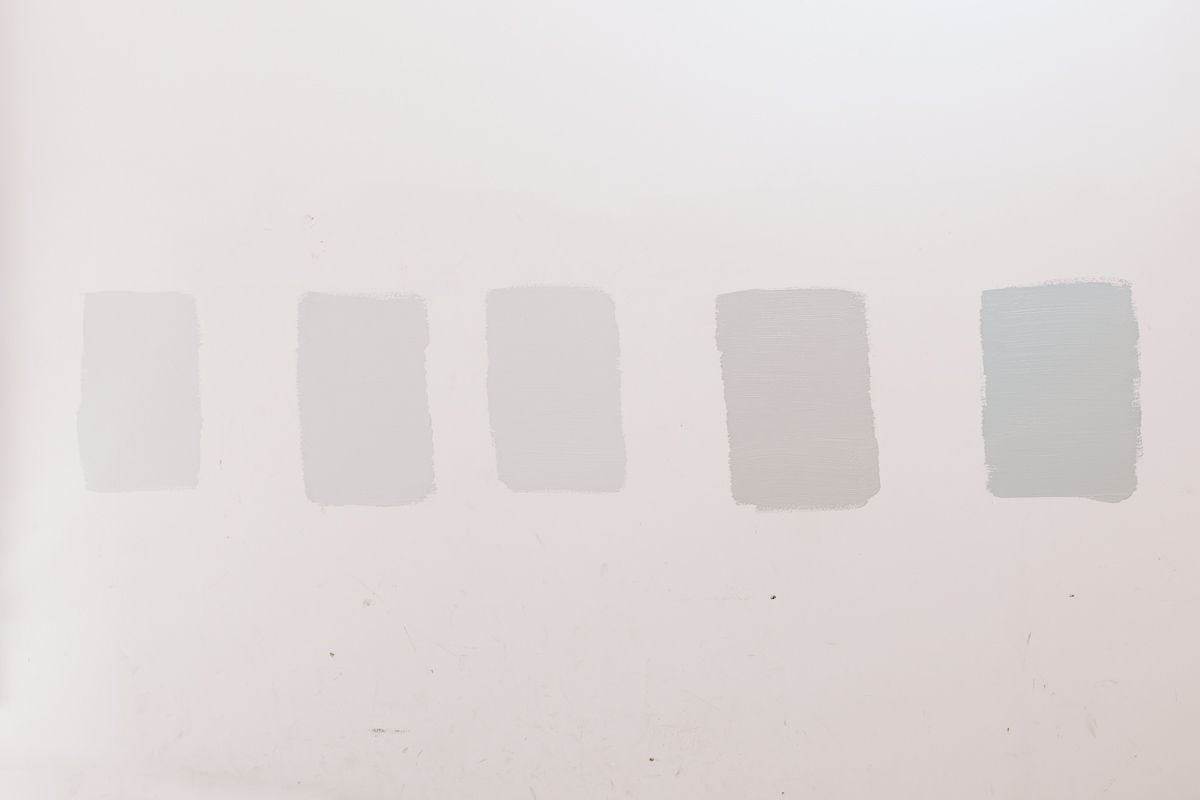 Sherwin Williams Morning Fog
One of the deepest gray blue colors on this list, Morning Fog reads as a cool, calming gray in most lighting situations. It's got an LRV of 42, so use it sparingly or in a room with lots of natural lighting.
Pros: Even though it reads as very much a gray color, it's still a cooler blue than many of the comparable options at this LRV.
Cons: This one is quite dark, so be careful of your light sources and be sure to test it at night.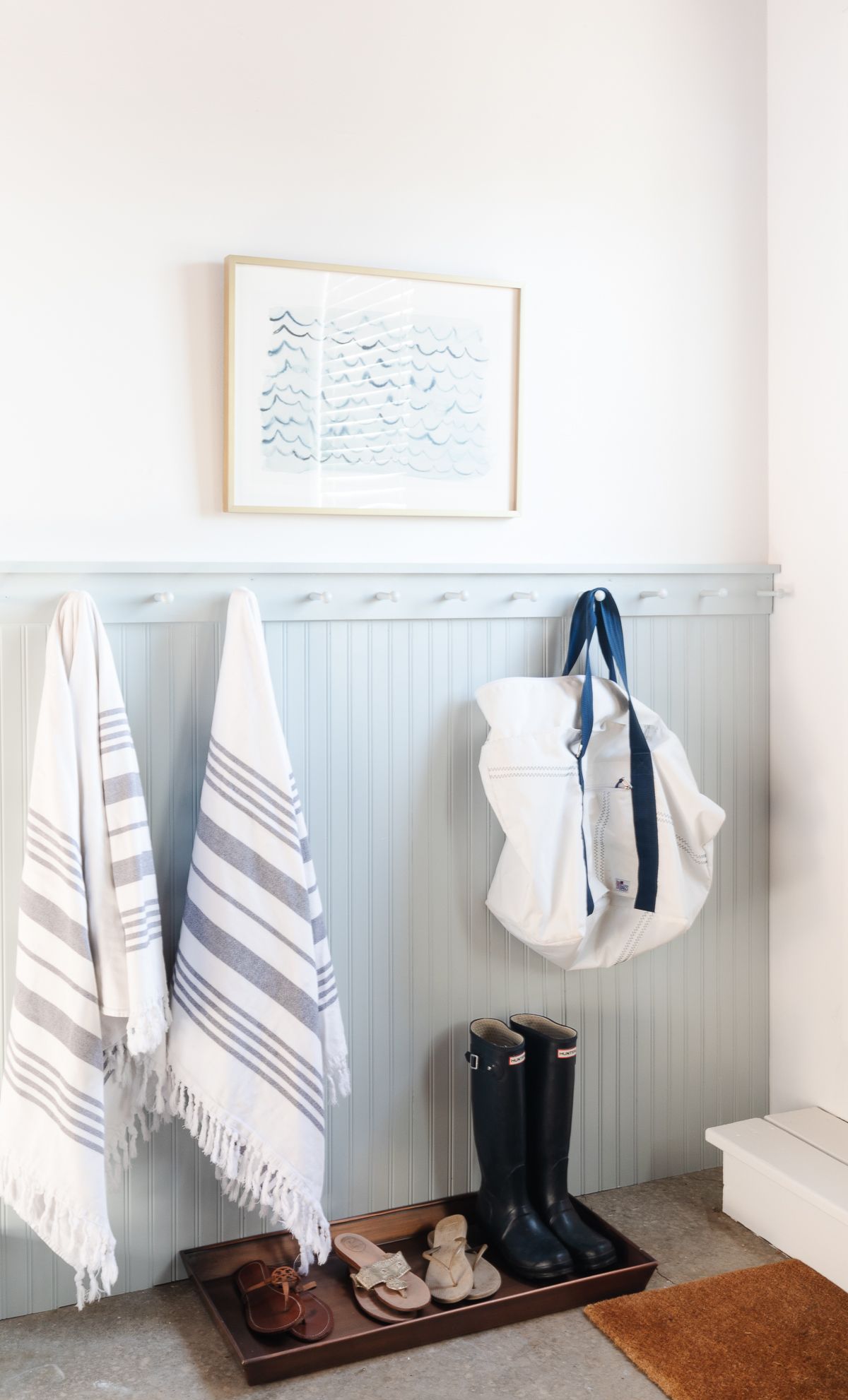 I'd love to hear from you! Are you a fan of these pretty blue gray colors? If you use one in your home, be sure to report back or share with me on Instagram!
Let's keep in touch! Receive exclusive content, including never-seen-before photos, our favorite home decor DIYs and more!
Paint Colors, Tutorials & Tips