Get classic, timeless inspiration for living room paint colors for your home. We're looking at 2022 and beyond, with the perfect living room colors that will create the warm and cozy home you crave.
This round-up includes 12 of my favorite interior paint colors for living rooms. You'll find classic whites, creams and greige tones. And of course, there are even shades of blues, greens and grays here too, in case you're looking for richer, deeper color!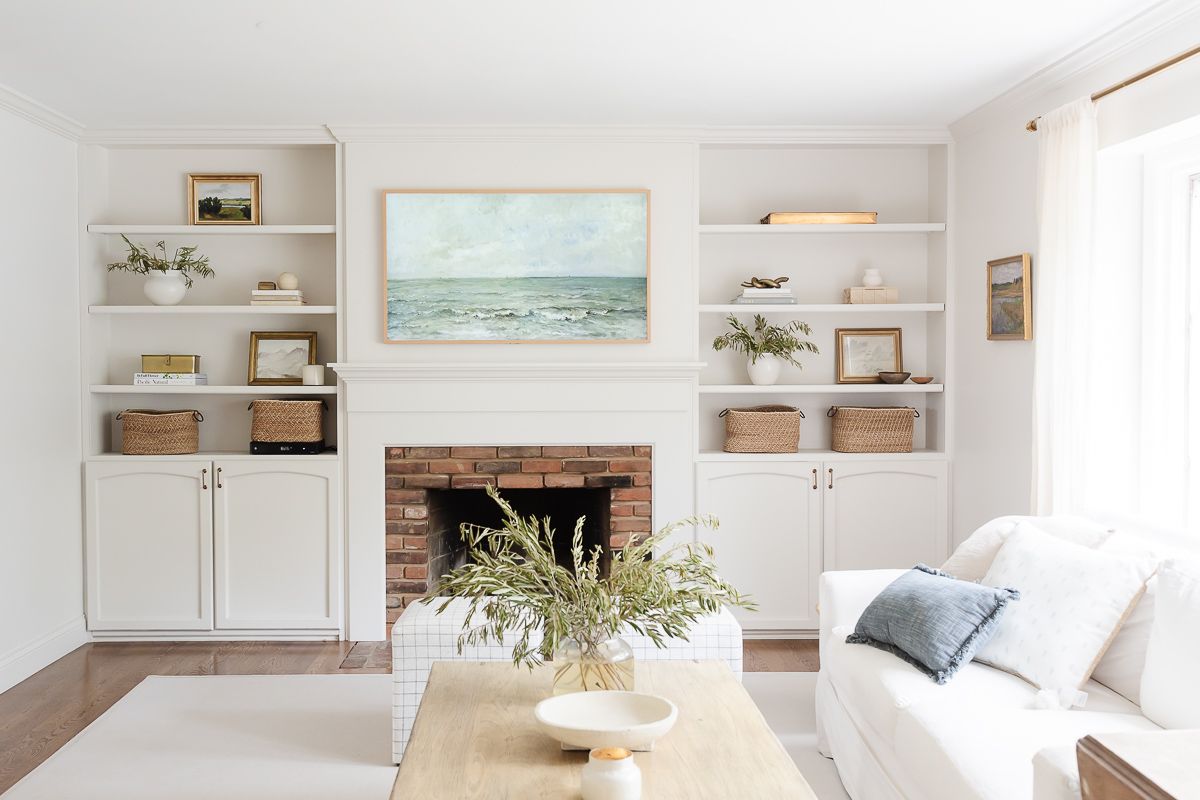 I know it's not the same for everyone, but paint is one of my favorite subjects. In fact, I think it's a huge step towards creating the warm and cozy home of your dreams, and it's fun to discuss all the nuances!
That's why I've been hard at work creating complete paint guides to help you make decisions, every step of the way.
Find incredible round ups of our favorite Warm Whites, Greige Paint, Blue Gray Colors, and Romantic Bedroom Colors. There's a paint guide for everyone around here!
As we all know, choosing a paint color is easier said than done. It's complicated… and while it's affordable in comparison to other changes you might make, you want to get it right the first time!
Learn from our mistakes and get all the ins and outs of the best paint colors, without all the effort! You're sure to find the living room paint color of your dreams with all this inspiration.
Use the drop down table of contents menu to navigate this post with ease.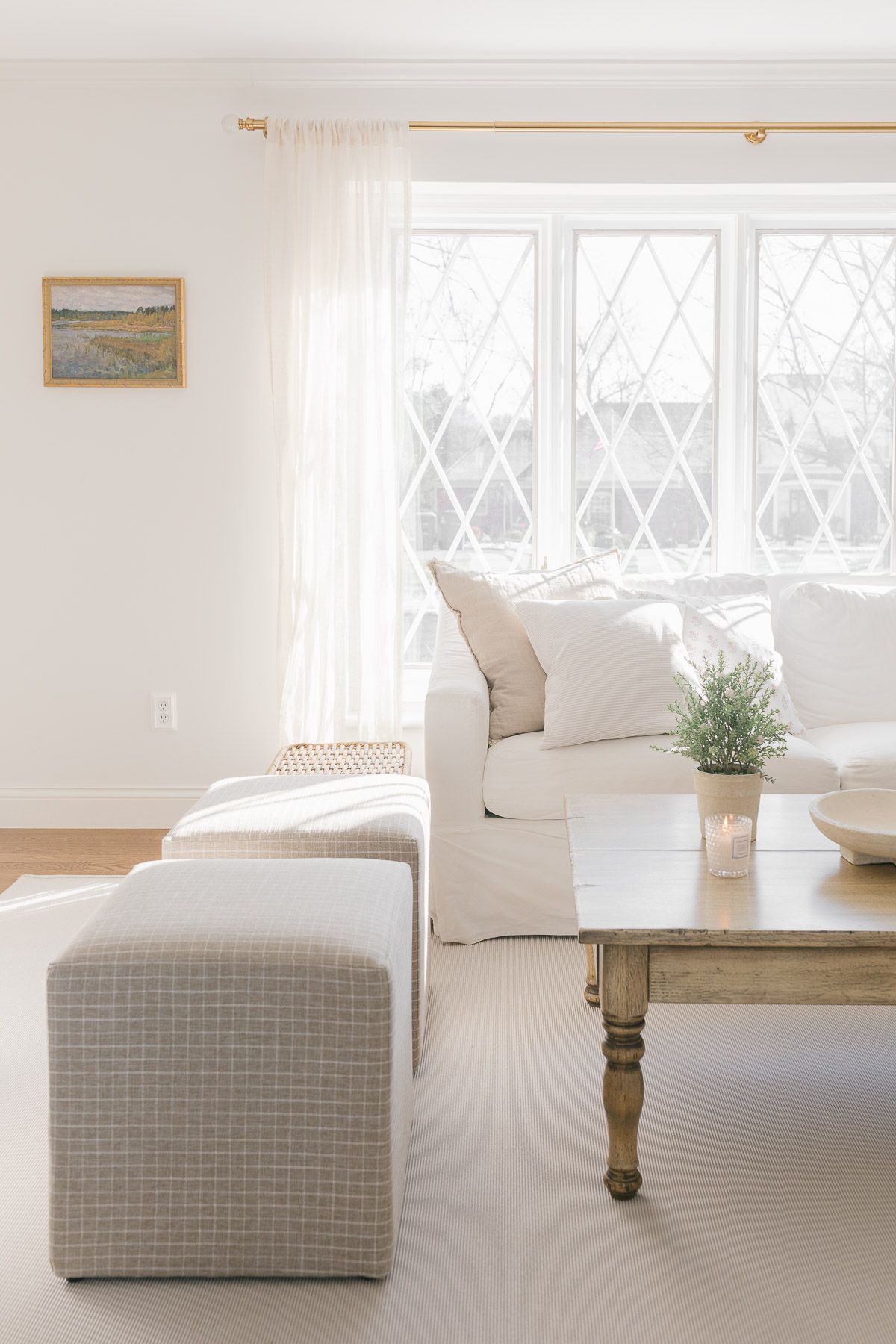 Living Room Paint Colors
If you've been following along for long, you'll know that soft, warm neutrals are the colors we gravitate towards for both of our homes. It's just what makes us feel good!
However, that doesn't mean we don't have plenty of fun with color sometimes! Be sure to read through both the Paint Color category and the Paint Tips and Tutorials here on the blog to get more inspiration.
First, a few of my favorite tips and a little Q+A session about living room paint colors.
Tips
Paint colors darken as they dry.
In fact, look at your paint samples on different walls, and throughout the day before deciding.
Learn about Light Reflectance Value in my comprehensive guide: What is LRV?
Samples – Pay attention to the LRV number on each sample, because as you try different shades, you'll begin to recognize a pattern in the colors that feel good in your home.
White has a high light reflective value, picking up surrounding colors. Always keep light sources in mind, as this can change the way the color feels.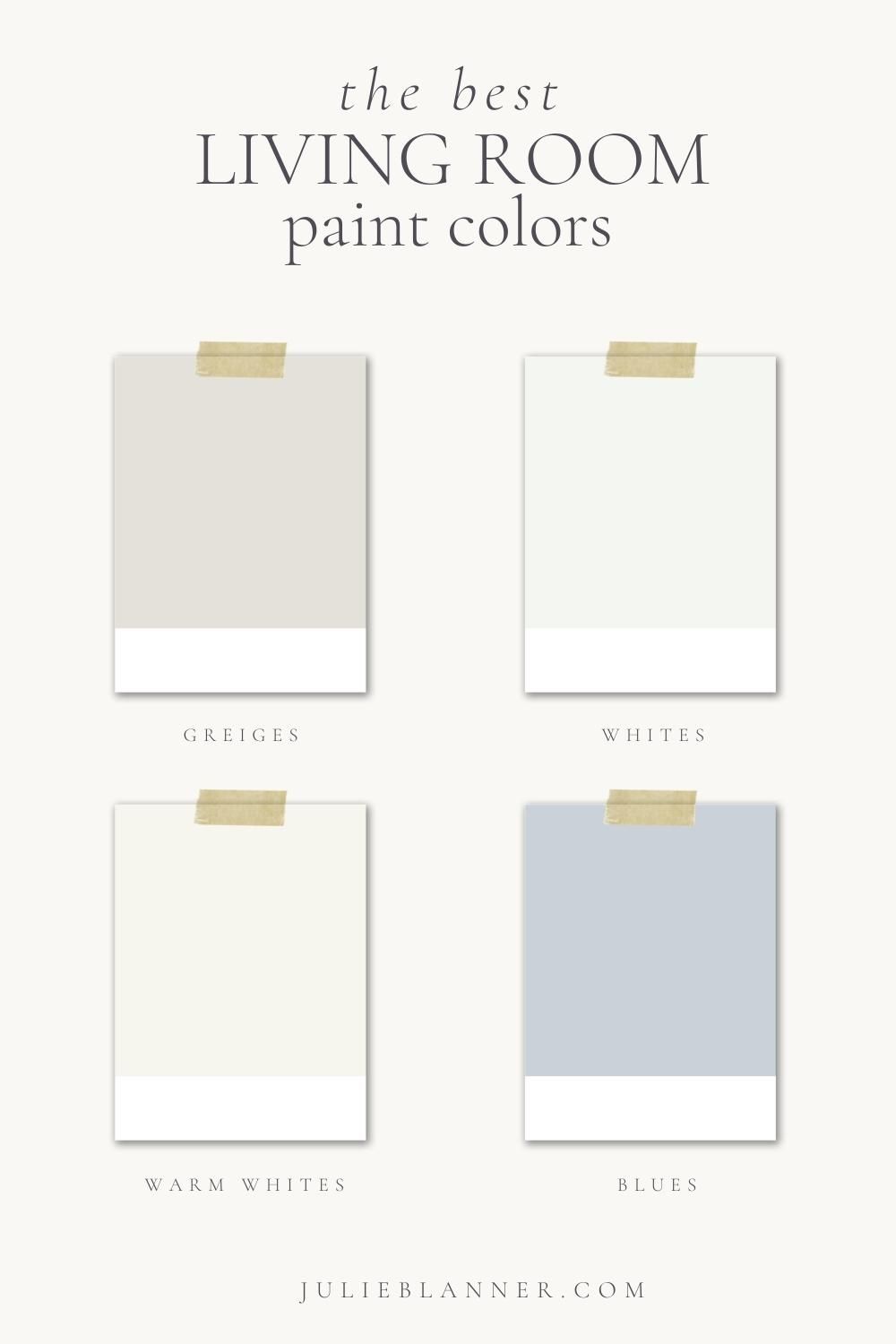 Frequently Asked Questions
What are the living room colors for 2022?
Currently, the most popular color searches around here are for shades of greige, cream and warm whites!
What colors brighten a living room?
Choose a light and bright color with a high LRV. In fact, you should consider a warm white paint color or a shade of cream if you're trying to brighten any room of your home.
Are gray walls still in style for 2022?
While gray has been in style for a long time, it is starting to trend downward for interior walls. Consider a color with a little more warmth for 2022 and beyond!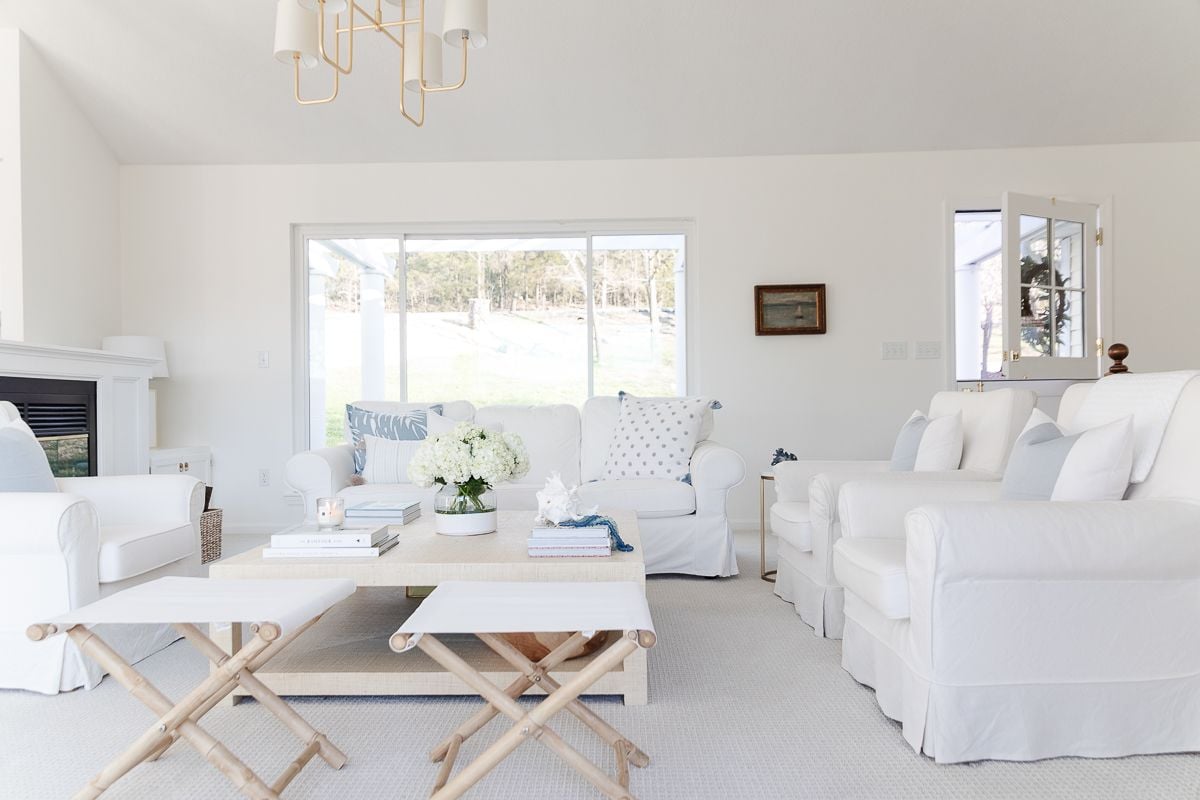 White and Cream Living Room Colors
For the ultimate neutral backdrop in your living room, choose one of my favorite warm white or cream paint colors.
Why do I love a soft, light wall color? It allows me to change the accent colors and styling in this room at a moment's notice! All I need is a quick pillow cover change and it updates the entire feel of this space.
You might not believe this, but our lake living room has been painted several different shades of white and cream over the years. I wanted to get it just right, and it took me a while.
Finally, as you can see below, we have landed on Simply White – and it's perfection in this home! However, paint is different for everyone, so here are a few of my favorite shades of whites and creams.
If you're looking for a sophisticated, warm off white color, Benjamin Moore Swiss Coffee might be the one for you!
Swiss Coffee paint color has an LRV of 83.93, which is considered high. Shea McGee of Studio McGee fame uses this color at 75% saturation, as you can see in the Swiss Coffee post link.
Below, you can see it freshly painted in our newly renovated basement. I can't wait to style out this basement living room and show you more!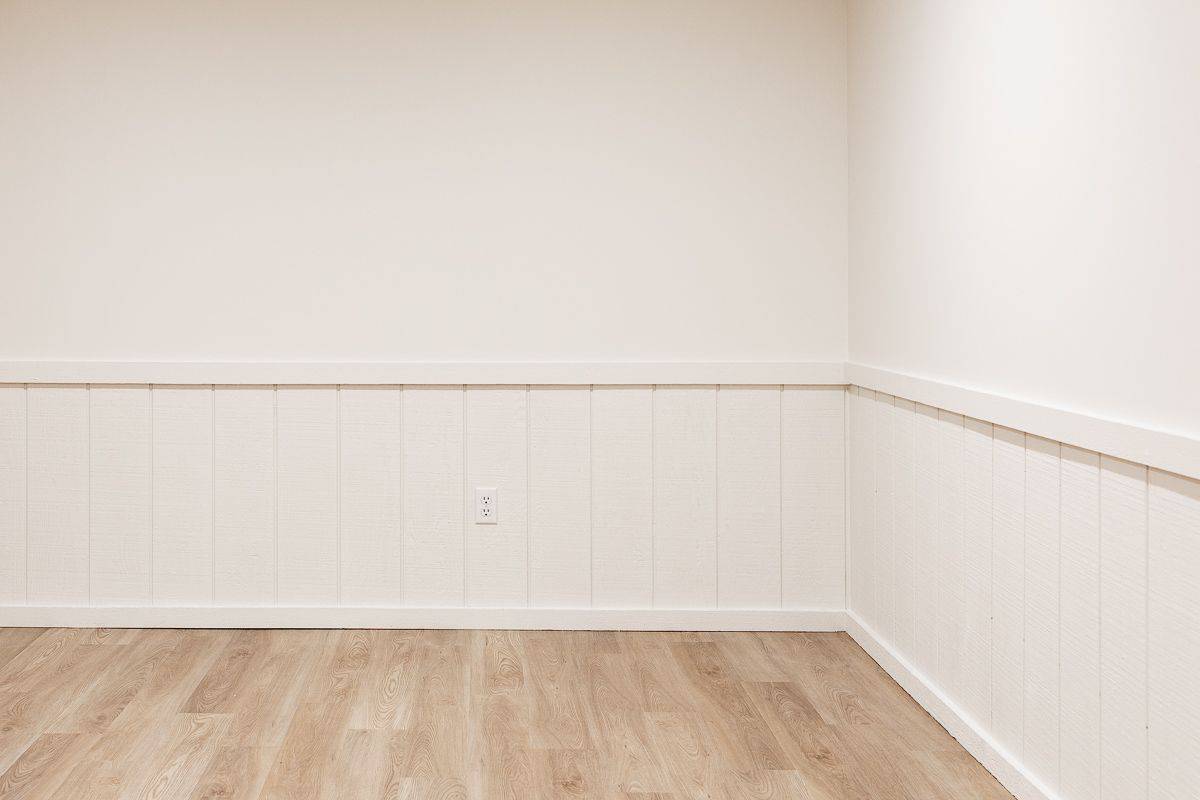 Zurich White a little creamy, a touch greige, and it might just be the perfect soft neutral color for your home! In fact, I think this is a color that works almost anywhere!
We used it in our neutral living room seen in this post (click through to see more). It's warm, soft and comes in at an LRV of 76, making this a soft, creamy neutral color that isn't nearly as bright as many whites on the market.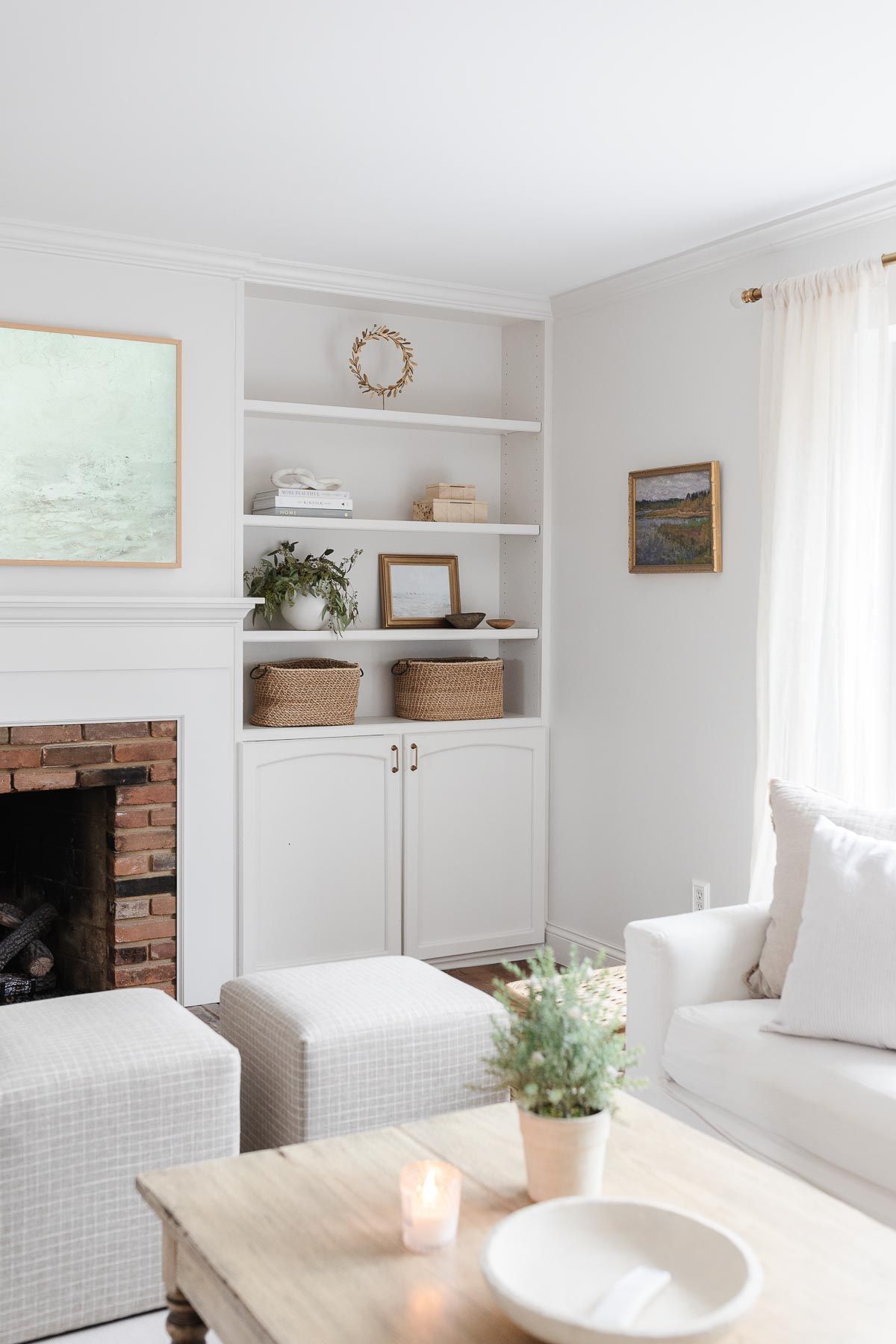 Benjamin Moore Simply White OC-117 is a warm, bright (barely) off-white color you're going to love. With just the slightest hint of yellow in the background, it's the perfect creamy white.
In fact, the LRV for Benjamin Moore Simply White is 91.7, which is considered very high. It's the lightest and brightest color on this list, and it is sure to brighten your living room, too! Read more about our Coffee Table Decor picture below.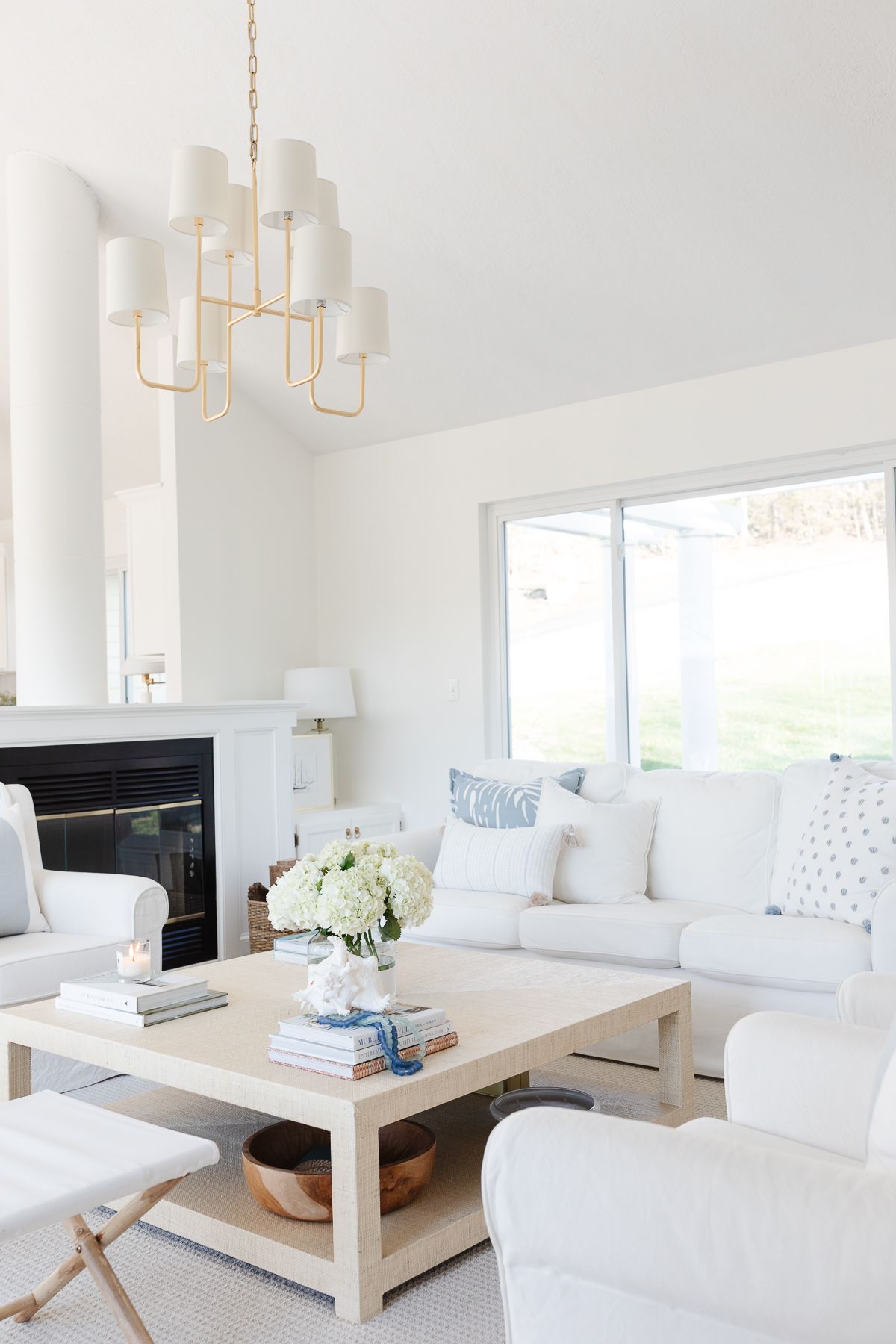 Cloud White is a classic, timeless color that has been popular for many years. Come see the color in our home with lights on and off to show the nuances, along with images of other homes that feature this gorgeous color!
An LRV of 85 means that Cloud White is definitely a light and bright color, but not as bright as Simply White, above. That means it will help bounce plenty of light around a room.
Gray, Blue and Green Living Room Colors
Looking for a rich, vibrant blue or green color that will enhance your living room walls? Then you're going to want to check out these beautiful options.
If you're intimidated to take one of these darker colors all throughout a room, try a feature wall or perhaps painting the bottom or top half over board and batten.
If you've been looking for the perfect navy blue, look no further! Benjamin Moore Hale Navy paint color (HC-154) is a true navy that plays nicely with any color combination or design style. Truly, this color is a designer's dream!
Hale Navy falls firmly in the dark color family with a low LRV of 8. Now, you all know that I love soft, neutral paint colors. I love how they make our home feel light and airy. However, that doesn't mean I don't love an occasional saturated color like Hale Navy.
Benjamin Moore Smoke is the prettiest soft blue gray paint color. It's a spectacular cool blue tone that reflects outdoor elements like sky and water, and helps lighten and brighten any space.
We used it in a pretty little garage mudroom space at our lake cottage. But I can absolutely see this color working in a living room too – it has just enough gray to read a little more neutral. Benjamin Moore Smoke has a mid level LRV of 56.49.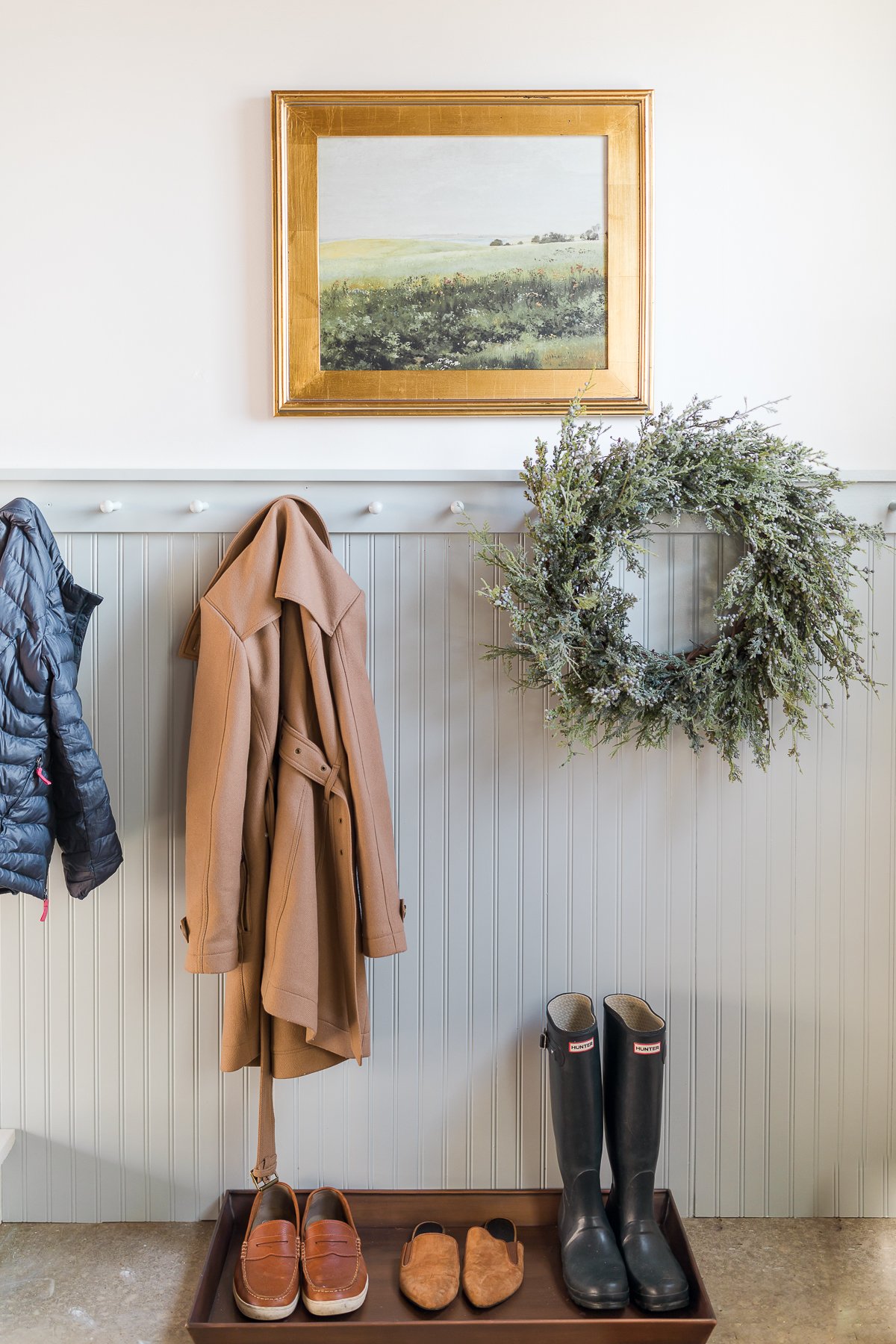 I'm using this color very soon and I can't wait to show you where! It's been on my short list for a while, and with good reason. It's so soothing and yet subtle.
Recently chosen as Sherwin Williams' Color of the Year for 2022, this is a fresh and fabulous gray green that is both moody and timeless. SW 9130 has an LRV of 30, making it quite dark.
When choosing a darker color for your living room, consider a feature wall, or using it on a wall treatment like picture frame molding or board and batten.
Benjamin Moore Silver Gray
Next, consider this pretty shade! This is a cool blue gray color that reads differently in various lighting situations. As you can see, we just used this color on the Dutch door of our lake cottage, and it feels like the perfect coastal blue!
A little blue, a little gray, and a little green… this hue has you covered! With an LRV of 60, this is a significant color that falls right in the middle of the LRV scale.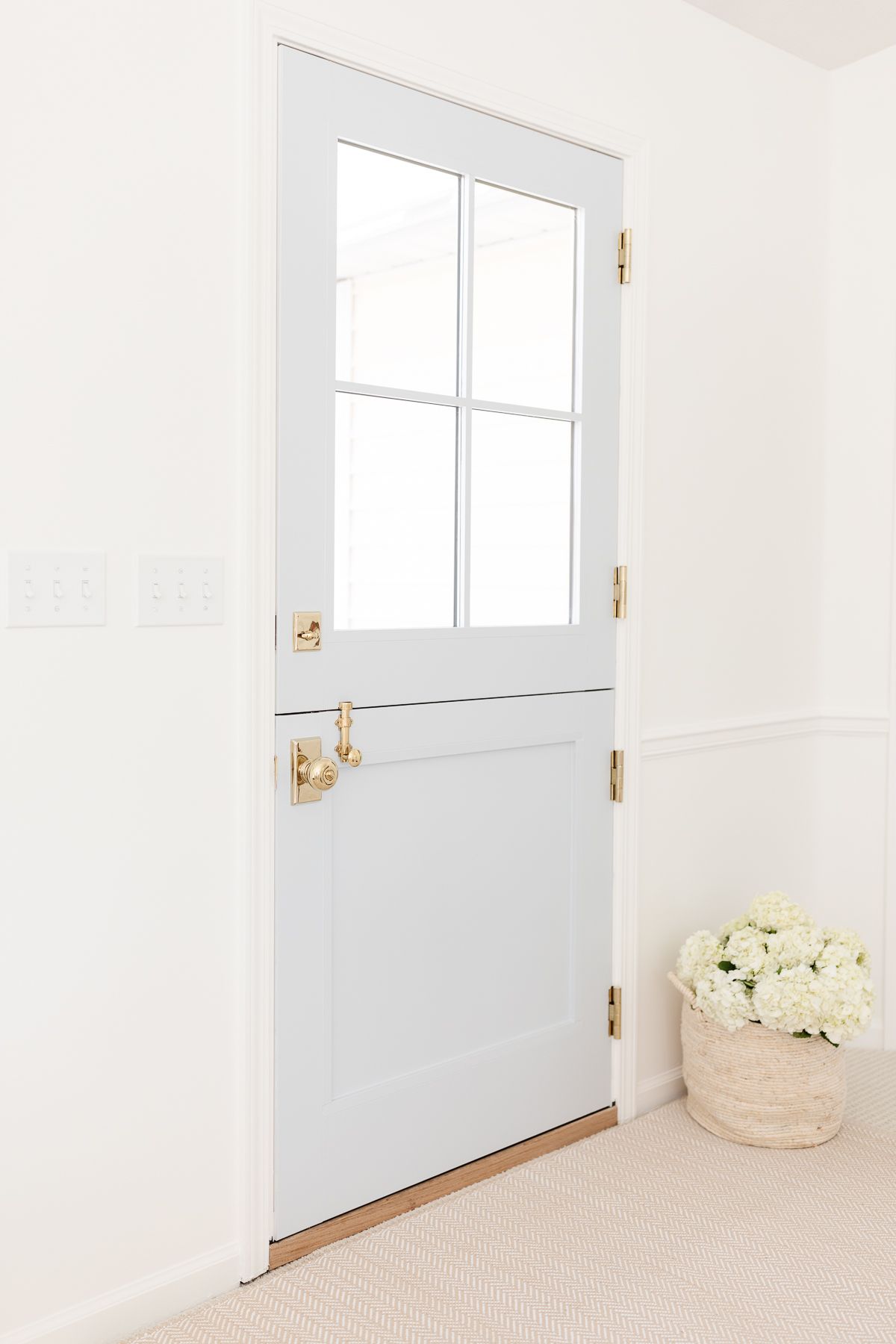 Beige and Greige Living Room Colors
Finally, the classic, timeless shades of beige and greige. These colors are warm and neutral. They offer deeper tones than a white or cream, but they don't feel like quite as much of a commitment as a more bold color.
In fact, while beige used to be considered boring, it's actually making a comeback. Indeed, these aren't your grandmother's eighties beiges!
Take a photo tour of this paint color used in more than one real home! You'll see it in a variety of lighting situations, used on walls, trim and more. It's no wonder this is one of the most popular paint colors right now!
It has a lower LRV (light reflective value) of 58, which means that it can make a room feel softer and cozier.
Next: Classic Gray! If you're looking for the perfect neutral greige paint color, this one is just the ticket! Learn why Benjamin Moore Classic Gray is the prettiest warm paint color for your home.
Classic Gray has an LRV of 74, which means you could classify it as a warm white or a greige. Any which way you call it, it's wonderful! In the image below, it's paired with Simply White trim.
Similarly to Accessible Beige, this color has a middle-of-the-road LRV of about 55.5. That means it isn't very dark, but it isn't all that bright either. Painting a room this color won't make it feel brighter, but it will feel warm and cozy!
Revere Pewter is the perfect neutral. It's not gray or beige – just a lovely mid-tone greige. It is ideal for open floor plans because it works well in so many different types of spaces.
Finally, rounding out this list is one of my favorites. Pale Oak by Benjamin Moore is a soft neutral greige paint that can work beautifully in a variety of spaces and lighting situations. It's a warm, balanced color that reads as an off-white in some rooms and a true greige in others.
Pale Oak has an LRV of just under 70 (69.89). That's a great number and one that sits right between a greige and warm white.
Well, what do you think? Are you ready to take the leap with a fresh new living room paint color this year? Above all, I hope you're inspired to consider a new color! I'd love to hear from you!
Let's keep in touch! Receive exclusive content, including never-seen-before photos, our favorite home decor DIYs and more!