The humble carnation is actually the freshest face of cut flowers in so many ways! Learn why the Dianthus Caryophyllus is such a historical success story and why you'll love bringing this beautiful old-fashioned bloom into your home.
Whether you prefer pink, white, peach or the gorgeous new antique carnation varieties… or even more vibrant bright color, this post is for you. Get all the basics of this fragrant, long-lasting flower and find out why they are so beloved.
Think you don't like this old-fashioned flower? Well, I hope I can change your mind!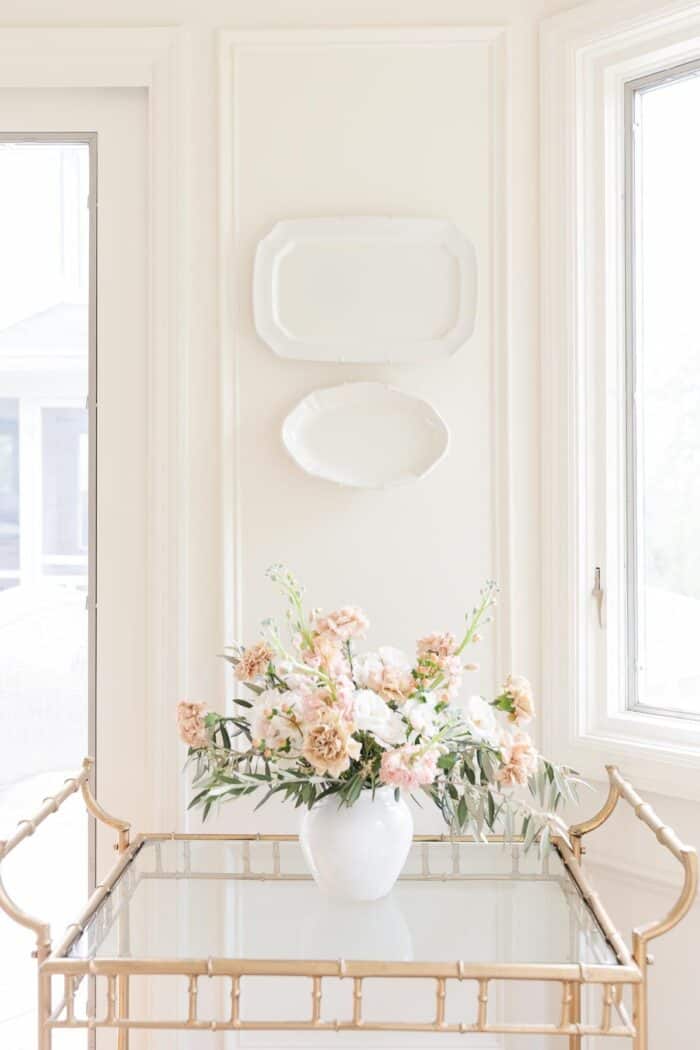 While an image of the humble carnation may take you back to tacky wedding bouquets and prom corsages of yesteryear, these pretty blooms are actually anything but dated.
Erase that image of dyed white carnations or bright pink carnations from your mind… because carnations are having a moment. They are fluffy, ruffly, fragrant, and they are available in the most gorgeous array of colors.
Affordable, long-lasting and dependable, the carnation might just be one of my new favorite blooms! When I spotted these gorgeous antique carnations at my local grocer, how could I resist?
So, with some of my favorite Florist Secrets, I threw this bouquet together in a matter of minutes. I just love their subtle scent and that gorgeous beige, antique tone, especially when mixed with those antique garden spray roses, Stock Flowers and hypericum berries. Of course, I added a few stems of olive branches for good measure!
I thought it was well past time to share a little carnation love! We're covering their history, their best attributes, color range and meaning.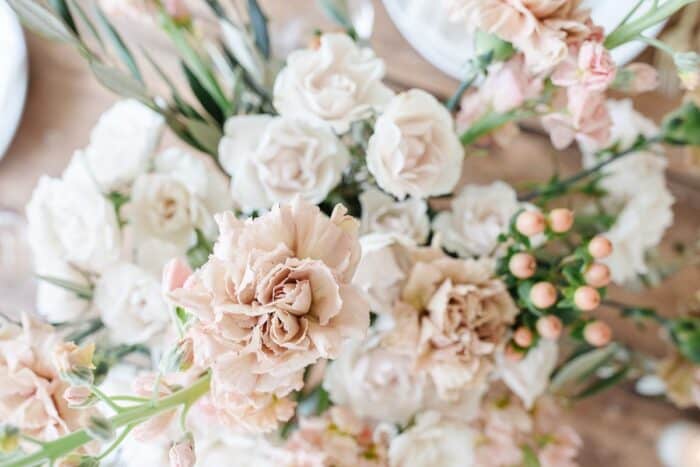 What is a Carnation?
The carnation flower (scientifically known as Dianthus Caryophyllus) is a popular flowering plant. It's grown in a variety of landscapes and home gardens.
They are herbaceous perennials native to the Mediterranean. It's a widely used bloom, popular as a cut flower for bridal bouquets, floral designs, corsages, and boutonnieres.
Incredibly, documentation proves they have existed for more than 2,000 years! They are even featured in a variety of artistic decor by the Greeks and Romans.
They've been shipped to the US for almost 170 years! They actually arrived in Long Island from France in 1852.
Dianthus Caryophyllus have had a variety of nicknames over the years: grenadines or clove pinks, for example. They are long-loved for their fragrance, ruffling petals, and an incredibly long vase life and bloom time in your gardens.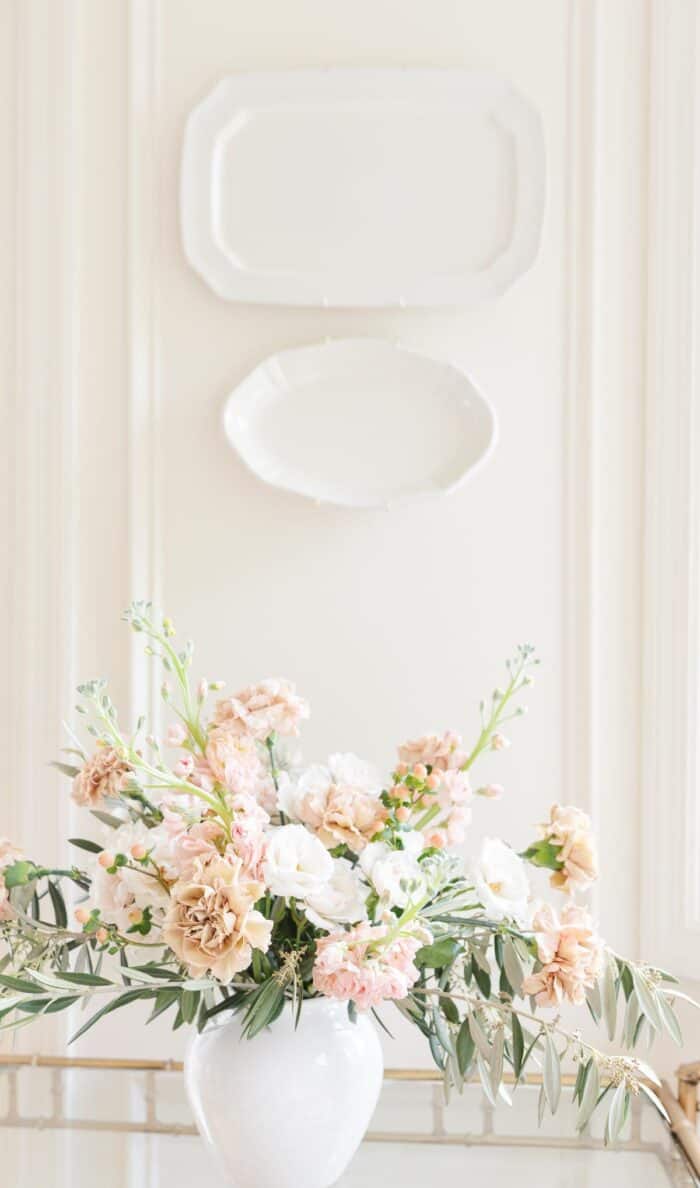 Why You'll Love Carnation Flowers
These are a historically popular bloom with good reason. They can be an excellent addition to your floral designs as they have a consistent color and size and make a great filler flower.
Second most popular cut flower after roses
Traditionally given on first anniversaries to symbolize love and commitment
Long-lasting (vase life is typically 2-3 weeks)
Durable
Travel and ship well
Fragrant
Wide variety of colors
Inexpensive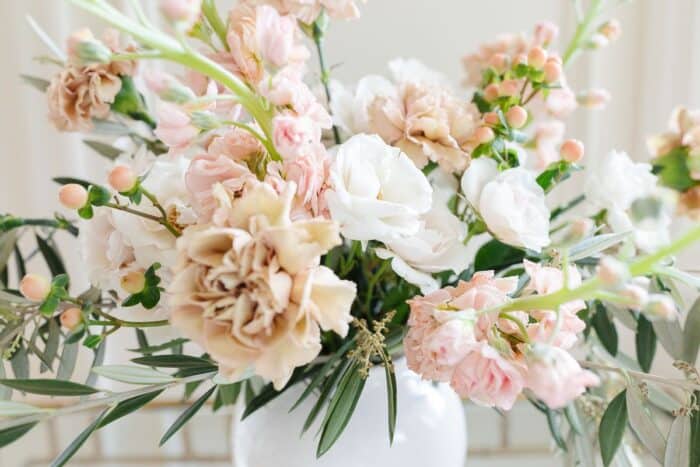 Carnation Colors
Carnations are available in an incredible array of colors, and each color has its own special meaning!
Red
Peach
Fuchsia
Yellow
Orange
Purple
Green
Because I am a fan of a soft, muted neutral color palette, I thought I'd give you a little background on a few of my favorite colors. There are so many more options, though, so have fun with it and explore what works best in your own home!
Antique Carnations
As shown in the arrangement pictured throughout this post, antique carnations are actually the newest novelty colors on the market! Because this faded, antiqued look is so hot for weddings and design, growers have worked to bring a variety of "antique" colors to market.
You'll find antique carnations in a wide range of colors, from a faded lavender, to a true beige carnation, antique pink, soft terracotta, caramel, and so many more. Work with your local florist to choose the right option if you have a specific need.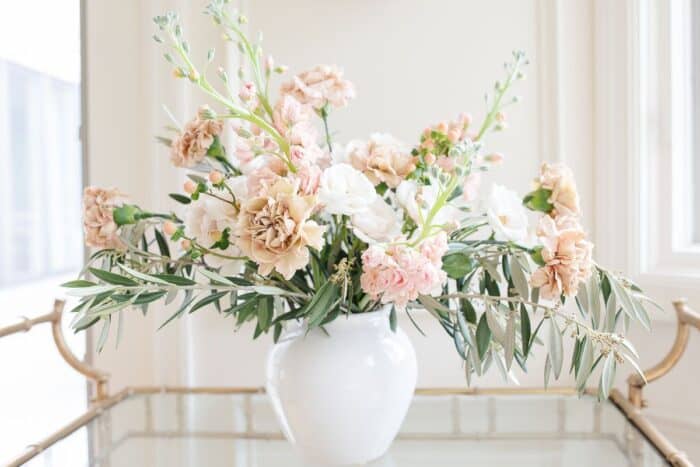 Pink Carnations
Pink carnations are believed to symbolize gratitude. They are also forever associated with Mother's Day, which makes them a sweet way to recognize your mom. They're actually the "official" Mother's Day flower!
White Carnations
White carnations are believed to symbolize good luck and purity, making them a perfect wedding flower.
I love that these symbolize good luck – it makes them a perfect gift for someone newly engaged, on a new life adventure or graduating from high school or college.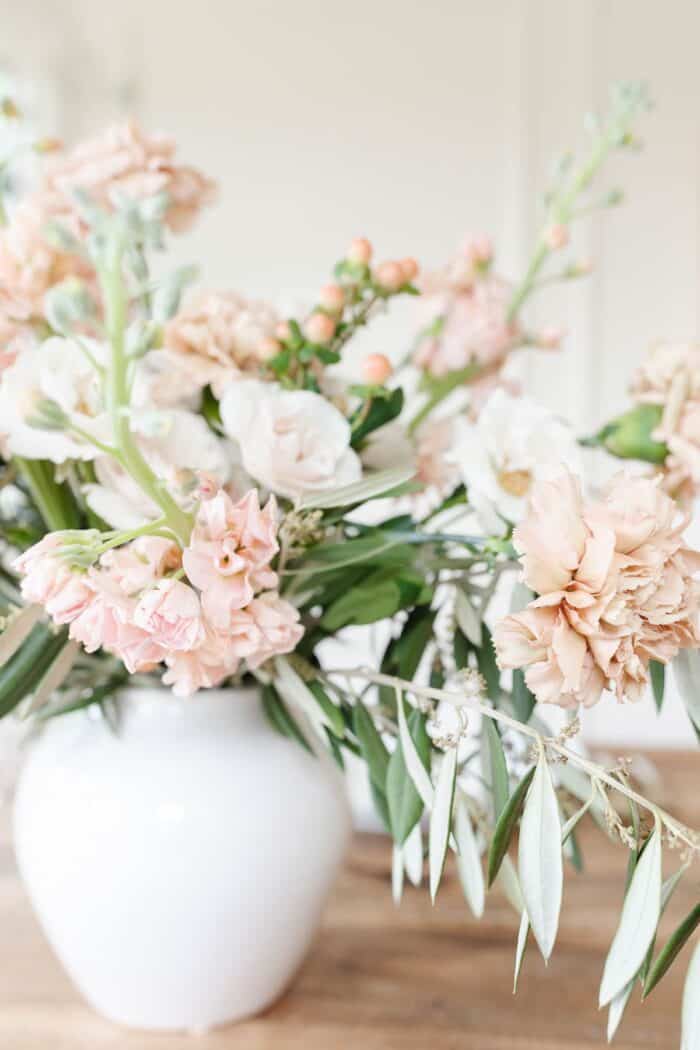 Carnation Symbolism
The carnation symbolizes fascination, distinction, and love.
Depending on color, carnations can express love, devotion, gratitude, admiration, appreciation, and more.
They can also symbolize eternal grief, which has made them a long-loved choice for funerals and celebrations of life, as well. In this situation, they can show your feelings of sadness, sorrow, and grief.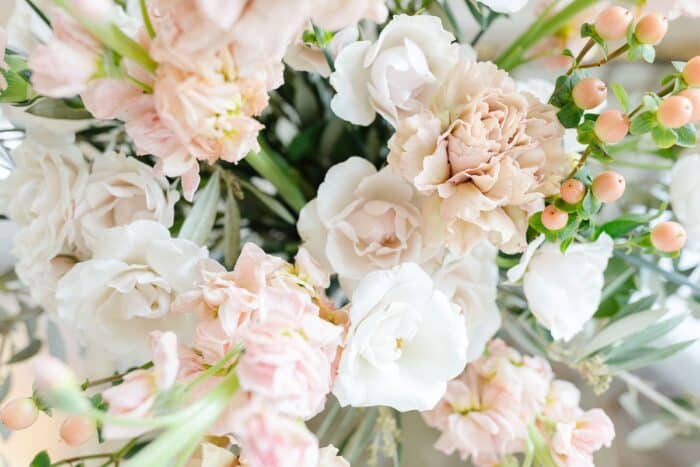 Frequently Asked Questions About Dianthus Caryophyllus
Do carnations have other uses?
Historically, they have been brewed in tea meant to revitalize energy levels and reduce stress, fever, and stomach troubles. The oils from carnation flowers is also incorporated into beauty products intended to moisturize skin and slow wrinkles.
Are there blue carnations?
There is a type of mini carnation that was grown and sold as "blue" although it's more of a mauve purple. It was achieved as a blue color with the genes of a blue petunia, grafted into the DNA of carnations.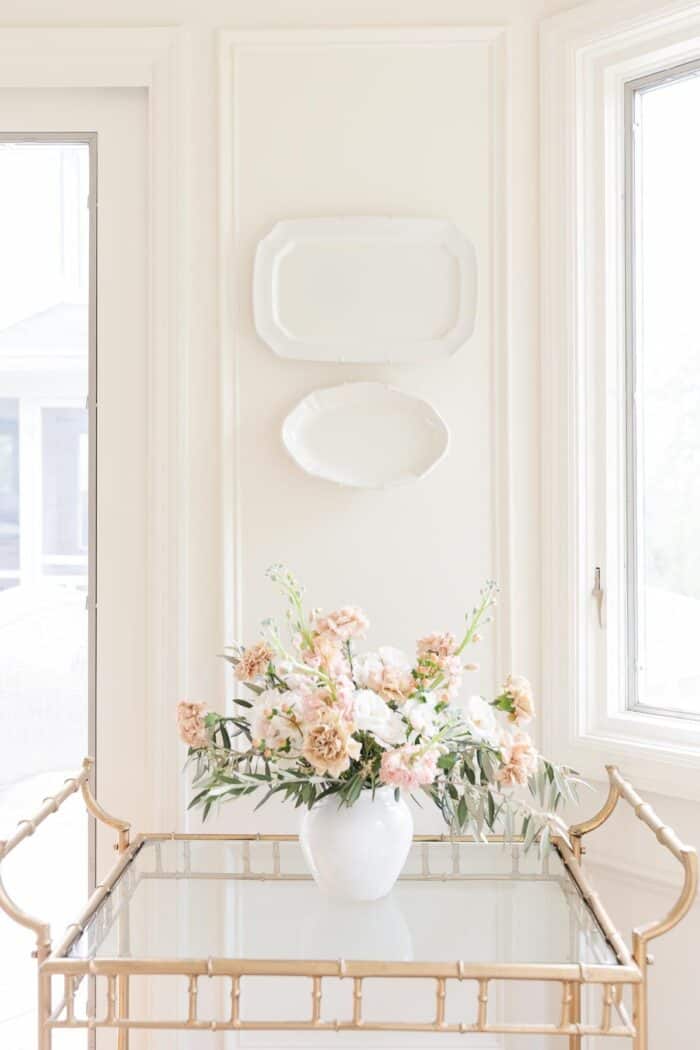 Sources
Carnation Care Tips
When purchasing fresh carnations, choose half-open flowers, with some in your bundle still in the bud stage. They'll last so much longer!
Choose a clean vase with fresh water.
Remove all leaves that will fall beneath the water line to prevent bacteria build up.
Cut at least one inch off the base of your stems, preferably at an angle to allow more water uptake.
Change your water each day.
Add flower food if you'd like, but it's not necessary.
Enjoy!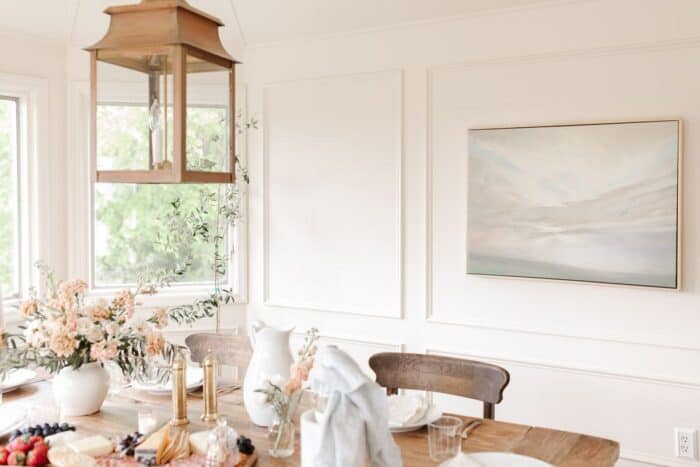 I hope you learned something new today, and I hope it encourages you to bring some of these beautiful blooms home to help you create a calm and cozy home you love!
What do you think? Are you a longtime carnation fan, or have you recently rediscovered their beauty, like me? I'd love to hear from you!
More Floral Inspiration