Combine the beauty of vibrant orange clementines with a little greenery, pinecones and candles, and you've got the easiest long-lasting centerpiece. Our mandarin orange centerpiece adds easy-going charm to any fall or winter event!
This beautiful table setting works throughout fall and winter, and it smells as good as it looks!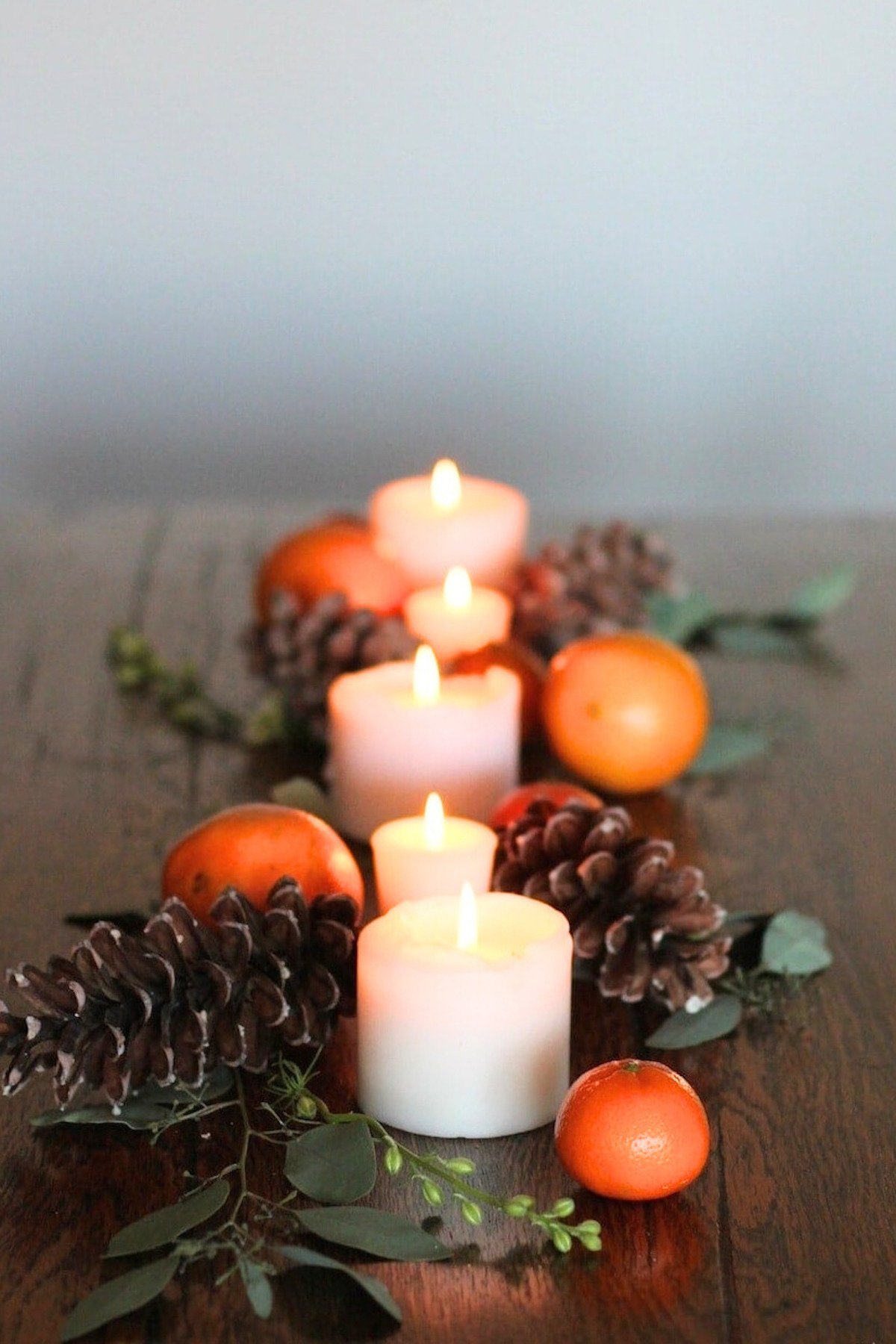 I love a little surprise and it doesn't always have to come in the form of a gift. A little unexpected pop of color or incorporating something that isn't typical makes a room, an outfit or a table more interesting.
Orange is an expected fall color, but you don't often find the fruit in fall decorations. This table setting was inspired by the potpourri I made last fall.
It was simple, all natural and the most beautiful color palette. In fact, it would make an incredible take home favor.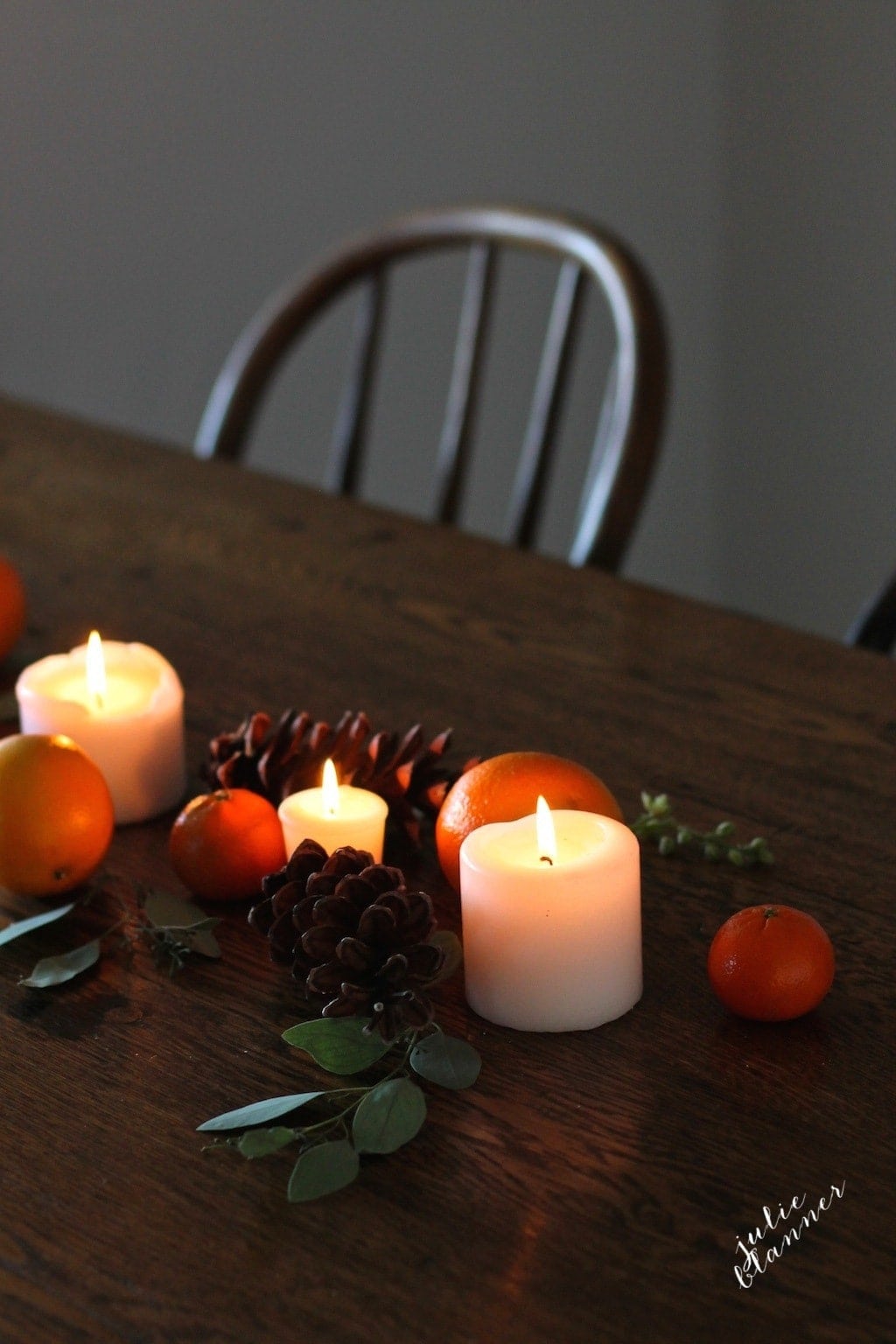 Mandarin Orange Centerpiece
I rarely invest more than $20 in my table settings and this table is no exception. One of the ways that I keep things affordable it to re-use what we already have!
I always have both pillar candles and tapers on hand. I had the girls collect pine cones in our yard, and then we purchased oranges and a bag of clementines.
We also found a wispy little floral stem at my grocery store for $1 – it offered more than enough to work with and of course I couldn't skip my favorite seeded eucalyptus.
Much of this centerpiece is edible after your event, creating less waste. Create your own sprawling five minute fall and winter table setting in just a few easy steps!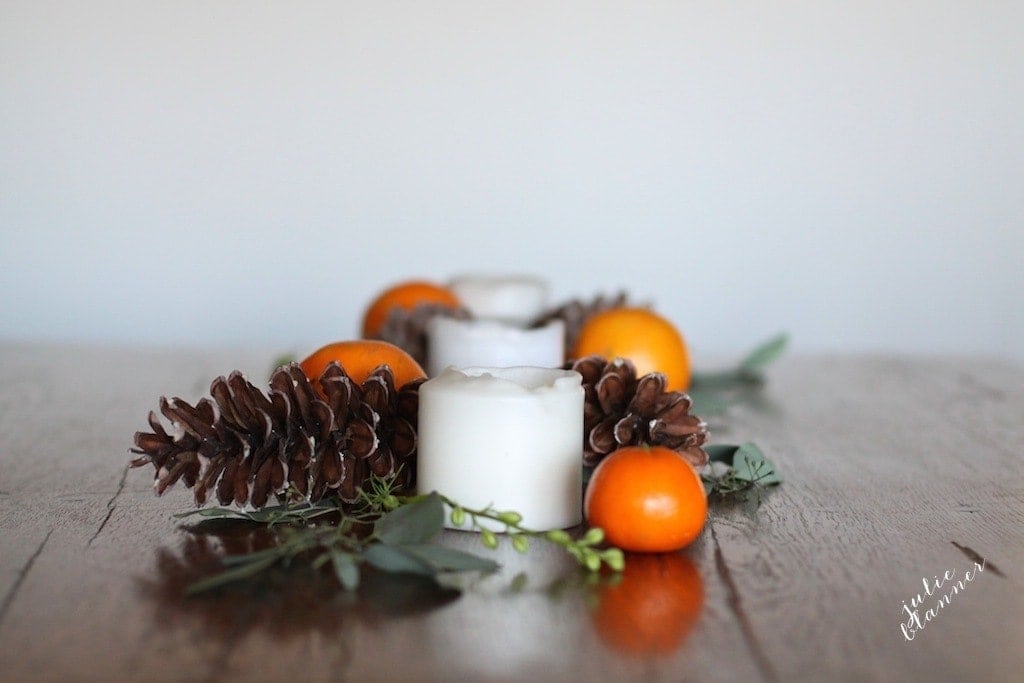 Ingredients
Oranges
Clementines
Pine Cones
Candles – I used a mix of votives and pillars.
Flower Stem – We used a pretty stem of white larkspur. Anything with individual blooms on a long stem will work well.
Eucalyptus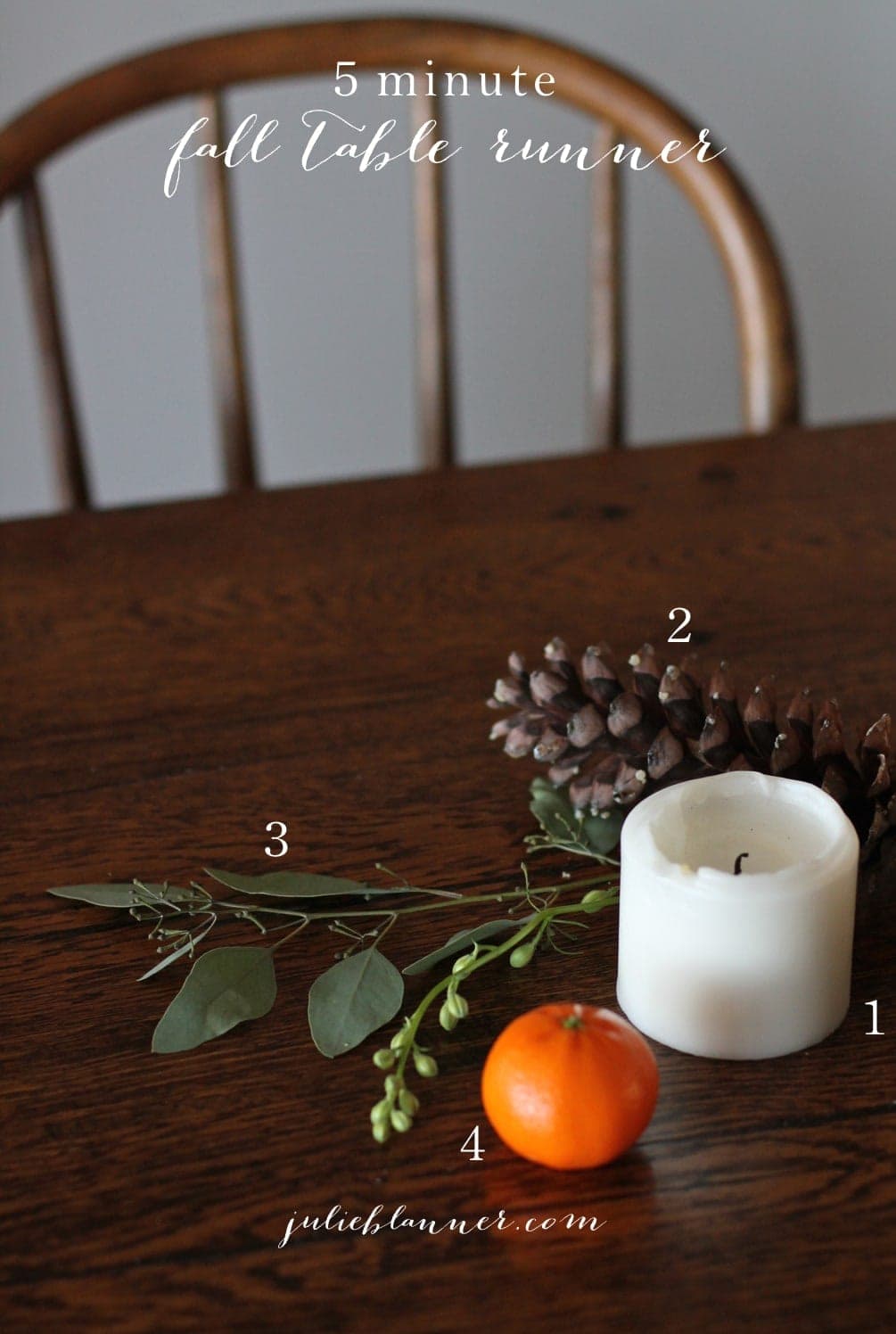 How to Make
Add Pillar Candles to Table – Make a runner with your candles.
Pinecones – Add a few pinecones next to the candles, alternating their direction as needed.
Add Greenery and Blooms – Tuck in snips of eucalyptus & floral stems – especially at the ends.
Add Fruit – Finally, add oranges and clementines for a vibrant finishing touch.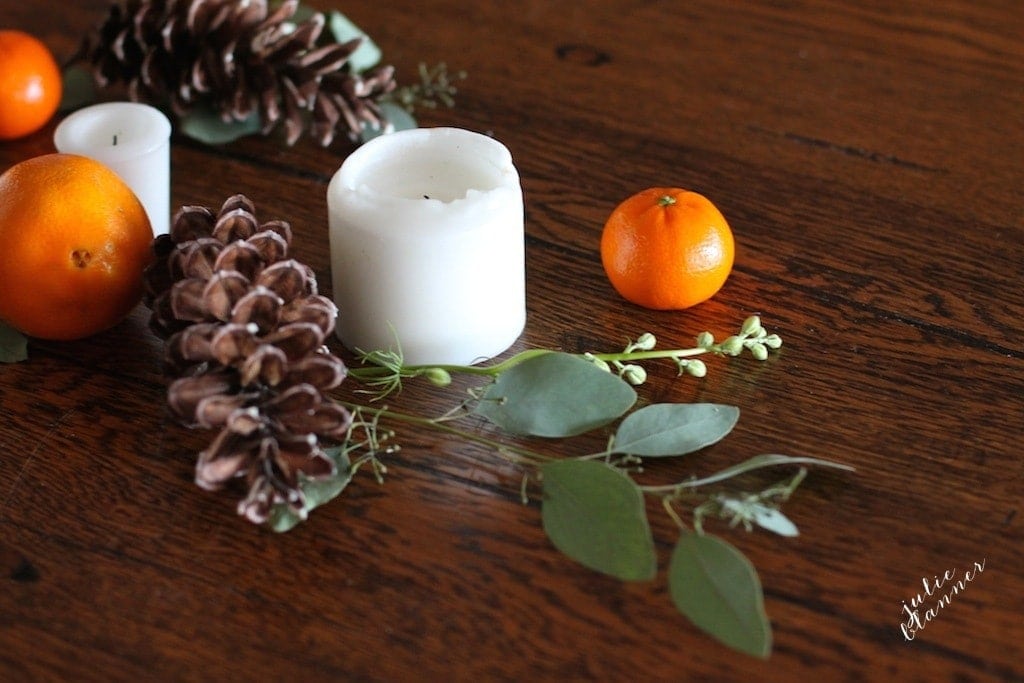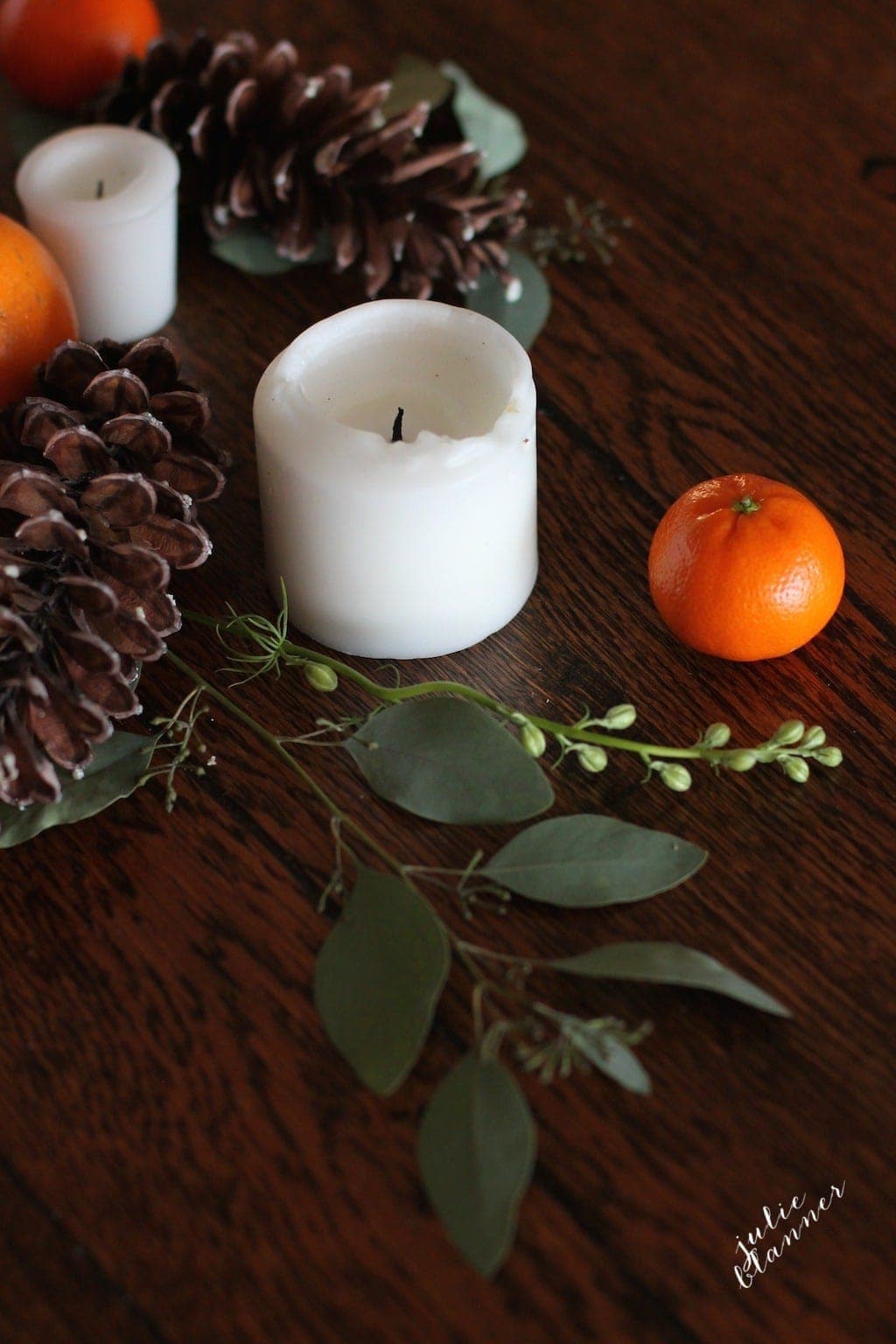 Don't be afraid to get creative – you really can't go wrong!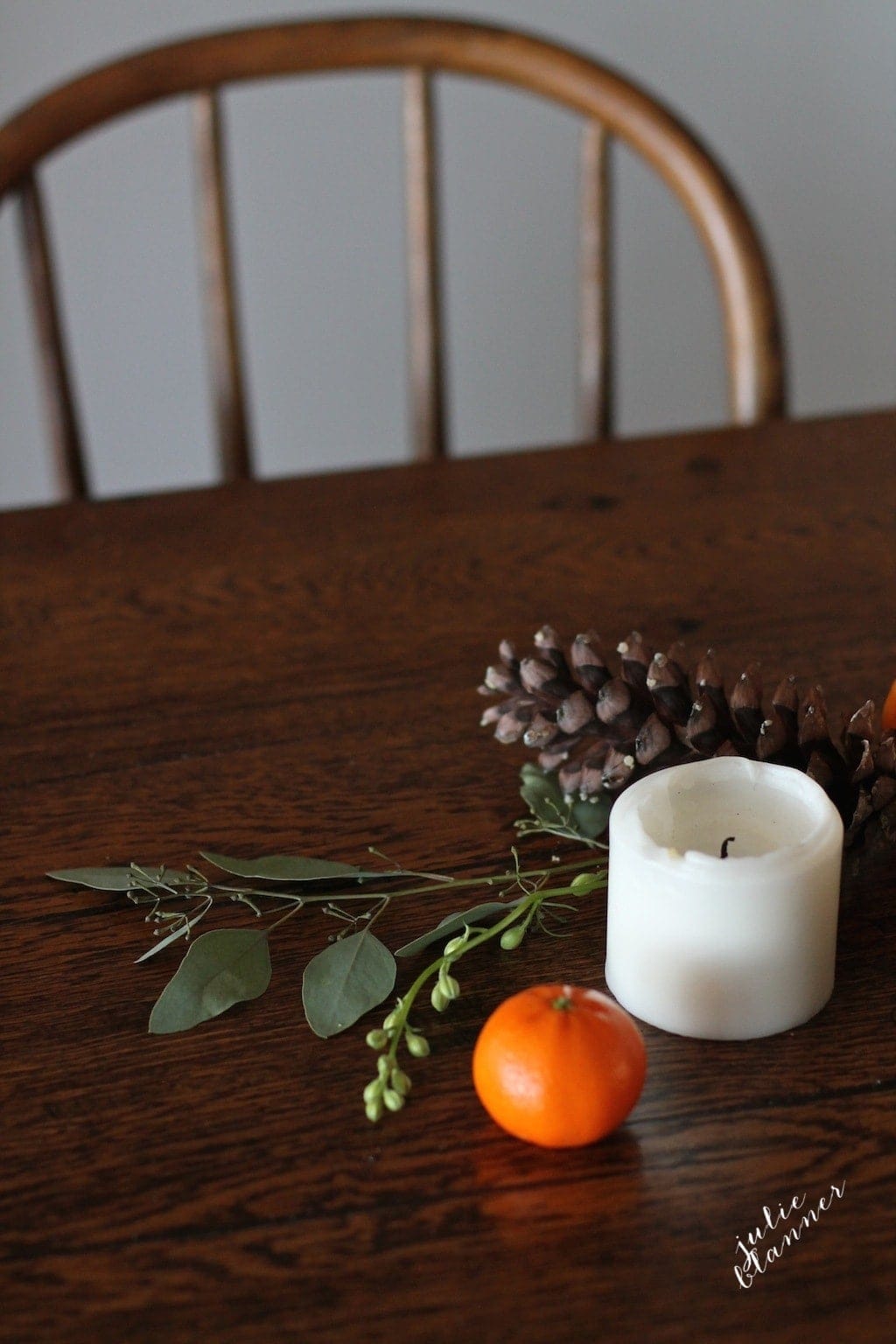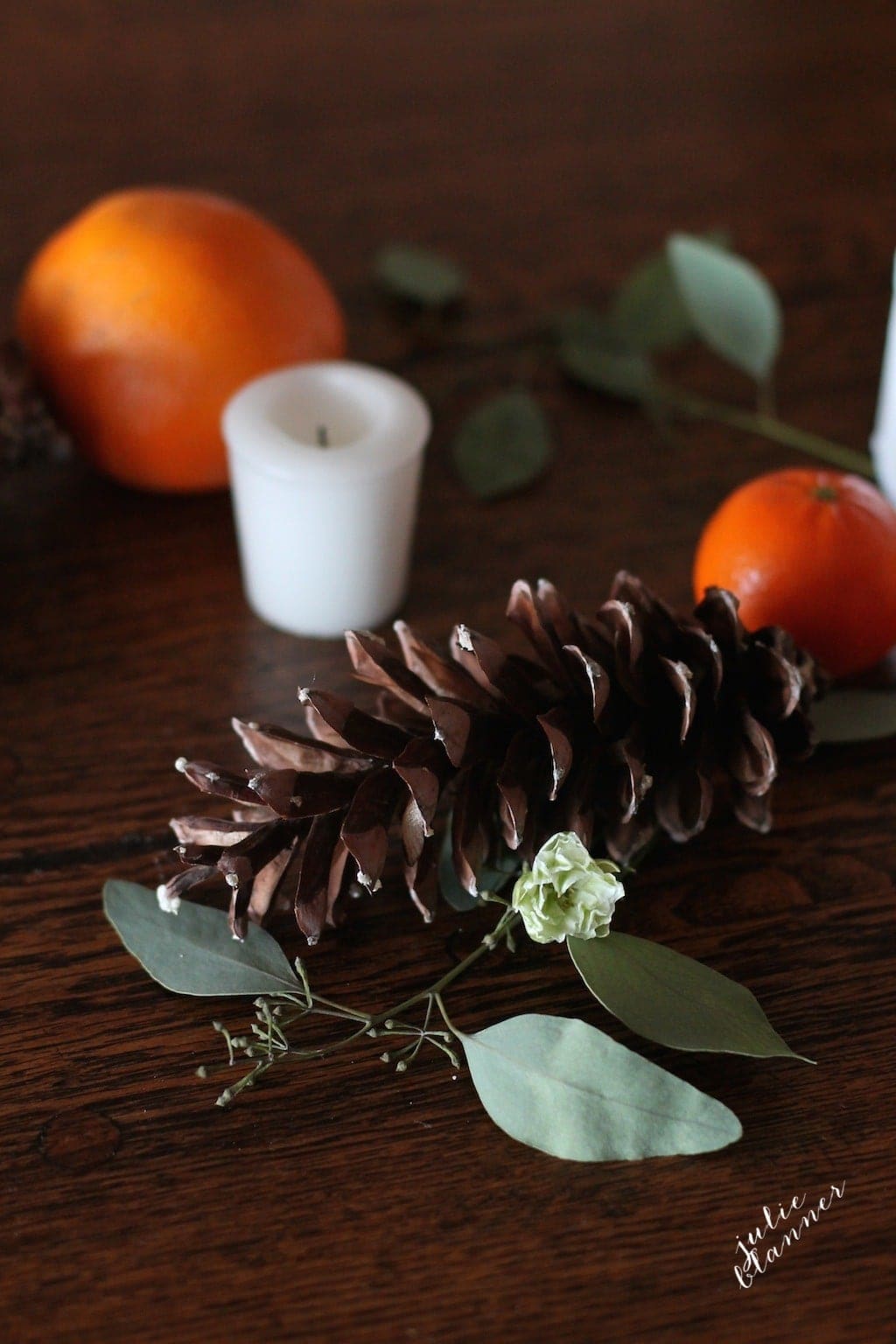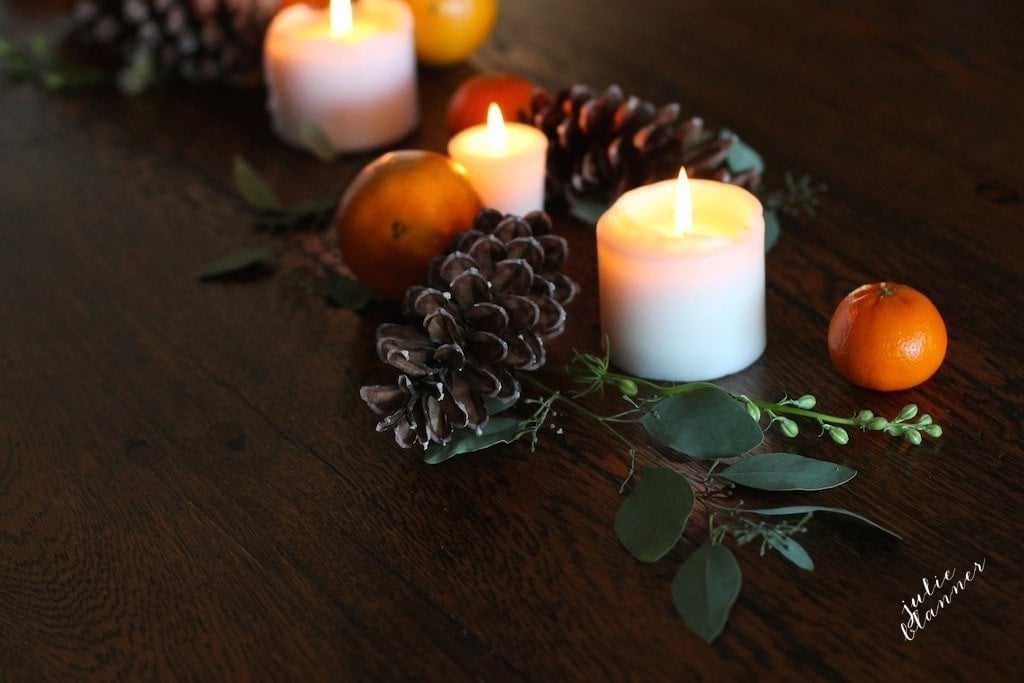 Place Cards
For place cards, I printed our names on fabric and pulled strings to fray the edges for a little rustic charm.
They pinned easily into clementines that I adorned with eucalyptus leaves and buds from the flower stem I used in the floral table runner.
It makes each place setting feel personal in under five minutes. To print on fabric, use my method or the new printable fabric sheets I discovered at that time.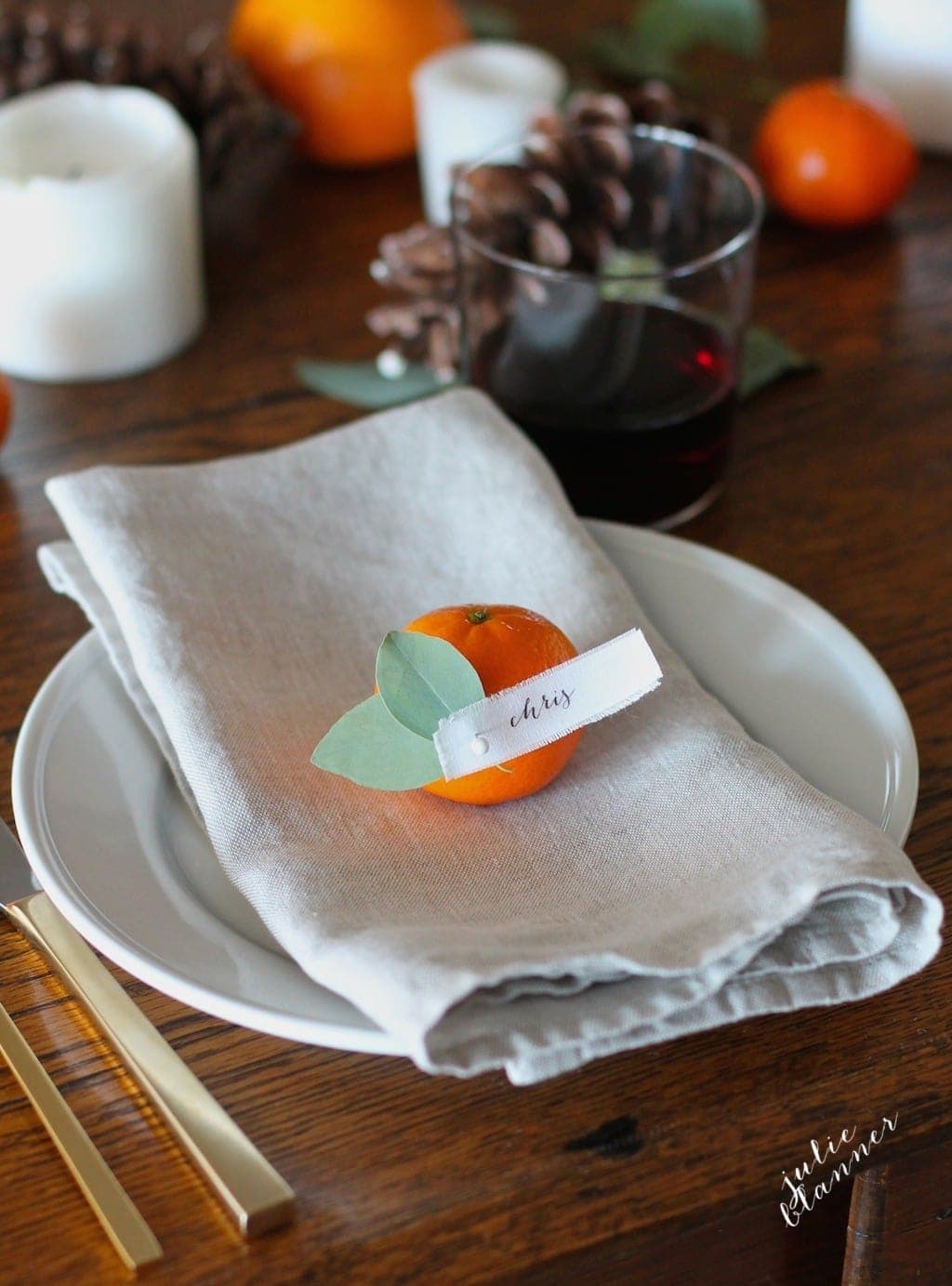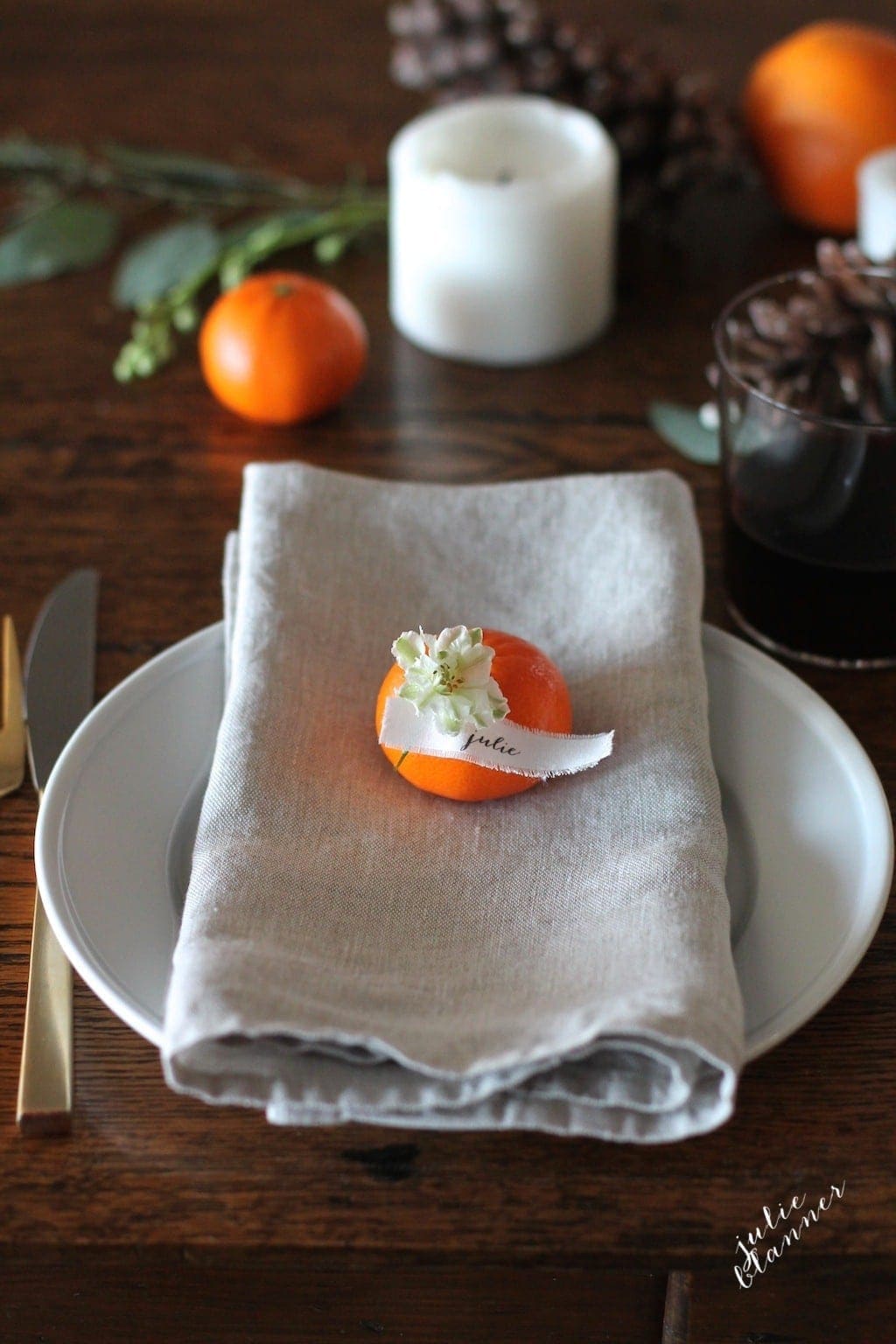 I love how the rustic "table runner" frames each place setting, don't you?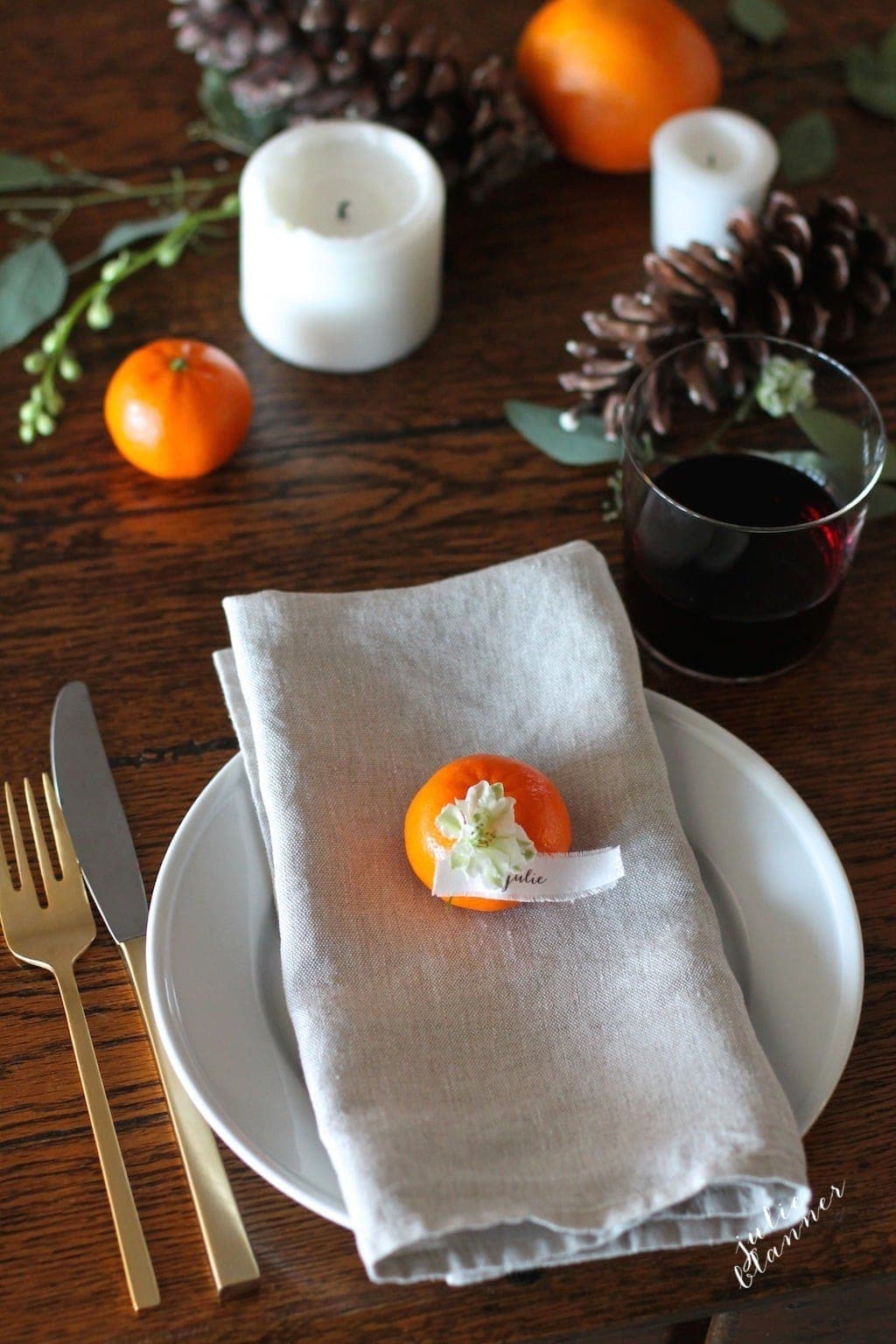 More Affordable Centerpieces