Decorating with branches is a beautiful way to infuse seasonal elements into your fall home decor.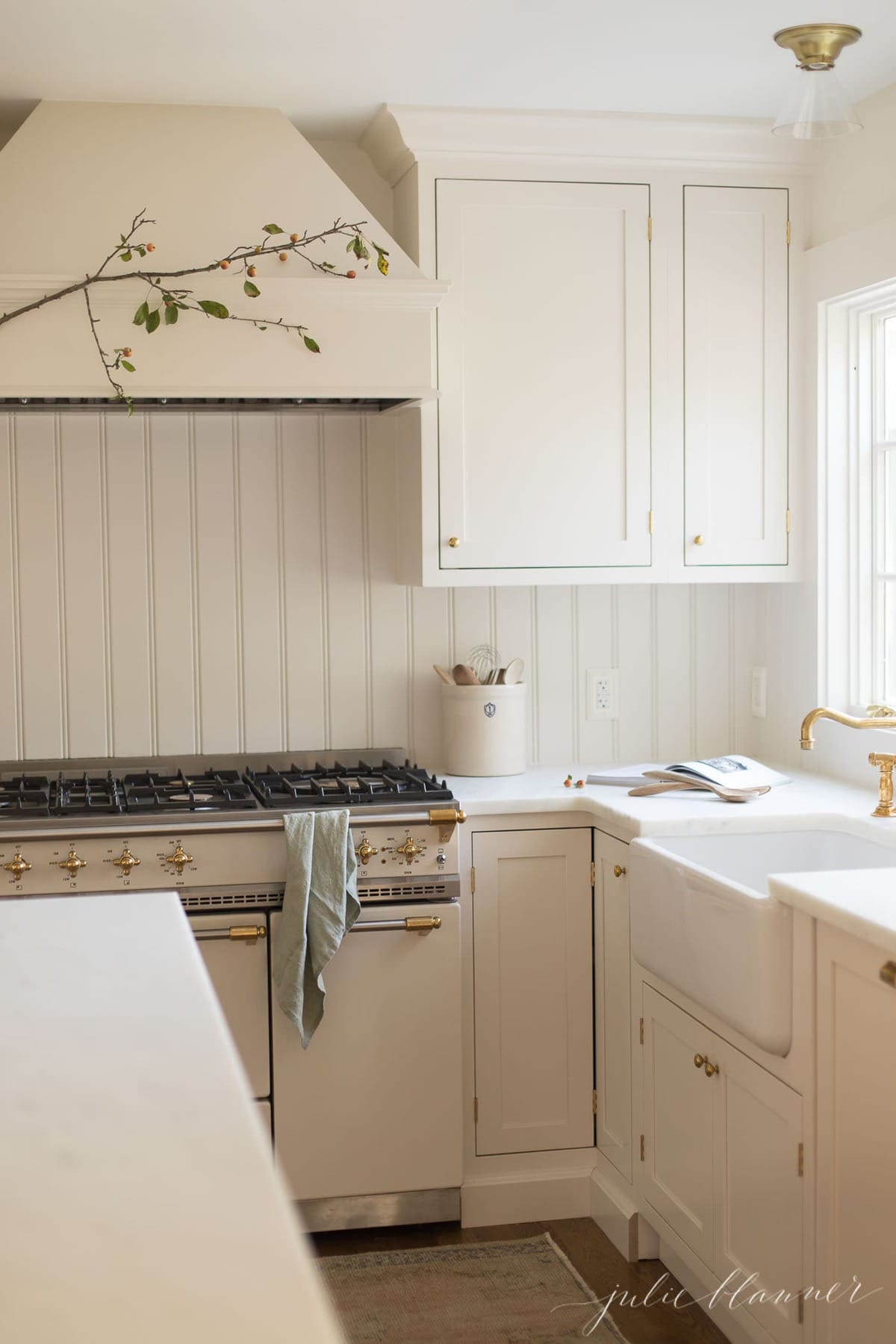 Using Twigs and Branches to Decorate
'Tis the season to do a little fall decorating, integrating the colors of fall into our home in an organic, subtle way. I most often do this decorating with branches and twigs!
Branches and twigs are an easy (and free!) way to bring a natural feeling to any room in your home. The sky is the limit when it comes to their colors, too – just look outside your window and notice the variety of colors, from standard brown bark to white birch bark, and of course the myriad colors of foliage and berries as the fall season progresses.
(You can get more natural fall decorating ideas here, and learn about Cherry Blossom Branches too).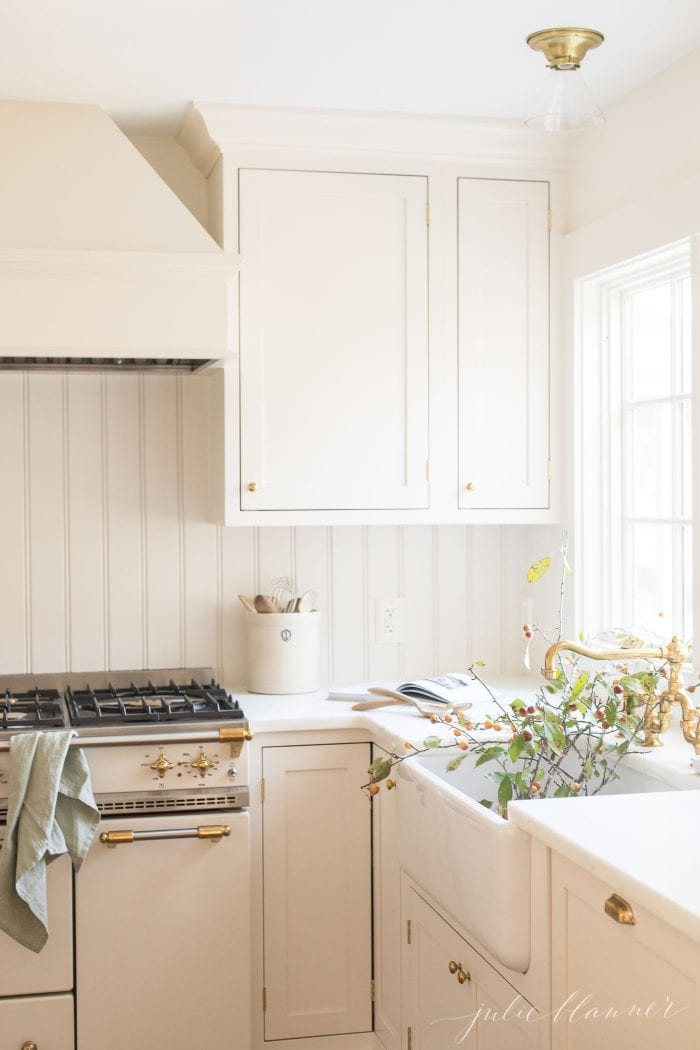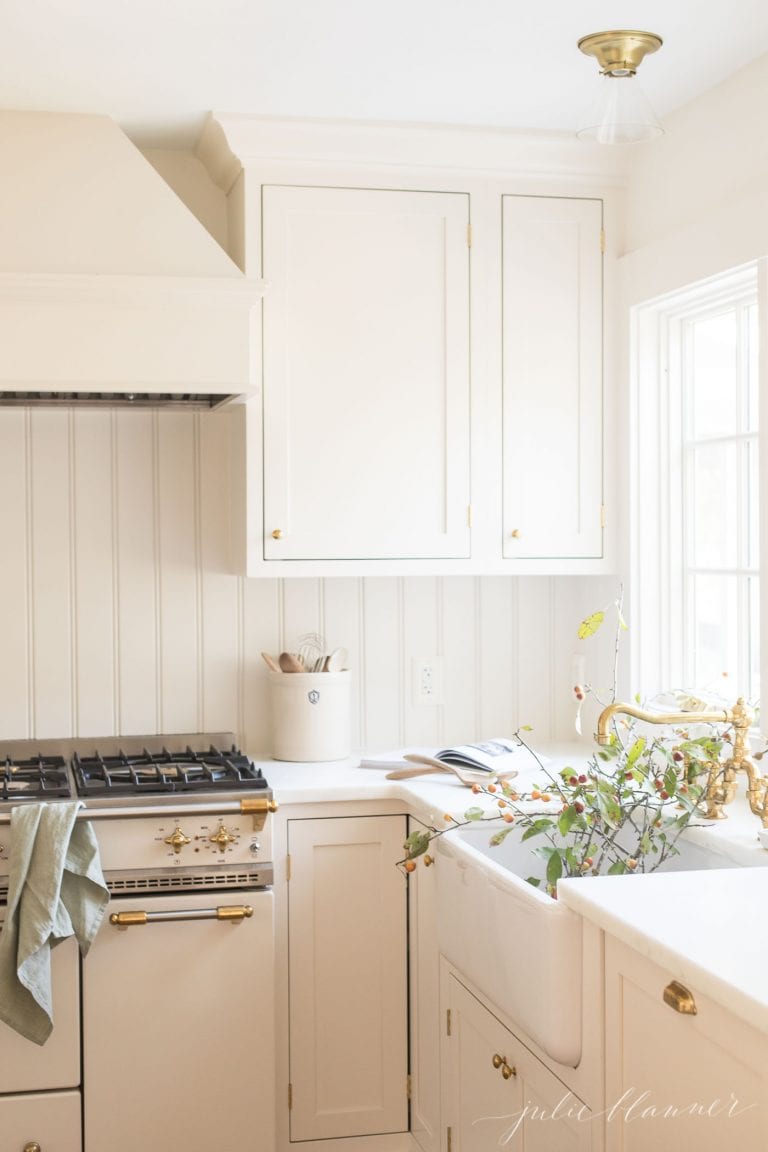 So if you've ever thought of incorporating branches into your decor, but weren't sure where to start, I'm sharing how I enjoy using them as part of my fall kitchen decor.
The easiest way to decorate for a holiday or season is to bring the outdoors in. It instantly brings a room to life while incorporating the colors of the season, and there's no better for this than the fall.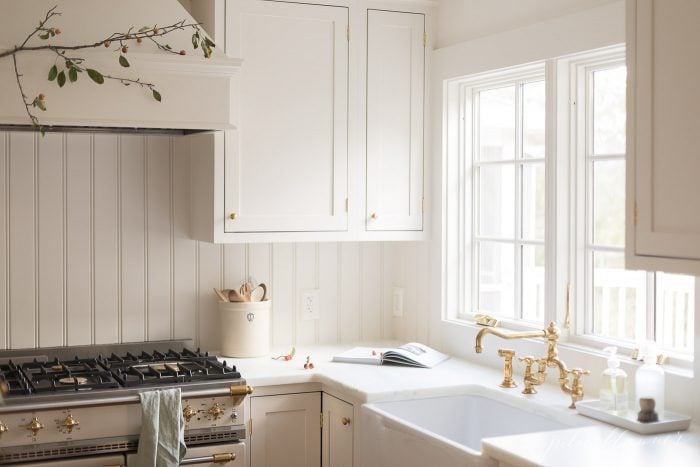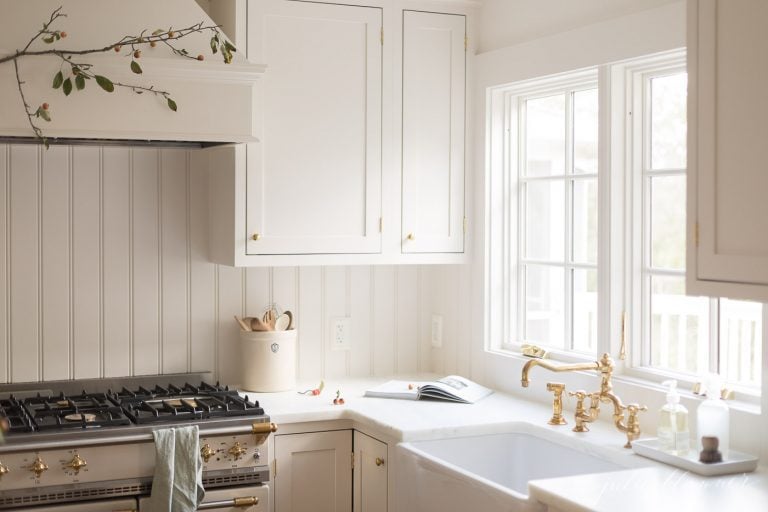 With Labor Day behind us and school in session, I am excited to infuse our home with hints of autumn. I tend to keep our home decor to a minimum, striving instead to blend function and design, but I almost always have fresh flowers or branches because they bring me an abundance of joy.
Looking for the best fall centerpiece ideas? Check out my incredible roundup of 20 of the BEST Fall Centerpieces.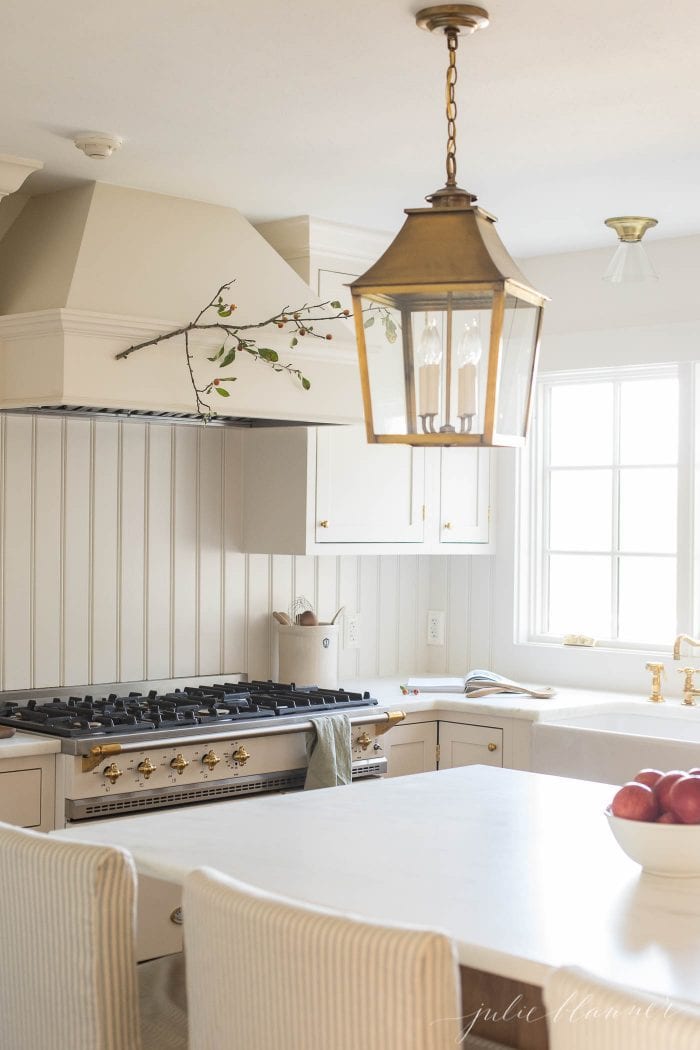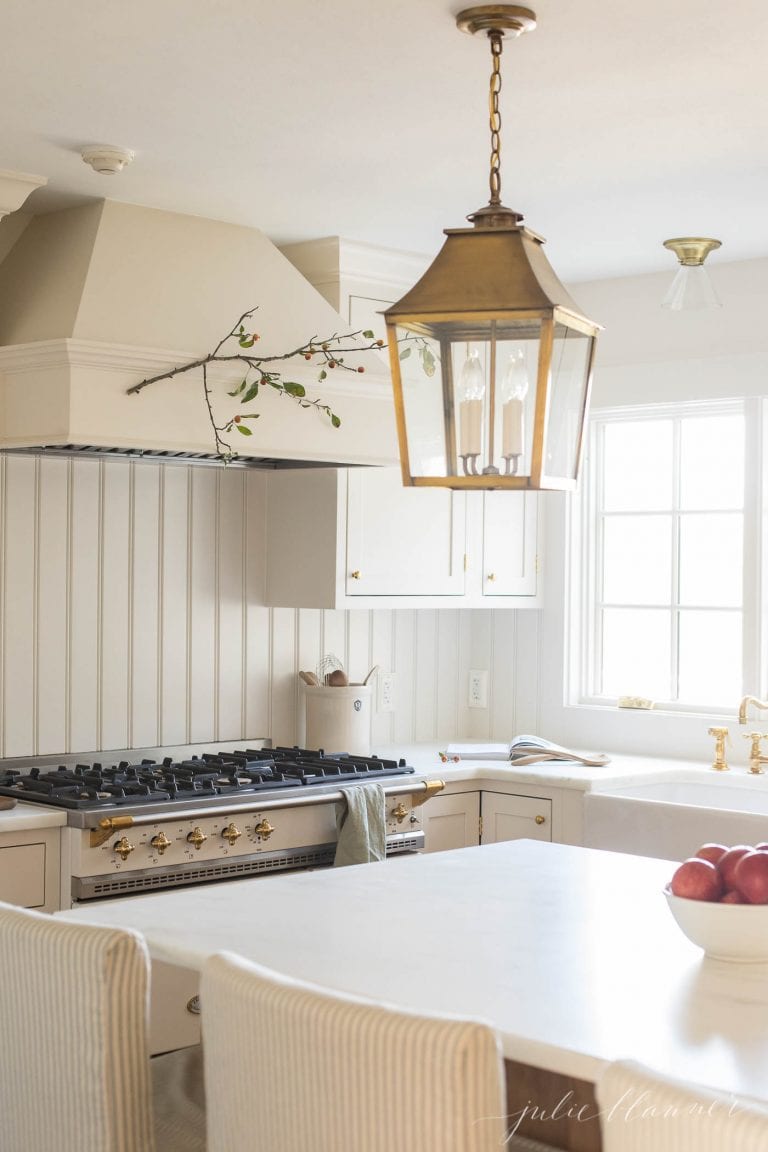 Just beyond our kitchen window are a few crabapple trees. While they're not in the best shape, there's something effortlessly beautiful about the three tone leaves and pretty pink and red hues from our crabapple branches. They're the perfect way to add pop of fall color for our fall kitchen decor.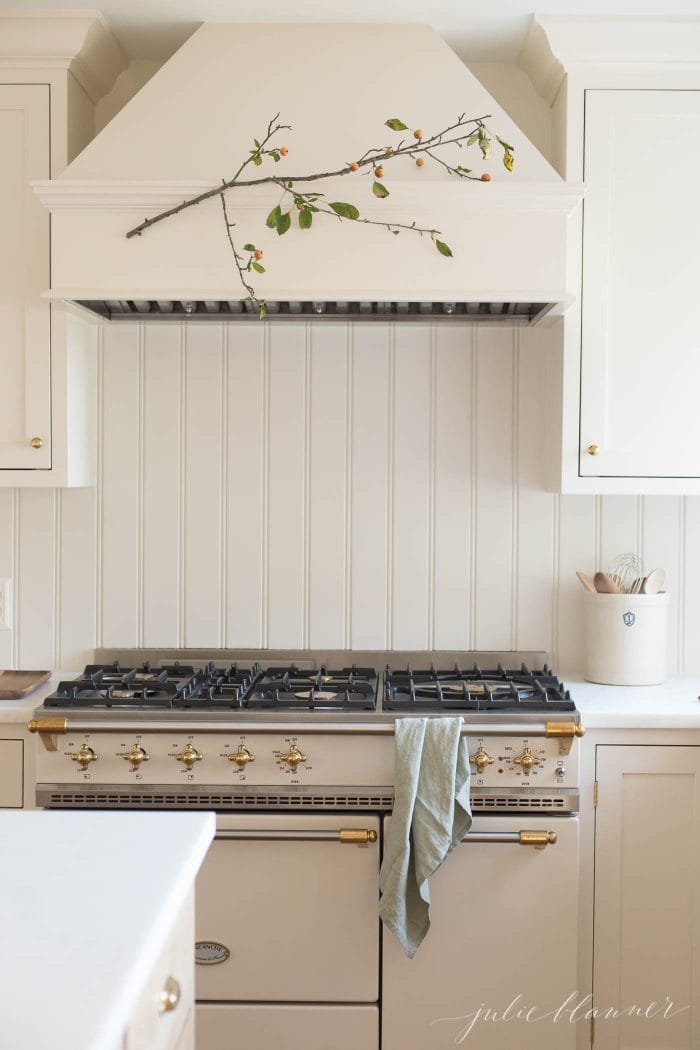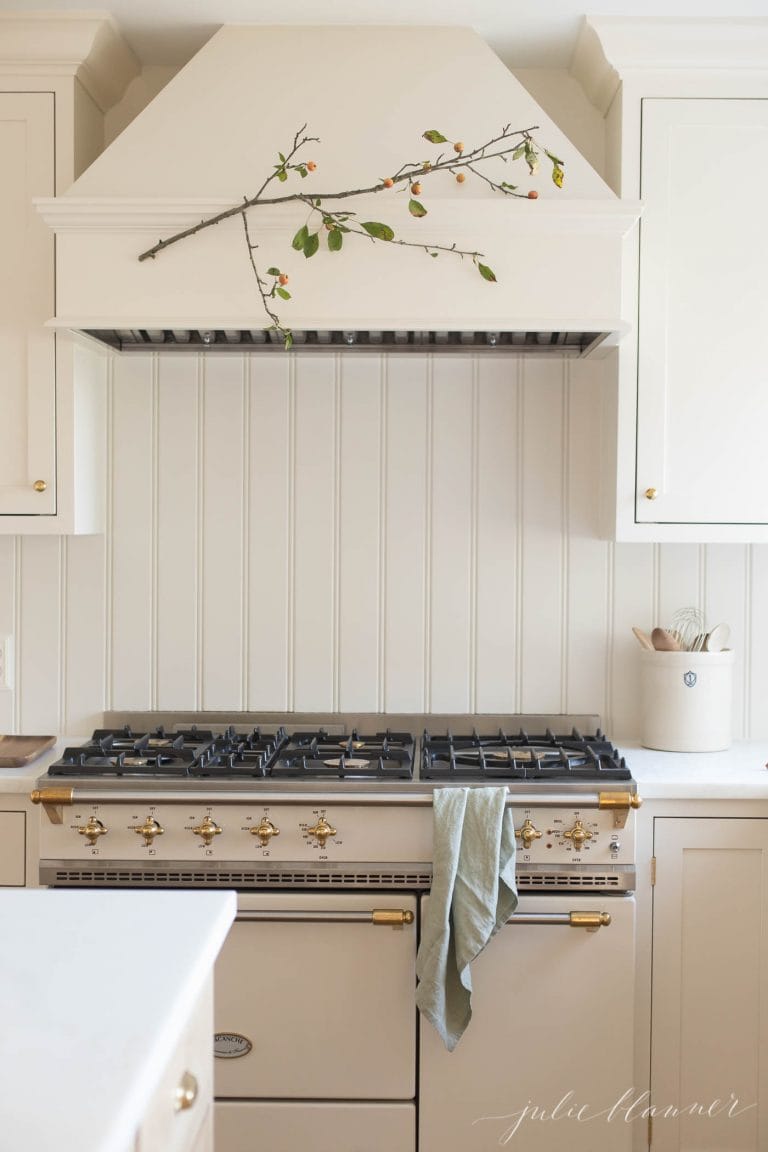 A single branch hanging from the hood instantly updates the kitchen for fall. (There's a nail discreetly placed up there to secure it!)
Branch Centerpiece Idea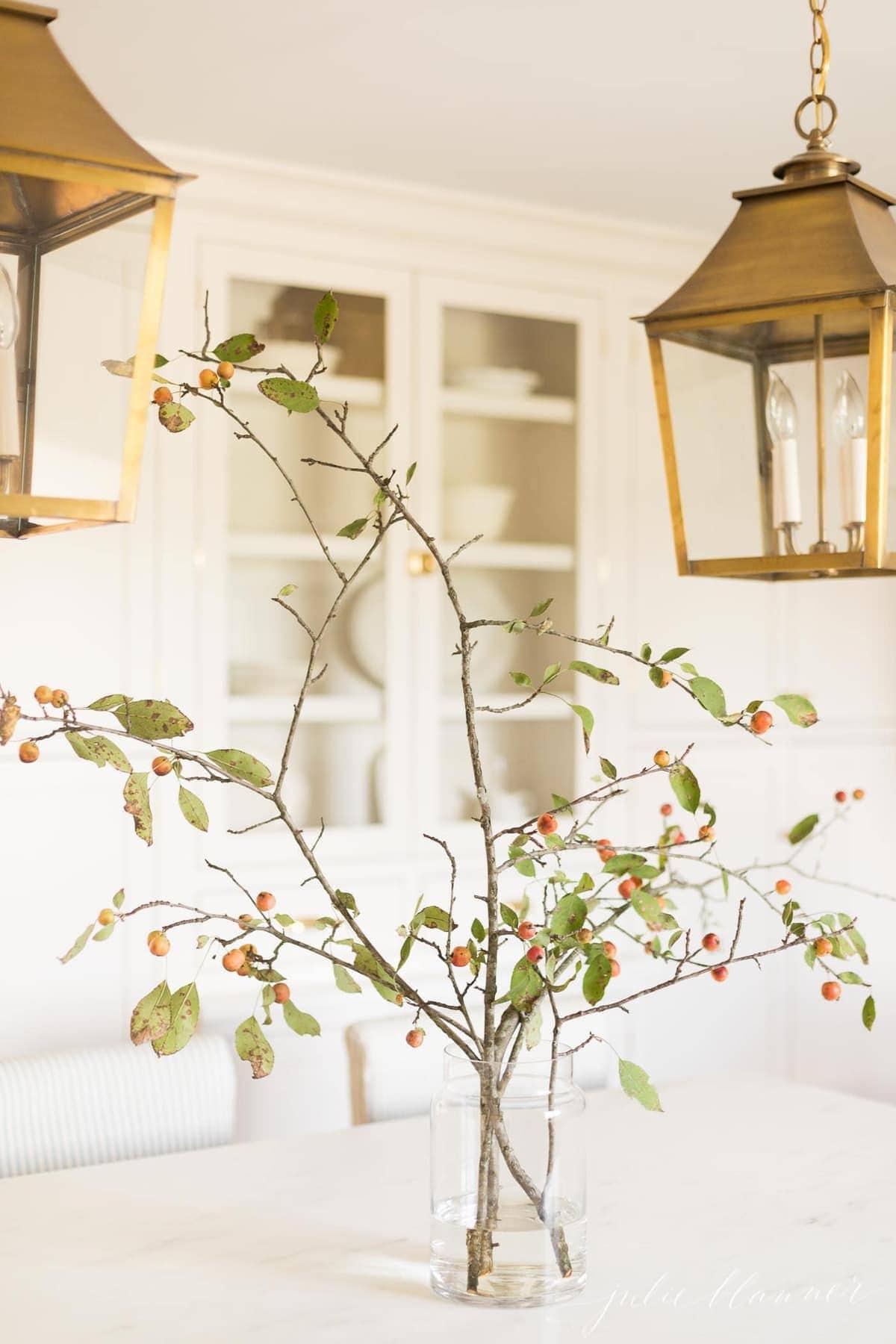 Fill a vase with 3 (or 5) un-manicured, large branches. These tall, wild-looking branches like this are an easy way to add a statement and a beautiful pop of color for an instant table or island centerpiece. This also looks perfect on a coffee table, side table, or even on the ground in a large ceramic vase next to a bench.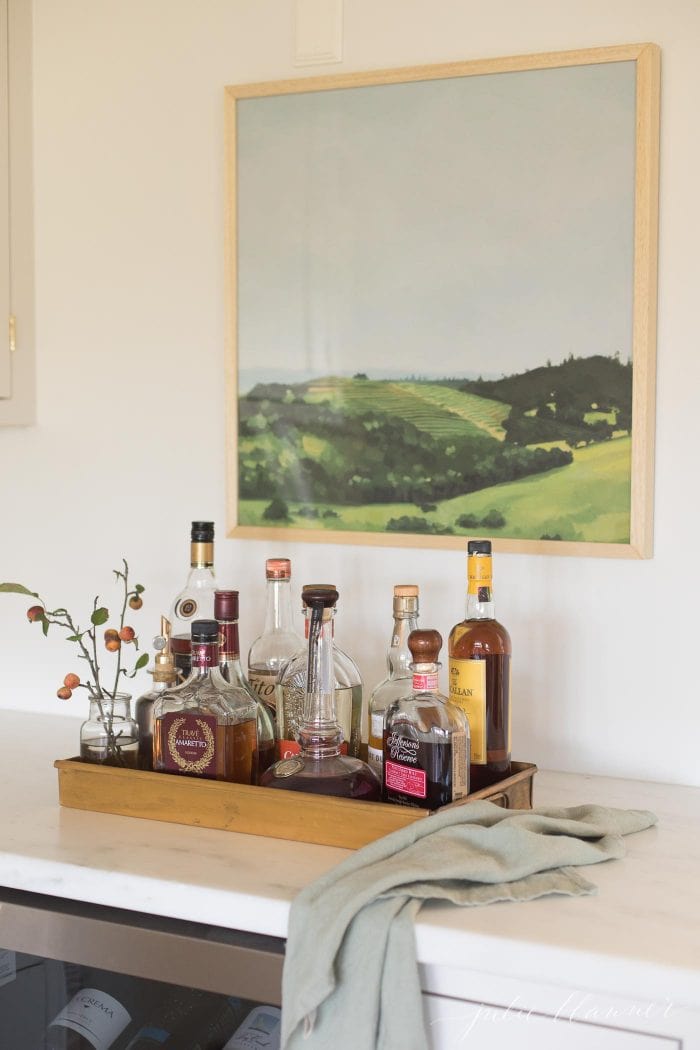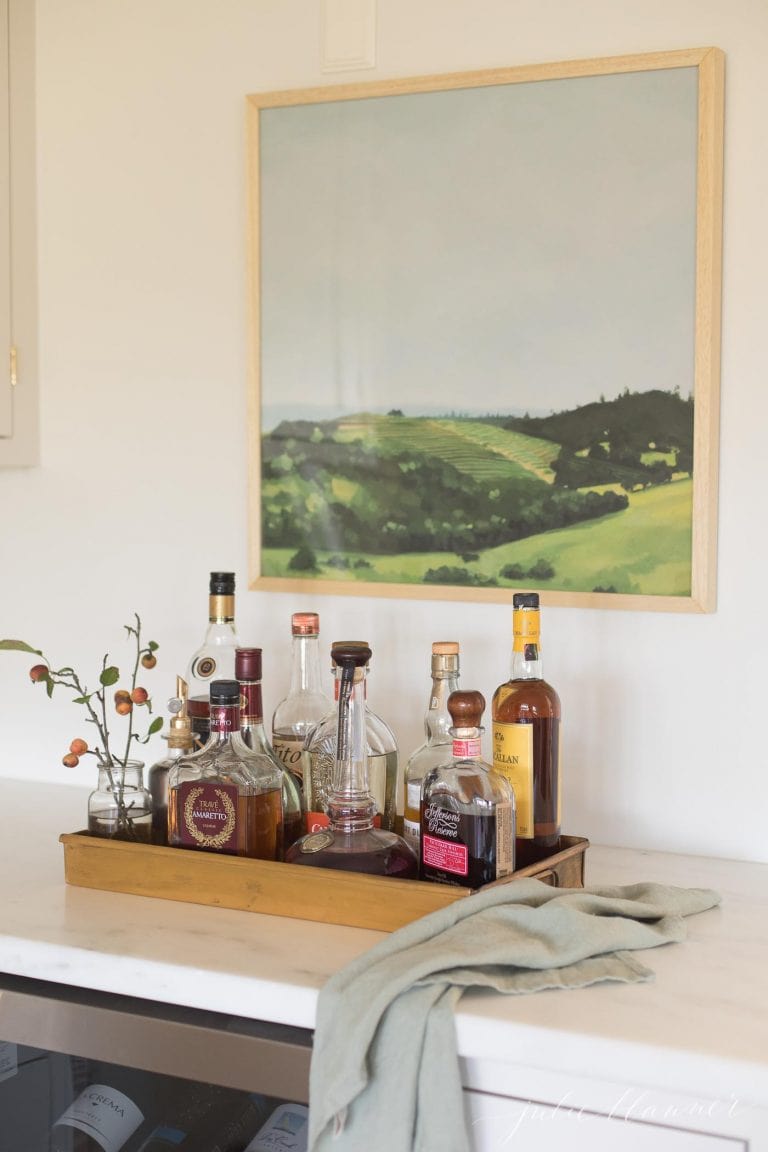 Smaller branches or twigs are also the perfect addition to any tray in a tiny bud vase. They add color and texture this bar tray, but would look equally at home on a bedroom nightstand.
Other Kitchen Ideas For Fall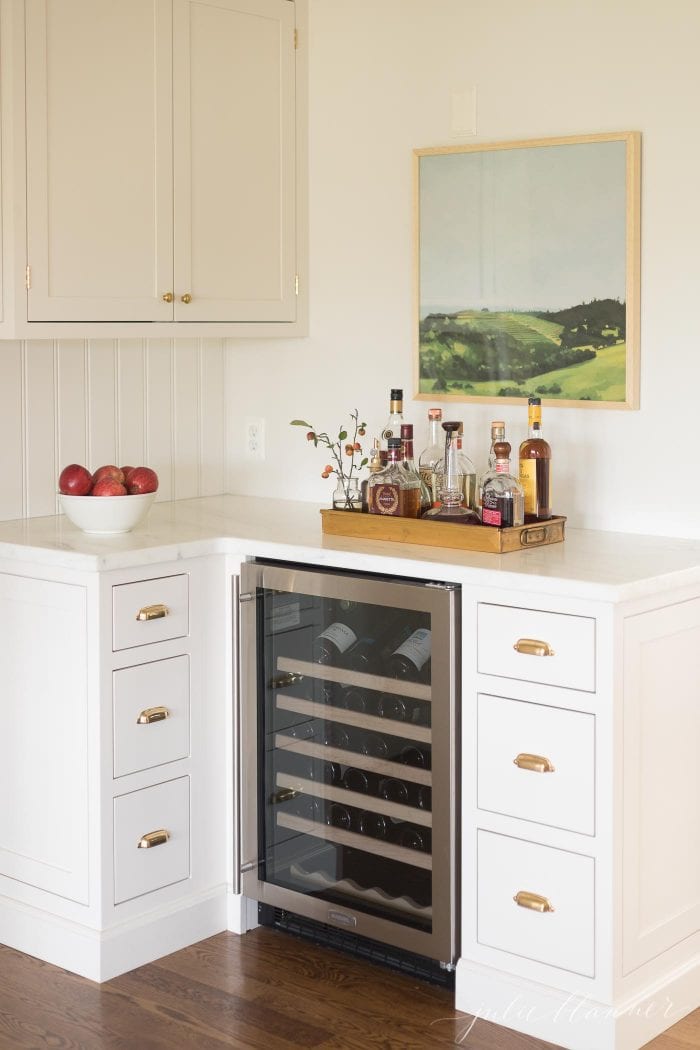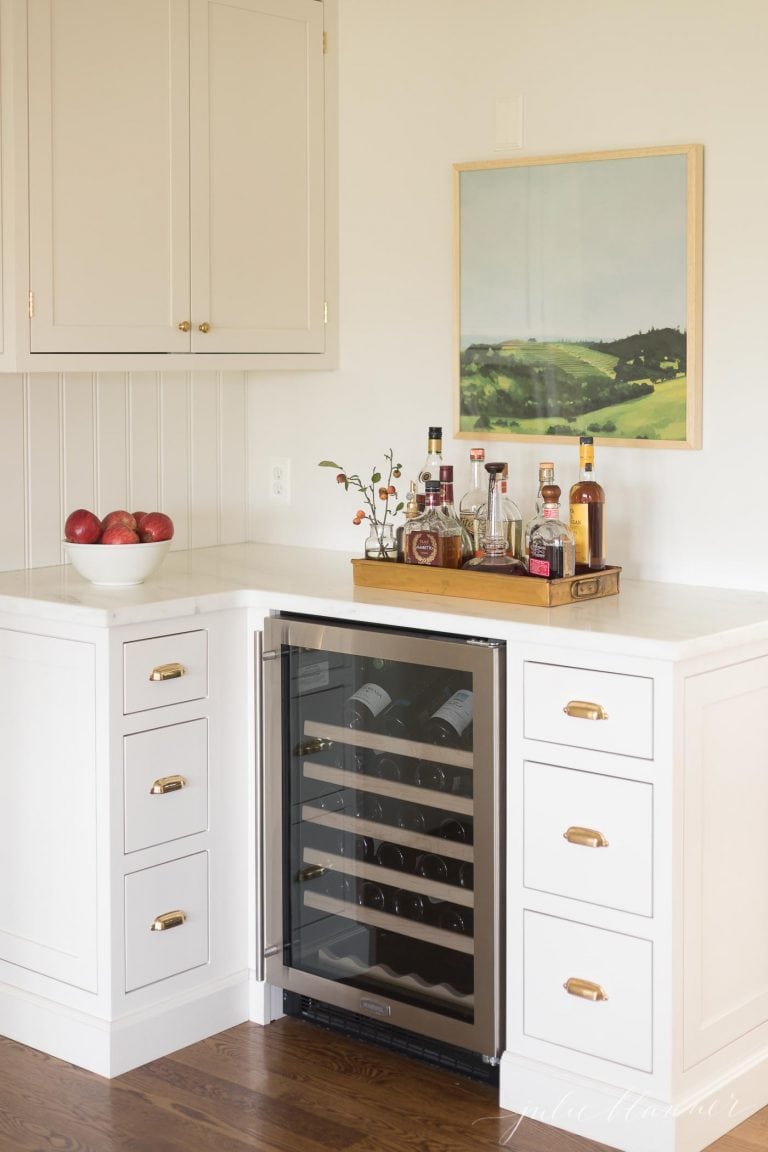 As a minimalist who strives to maintain a clutter free home, I tend to showcase seasonal fruits or vegetables like apples in one of my creamware bowls which adds a pop of color.
Adding simple touches like this to a nook or corner of the kitchen is a simple yet effective way to infuse seasonal touches.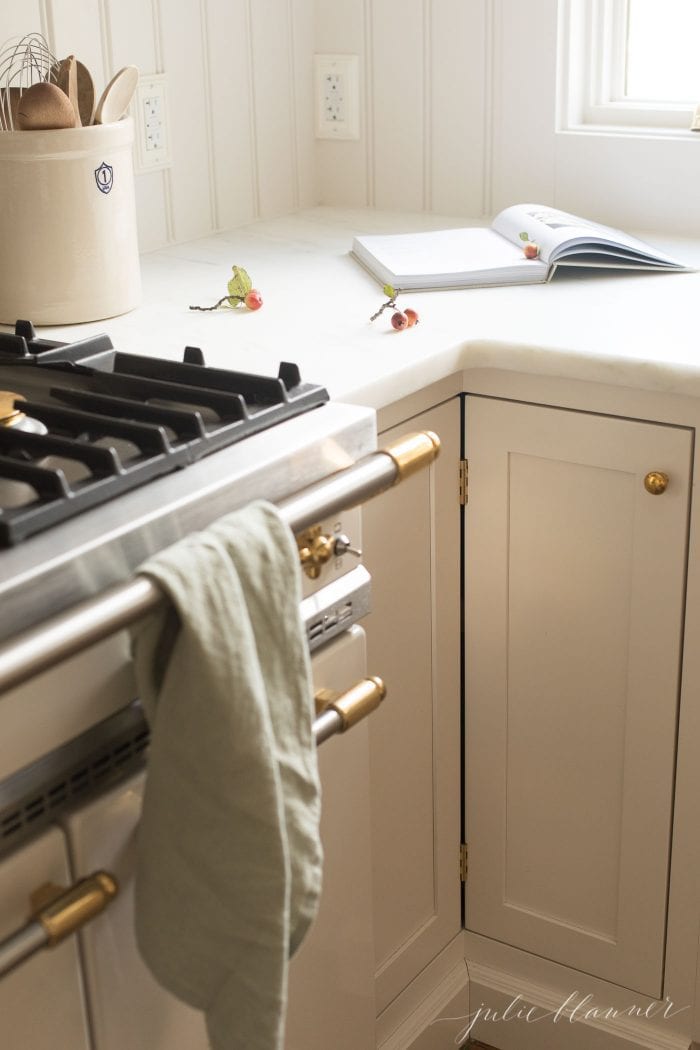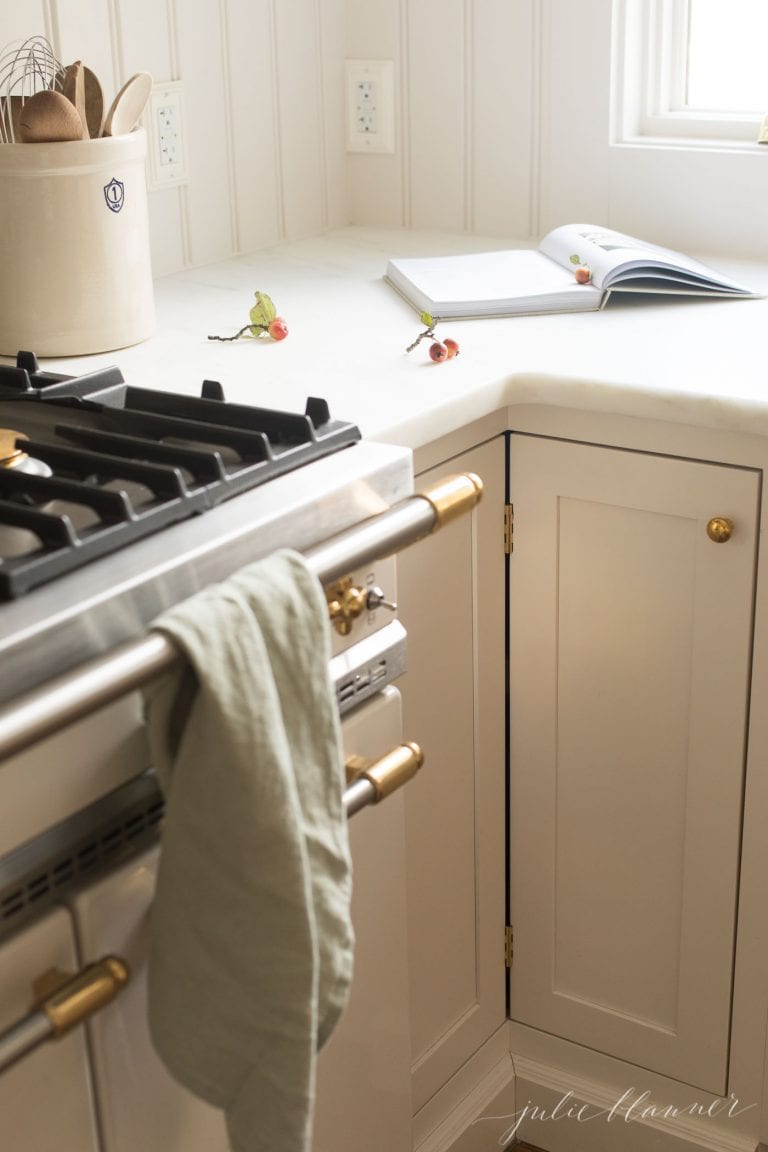 To soften up the bright colors, I added a couple of my favorite washed linen hand towels in a muted sage green. This time of year, I also love to showcase a little more metal like unlacquered brass and copper as well as wood elements to add a little warmth.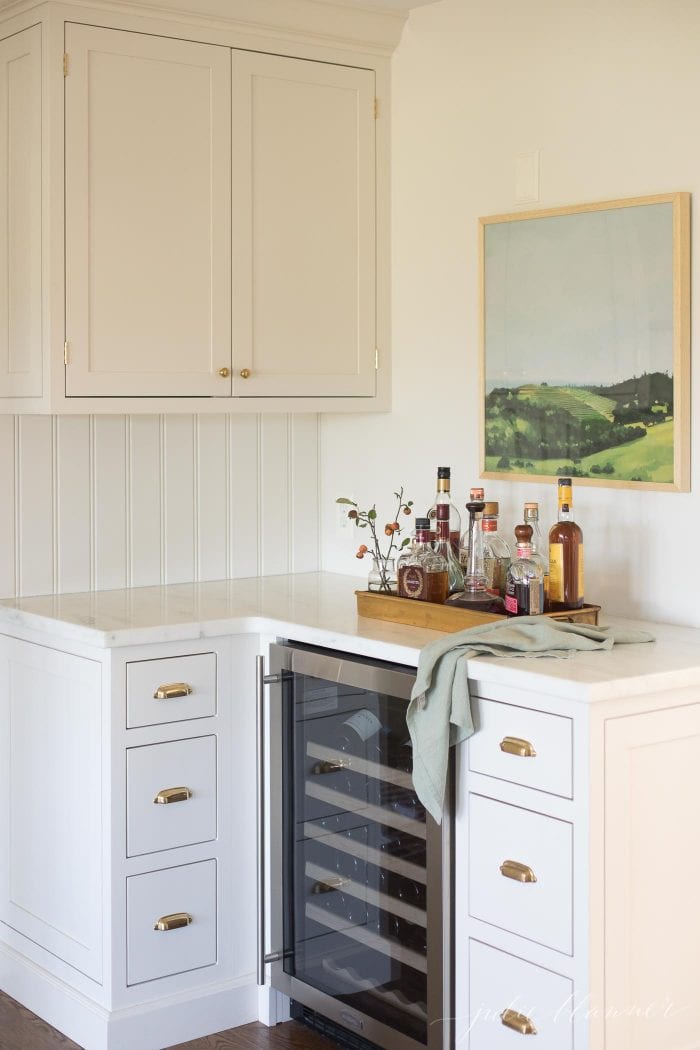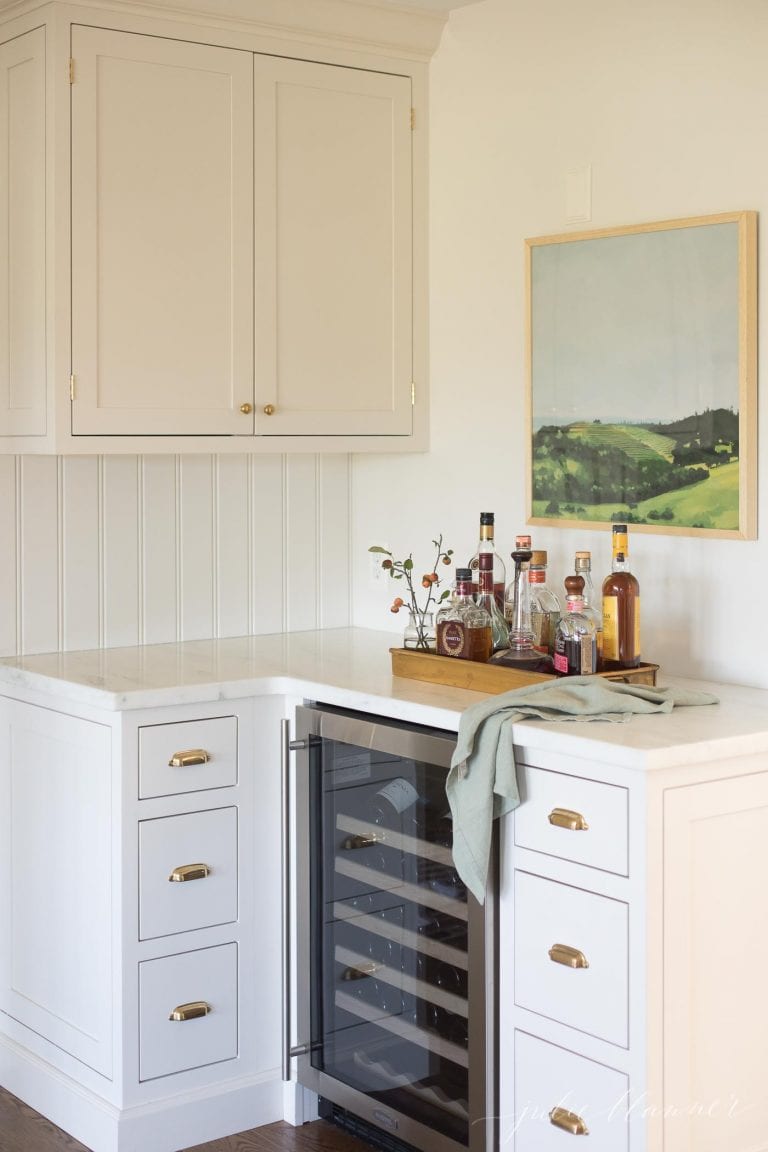 Fall decor inspired by nature is what really embraces the warmth and comfort of the season. By taking our cue from the outdoors, we can relax and delight in our time spent indoors, too.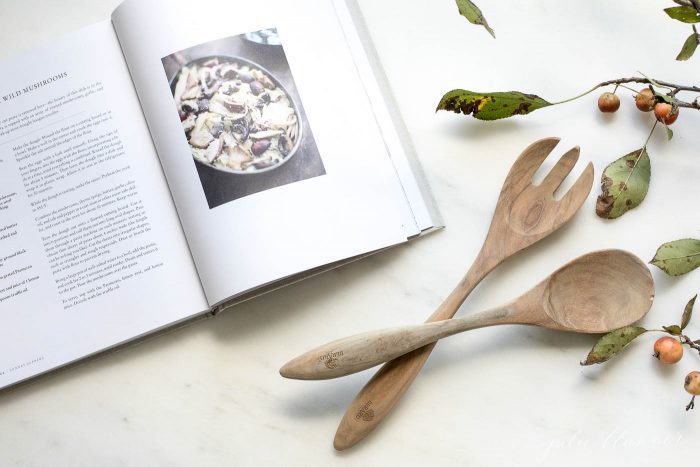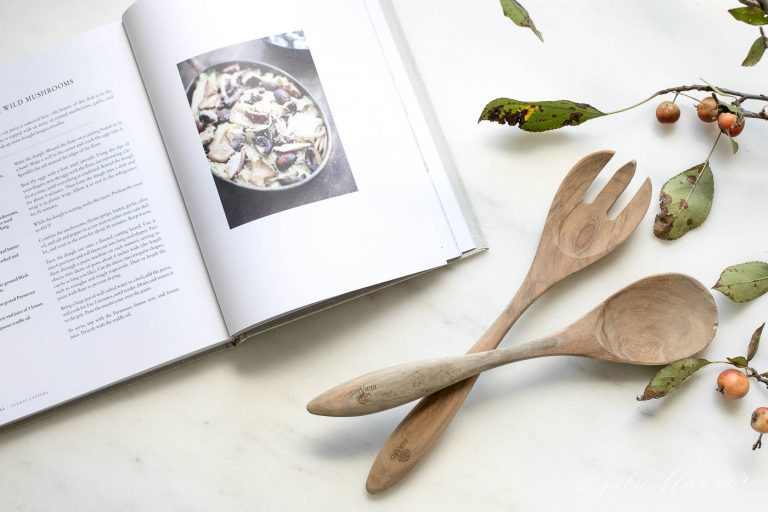 Looking for more charming ways to bring fall inside? Check out my fall decorations or my Potpourri post to get ideas that you can implement in 10 minutes or less- truly effortless!
More Fall Decorating Ideas