Learn how to make an incredibly simple dried corn centerpiece. Next time you see this seasonal bounty at the stores or your local pumpkin patch, grab some and create a beautiful look for Thanksgiving!
A dried corn centerpiece is so easy to make. I'm walking you through it with a simple tutorial.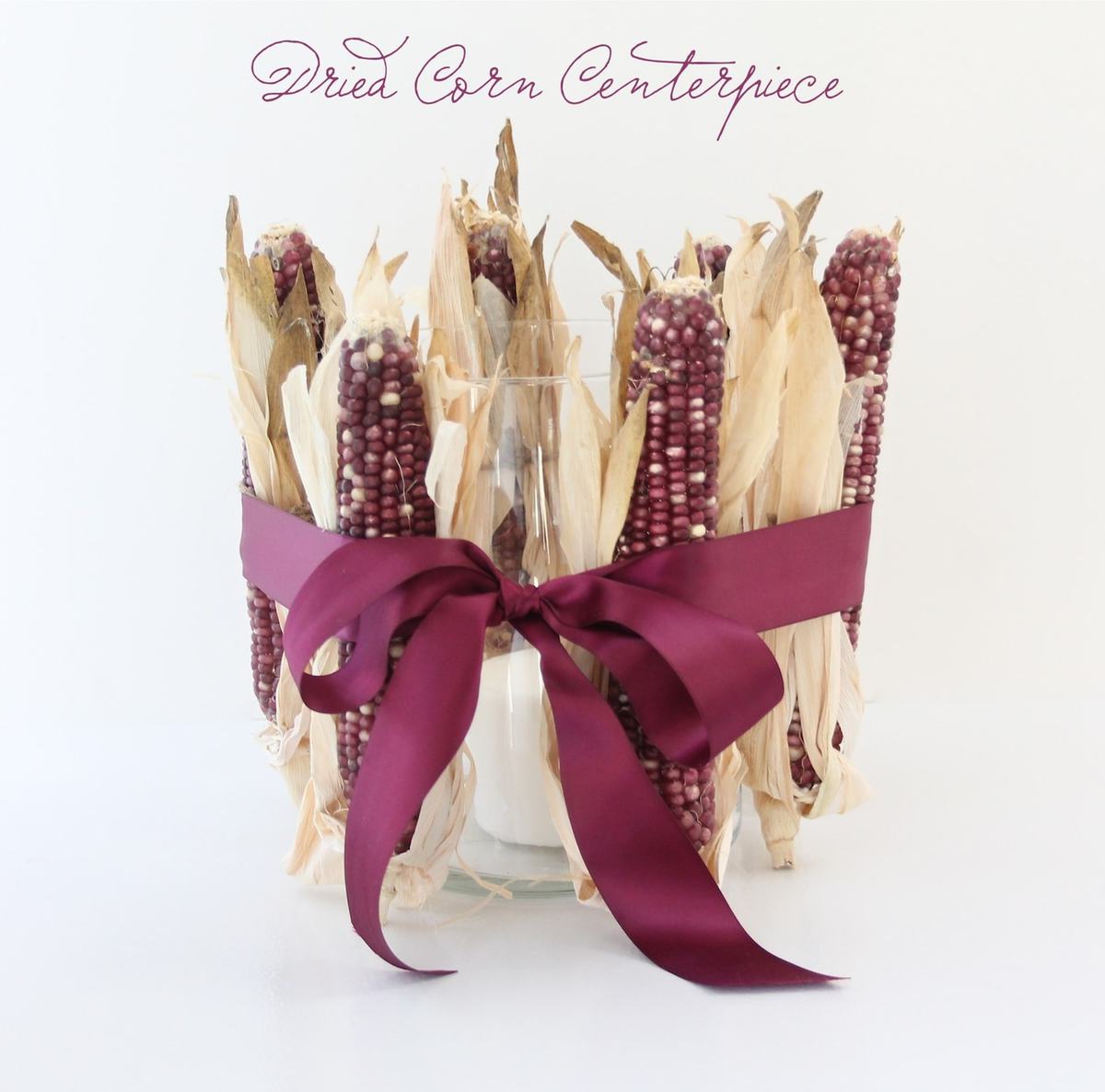 Last weekend, we went to the pumpkin patch. I picked up a couple of bunches of dried corn, not sure yet what I would do with them – I had so many ideas.
I needed a centerpiece for our coffee table ottoman and kitchen table, so I started there. I love incorporating natural fall decorating elements and bringing the outdoors in. It's so rustic and beautiful. The dried corn centerpiece adds a pop of fall color to our home.
In fact, this is such a classic fall centerpiece or decor element that I've included it in my round up of 20 Simple Thanksgiving Table Settings! Don't miss these gorgeous ideas to inspire you in the months ahead.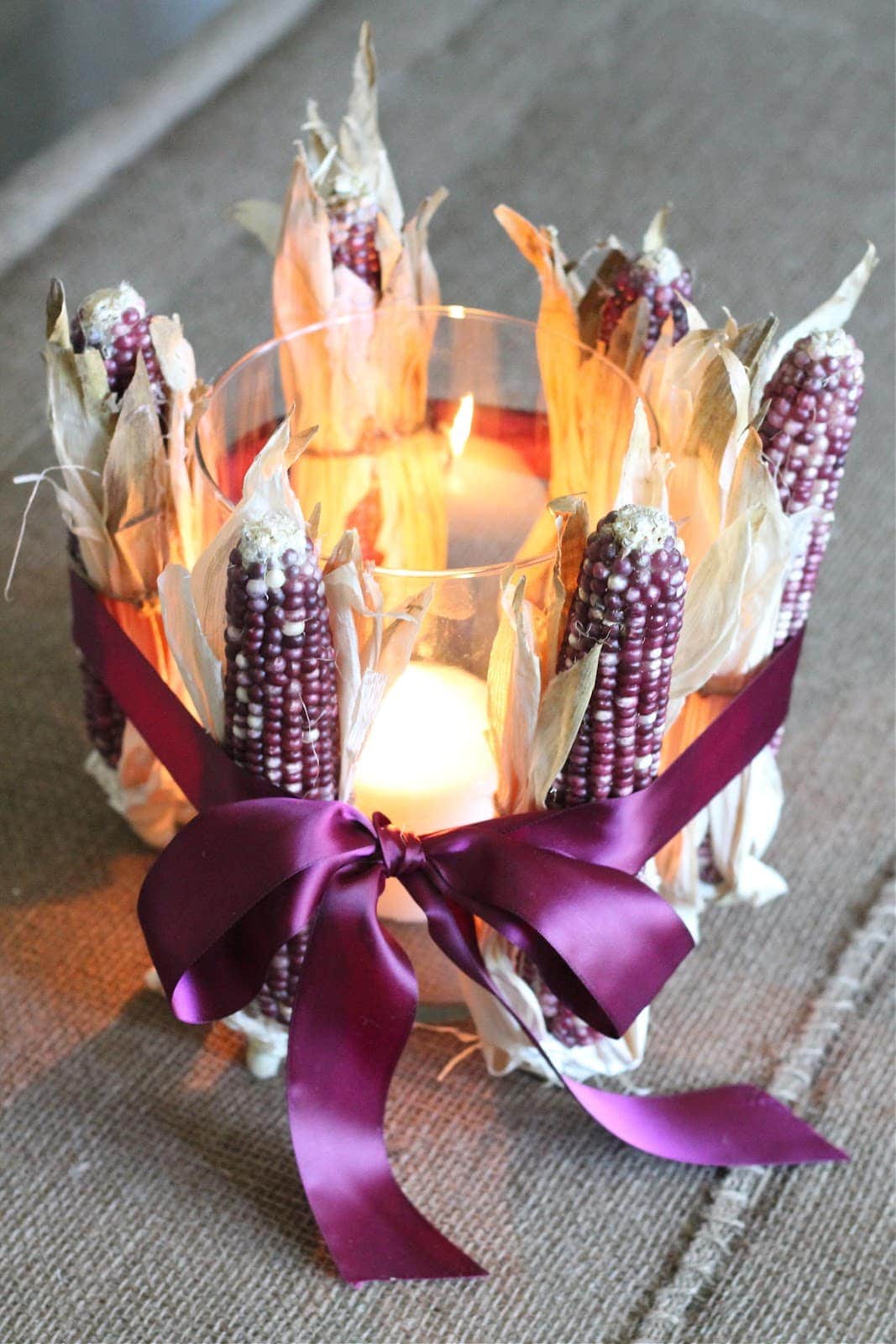 Dried Corn Centerpiece Tutorial
Learn how to recreate this Thanksgiving vase with just a few supplies and five minutes of your time!
Centerpiece Ingredients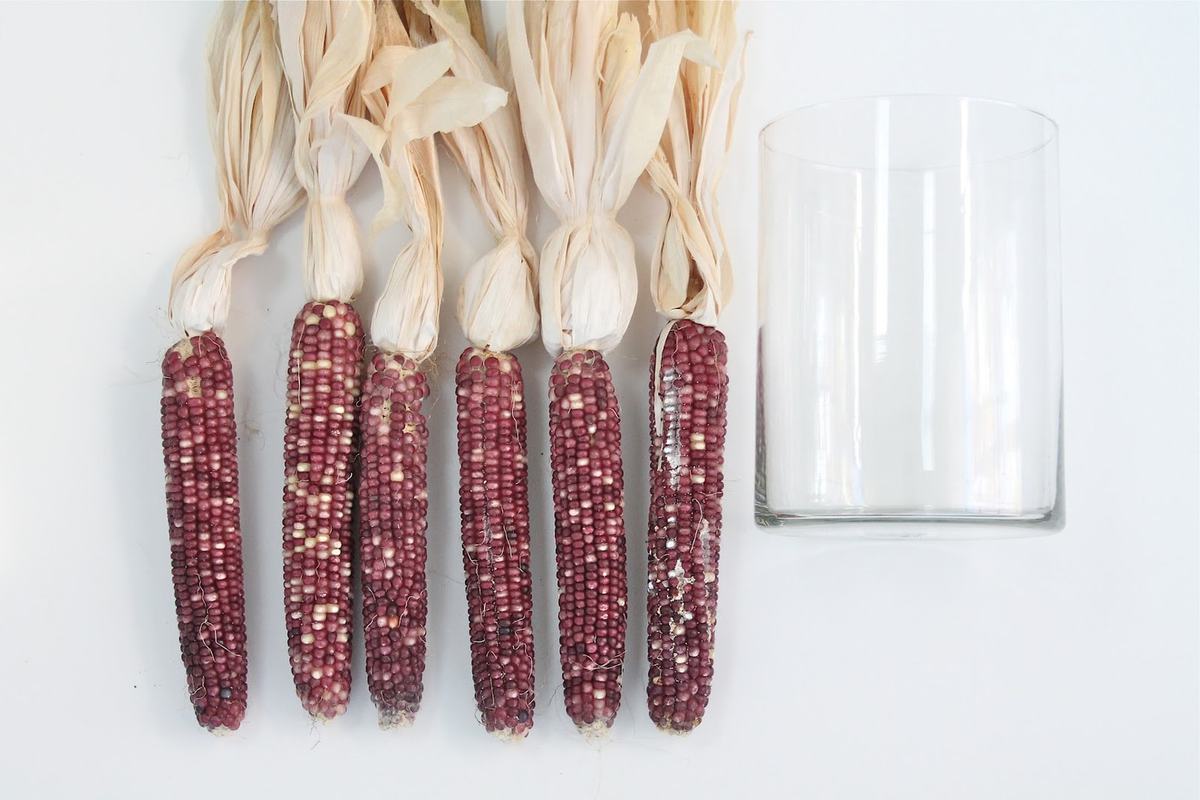 Cylinder Vase
Hot glue gun
Scissors
Twine / string
Ribbon
How to Make this Dried Corn Centerpiece in Just Four Steps
Pull shucks to the back of corn.
Secure them by tying with twine.
Cut a stripe of hot glue on the back of corn and adhere to your cylinder vase. Hold for a few seconds and continue with each.
Secure by tying a piece of twine tightly around the corn to the vase. Add your ribbon if desired!
Frequently Asked Questions
Is dried corn also called Indian corn?
Flint corn (also called Indian corn), is one of the first recorded varieties of corn as we know it today. Native Americans showed early colonists how to grow this type. With kernels in a wide range of colors like purple, burgundy, blue and red, the shells are hard as flint, hence the name.
What else can I do with dried corn?
If you've picked up dried corn in its husks, try making a fabulous fall centerpiece. Or, make a wreath for your front door. You can also add dried corn as an accent to your bookcases, coffee table, or even your entryway or porch for added natural fall elements.