No Sew Faux Fur Tree Skirt Tutorial
Learn to make this no sew, Christmas Tree skirt in just 5 minutes! With all of the preparations for the holidays, spending hours making a tree skirt is just not always feasible. So try this easy tutorial for a custom faux fur tree skirt and I promise no one will even be the wiser.
Sometimes when working on the most limited time constraints, I can be the most creative. I needed a tree skirt that fit the outdoor theme quickly. It hit me. I had a blanket with the perfect texture! It's so cozy, warm in color and texture. I knew I could convert it in minutes-and I did! Just minutes before the big reveal, I transformed the piece, creating a no sew Christmas tree skirt.
With Christmas just a few weeks away, and a million other things to do in the meantime, I didn't want to spend hours making a tree skirt but I did want one to match my woodland theme. This tutorial is so easy and basic requiring only a standard size throw blanket and pair of scissors. The faux fur Christmas Tree skirt lent itself wonderfully for my woodland theme and I couldn't be happier with the results.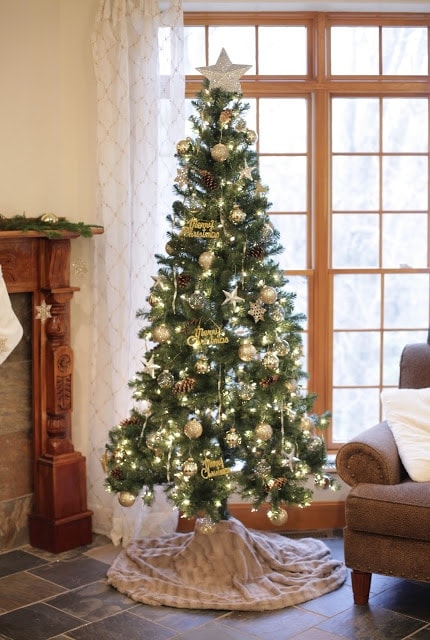 It fit perfect into the woodland theme…
What is a Tree Skirt?
A tree skirt or tree collar is the finishing touch to your Christmas Tree. Whether you have an artificial or live tree, it will cover up the plastic or metal base of the tree with an ornamental finishing touch. I prefer a subtle, mostly sold tree skirt that just enhances the beauty of the tree.
Supplies for Faux Fur Tree Skirt
Standard Size Throw Blanket (I used a faux fur, but you can chose whatever style suits you best)
Sewing Scissors ( a good sewing scissors makes this job much easier but of course you can use whatever you have in your craft drawer)


How to Make a No Sew Tree Skirt in just 5 Minutes

Start with a standard size throw blanket.
Spread blanket out flat
Fold the blanket evenly into quarters.
In the center, cut a circle (as shown below) just large enough to fit the tree trunk (if you're using an artificial tree that won't need to be watered or an inch and a half larger for a real tree).
Overlap and fold over to conceal the raw edge.
Cut across line shown to wrap around the base of the tree.
Overlap and fold over to conceal the raw edge.
You'd never know that it wasn't purchased as a tree skirt!
Variations
If you don't want to use a throw blanket or you can't find something that matches your living room, you can also chose a fleece fabric for your tree skirt. You will need about 2 yards of fabric. I suggest fleece because it typically holds up well without hemming. After choosing your fabric the same instructions apply.
More DIY Christmas Ideas