Step inside our holiday home for a Christmas tour with both photos and video. Get the best ideas for subtle blue Christmas decorations and adding fresh cheer throughout your home.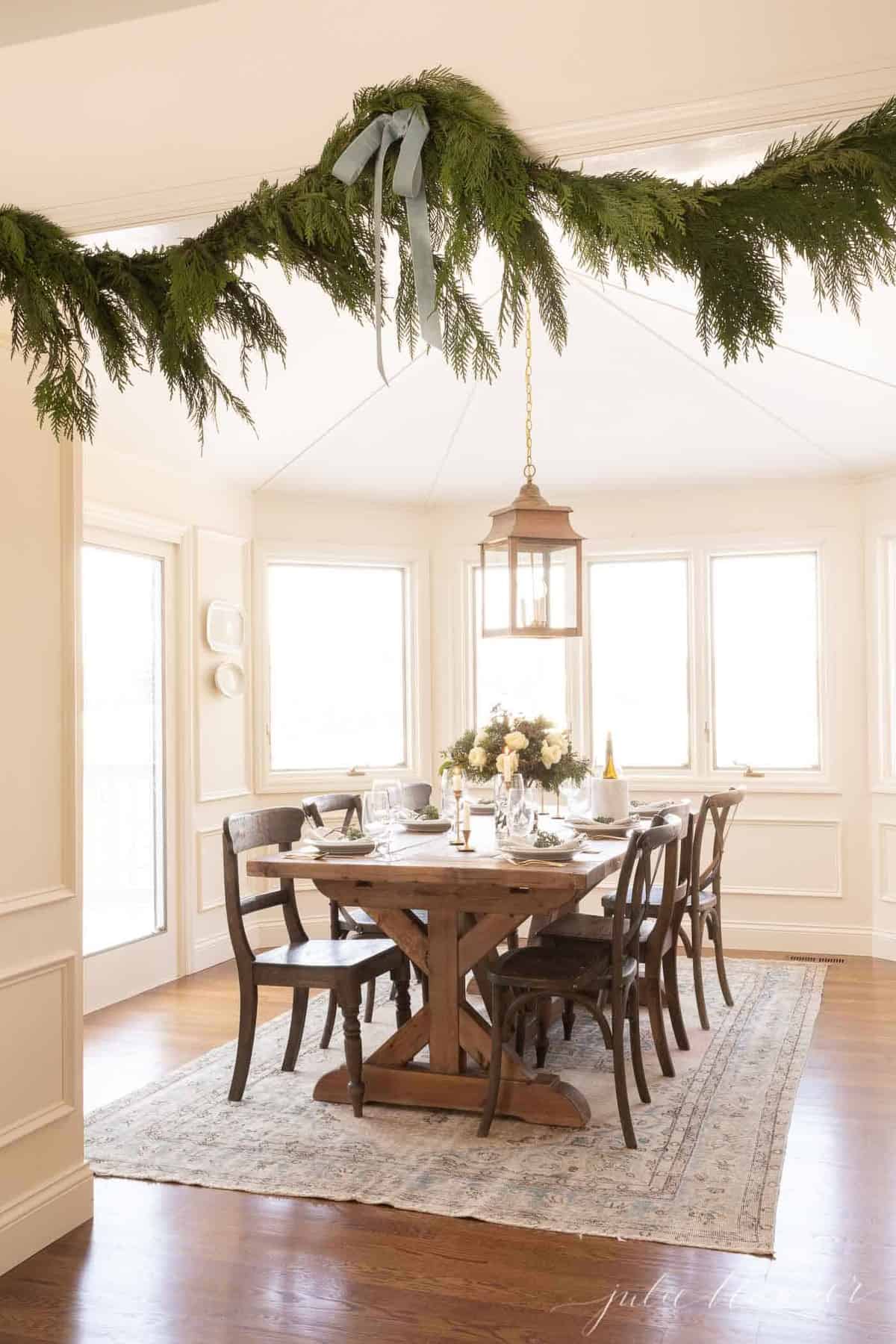 Holiday Homes Videos
Last year, I shared with you about how nervous I was to begin creating videos to cover all of my favorite decorating techniques, recipes, and more. It's so difficult to begin something new, isn't it?
It has definitely been a learning curve when it comes to learning video technique over the past year or so. I'm not especially proud of all of the videos I've made, as I have adjusted to speaking on camera, baking backwards and more, but each day I'm becoming more and more comfortable.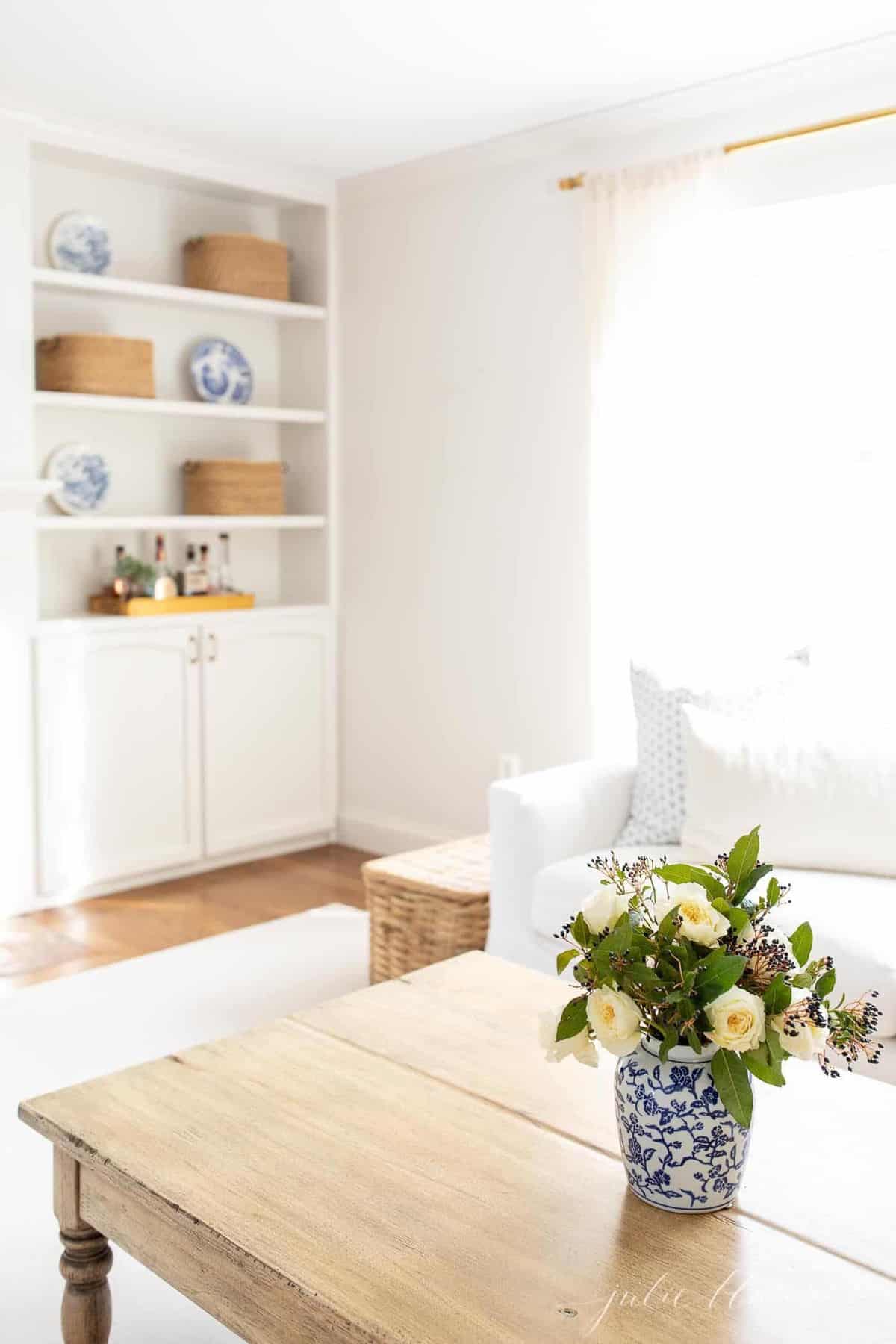 My friend Lisa from Farmhouse on Boone has been so inspiring and helpful every step of the way so I'm especially excited to share our Christmas home tour via video. You can tour each of our holiday homes today, and I truly hope you enjoy them!
Despite a little discomfort, I really wanted to integrate video into my blog posts as another way to connect with you. I hope you enjoy them and appreciate your support.
I've enjoyed creating so many ideas to inspire you, including my 50 favorite Christmas cookie recipes and 30 creative Christmas ideas for decorating your own home. You also can't miss 25 of my best homemade Christmas gift ideas!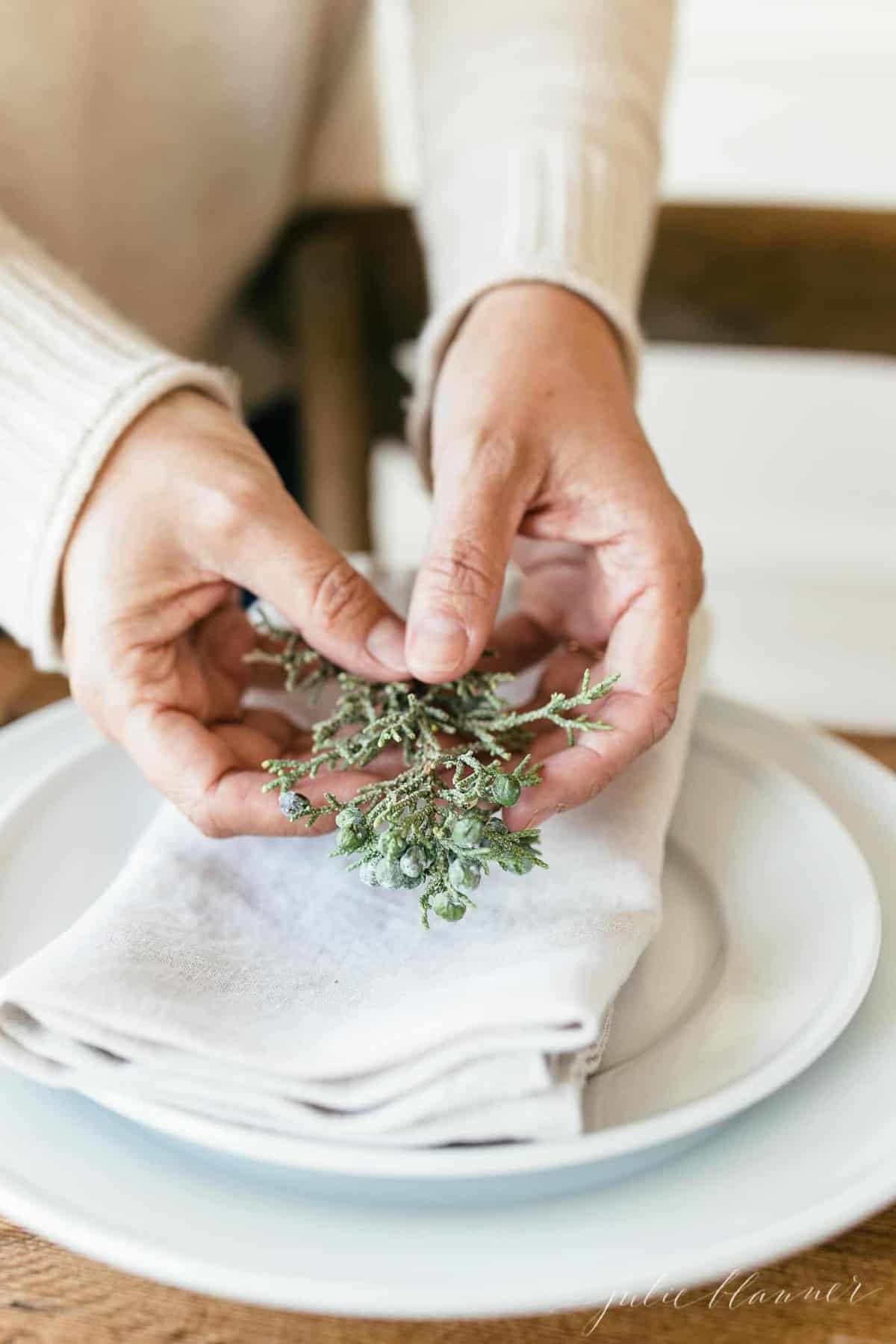 Blue Christmas Decorations
This year, I decided that I wanted to incorporate the prettiest blue hue. I was inspired by the wild juniper berries that grow along the shore at our lake cottage!
Juniper has a strong fragrance and the most perfectly subtle blue color in the berries. With juniper berries in mind, I found a pretty soft blue velvet ribbon that I knew I could incorporate throughout our home.
I have created a cohesive look with the addition of fresh cedar and juniper greens, along with blue velvet touches throughout the wreaths and garlands in our home.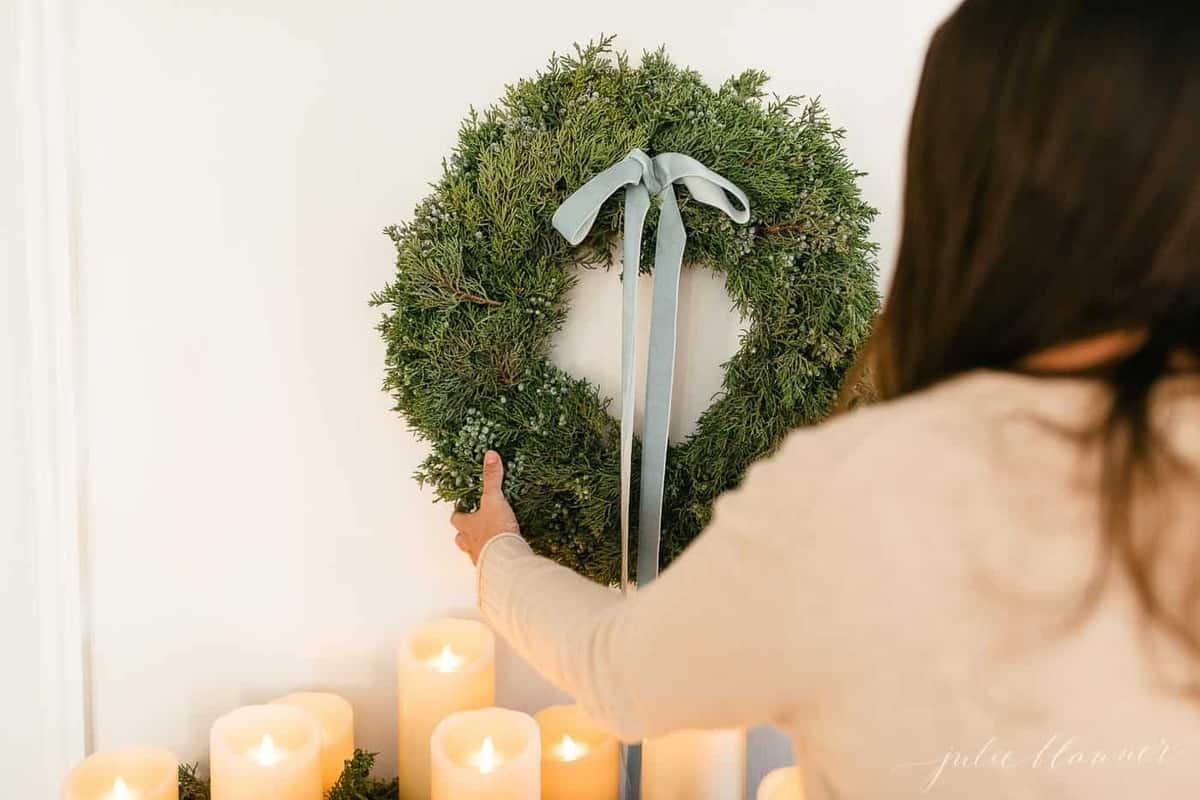 Easy Holiday Decorating Tips
Consider a few of the following ideas for creating your own simple, subtle touches of blue for your holidays this year.
Replace a piece of art or two with a gorgeous juniper berry wreath. Such an easy way to give an entire room an elegant holiday feel!
Purchase a large bolt of soft velvet ribbon (in my case, blue velvet) to incorporate throughout your spaces. This can accent garlands, wreaths, and can be used to wrap gifts under your tree. You can even tie small bows onto your Christmas tree branches to incorporate that color and style!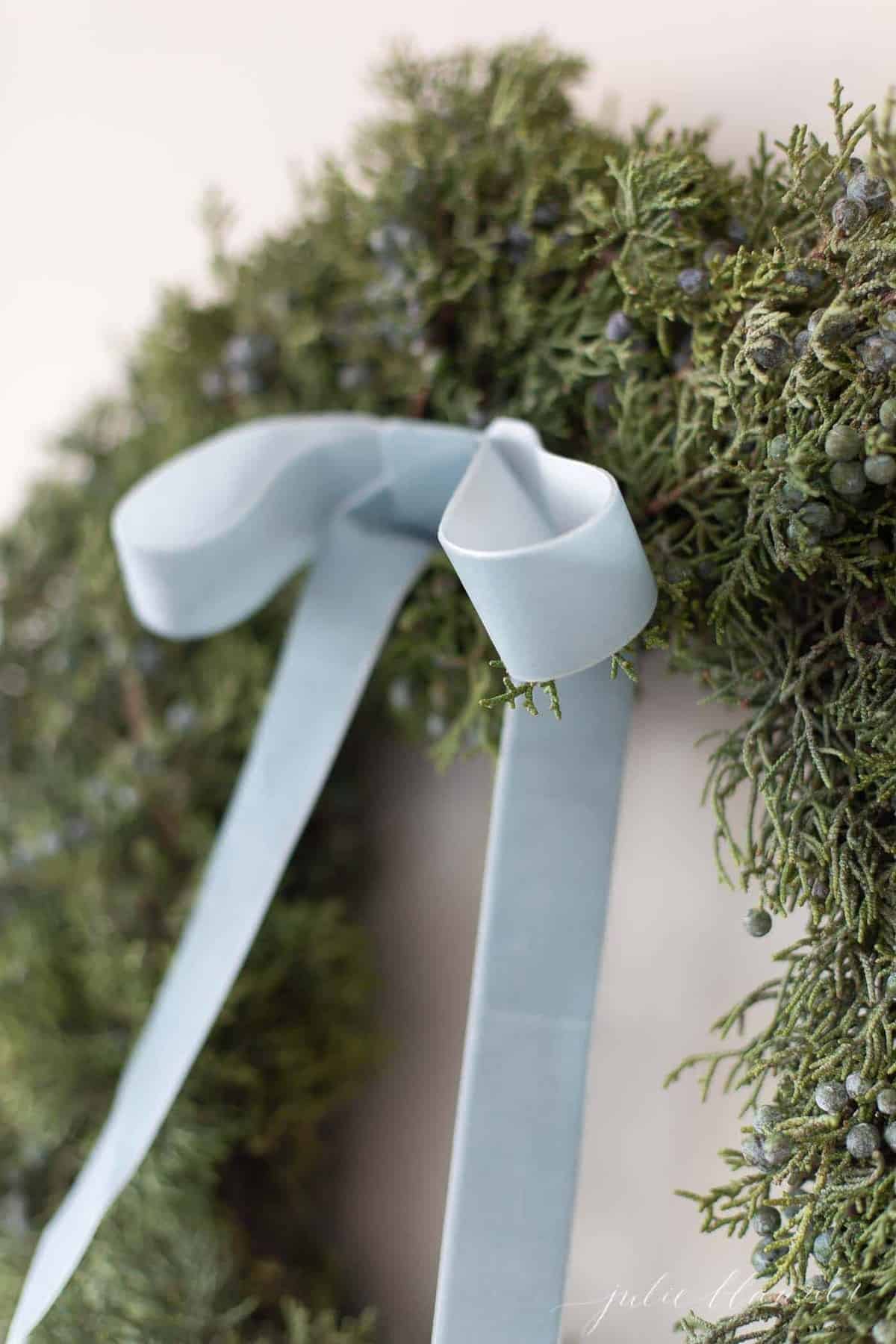 Switch out your pillow covers! This is such an easy way to incorporate a pop of blue (or any color) into your room for very little expense. Check out my post on buying, mixing and matching pillow covers here.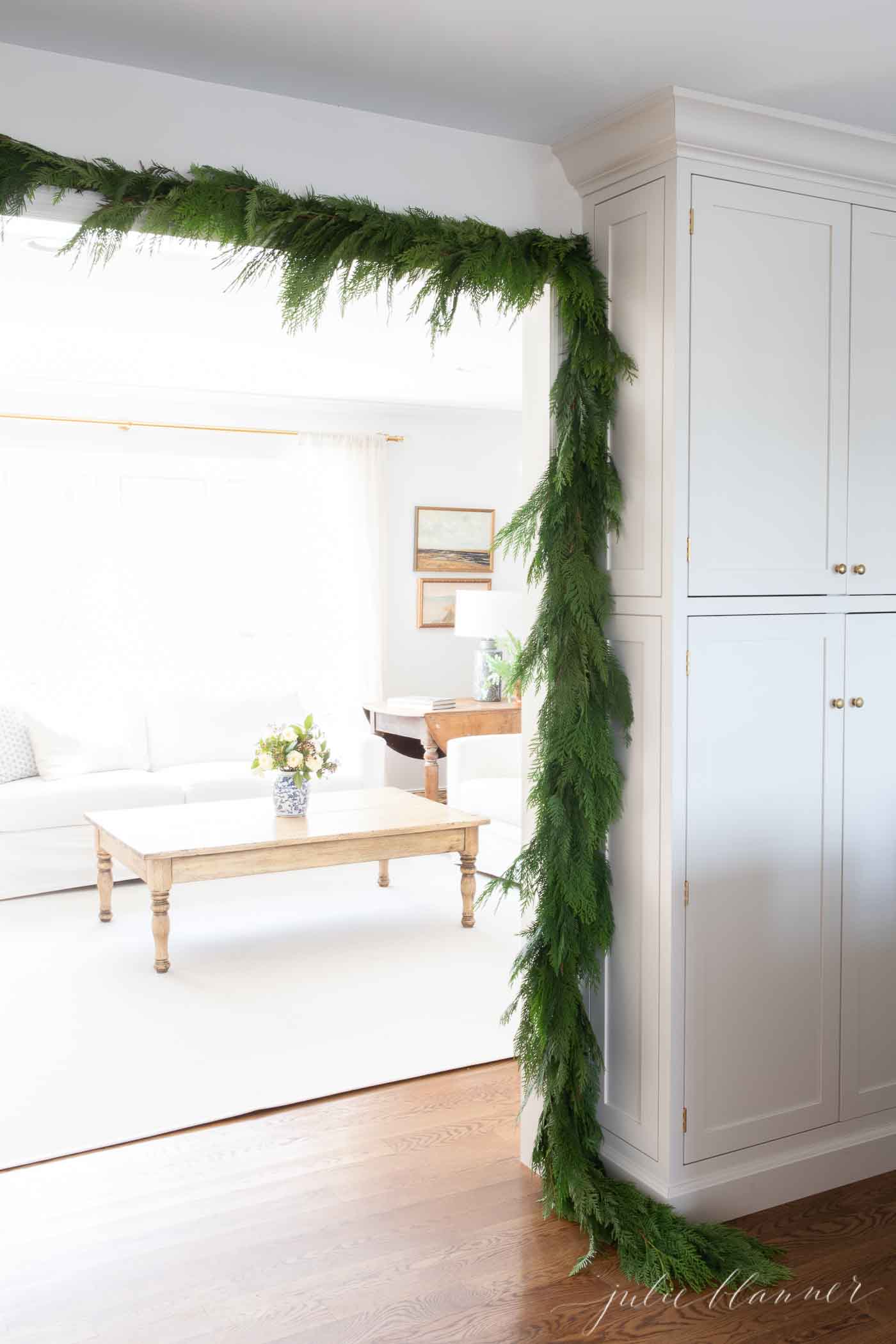 Garland Hanging Techniques
One of the many things I've learned over the years when it comes to incorporating fresh and fragrant garlands and greenery into our home, is that hanging garland isn't always as easy as it looks!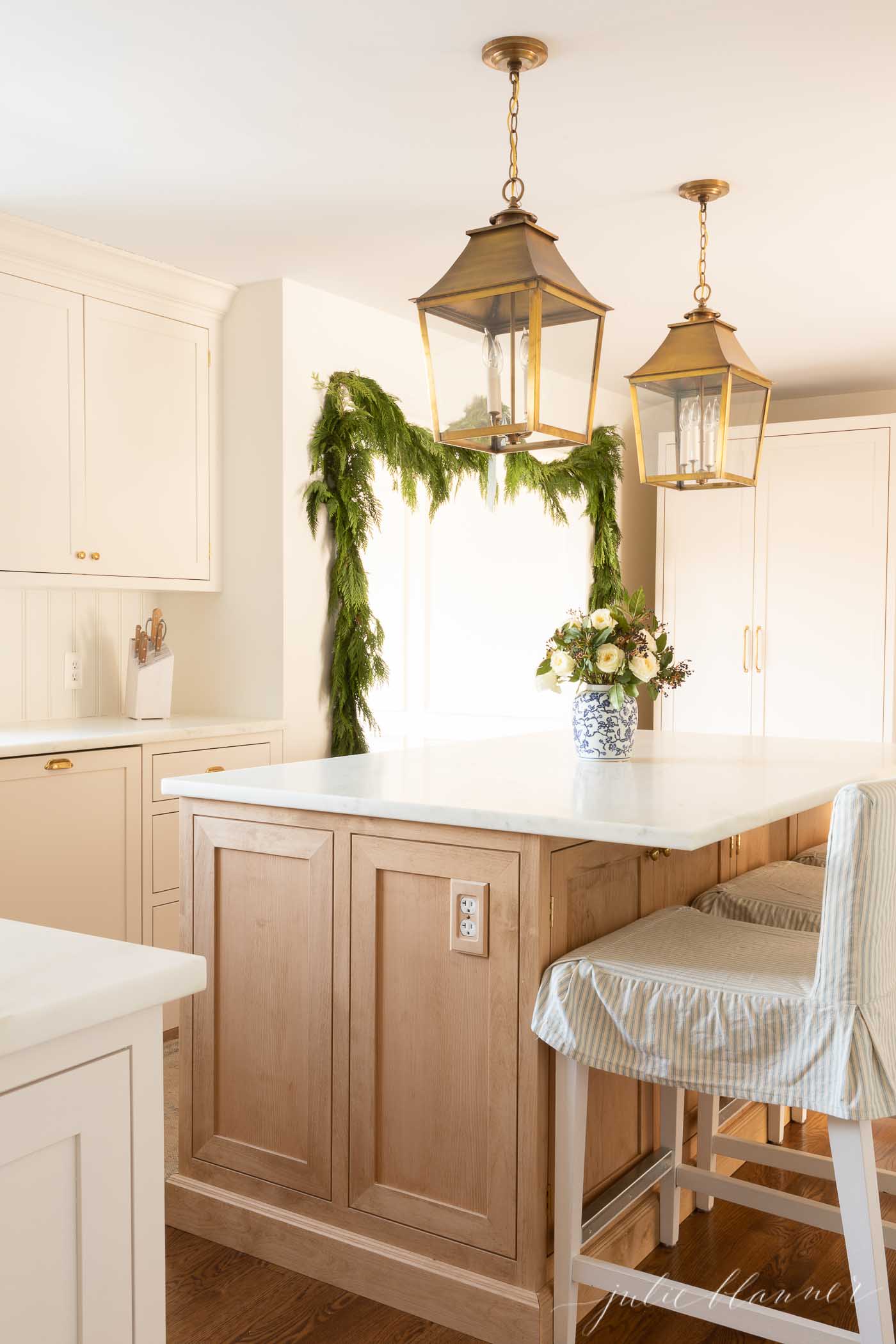 I've got a few tips for you when it comes to hanging live greenery garlands! (And don't miss my tips and tricks for keeping them alive for longer!)
I know many people trust command hooks, but I prefer nails for hanging garlands over doorways. You can easily place them in a discreet spot where they won't be noticed, and they are much sturdier and won't rip the paint or worse, the drywall paper off. I tend to add nails in the top of a door frame where no one will see.
You can simply tuck a solid section of your garland stems directly behind the nails.
Often, since a garland is built following just one direction, it can seem odd when hanging around a doorway since the side going up looks so much different form the side going down. With that in mind, I like to cut my garland at a spot where I can hang both vertical pieces pointing down. This helps the garland lay flat and creates the perfect look!

The berries add a subtle touch in the living room.
I'll be sharing more of our Christmas bedroom soon, but here's a sneak peek …
In the bathroom I simply added a stem of juniper in a bud vase with my favorite soap and lotion set and replaced the botanical art with a wreath.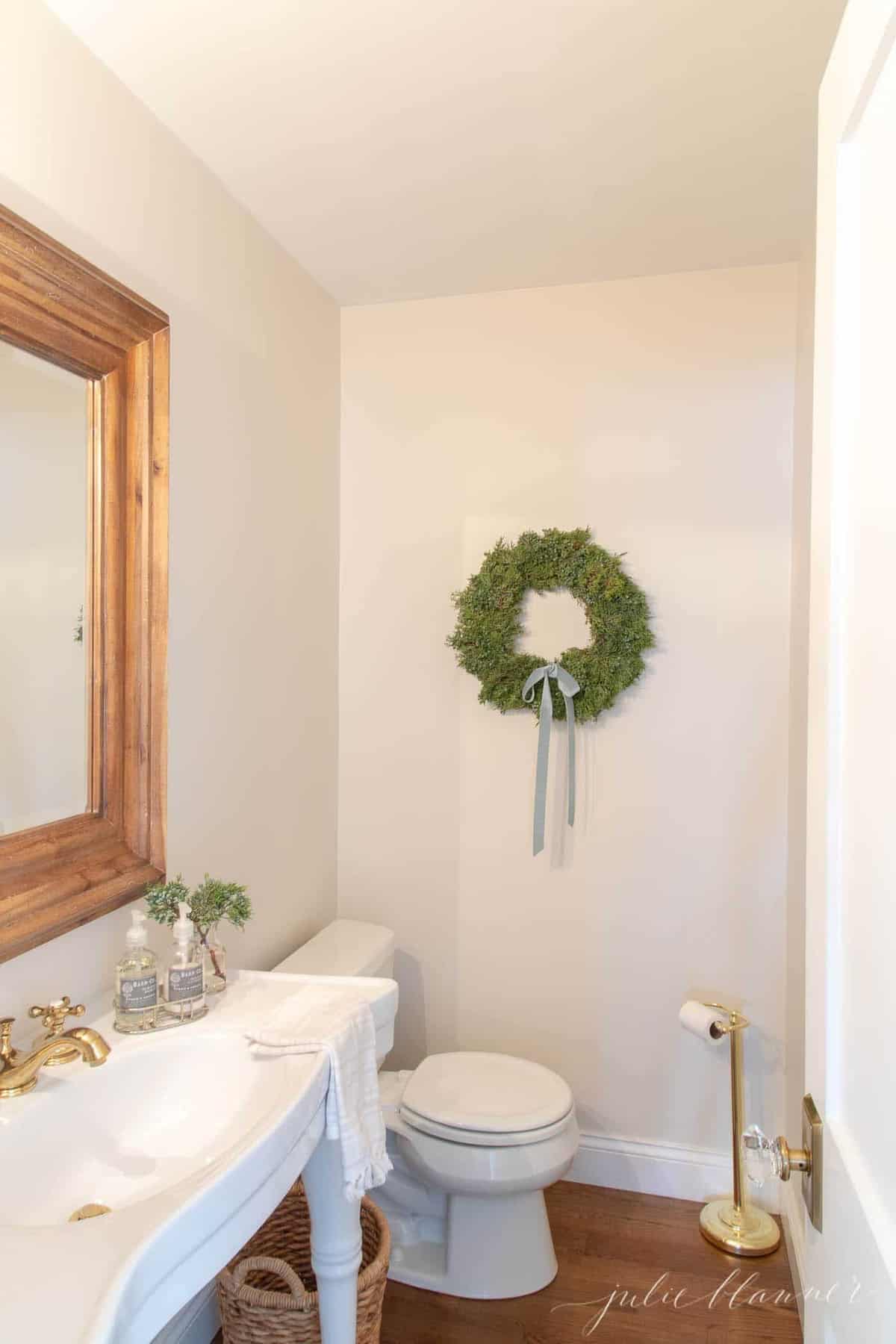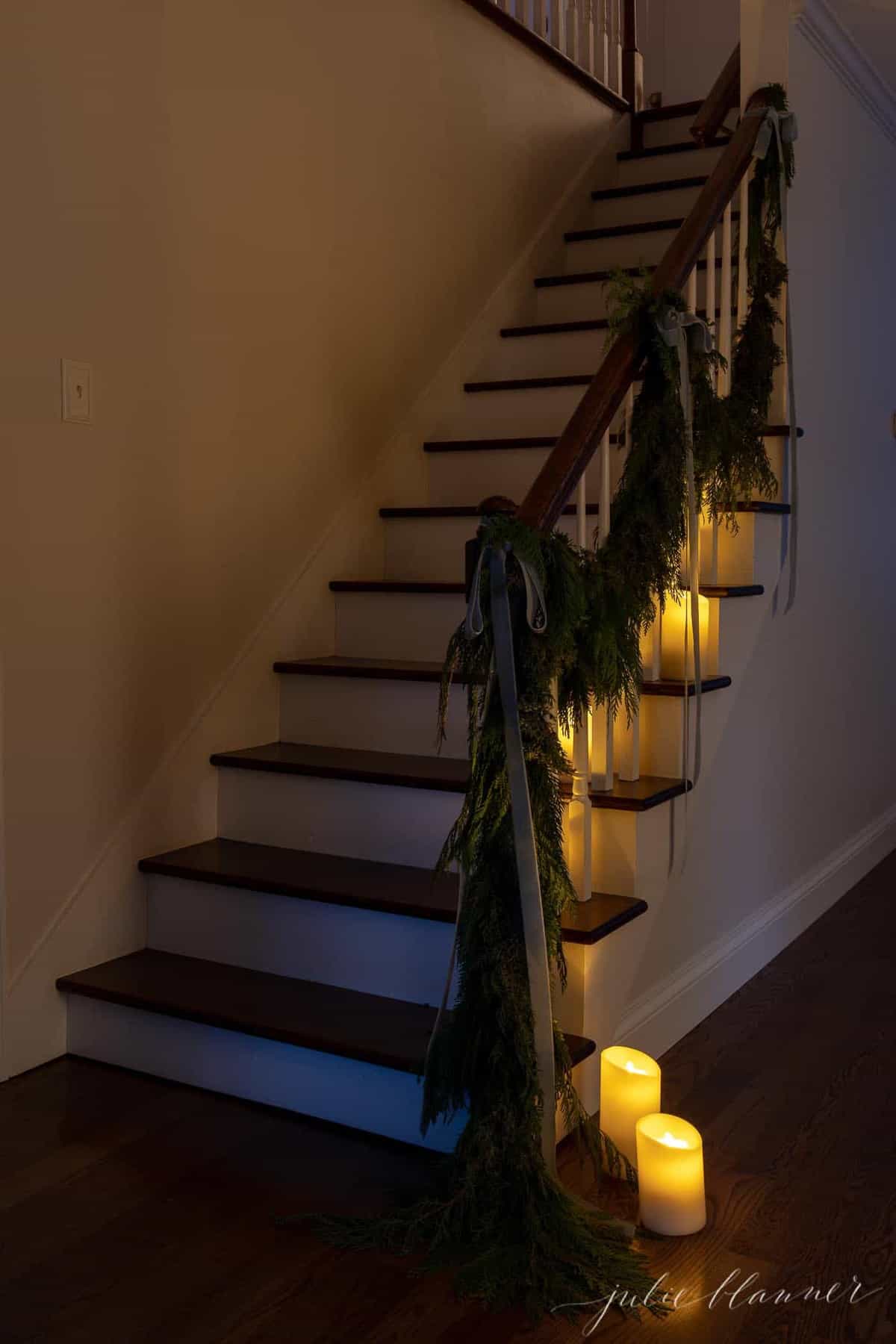 Past Tours of our Holiday Homes
Stop by again soon to see more of our home decorated for the holidays as well as the lake cottage!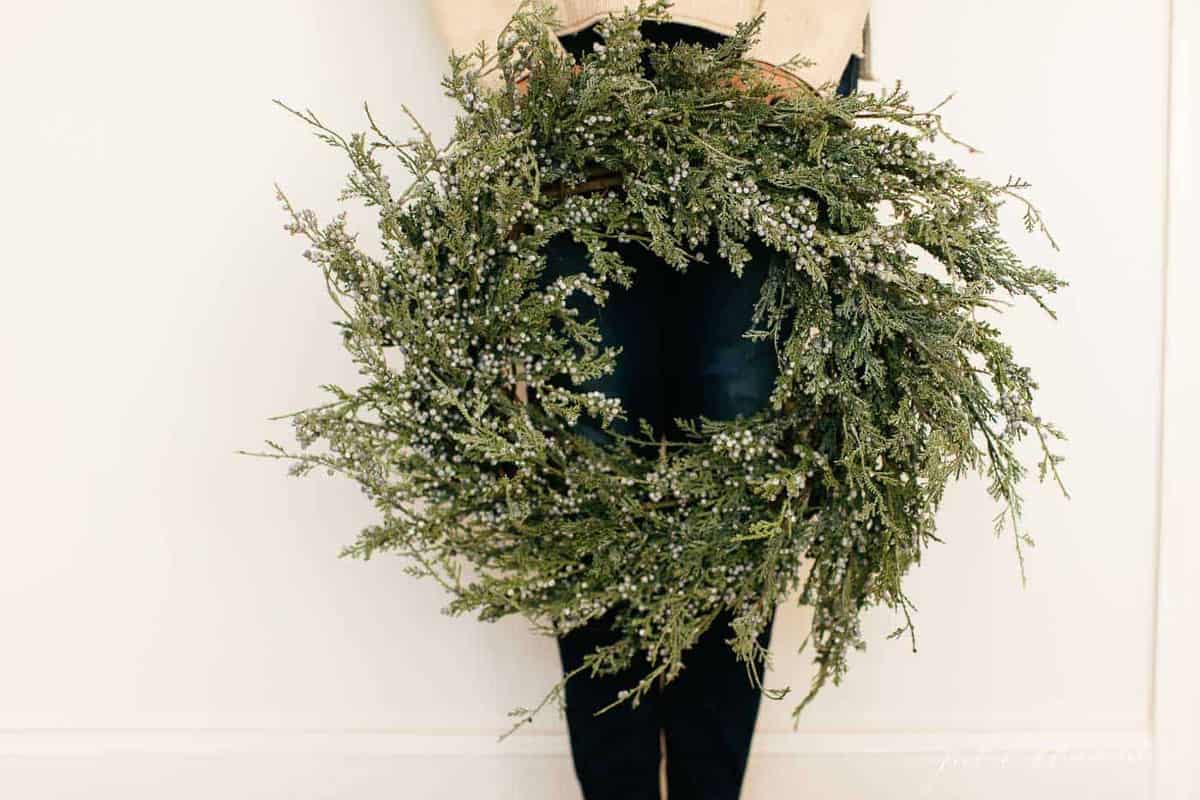 Two Holiday Home Tours You'll Love
I hope you've enjoyed my video and photos, and again, don't forget to go visit my friend Lisa over at Farmhouse on Boone. We both enjoy a minimal, simplistic style in our holiday homes that will hopefully inspire you in decorating this year and beyond! See more of my minimalist Christmas ideas here.
Thank you so much for following along – I truly appreciate it and love hearing from you. I hope you enjoy a beautiful holiday season and I hope you enjoyed my soft blue Christmas decorations this year!
If you haven't already, I would love for you to join me on this journey and subscribe on YouTube and Facebook where I'll be sharing two new videos each week.
Shop This Post
TV / Art | TV Frame | Garlands | Candles
Ribbon |Lantern Light | Candlesticks | Dinnerware | Flatware
Soap + Lotion Set | Toilet Paper Holder | Sink | Door Knobs
Kitchen Sink Light | Pulls | Faux Juniper Berry Wreath
Entry Table | Bedding | Living Room Art | Lidded Basket
More Holiday Inspiration