Dried orange garland adds elegance and homemade charm to your traditional Christmas decor. It can be used on trees, over doorways, banisters and more! It's perfect both indoors and out.
I love integrating Natural Christmas Decor into our home each year. It instantly brings a space to life and makes your home feel festive.
This dried orange garland fits a variety of styles – traditional, modern, country/farmhouse and Southern. They add a beautiful hint of color and fragrance.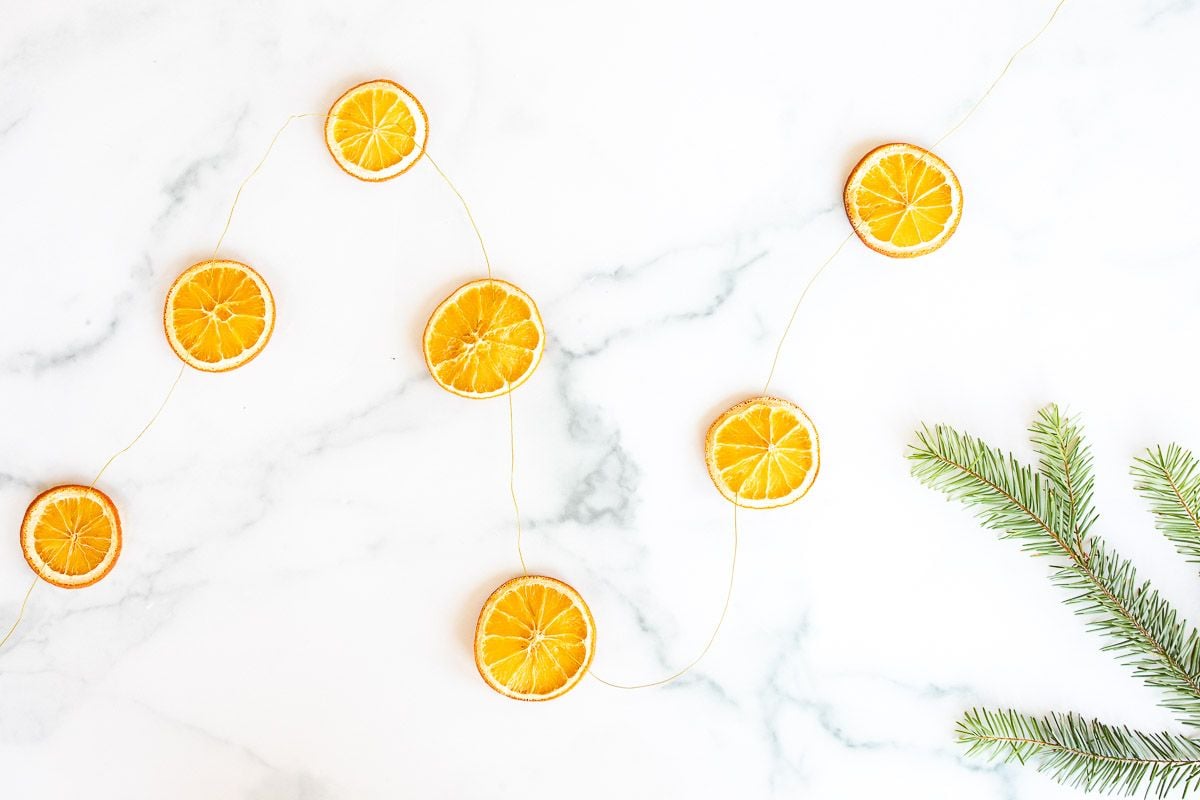 If you're in a hurry to transform your home for the holidays, try some of these 30 Easy Christmas Decoration Ideas.
When decorating for holidays, I tend to integrate natural elements that transition effortlessly from one season to the next. Orange Garland is the perfect way to transition from Thanksgiving to Christmas or fall to winter. (Learn how to intentionally transition from Christmas to winter decor here).
We love Popcorn Garland as well, if you're looking for another fun project, and don't skip our guide to the prettiest faux Norfolk Pine Garland.
Dried orange garland fits perfectly into your traditional or cottage decorating styles, or even Scandinavian Christmas decor. The bright and fresh orange color is a great way to blend fall decorating into Christmas. And of course the dried orange slices are perfect for the winter months – charming with a vintage flair.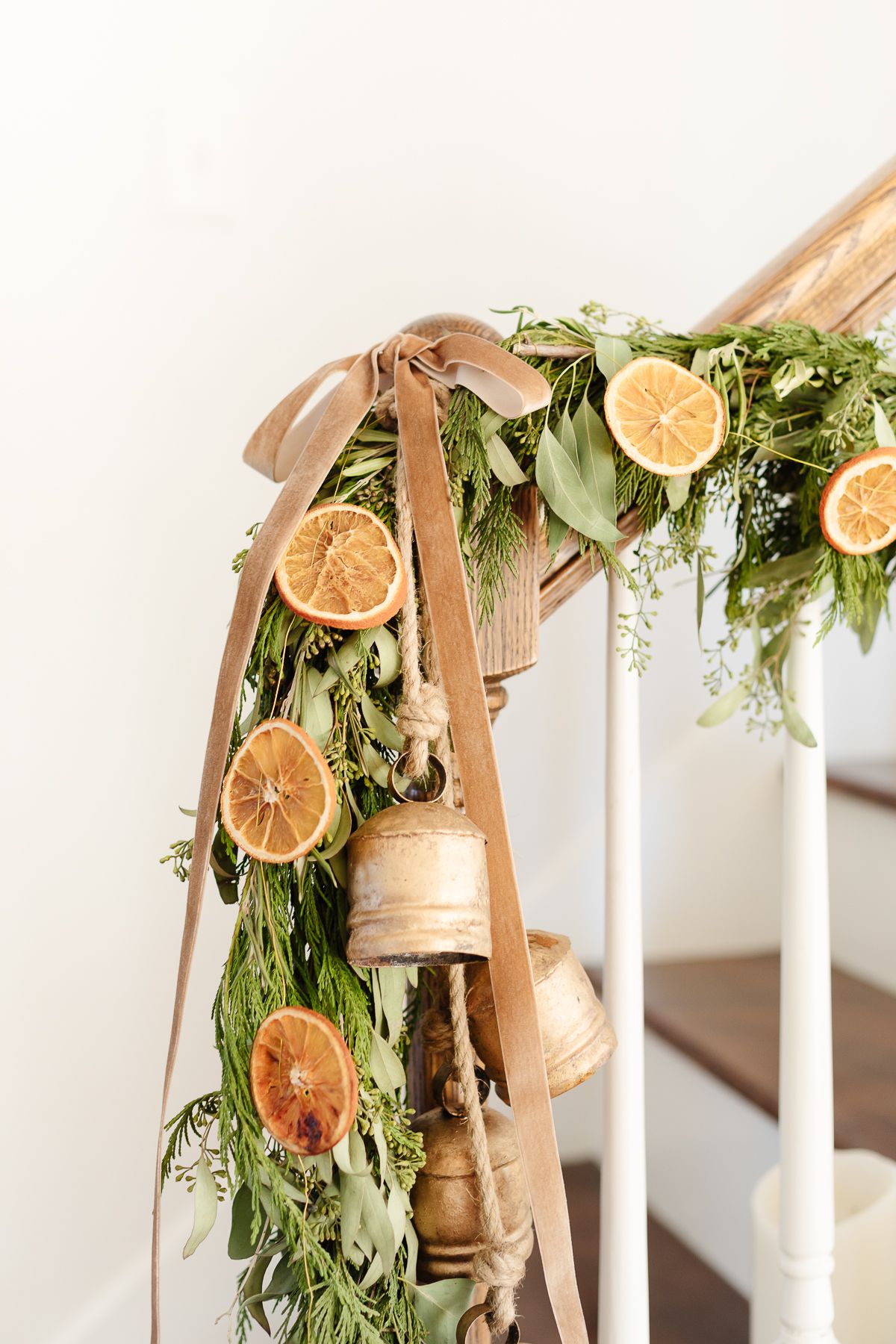 And once Christmas is over, orange slice garland works beautifully for the rest of winter. Oranges add a bit of sunshine into the cold winter days – see my tutorial for dried orange peels here.
I'm absolutely in love with how vibrant the dried orange garland is and how it looks so pretty against greenery. It makes such a vibrant and cheery atmosphere, yet keeps us all grounded in its simplicity and natural appearance.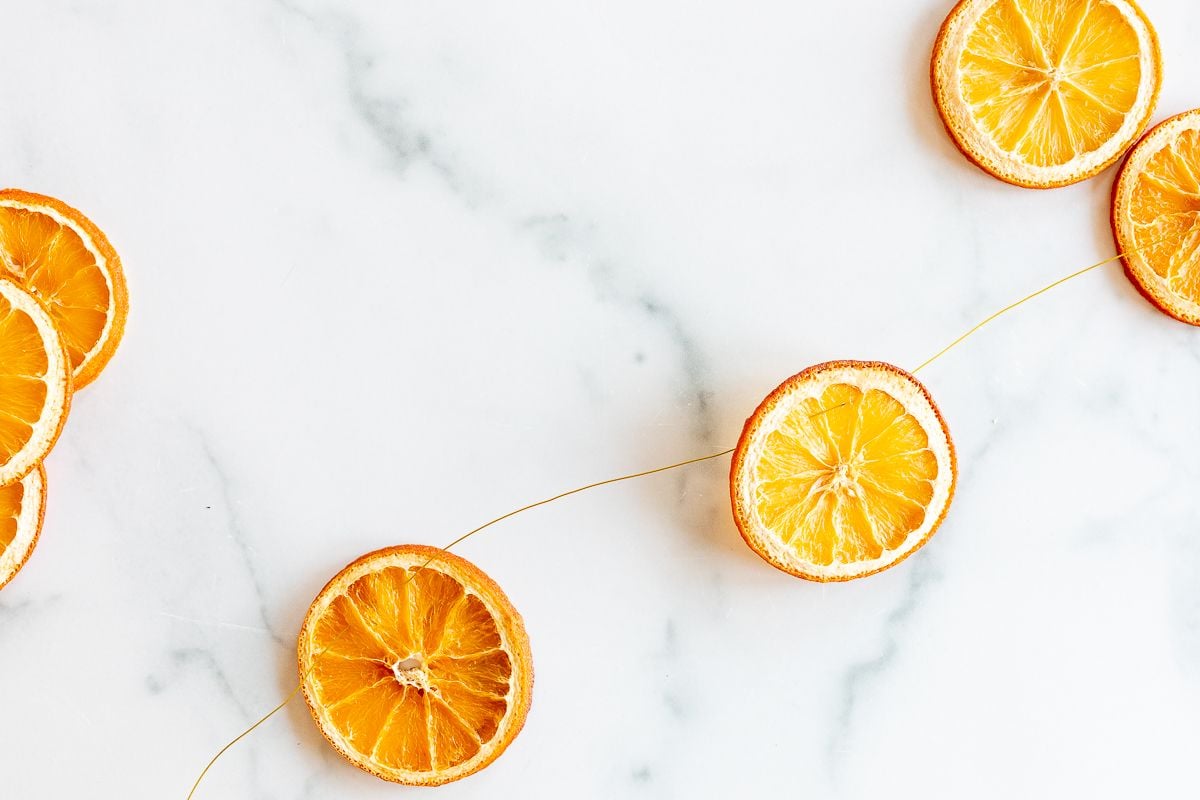 Where to Use Orange Garland
String it in a swag formation by itself on a mantle, on a stair banister, on a curtain rod, or directly on a wall above a vignette of photos.
Hang in front of a window so the light can shine through! It looks kind of like mini stained glass windows!
Merge it into fresh evergreen garland on your mantle or stairs for a beautiful mix of green and orange.
Wrap it around your Christmas tree for vibrant, natural tree decorations.
Skip the garland and use the individual dried orange slices placed in a wreath or a table centerpiece.
Scatter orange slices along a table runner as part of a tablescape.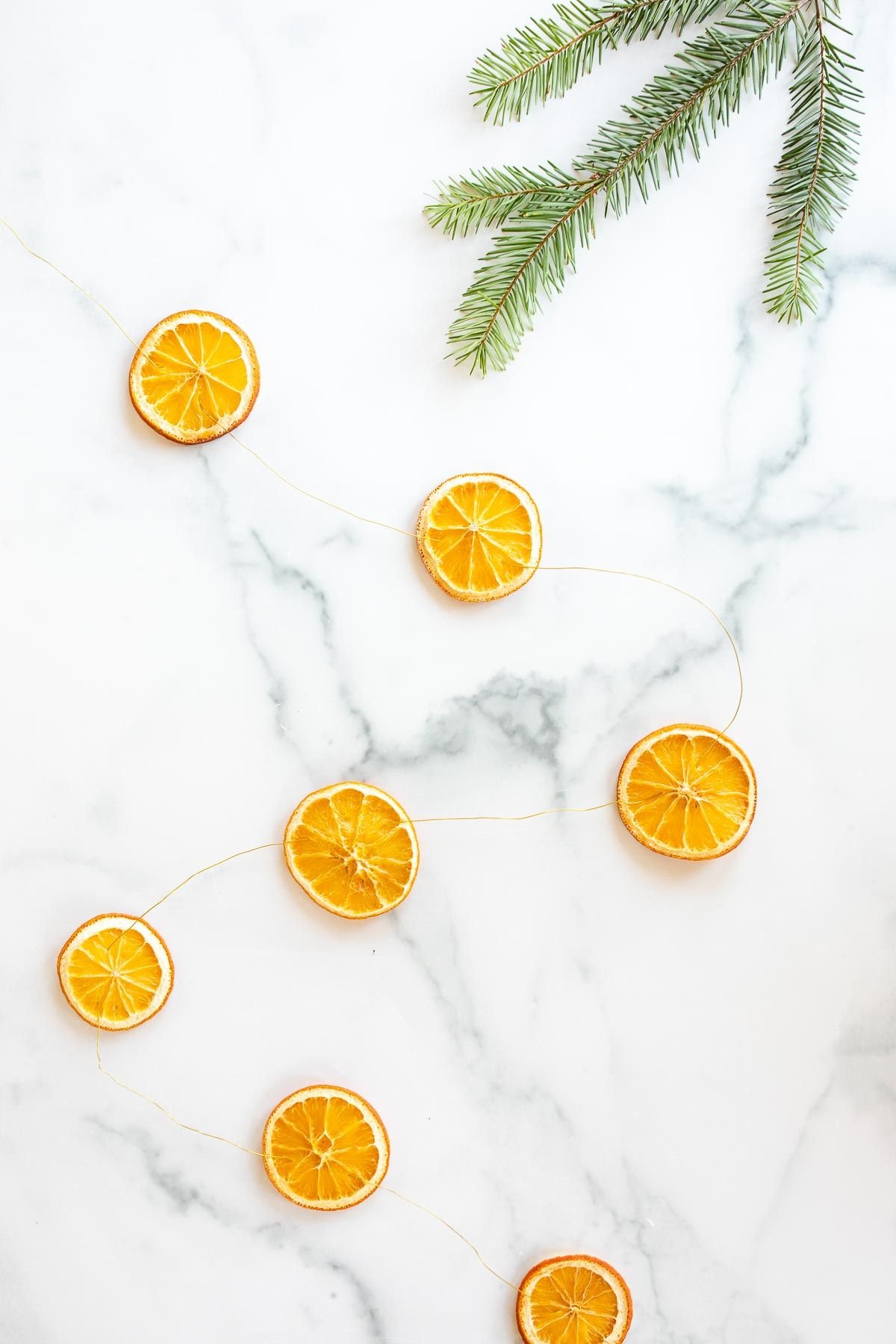 Supplies You'll Need
Fresh Oranges – Any variety will work. Choose oranges that are brightly colored, firm, and don't have discoloration.
Sheet Pans – Large sizes will allow you to dry more orange slices at once.
Parchment Paper – This will keep the oranges from sticking to the pan, keeping the slices intact when you remove them.
String of Your Choice – Fishing line, thread, yarn, baker's twine, embroidery floss, and jute will all work, depending on your desired look.
Needle – Choose needles with eyes that are large enough to hold the string of your choice. The needle doesn't have to be sharp to slide through the orange.
For a traditional and elegant finishing touch, you an add ribbon to the ends of your garland. Find our pretty antique gold velvet ribbon here.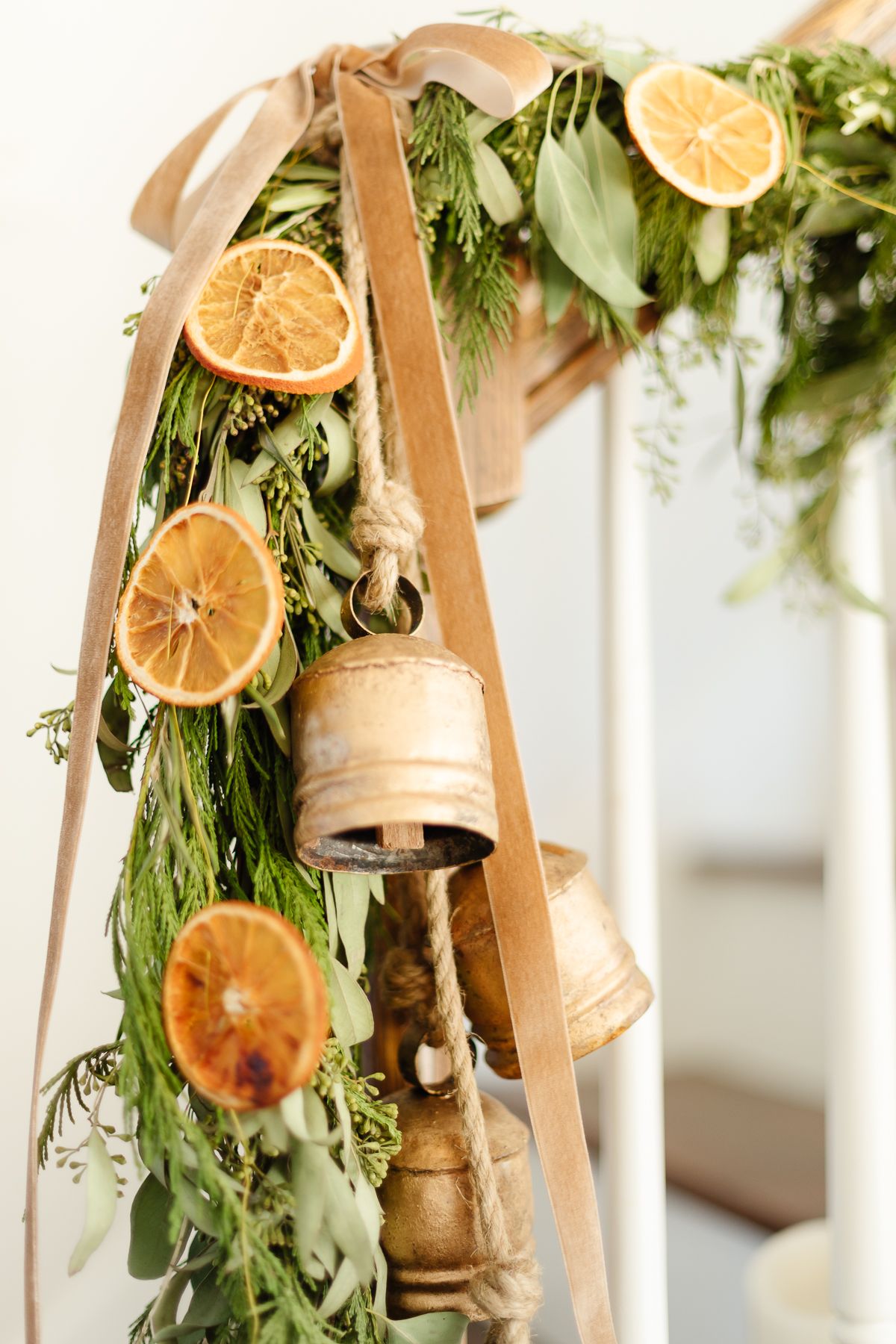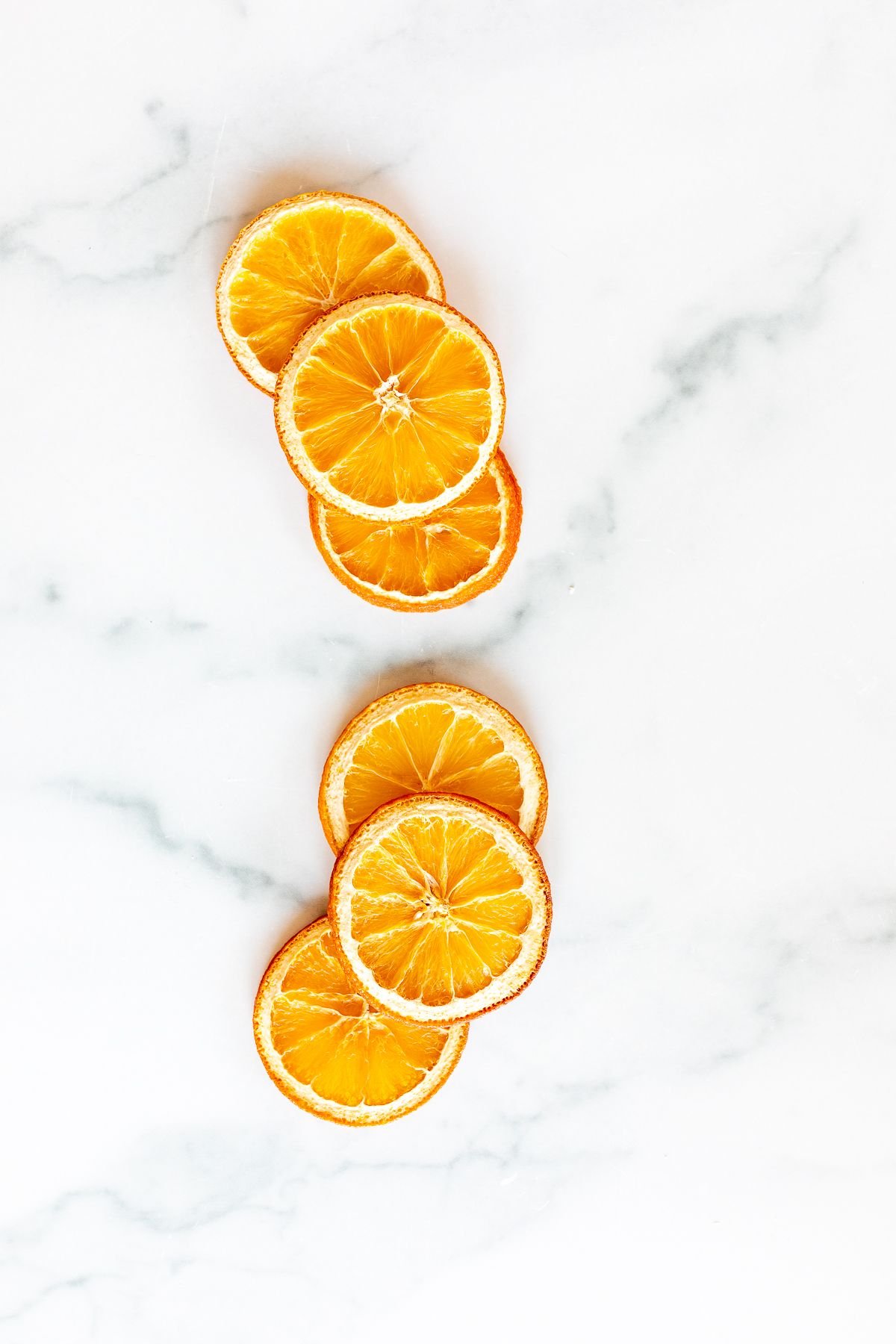 How to Make Dried Orange Garland
Cut into even slices.
Blot and baked on parchment lined sheet pans.
Flip and bake until dry.
Allow to cool and string.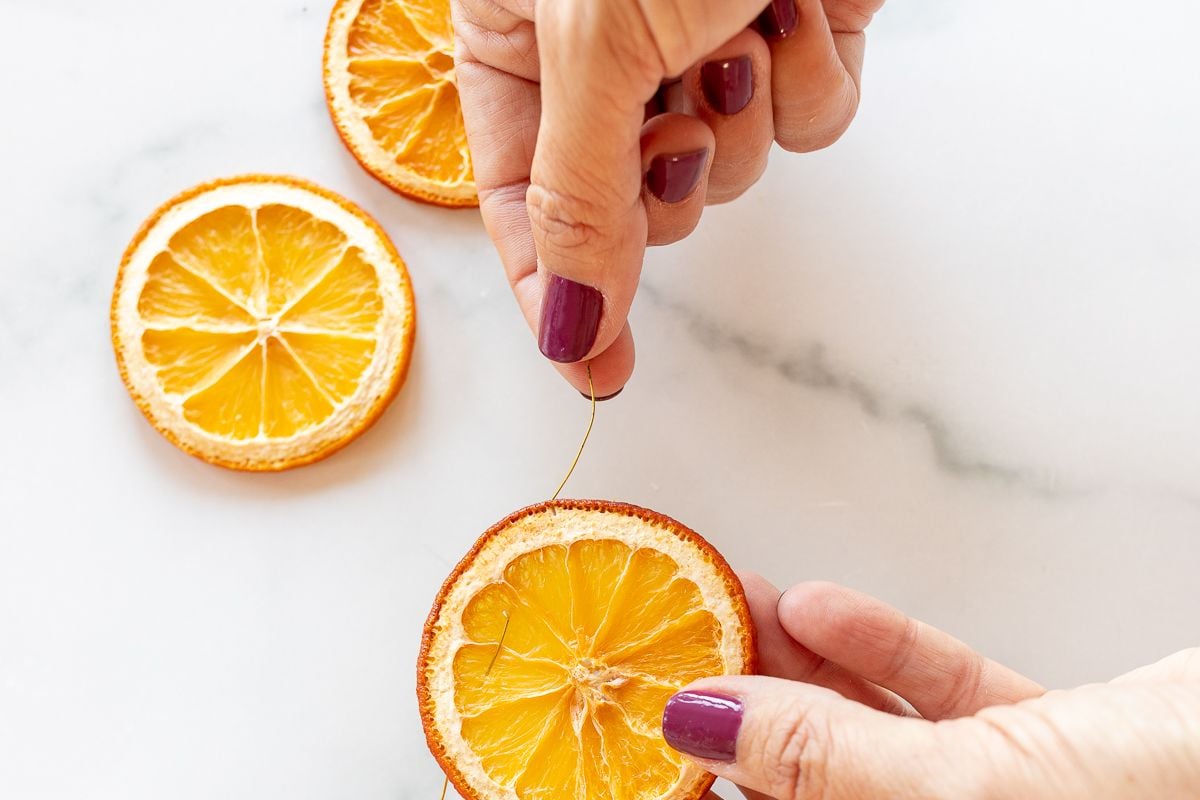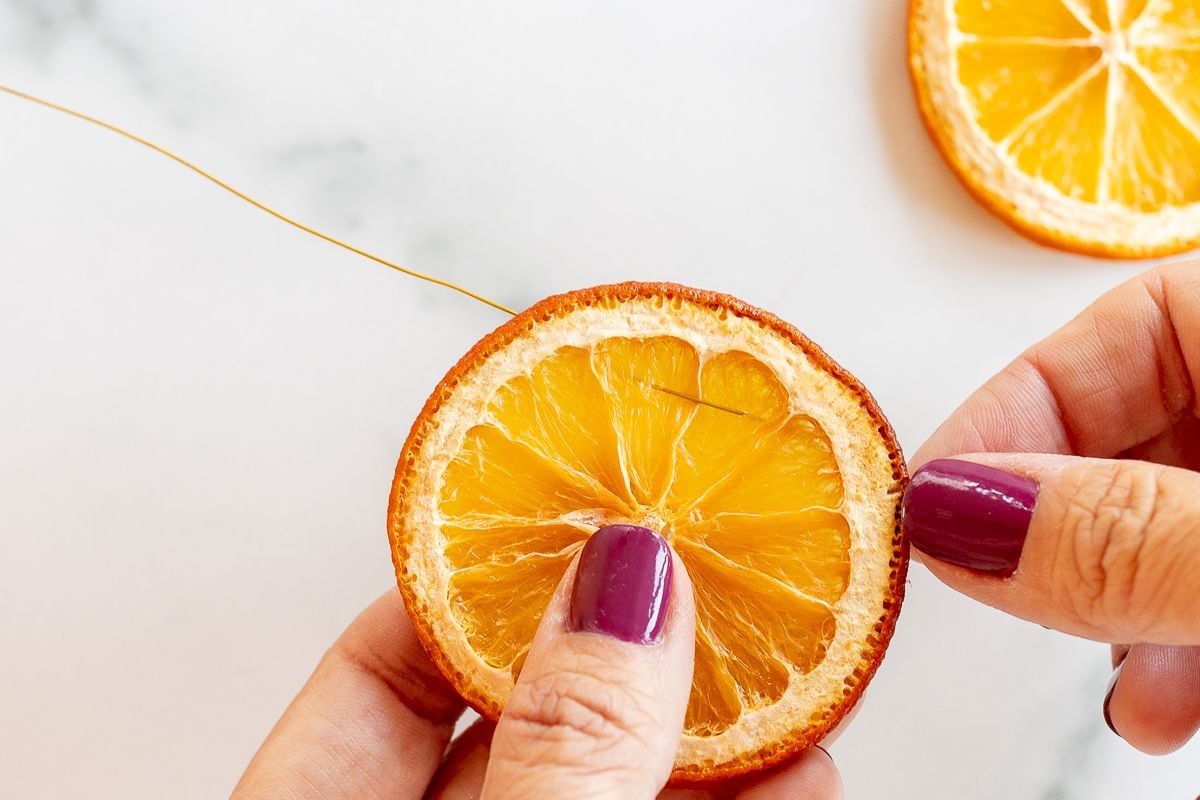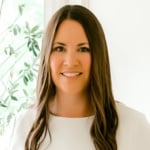 Tips
Slice evenly so they bake evenly.
The thinner the oranges are, the more translucent they will be.
Slice oranges perpendicular to the ends of the oranges so that the flesh will have the triangular pieces showing.
Make sure the oranges are completely dry. This prevents them from rotting and attracting bugs.
Poke through the flesh, and go in and out in the same orange to let the beautiful face of the orange show when it is hung.
Add a drop of orange essential oil to maintain a fresh citrus aroma in your home.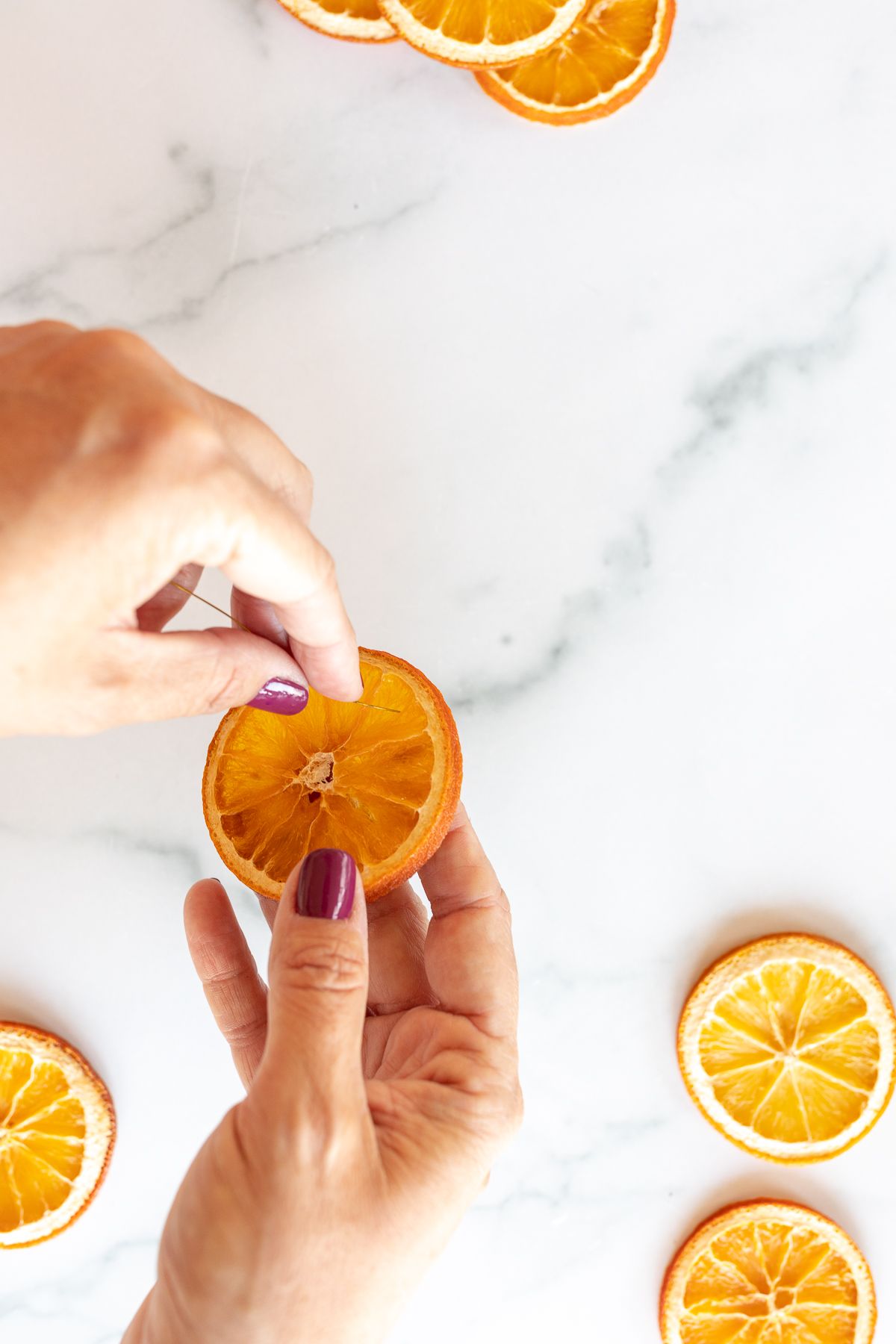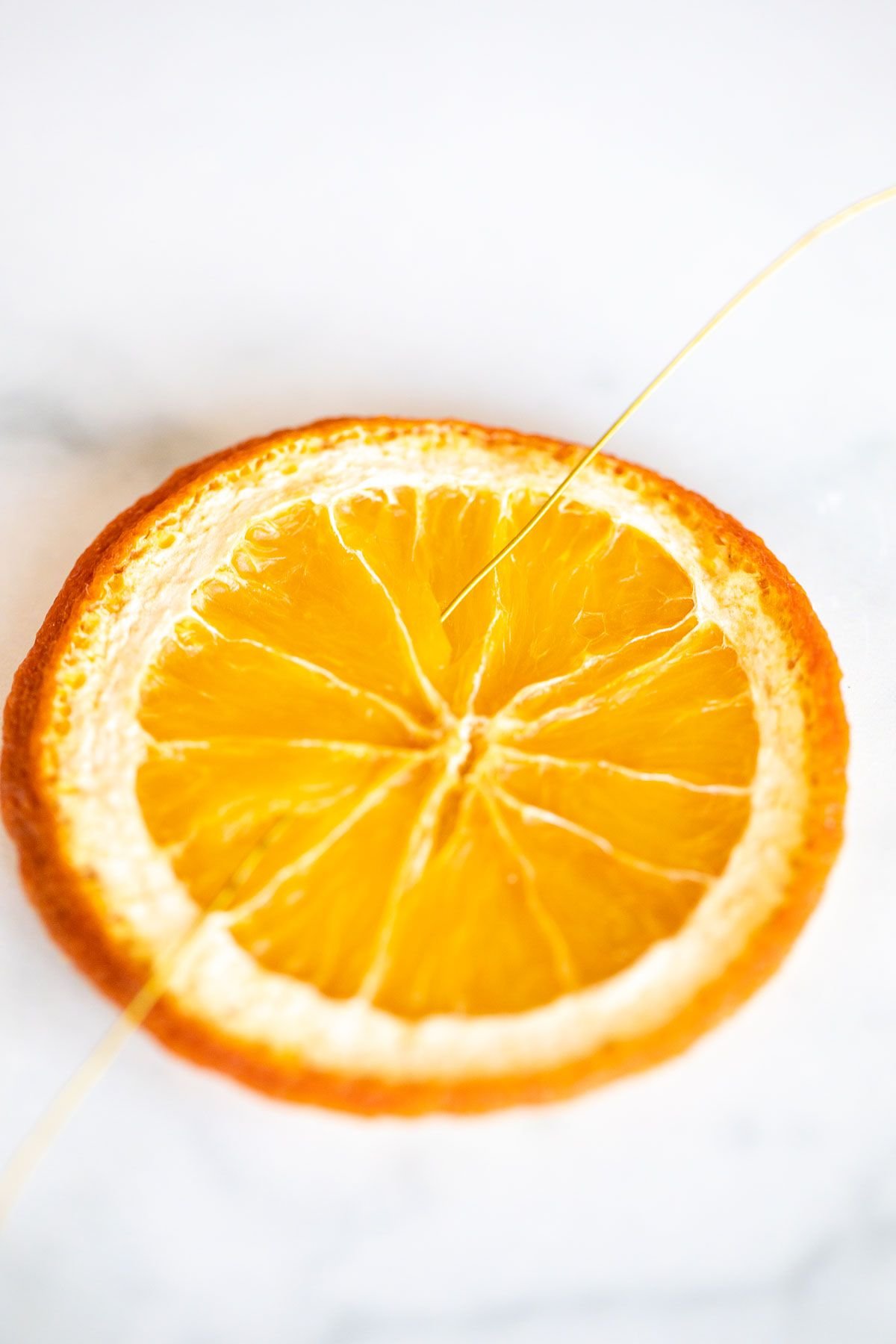 Variations
String the garland with other natural elements, like popcorn, cranberries, cinnamon sticks, etc.
Use a food dehydrator instead of the oven for dried orange slices that don't brown.
Spray dried oranges with a light coating of glitter spray to add a little dazzle.
Dehydrate lemon slices for your garland if you want to try a bright yellow garland.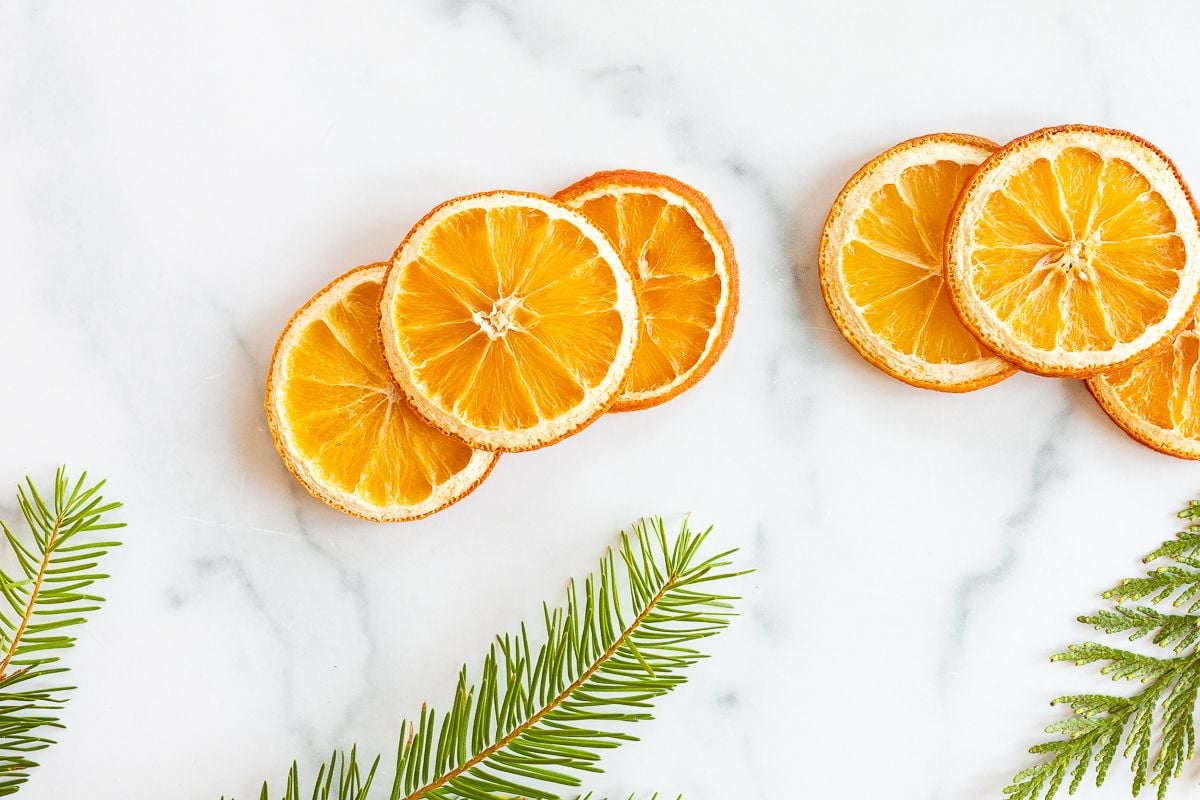 Frequently Asked Questions
How long does dried orange garland last?
If it is completely dried and stored in a cool, dry place the orange garland can last for a couple of years. If the oranges get moldy or brittle, you can easily make a new one.
What do you do with orange garland?
The ideas for decorating with orange garland are plentiful. Hang it above a mantel, on stair rails, on the wall, in front of windows, on your Christmas tree, in a wreath, or in a table centerpiece.
How to Store
Store your dried orange garland in a cool, dry place. We will wrap ours loosely in tissue paper and store in a cardboard box, allowing for a little air circulation. Stored properly, they can last for seasons to come!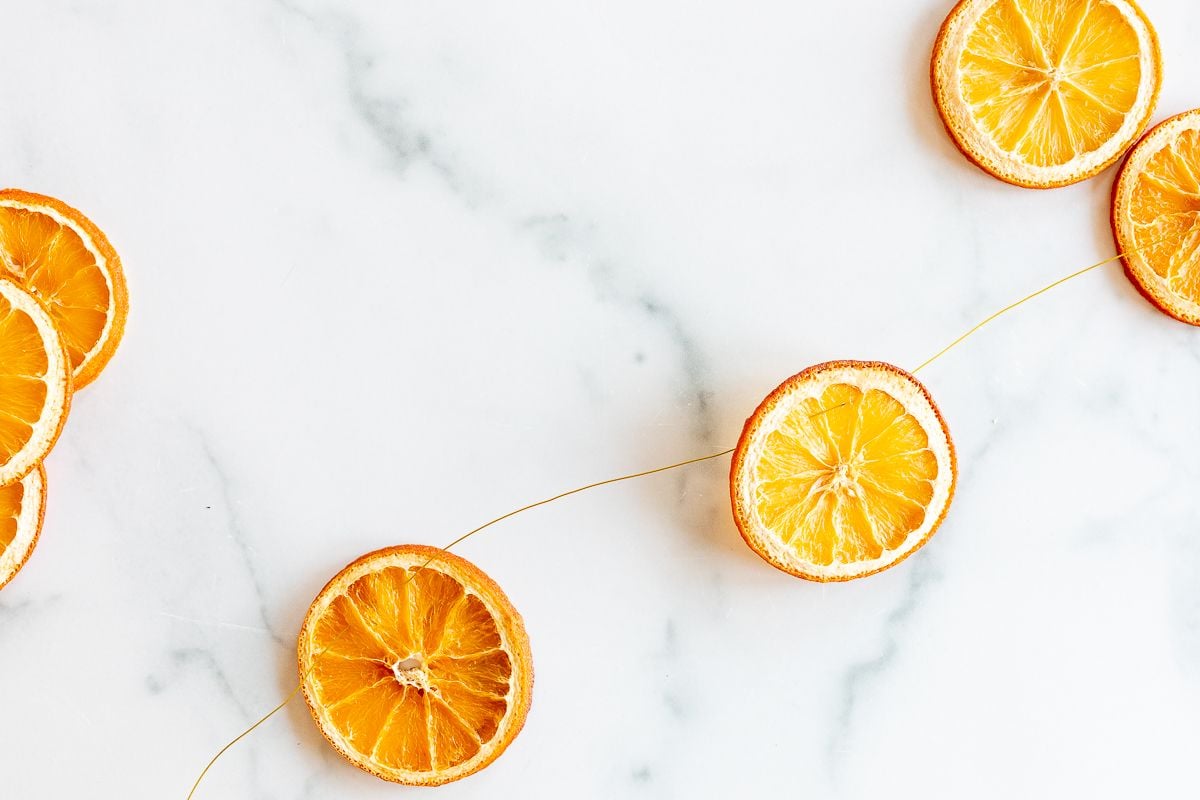 More Christmas Decor Inspiration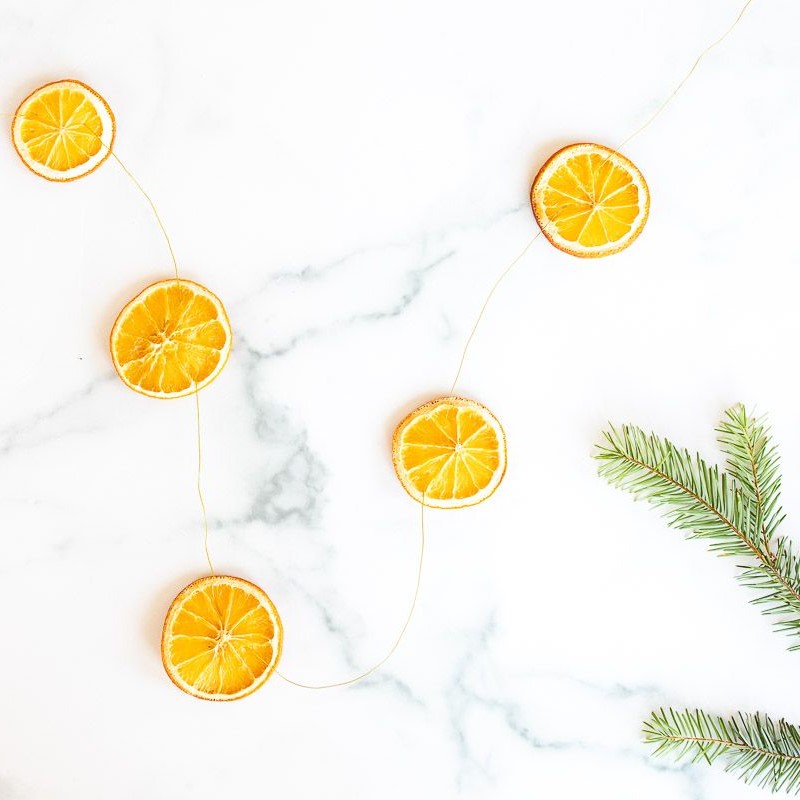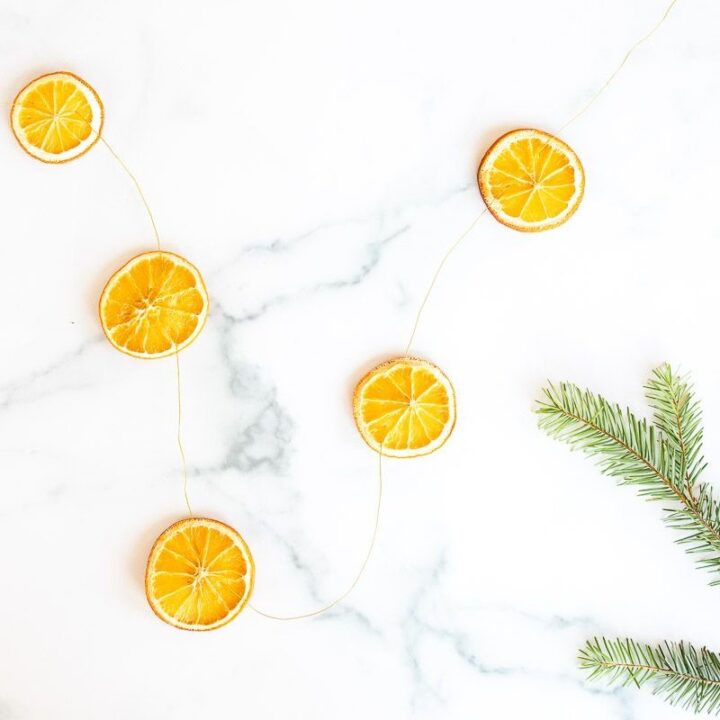 Orange Garland
Total Time:
2 hours
40 minutes
Stunning garland made with dried orange slices that adds a natural beauty to your holiday and seasonal decor.
Materials
4-6 Oranges
Thread, string, fishing line, twine, etc.
Needle with appropriately sized eye
Parchment paper
Instructions
Rinse oranges. Cut into 1/8" to 1/4" slices.
Pat slices to absorb extra juices.
Lay flat on parchment-lined baking sheet.
Place in warm oven (170 - 225 degrees) for around 2-3 hours. Look for lightly browned edges and the rind curling up a bit.
Let dry for a few hours.
Thread the needle and pull needle through the flesh of the orange, and then push back through. Repeat with each slice, spacing the oranges to your desired distance. Leave a few inches of string on each end to be able to hang or tie to more garland.