Step inside our Christmas house to see how we decorated for the holidays! It's filled with flowers, garlands, light and love.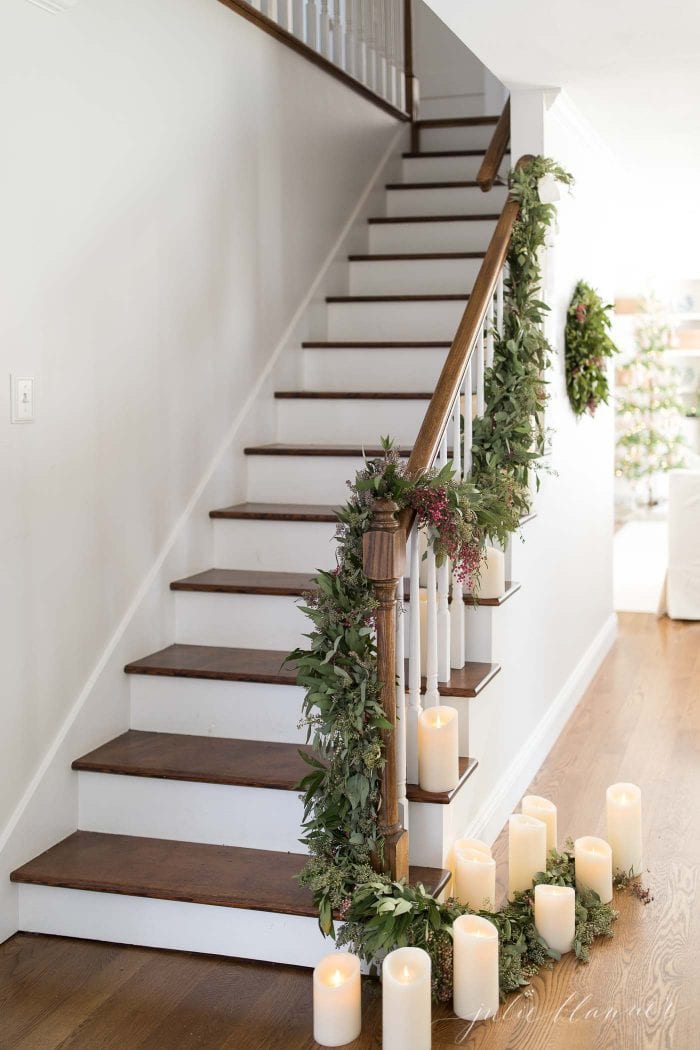 Over the past couple weeks I've shared a couple of rooms, and our Christmas Home Tour Video but you can find our full 2018 Christmas house tour here! This year I added cozy layers, candlelight and greens throughout our home with a few touches of pinks and reds.
Be the first to see this year's home tour and go behind the scenes! Click subscribe to follow me on YouTube here!
Grab a cup of Homemade Hot Chocolate and put on a Christmas playlist and come on in!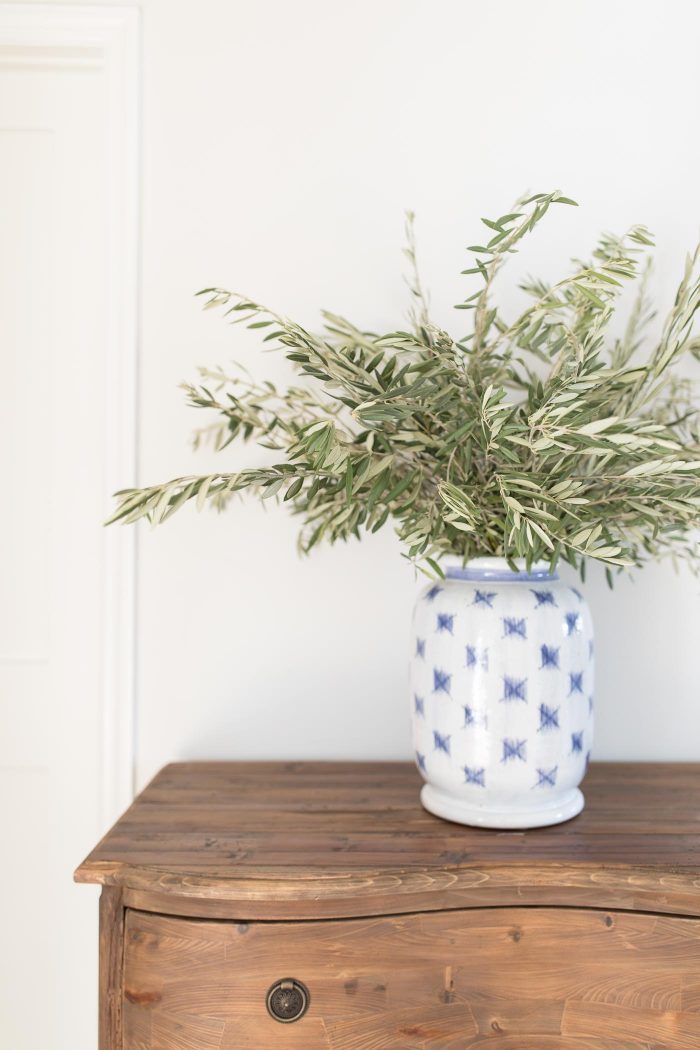 In the entryway, I filled an oversized vase with olive branches to make a dramatic statement that will last all winter. You can see it from the moment you step inside our front door.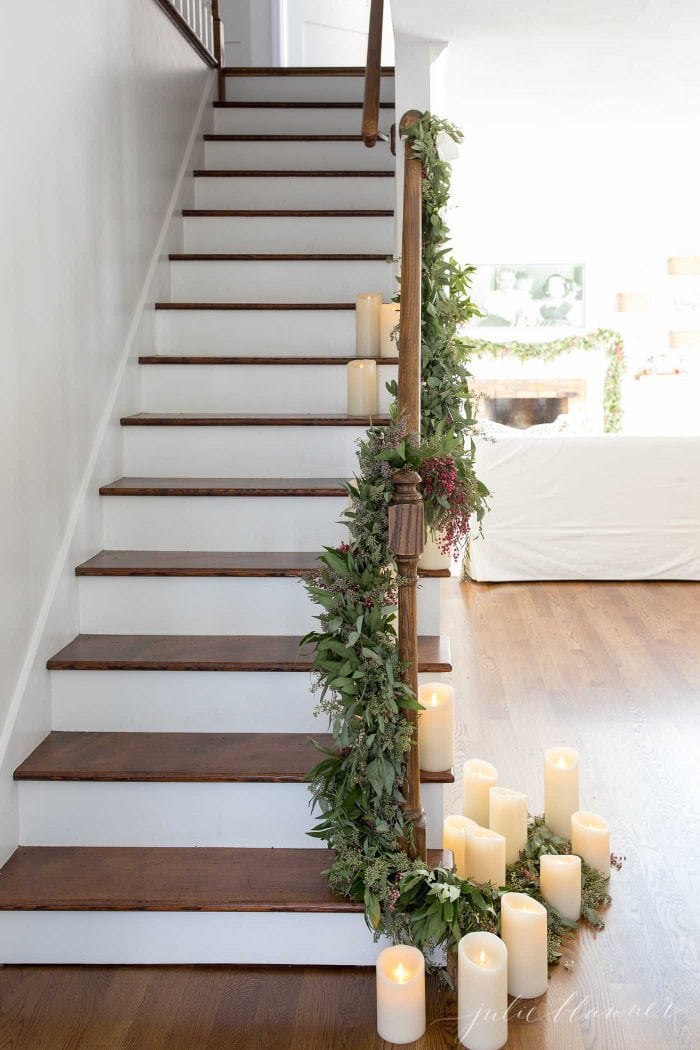 As you step inside you see our stairs draped in garland and covered in candlelight. It feels elegant by day and magical by night. The thick, drapey garland is filled with pepper berries, bay leaves and eucalyptus for a hint of holiday color.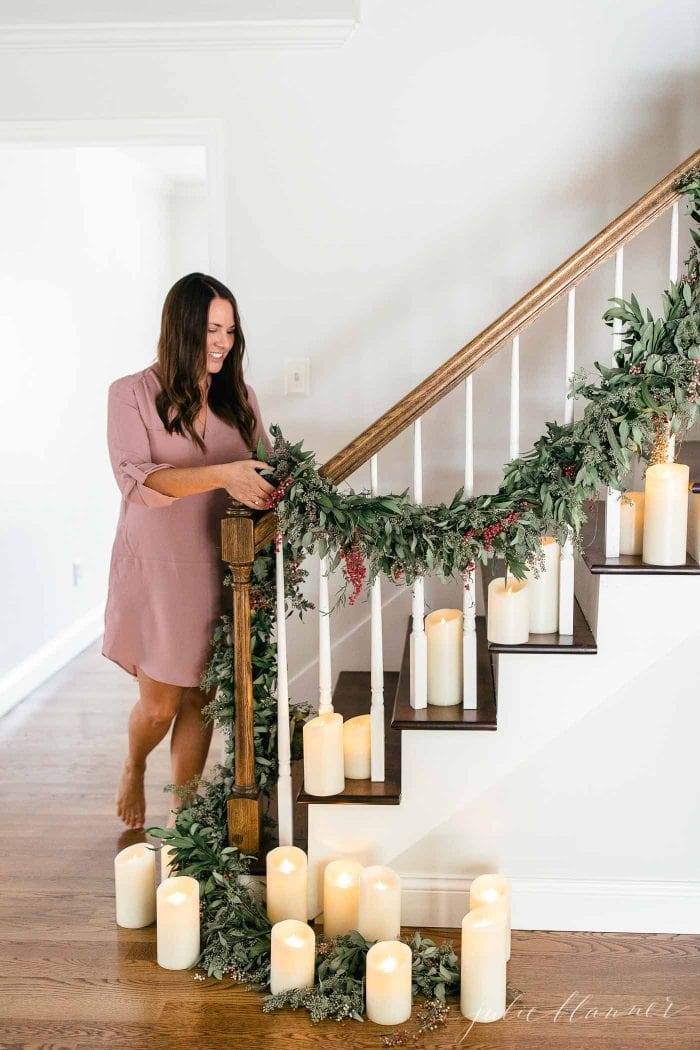 The candles are synced on a timer and are controlled by a single remote. Their flames flicker so naturally Isla had to take a second look. We have them alternated so some flicker faster than others. You can find the flameless candles here.
I replaced the art hung above the bench with a wreath to match. It became even prettier after it dried because the stems draped and made if feel so full. It will grace the entryway through Valentine's Day!
Just to the left the guest powder room also received a beautiful wreath and on the sink a bud vase filled with olive branches, anemones, and garden roses in soft blush and ivory tones.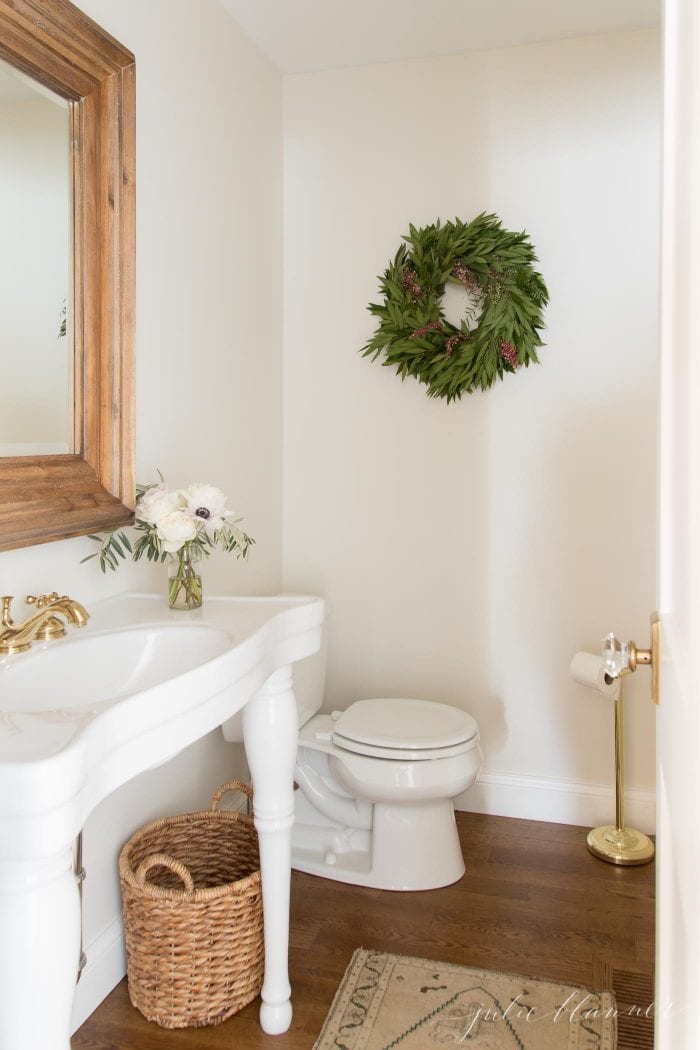 Just beyond the stairs you step into our dining room. This space is particularly meaningful for me as it's filled with my grandmother's dining room furniture that my mom, then I, inherited. I balanced it with slipcovered dining chairs and added a large chandelier.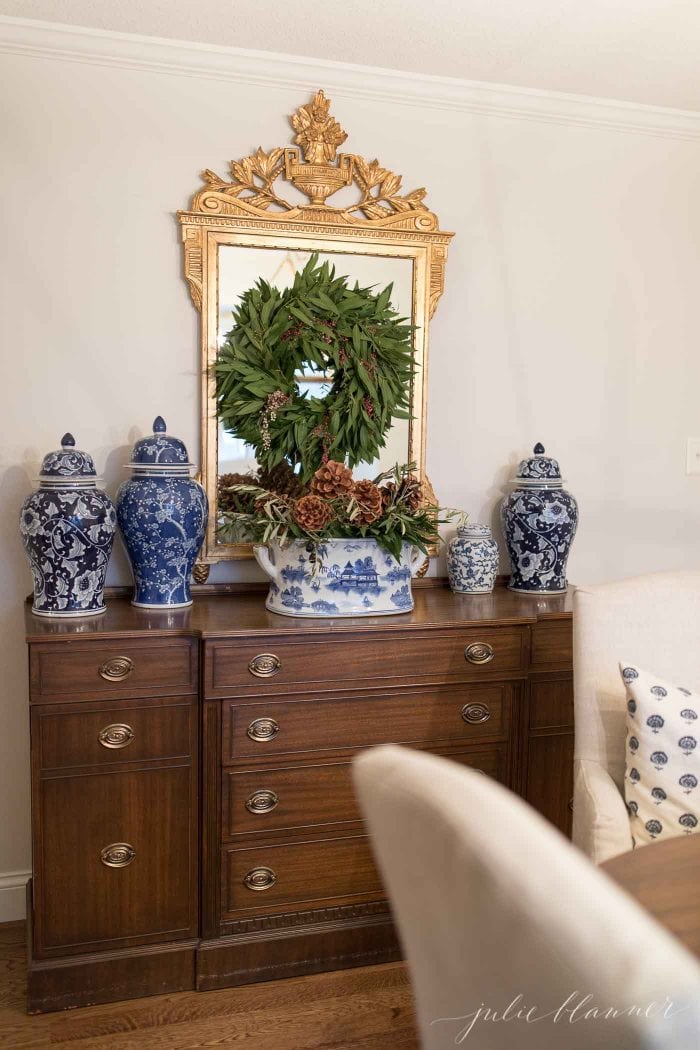 To make it feel festive, I added a wreath to both the window and mirror. To fill the foot bath, I pressed a wreath into it and added a few additional olive stems and oversized pine cones.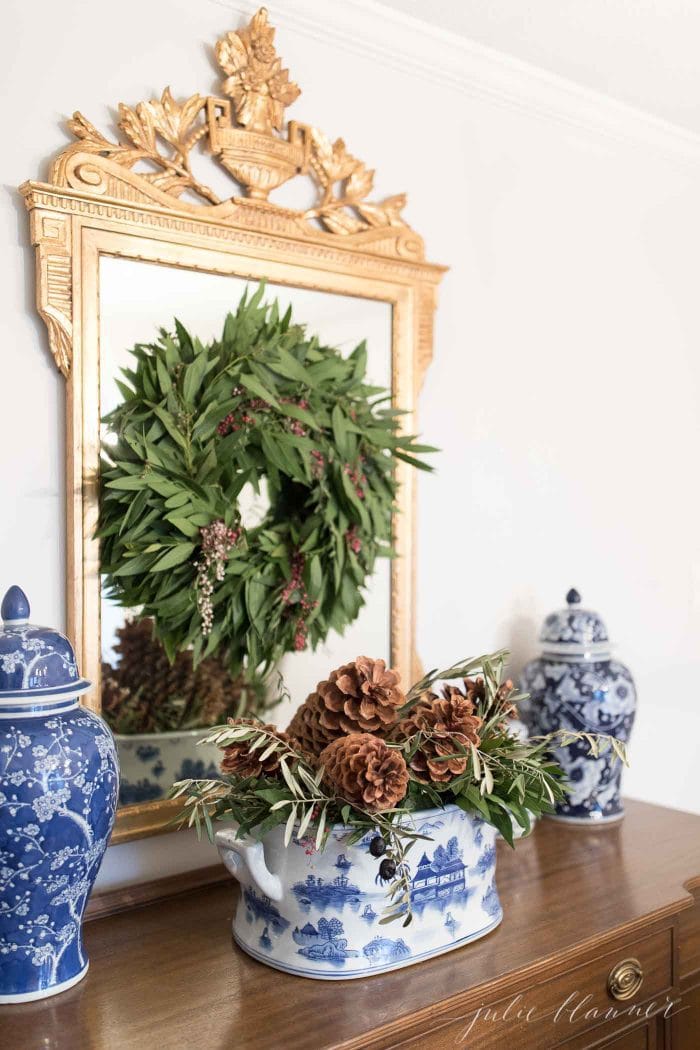 Excess garland was hung over the hutch in true holiday style.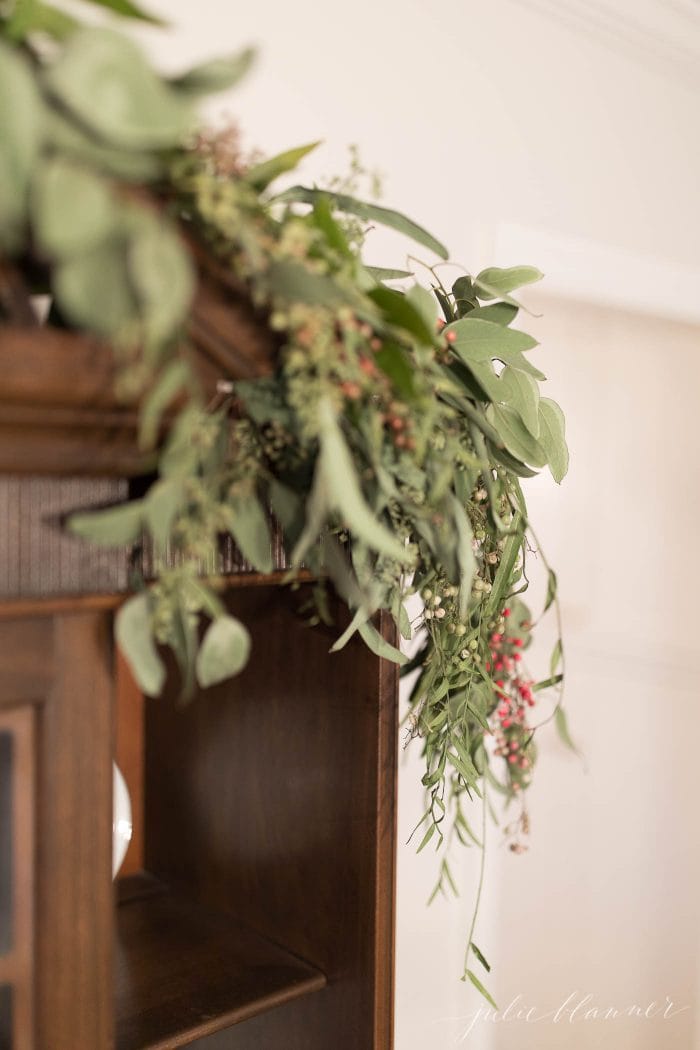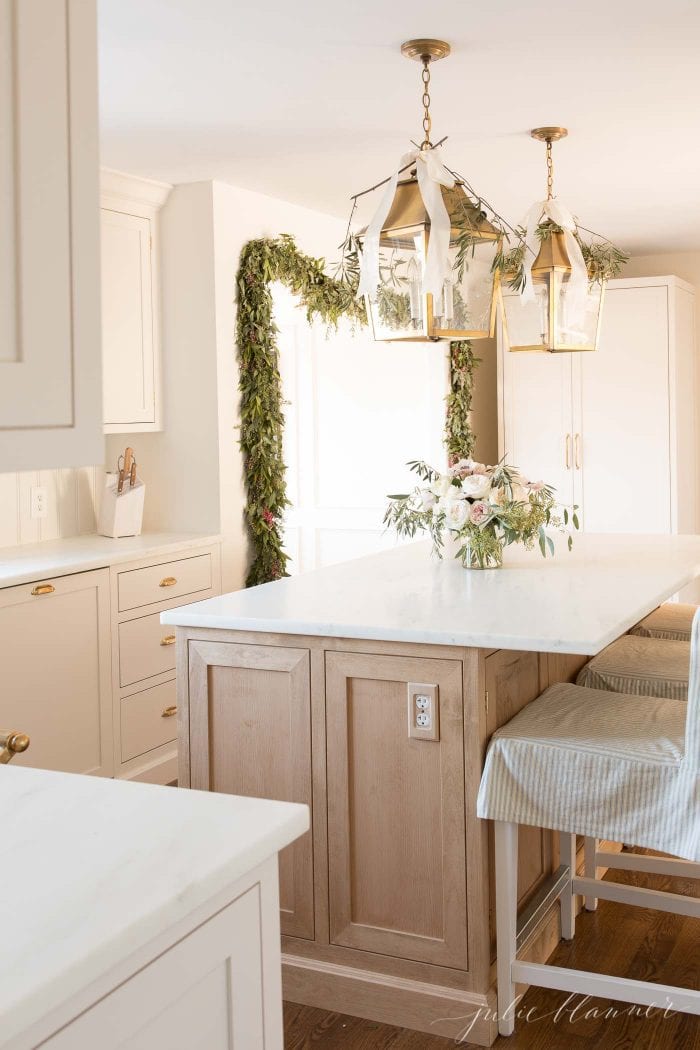 In the kitchen I tied olive branches to the lanterns that hang over our island and a little swag on the hutch. An olive wreath with a double satin bow graces the window.
Both of the larger door frames have been draped in garland for a dramatic effect. I've received several questions about how I hung it on Instagram. It's simple!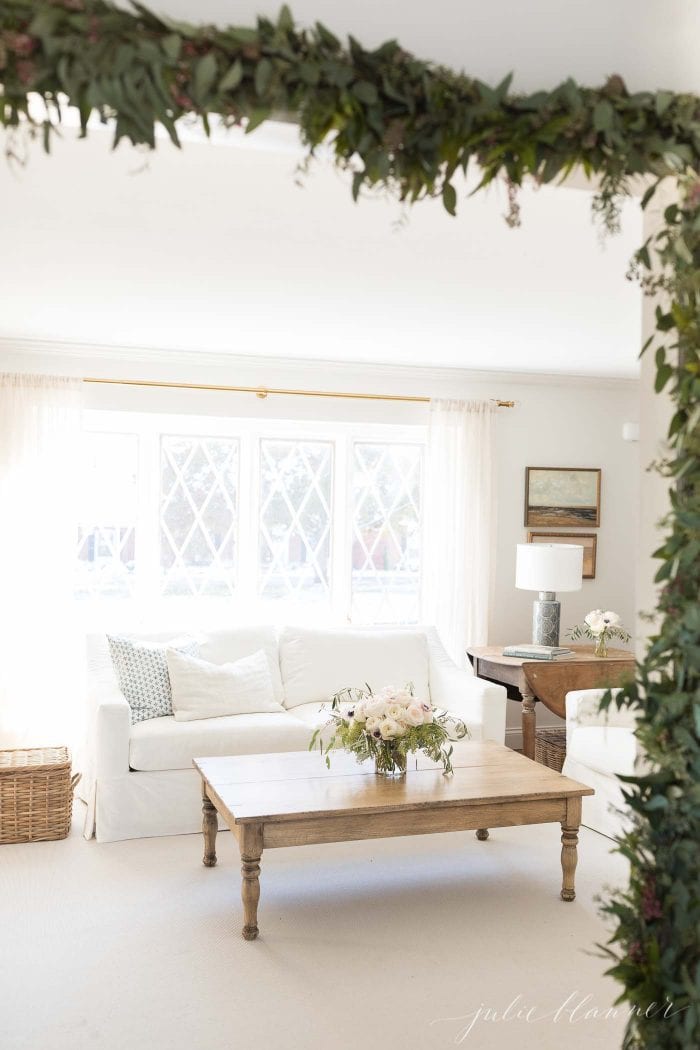 To hang garland I just added three nail on top of the door frame where they'll never be seen, leaving a 1/3″ exposed – one on each corner and the third in the center. Working with fresh garland and having someone support the weight, just tuck it in behind the nail.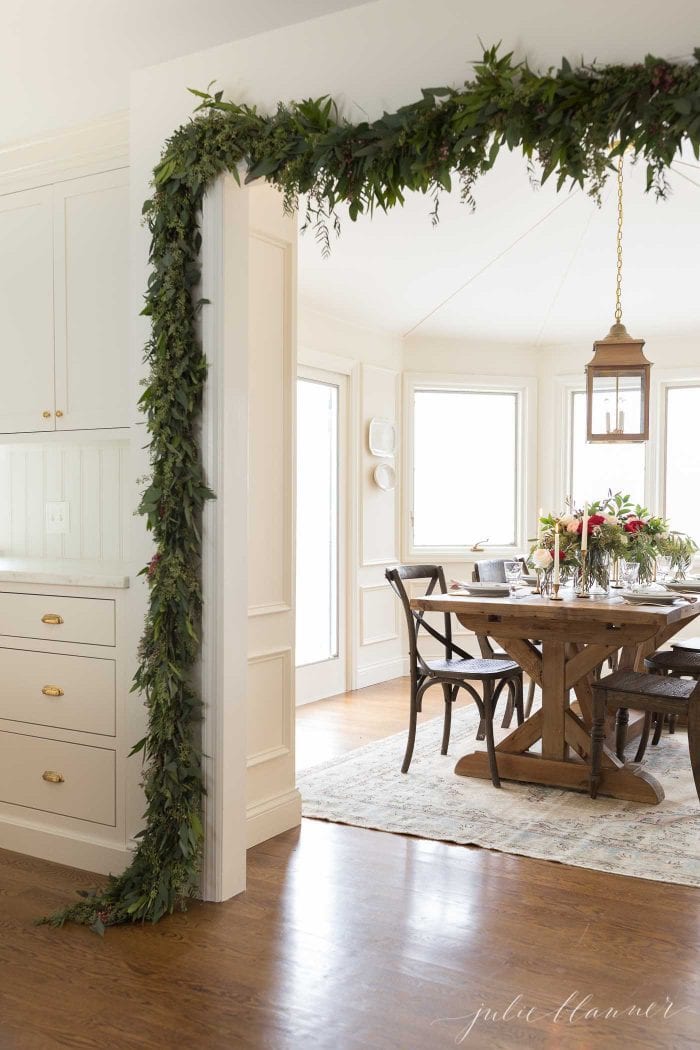 View this post on Instagram

I'm not sure I'll be able to part with this garland come January! It adds so much to the kitchen and breakfast room. I'd love to hear – how did YOU decorate this year?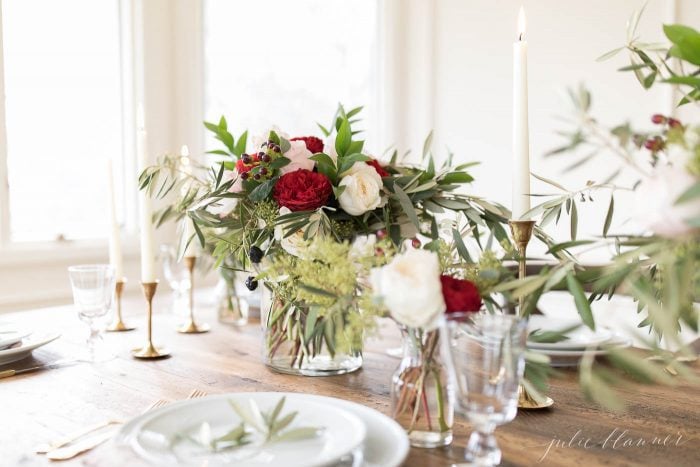 In the breakfast room I used several floral arrangements to create a festive table setting that can be sent home with guests or used throughout the home on end tables, coffee tables and more.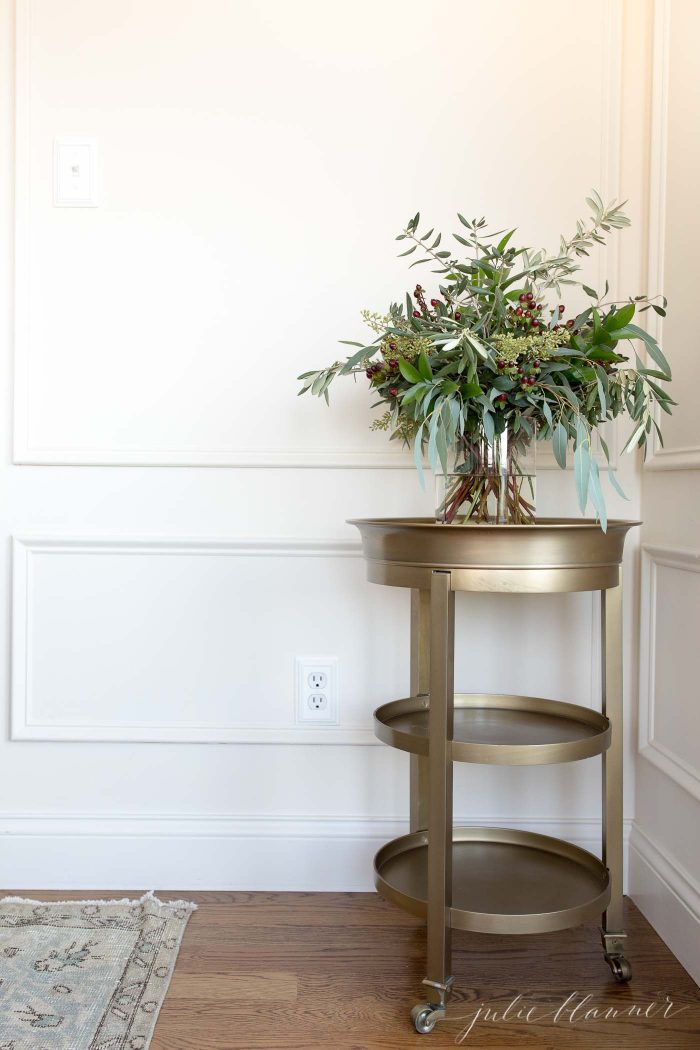 The side table received a little greenery as well. Greens keep for weeks in fresh water!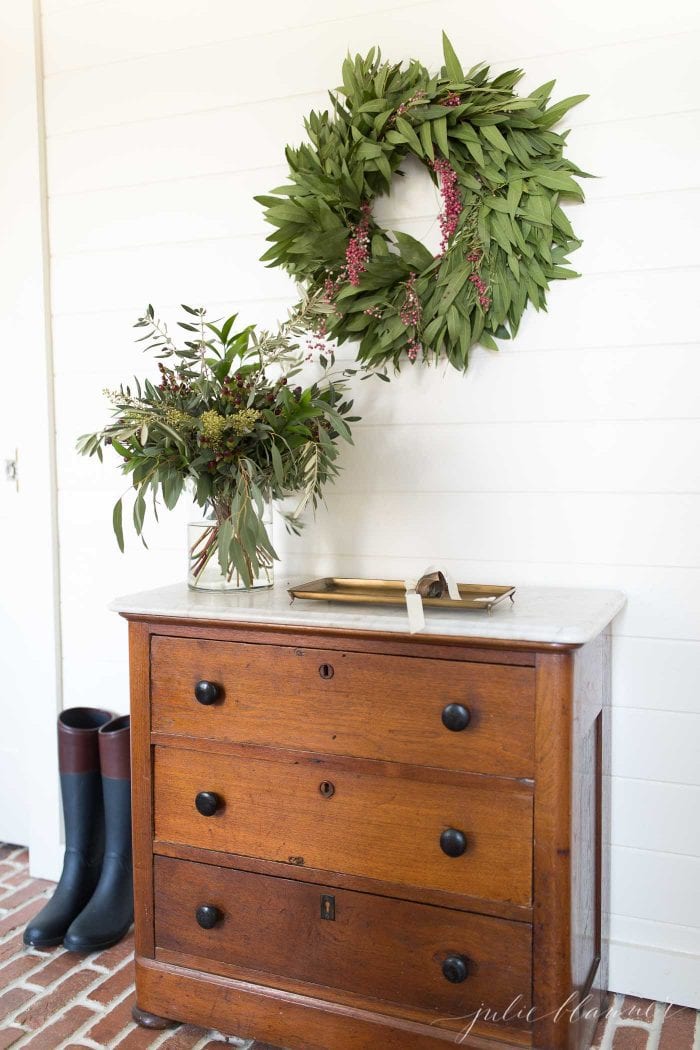 You'll see the same elements carried into our mudroom as well.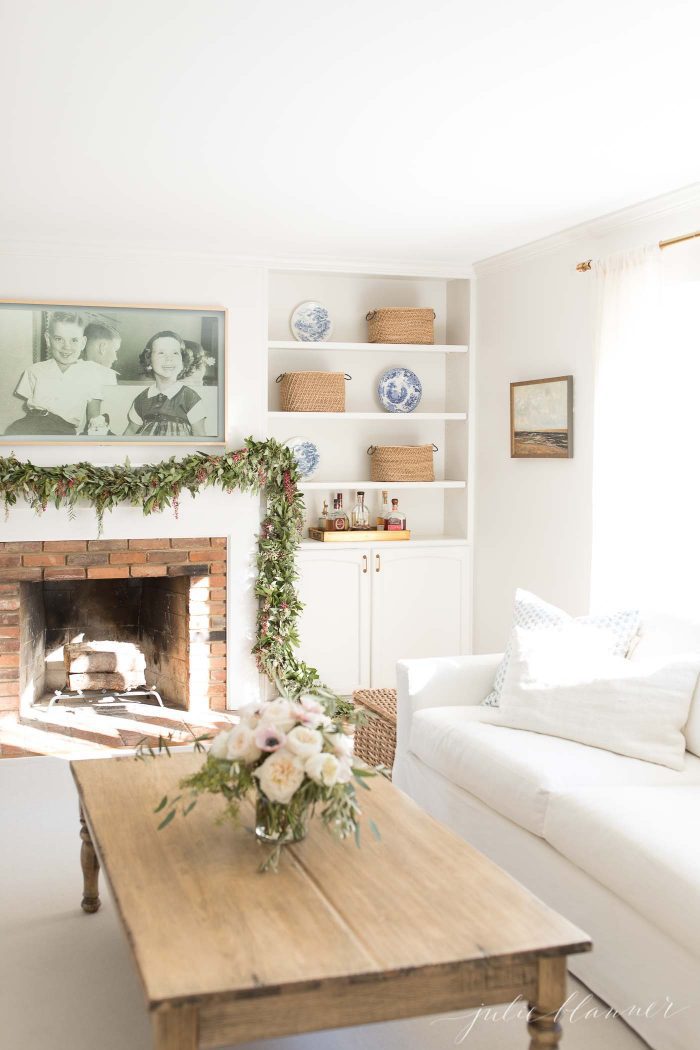 In the living room another garland was draped over the fireplace where a photograph of my mom and uncle once again is displayed on our tv this year.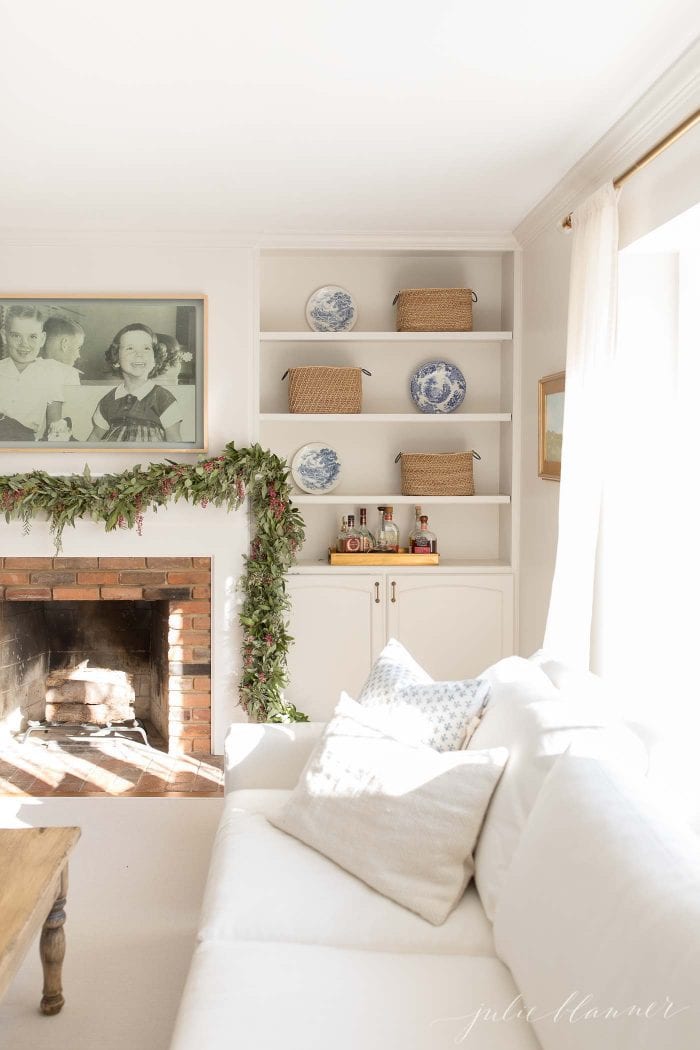 Our skinny tree is decked in garlands, ribbons and pretty pink ornaments.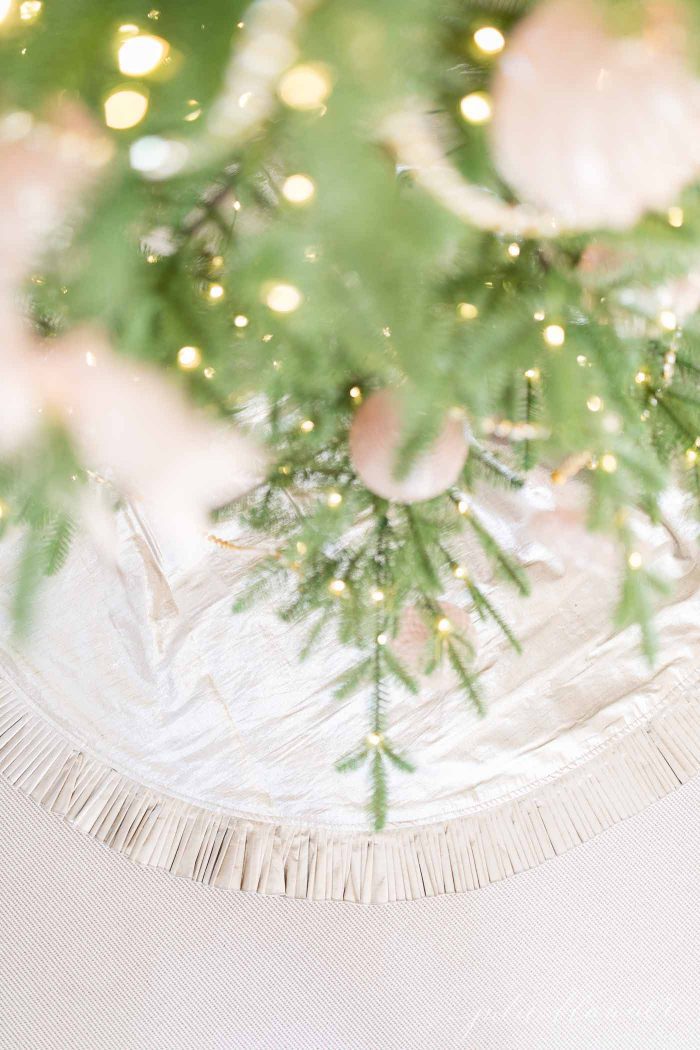 Now that we have come full circle let's go upstairs for a peek of our Christmas house in progress! Decorating is a process and I really like to include the girls in decorating their rooms.
So far this year they've added a few fairy lights. This weekend I hope to add trees and homemade decor along with stockings in the hallway.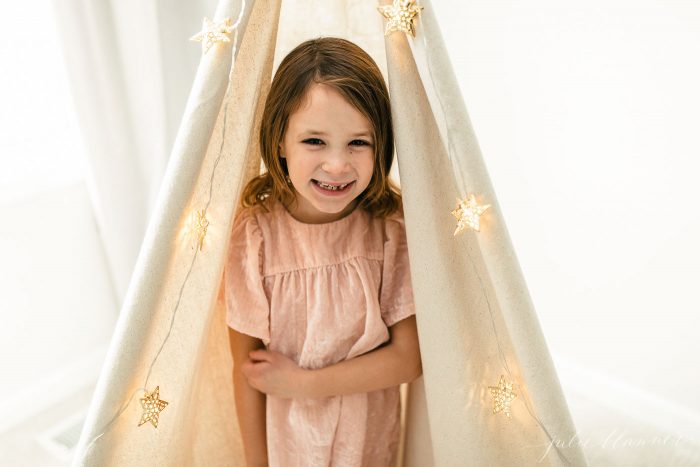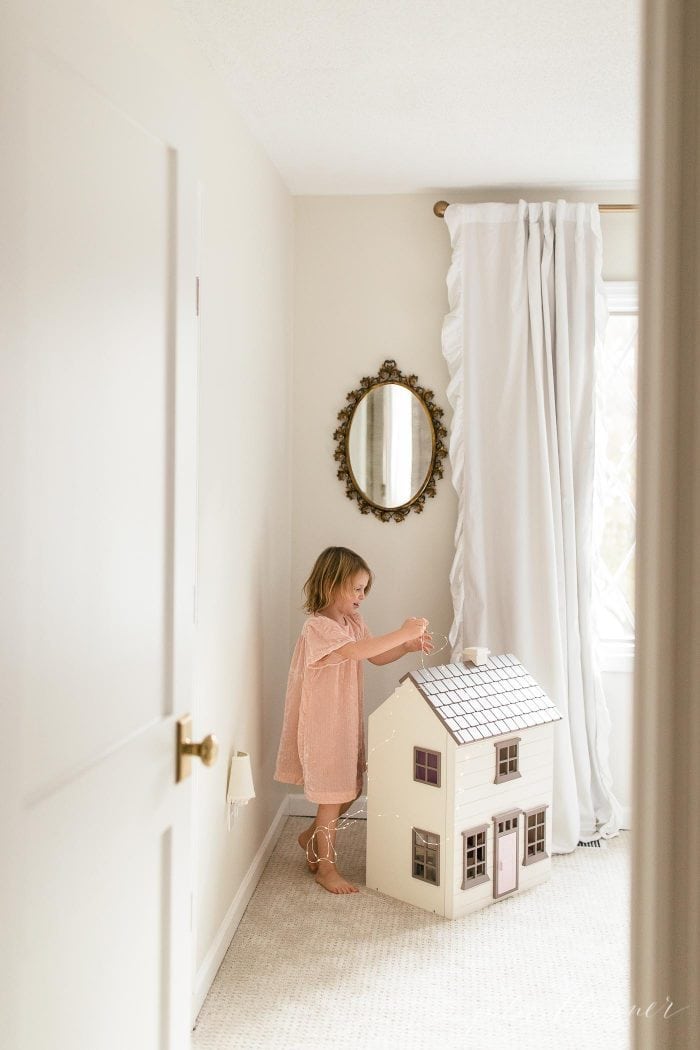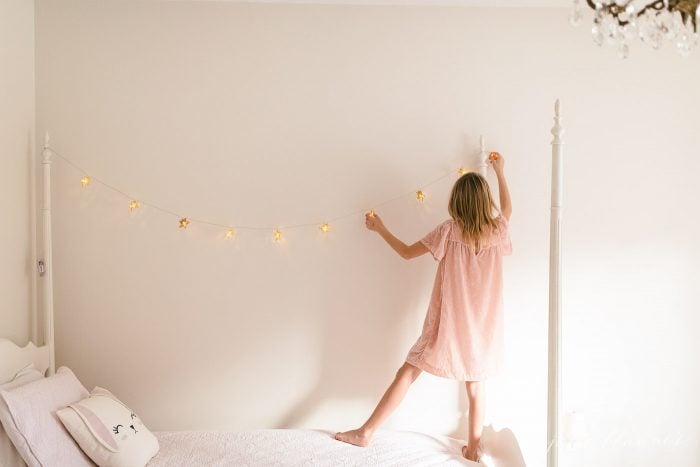 Our Christmas bedroom is also filled with candlelight, wreaths, fairy lights and an extra layer of warmth.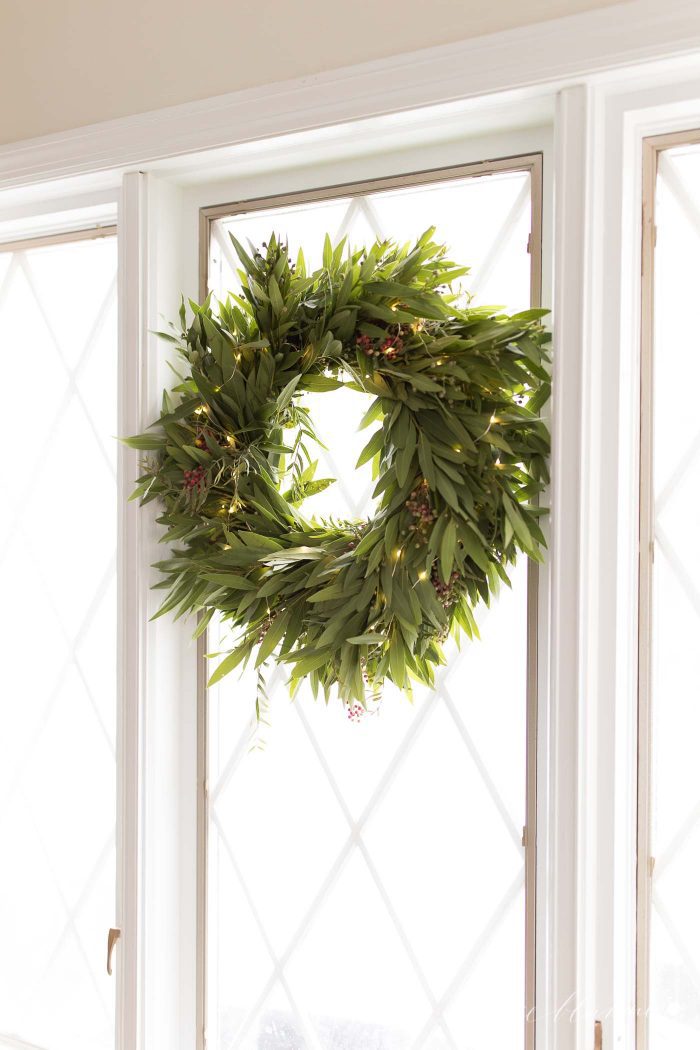 Looking for more ways to add Christmas spirit to your home this year? I've got great ideas! Check these out: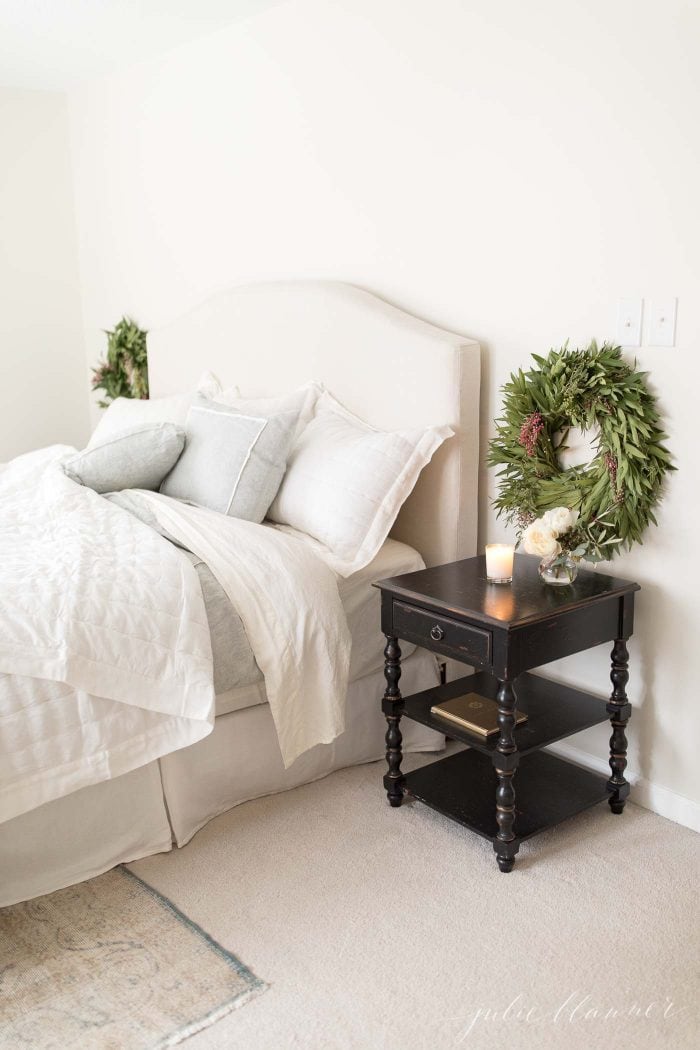 From our family to yours, wishing you a very merry holiday season!