If you're stuck in a home with too much "stuff", it might be time to start small and learn to live with less with this minimalist home inspiration.
Get my favorite methods for creating a minimalist design in your home with calm, simple yet sophisticated spaces that shine!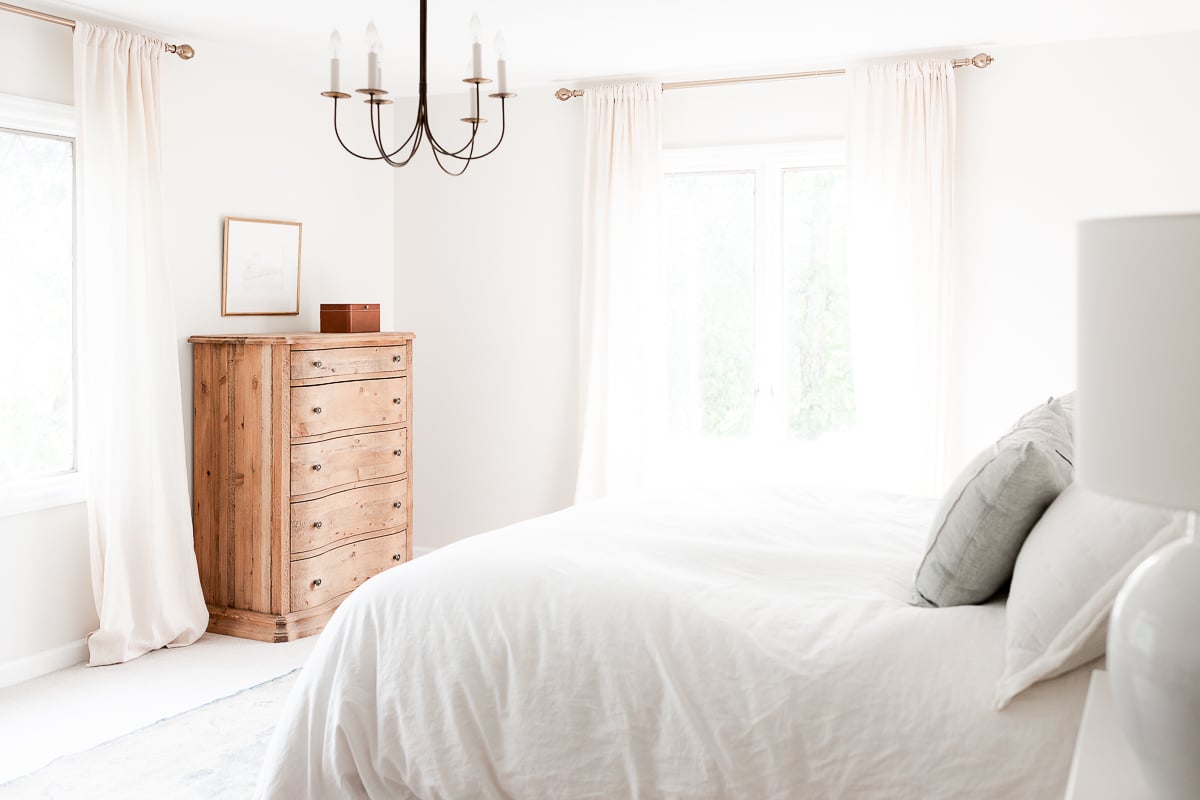 Creating a Minimalist Home
It took me a long time to embrace the term minimalist. When it finally dawned on me a couple years ago that this was my personal style (in both my home and my wardrobe), I began to look at the term in a whole new light.
Since that revelation, I've learned that a few of the ideas that I implement in our home are the keys to my own personal brand of warm minimalism.
I've written about how to ease into minimalist living, minimalist seasonal decor, and making your own warm and cozy even when you're a minimalist. You can also find all the details about our minimalist kitchen here!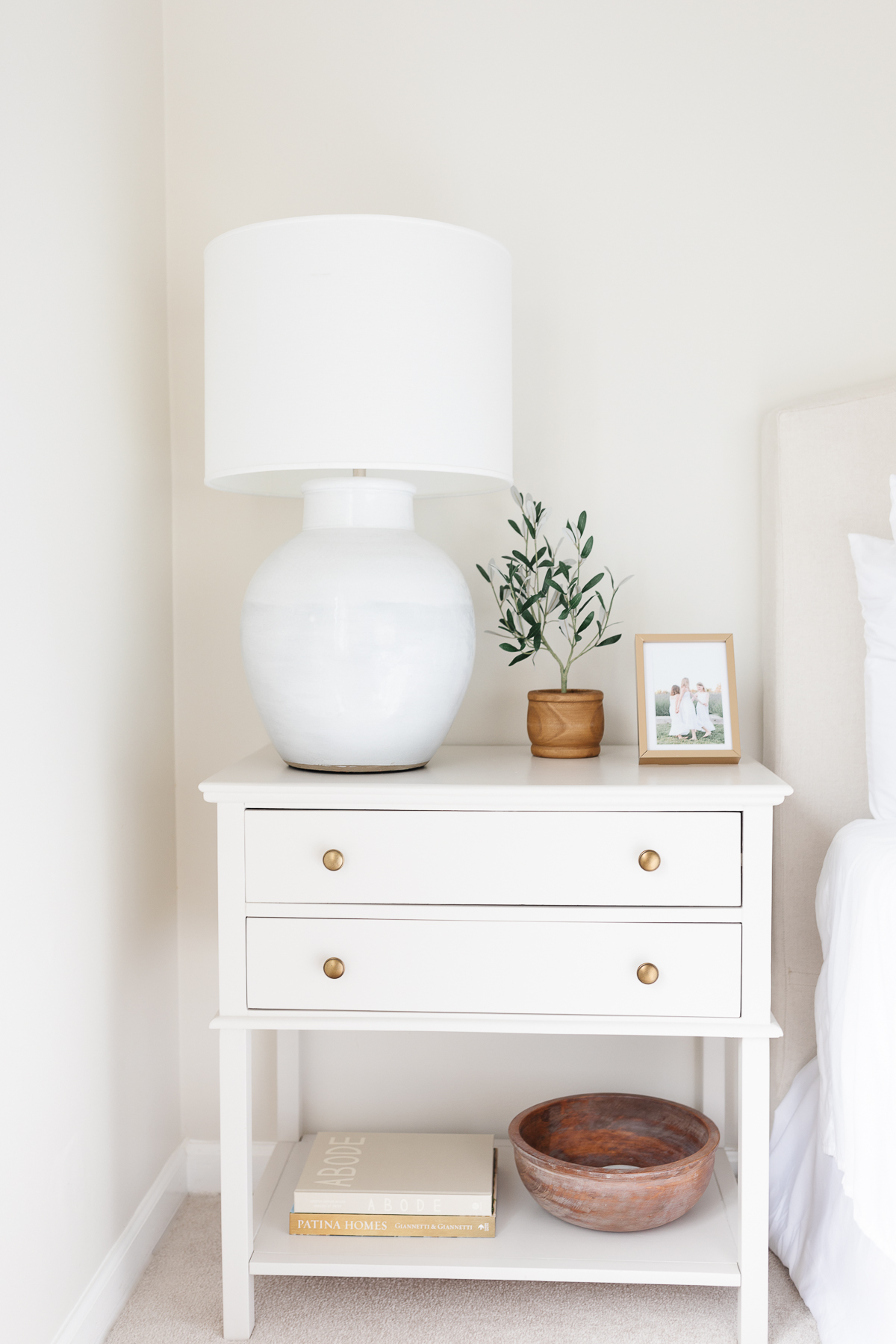 I know that the perception of this word can often feel cold, contemporary, or even museum-like. But I believe after years of paring back on all the stuff, that many of these ideas and principals can fit into anyone's life!
Even better? They allow for a sophisticated, warm and cozy interior that allow the loved ones in your home to be the stars of the show!
You can create a minimalist home that works beautifully for your family's lifestyle. Implementing a few of these simple ideas can change the entire feel of your house! Let's create a calm, sophisticated home with less.
Minimalist Design Ideas
Because I've discussed many of the ways to jump into a classic minimalist home in the past, I wanted to think a little outside of the box today.
There are basic principles of minimalism that can be implemented through control of chaos and clutter! I've outlined minimalist decorating ideas in a comprehensive post about minimalist decor, and I recommend that you start there if you're thinking of jumping into the idea of living with less.
One of my favorite minimalist home concepts is to combine spaces into more than one function – using every space to create streamlined, useful ideas in your home. Our Garage Mudroom or our Mudroom Laundry Room, for example.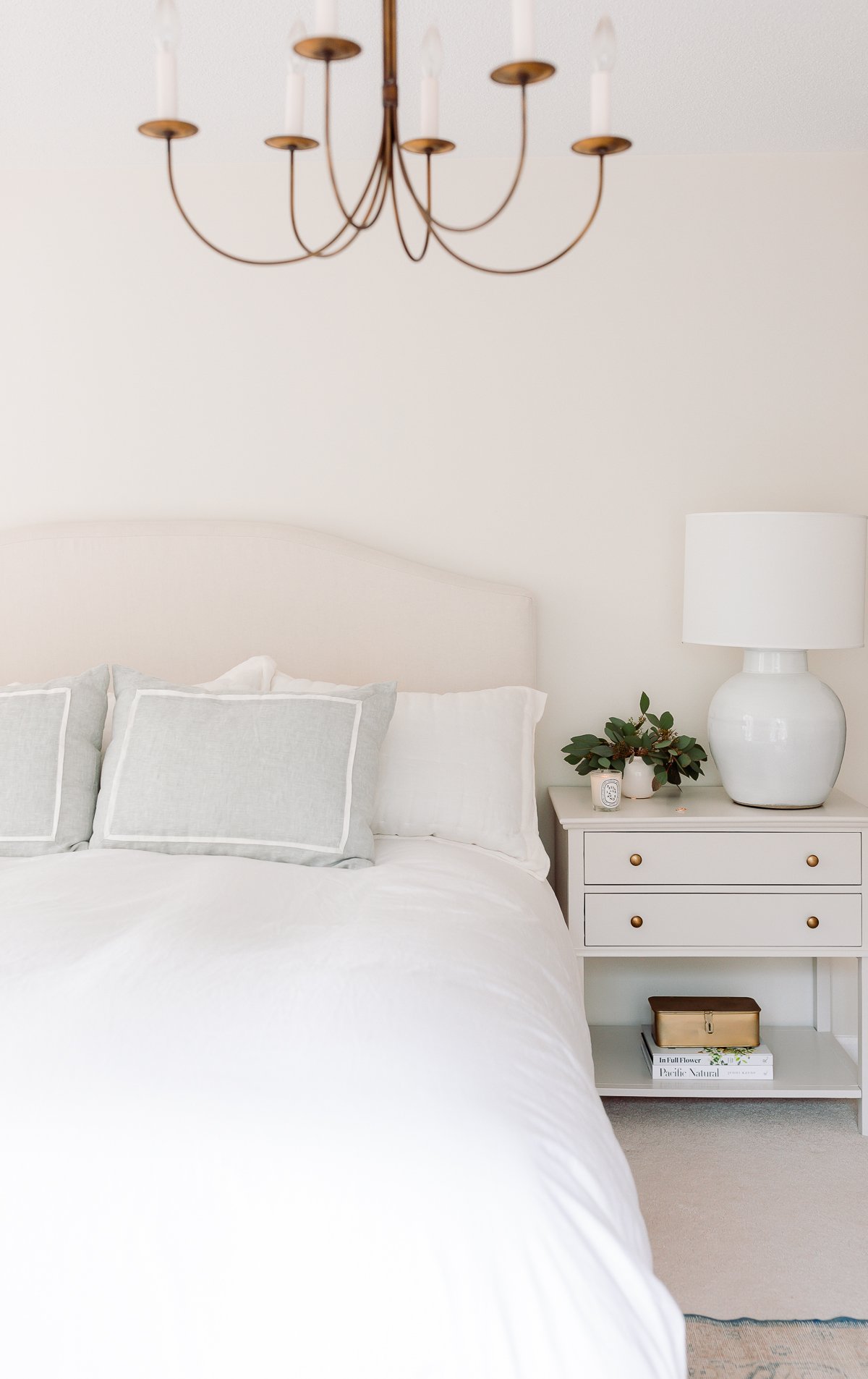 Frequently Asked Questions
How can I make my house minimalist?
The following thoughts on creating a minimalist house might be a little unexpected, but they work beautifully for a jumping off point! Especially when you've already started with functional design and storage plans… you'll be well on your way to peaceful, minimalist interiors.
What are the colors for minimalist design?
Minimalist design generally leans towards neutral color schemes and shades of white. Other muted colors can be brought in as accents, but a monochromatic, soft backdrop is important to this style of design.
A Neutral Backdrop
The fastest way to achieve a feeling of calm and peace in your home? A soft, light neutral paint color that captures the natural light in your home.
There's a reason that art galleries tend to showcase their art with a neutral, pale backdrop of white paint. It allows the art to shine!
I believe the concept rings true at home, too! Want to simplify? Allow your friends and family to be what shines in your home by creating a calm, neutral background to your lives.
Get a round-up of our favorite cream paint colors and create the soft neutral backdrop of your dreams!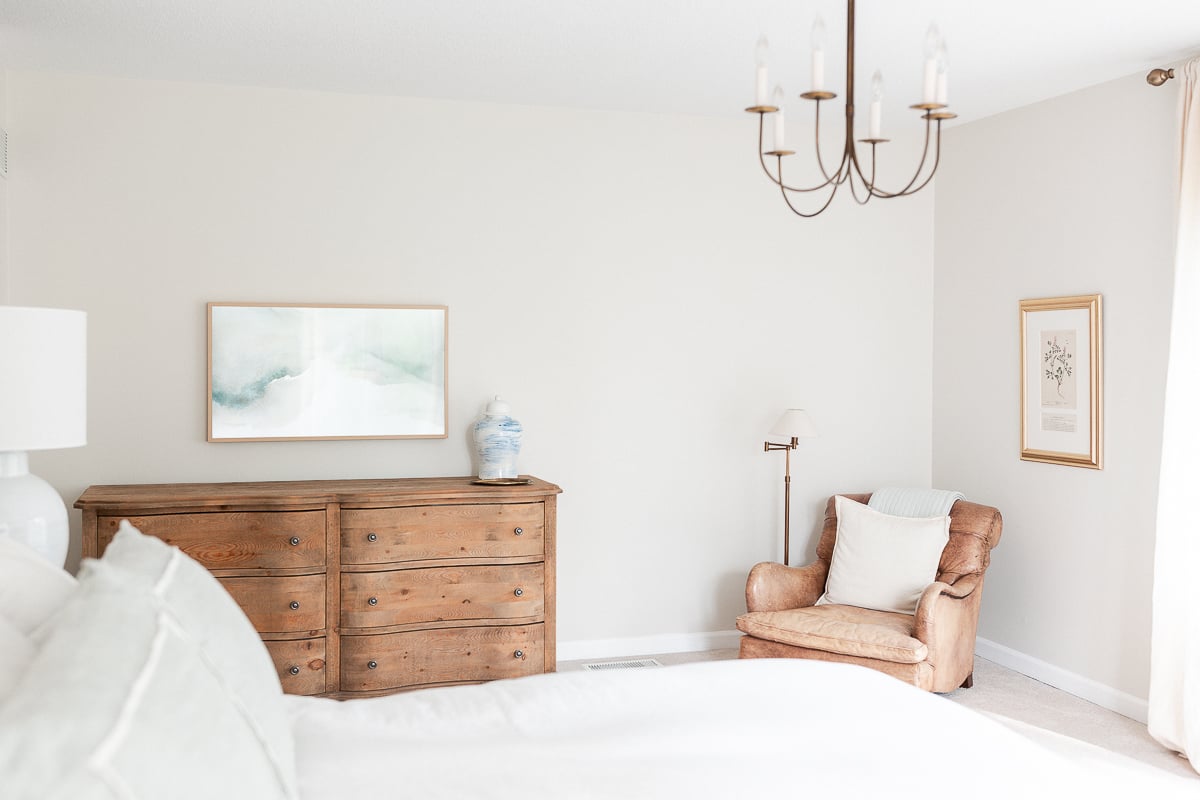 Quality Over Quantity
I've mentioned this before, and I believe it to be true. Buying the best quality pieces that you can afford will make such a difference in your home!
Something to consider? Buying quality furniture and art pieces doesn't always have to be expensive. Consider second-hand purchases and get beautiful pieces that you will treasure for years to come!
Get my best tips for shopping Craigslist and some of my favorite ideas for getting a luxury home for less!
Leave Empty Space
This idea is quite simple to implement. I believe in the power of empty spaces.
I've mentioned before that leaving an empty drawer or cabinet space when you're organizing is imperative to keeping a space organized long term. You can see that idea implemented right here in our mudroom storage.
This gives you a space to stash items away before you have a chance to get them to their real home! Having that free space gives you a sense of calm and freedom. So simple!
Similarly, think about leaving empty spaces on your walls! I learned once in a graphic design course that white space was just as important as the design itself. The same is true for our homes!
Leaving an empty wall creates a space for the eye to rest. It allows your artwork to be more important, too – because there's less of it, and what you already own can truly shine!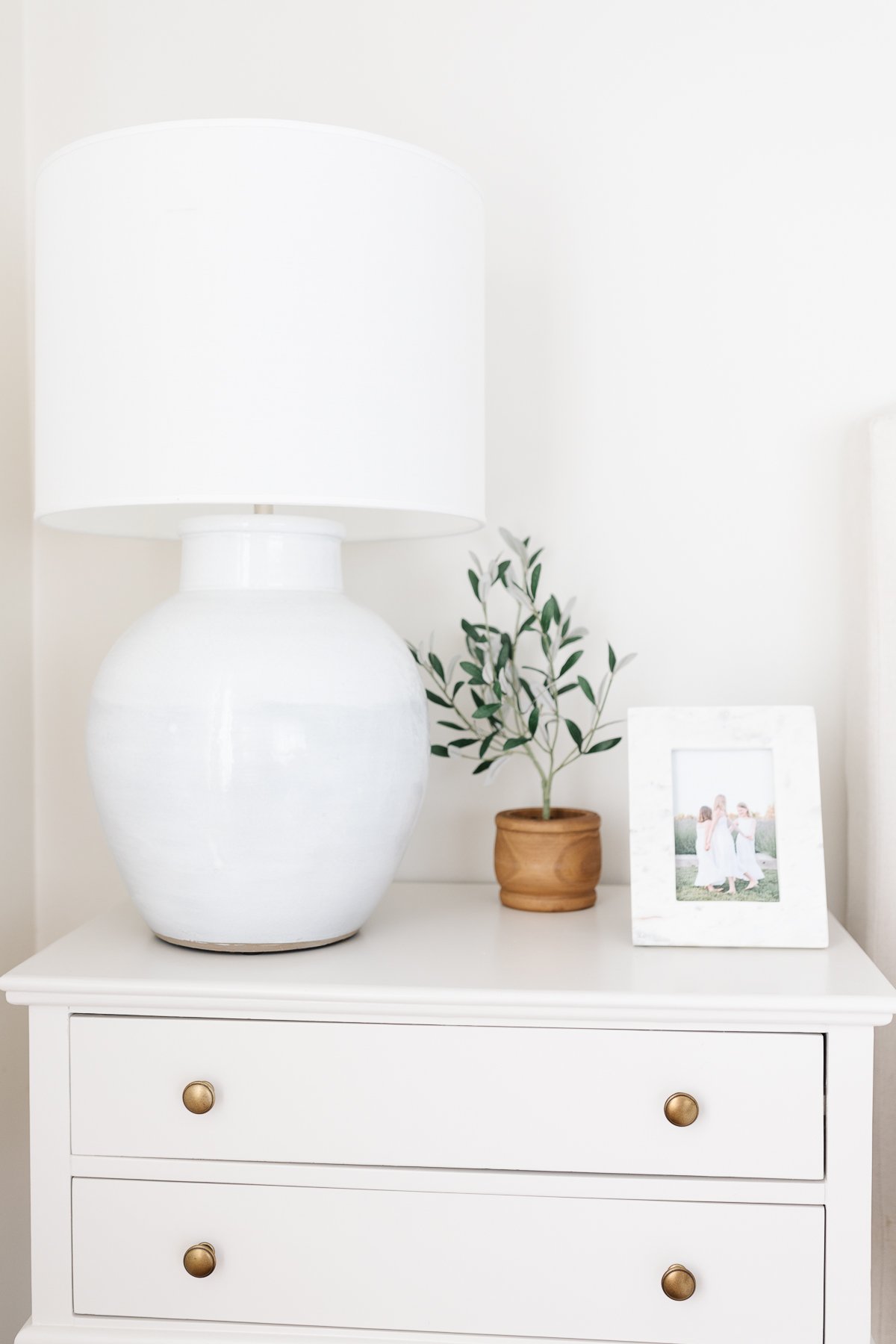 Cut the Collections
This one can be difficult, I know. When you collect something you love, it's hard to part with it.
Even harder, collections can sometimes encompass family heirlooms or treasures with history. The truth though is that collections of any kind can amount to visual clutter.
Visual clutter creates stress and anxiety! Even if it's a collection of items you treasure, is it worth the stress?
My best advice? Keep the best, keep the favorites, keep the ones with the most meaning. Display them in a beautiful way… on a neutral backdrop with empty space surrounding your favorites.
Curb the Impulses
Are you an impulse shopper? It can be hard not to fall into this trap!
Everywhere we go we are presented with beautiful, even useful objects. Ask yourself: Is it essential? Will I still be thinking about it next week? Can I live without it?
Another trick when it comes to shopping can apply to both your home and your wardrobe. One in, one out! If you simply must buy something new, plan to remove an equal item.
Creating Texture
Often in the design world, high contrast elements are used to create a visual feast for the eyes!
A minimalist home is often a more restrained color palette. The difficulty is that less color and contrast can create a less cozy or interesting space!
Instead of vibrant and contrast color, I love to bring in textural elements. Rugs, blankets, pillows, even wooden surfaces and textural oil paintings can make an impact!
When the background of your minimalist house is simple and clean, it doesn't take much texture to create a huge visual statement!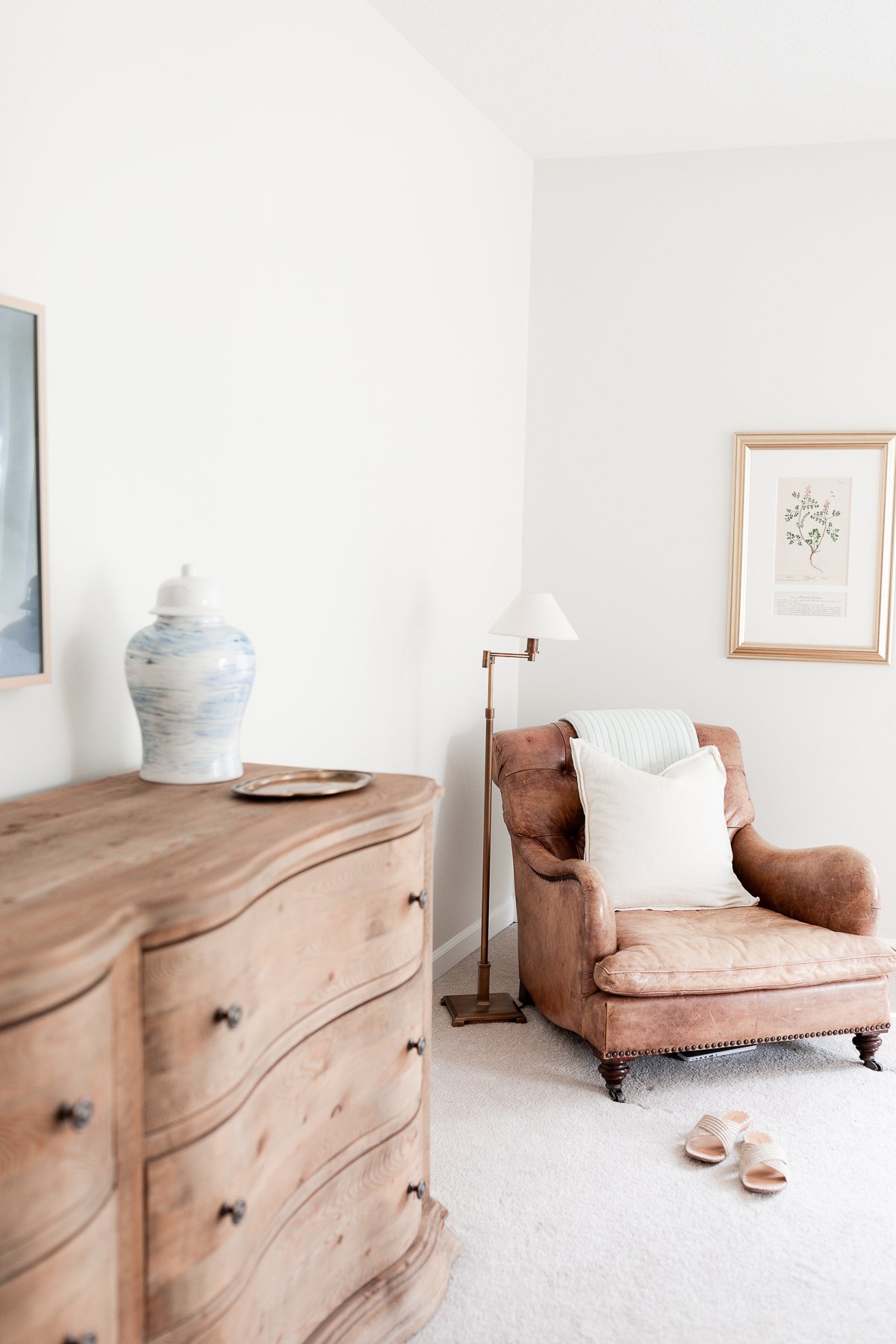 True minimalism in interior design will always stand the test of time, because it's more about simple living and less about trends.
In any living area of your home, you can take control of spaces and bring these concepts to life!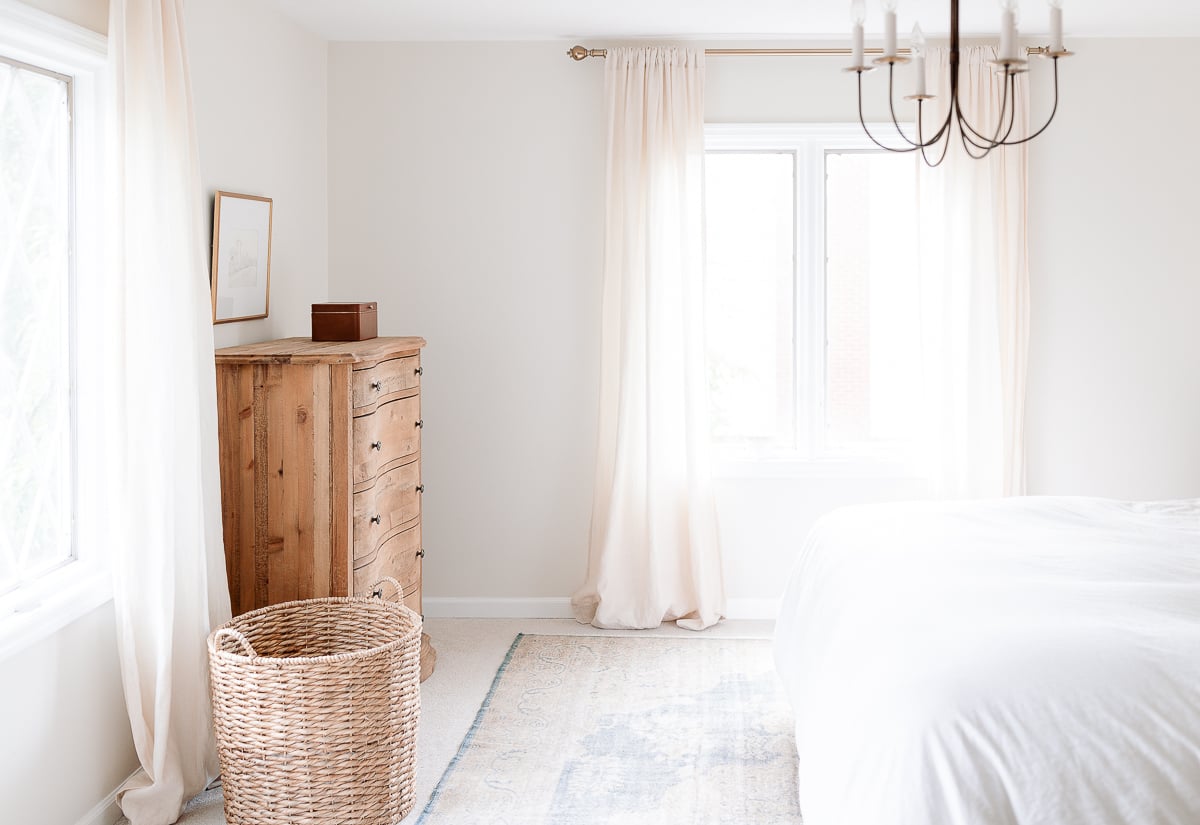 More Minimalist Inspiration