Adding aromatic cedar garland to your home for the holidays is the ultimate way to bring the outdoors in. Capture the fragrance, warmth and cozy feeling of Christmas with fresh or faux cedar garlands.
Learn where to buy them, how to care for them and more in this complete guide!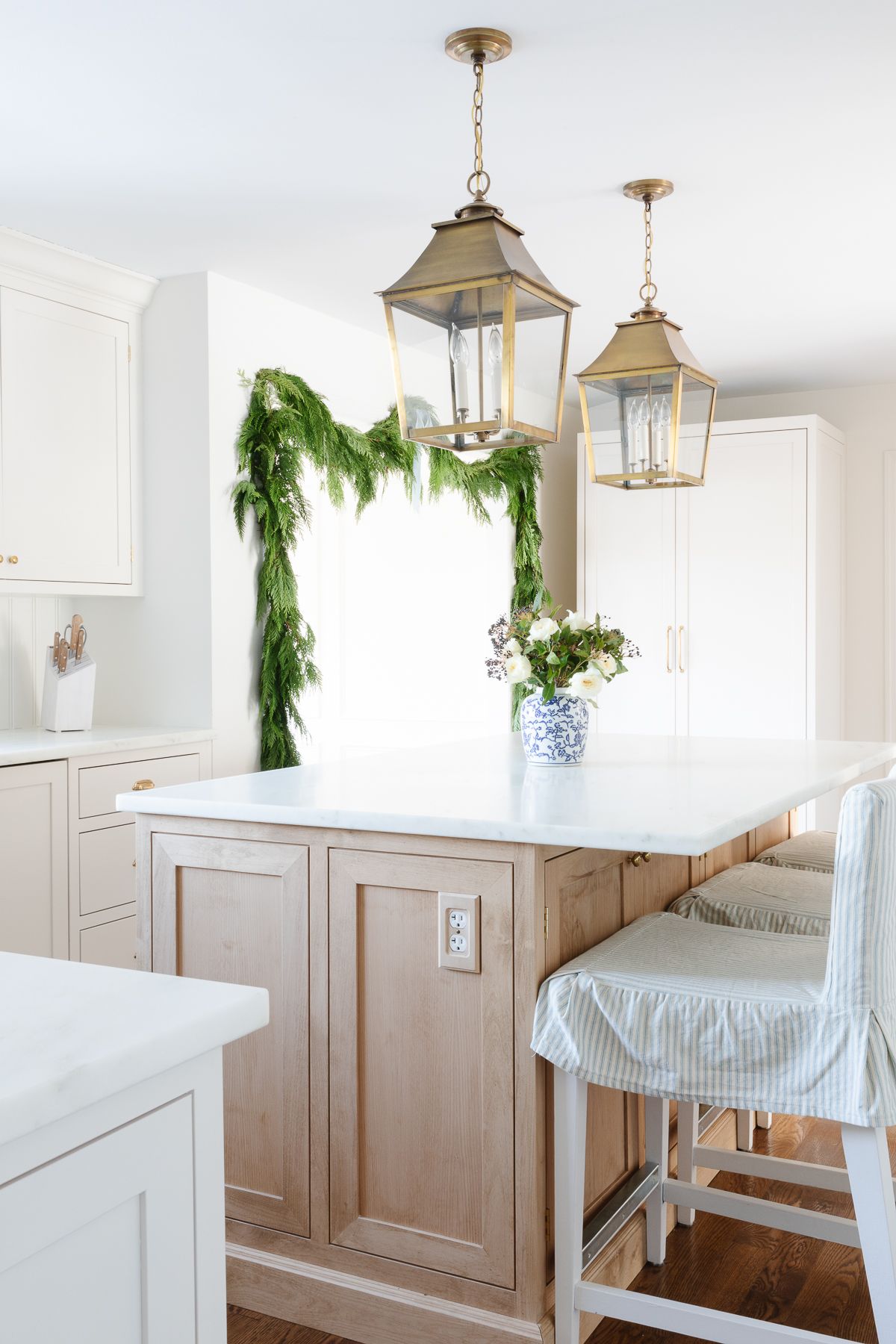 If you're on the hunt for Christmas greens and greenery garlands, don't miss these incredible round-ups we've been sharing. You'll find options for fresh, faux and pre-lit garlands and greenery to decorate every nook and cranny of your home.
In fact, I've covered how to keep Christmas greenery fresh, and specialty styles like pine garland. I've shown you lots of fun options for how to make wreaths, too!
As much as I appreciate the practicality of permanent botanicals like high quality faux wreaths and garlands, there is just something special about fresh. The movement, drape and fragrance can never be duplicated – but we can sure try!
In fact, many years I will often use a combination of fresh and faux greenery to decorate for the holidays over a longer period of time. This allows us to photograph rooms as they are decorated, also prolonging the joy!
This post will share more of my favorite garland and greenery tips, along with sources to buy fresh cedar garland, faux cedar garland, and more. Let's learn a little more, together!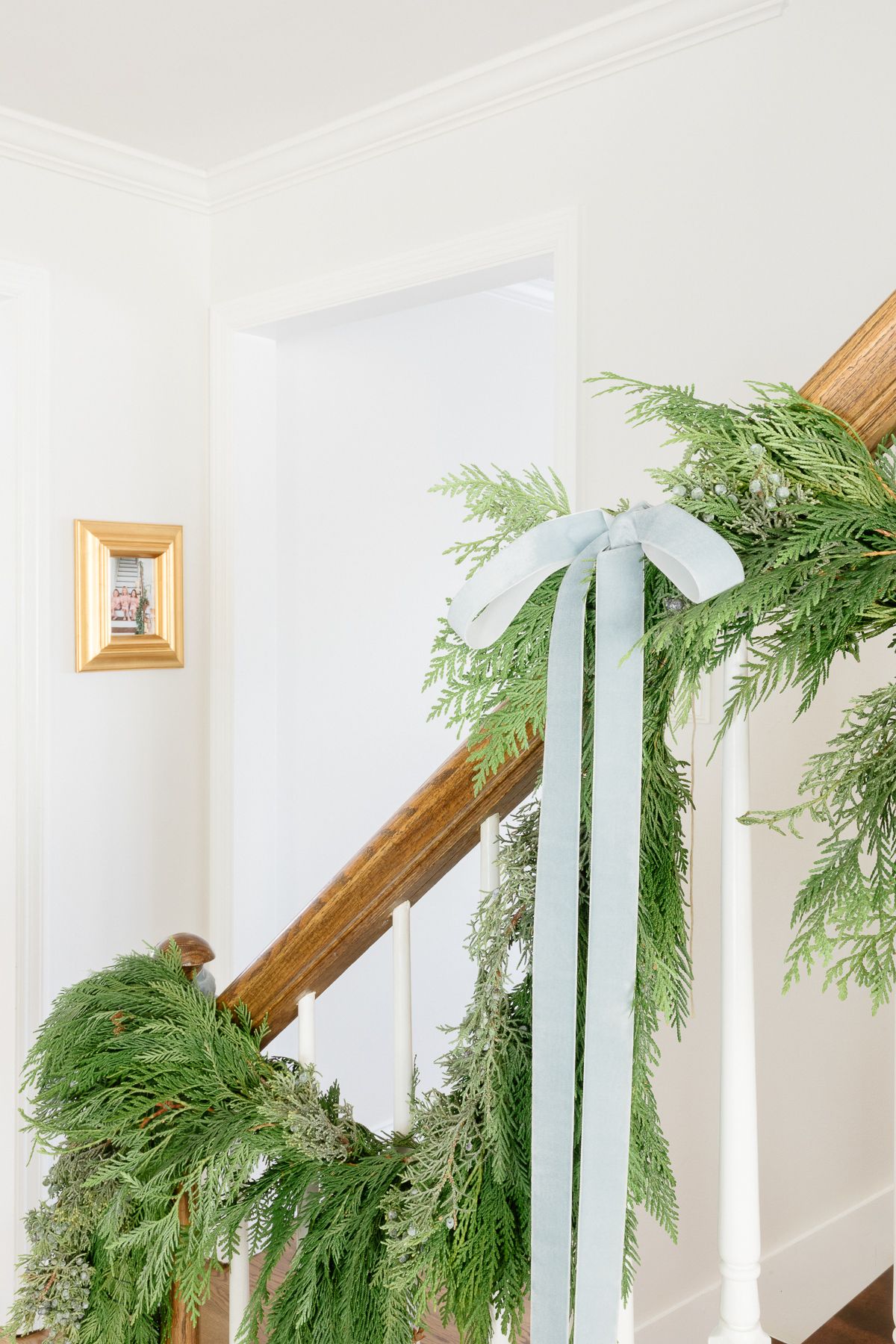 Why You'll Love Cedar Garland
The Prettiest Drape
Incredible Fragrance
Affordable
Flexible
Long Lasting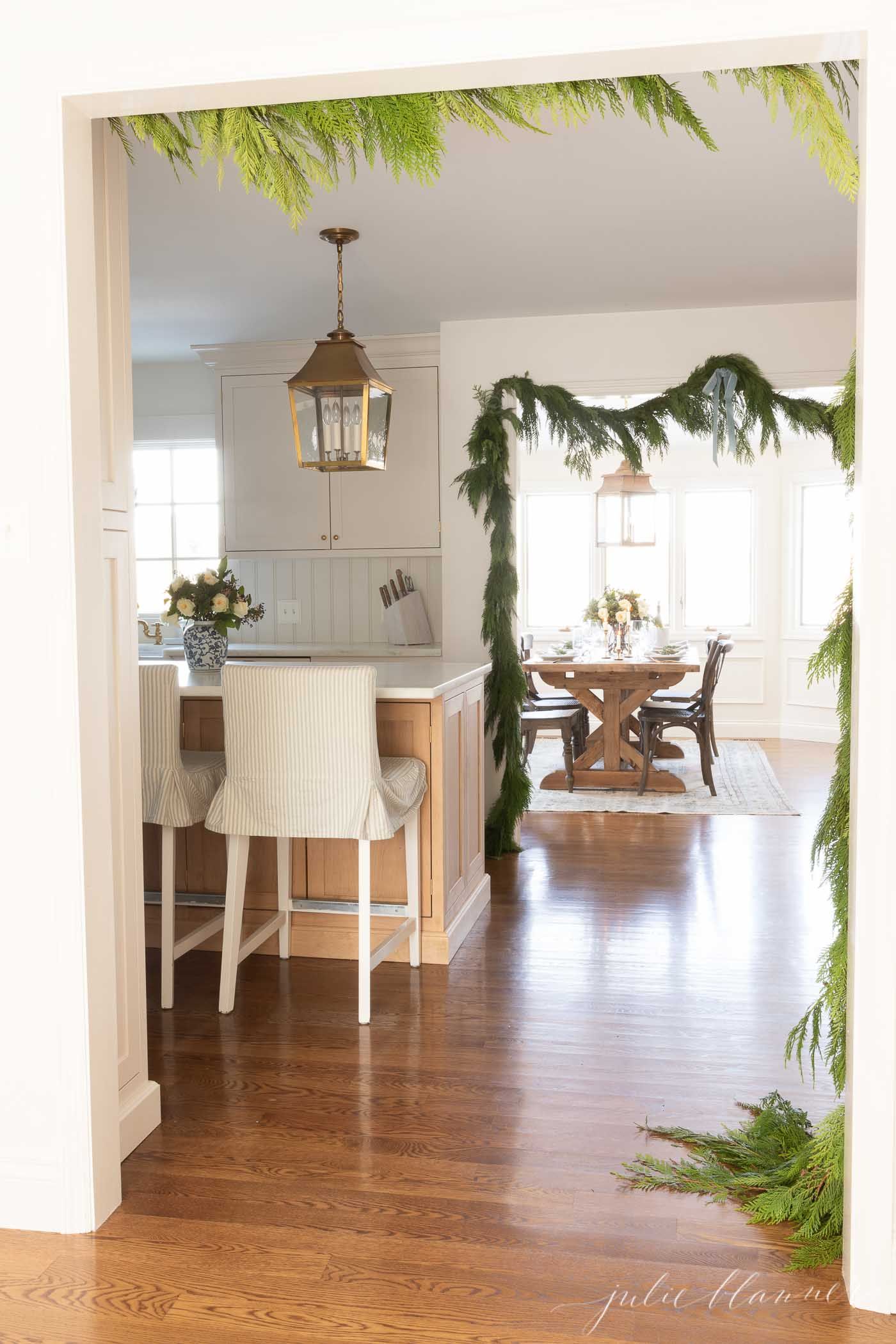 About Cedar Garland
Cedar trees, pine trees and more, are often used interchangeably with the term "evergreen" in our part of the country. There are technically four different species of cedar trees, with many subtypes falling into each species.
True cedar trees are coniferous, widely beloved for their spicy fragrance, strong wood, and evergreen, spiral foliage.
At the holidays, this greenery tends to speak of the warmth, fragrance and beauty of the season. Interestingly enough, most of the cedar that is commercially used for holiday garlands is actually considered a "false cedar" because they aren't of a true genus of cedar trees.
The most popular cedars on the market for garlands are Incense Cedar and Western Red Cedar. These are both native to the Pacific Northwest and help create a spectacular fragrance and style in your home!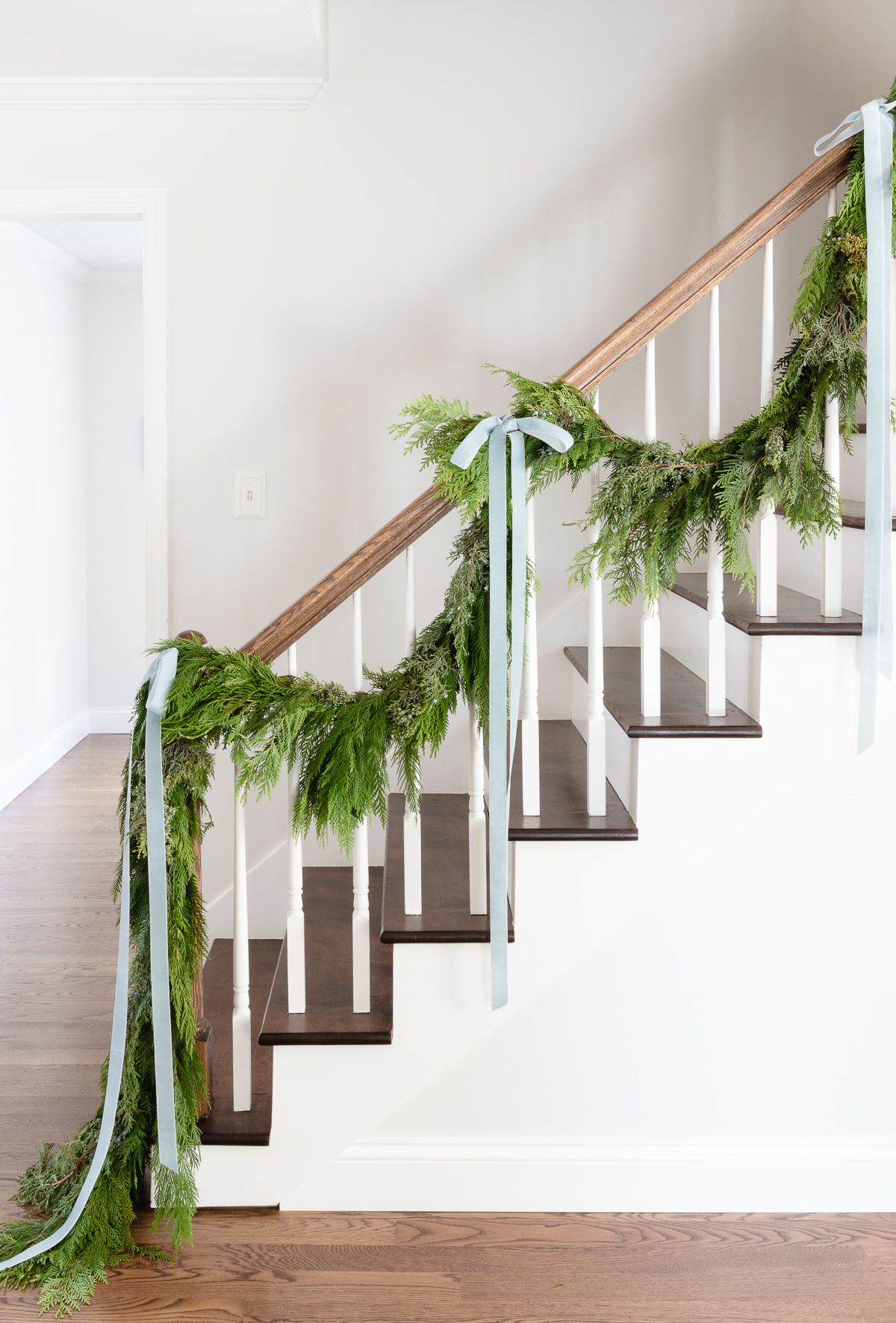 Tips
Buy the freshest cedar garland you can find to ensure longevity.
Soak in water overnight before hanging.
Use an anti-desiccant spray (also called an anti transparent) to help seal in the moisture.
You can also purchase the anti-desiccant product as a concentrate, which can be mixed with your water prior to soaking your fresh greens. I have found this to be less messy than the spray bottle of Wilt Stop and perhaps even more thorough, ensuring that all the greenery is covered.
Mist your fresh cedar garlands and wreaths every 2-3 days for added moisture.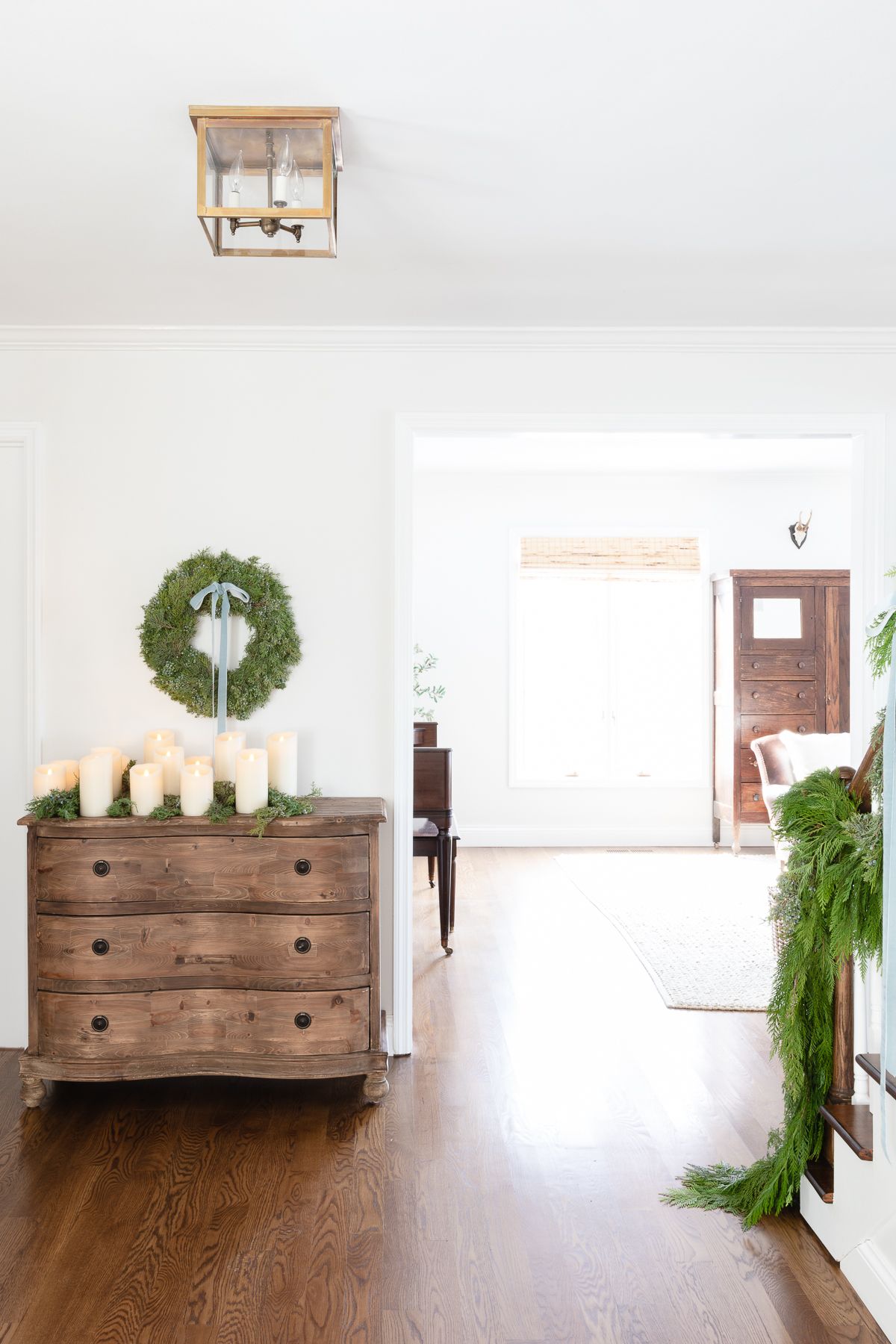 Frequently Asked Questions
How long does cedar garland last?
That depends on both your climate and where you hang the garland! We have found that cedar lasts much longer on the exterior of our home, here in the Midwest – up to four weeks, in fact!
If you're hanging this garland inside your home, it will often begin to dry within 3-4 days. Extend the life of your garlands with an anti-desiccant spray to seal in the moisture. Read more garland tips here to enjoy them for longer!
How do you hang cedar garlands?
Use your favorite removable adhesive hooks, which will allow you to hang your cedar garlands without damaging walls.

You can also add a small, hidden nail around door frames and on mantels if you're confident you'll use them year to year. Attach to the nails with fishing wire or twine and you're all set!
How do you decorate a cedar garland?
You certainly don't need to do any additional decorating at all! However, consider adding pretty ornaments, fairy lights, and even additional garlands of stars, bells, etc.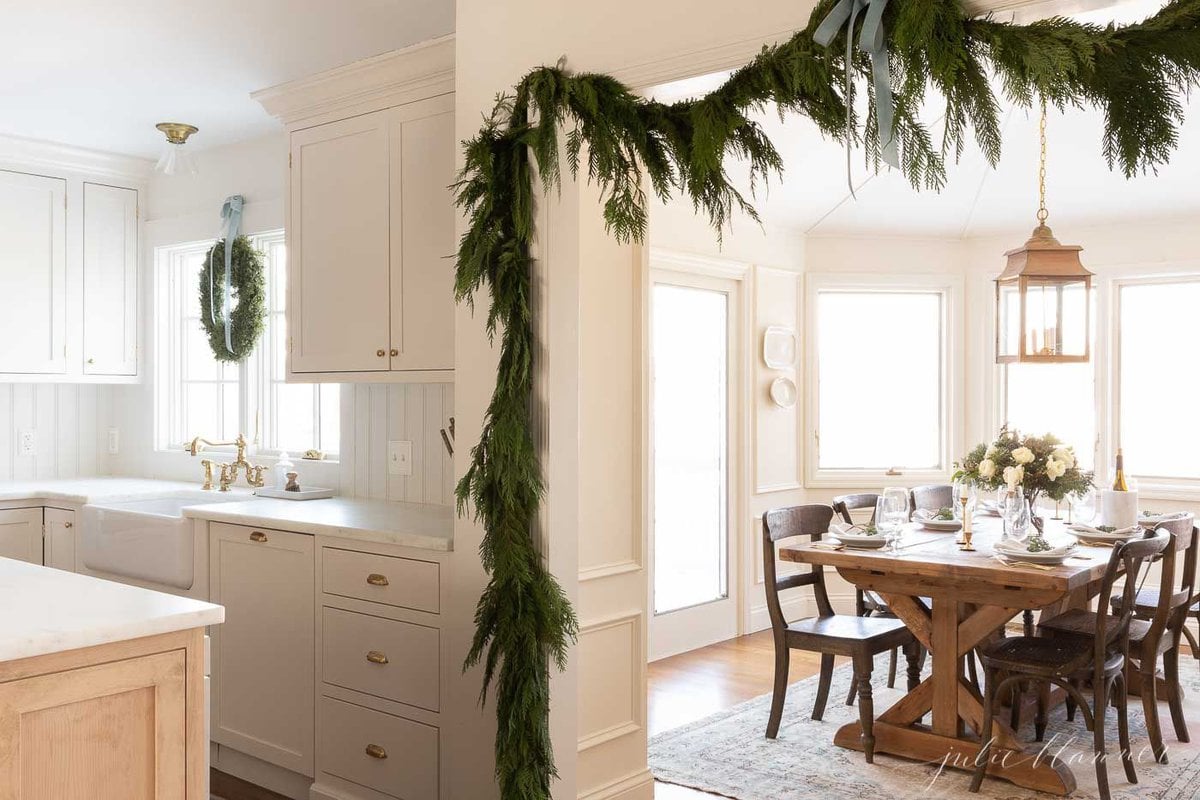 Where to Use It
There are so many fabulous ways to use this beautiful holiday greenery, because it just has such a lovely, full drape. It can fill out every corner of your home with fragrance and lush color!
Consider the following ideas:
On your staircase
Add charm to your bedrooms for the holidays
Draped over your mantel
Over an entry door
Front porches
On exterior lanterns and light fixtures
On your mailbox
Over doorways between rooms
And even as a centerpiece!
Fresh Cedar Garland Sources
(This option is the best price around, at just $50/25 feet. However, it may require a club membership.) There's a traditional Western Red Cedar as well.
Faux Cedar Garland Sources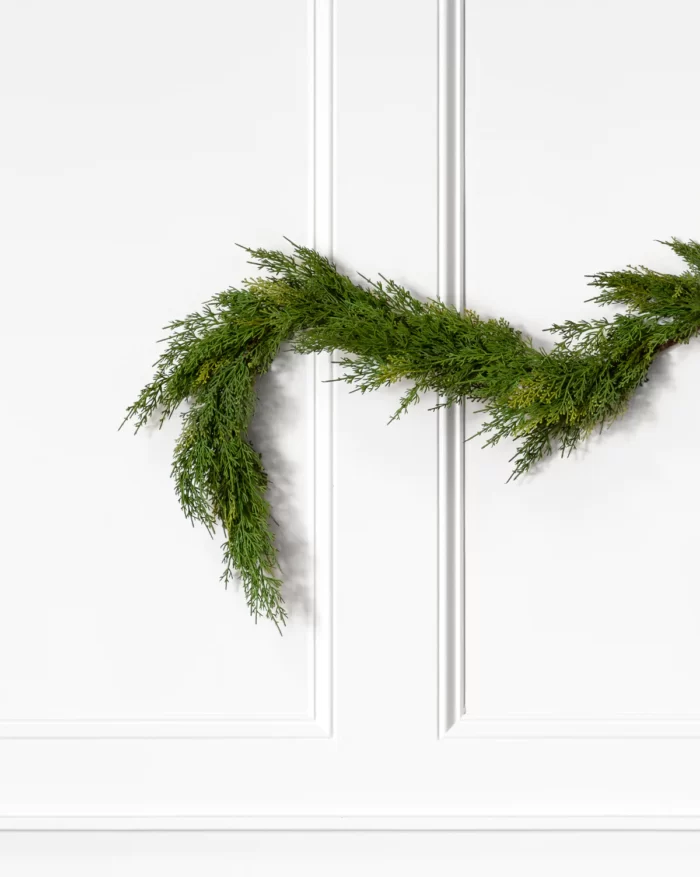 (30% off as of this posting)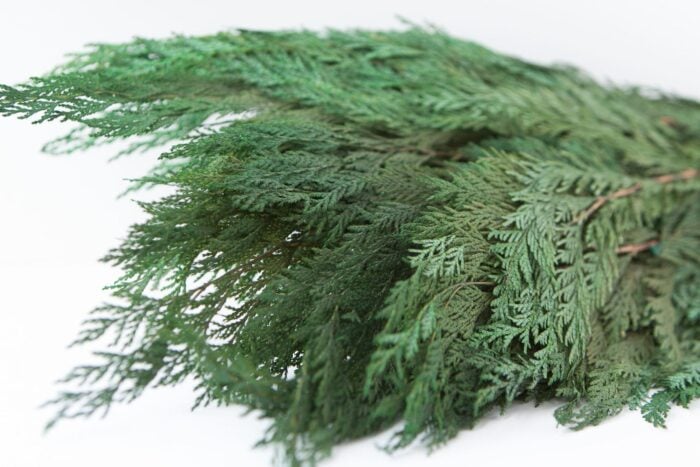 Make your own garlands with this incredible preserved option!
What are your thoughts? Are you incorporating fresh or faux garlands into your home for the holidays this year? I hope you've enjoyed this series!
I'd love to hear from you!
Let's keep in touch! Receive exclusive content, including never-seen-before photos, our favorite home decor DIYs and more!