Whether you're shopping for fresh pine garland or a pre-lit, faux pine garland, learn everything you need to know!
Find out where to shop for the very best fresh and faux options, how to keep garlands looking fresh longer, and so much more.
Also called pine roping, it's one of the most traditional Christmas evergreens and makes a beautiful garland. Learn where to find them and how to hang them!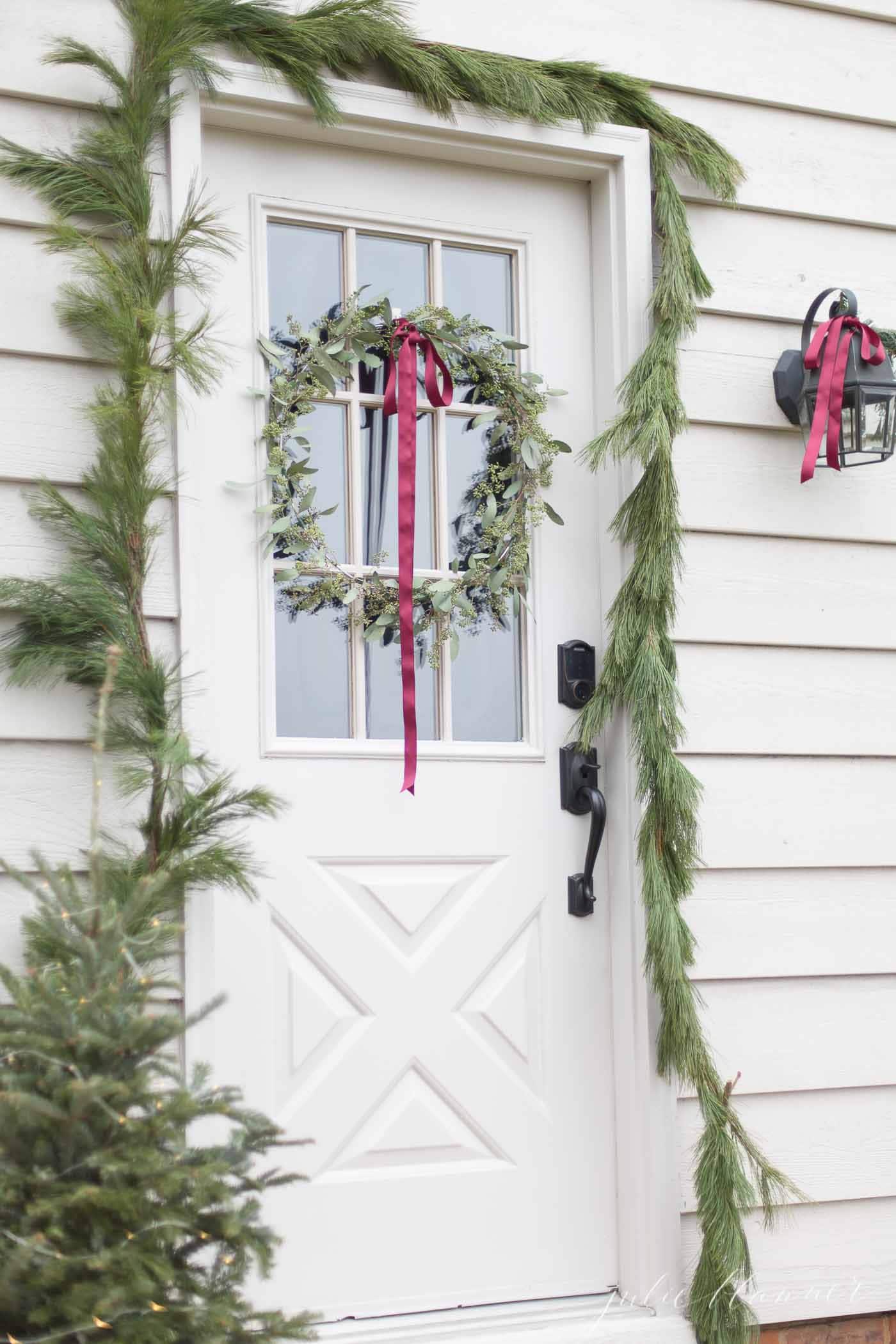 We've chatted a bit about fresh and faux Christmas Greens and Garlands recently, but this post is dedicated to one of my favorite inexpensive options: Pine Garland! There's just something about this easy, soft style that warms my heart for the holidays.
I love cedar garland and pine most of all, I think. I've used boxwood and magnolia garland in the past, too, as well as heavy mixed garlands. But there is something about the relaxed feel of pine that just speaks to my minimalist style!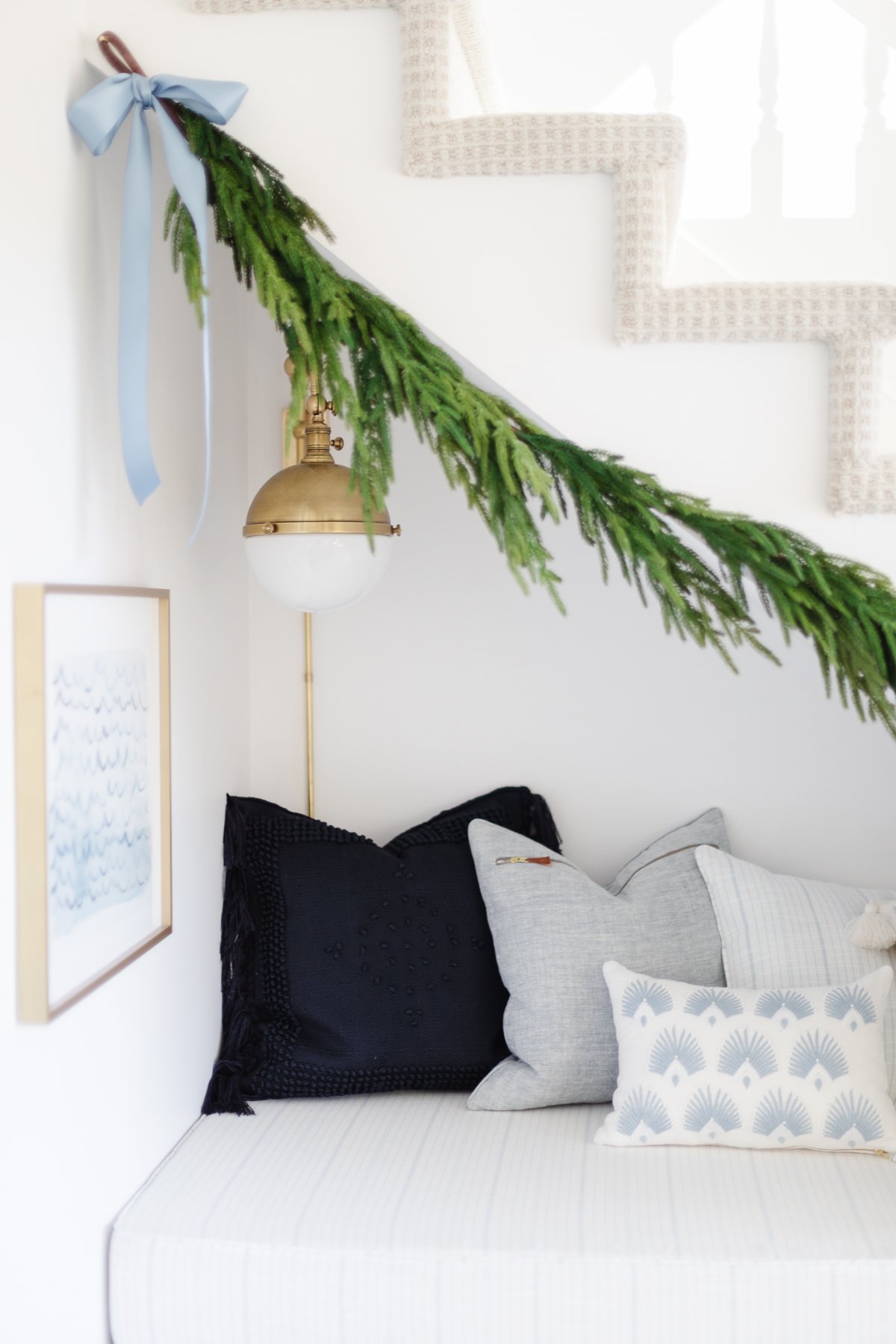 Faux Norfolk Pine Garland
Norfolk pine has the prettiest drape and can elevate your mantel, stairs or door frame year after year.
Pine garland tends to be thinner than mixed garlands, making them easier to style over mantels, doorways and entries. They truly couldn't be easier to hang, and they are also so easy to find in your local stores.
Pine is a less expensive garland than others, which also makes it easier to incorporate into your home this season.
Whether you're looking for a new artificial pine garland this year, or sticking with fresh, we're going to cover all the details and show you the sources you'll need!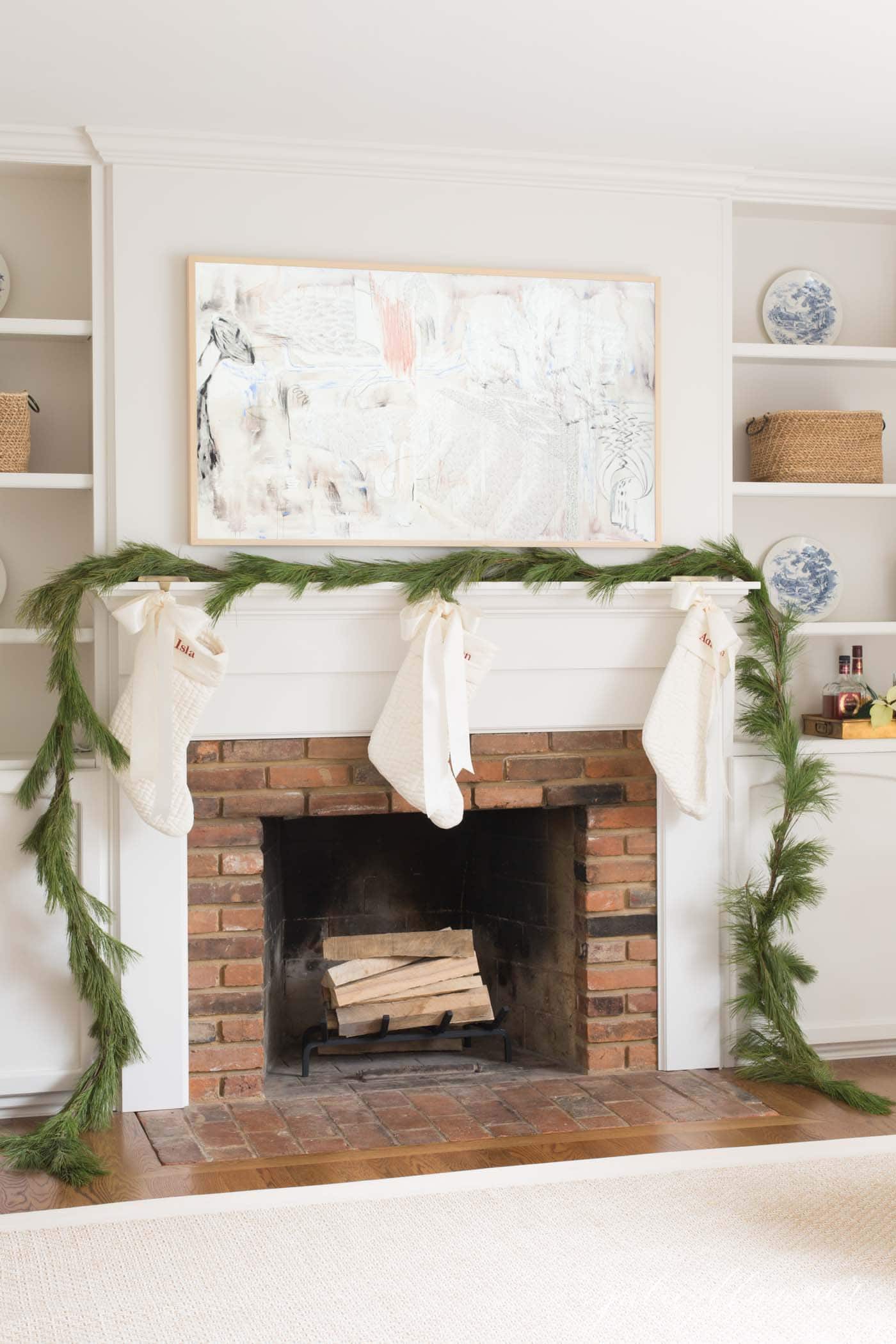 Pine Garland
One of my favorite things about this particular style of garland is that it captures the seasonal, local style of our own trees right here in the Midwest. This goes for both color and style, actually – there's just something special about bringing the outdoors in!
You know I love natural elements in my home more than hauling bins of Christmas decor up and down the stairs every year. While I can't always have a fresh Christmas tree, I can always add a little bit of pine to our home to bring the scent and style of the outdoors, in!
Pine garland is affordable because it's a renewable resource and they are a fast growing evergreen. The artificial pine garlands often come with a little snow or flocking edges, mimicking the look of these evergreens in the wild.
Fresh pine can last up to two weeks inside your home, and much longer outdoors if you're in a seasonal climate, though I have been successful maintaining it for up to a month using tips shared below!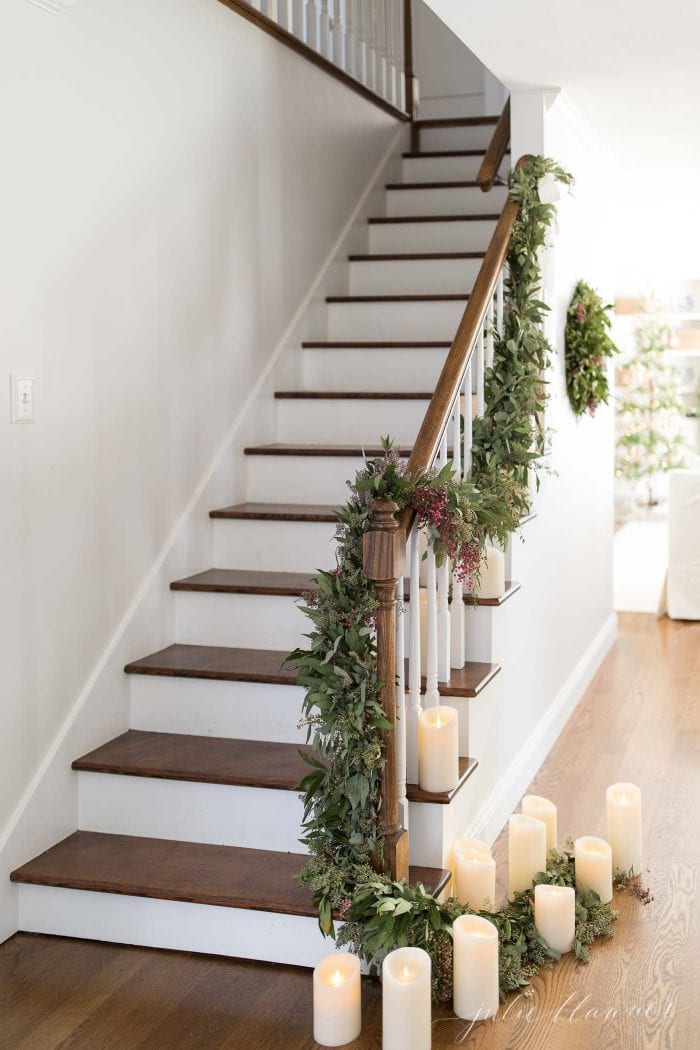 How to Keep Garlands Fresh
Florist tips to enjoy fresh garland all season.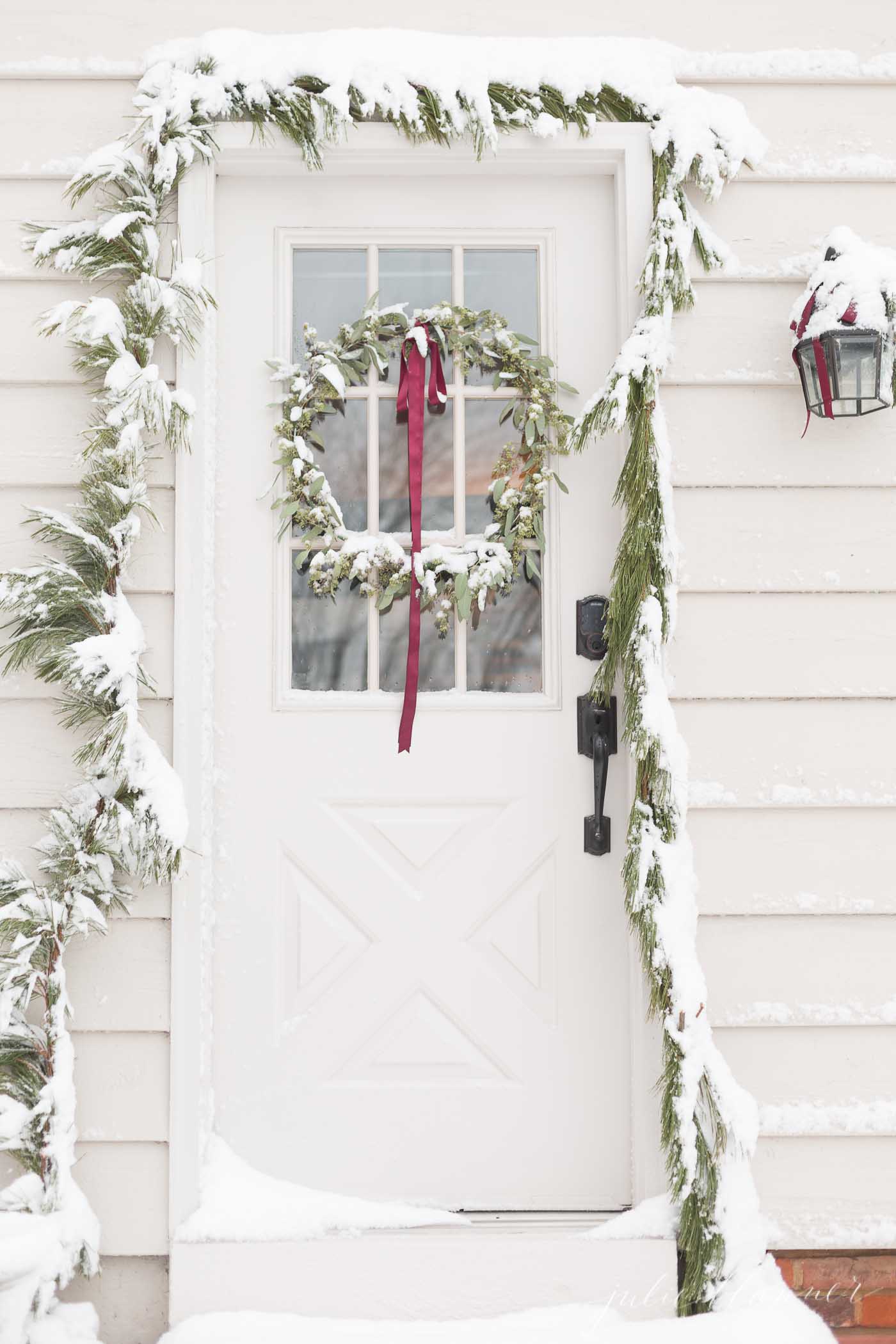 Fresh Pine Garland Sources
I often have the best luck finding fresh garlands locally at stores like Trader Joe's and even Costco. However, if you'd like to have some shipped right to your door -here are a few great options!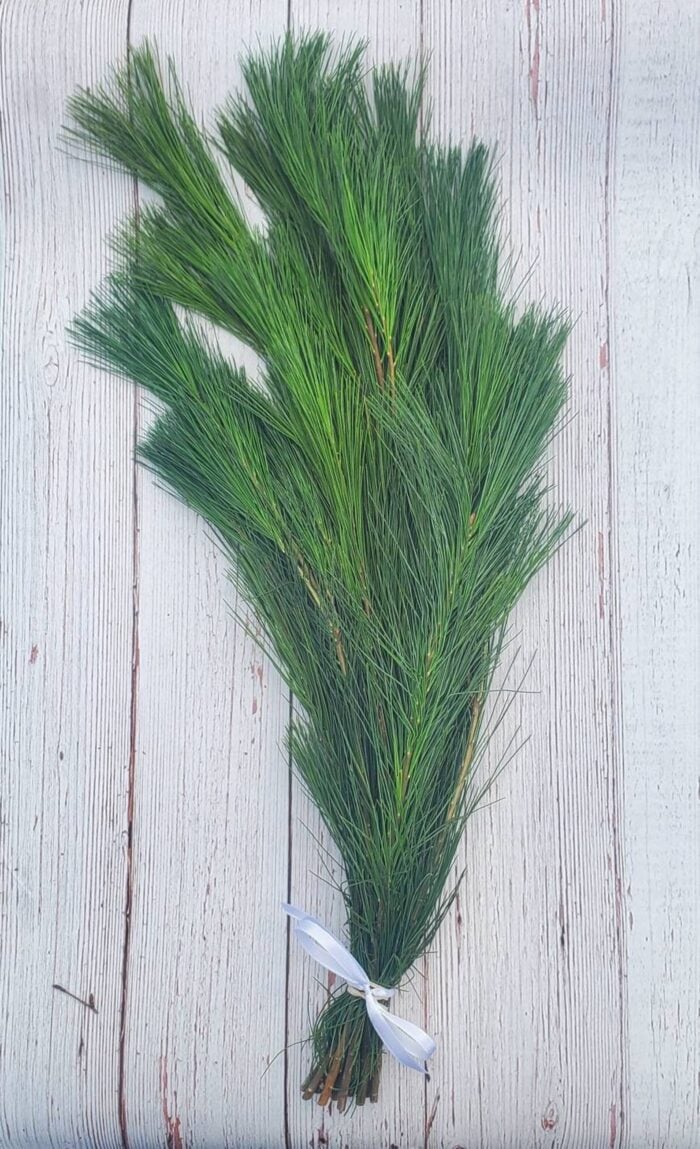 (This option is the best price around, at just $50/25 feet. However, it may require a club membership.)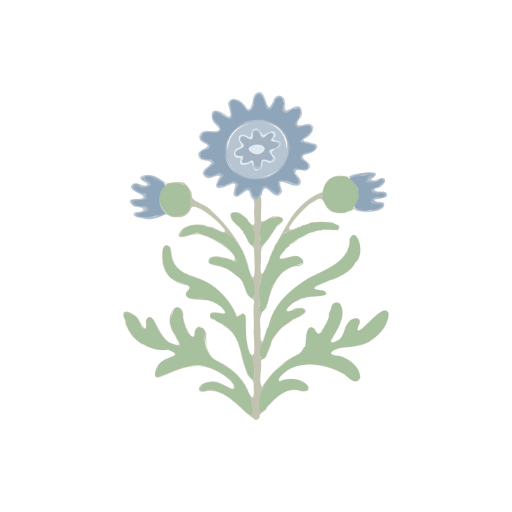 Tips
To ensure longevity, purchase the freshest pine you can find. Look for moist, green needles that don't easily part from the stem.
Submerge garlands in water and anti-desiccant concentrate, soak and pat dry. (Alternatively, soak and follow with anti-desiccant spray.
Hang out of direct sunlight and avoid close proximity to heat vents.
Spritz with water daily.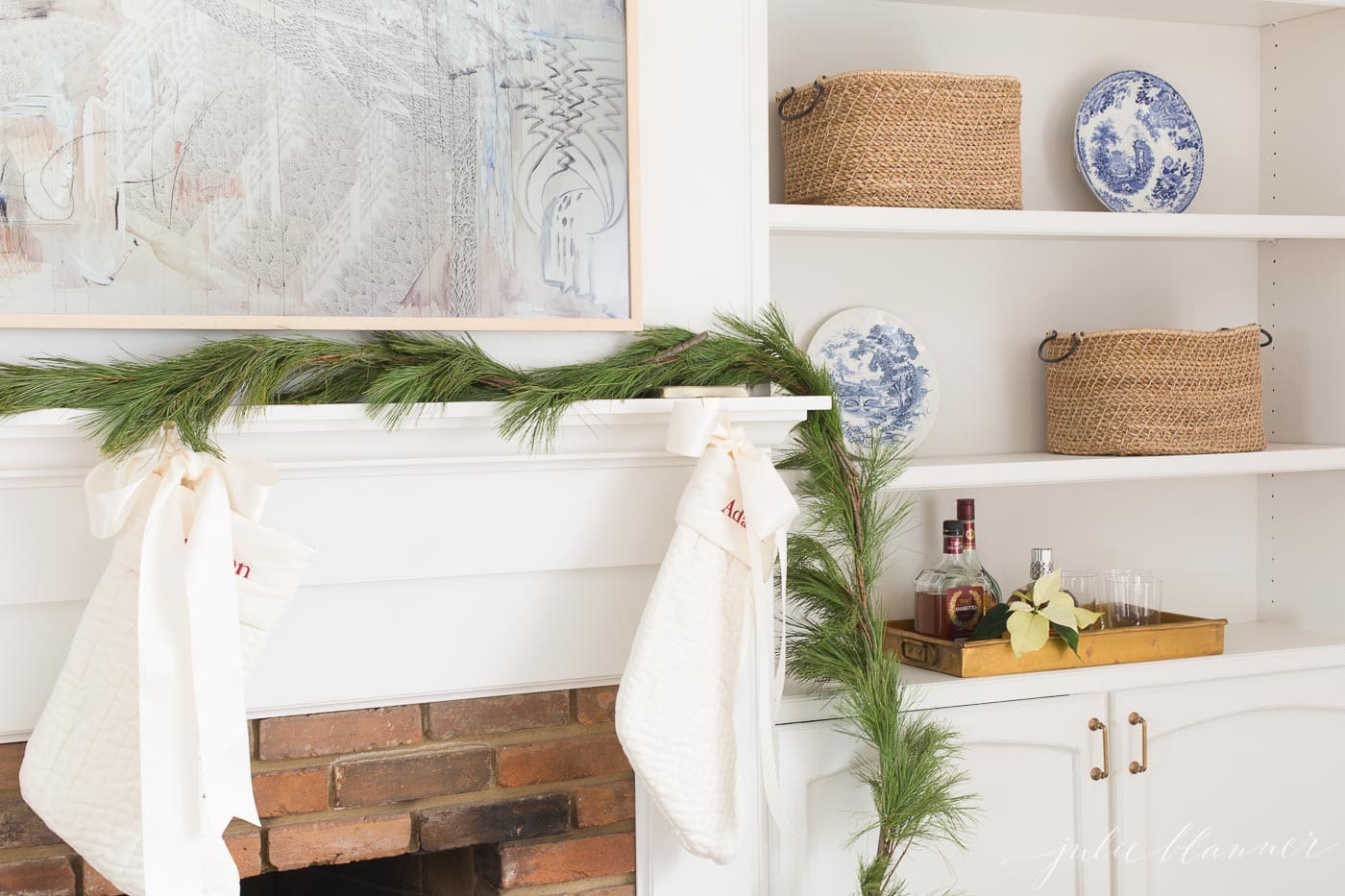 Artificial Pine Garland Sources
While you might spend a bit more upfront on artificial options, they can be reused year after year. That can sometimes make them a better investment – plus, they often come pre-lit! If not, just add a strand of my favorite copper fairy lights, and you're good to go!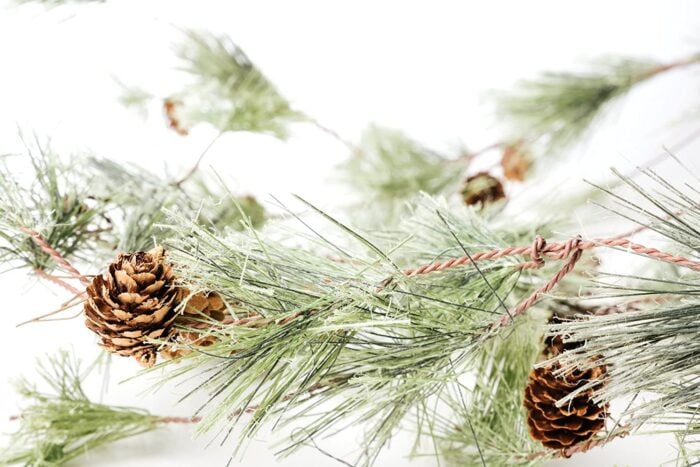 Frequently Asked Questions
Can I make my own pine garland?
Absolutely! Snip pine stems, or purchase it fresh from a local retailer. Connect the pieces using floral wire or even floral twine, wrapping around the base of each stem and spacing them apart accordingly.
Be careful though, pine is notorious for sappy stems. Use gloves and work outdoors, if possible!
Where do you hang pine garland?
It looks beautiful over a traditional fireplace mantel, over a doorway between rooms, on an entry door or hanging from a porch. Anywhere you can dream it, pine garland adds a little magic to your home!
How do you attach pine garland to your house?
Using removable adhesive hooks allows you to hang garlands without damaging walls. You can also add a small, hidden nail around door frames and on mantels if you're confident you'll use them year to year.