Celebrate the season with the addition of a charming wooden Advent calendar! These sweet wood Advent calendars add a meaningful, nostalgic element to your Christmas celebrations.
There's nothing I love more than a sentimental element in our home at this time of year. Sweet childhood memories of Advent calendars and the delight in opening one door or drawer each day can help us create new memories and traditions for years to come.
Learn the history of this nostalgic Christmas tradition, along with sources for where to buy your own. The little ones in your lives will thank you, and it's so much fun to fill up those 24 numbered drawers!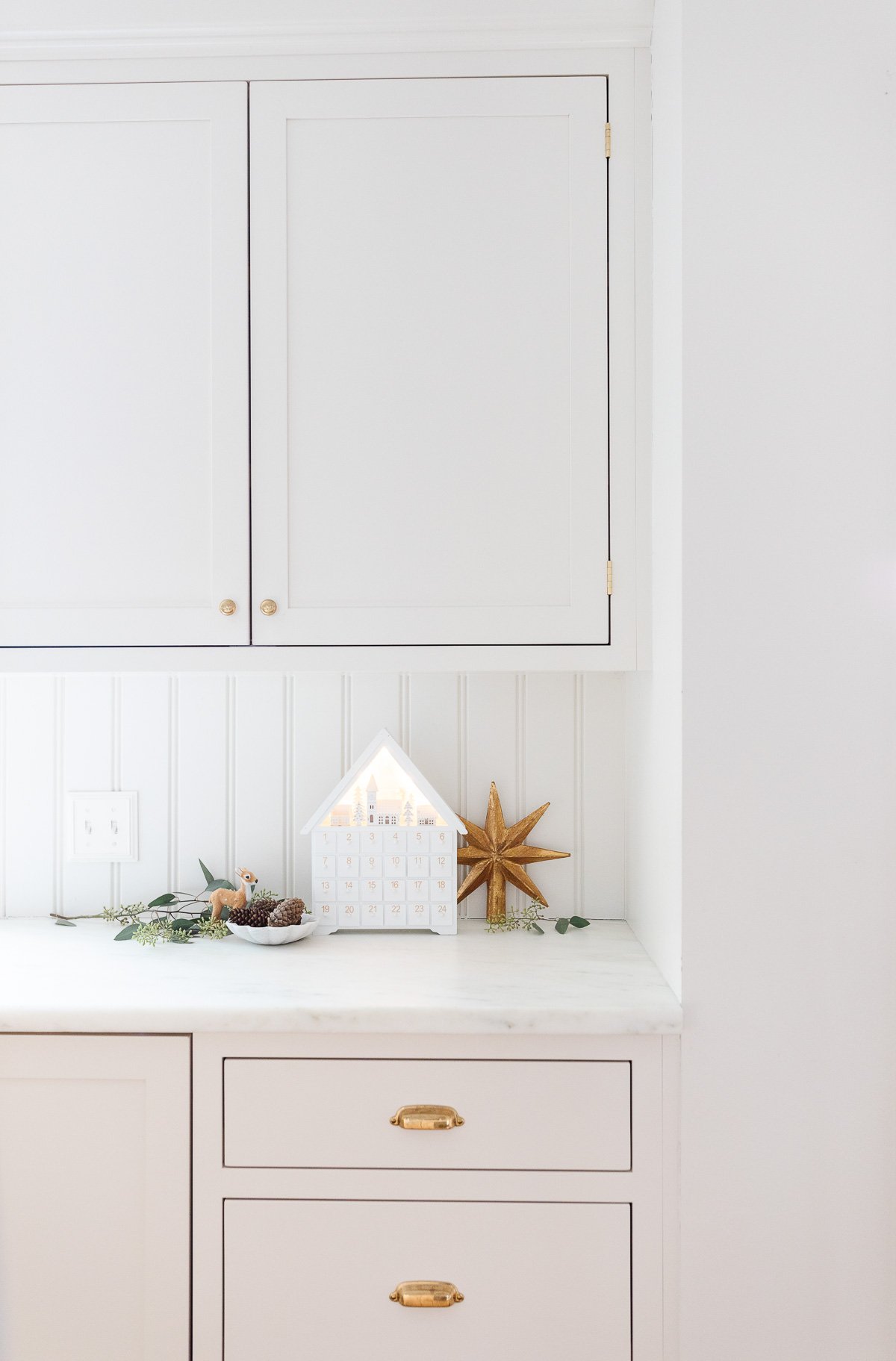 While I love to incorporate fresh, new styles and ideas into our home for the holidays, I genuinely love traditional, sentimental elements just as much. It's so heartwarming to watch our kids enjoy the same things we did as children!
Advent calendars are one of those items we use year after year. In fact, you can find some of my favorite Last Minute Advent Calendar Ideas here! There's a comprehensive list of items and activities that we like to include so that we can make memories as a family.
This year, I wanted to find an Advent calendar that felt like a modern heirloom – something the girls can pass down to their own children one day. Now we've got 24 drawers to fill with sweets, treats and joy as we count down the days of the holiday season!
Come see how we incorporated a sweet, simple wooden Advent calendar into our home this year, and find the prettiest options available for quick shipping today! They make such a special gift and feel like an instant heirloom.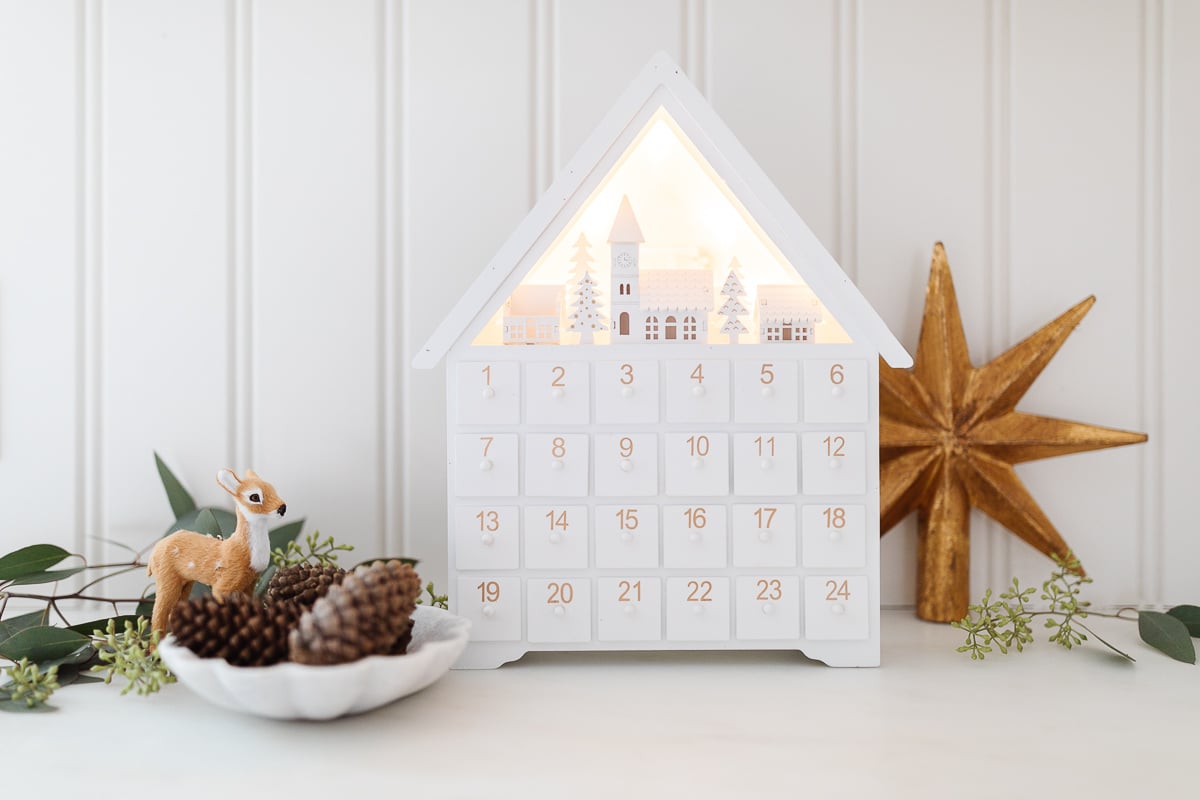 Advent Calendar History
The Advent calendar is believed to have been created and used by Germans in the late 19th century. Gerhard Lang is credited with creating the first doors and drawers for printed Advent calendars in the 1920s.
Depending on the style and form of the calendar, you'll generally find consecutive doors or drawers are opened every day leading up to Christmas. Today, most Advent calendars begin on December 1 and mark the 24 (or 25) days leading up to Christmas.
These calendars are created from any number of materials. You'll find wooden ones, paper and cardboard versions, metal, fabric and so many more handmade materials. Similarly, what's inside each day's spot can vary – from tiny treats and toys, to poetry and meaningful sentiments, adventures and more!
Originally, many depicted a classic nativity scene. You'll find a variety of options in the traditional wooden style these days, from a gingerbread house to entire Christmas town scenes!
While the presentation may be different in each style, the idea and sentiment behind an Advent calendar remains the same: countdown and anticipation.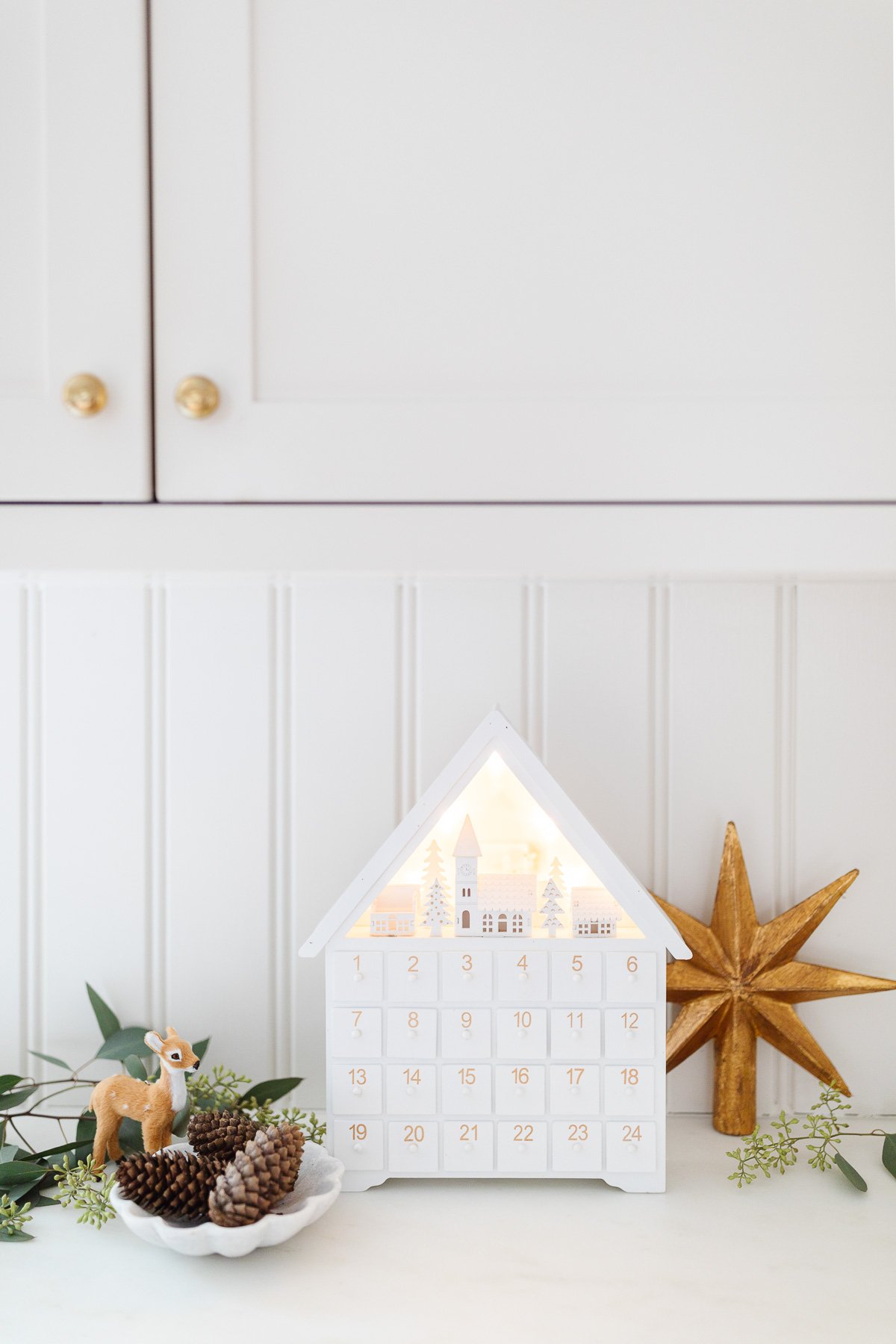 Many of the wooden options available tend to feel reminiscent of Scandinavian style – read more about Scandinavian Christmas Decor here! Much like a Christmas tree, a family can customize their traditions and decor to fit their needs.
Frequently Asked Questions
When was the first Advent calendar created?
It's believed that Advent calendars were originally created in Germany in the late 1800s, with the tradition evolving to this day.
What do you put in a wooden Advent calendar?
Think of anything sweet and miniature to fill those 24 small drawers or doors – from toys, to candies, adventures and ornaments. Find a comprehensive list of Advent Calendar Ideas here!
Do you start at 24 or 1 on an Advent calendar?
Most are meant to begin on December 1st and symbolize the 24 days leading up until Christmas. Most often, families find that it's easiest to begin on December 1st and work your way towards the 24th, Christmas Eve.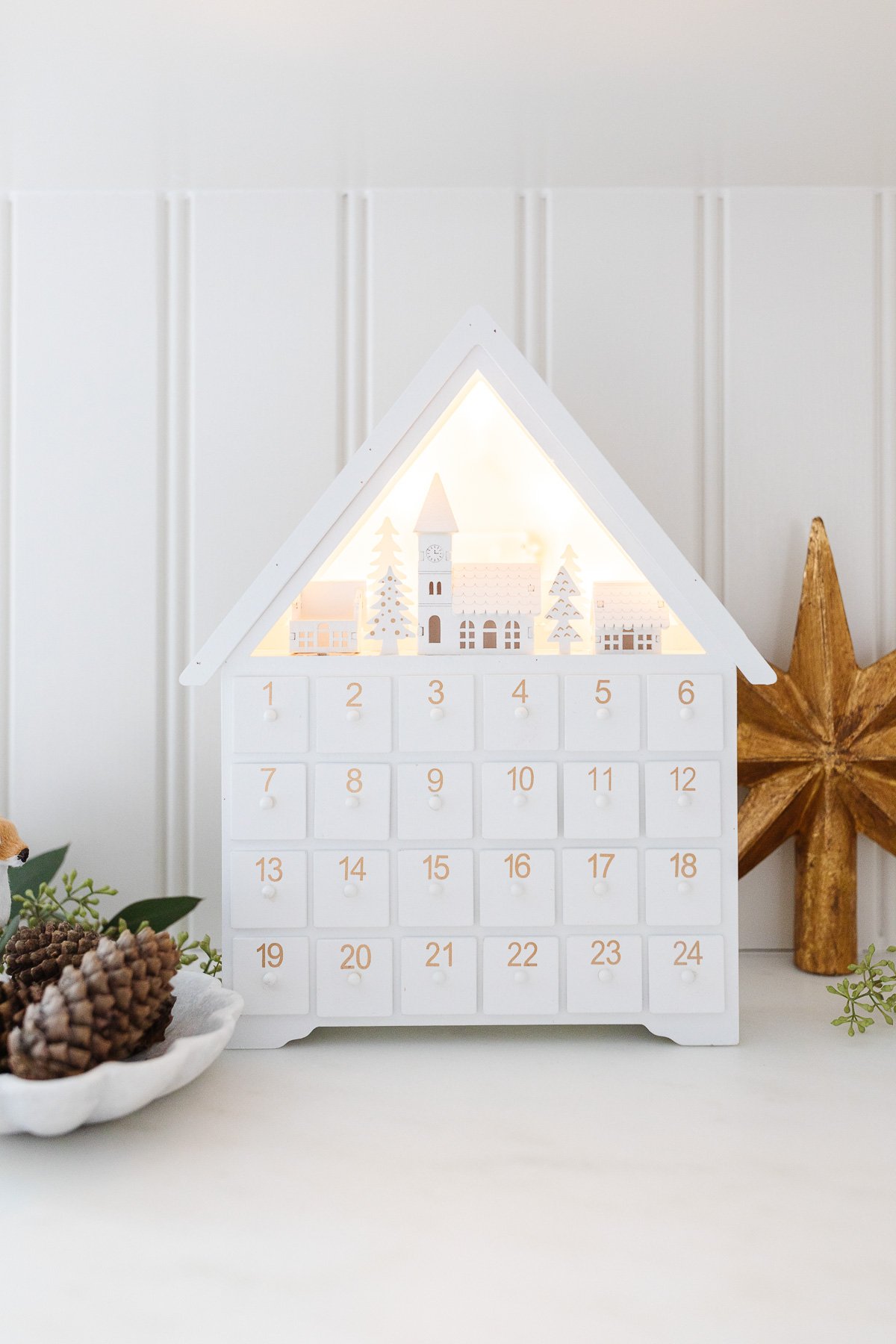 Sources
Here are 12 of the prettiest, most charming wooden Advent calendars on the market! These all ship fast, too – which makes them an excellent gift to bring to your Thanksgiving family dinner this year!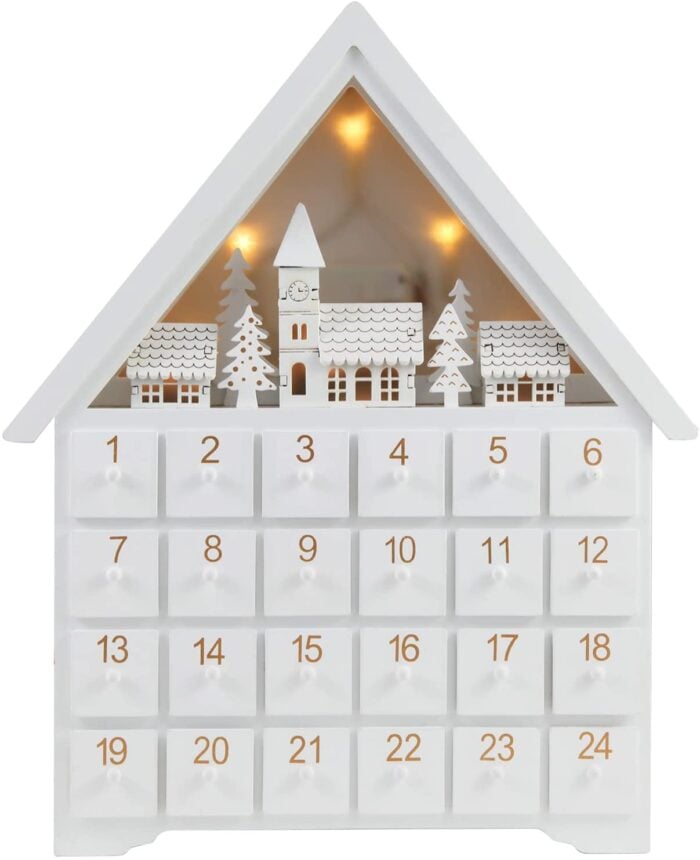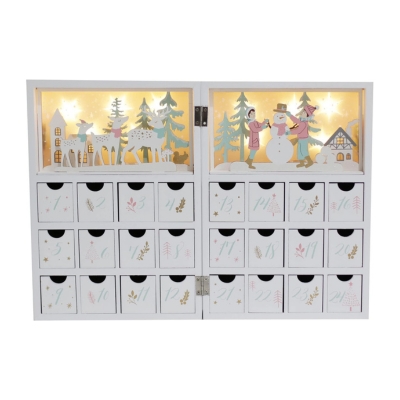 We loved our wooden Advent so much, we bought this one for the girls to celebrate at the lake!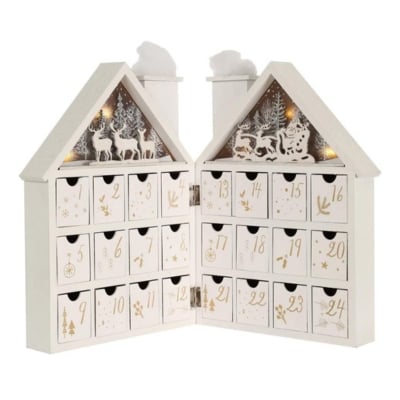 Add a family name to the exterior of this "book" style wooden calendar.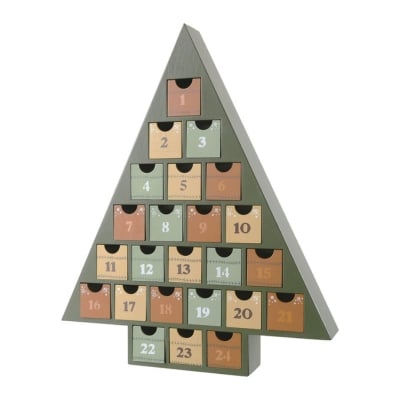 The most affordable option we found, in pretty Scandinavian-inspired colors.
Last but not least, consider an unfinished calendar that you can leave as-is or decorate yourself!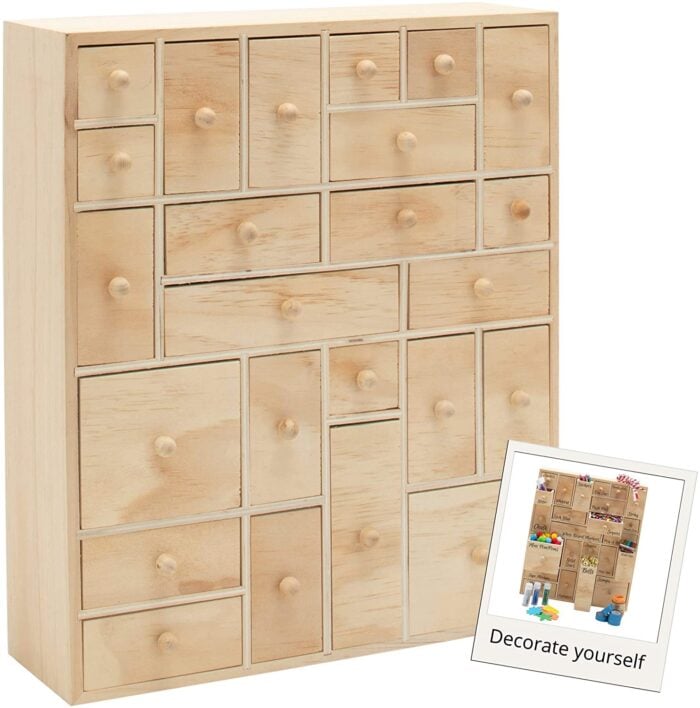 What do you think? Do you have a special Advent calendar tradition in your home, too? I'd love to hear from you!