A Scandinavian Christmas is warm, calm, elegant and oh-so-simple. It's modern and yet rustic, capturing the glowing lights, cozy textures and wintry elements of Christmas. This style speaks to the heart of the holidays in any part of the world!
Step inside for all the best tips and tricks to bring Scandinavian Christmas decorations into your own home.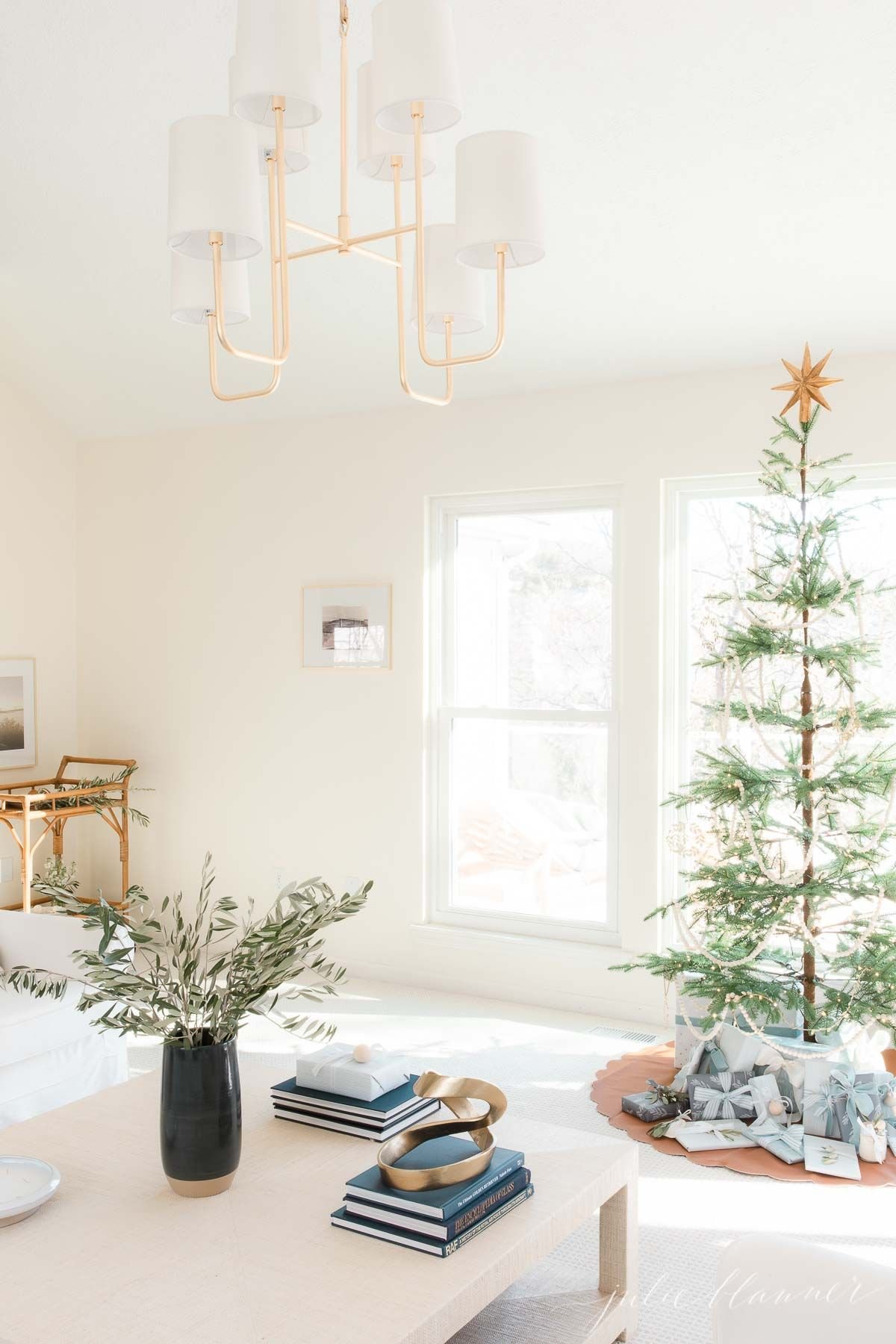 I have long adored the simple, calming aesthetic of Scandinavian Christmas decor. Fortunately, it fits seamlessly into the lake cottage and our Minimalist Christmas approach!
If you enjoy cozy layers, minimalist design, you'll love the bright simplicity and warmth you'll find in Scandinavian Christmas decor! Chances are you already have everything you need to infuse it into your home!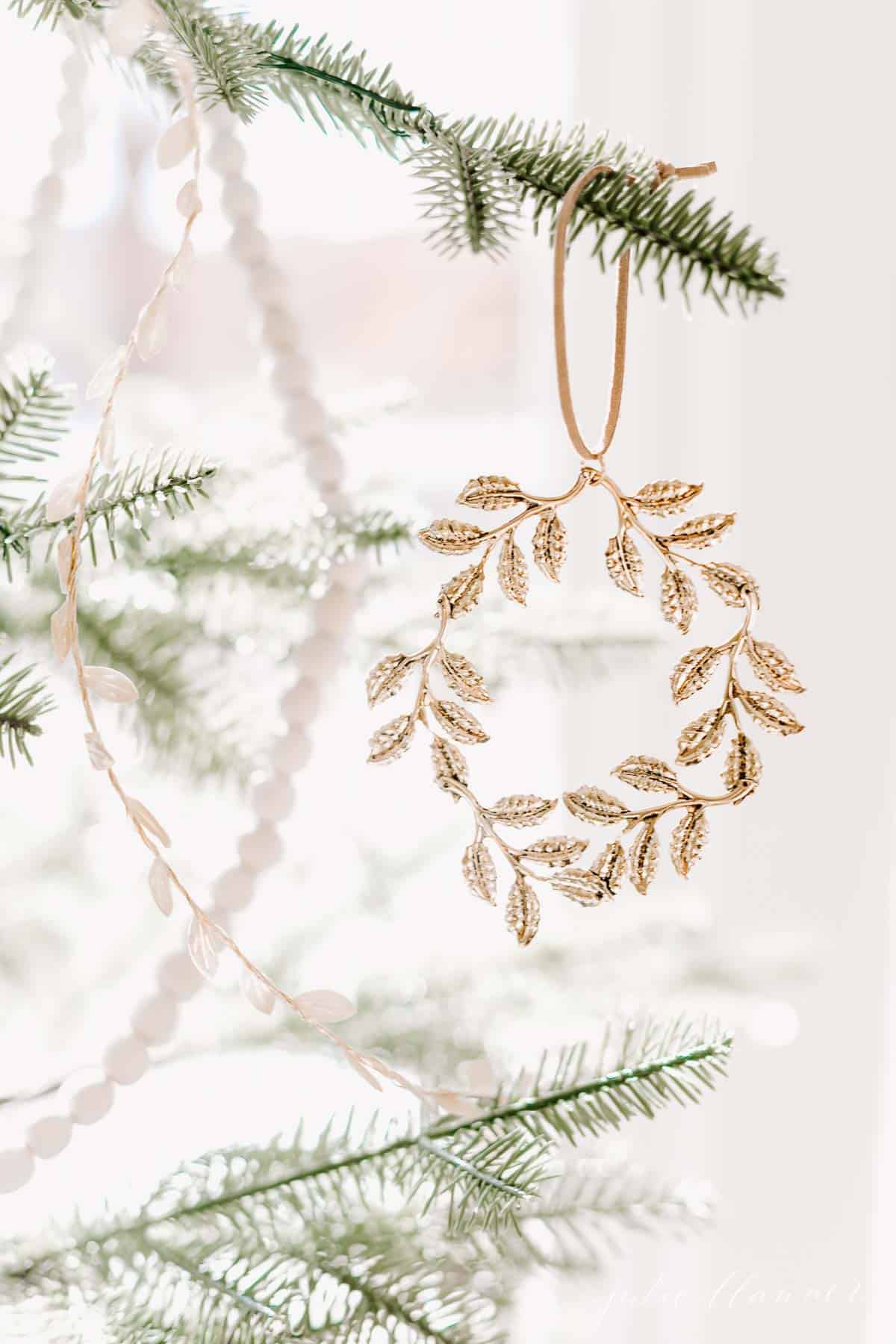 Scandinavian Christmas is known for its wintery scenes that blend modern design with natural elements, warm woods and furs. It's a refined minimalist aesthetic that makes your home feel festive, without feeling overwhelming.
I am a huge fan of a cozy minimalist style, and this Christmas inspiration fits right into that idea. You can create the cozy and warm style of your dreams with very little
Each year I find myself doing less, and enjoying more. I'm so excited to share our Scandinavian inspired Christmas tour filled with tips!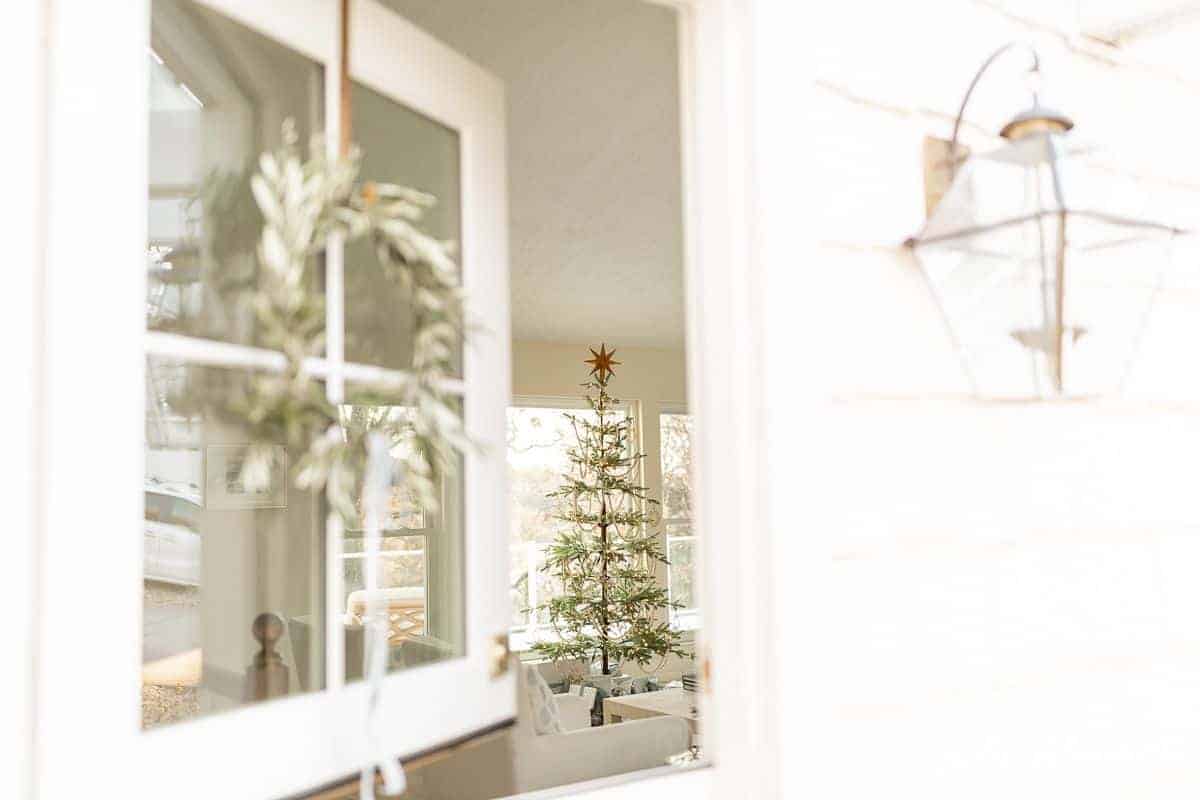 6 Secrets to Scandinavian Christmas Decorations
Achieving the feel of a Scandinavian holiday is easier than you might think! It's calm, restful on the eyes, and cozier than you can imagine!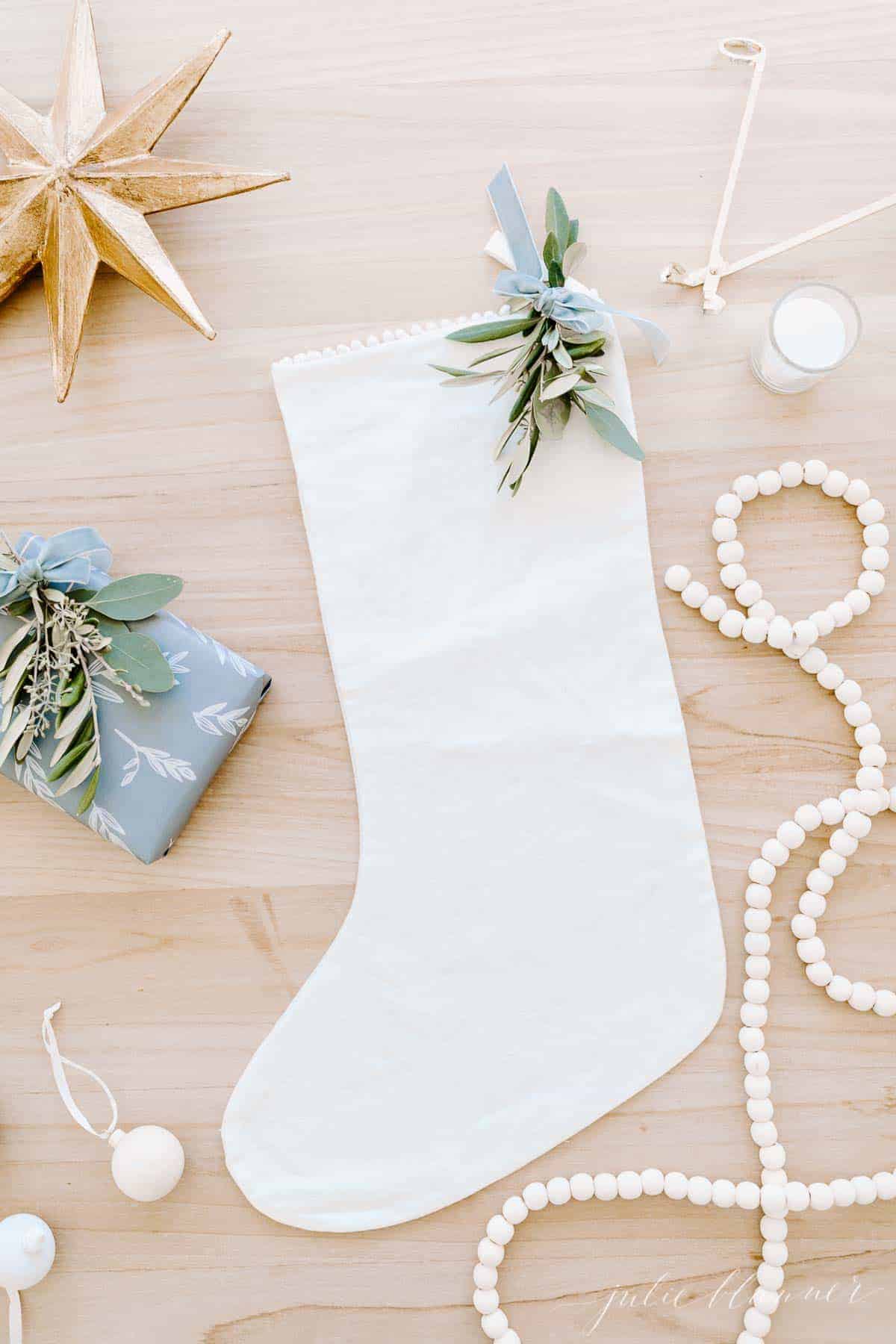 Neutral Color Palette
Whites, silvers and golds are the traditional palette of a Scandinavian Christmas. You'll often find pops of red, too… but don't feel confined by a palette of red and white!
For our Scandinavian inspired Christmas decorations, I took a queue from the style of our lake cottage. The blues and whites are so calming and serene to me, and I knew that would translate beautifully to this style of holiday decor!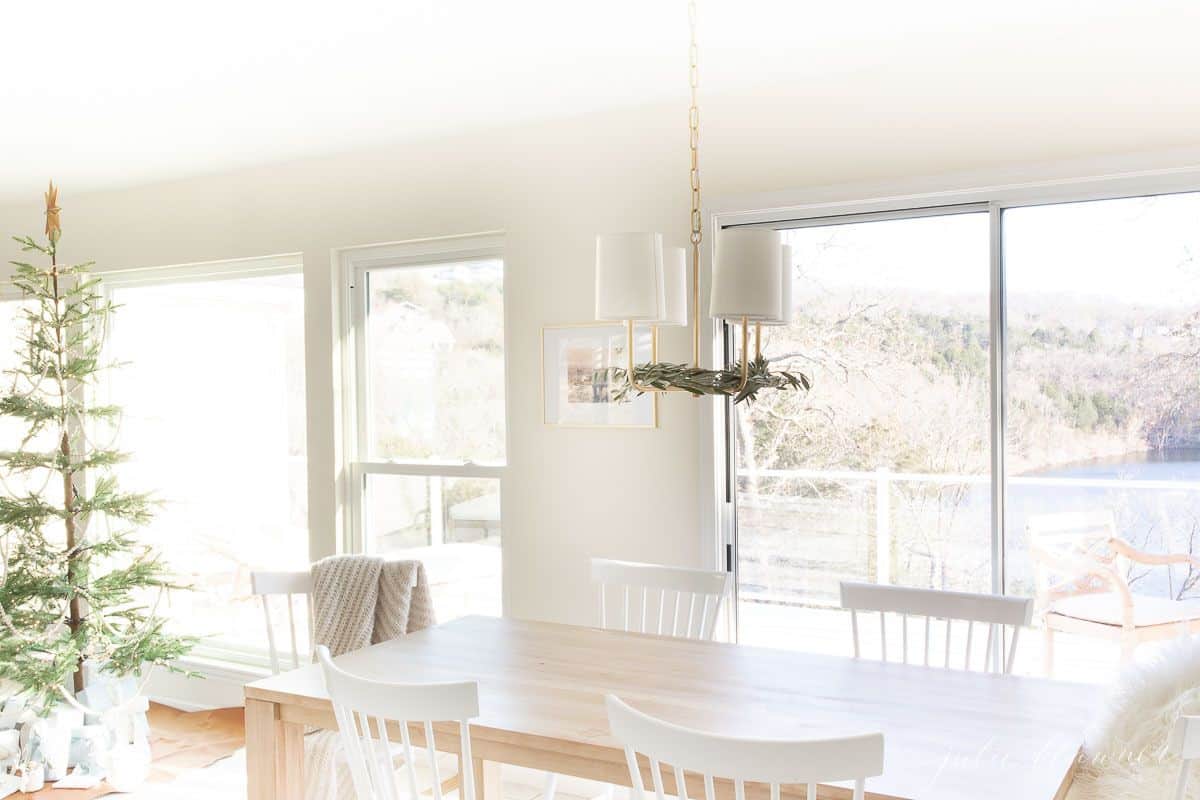 Faux Fur
Faux fur can be used for tree skirts, stockings, throws and more! They add beautiful texture without a lot of color.
Fur is also a hallmark of the Scandinavian Christmas style. Luckily, it's so easy to find faux fur styles for affordable, cozy additions to your decor! In the bunk room, we use this fur throw as a rug and it adds such a soft and comfortable touch.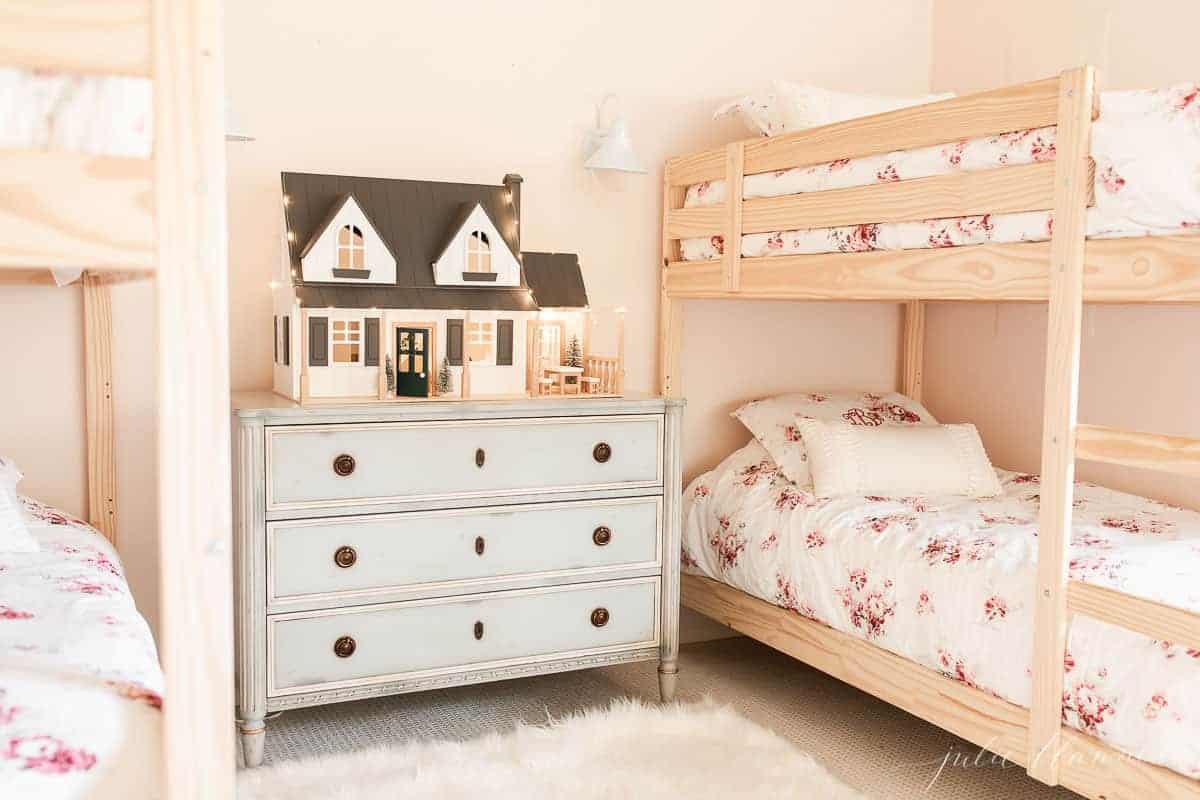 Keep it Minimal
A hallmark of this style of design is the pulled back, minimalist look. Don't overdo it!
Instead of simply adding decor elements, consider replacing what was already there! This goes for decor elements on tables, shelves, and even artwork.
When the rest of your room is simple and neutral, all the elements you add will truly shine! This helps keep the natural and cozy elements of Scandinavian Christmas decorations in the spotlight… like this simple, sparse tree!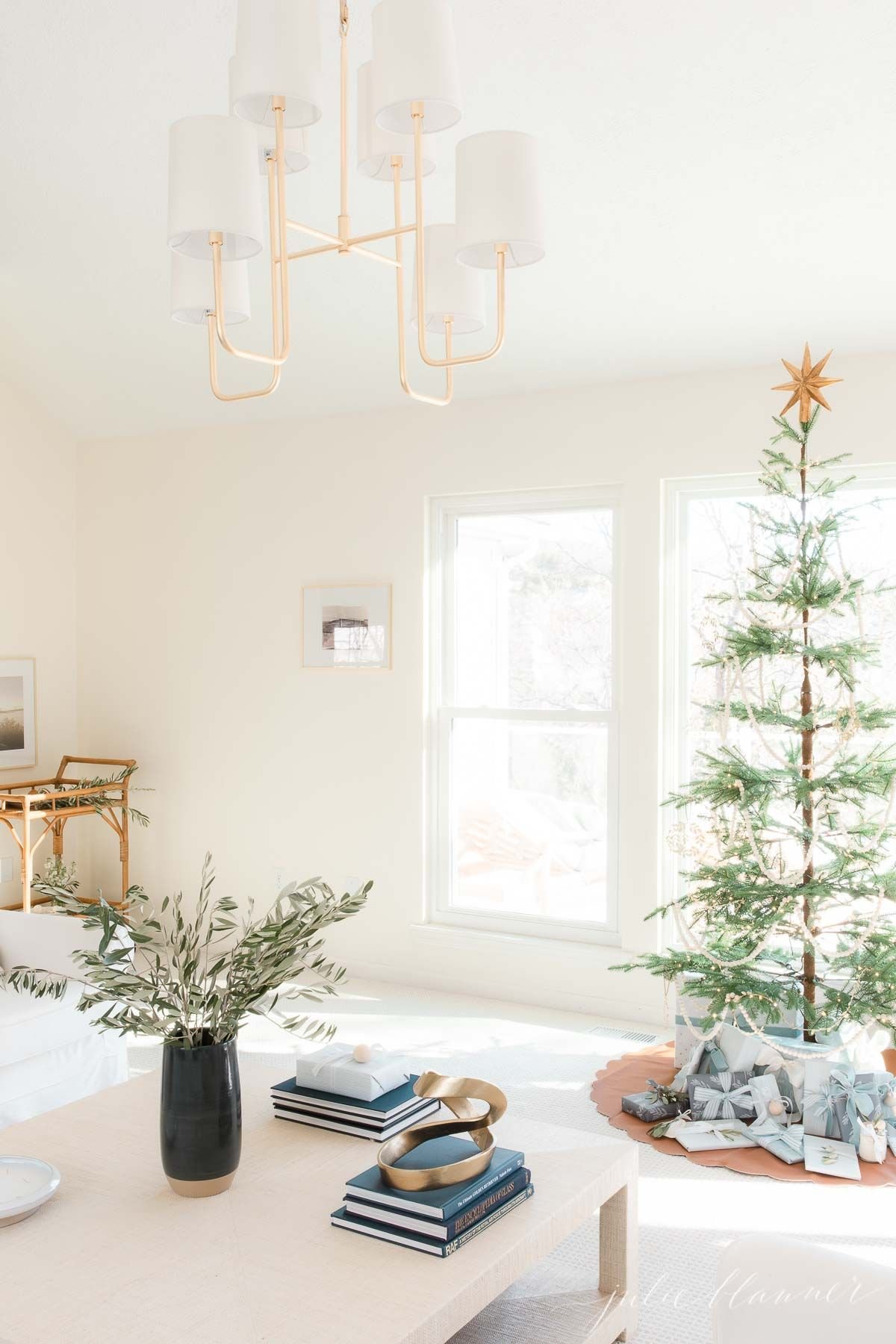 Want to see our Coastal Modern Living Room without all the extra holiday decor? Check it out!
Add Cozy Layers
Alpaca throws and any style of warm wool and cozy textural blankets are so important to capture the cozy essence of this decorating style.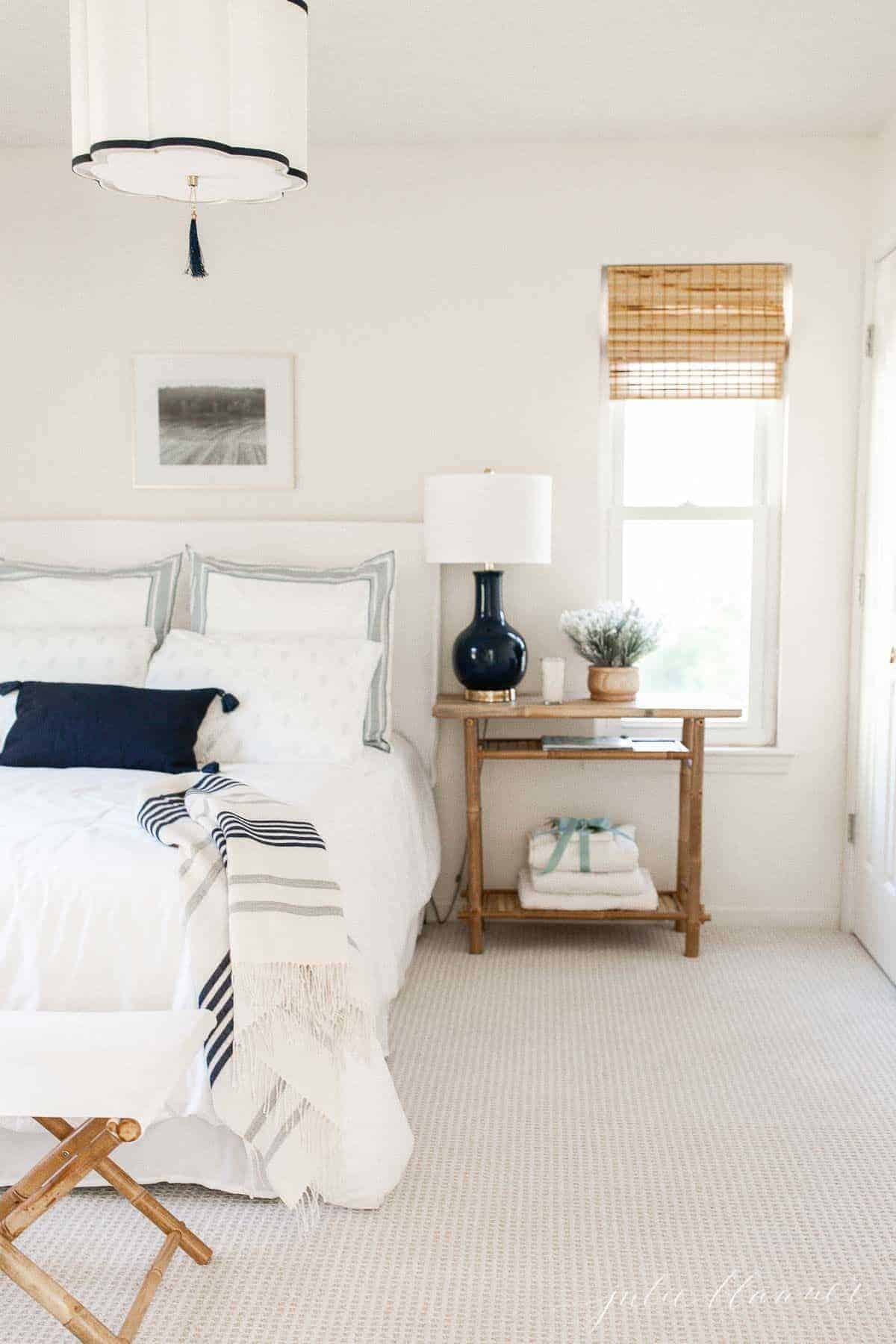 It's not just blankets that can create a layered look! In this guest room, I tied the white guest towels with a sweet blue velvet ribbon. This simple touch instantly elevates that stack of towels and helps guests feel special!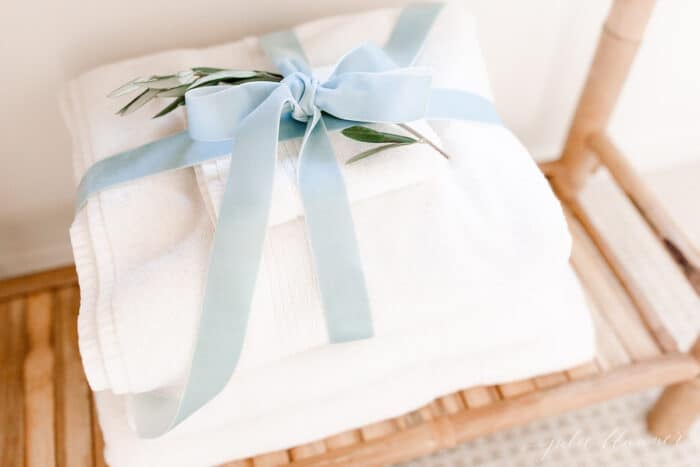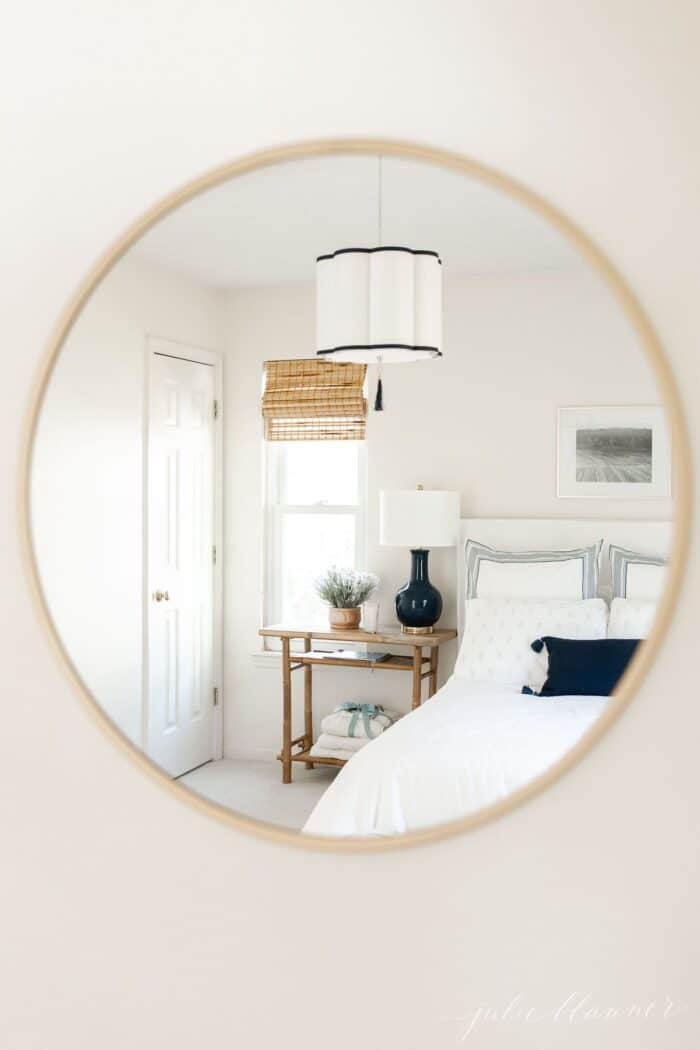 Throws can be used in unexpected ways, too, for an incredible textural elements that adds so much coziness. Consider adding them in the following areas.
across beds
draped over benches and ottomans
on the backs of dining chairs
wrapped around Christmas trees instead of traditional skirts
in your outdoor decorating
tucked into baskets
for a pop of color on sofas and chairs in your living room
And of course, as a tree skirt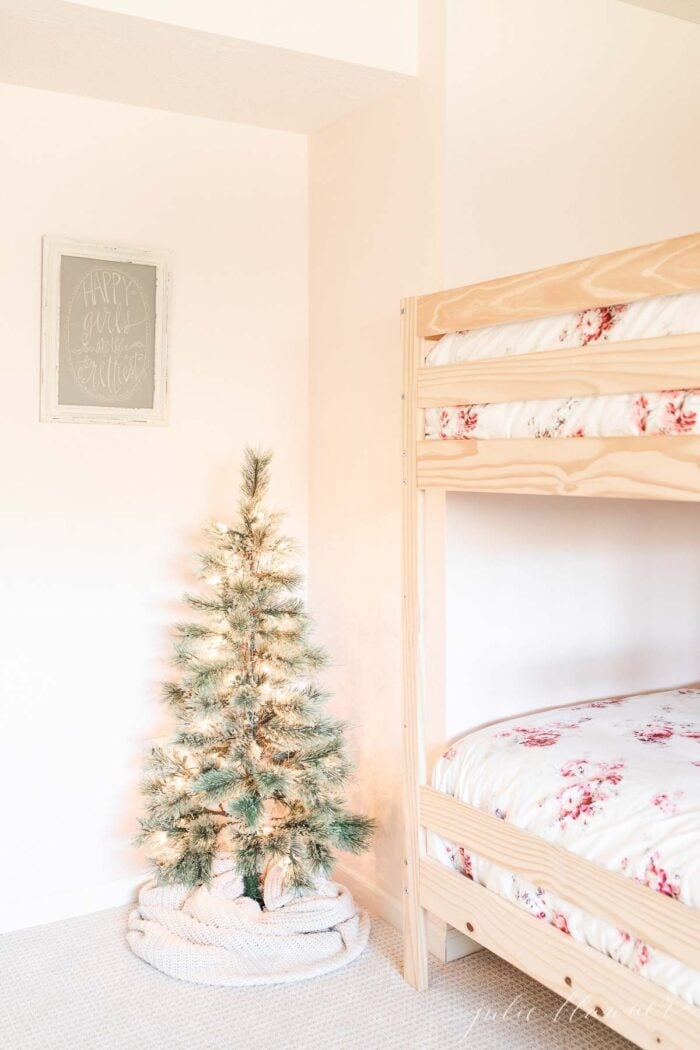 Add Candlelight
Northern Lights are a classic visual element in the Nordic Christmas tradition. While we can't capture that natural phenomenon, we can bring the spirit into our homes with warm, flickering candlelight and lighting.
We added this pretty gold candle centerpiece in the kitchen and I love using my favorite battery operated pillar candles throughout our home for the perfect evening glow.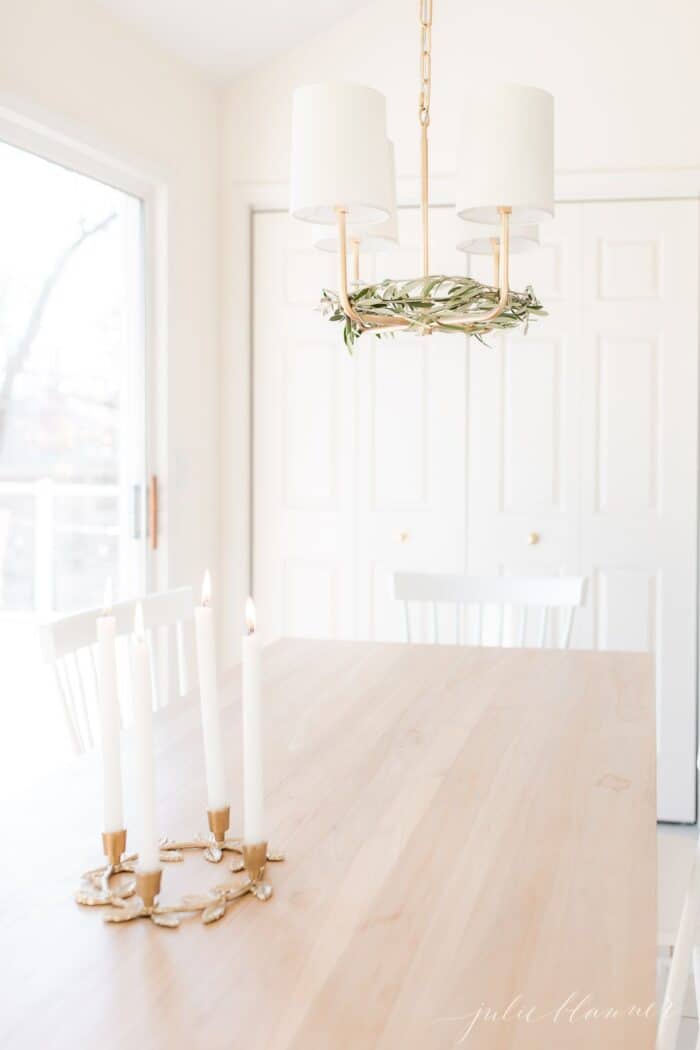 Candles bring the perfect finishing touch to your Scandinavian Christmas decorations, both indoors and out!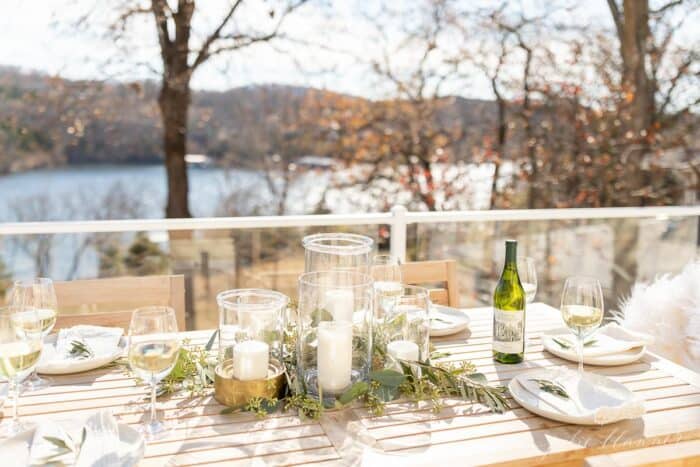 Candles aren't the only important lighting for a Scandinavian Christmas! Add some glowing and magical touches of holiday lights anywhere you can… we even decked out the dollhouse for an extra layer of charm!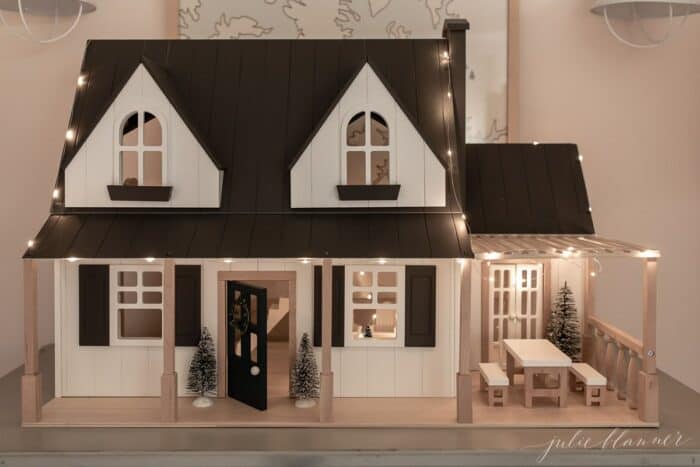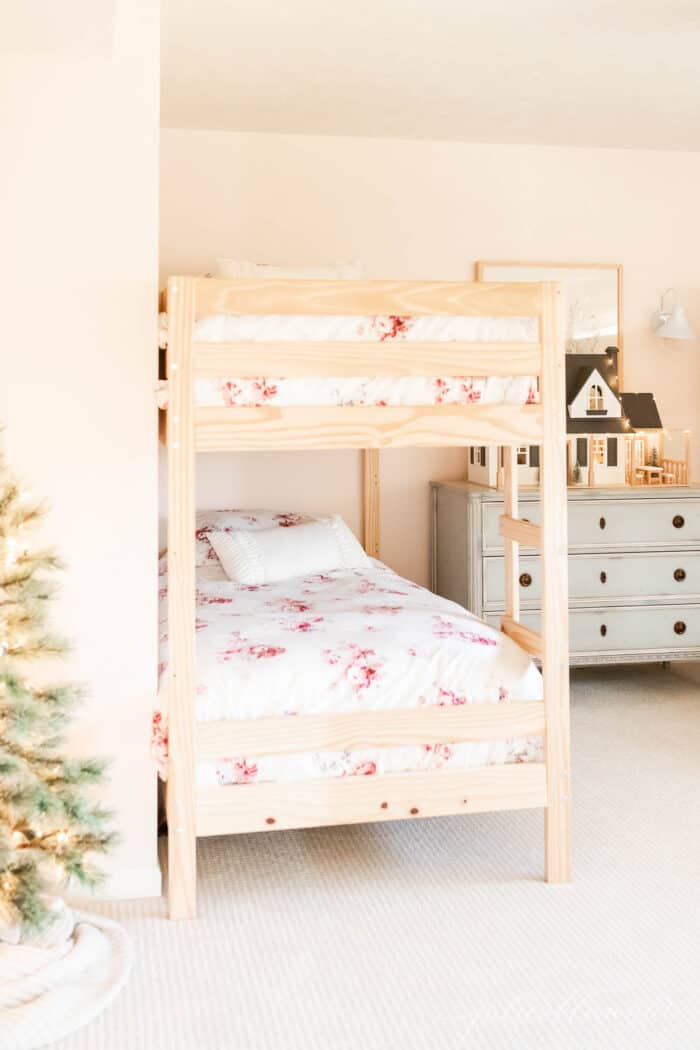 Add Greenery
I love fresh holiday greenery, even if it's just touches of something unexpected. This year, I used a combination of silvery olive leaves, seeded eucalyptus and even fresh thyme.
See that sweet fresh wreath on the door of their holiday dollhouse?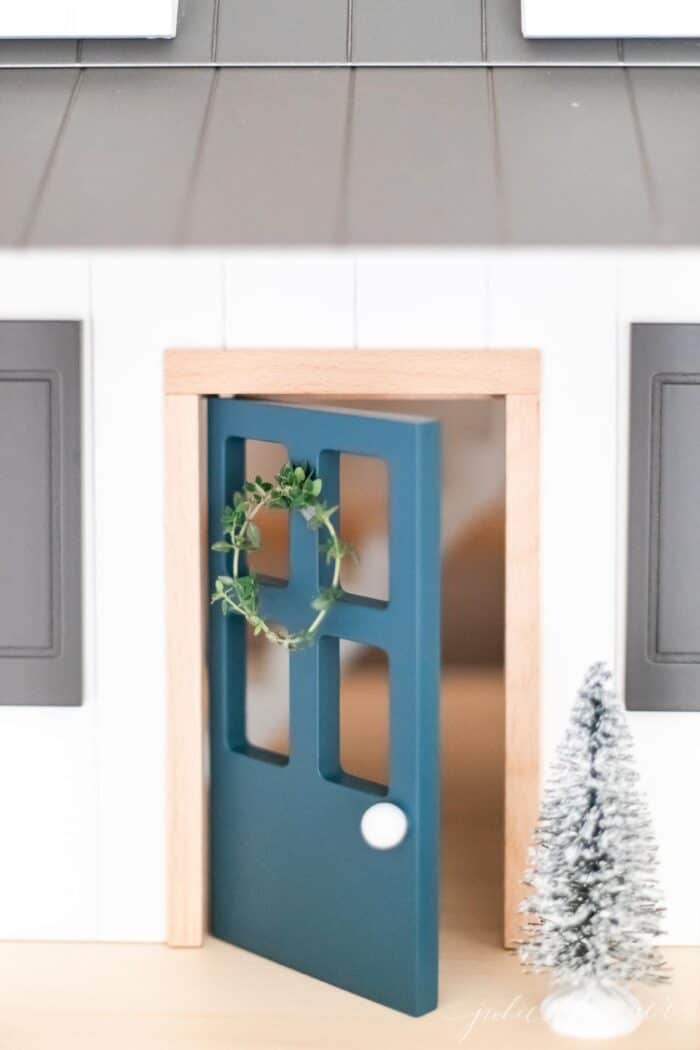 In that same vein, I created the simplest DIY Christmas wreath of olive branches for the cottage, too. While I tried it here on the front door, I ended up placing it in the reading nook under the stairs. Where do you love it more?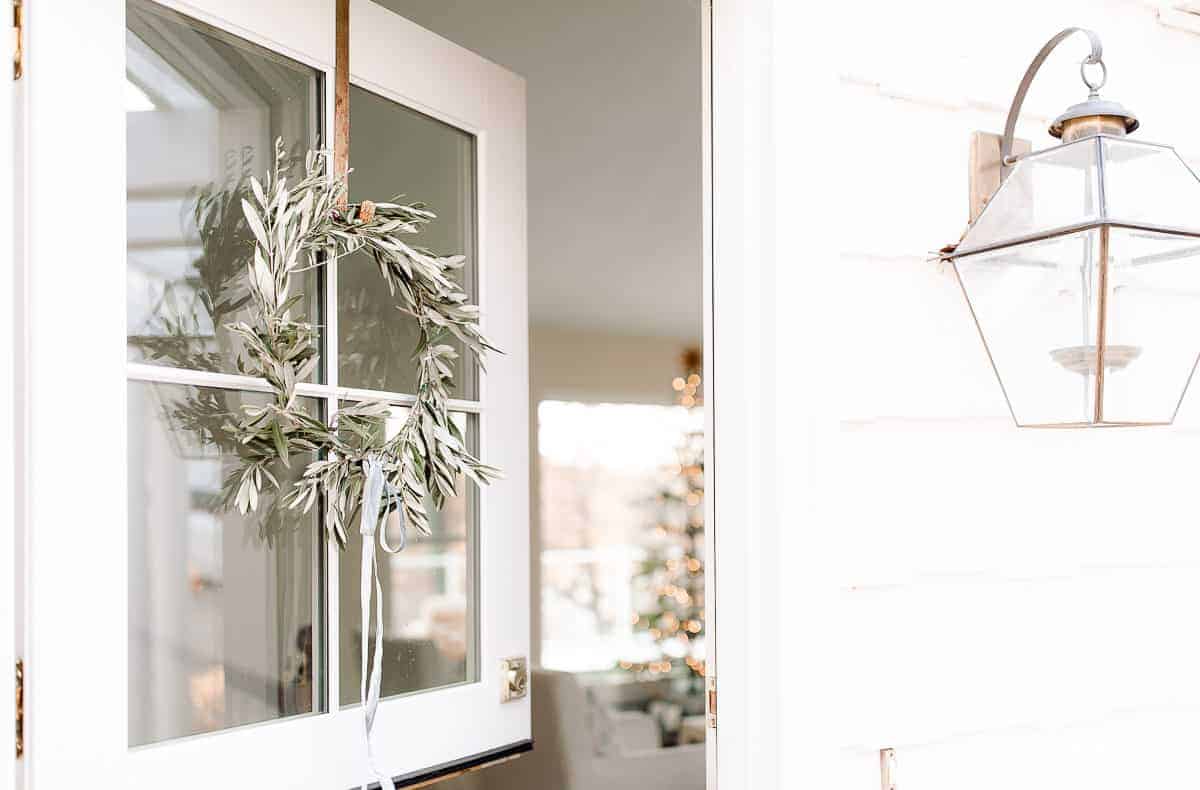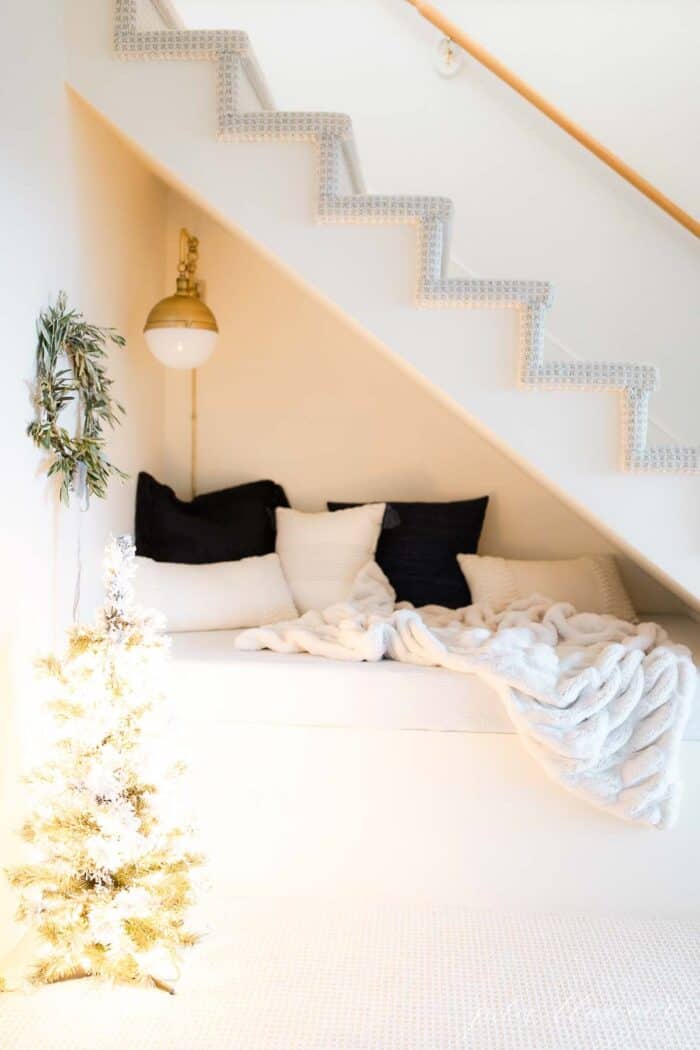 In the end, I used this gorgeous (faux) wreath with soft blue berries for the front door. The bells add another layer of charm and rustic whimsy!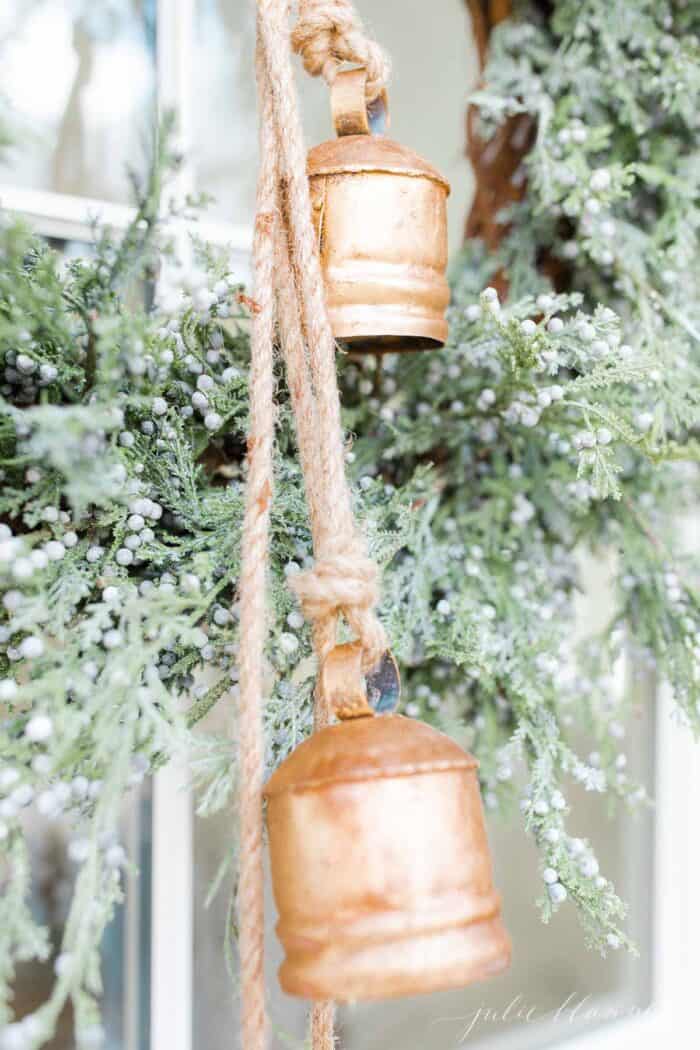 The smallest touches of greens can bring the feel of the outdoors in, perfectly capturing the feeling of a nordic-inspired Christmas. We even added a little greenery to these simple linen stockings.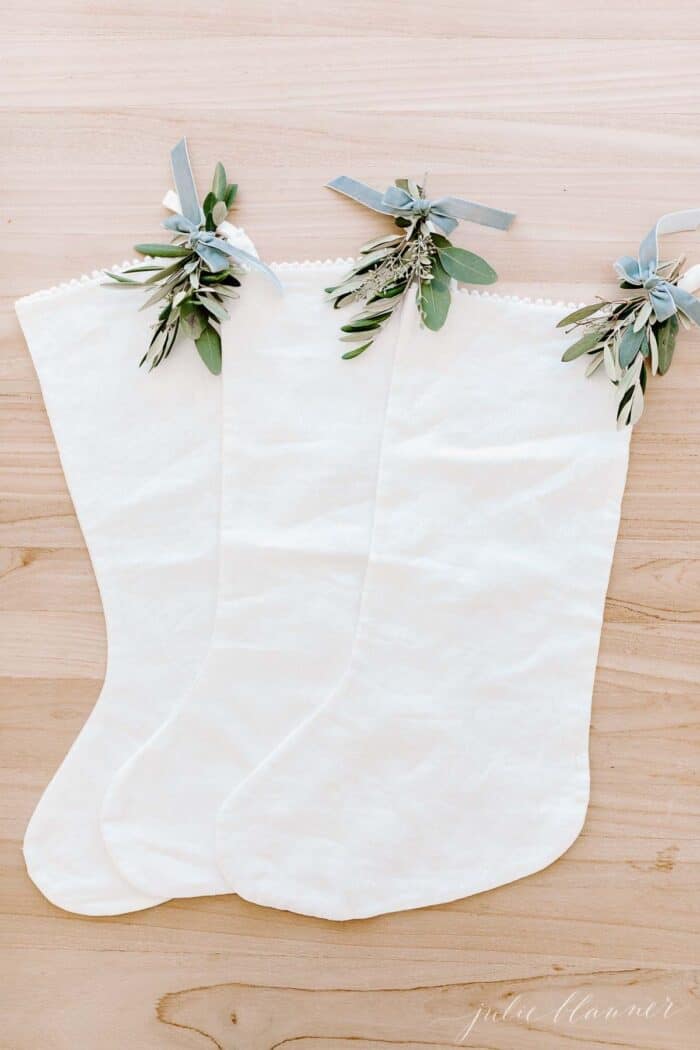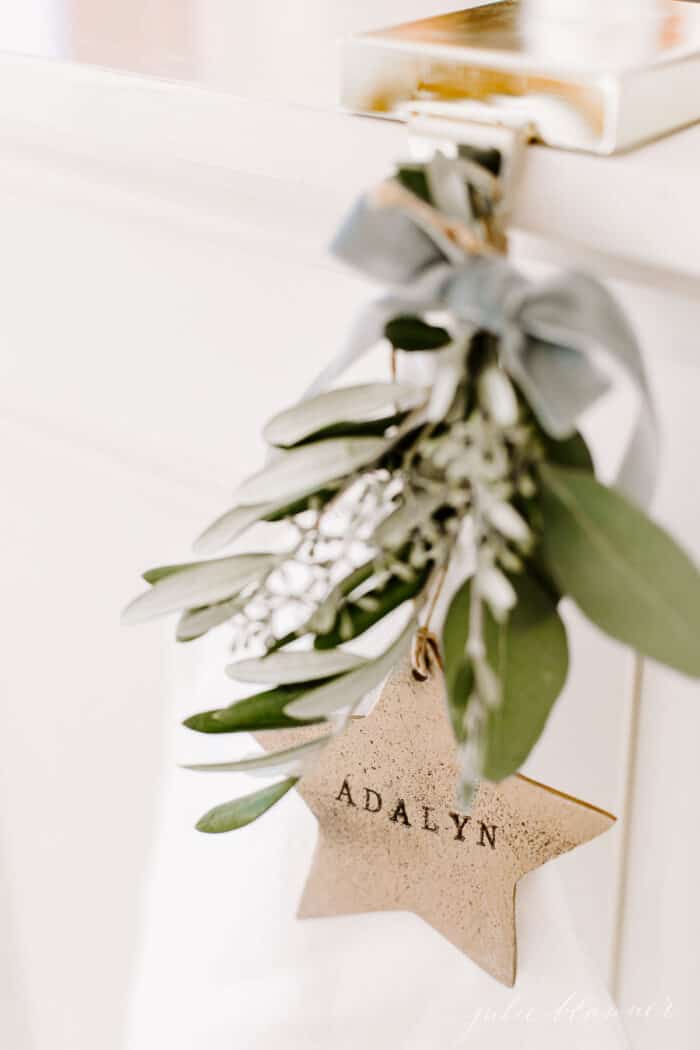 And a simple branch of olive on the sconces, tied with a blue velvet bow. While olive certainly isn't a Scandinavian tree, it does capture the silvery, rustic feeling of fresh greenery that works within the theme!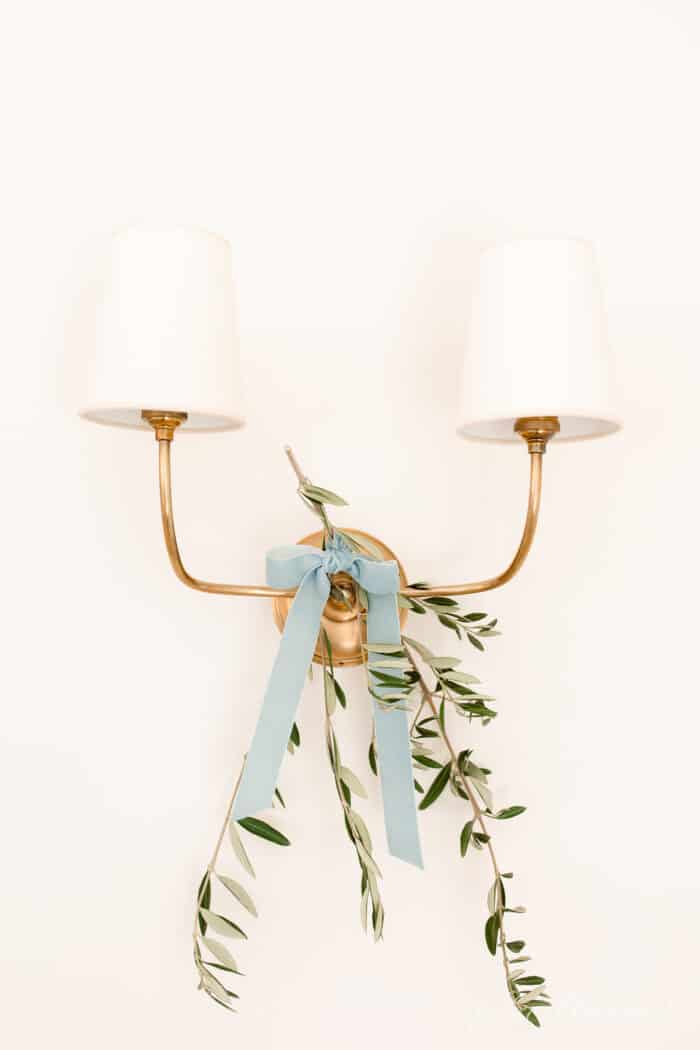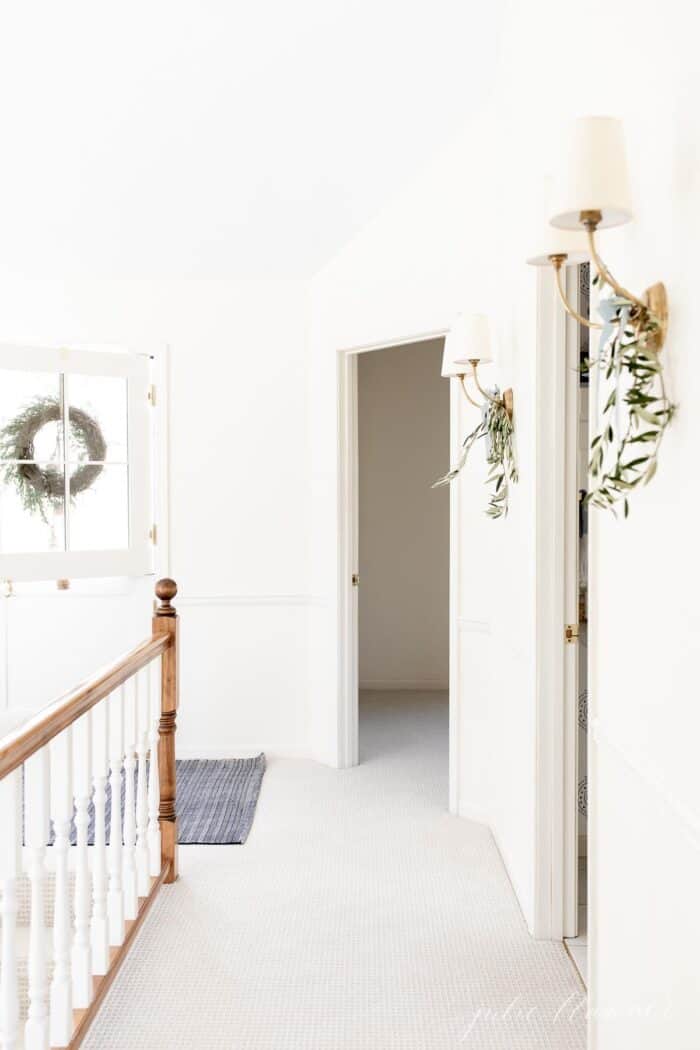 And again, encircling this brass chandelier over our dining table. it doesn't take much to make it special!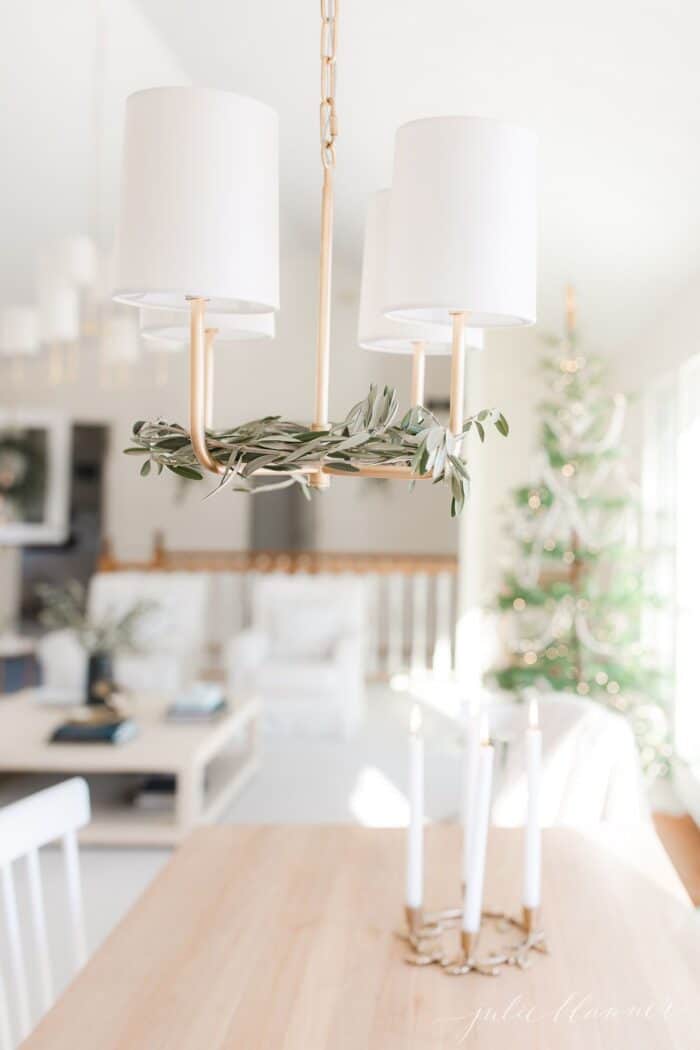 Scandinavian Christmas Tree
A traditional Scandinavian Christmas tree is decorated with ornaments, candle holders, and strings of light utilizing a color theme and integrating gold and or silver. Wood, straw and felt ornaments are most often used.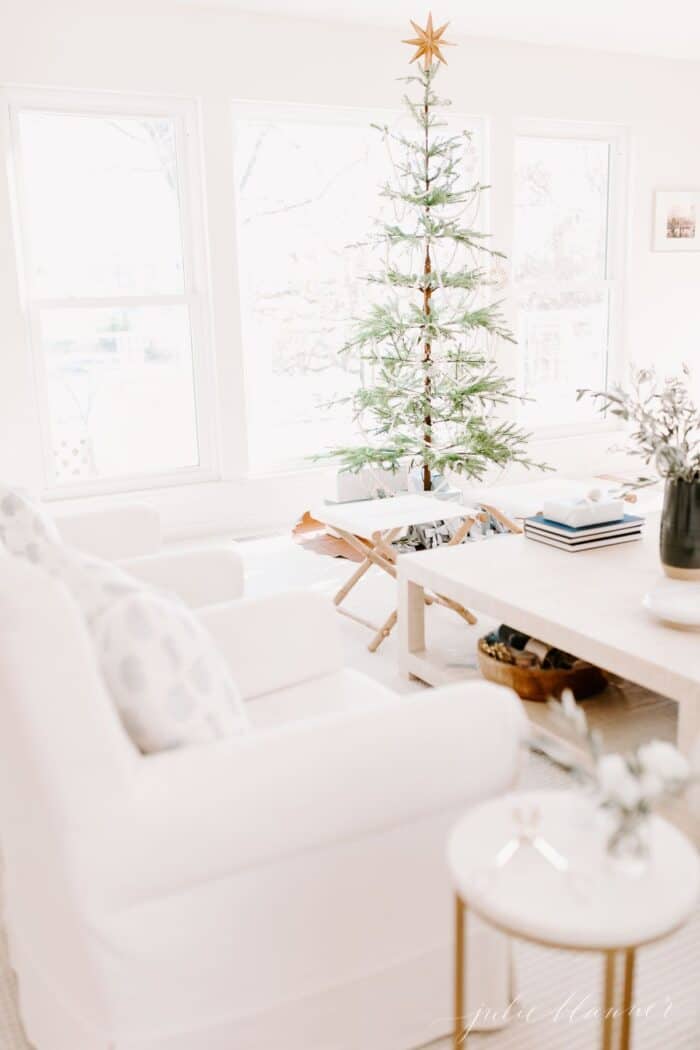 Scandinavian Christmas trees are lightly decorated with or without lights! Candles and ornaments are optional, but used sparingly and garlands are often made of natural materials, like these wood beads.
Read all about our Sparse Christmas Tree here.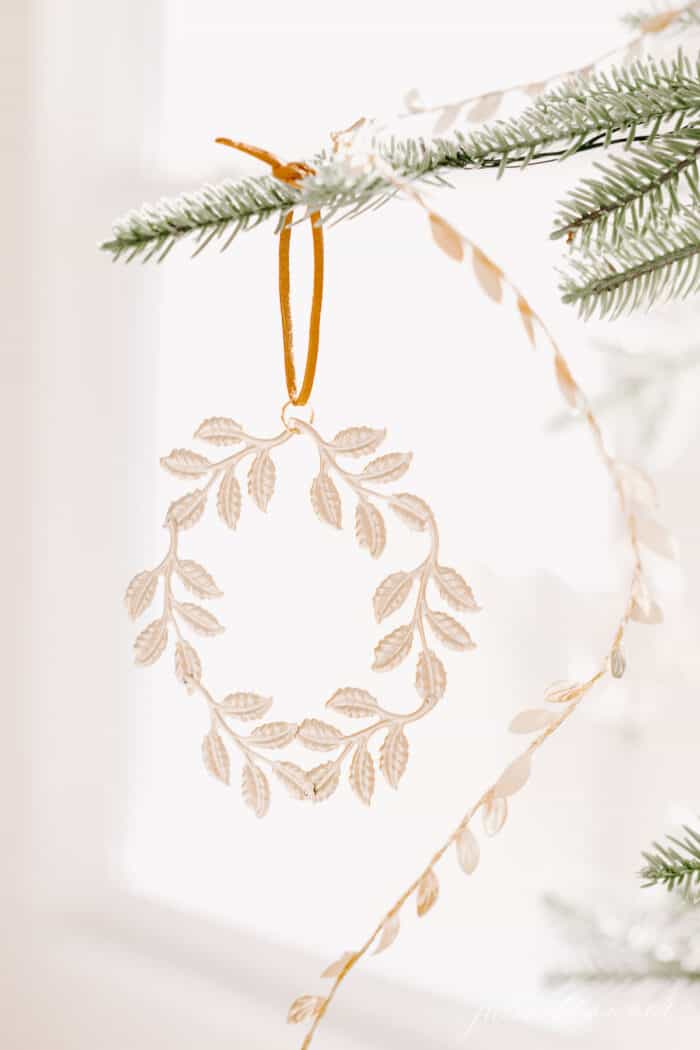 This Scandinavian Christmas tree is a simple, pre-lit Sparse Christmas Tree decorated in just 12 silver and gold ornaments, draped with wood bead and gold garland.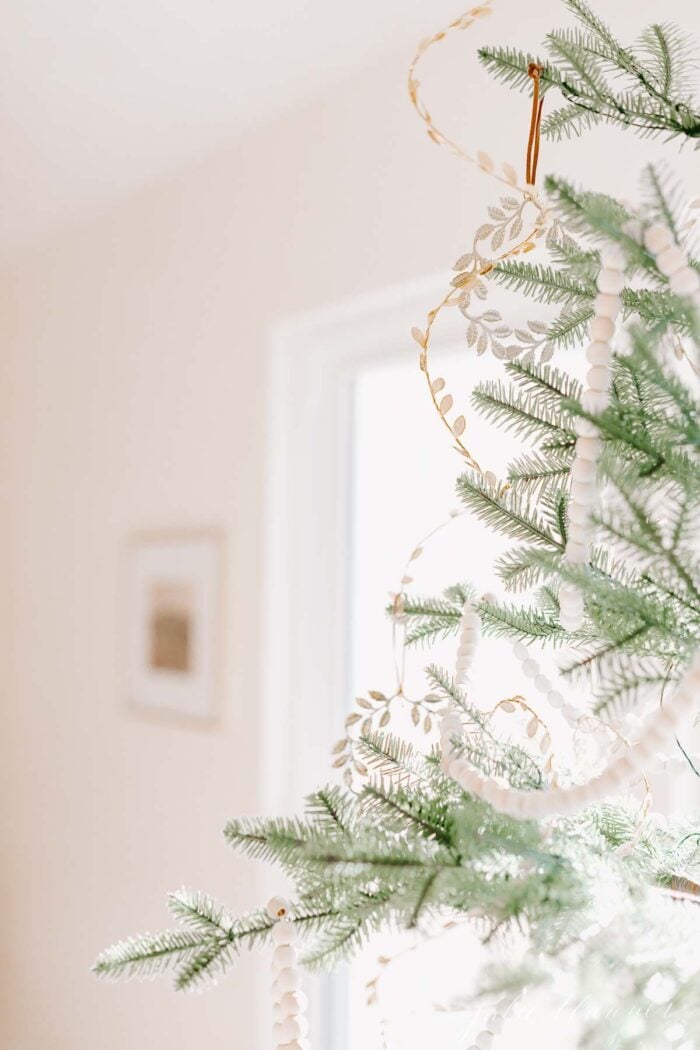 Under the tree you'll find gifts wrapped with care in a limited color palette adorned with natural elements, wooden ornaments and ribbons.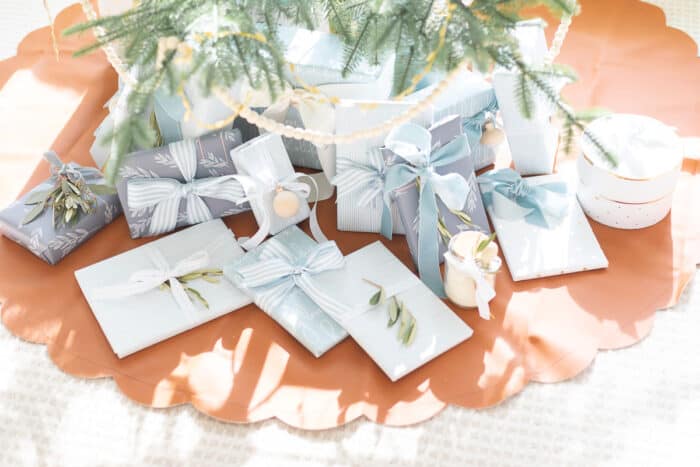 How do they celebrate Christmas in Scandinavia?
On Christmas Eve, those who celebrate Christmas often attend church services. After, they celebrate with a traditional, often elaborate family dinner (referred to as a smörgåsbord in Sweden). After the festive Christmas Eve dinner, Swedes have a visit from Tomte, which (a Christmas gnome who lives in the forest- the Swedish version of Santa Claus).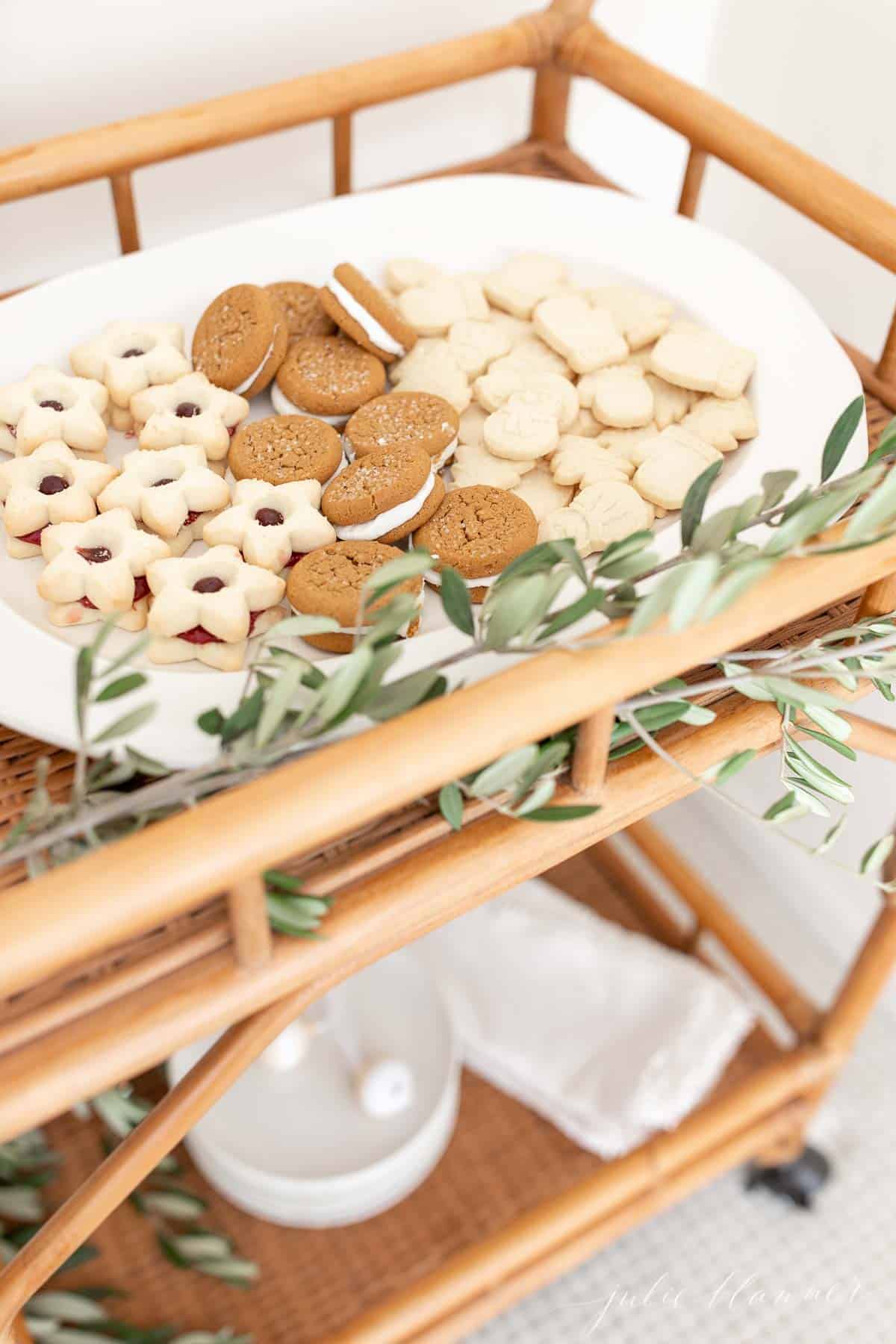 What is a Nordic Christmas?
Nordic countries have long celebrated Christmas as an embrace of the winter solstice and a way to celebrate longer days to come, and Christmas is still referred to by the Pagan name: Jul. Their Christmas celebrations are almost two weeks long, and Christmas Eve is more important than Christmas day itself!
Home baked or not, it's easy to create your own Smorgasbord of treats for friends and family! I turned our bar cart into a charming dessert display.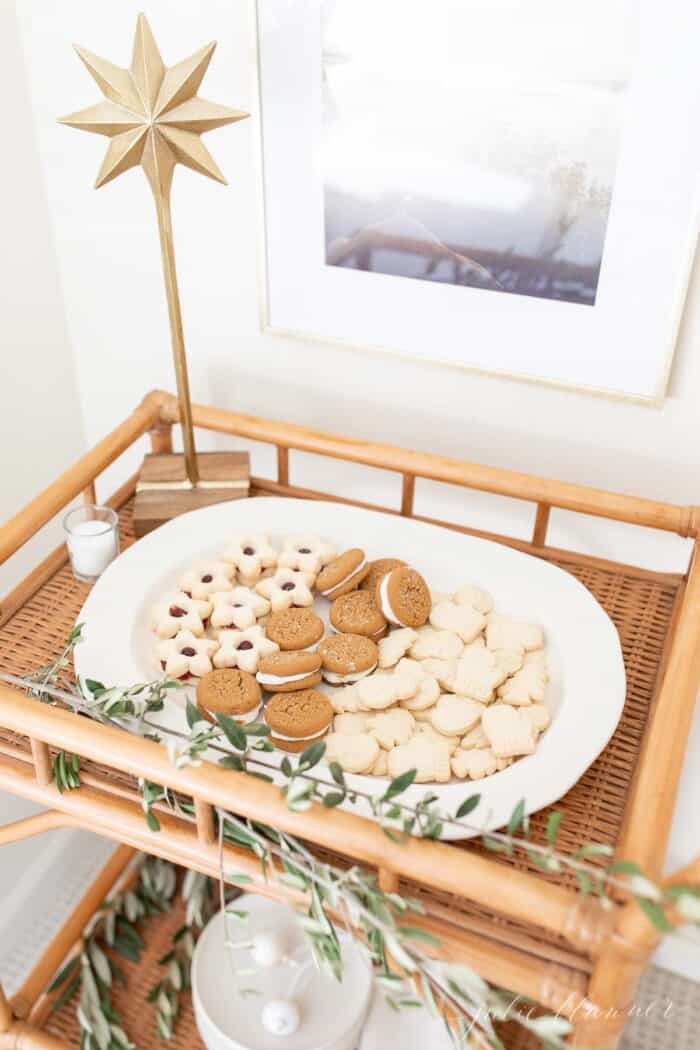 Even before it's decorated, this sweet gingerbread house is perfect when surrounded by touches of greens.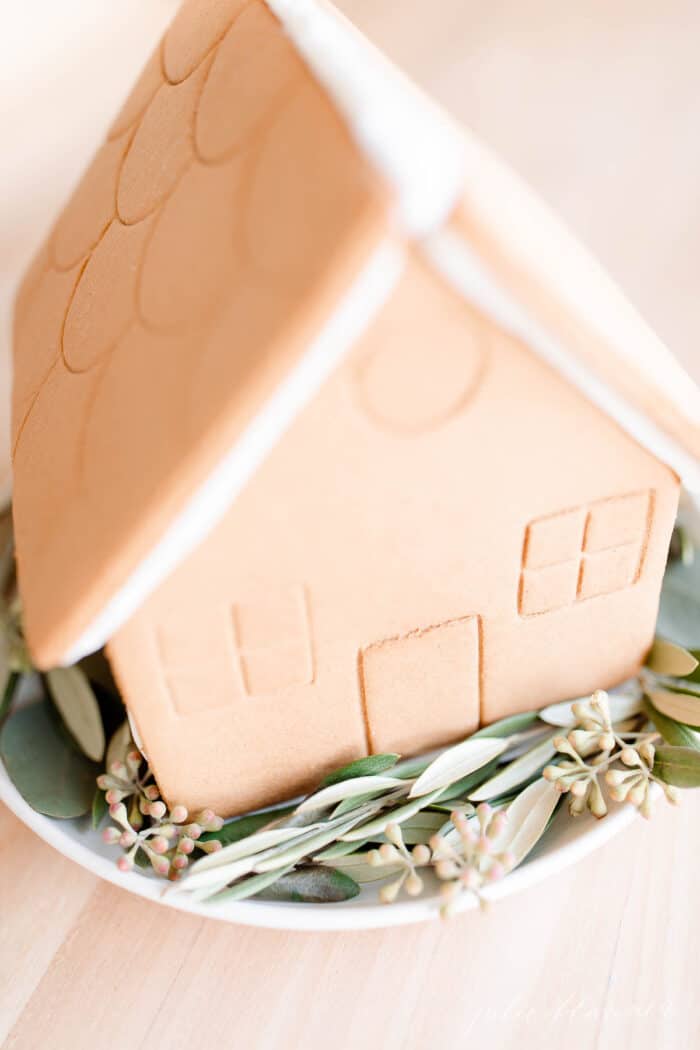 I'd love to hear from you! Would you love to celebrate a Scandinavian Christmas, or at least try this style of decorating?
You can shop our home and holiday decor here!