50+ Amazing Christmas Cookie Recipes
All the best, easy Christmas Cookie Recipes and decorating tips for your annual Christmas Cookie bake day or holiday party. Fill your cookie jar with festive homemade cookies, frosted and decorated for the holiday season.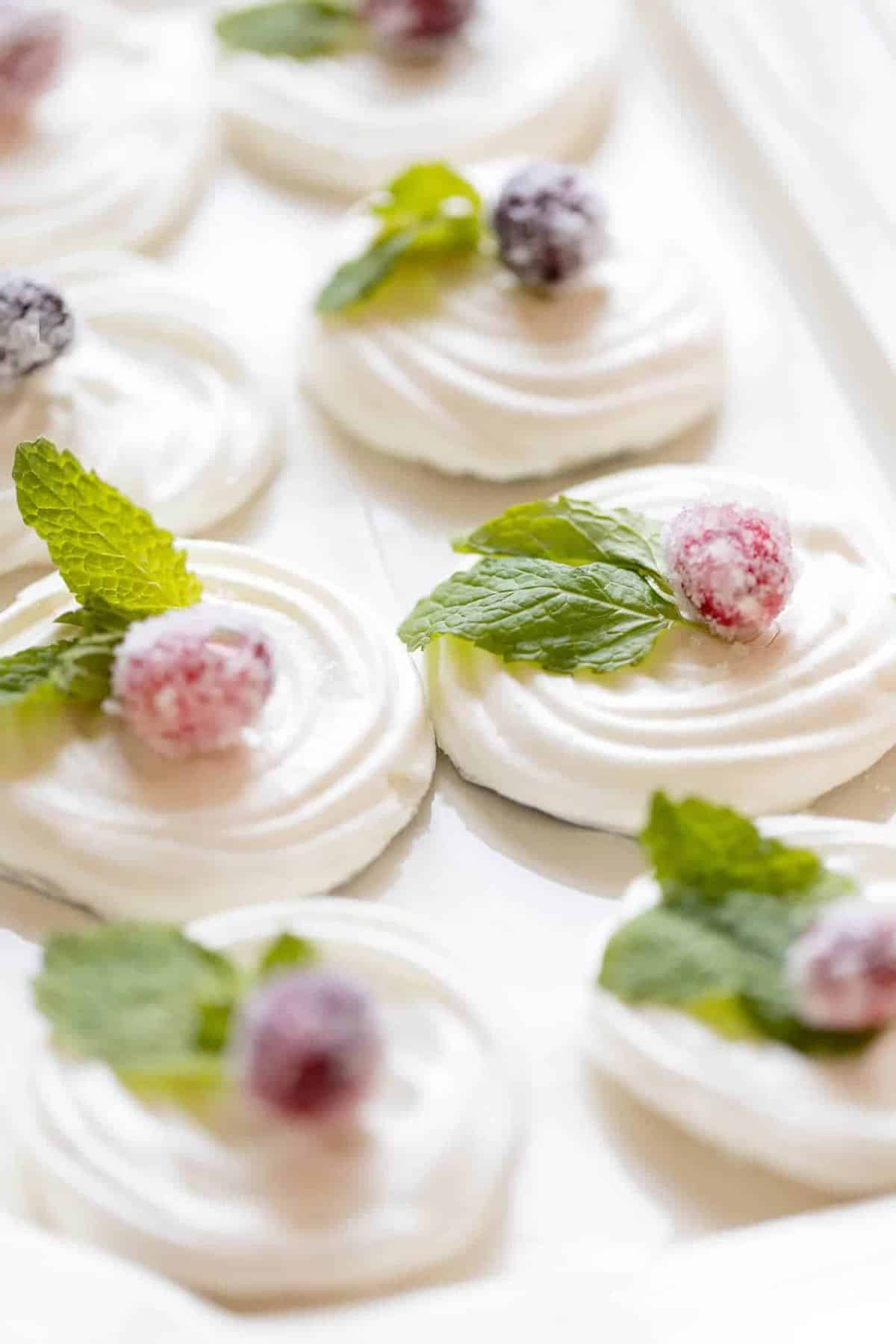 Every holiday has its own fun and bit of magic, but Christmas truly is the most wonderful time of the year when traditions are celebrated and memories are made. It's a time to gather our loved ones, amend differences, be extra charitable, and remember our blessings.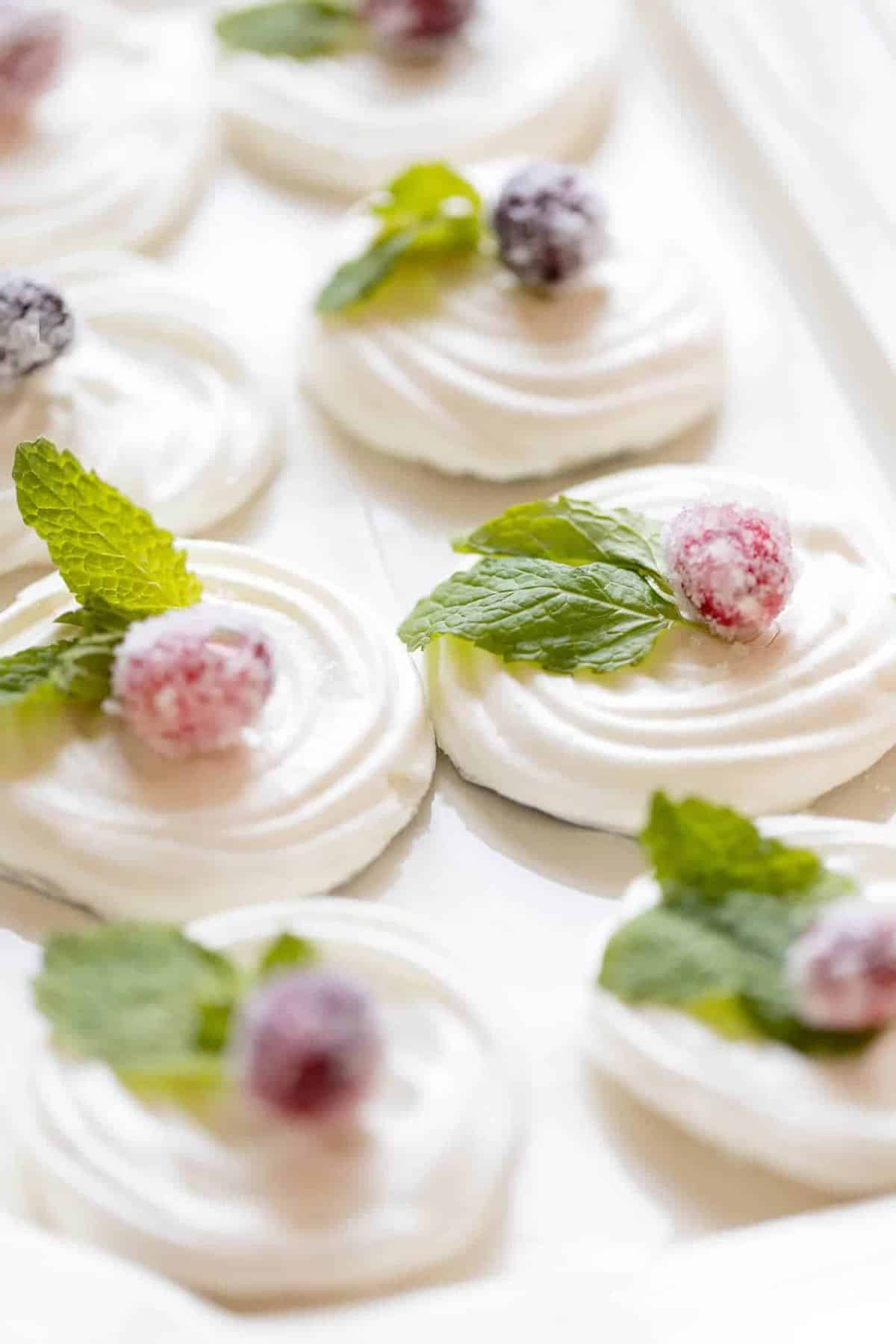 One of the most special traditionas? Baking! I've been developing and sharing recipes for years. That's led to far too many cookie taste-testing scenarios in my kitchen but it means a plethora of delicious baked goodies for you!
In fact, I've provided detailed tutorials and complete guides for everything from Baking with Yeast, to Pumpkin Desserts, Apple Recipes, and even a full Fall Cookie Guide, too.
This post is packed to the brim with tips, tricks, and suggestions for making your Christmas cookie baking so much easier and more fun! Use the convenient table of contents below and find all the printable recipe links at the bottom of this post!
The Best Christmas Cookies
Baking Christmas cookies is definitely one of my favorite traditions. Maybe my favorite! I love to gather with my girls in the kitchen baking up tasty treats to fill the cookie jar.
Christmas cookies make wonderful gifts for teachers, neighbors, and friends. The beauty of the holidays is that there is something for everyone. If baking cookies isn't your thing, I'm sure we can all get on board with eating them!
I'm going to share with you my best tips for baking Christmas Cookies. I've included tools, frequently used ingredients (so you can stock up, if desired!) and of course, my most requested, and favorite Christmas Cookie recipes and holiday treats.
All these Christmas Cookie recipes are so easy to make, festive and delicious! You can also find some of my favorite cookie frosting recipes, toppings, decorating tips and ideas.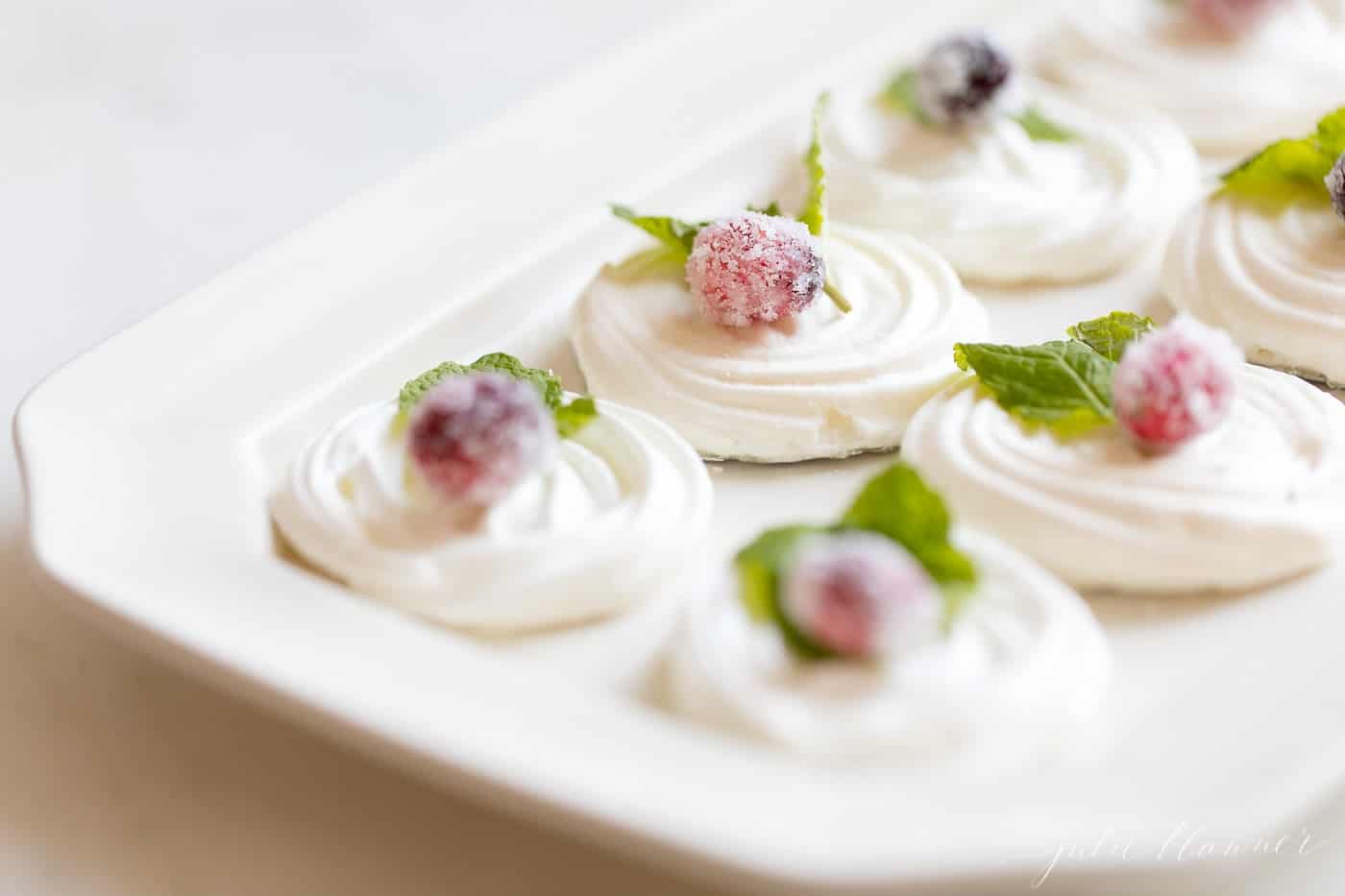 Easy Christmas Cookie Recipes
Christmas Cookies are always a favorite. It's the time of year when I take a little extra time to add a bit of sparkle to each cookie. In fact, we even make Salt Dough Ornaments each year- it's like baking and crafting combined!
Sugar Cookies are one of our favorite Christmas Cookie Recipes – they are always fun to make with kids, too! The girls love to help me make frosting and decorate them. The options are endless and each cookie is its own work of art.
If you ever feel overwhelmed by building a gingerbread house or cutting out gingerbread men, I have the perfect solution! Create a Sugar Cookie Candy House! It's so simple and SO much fun! It's a great Christmas activity without the fuss!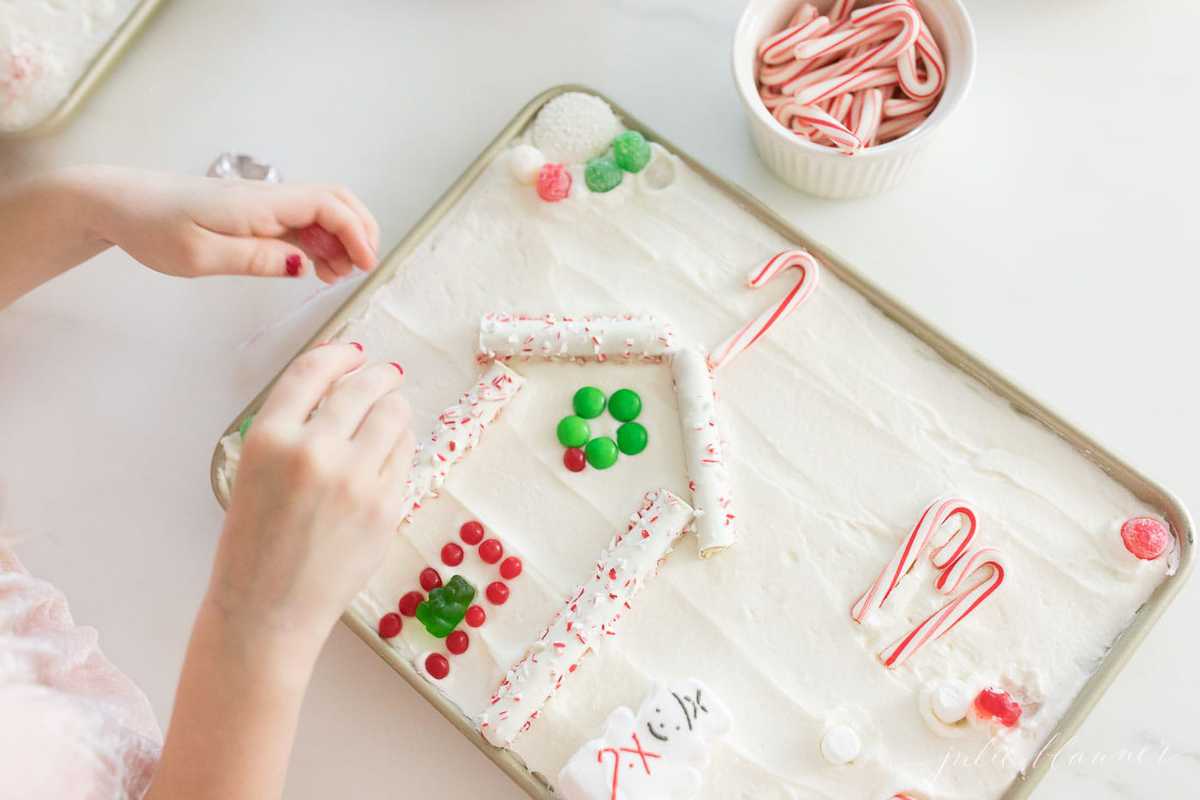 Christmas Cookie Decorations
During the holidays, I love to add a little extra flair to my Christmas Cookie recipes. I like to embellish my cookies with decorations… and even better, so do the kids.
Sometimes I've gone all out and other times I've taken a more simple route and with adding elegant coarse sugar crystals, lightly sprinkled on top as in my white chocolate cookies. It adds a delicate sparkle for the finishing touch.
Everyone I know loves a frosted and decorated cookie. Christmas cookie frosting is so delicious and smooth. It's the heavenly last touch, and finishing topping on an already perfect cookie!
Melted chocolate is a perfect finishing touch for cookies. You can drizzle over finished cookies or dip your baked and cooled cookies into the melted chocolate. You can even finish with a few sprinkles.
Here's a few great ideas for icing and decorating your holiday cookies!
Frosting Recipes
Sprinkles and Toppings
Coarse Sugar

Colored Sprinkles

Candies

Crushed Peppermint Candies

Mini Chocolate Chips

Chopped Nuts (pecans, walnuts, peanuts, almonds)

Coconut

Candied Fruit

Sugared Fruit

Hershey Kisses

Powdered Sugar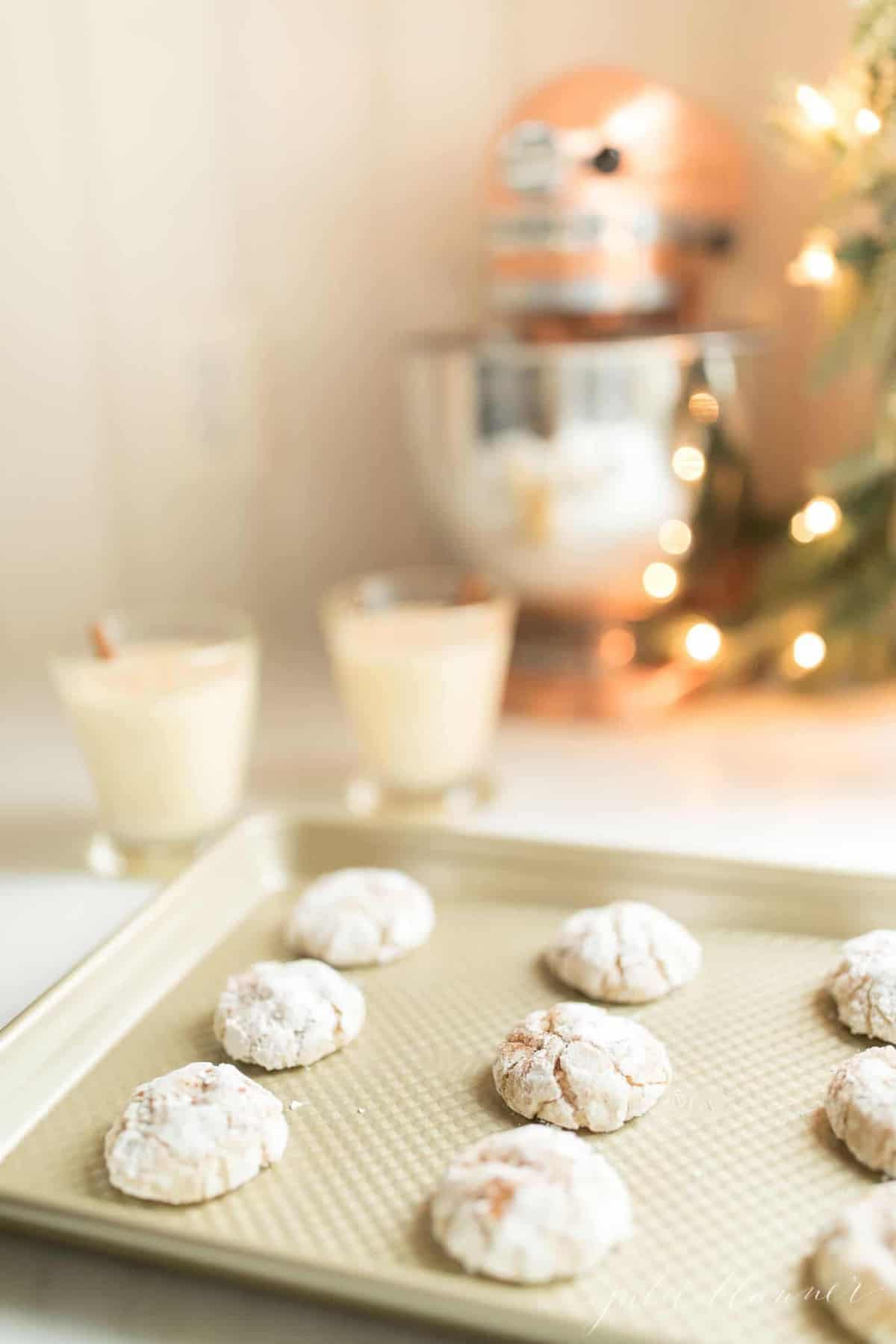 Christmas Cookie Baking Tips
Cookies only take a few minutes to bake. The time range is usually 7-10 minutes. The less time in the oven produces a more gooey cookie and more time equals a cruncher cookie. Testing your oven temperature and baking time with a pre batch of only 1 or 2 cookies before baking the entire batch will ensure the rest of the cookie batch is perfect!

Most ingredients, including refrigerated items such as eggs and butter should be brought to room temperature before using in your recipe.

Measure ingredients accurately, using liquid and dry ingredient measuring cups.

Level off dry ingredients using the dull side of a knife. This will ensure an exact amount without packing down your ingredient.

Read through your recipe beforehand to allow time for chilling, baking, and cooling your cookies.
You can sign up to receive my Best Baking Tips here!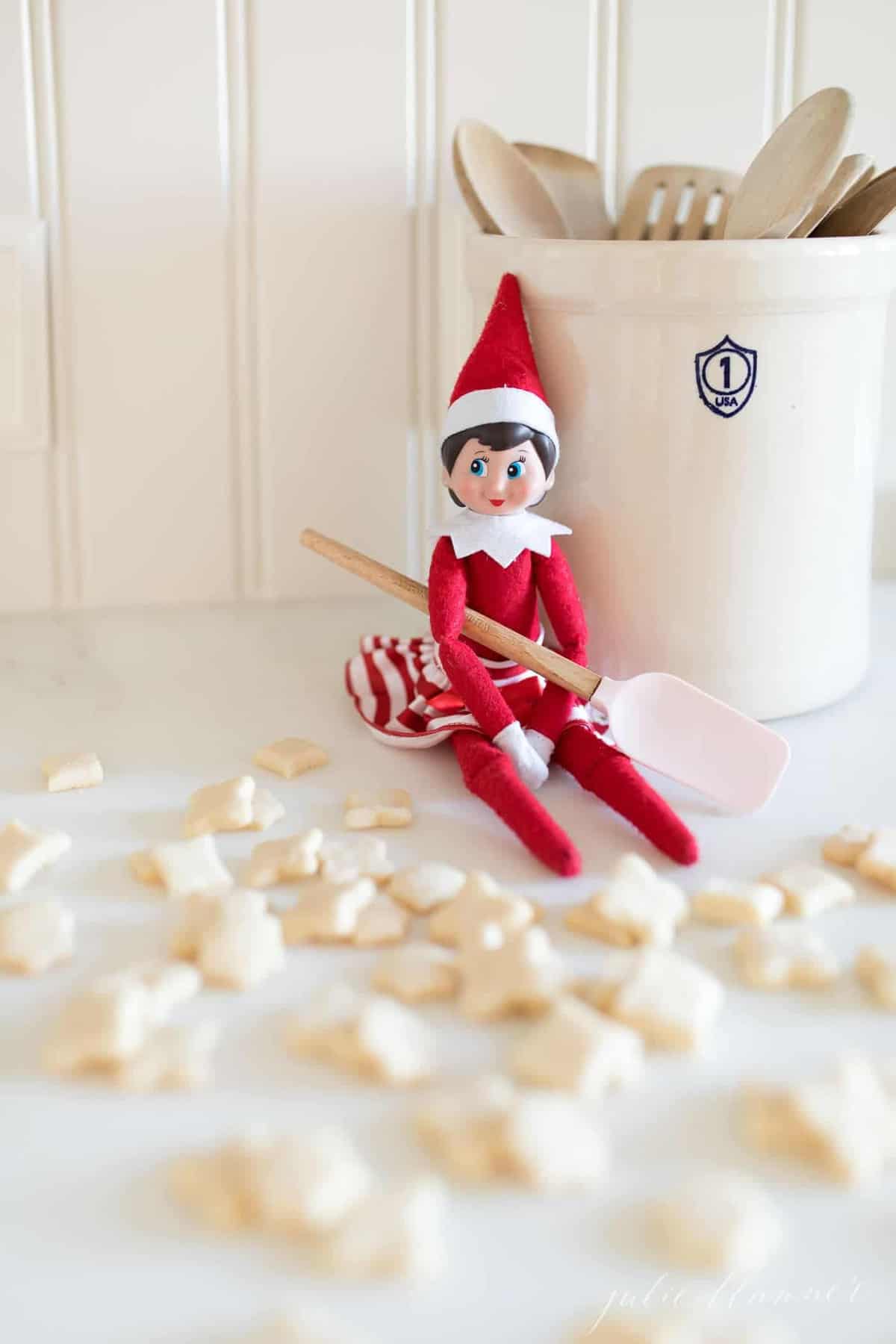 Storing Christmas Cookies
Christmas Cookies typically store quite well.
A Christmas tin or tupperware work perfectly as storage containers.

Fresh cookies will last at room temperature for about three days, up to seven depending on the style of cookie.

Cookies can also be frozen. Shortbread and Sugar Cookies freeze especially well. Use parchment to layer undecorated cookies in a freezer safe bag. Freeze up to 3 months.

Frozen cookies can be removed from the freezer and allowed to thaw at room temperature outside of their bag or container for several hours.

Cookies can also be microwaved to speed up defrosting.
Shipping Christmas Cookies
Choose wisely – some cookies ship better than others, like shortbreads, sugar cookies, etc.
Use food safe materials. Parchment paper is easy to cut to fit any box and of course, food safe.
Choose sturdy materials. If they need to be airtight, use tins.
Package your cookies inside a box, then fill a second box with packing material, insert the box and surround it with packing material.
Don't skimp on the packing supplies. Save peanuts, bubble wrap, etc to ensure that the box inside the box won't move.
Ship USPS Priority. It's quick, reasonable and can deliver anywhere…even military bases. Lesson learned.
You can get more details on how to ship cookies here.
Baking Tools
Cookie baking doesn't require many kitchen appliances or utensils, but a few well chosen ones are definitely helpful. I've outlined my favorites below as well as some alternatives!
It is me or is baking even more fun with beautiful bakeware?
Staple Ingredients for Baking Christmas Cookies
Stock up on these staple ingredients for all of your favorite Christmas Cookie recipes so that you can bake them up on a whim! You can also get my printable list of Essential Baking Supplies as well as this list of Baking Substitutions!
Dry Ingredients
White Flour

Granulated White Sugar

Brown Sugar

Powdered Sugar (also called Confectioners Sugar)

Course Ground Sugar Granules

Baking Soda

Baking Powder

Cream of Tartar

Salt

Ginger

Cinnamon

Nutmeg
Wet Ingredients
Cold Ingredients
Butter (salted and unsalted)

Cream Cheese
Specialty Ingredients
Cocoa Powder

Chocolate Chips

Chocolate Peppermint Chips

Peanut Butter Chips

White Chocolate Chips

Sprinkles

Shortening

Candies

Nuts

Peppermint Extract

Butter extract

Maple Extract

Almond Extract
Orange Extract
Cranberries
Orange Zest
50 Amazing Christmas Cookie Recipes
All the best, easy, Christmas Cookie Recipes and decorating tips for your annual Christmas Cookie bake day or holiday party. Fill your cookie jar with festive homemade cookies, frosted and decorated for the holiday season.
I hope you enjoy all of these Christmas Cookie recipes! I can't wait to hear which one is YOUR favorite!
More Christmas Inspiration