How to make the best Peanut Butter Cookies! These thick and chewy cookies are full of sweet and salty flavor and have a delicious crunch to them! Find out how to make the perfect cookies every single time with this easy recipe!

From the look of my Facebook post last week, it seems you loved my Marshmallow & Peanut Butter Cookie Cobbler Recipe. As I mentioned, I make full batches of cookie dough, but usually freeze at least half of it for cobblers, "just one cookie" moments and when the girls' school requests them last minute.
I consider Chris a cookie connoisseur. If there is a cookie in sight, he'll test it. He can't resist my peanut butter cookies!
They're the perfect combination of sweet and salty, soft, yet chewy and crunchy. These cookies are rich in peanut butter flavor. They're even more amazing warm! Serve them just out of the oven or warm them up for 10 seconds in the microwave for the ultimate treat!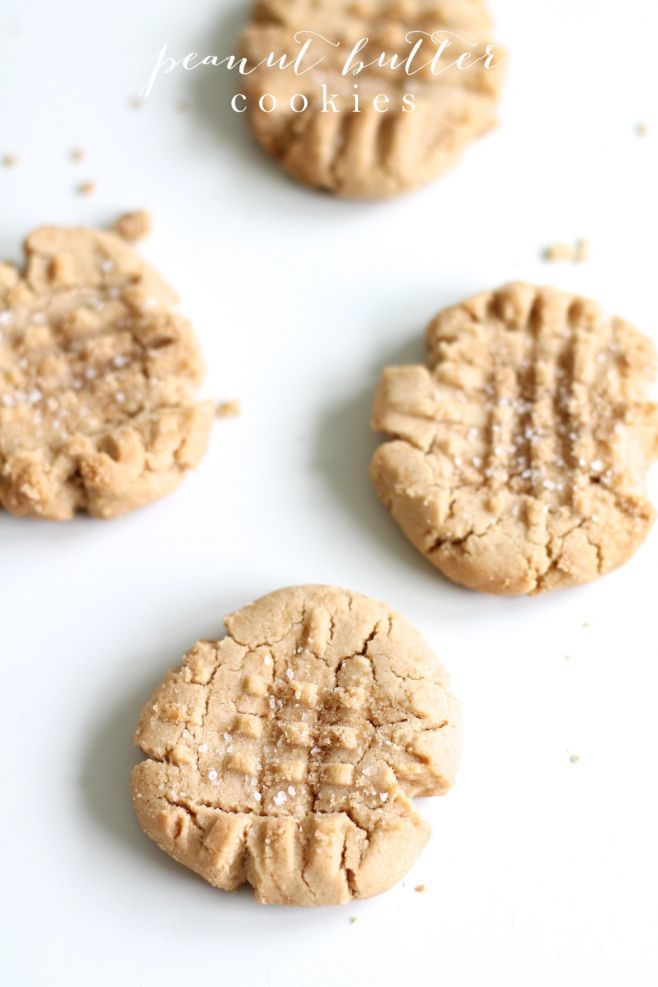 Peanut Butter Cookie Ingredients
Peanut Butter cookies are classic for a reason! They're quick, easy and made entirely from staple ingredients
Peanut Butter: Use your favorite peanut butter; natural, creamy and crunch all work well.
Brown Sugar, butter and sugar: All the basics for the best cookies!
Vanilla: To add an extra layer of flavor and sweetness.
Baking powder and baking soda: The addition of baking powder gives these cookies a little added rises and balances the acidity of baking soda. The combination also results in a beautiful brown color when baked.
Flour: You will need a good all purpose flour
Salt: Adds a hit of saltiness to this sweet cookie recipe.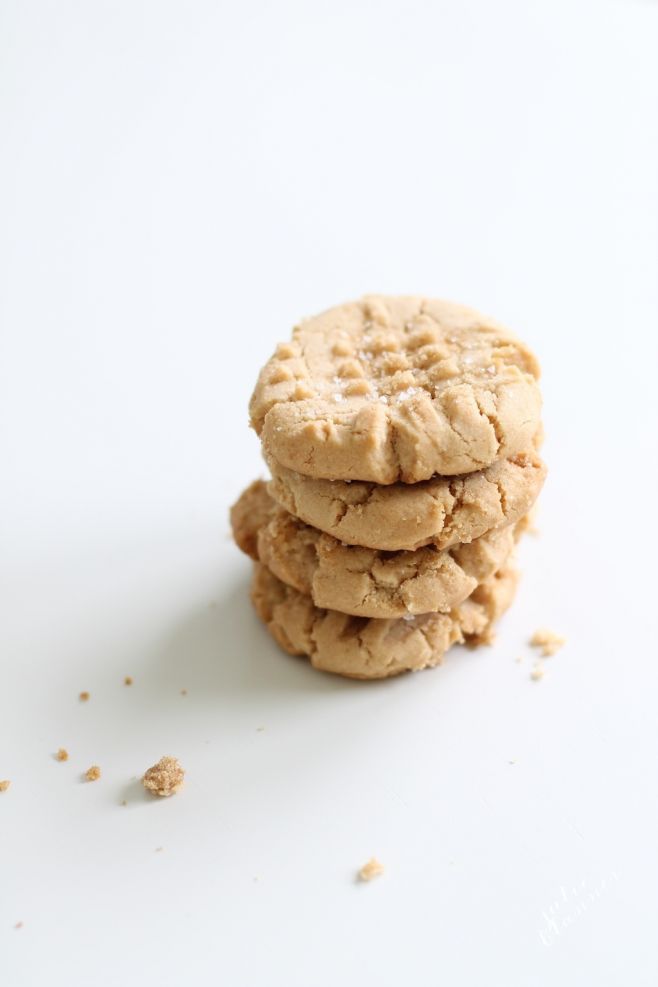 How to Make the Best Peanut Butter Cookie Recipe
There's just a few steps to make these simple Peanut Butter Cookies. If you want to skip my tips, tricks and secrets, you can scroll to the printable recipe card below.
Cream the butters, sugars, and vanilla in a large bowl. Add eggs.
Combine dry ingredients.
Gradually blend dry ingredients into peanut butter mixture.
Drop dough balls onto a prepared baking sheet or sheet lined with parchment paper.
Secrets to Make the Best Peanut Butter Cookies
First, I roll the dough into balls. The key to their size and shape, as with most cookies, is refrigerating the dough. I know it's hard to wait, but so worth it!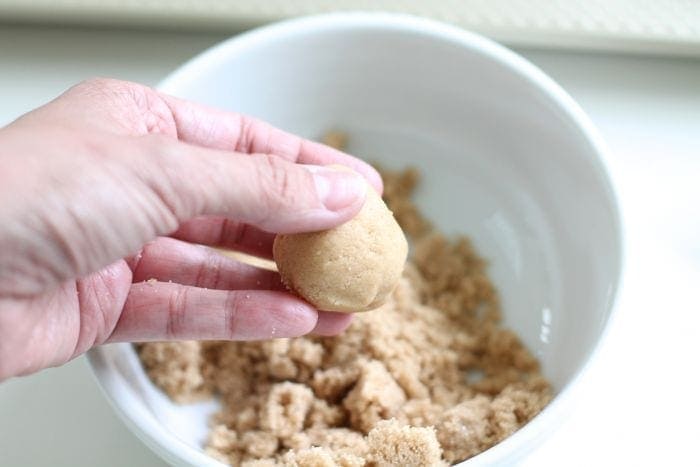 Roll your peanut butter cookie dough in brown sugar for a little added crunch. Granulated sugar adds great texture and makes these cookies stand out among the rest!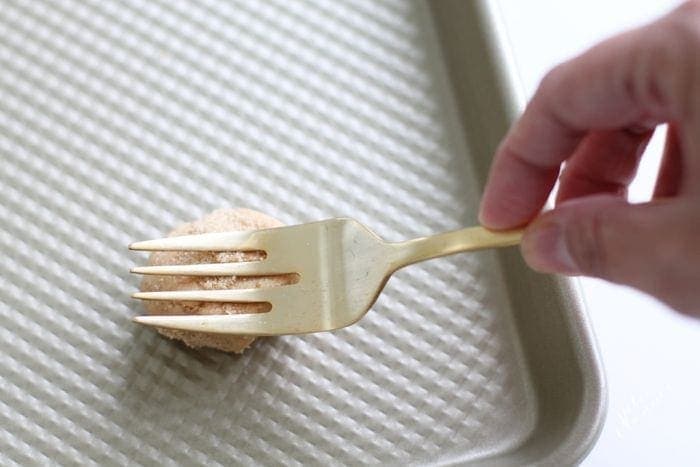 Press the dough in a criss cross pattern with a fork on the baking sheet. This gives them pretty bakery style design.
And now onto my favorite secret – the moment you've all been waiting for…
Add a few cracks of sea salt on top just before baking.
This takes ALL cookies and cookie cakes OVER THE TOP!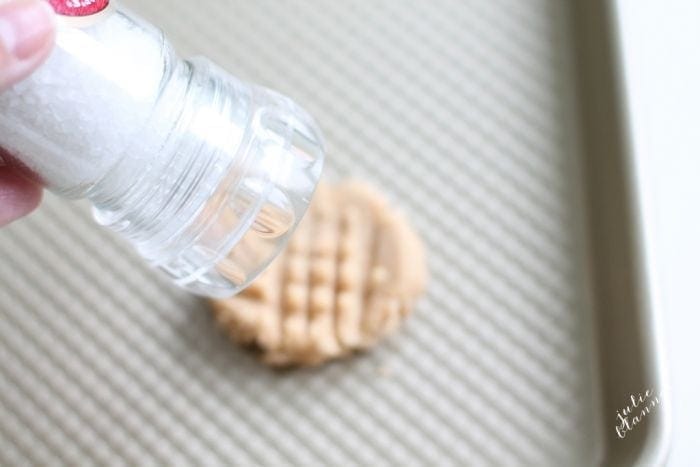 And add a little crack of sea salt to top. Set your salt grinder for the thickest flakes. They're pretty and add the incredible flavor to this sweet and salty recipe!
Variations for peanut butter cookies
Of course you don't have to stop there! You can add in chocolate chips, nuts, M&M's, Reese's Pieces, or Reese's Peanut Butter Cups! The options are endless!
Can You Use Natural Peanut Butter in This Recipe?
You can use natural peanut butter to make these peanut butter cookies, however, you may want to add a touch of salt. Natural peanut butter is often made from only nuts, and therefore is unsalted.
Regular peanut butter is made with oil and sugar so that it lasts longer. While I prefer creamy peanut butter, but you can use crunchy, too. Use whatever peanut butter you have and love!
Why Do Peanut Butter Cookies Have Fork Marks?
Fork marks on top of the cookies are a traditional design, that is thought to originate from a 1936 Pillsbury cookbook. Though there seems to be no real reason for the fork marks, it is thought that they help the cookies bake more evenly. The peanut butter makes the cookies denser, so it is harder for the to cook through. The fork lines help to flatten the cookies for a more even bake.
How Do You Know When The Cookies are Done?
Peanut butter cookies have a very short cooking time – less than 10 minutes, and it's easy to over bake them. Set a timer and check the cookies at 8 minutes. The edges should be light brown when cooked, you may need to take them out of the oven to check this.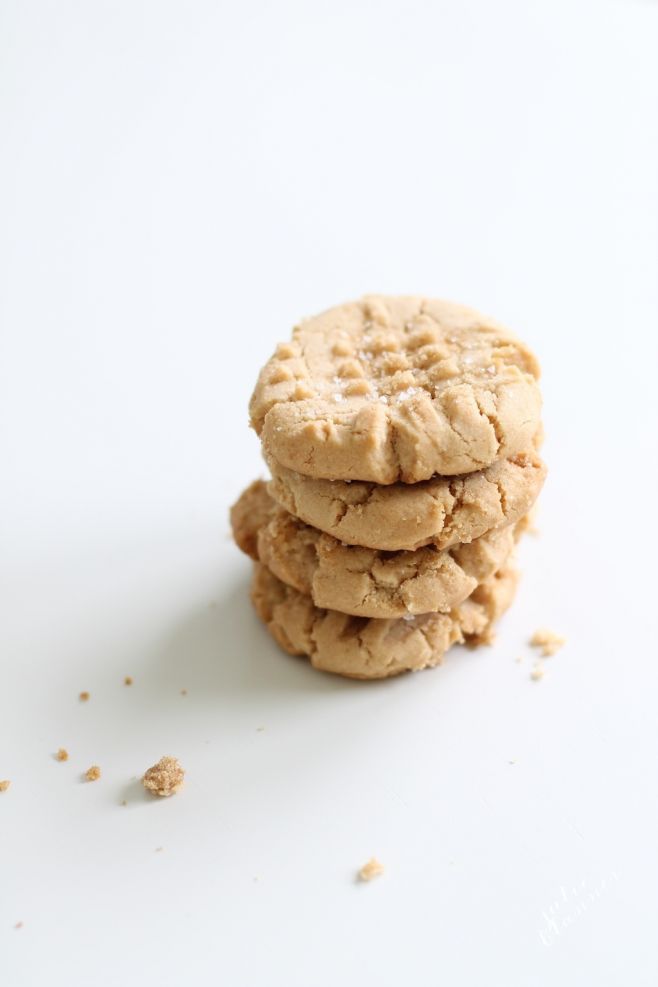 Tips
Refrigerate the dough for an hour before pressing into cookies.
Bake the cookies in a pre-heated oven for the best results.
Feel free to add in some chocolate chips to this recipe!
Store the cookies in an airtight container at room temperature for 3 to 4 days.
Hungry for more easy recipes? Sign up for my free recipe club and have amazing recipes delivered directly to your inbox each week!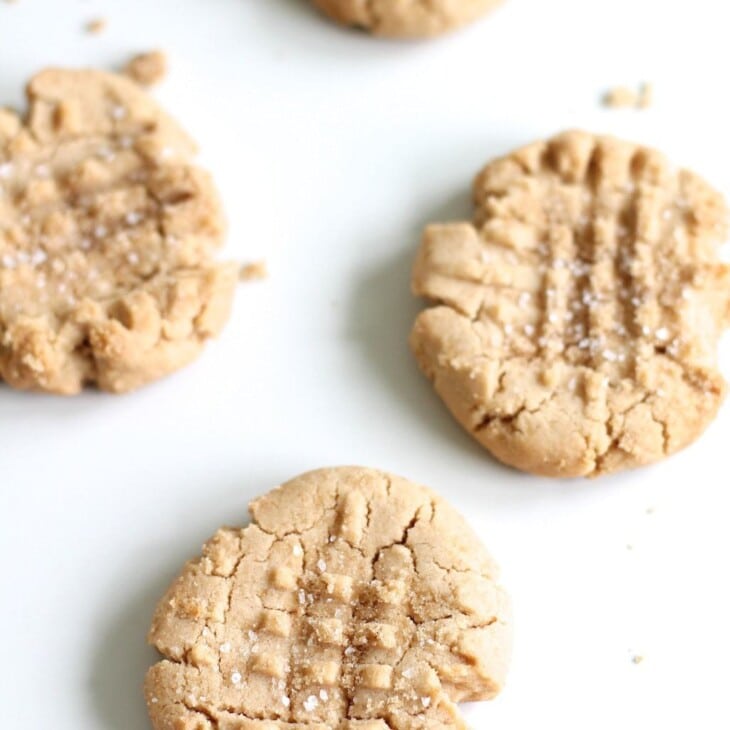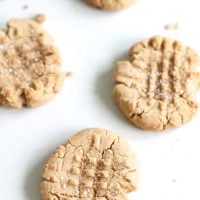 Best Peanut Butter Cookies
How to make the best Peanut Butter Cookies! This soft Peanut Butter Cookie recipe has a nice outer crunch and is full of sweet and salty flavor!
Instructions
Cream butter, peanut butter, sugar, brown sugar and vanilla until smooth.

Beat in eggs until just incorporated.

Combine flour, baking powder, baking soda and salt. Gradually blend into peanut butter mixture.

Roll into dough balls. Optional: roll in brown sugar.

Refrigerate dough 1 hour.

Preheat oven to 375 degrees.

Press dough balls onto cookie sheet with the back of a fork.
Tips
Add chocolate chips, nuts or Reese's Pieces.
Calories:
251
kcal
|
Carbohydrates:
29
g
|
Protein:
4
g
|
Fat:
13
g
|
Saturated Fat:
6
g
|
Cholesterol:
33
mg
|
Sodium:
252
mg
|
Potassium:
124
mg
|
Sugar:
18
g
|
Vitamin A:
255
IU
|
Calcium:
28
mg
|
Iron:
1
mg
Estimated nutrition information is provided as a courtesy and is not guaranteed.
Explore More