Get simple tips on how to pack and ship cookies that will look as beautiful (as taste as delicious) when they arrive as the moment you box them.
Learn how to ship baked goods in this comprehensive guide. You'll be sending your holiday treats to everyone on your list very soon!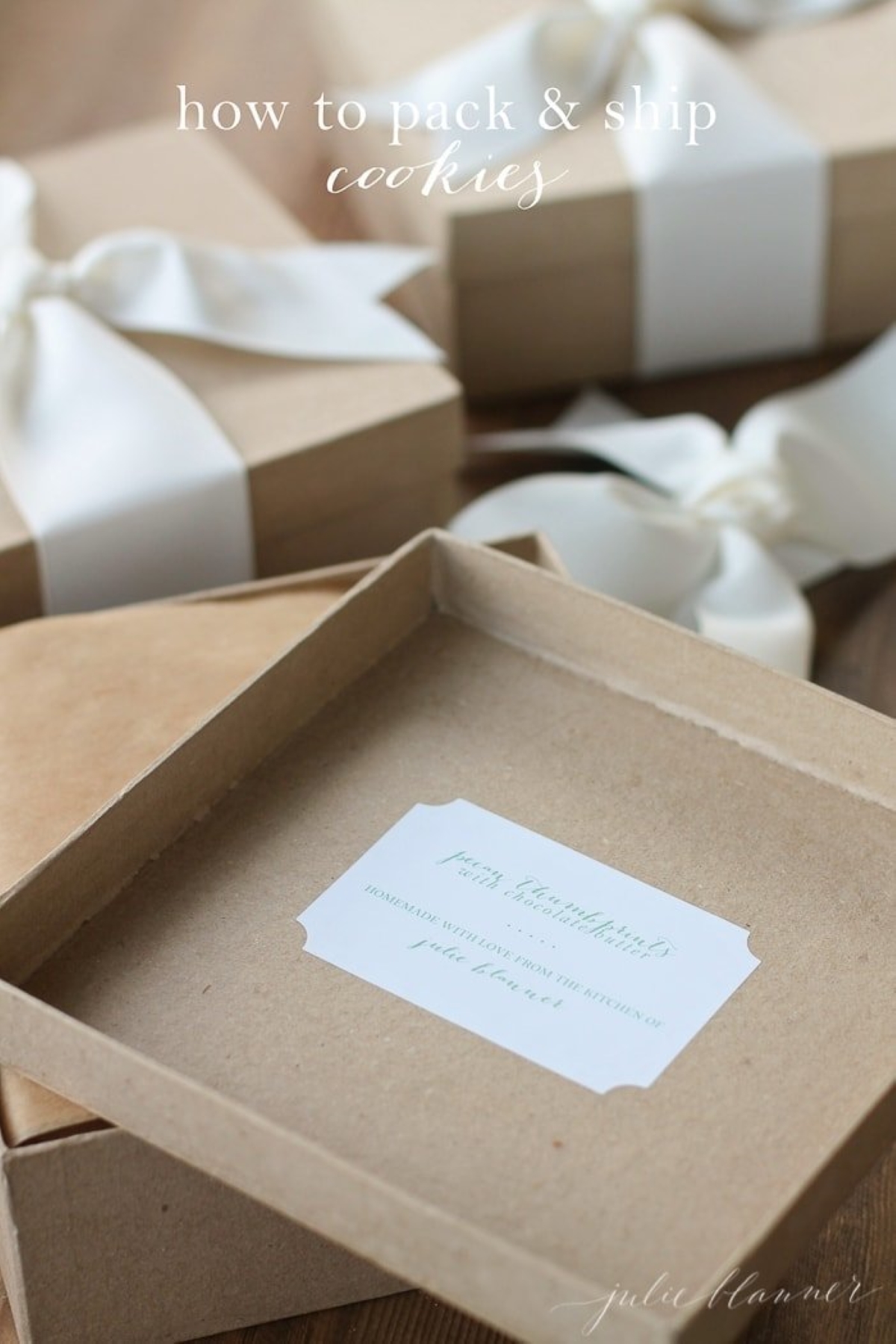 I am a big proponent of Homemade Gifts and Creative Christmas Ideas. In fact, this post with 50 of the BEST Christmas Cookie Recipes has been shared countless times!
There's nothing sweeter than sending Christmas cookies, but as I learned years ago, it's important to know exactly how to package and ship them.
How to Pack and Ship Cookies
Chris, I hope you're not reading this…when I was 18, I made my boyfriend my signature chocolate chip cookies and shipped them across country. Young, naive and just in love, I thought shipping them overnight via FedEx would be the best option.
It didn't even occur to me that FedEx couldn't deliver to a military box until they showed up on my doorstep a week later. The good news? While nearing the end of their freshness, they were perfectly intact.
Why? Because I knew how to pack and ship cookies. Well, almost. I've learned a few things along the way.
Here are my favorite secrets to ship picture perfect cookies that will remain fresh.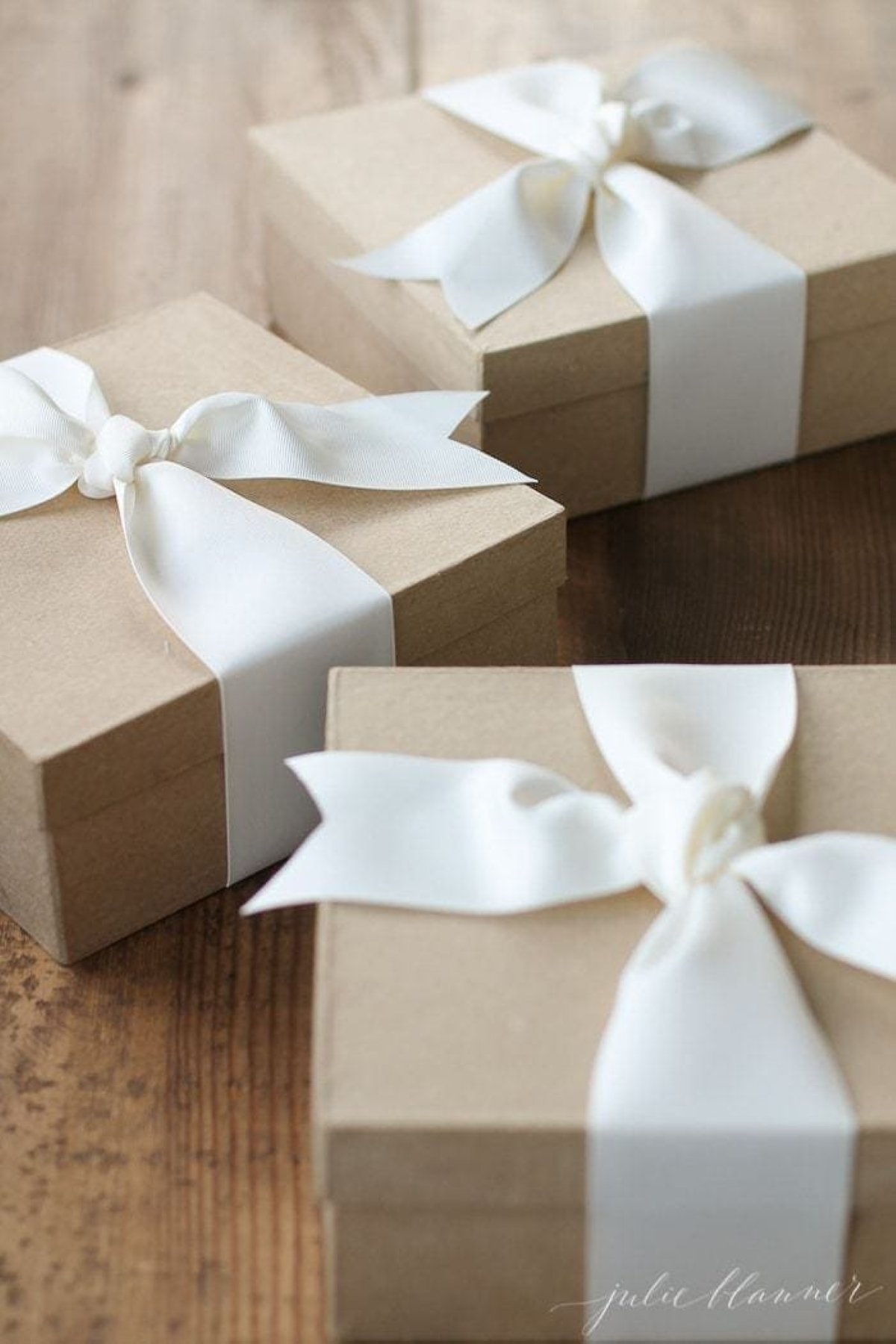 Quick Tip: If it shakes with you, imagine what it would do being tossed on and off trucks. We want them to look like this (below) when they open them.
Materials
Sturdy Boxes (like these paper mache ones pictured here)
Food Safe Packing Material like this paper shred.
Parchment Paper
Stickers or labels (optional)
Ribbon, for wrapping your gift box (optional)
A secondary box for shipping
How to Package Cookies
Start with a sturdy box that you want to present them in. Add food safe packing material so that they don't shift within the box.
Cut parchment paper to fit the box…this box is 8 inches wide and 3″ tall, so I cut paper 20″ so that it folds over beautifully and "seals". I use a paper cutter for straight lines. Place the parchment on top of the fill.
Add your cookies! If you're stacking them, cut a parchment square to fit to separate them.
If desired, add a labeled sticker. We're all more encouraged to enjoy something when we know what they are and who they came from.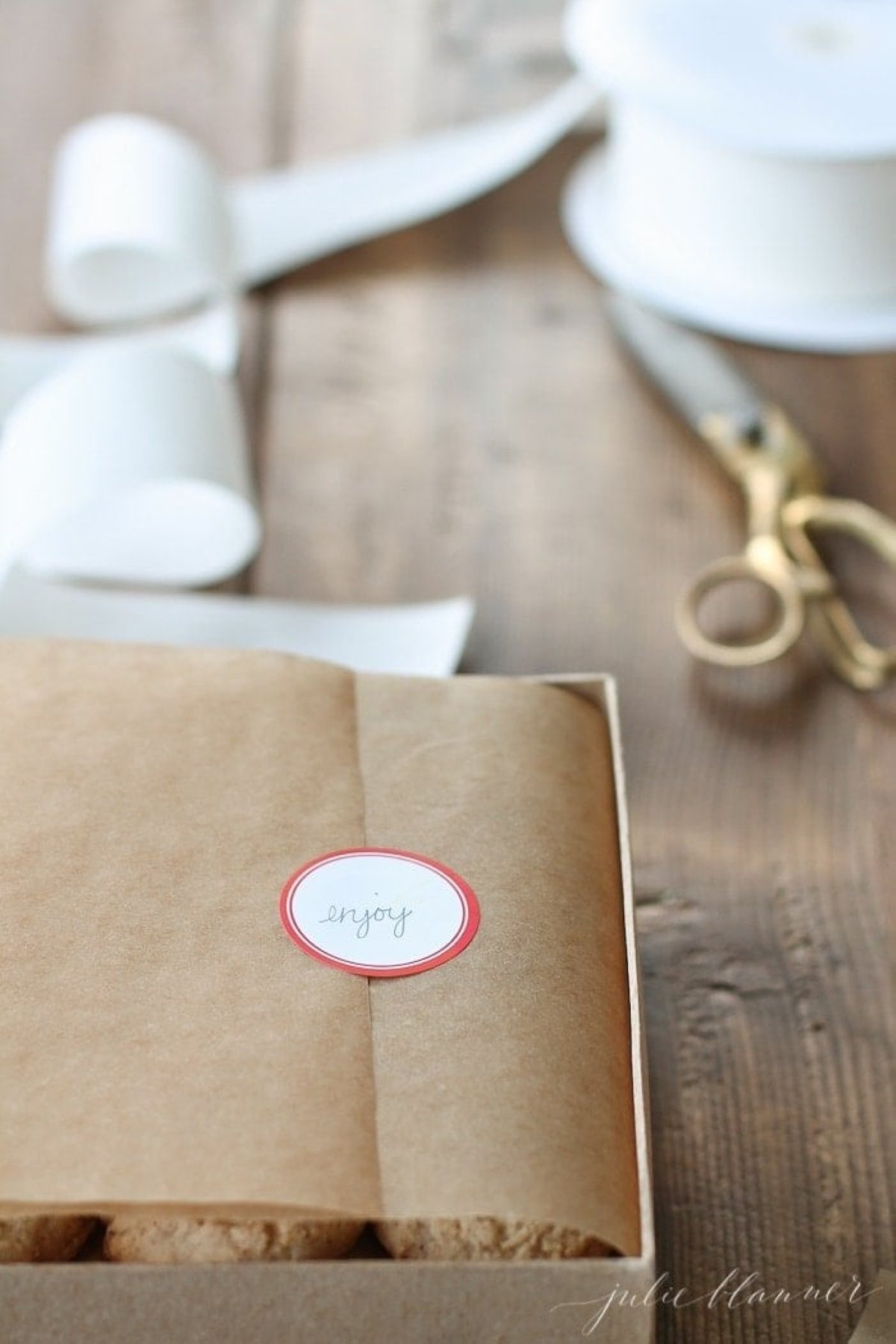 How to Ship Cookies
Tie the inner box with a ribbon to secure it, if desired.
Add plenty of packing material, insert your inner box into the shipping box, and fill with more packing material to secure your inner box.
Take to your drop-off location for shipping, and ensure that you're choosing a quick ship option to guarantee freshness upon delivery.
Tips
Choose wisely – some cookies ship better than others, like shortbreads, sugar cookies, etc. (See a list of great recipes for packing and shipping below.)
Use food safe materials. Parchment paper is easy to cut to fit any box and of course, food safe.
Choose sturdy materials. If they need to be airtight, use tins.
Package your cookies inside a box, then fill a second box with packing material, insert the box and surround it with packing material.
Don't skimp on the packing supplies. Save peanuts, bubble wrap, etc to ensure that the box inside the box won't move.
Ship USPS Priority. It's quick, reasonable and can deliver anywhere… even military bases. Lesson learned.
Are you mailing any cookies this Christmas? I'd love to hear!