Caramel Oatmeal Chocolate Chip Bars are thick, chewy cookie bars filled with the most decadent ingredients, and an irresistible crunchy topping.
They are so good, it's hard to stop at just one. Perfect in the fall, these caramel oatmeal cookie bars will shine as a dessert any time of the year!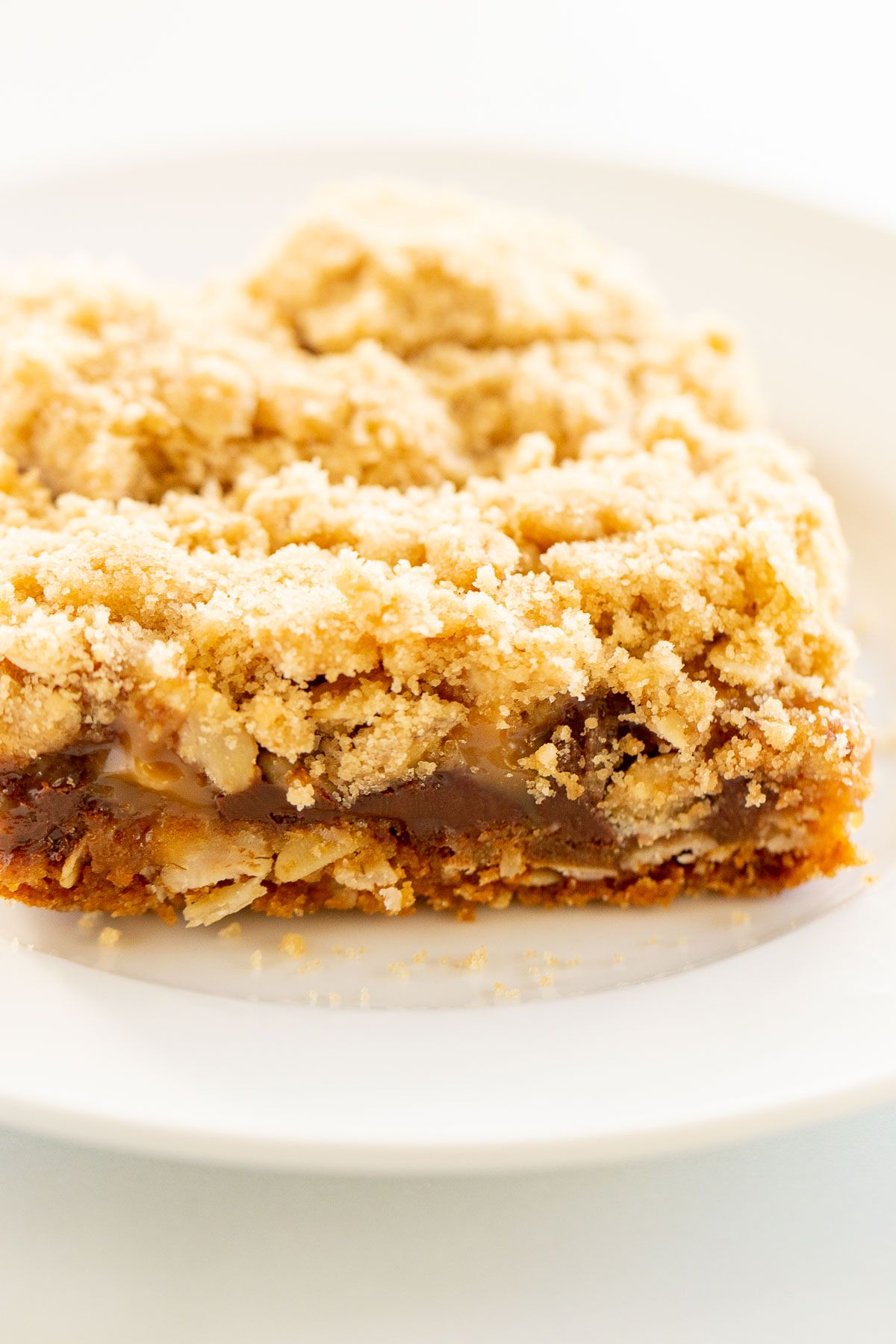 We were first introduced to these bars when we dined at local favorite, Ingredient in Kansas City. Chris couldn't resist their caramel oatmeal cookie bars.
I recreated this magical treat, and not to toot my own horn… but they're amazing. Fortunately they're incredibly quick and easy to make, too!
They're made with a thick oatmeal cookie base, topped with a layer of chocolate and creamy caramel and crumbly topping that browns to perfection.
The result is a decadent, easy-to-serve dessert that you can take to tailgates and bonfires or serve hot and a la mode for an evening entertaining at home!
I love cookie bars like Sugar Cookie Bars and Chocolate Chip Salted Caramel Cookie Bars because they're quicker and easier than having to make individual cookies.
Not to mention, every bite is like the deliciously chewy center! Instead of dropping dough onto cookie sheet after cookie sheet and spending your afternoon baking, you just drop it all into a 9×9 baking dish and slice!
What could be better? Let's learn how to make these fabulous treats!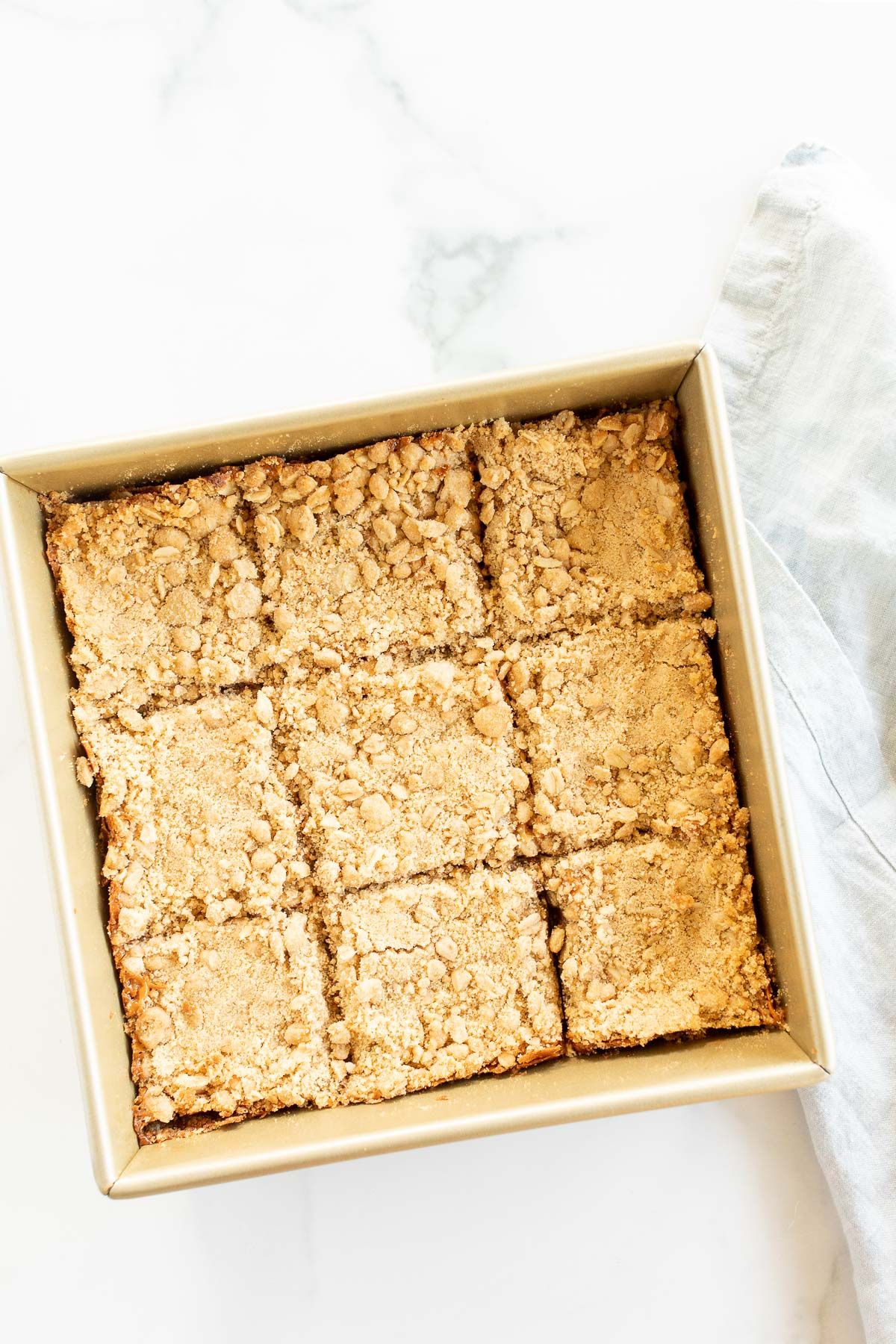 Why You'll Love Caramel Oatmeal Chocolate Chip Bars
Easier than trays of individual cookies
They're thick, chewy and delicious
Quick and easy
Versatile – you can serve warm for a decadent dessert or at room temperature on the go!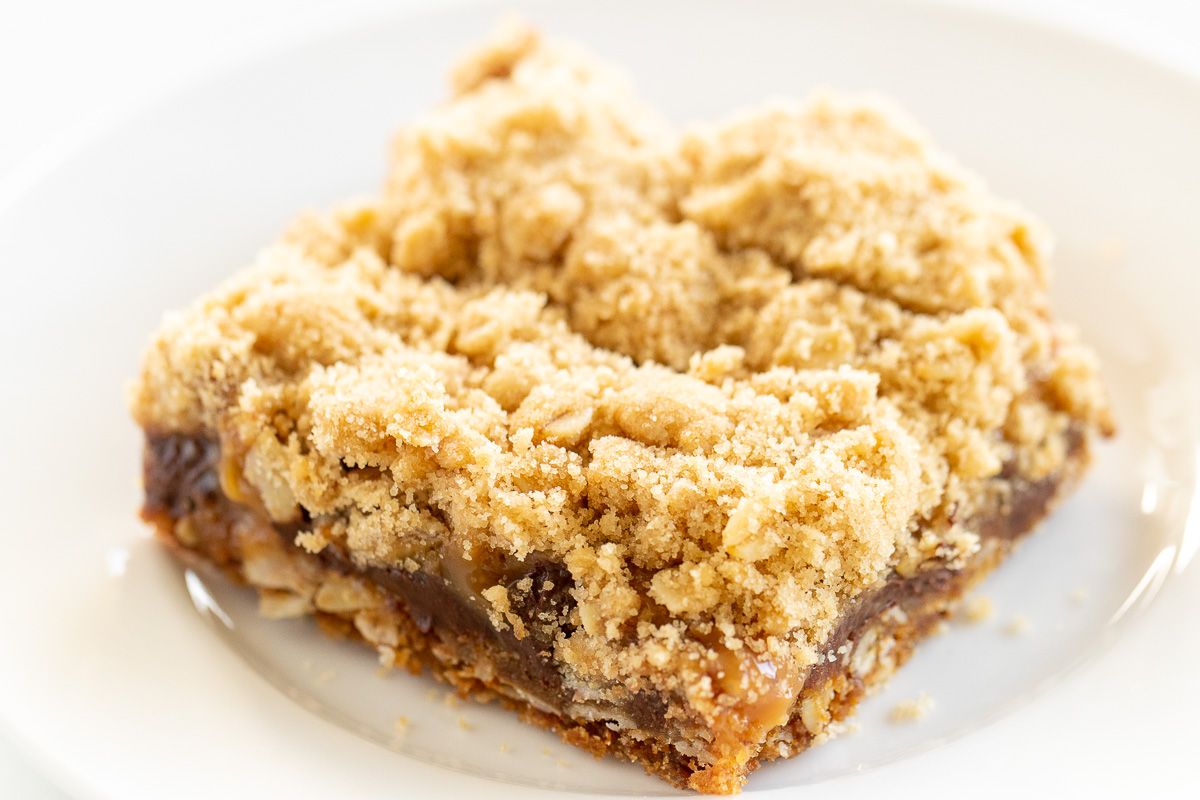 Caramels – Pre-wrapped caramels tend to melt the best yielding the creamiest caramel filling.
Heavy Cream – Also known as whipping cream to make the caramel sauce rich and decadent.
Butter – Salted or unsalted.
Brown Sugar – Adds great caramelized flavor and sweetens the bars.
Flour – All purpose flour makes the cookie base and crumb topping.
Oats – Rolled oats for added texture.
Baking Soda – The leavening agent.
Chocolate Chips – Semi-sweet or milk chocolate, your choice!
Add chopped nuts – walnuts or pecans are delicious in these bars.
Use dark chocolate to make these even richer.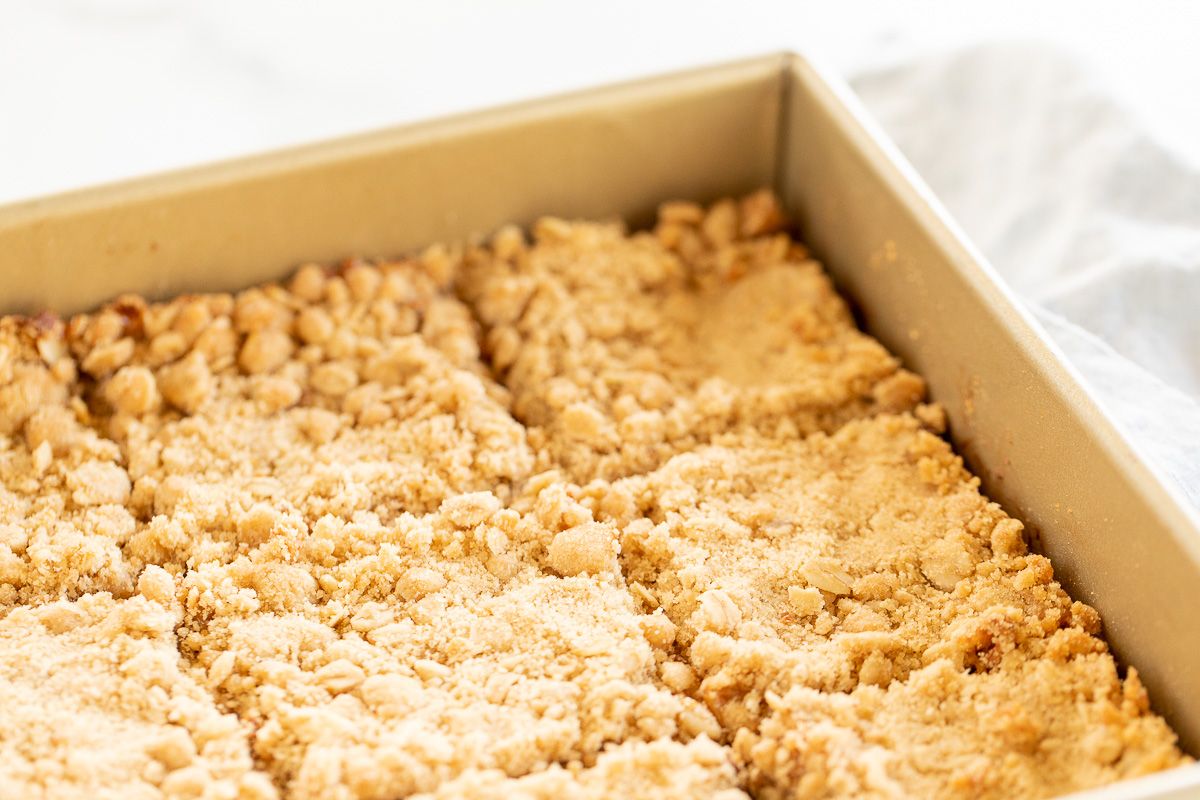 How to Make Caramel Oatmeal Chocolate Chip Bars
Prep – Preheat oven and line baking dish with parchment paper for easy cleanup.
Make Crumble Topping – In a small bowl combine flour and brown sugar.
Make Caramel Sauce – In a medium saucepan melt caramels and heavy cream.
Make Cookie Bars – Combine butter, brown sugar, flour, oats and baking soda. Press 3/4 of the bar mixture into parchment lined 9×9 baking dish and bake, reserving remaining 1/4 of cookie dough for the topping.
Top – Sprinkle with chocolate chips and cover with caramel sauce.
Now, make the topping by combining the flour and brown sugar with the remaining 1/4 of cookie dough you didn't use for the base. Add across the top of the bars.
Bake – Bake until golden brown, as directed, and cut while warm.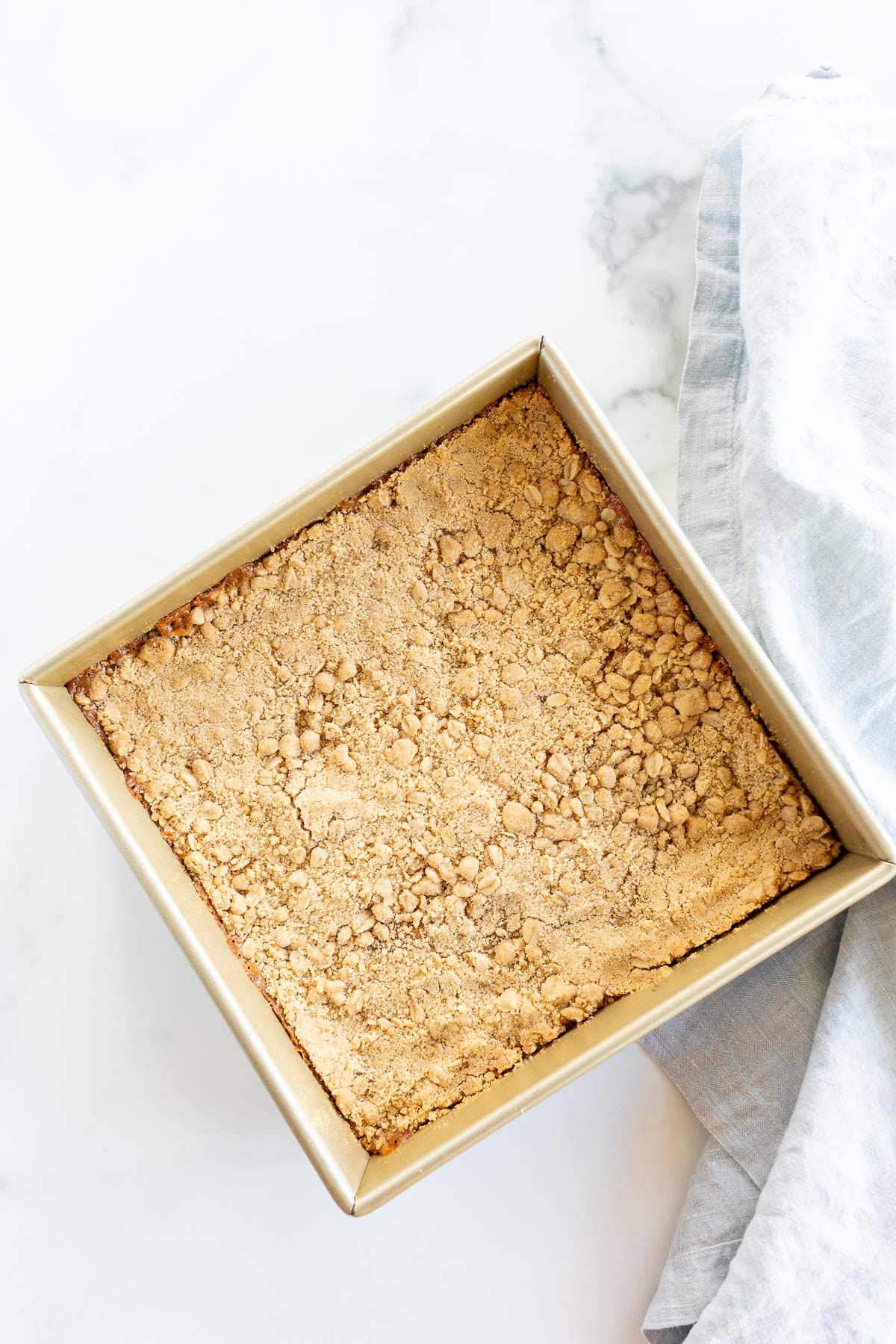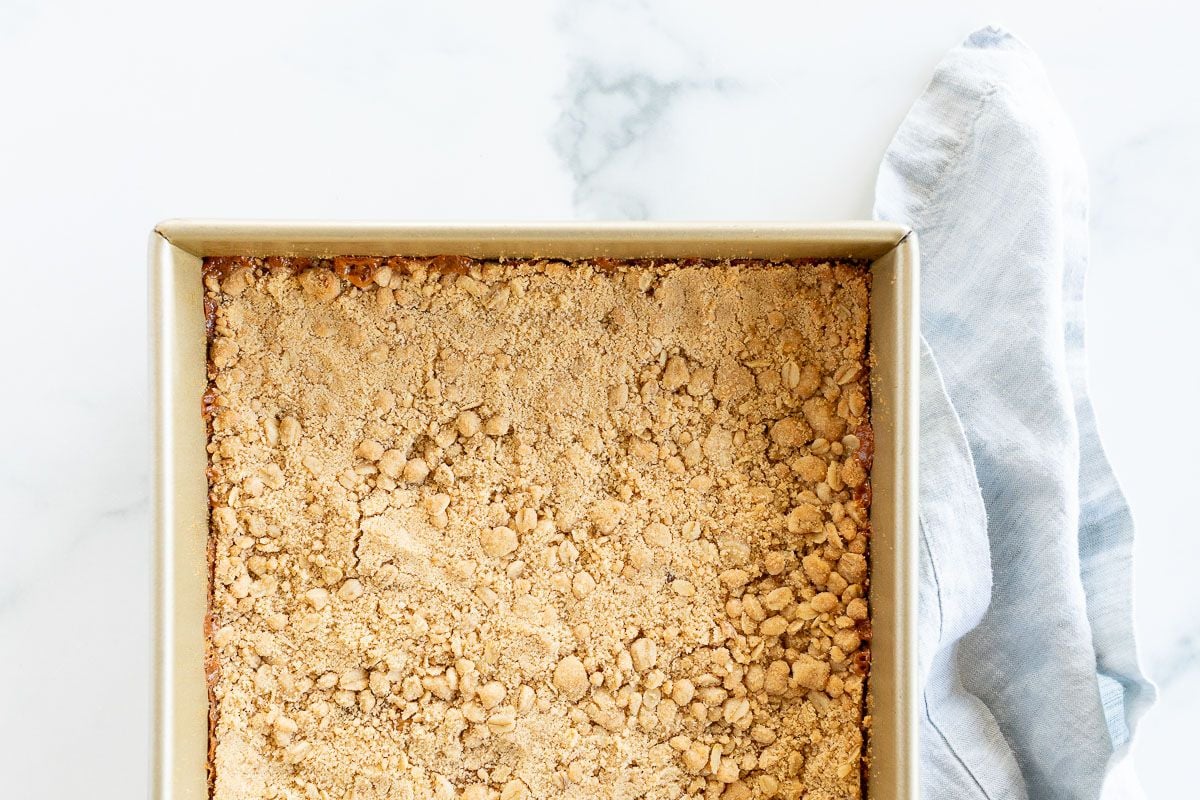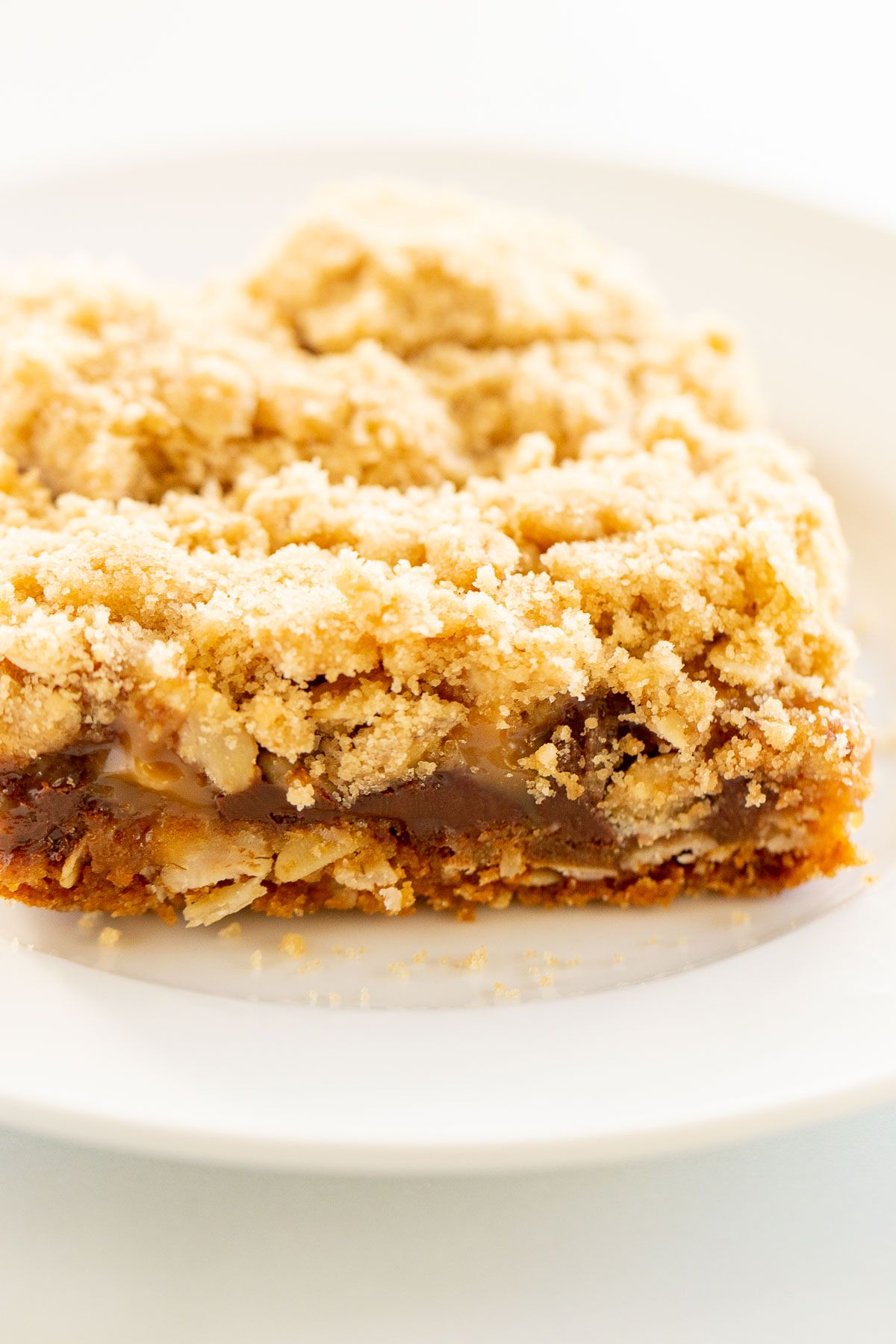 Shortcuts
Use Caramel Sauce – Simply eliminate caramels and heavy cream.
Use Store-Bought Cookie Dough
How to Store
Room Temperature – Store, tightly covered for up to 4-5 days.
Refrigerator – Store these caramel oatmeal bars in the refrigerator in an airtight container for up to a week.
Freezer – Yes, you can freeze these caramel oatmeal bars! Simply wrap tightly in an airtight container or plastic wrap, and freeze for up to three months.
Dietary Considerations
Gluten Free – Make oatmeal chocolate bars gluten free by substituting with gluten free flour.
Nut Free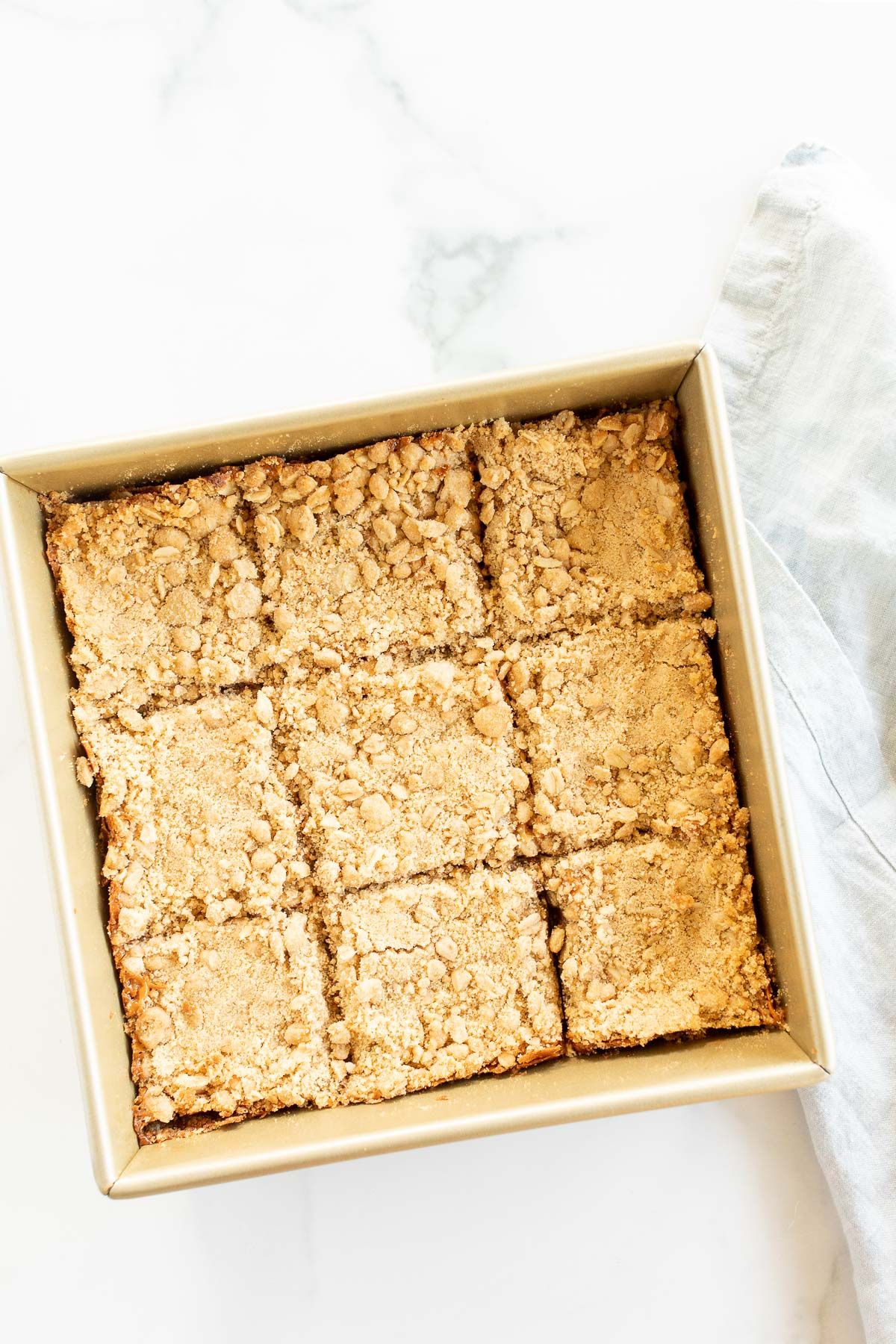 Hungry for more easy recipes? Sign up for my free recipe club and have amazing recipes delivered directly to your inbox each week!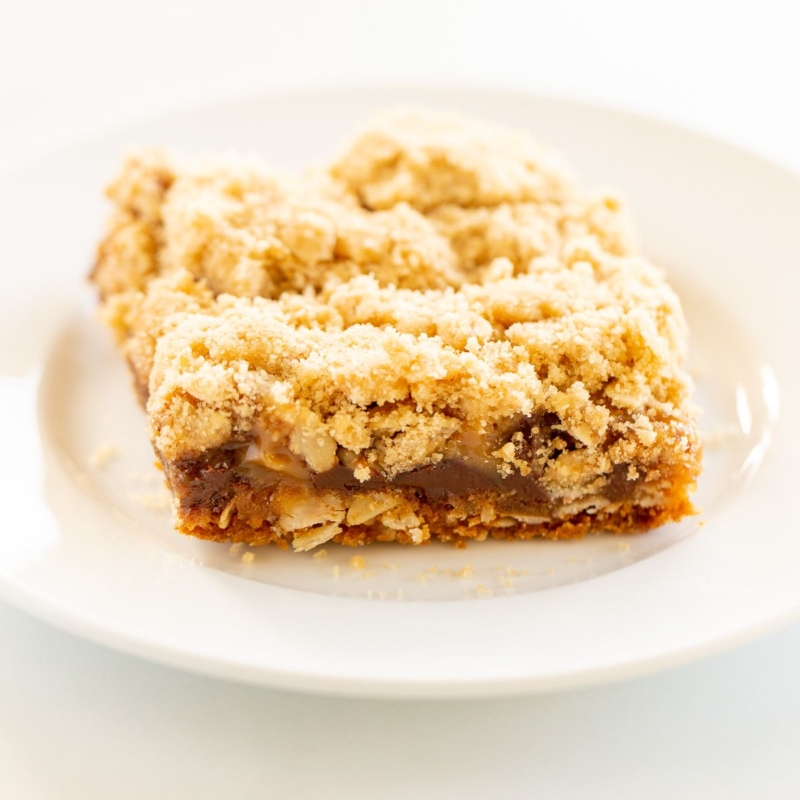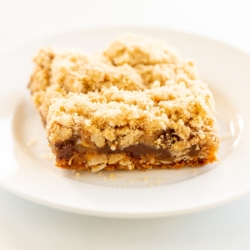 Caramel Oatmeal Cookie Bars (Mountain Bars)
Thick and chewy bars filled with oats, chocolate chips and caramel for the perfect bite, every time!
Ingredients
Caramel Sauce
28

caramels

unwrapped

½

cup

heavy cream
Instructions
Preheat oven to 350°F and line 9×9" pan with parchment paper or grease.

In a small bowl, combine flour and brown sugar to make topping. Set aside.

In a saucepan over low heat, combine caramels and cream. Stir frequently until smooth. Set aside.

Meanwhile, in a large mixing bowl or stand mixer, combine melted butter, brown sugar, flour, oats and baking soda.

Transfer just 3/4 of the mixture to the pan, and pat mixture in to fill. Reserve remaining 1/4 of the batter for the topping.

Remove and top with chocolate chips followed by caramel sauce.

Create topping mixture by combining the topping ingredients (flour and brown sugar) with remaining 1/4 of oatmeal batter. Spread across the top of the caramel and chocolate chips.

Bake 15 minutes. Remove and allow to slightly cool before transferring. Cut and remove while warm.
Tips
Substitutions and Variations
Caramels and Heavy Cream – Eliminate to substitute with caramel sauce for a quick shortcut.
Butter – Salted or unsalted.
Chocolate Chips – Semi-sweet or milk chocolate.
Alternatively, you can make thicker bars by using an 8×8 baking pan.
Tips
Line your dish with parchment for easy cleanup.
Cut while warm for easy removal.
Calories:
456
kcal
|
Carbohydrates:
65
g
|
Protein:
4
g
|
Fat:
21
g
|
Saturated Fat:
12
g
|
Polyunsaturated Fat:
2
g
|
Monounsaturated Fat:
4
g
|
Trans Fat:
0.5
g
|
Cholesterol:
45
mg
|
Sodium:
259
mg
|
Potassium:
132
mg
|
Fiber:
1
g
|
Sugar:
47
g
|
Vitamin A:
542
IU
|
Vitamin C:
0.2
mg
|
Calcium:
83
mg
|
Iron:
1
mg
Estimated nutrition information is provided as a courtesy and is not guaranteed.
Explore More