Modern Coastal Living Room Inspiration
Find modern coastal living room ideas in this tour of our lake cottage living room. This space was designed to feel light and airy, modern yet traditional and most importantly, a warm and cozy gathering place for friends and family.
With subtle nods to the nature and lake water outside our windows, this coastal living room is sure to inspire!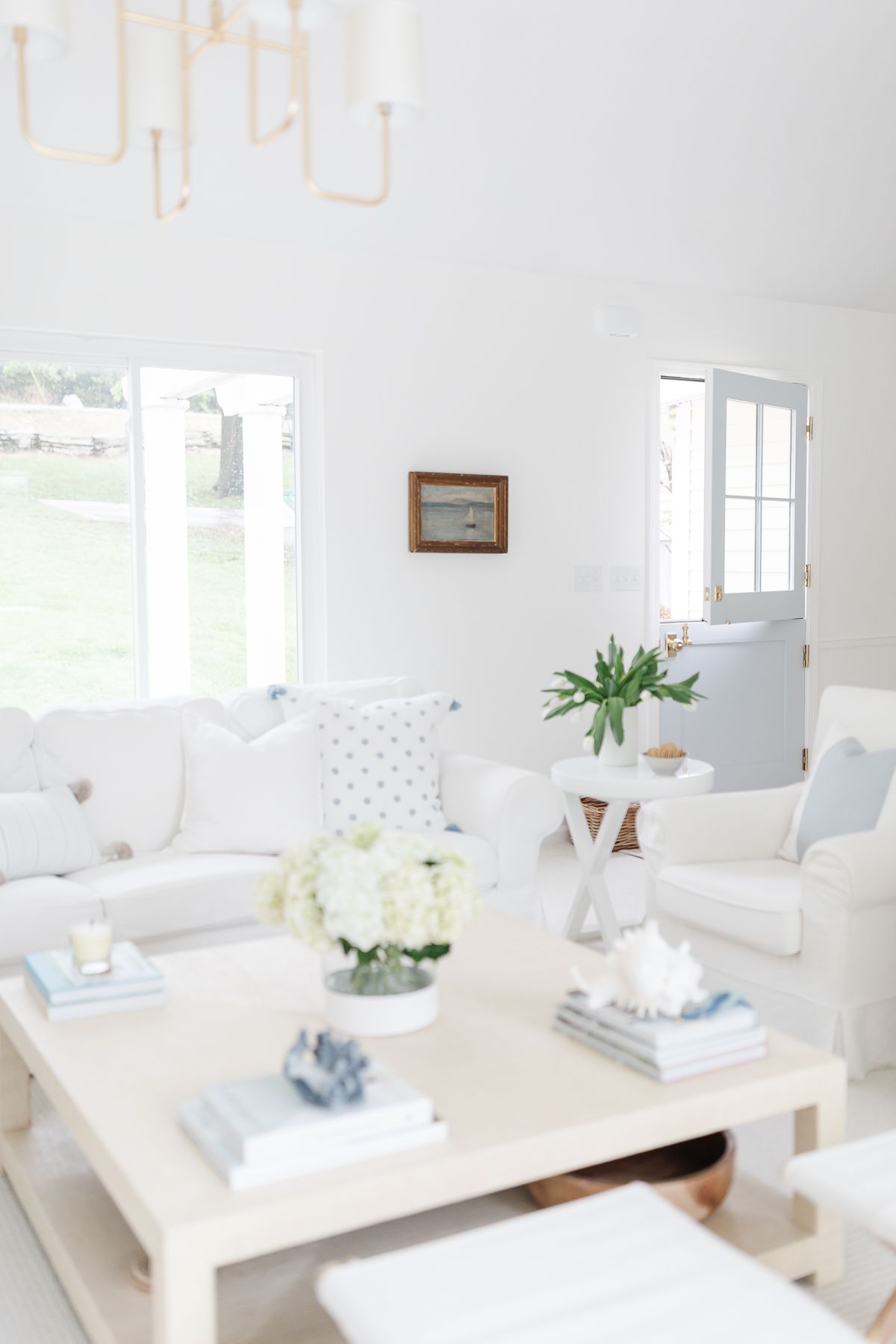 My philosophy has always been to embrace in the imperfections in life. This applies to many areas of our lives, but especially our homes.
When we bought our little lake cottage, I knew I wanted to take it in a more modern, clean lined direction to truly embrace the Simple Living we were looking for. No distractions – we don't even have a television in this house.
This modern lake house is the perfect home for us, with great views, an idyllic location and the right floor plan for our little family.
Because I hosted some friends here at the lake this week, I thought it would be fun to update you with our current view. It's a warm and cozy home, distraction free, and the perfect place to relax and rejuvenate.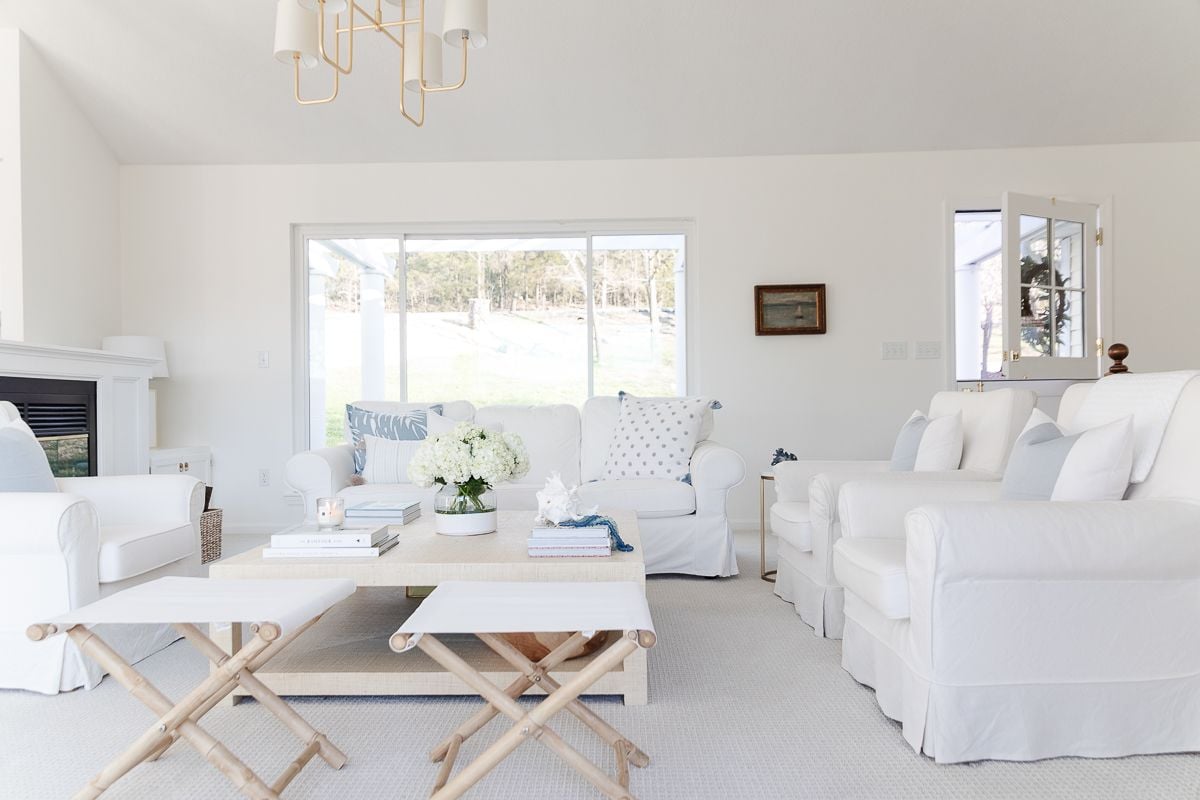 We've been so lucky to enjoy this little home away from home at Table Rock Lake, Missouri. In fact, I've written about all the things to do at Table Rock Lake, Table Rock Lake Restaurants, enjoying Branson with kids, as well as the best parts of Christmas at Silver Dollar City.
You've seen bits and pieces of our living room at the lake cottage over the past few years, but it really started coming together recently. You can learn more about how we transformed this space in the video in this post.
Today, I'm walking you through the details of this modern coastal living room. Who's excited? This girl, for starters! I love Coastal Modern Home Decor and Lake House Decor and can't wait to share!
I've received a lot of questions about sources – especially those not available in my shop. These modern coastal living room ideas are a blend of high and low and as always, they blend function and design.

In fact, find all my favorite Serena and Lily Dupes for more affordable inspiration!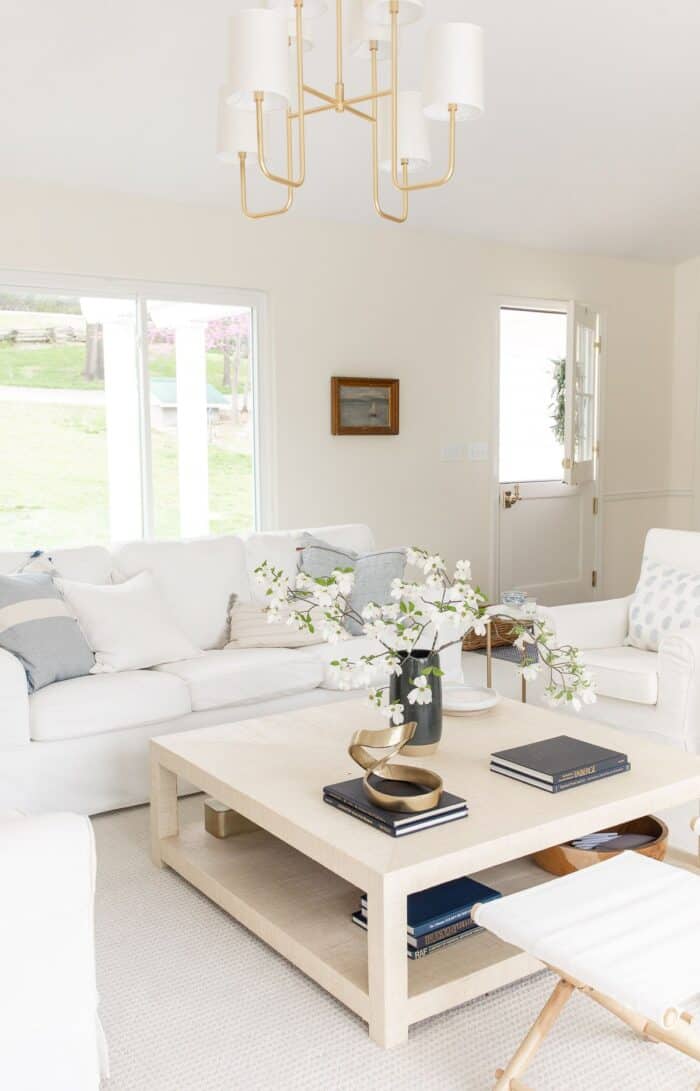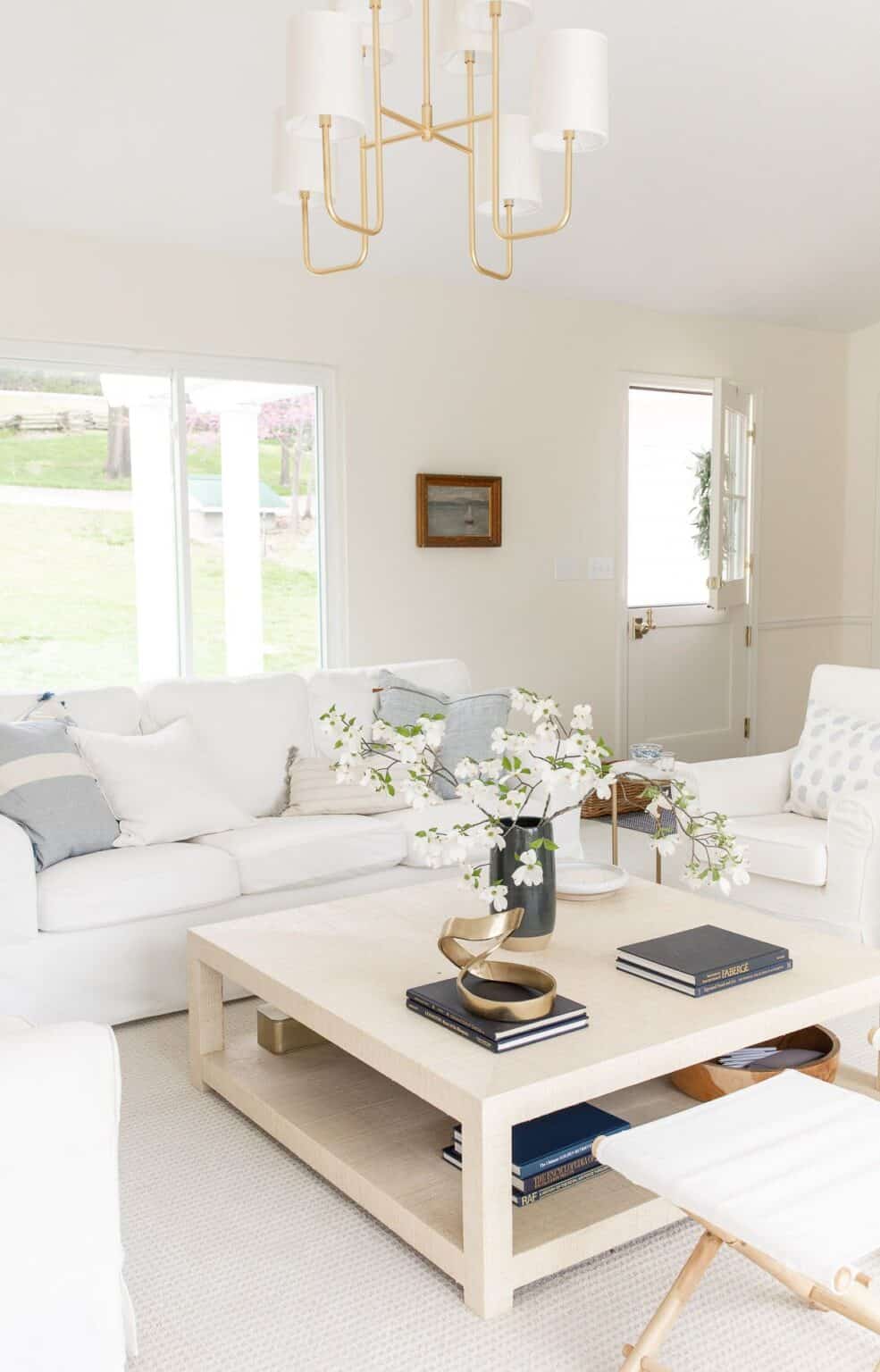 Of course, you might think of coastal living as a style that references beach themed cottage style. In our case, of course, we are in land-locked Missouri!
However, we are lucky enough to enjoy the calm, cool water views that influence coastal homes, as well. You don't need to live on the beach to bring a little coastal style home with you!
Modern Coastal Living Room
While we love the lake and wanted to incorporate some lake elements, we didn't want it to feel too kitschy either. We also didn't want it to feel like a dark, musty home often synonymous with the words "lake house".
Right when we were moving in, we made a couple impactful choices that helped change the whole space right away. I incorporated three things that really changed the way we live in this home and especially our living room!
a light paint color with reflective quality for the beginnings of a classic beach house color scheme
fresh, light patterned carpet
rock (yes, rock!) You've got to read it to believe it, friends.
Modern Coastal Living Room Seating
Since the lake cottage is a gathering place we share with family and friends, I wanted to incorporate plenty of seating.
A standard size slipcovered sofa and 4* slipcovered chairs (both from IKEA) offer comfortable seating for up to 8 with the ability to easily clean when needed. I accessorized them with pillow covers available in the shop.
We purchased the last three Jennylund chairs at our IKEA this spring. After several phone calls assuring they would return in six months, they have discontinued the chairs. So frustrating, but that's life!
I'm still hoping to find another at some point (I have the slipcover already). I set up a Craigslist alert and wanted ad and continue to scour ebay occasionally, but it never seems to appear.
Two folding stools offer flexible seating when needed and can easily be folded and stowed away. I'm considering having them recovered in leather to add another layer.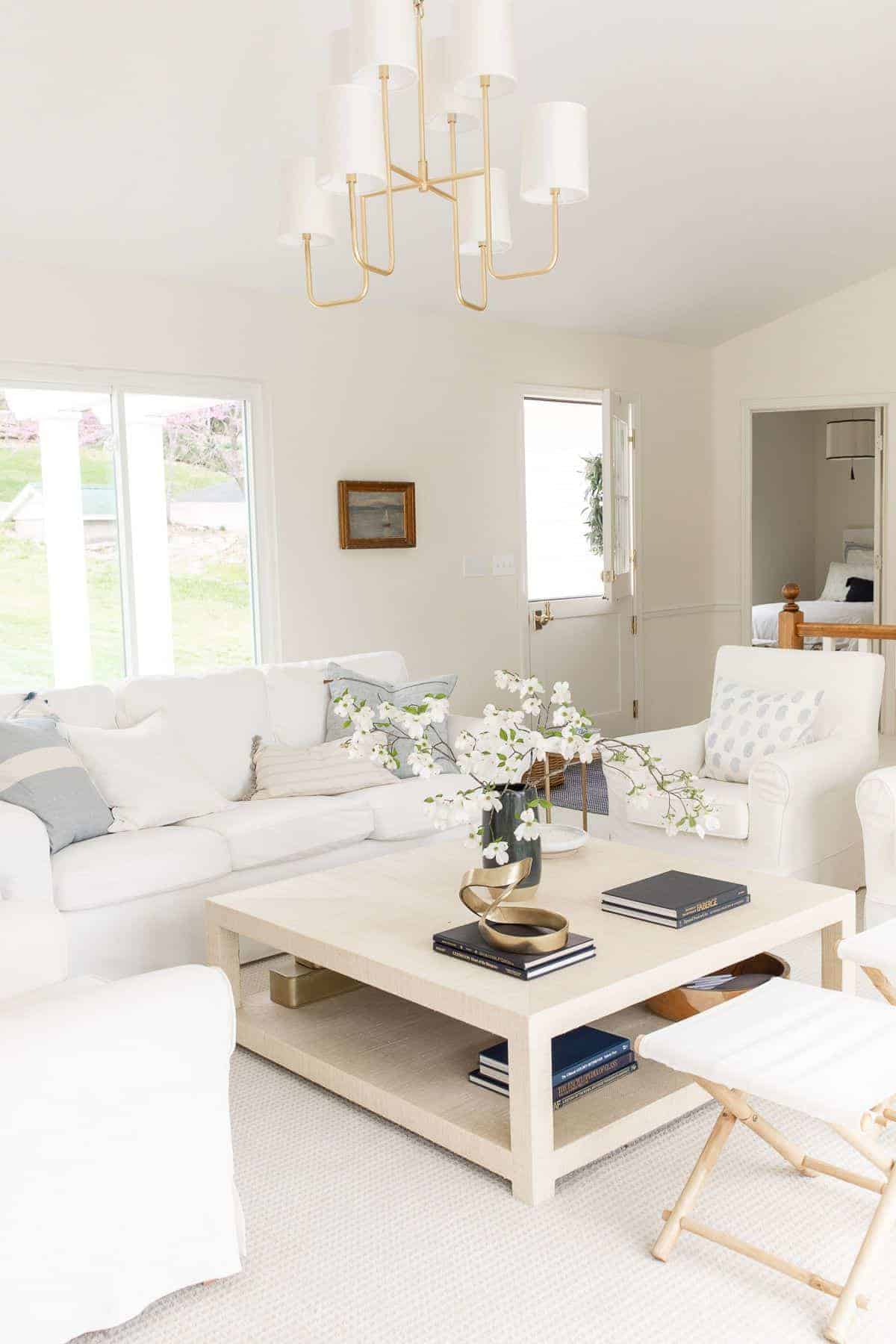 Coastal Living Room Accent Furniture
An oversized square raffia coffee table offers plenty of space for guests to kick up their feet or set a drink, storage for magazines and more, without the need of consuming additional space for side tables in walkways.
The combination creates an intimate seating area. It also adds a layer of texture.
Similarly, the bar cart in the nook between the stairs and windows was such a perfect fit! I love the texture it adds as well as the function. It's such a cute way to serve drinks and snacks!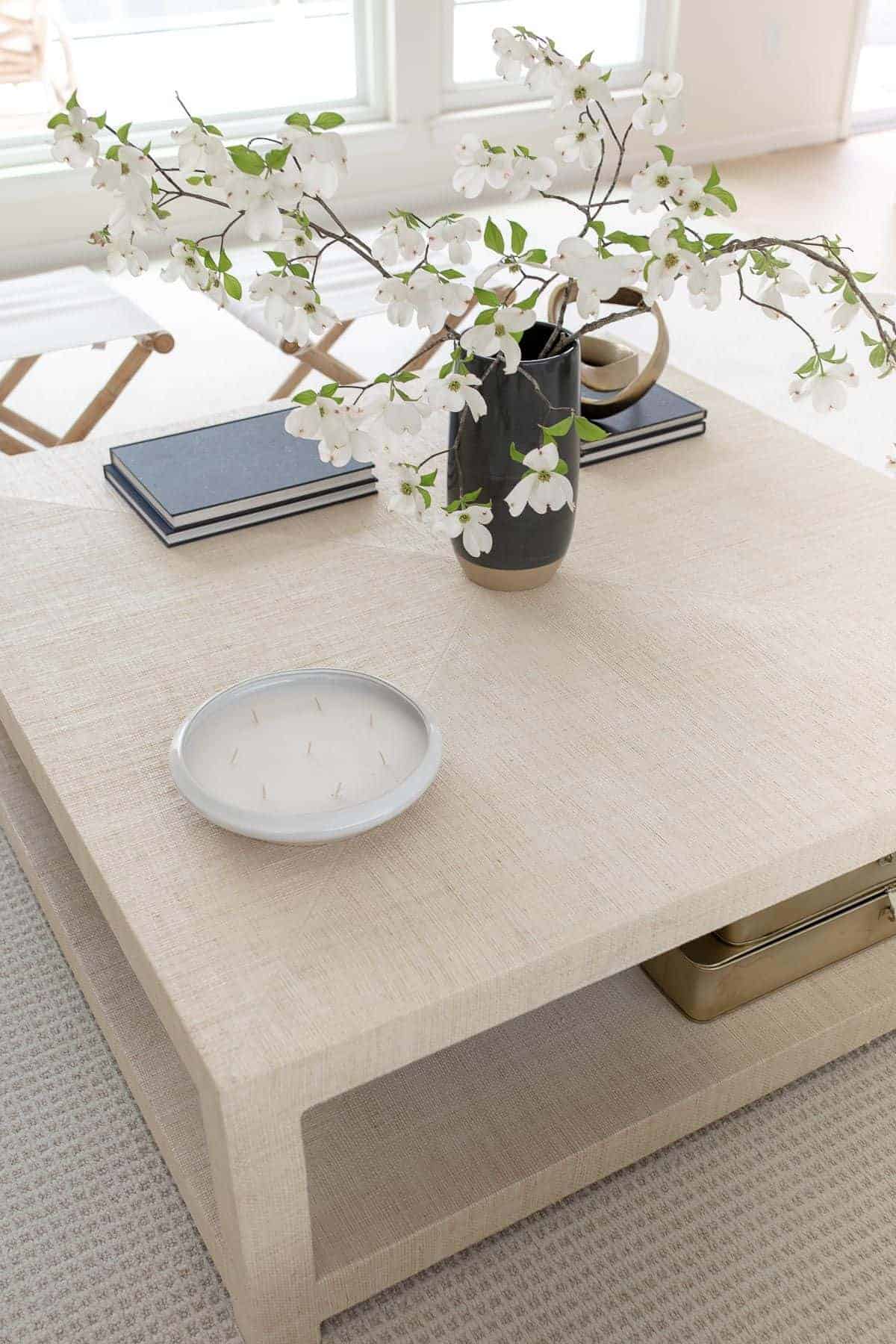 Modern Lighting
I also added a chandelier overhead to create more ambience and add much needed light at night. These light fixtures feature clean lines but add a traditional feel.
You can find the sconces that coordinate here – we have them in the hallway and it's open to the space so it's a pretty connection.
The living room had two previously awkward nooks – one with a cabinet we store games in. To define it and add a little height, I incorporated a lamp.
There's also a sweet pineapple lamp on the bar cart in this room. You can never have enough lighting, in my opinion!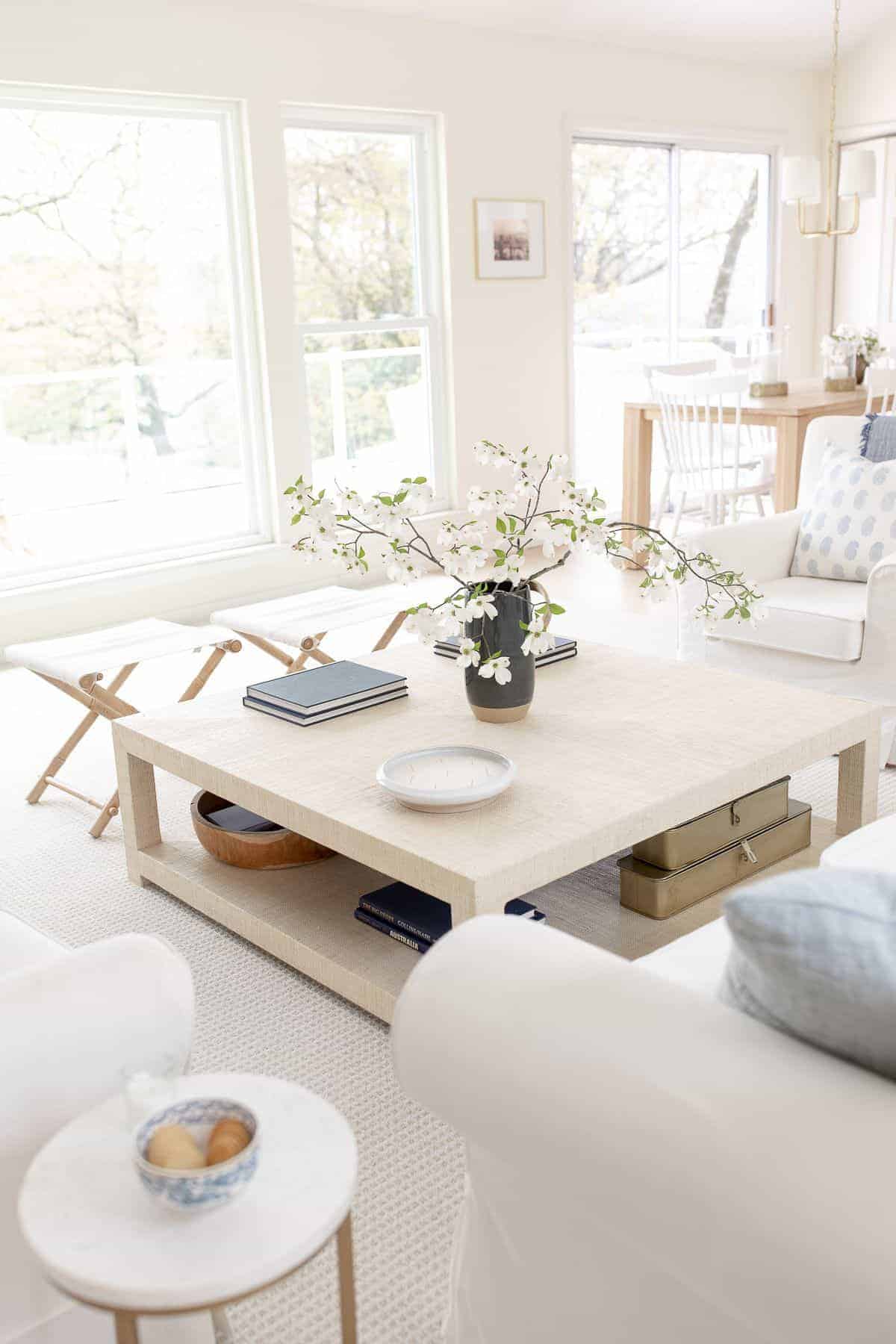 Coastal Living Room Accessories
A painting from Martha's vineyard and photographs of a bridge buried beneath the water nearby grace the walls. Get my favorite Free Art Sources and learn How to Choose Art here!
Framing your photographs is one of the most inexpensive ways to add art to your home. The true art in this living room is the view that was enhanced with our new Vinyl Deck and Glass Deck Railings.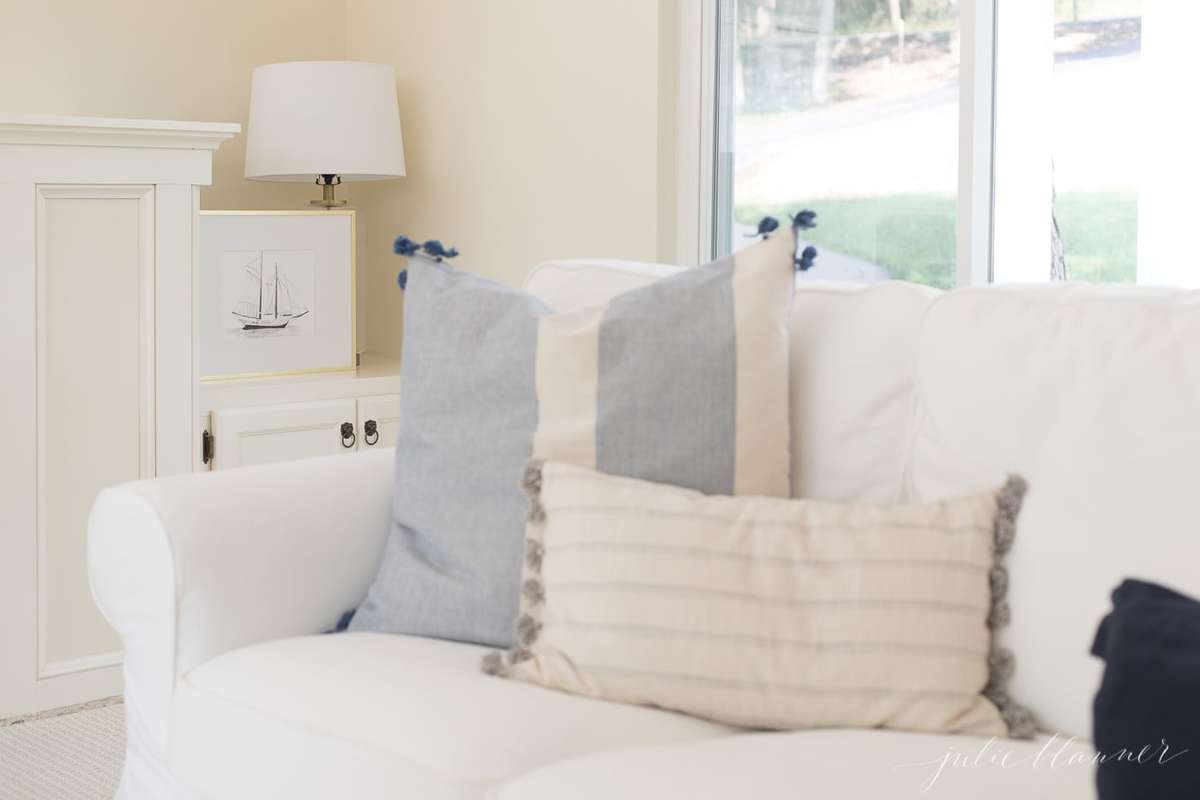 To hide our speaker I added a framed Etsy print. In the other nook, a bar cart adds function. We frequently mix cocktails here for guests.
Early this fall we removed the tile from our entryway in favor of an indoor outdoor rug to make it feel up to date, allow the eye to continue and protect the carpet.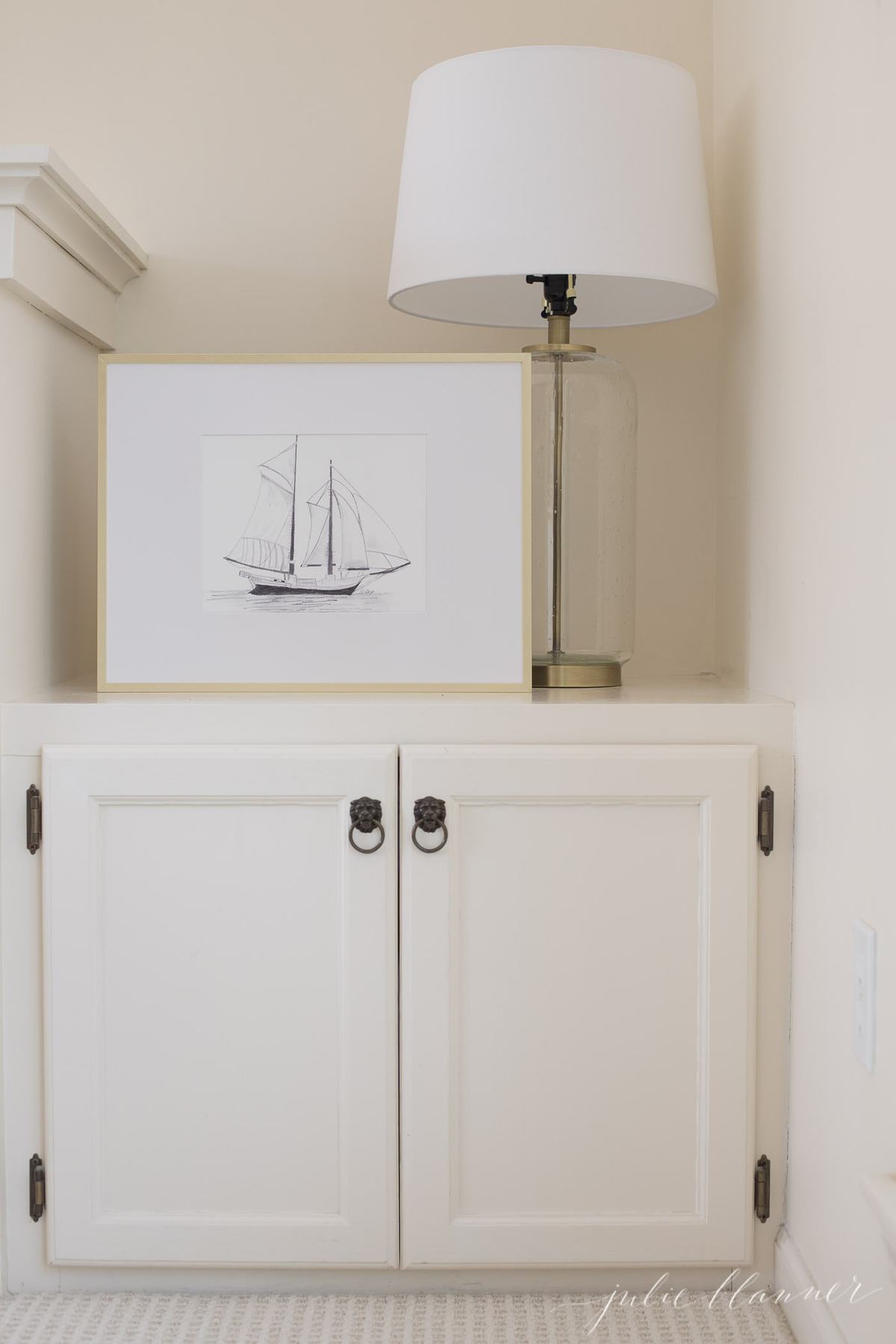 Sources
Here's a few photos of the living room at different stages since we moved in! I love to see our progress over the years.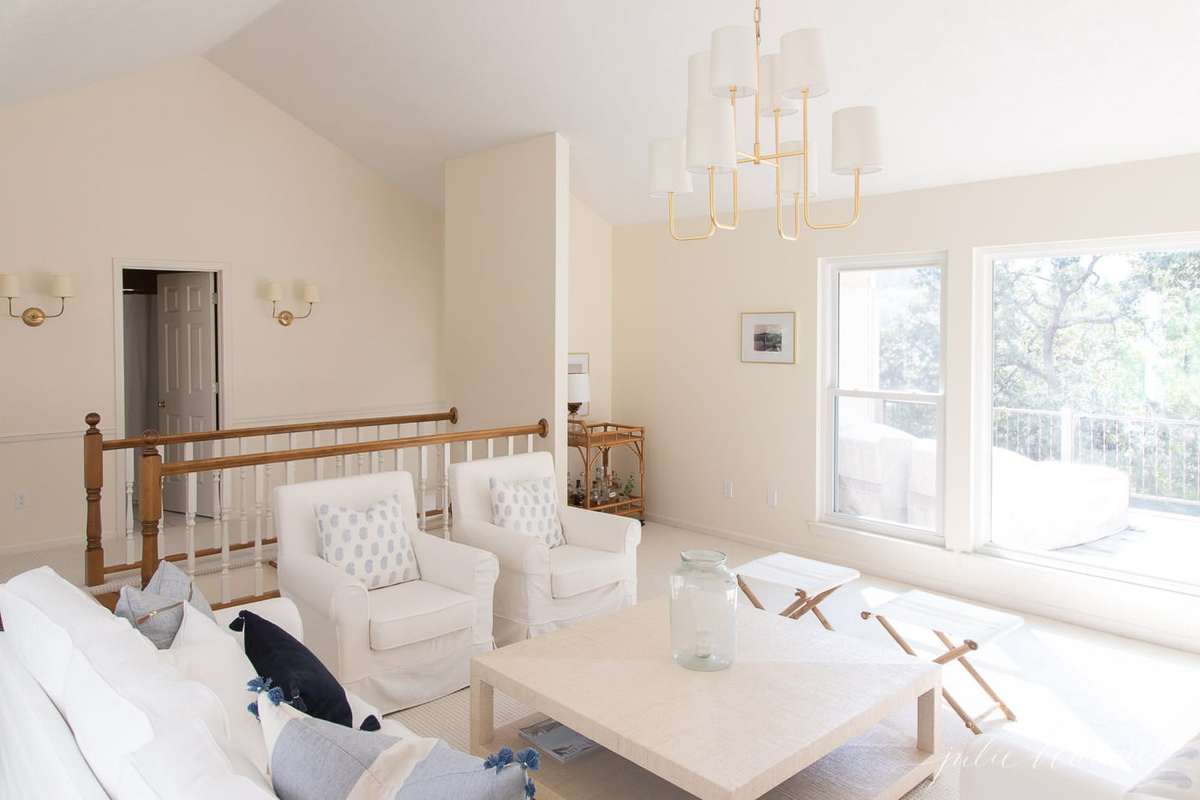 Recently, we painted out Dutch door in a pretty soft blue – one of our favorite Coastal Blues.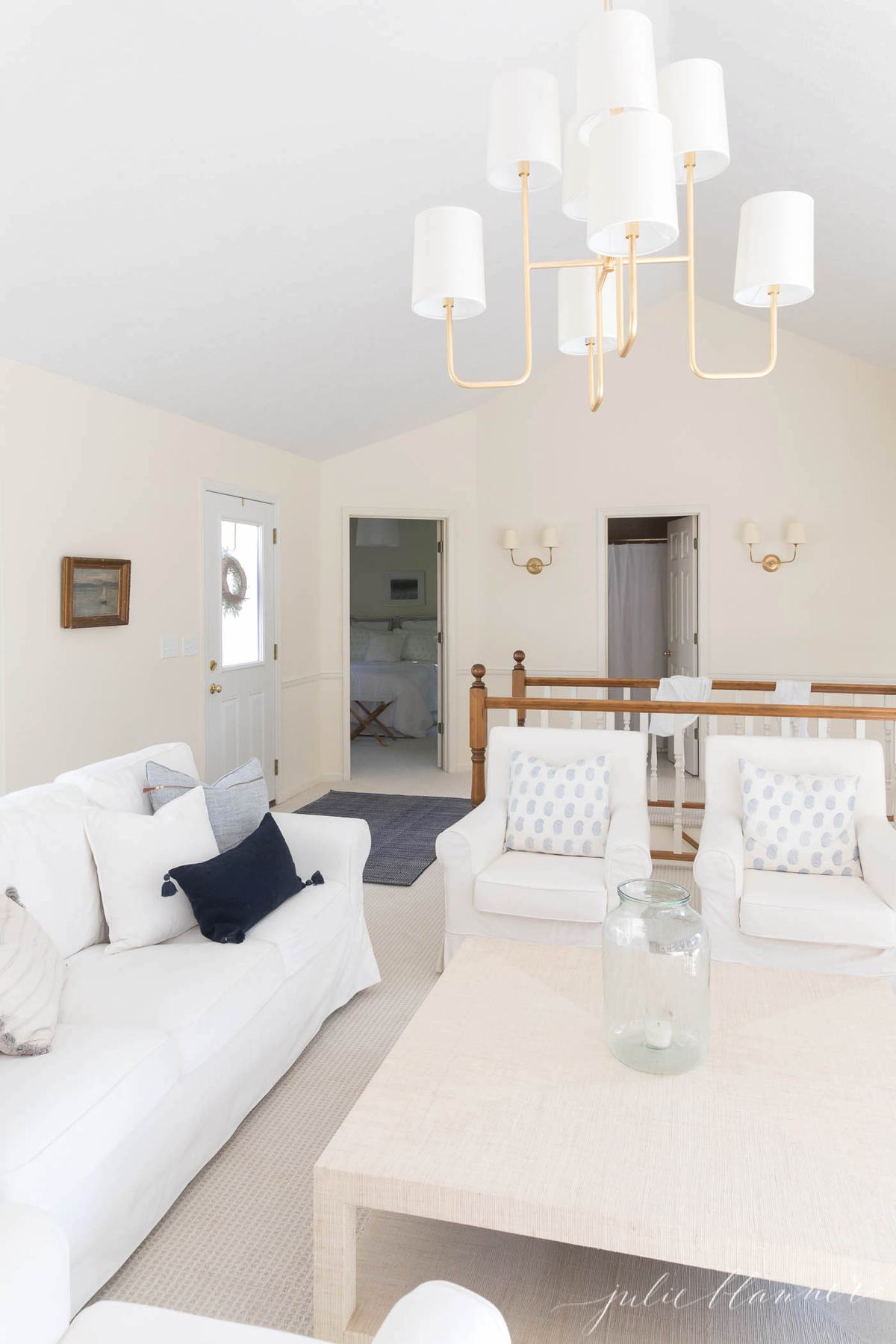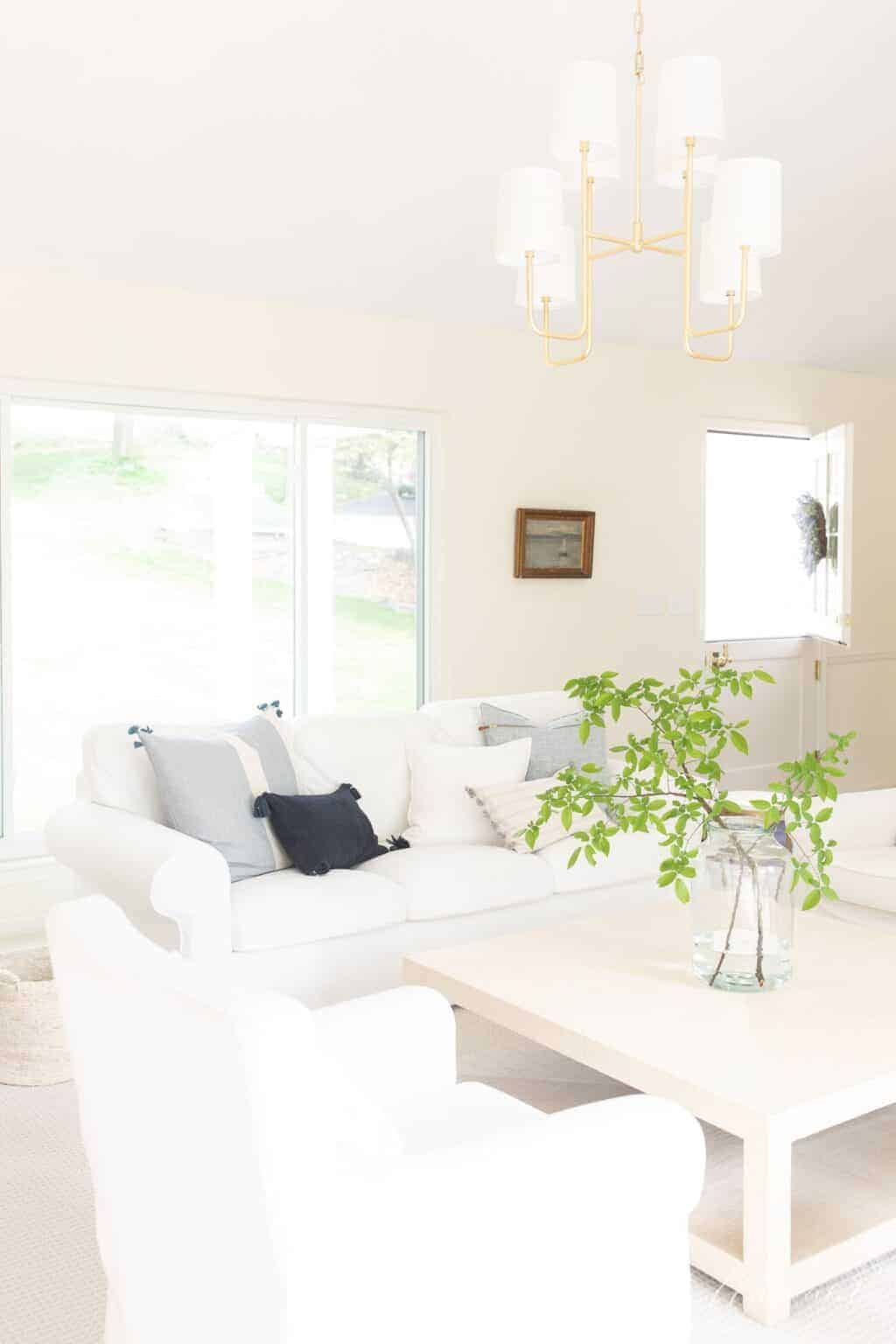 Take a look at where we started! Lots of changes along the way.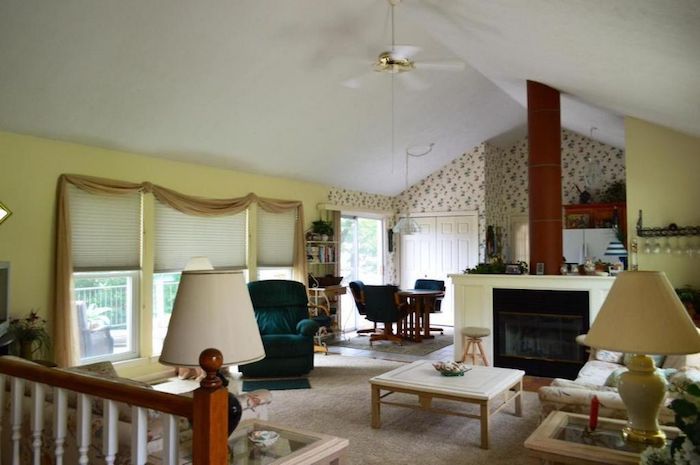 We've since added a Dutch Door – hop on over and read all about it! I hope you enjoyed these living room interior ideas and found some to incorporate into your home!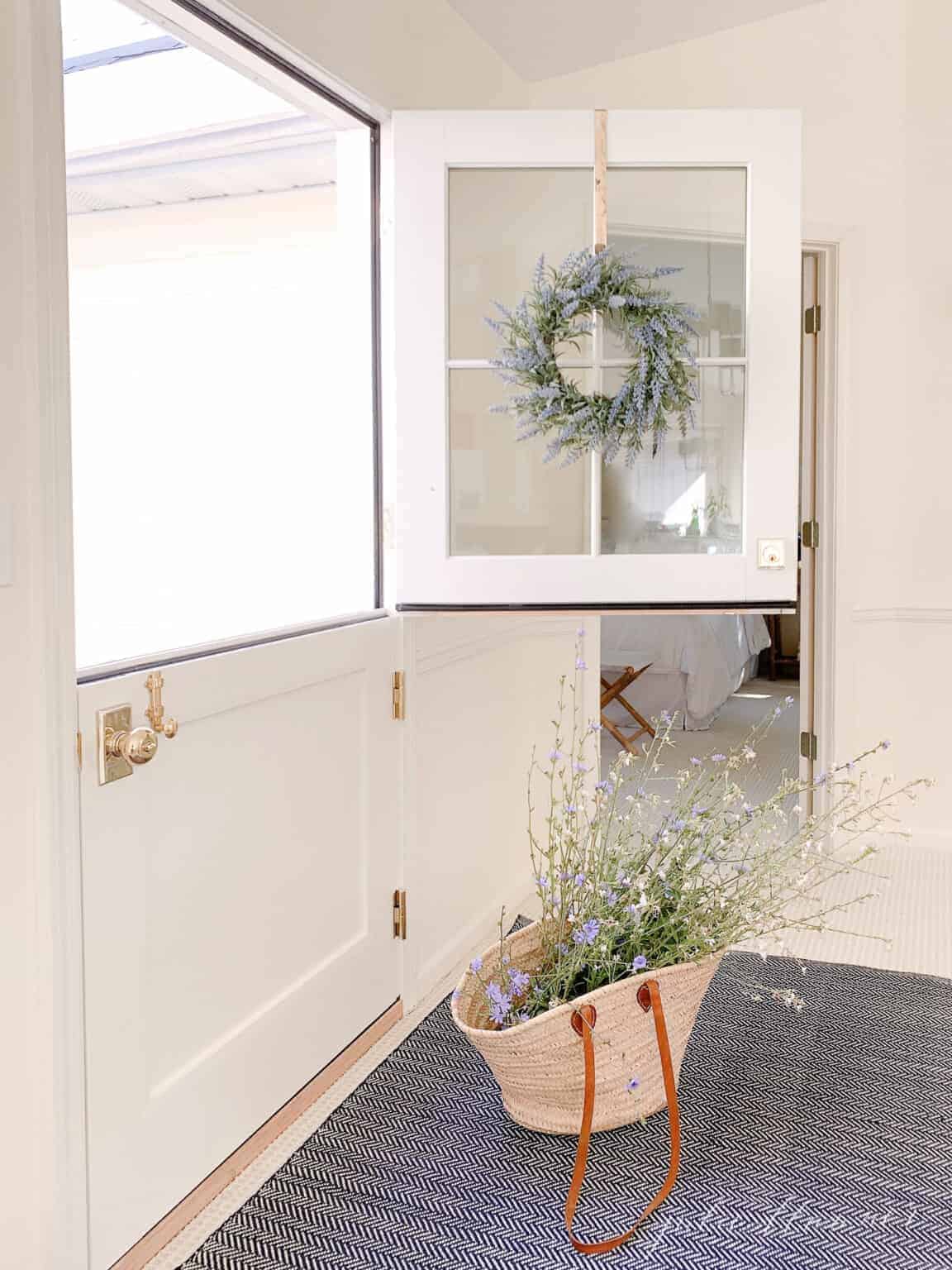 Let's keep in touch! Receive exclusive content, including never-seen-before photos, our favorite home decor DIYs and more!