Benjamin Moore Revere Pewter
It's no secret that Benjamin Moore Revere Pewter is a tried-and-true favorite. This color is beautiful, neutral, and so versatile! Learn all about Benjamin Moore HC-172, including where to use it, coordinating colors, and more!
Revere Pewter is the perfect neutral. It's not gray or beige – just a lovely mid-tone greige. It is ideal for open floor plans because it works well in so many different types of spaces.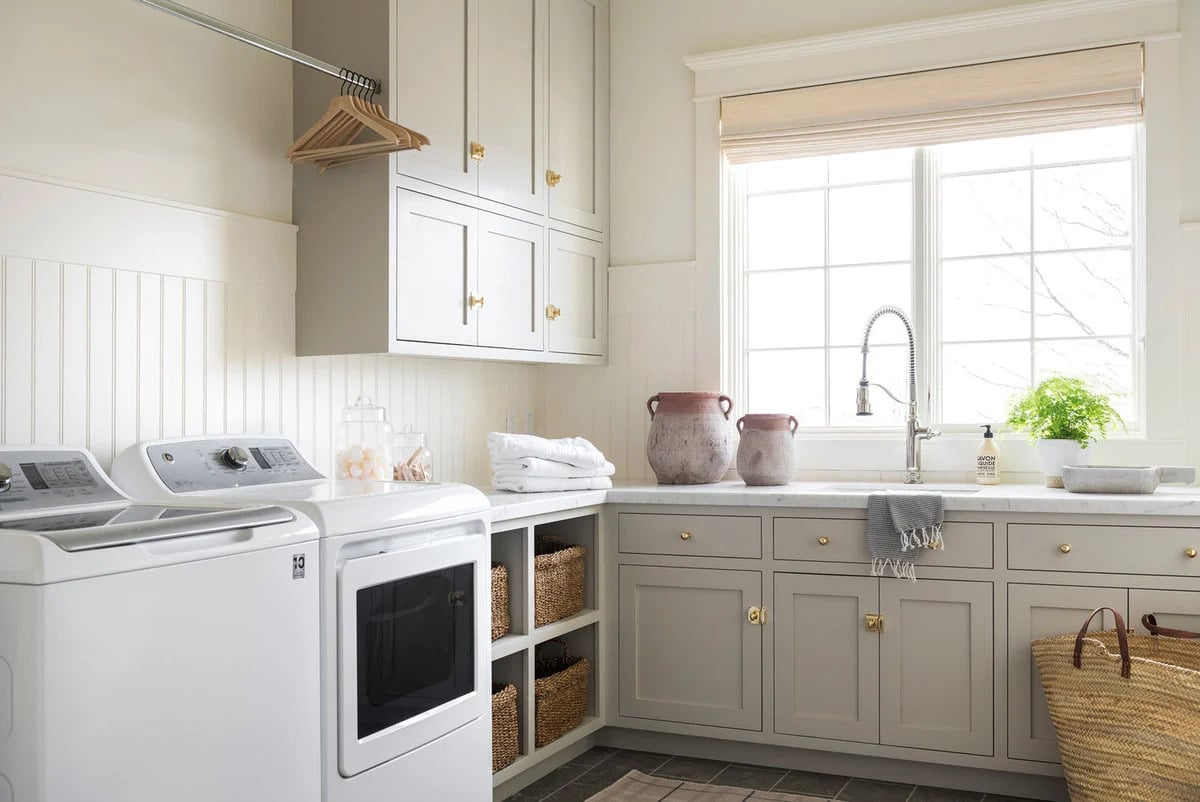 If you're searching for the perfect warm, neutral greige, this one might be just the ticket! Though I haven't used Revere Pewter in our own home yet, it's one of the most popular Greige Paint Colors around!
I knew I needed to learn more about it to decide if it was right for us. Luckily, many of my favorite designers and Instagram accounts have used this color, so we're sharing their beautiful spaces today.
I hope that by sharing a variety of images of this color, you can feel confident in choosing it for your own home, too! Let's learn all about Revere Pewter!
Why You'll Love Benjamin Moore Revere Pewter
A lovely greige
Beautiful mid-tone color
Perfect for open floor plans
Pairs well with any color
Revere Pewter LRV
LRV stands for Light Reflectance Value. It's the measure of light a color reflects or, in other words, how bright a color is. On a scale of 0-100, 0 is true black and 100 is pure white.
This color has a middle-of-the-road LRV of about 55.5. That means it isn't very dark, but it isn't all that bright either. Painting a room this color won't actually make it feel brighter.
In rooms without much natural light, consider choosing a color with an LRV of 60 or higher. Or if you have your heart set on Revere Pewter, you can have it lightened by 25% or more when you have it mixed.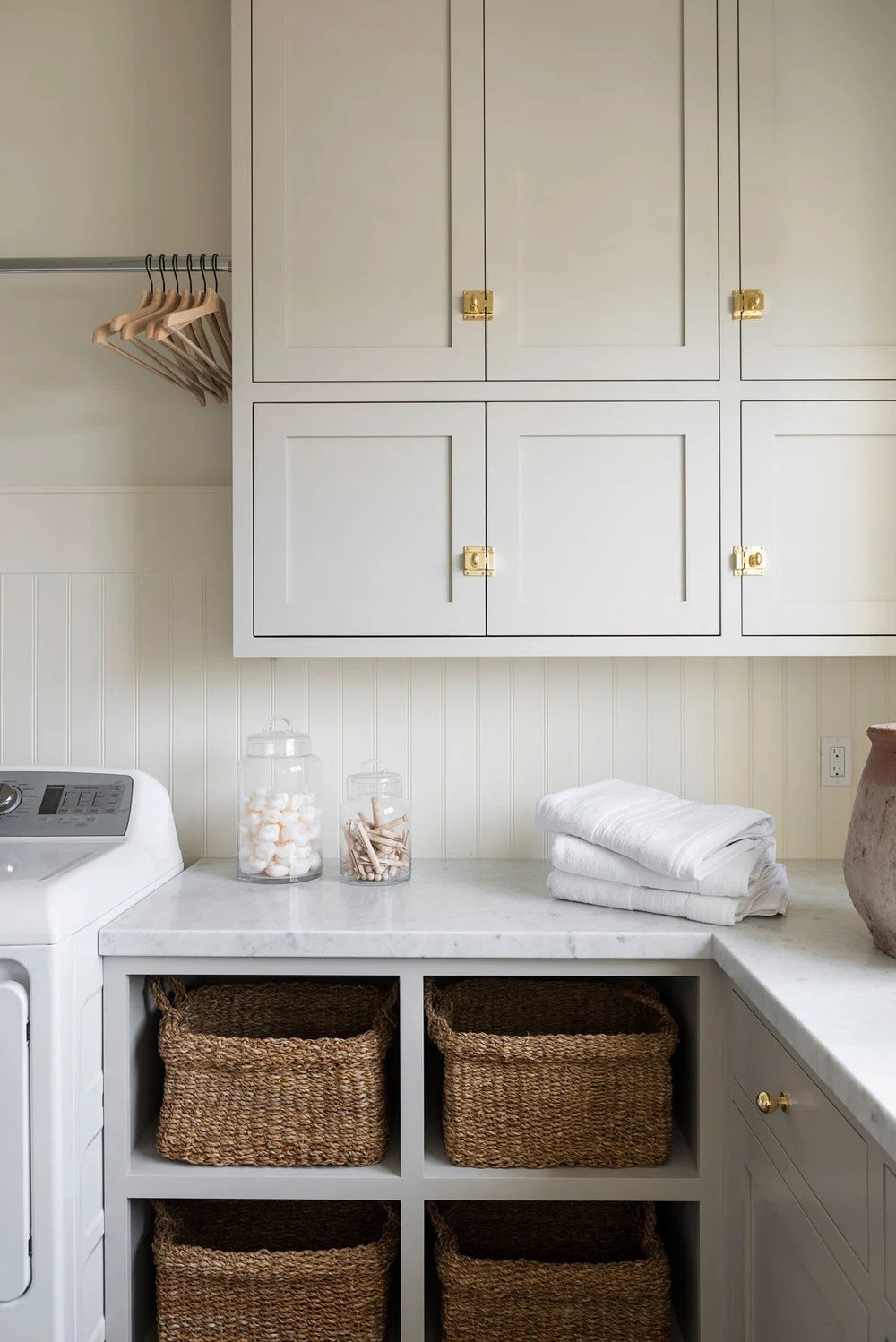 Benjamin Moore Revere Pewter Undertones
Revere Pewter is a perfect, warm gray. It's really more of a greige than a gray. Of course, to get its warmth it has to have warm undertones.
This popular color has a subtle undertone of olive green. The olive tone is important, because it's what gives the green its warmth.
Now, I know some of you may be thinking: "I don't want green paint!" Rest assured that Revere Pewter doesn't look green. Most of the time it looks like a soft, warm gray or greige. However, in some lights just the slightest hint of green may come through.
If that bothers you, then you should probably look for another color. I personally love Revere Pewter. Not only does the green undertone warm up the gray just enough, but it gives it a lovely earthy tone too.
Below, this home has Revere Pewter on the exterior shutters – lightened to 75% full strength.
Trim Colors to Pair With HC-172
Choosing trim colors can be intimidating, but it doesn't have to be! Remembering that Revere Pewter has warm undertones makes it easy to choose a beautiful trim color to complement it.
Just pair it with a warm, creamy white and you will have a perfect match. Here are some warm whites that I've used that would look stunning against Revere Pewter:
A note of caution, make sure your color isn't too creamy or yellow. Revere Pewter may have warm undertones, but it's still gray, after all! Choose a good, clean white with a touch of warmth or just a true white to keep things simple.
Read all about The Best Trim Paint here, along with my tips for Painting Trim White!
Colors to Pair With Revere Pewter
One of the best things about HC-172 is how versatile it is! I'm not kidding, this is one color that plays nicely with almost everything around it. I think that's because as a greige, it can be either warm or cool.
Here are some of my favorite color combinations for you to consider:
Dark Charcoal Gray – A dark gray would look striking up against revere pewter. Consider using it on an accent wall or bring it in through textiles like throw blankets, pillows, and bed linens.
Navy Blue – One of my favorites is Benjamin Moore Hale Navy. It is a beautiful, deep navy that looks good with so many colors.
Deep Brown – If you're wanting to play up warm, earthy tones, try pairing it with deep, rich browns. They will pull out the warmth in the Revere Pewter and downplay the gray.
Be aware that colors with pink tones will make Revere Pewter look more green. Of course, that may be just the look you're going for!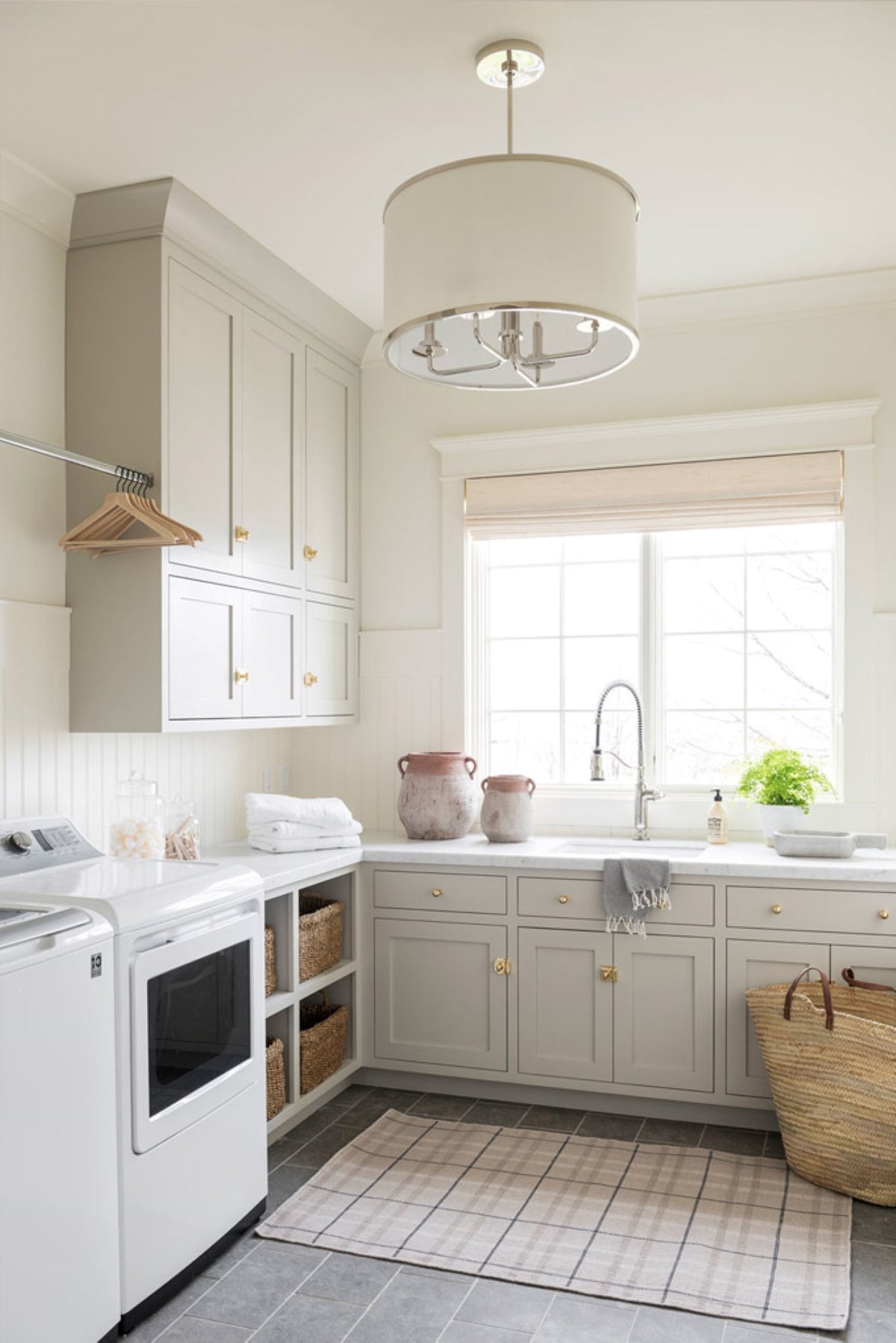 Where to Use HC-172
This color is almost too good to be true, because you can use it anywhere and it looks amazing. Here are some ideas of where to use HC -172 in your home:
Walls – This color will look stunning anywhere in your home, but it's especially great in rooms with natural light.
Trim & Doors – Soft white walls would look beautiful paired with Revere Pewter on the trim and doors. Or for a seamless look that will make your space appear larger, try painting your walls and trim the same color!
Cabinetry – We're using Revere Pewter on our basement cabinets, and I couldn't be more excited about it.
Exterior – With its perfect blend of gray and beige, Revere Pewter is an ideal choice for home exteriors. Check out my tips and tricks on how to select exterior paint colors here.
Comparable Colors
As far as color goes, Revere Pewter is similar to Sherwin Williams Agreeable Gray, but it is a bit warmer and darker. Agreeable Gray is a touch cooler and brighter with slightly more gray.
Revere Pewter is also similar to SW Accessible Beige, which is a touch brighter with pink and gray undertones. In other words, Accessible Beige HC-172 is a warmer gray than Revere Pewter.
Tips
Samples – Use paint samples! As you try different shades, you'll begin to recognize a pattern in the colors that feel good in your home. In fact, you should check samples on different walls throughout the day.
Pay Attention to Lighting – Hold your samples up in different spaces in your home at different times of the day. Pay attention to how different lighting affects the color throughout the day.
Hold Against Surfaces – Hold your samples up to surfaces that run into your walls. For example, consider your cabinetry, countertops, hard floors, carpeting, fireplace surrounds, and trimwork.
Paint colors darken as they dry.
Learn about Light Reflectance Value in my comprehensive guide: What is LRV?
Keep all light sources in mind, as this can also change the way the color feels- read up on light bulbs, too.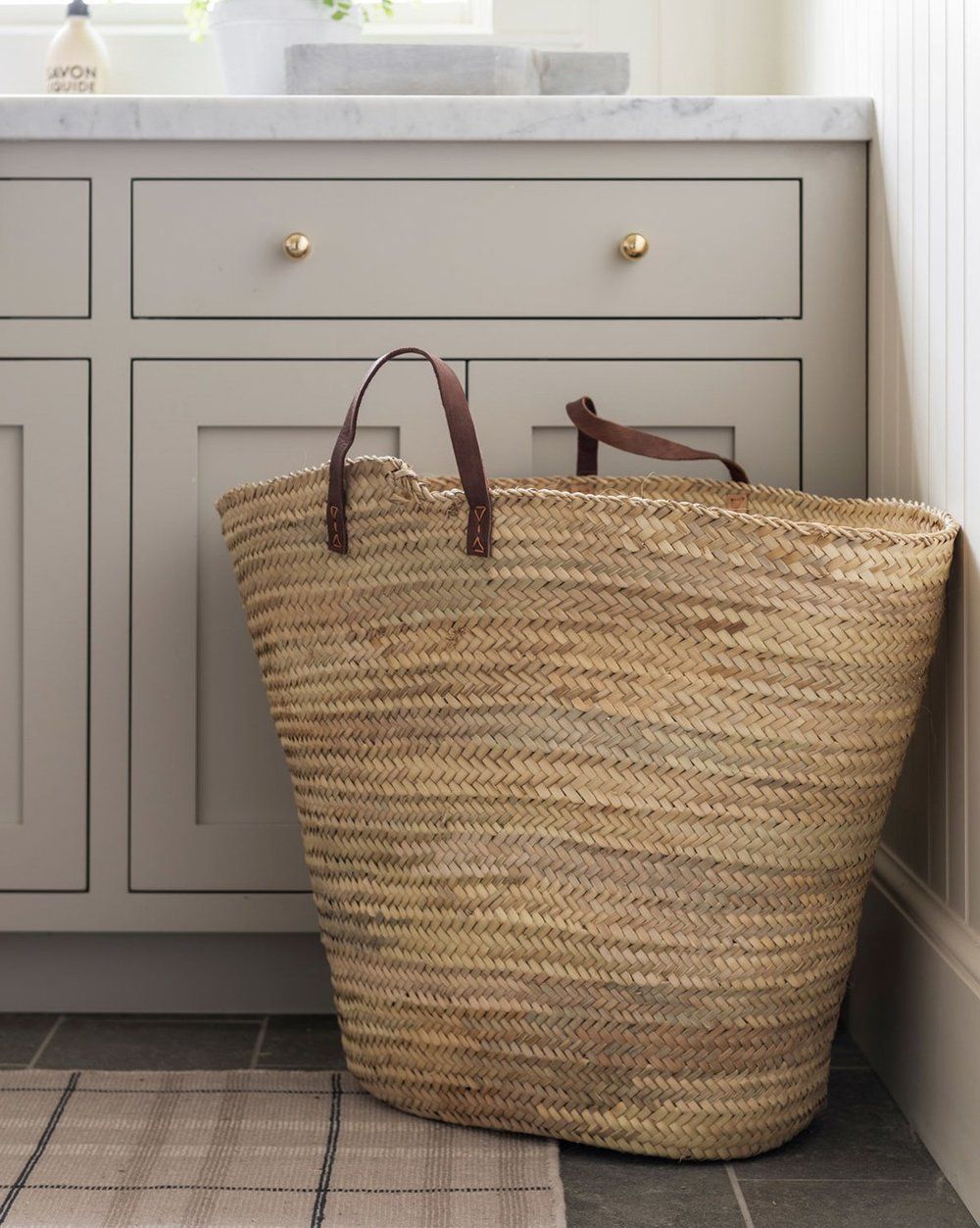 Frequently Asked Questions
Is Benjamin Moore Revere Pewter more gray or beige?
Revere Pewter is a true greige, meaning it is neither gray or beige but has touches of both. It is right at home with warm or cool tones and goes well with so many different colors.
Is Revere Pewter still popular?
Revere Pewter has been popular for a decade, and it's easy to see why! This color is a true neutral that goes with everything but it's also beautiful on its own merit. In other words, you still can't go wrong with this color. It's neutral enough that it will be popular for many more years to come!
Let's keep in touch! Receive exclusive content, including never-seen-before photos, our favorite home decor DIYs and more!