Sherwin Williams Agreeable Gray
If you're looking for a beautiful greige color, Sherwin Williams Agreeable Gray is the ultimate. This color is incredibly versatile and perfect for so many applications! Learn about Agreeable Gray coordinating colors, LRV and so much more!
Agreeable Gray is the ultimate neutral. It's not specifically gray or beige – it's a soft, warm greige. Use it on walls, cabinetry, and so much more! SW 7029 is probably the most popular greige color on the market today – learn why in this comprehensive guide!
Let's take a deep dive into the number one selling paint color at Sherwin Williams!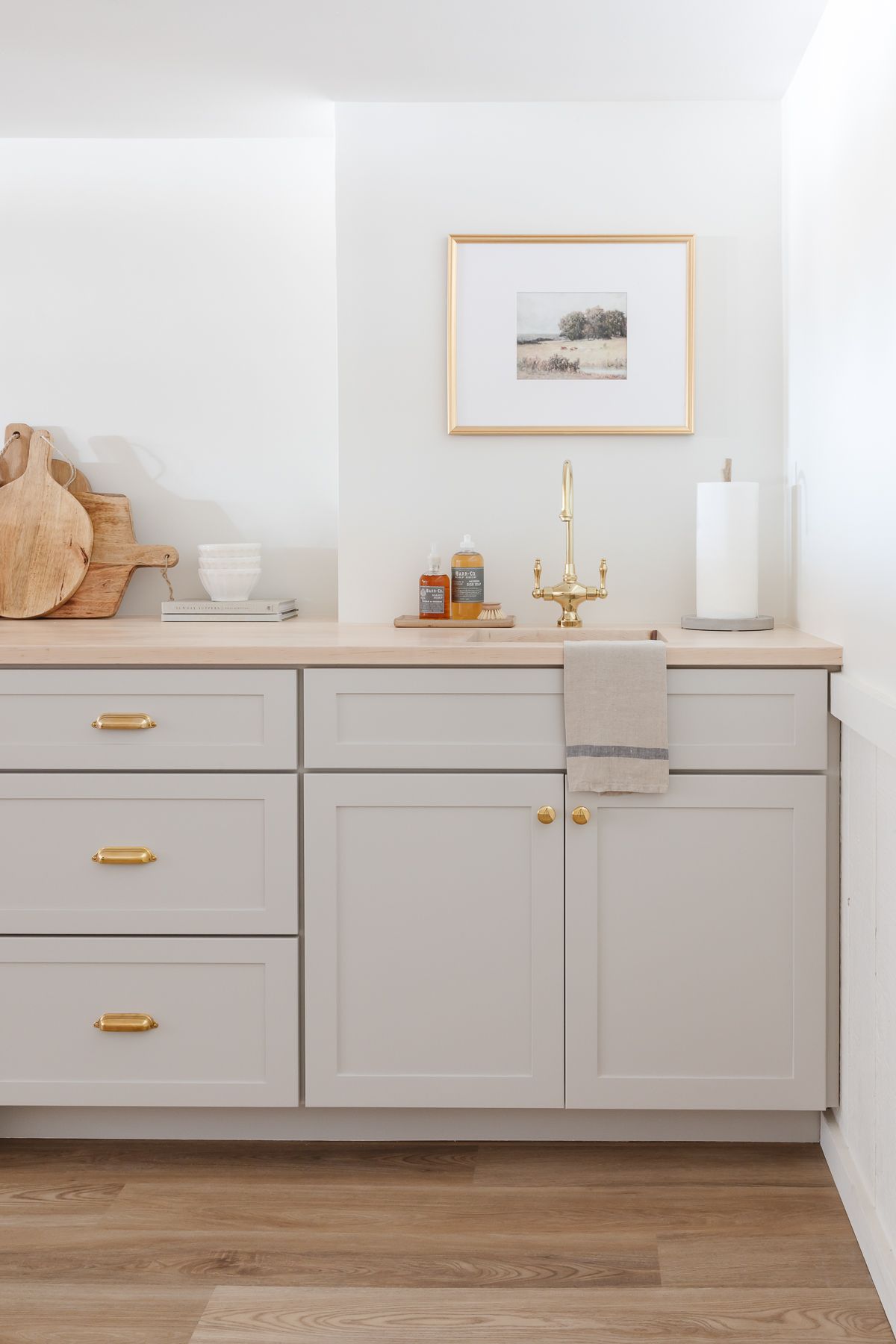 If there's one thing I know for sure after my years of homeownership, it's that choosing paint colors is harder than anyone wants to believe. After years of sampling paint colors in every room of our homes, we've made plenty of mistakes – and we still do.
That's why I've created a detailed series of paint color guides and tips that can make your decisions easier. Studying a few of your favorite paint colors is the best way to make a decision you'll love for a long time to come!
Agreeable Gray is a chameleon color that looks different at different times of the day and with different lighting. In our home, it looks a little cooler and more gray because we used it in the basement, where there is little natural light.
That's why I'll show it to you in a variety of beautiful spaces throughout this post – including the cabinets of our new basement bar (click through for all the details and shopping sources for this space). Use the drop down Table of Contents menu to navigate with ease!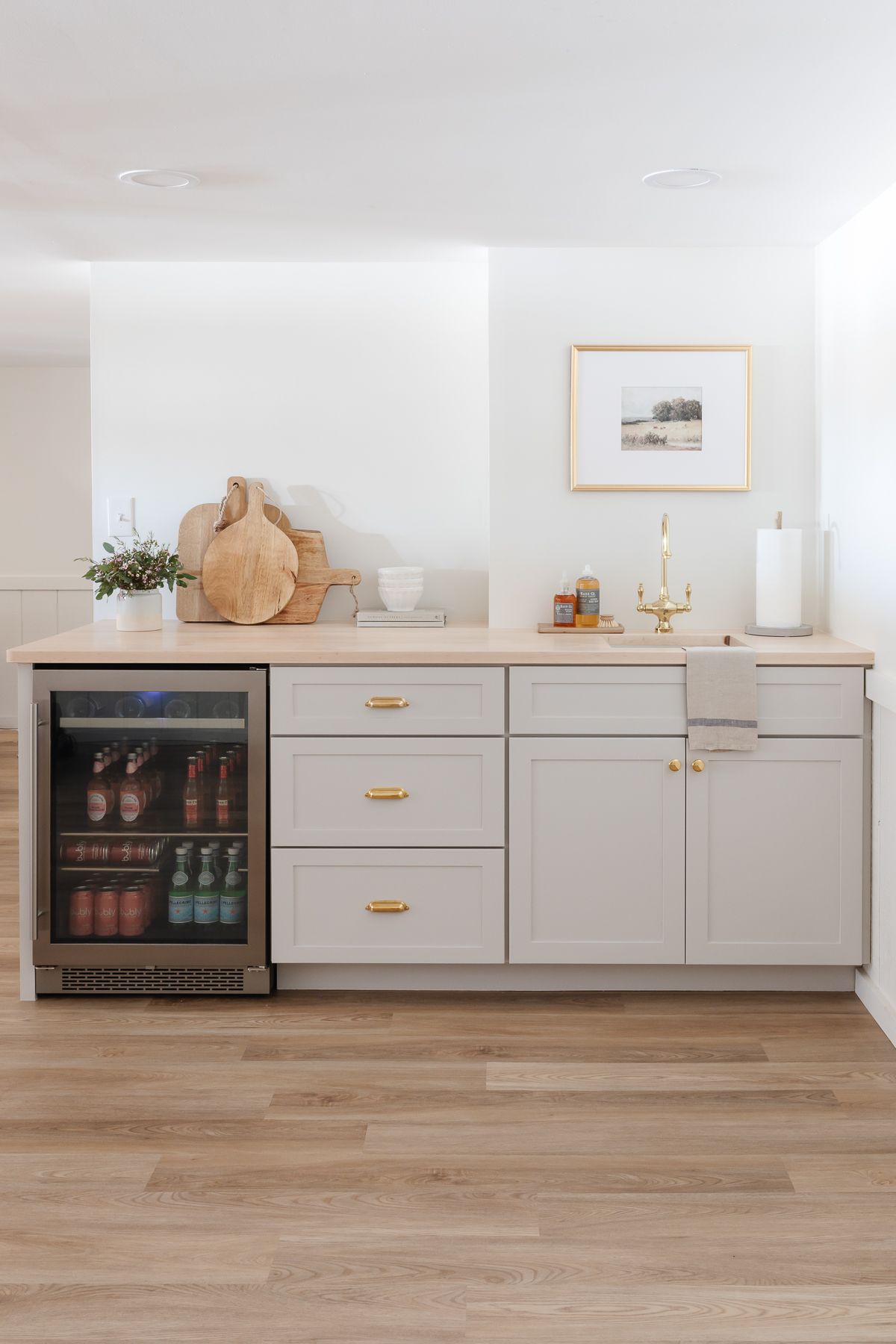 Why You'll Love Sherwin Williams Agreeable Gray
A perfect greige
Beautiful mid-tone color
Wonderful neutral for open floor plans
Pairs well with many coordinating colors
Agreeable Gray LRV
LRV stands for Light Reflectance Value – click through to read all about it. It's the measure of light a color reflects or, in other words, how bright a color is. On a scale of 0-100, 0 is true black and 100 is pure white.
With an LRV of 60, this color reflects a similar amount of light to Realist Beige and Accessible Beige, two of my other favorites mentioned in my Greige Paint guide.
Agreeable Gray has a mid level LRV of 60. That means it isn't dark, but it isn't a bright color either. This is not a color to use if you're looking to lighten and brighten a room.
Often, interior designers and paint experts recommend a paint with an LRV of around 60 for people who seek a shade that's not too light and not too dark. That makes Agreeable Gray an excellent option!
In rooms that don't feature much natural light, consider choosing a color with an LRV of above 60 – check out my round-up of beautiful Warm Whites. You can also have Agreeable Gray lightened by 25% or more when you have it mixed.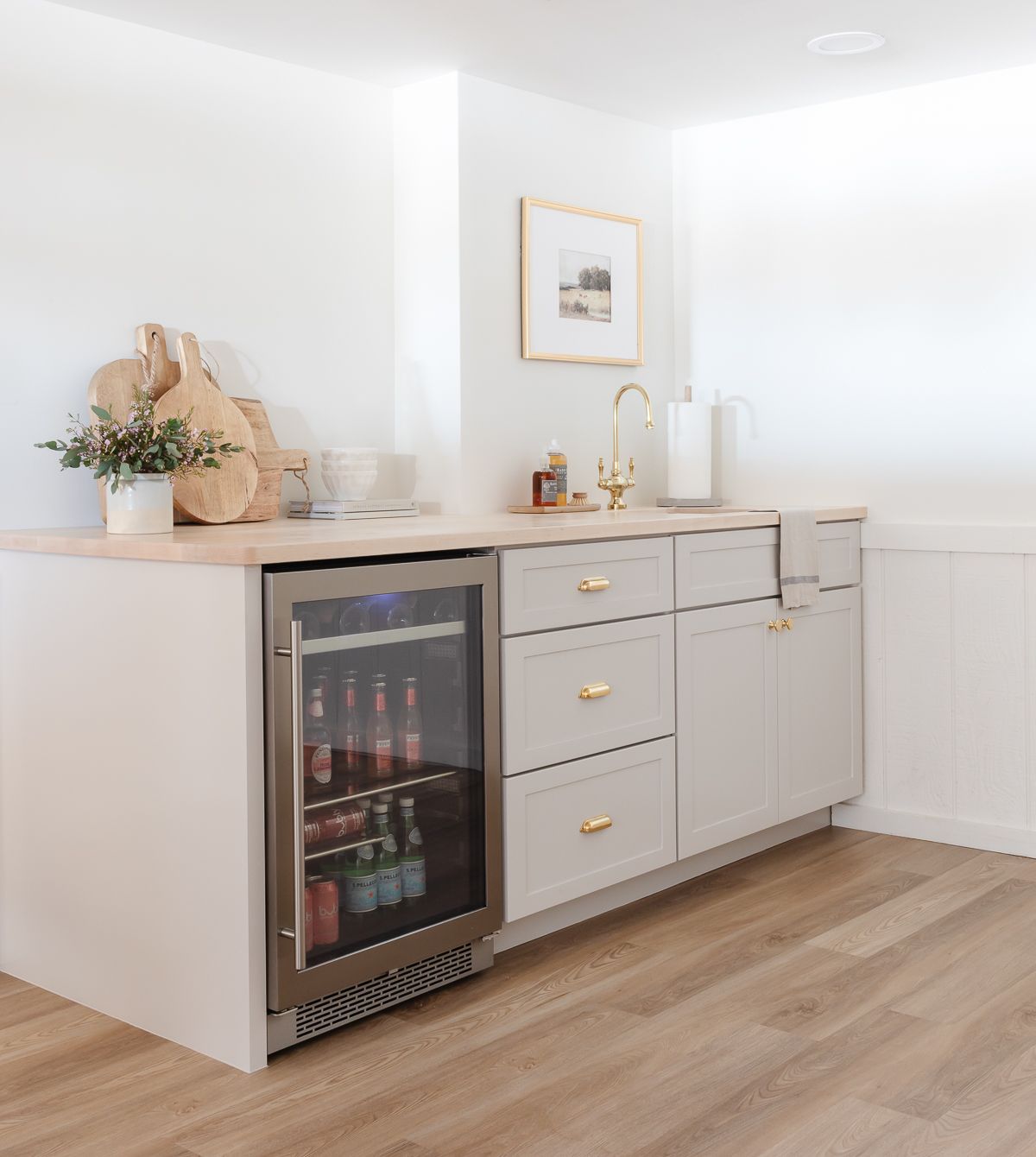 Sherwin Williams Agreeable Gray Undertones
To get the perfect warmth of a true greige, a paint color has to have warm undertones. Unlike many other greige tones, Agreeable Gray doesn't show a lot of blue or green in the undertone, making it easier to pair with other colors.
This color features these undertones:
Trim Colors to Pair With SW 7029
Agreeable Gray has warm undertones that make it easy to choose a beautiful trim color to complement it. Just pair it with a warm white and you will have a perfect match.
Here are some warm whites that I've used that work beautifully with Agreeable Gray: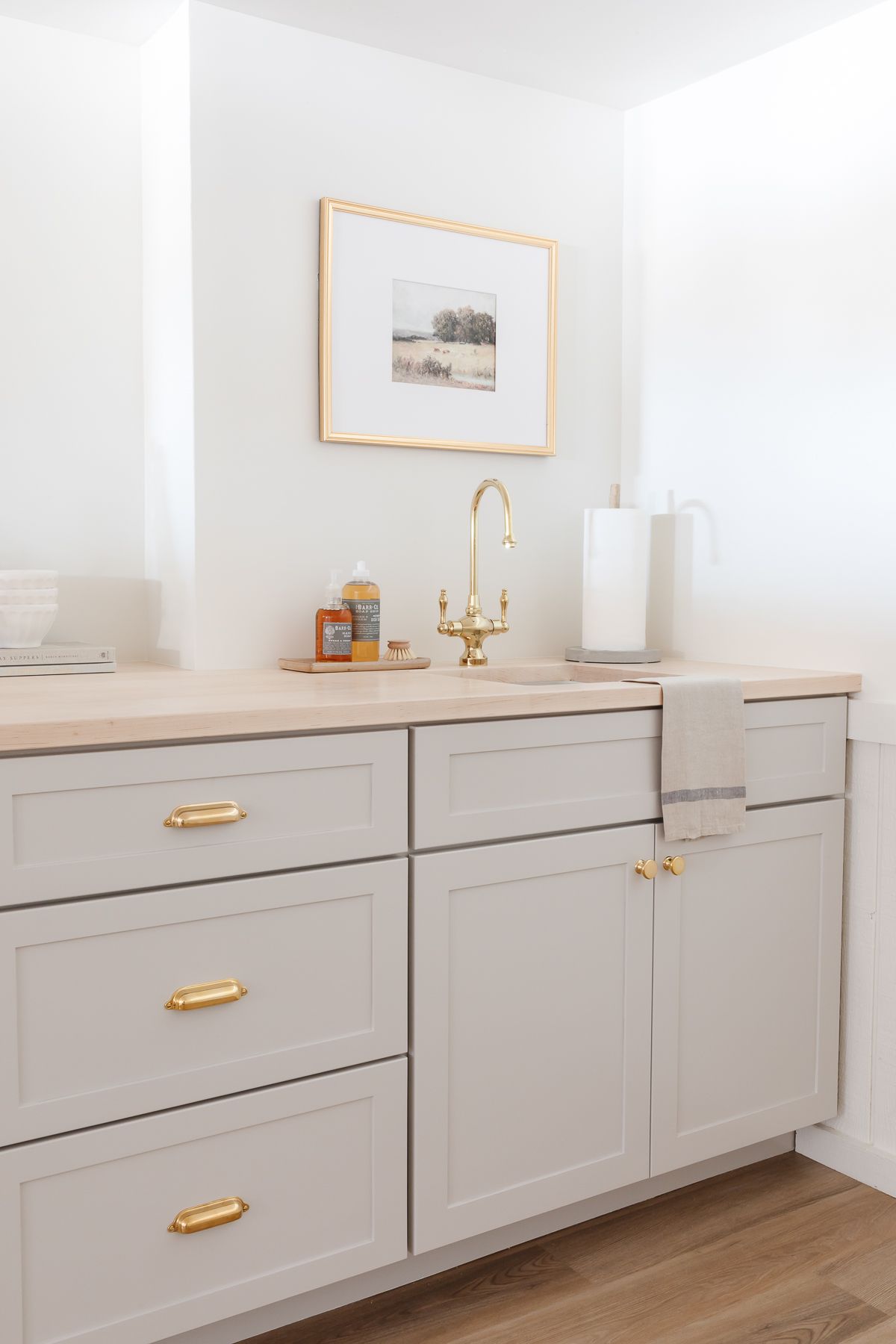 A note of caution, make sure the Agreeable Gray coordinating color you choose isn't too creamy or yellow. This greige may have warm undertones, but it's still gray, after all!
Choose a cleaner white with a touch of warmth or just a true white to keep things simple. Read all about The Best Trim Paint here, along with my tips for Painting Trim White!
Colors to Pair With SW Agreeable Gray
One of the best things about this color is just how versatile it is! I'm not kidding, this is one color that plays nicely with almost everything around it. I think that's because as a greige, it can be either warm or cool.
Here are some of my favorite color combinations for you to consider:
Deep Grays – Choose a striking charcoal or even a beautiful black (as seen in the windows below) for a beautiful contrast. This will make Agreeable Gray read as more of a creamy beige.
Navy Blues – One of my favorites is Benjamin Moore Hale Navy. It is a beautiful, deep navy that looks good with so many colors.
Greens – Fresh shades of green, ranging from soft mossy tones to deep evergreen, will look beautiful when paired with Agreeable Gray.
Where to Use Agreeable Gray SW 7029
This color is can be used anywhere and it looks amazing. Here are some ideas of where to use SW 7029 in your home:
Tips
Get Samples – Go to your local paint store or order samples online. Read all my best tips about Paint Samples here!
Pay Attention to Lighting – Look at the samples at different times of the day. Pay attention to how different lighting affects the color throughout the day.
Hold Against Surfaces – Hold your samples up to surfaces that run into your walls. For example, consider your cabinetry, countertops, hard floors, carpeting, fireplace surrounds, and trim.
Agreeable Gray vs Repose Gray
Repose Gray is a beautiful greige tone that is often compared to Agreeable in searches. With an LRV of 58, Repose is a touch darker and reads a little more of a true gray vs beige in this comparison.
Revere Pewter has an LRV of 55, making it one of the darkest greige colors before you might start calling them "taupe". Revere Pewter has similar undertones with a touch more green in the background, and is a wonderful option if you're looking for a richer version of Agreeable Gray.
Agreeable Gray vs Worldly Gray
Much like Repose, Worldly Gray has an LRV of 58. That makes it a touch darker than Agreeable Gray. These two colors are very similar, with Worldly leaning a little warmer with a hint more brown than Agreeable.
If you're choosing paint samples, you might also consider Benjamin Moore Classic Gray, another one of our favorite greige colors.
Frequently Asked Questions
Is Agreeable Gray popular in 2022?
Yes – and will be popular for a long time to come! It's a wonderful greige that features a perfect LRV and strikes the perfect balance between gray and beige.
What color is replacing gray in home design?
The answer is greige! Greige is a great way to move away from cooler gray colors that have dominated the last decade in design. Choose a color with more warm brown undertones, like Agreeable Gray, for a long term investment in your home.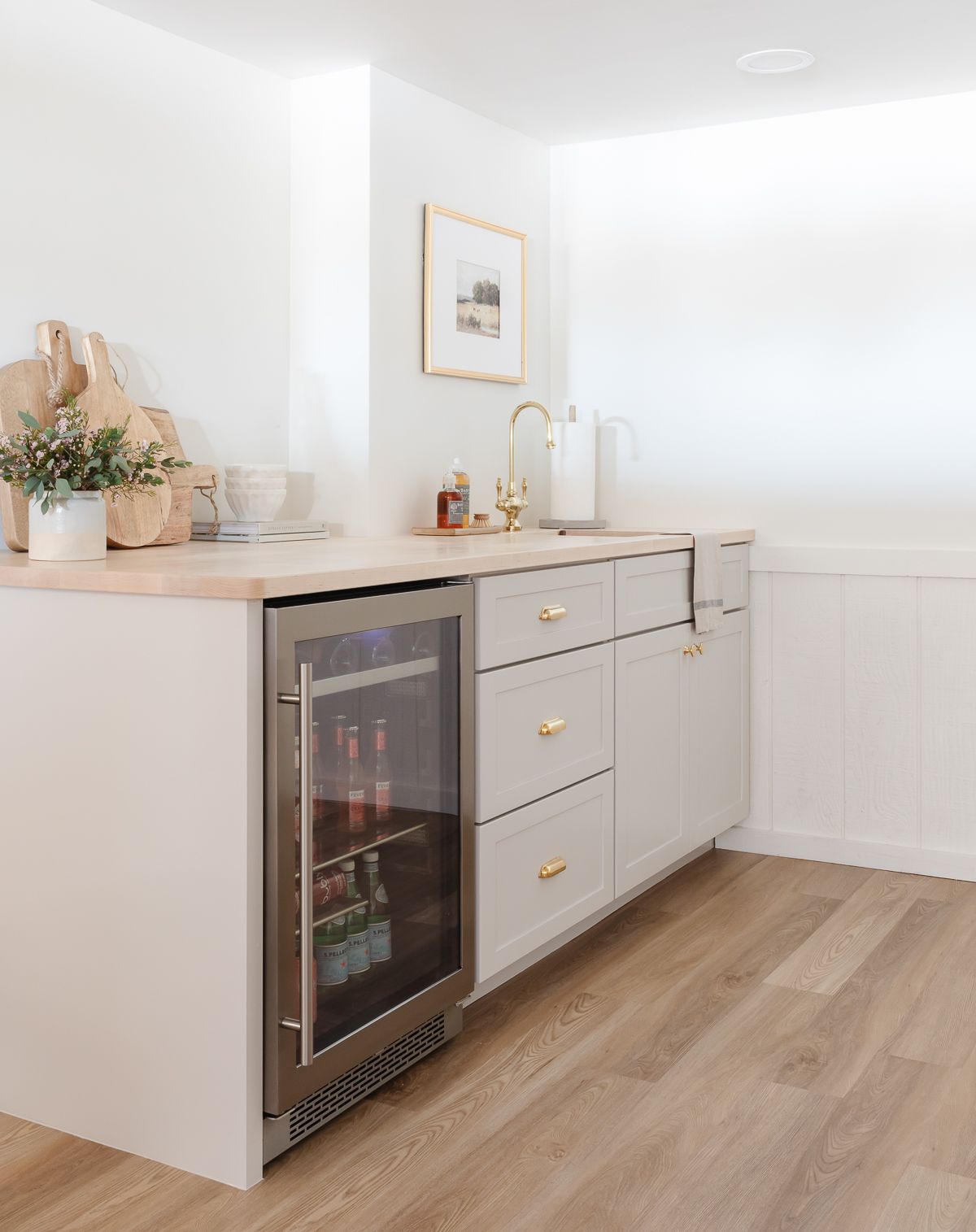 More Paint Resources