Get all of the details for designing a new kitchen with shaker style cabinets and classic kitchen design. This cream kitchen is timeless and traditional, while working beautifully for a modern family.
It's been a couple years since the bulk of our cream kitchen has been complete, and while I shared a lot of details about it as we planned and remodeled, I'm taking you on a tour today both through photos and video.
I've written comprehensive posts on each area and decision in our kitchen remodel. You can follow our remodel journey from the beginning here and learn more about our Apron Front Sink, Lacanche Range, Kitchen Cabinet Door Styles, Unlacquered Brass Hardware, Unlacquered Brass Kitchen Faucet, Beadboard Backsplash and Cream Kitchen Cabinets as well!
I know it's so helpful to refer to remodeling projects that others have completed in their homes, so I am including all the details plus before and after photos here. You can also visualize our kitchen by watch the video.
Like so many kitchens, our new kitchen was inspired by need for function as well as design. It was small, dark and dated. Accessible cabinet space was limited and awkward display shelves consumed valuable space.
First, let's look at the before: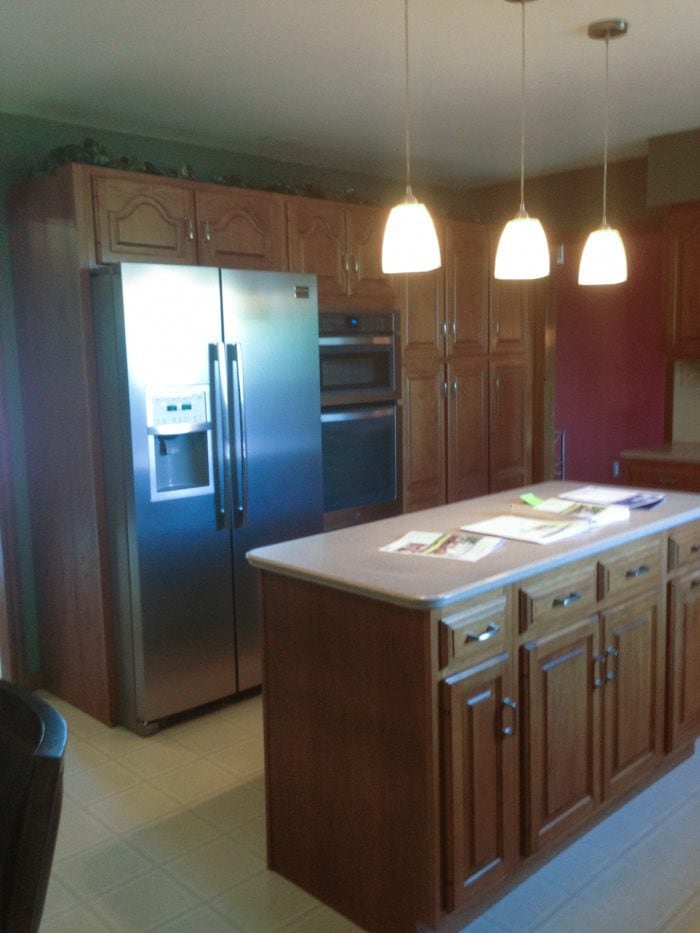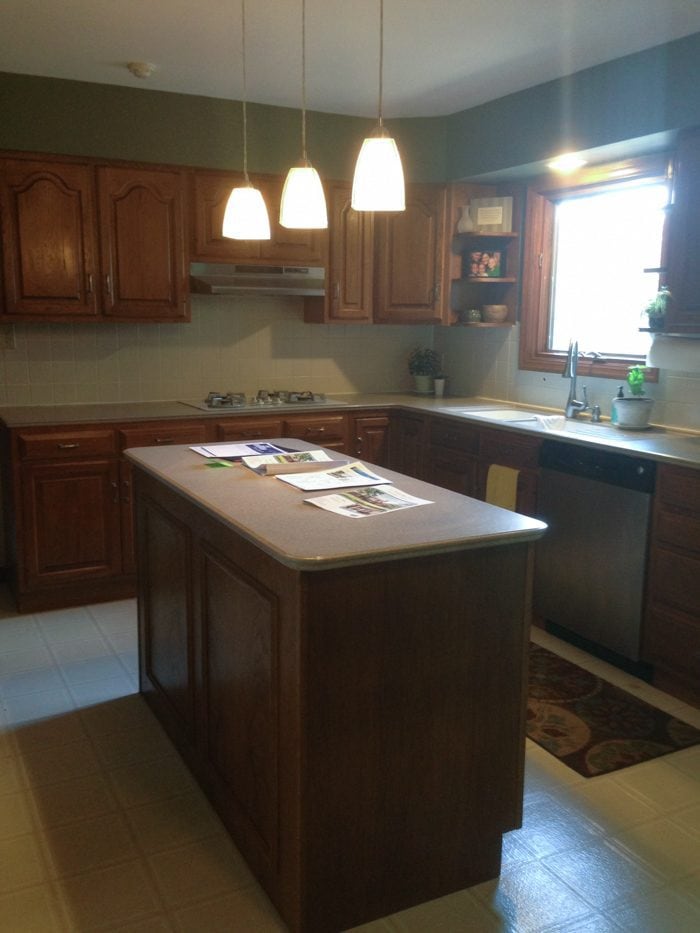 One small window and a 2.5″ doorway limited the amount of natural light from flowing in and dark cabinets and paint color only made it appear darker.
If you love the look of our classic cream kitchen, don't skip this post about our Inset Cabinets! You can find our cream cabinet color and details about our Danby Marble countertops, too!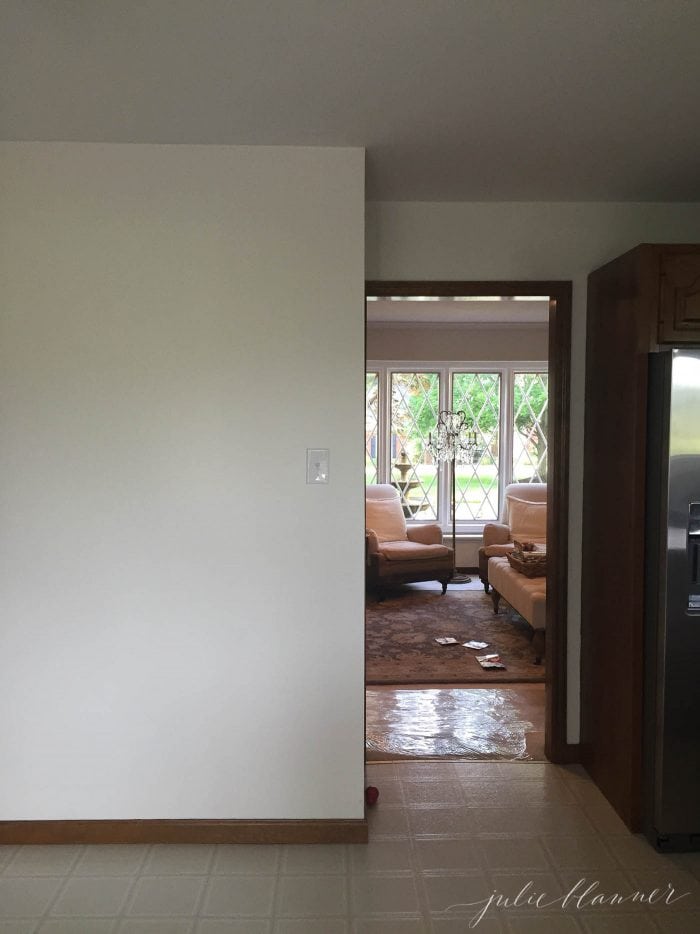 Shaker Kitchen Cabinets
We knew we wanted inset cabinets and ultimately decided on a shaker style kitchen. It's timeless, easy to clean and streamlined. You can read more about inset cabinets in the post I just linked if you're trying to make a decision about inset versus overlay!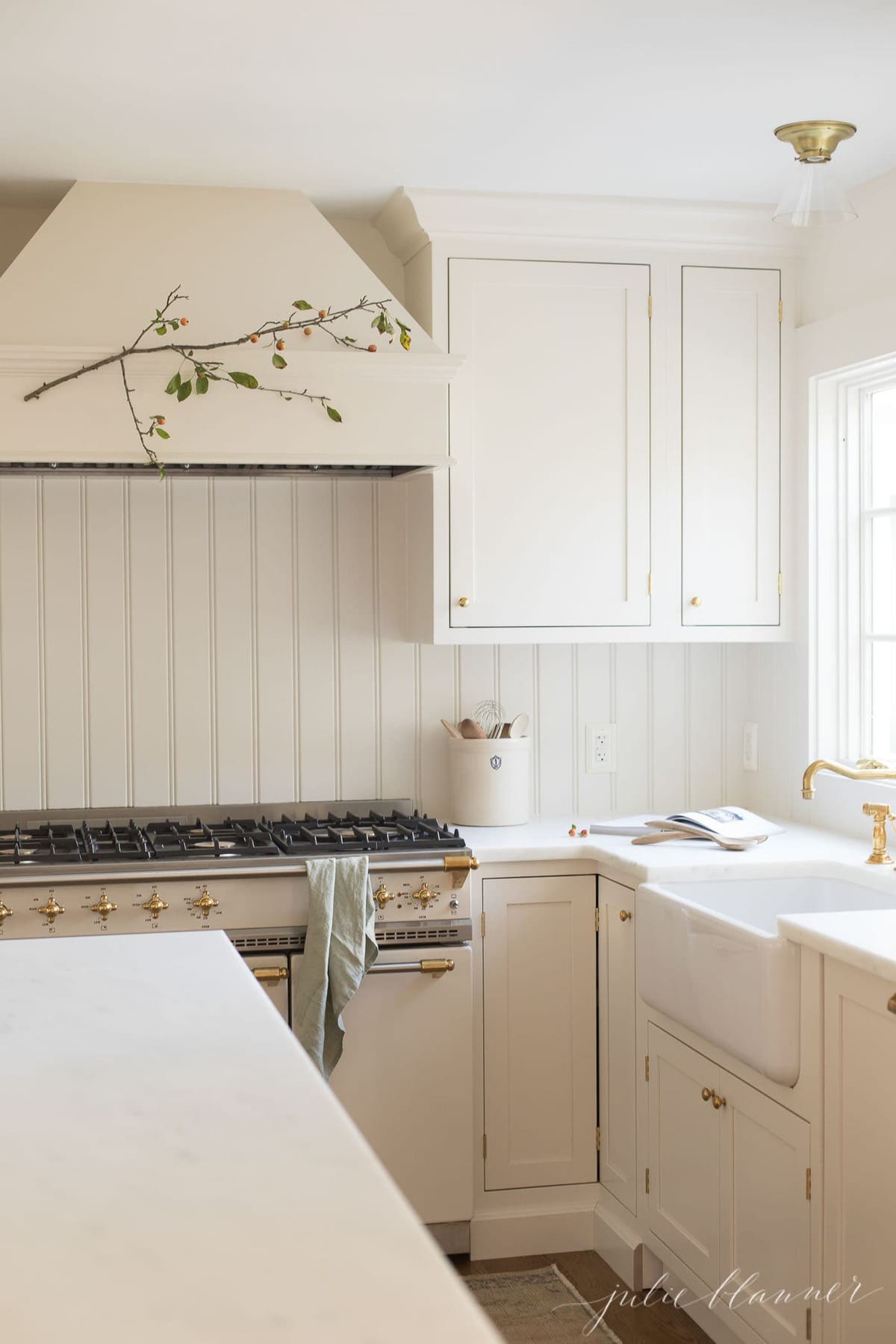 The shaker kitchen cabinets integrate into our home effortlessly, coordinating with our shaker style doors. Shaker kitchen cabinets work well for traditional, farmhouse, and modern kitchens. We had ours custom made but they're accessible through most cabinet makers, kitchen stores and hardware stores.
Shaker cabinets are made with very simple construction. Each cabinet door is made with a flat board, 4 pieces to frame and lack a bevel. We had ours finished with furniture style trim baseboard to give it a truly built in, finished aesthetic. The space under our sink and dishwasher have a toe kick for comfort and convenience.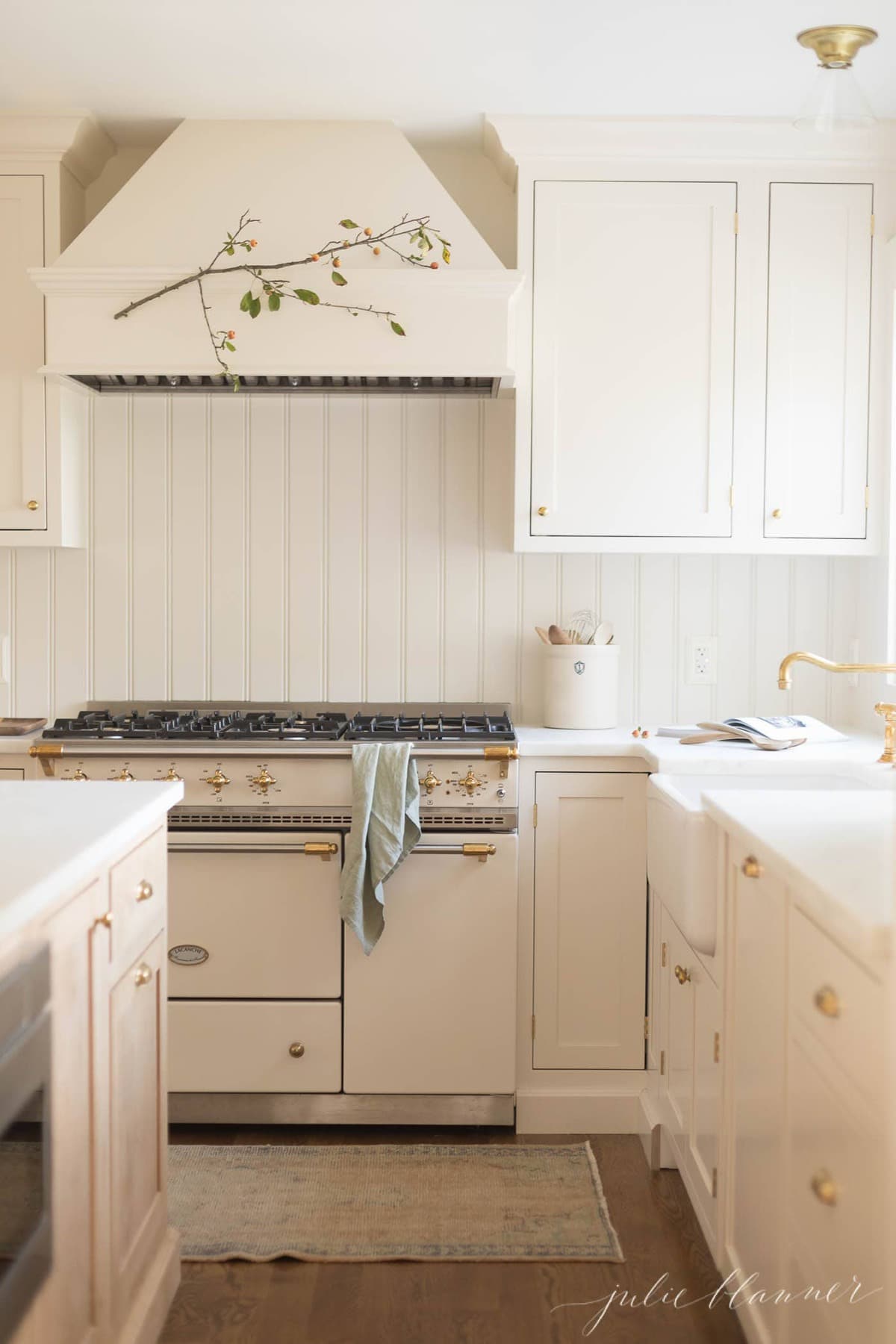 The shaker style kitchen cabinets go to the ceiling not only to offer maximum space, but to also draw the eye to the ceiling, which gives the illusion of space. It's accented with crown molding for another touch of timeless detail.
Classic Kitchen Hardware
The shaker kitchen cabinets are hung with exposed hinges. I love the little detail they offer. While most modern cabinet doors are hung with concealed hinges, these offer classic kitchen style.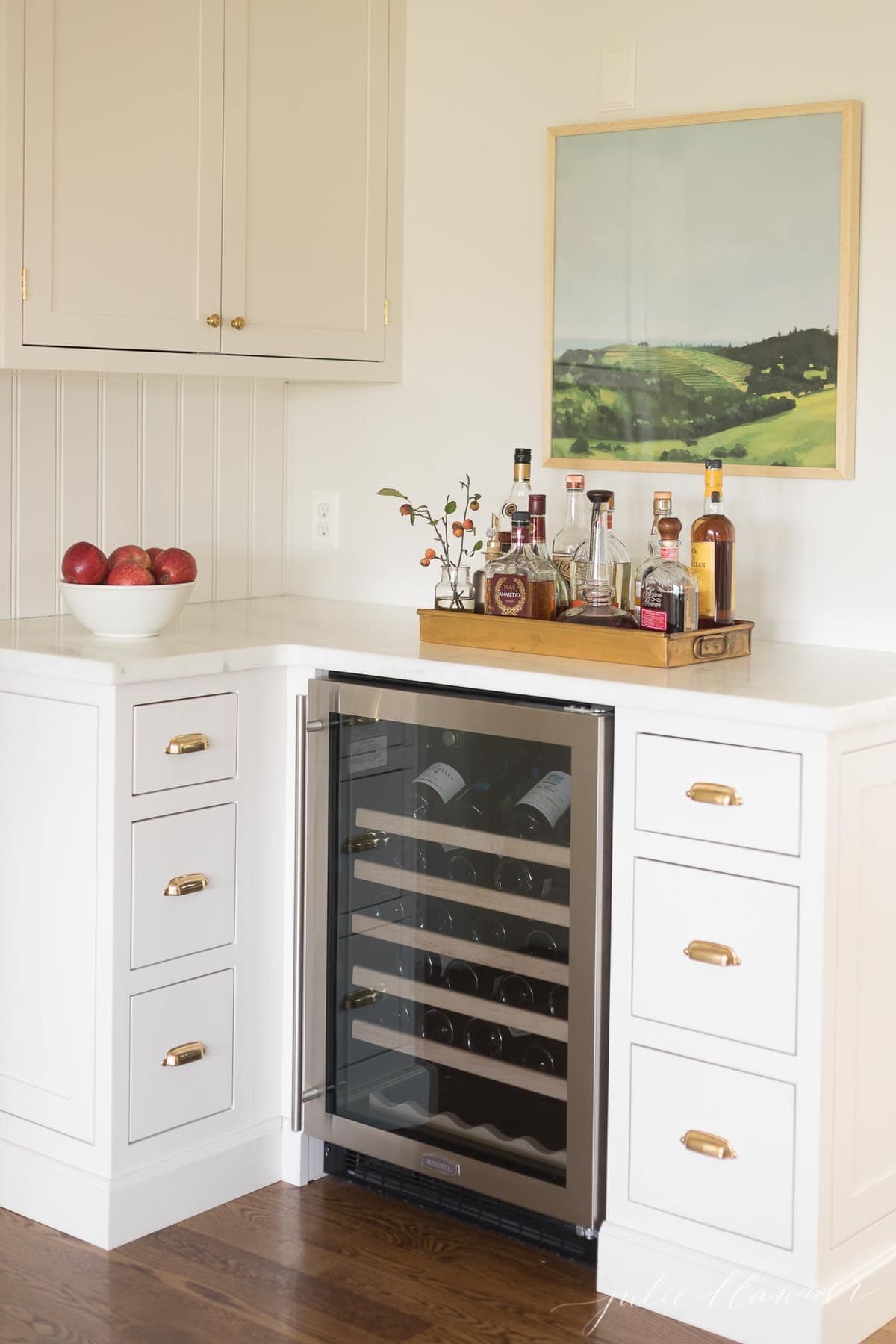 To add a little interest, three styles of hardware were used to accent the cabinets including knobs, pulls and latches, all in unlacquered brass.
Once bright, polished brass, they now have a beautiful patina which adds to a classic kitchen design. Read more about our appliance pulls here.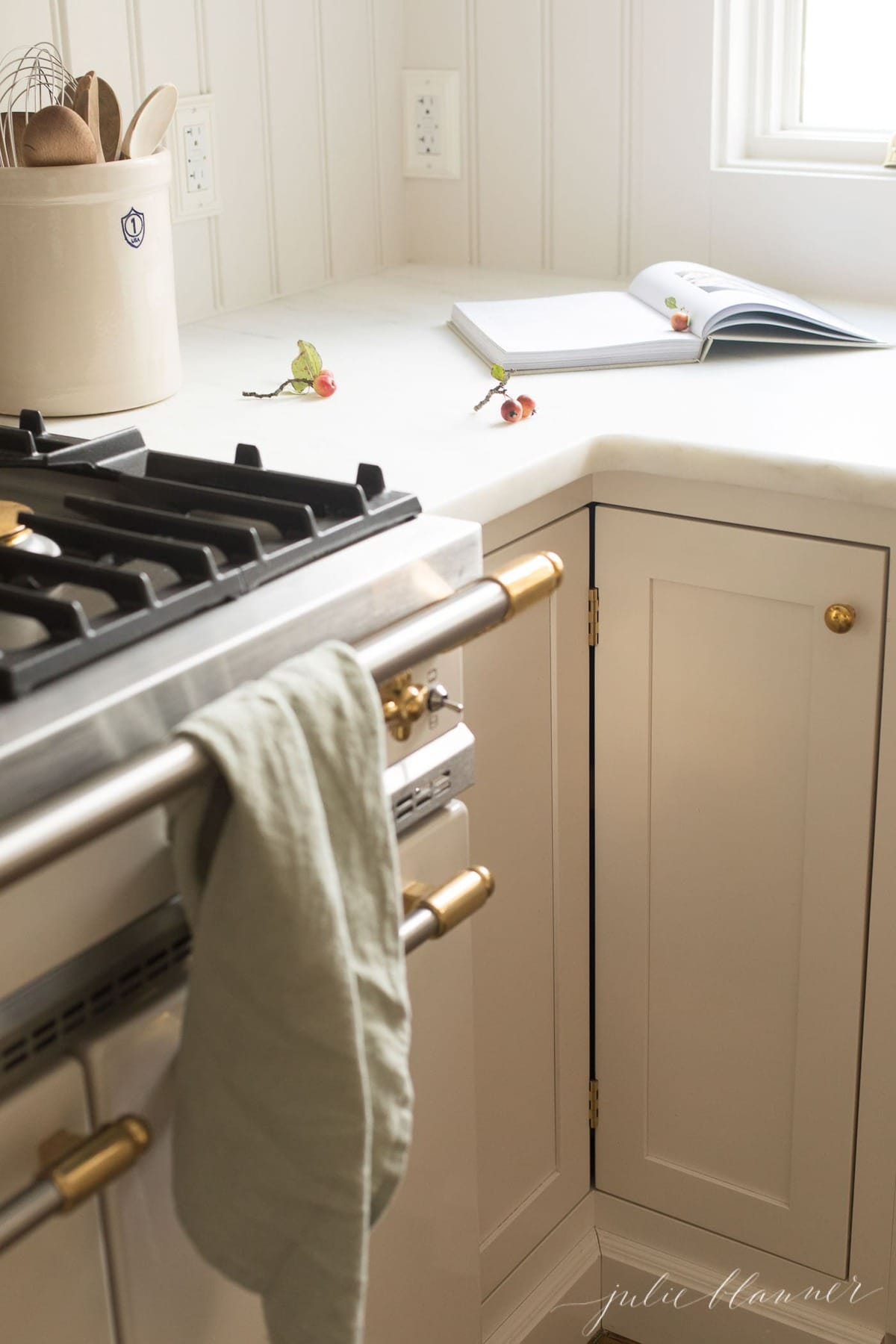 You can learn more about our unlacquered brass hardware here.
Cream Kitchen Paint Color
After having white cabinets in our previous home, I wanted to warm it up a little, this time choosing a cream tone for our cabinets. It still feels crisp and clean, yet cozy, warm and inviting. Get our Cream Kitchen Cabinet Paint Color here. Using a light paint color with a subtle sheen reflects light and makes the space feel larger and brighter.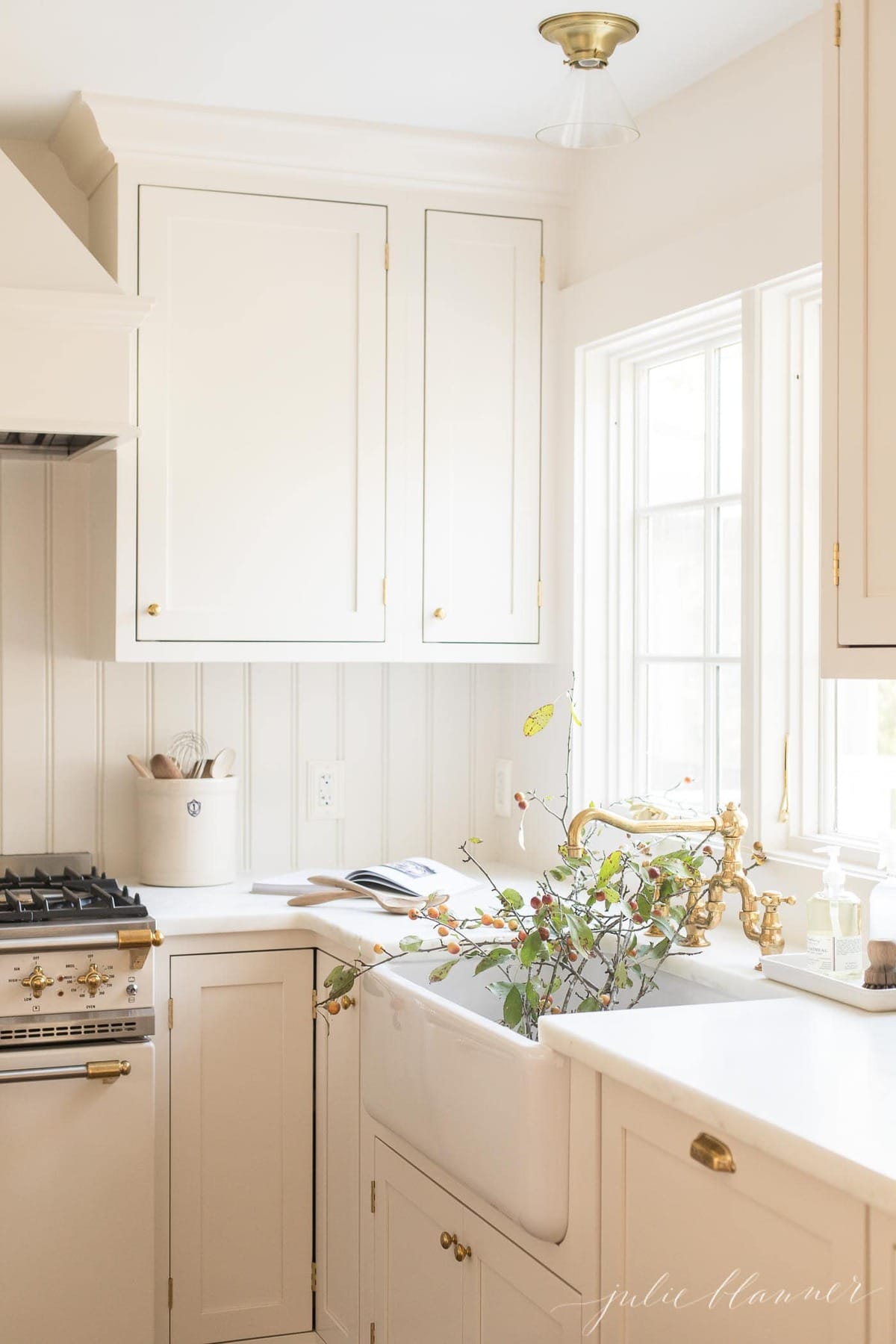 To balance an all cream kitchen, we had the island made in wood. It offers a nice variation and disguises footprints from little legs kicking the cabinets. It's protected with Modern Masters Dead Flat.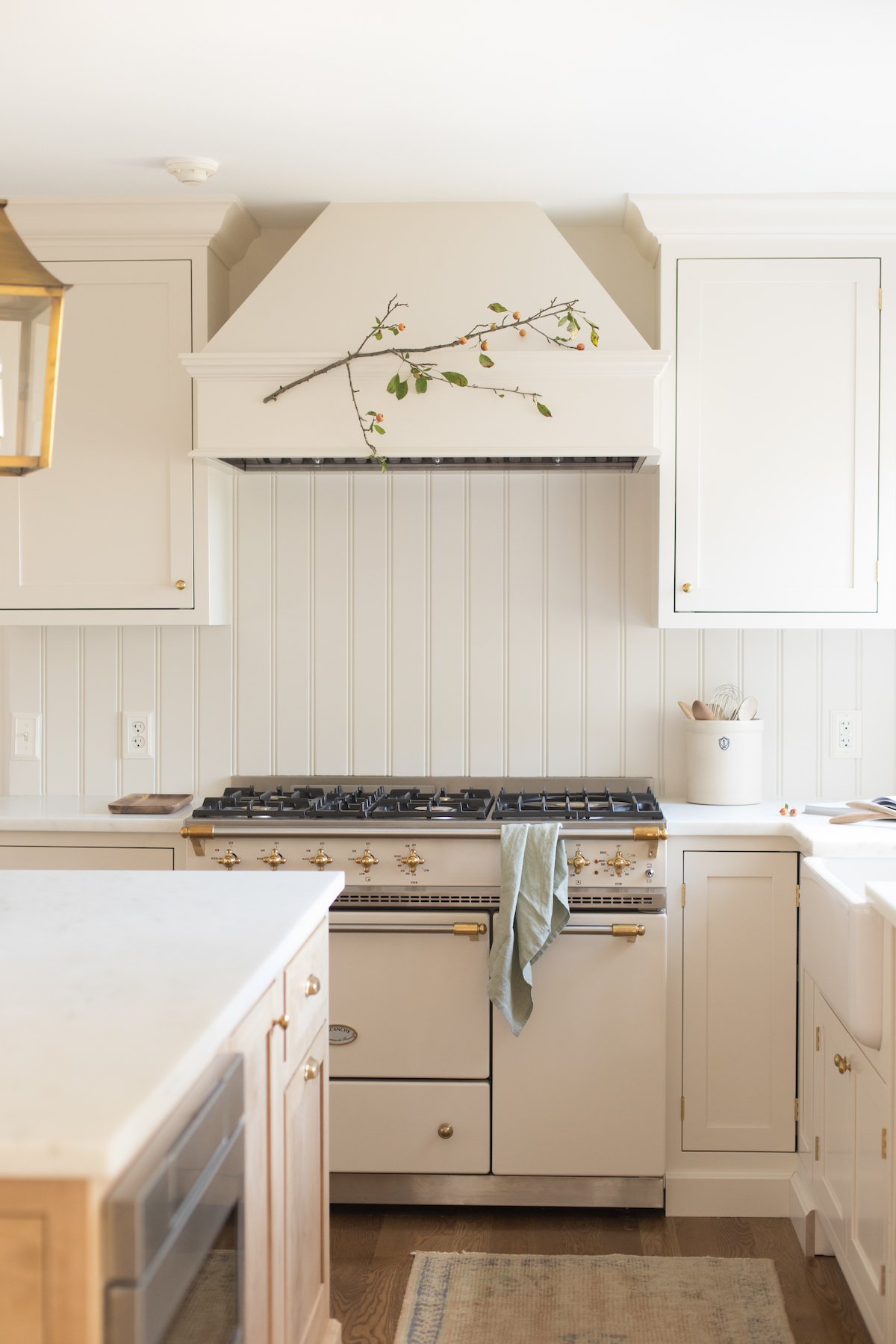 The New Kitchen Floor Plan
A large part of the remodel was focused on providing more function for our family and business, without changing the footprint or removing walls. It was a challenge to rethink the space to find ways to better utilize it, but ultimately was a huge success.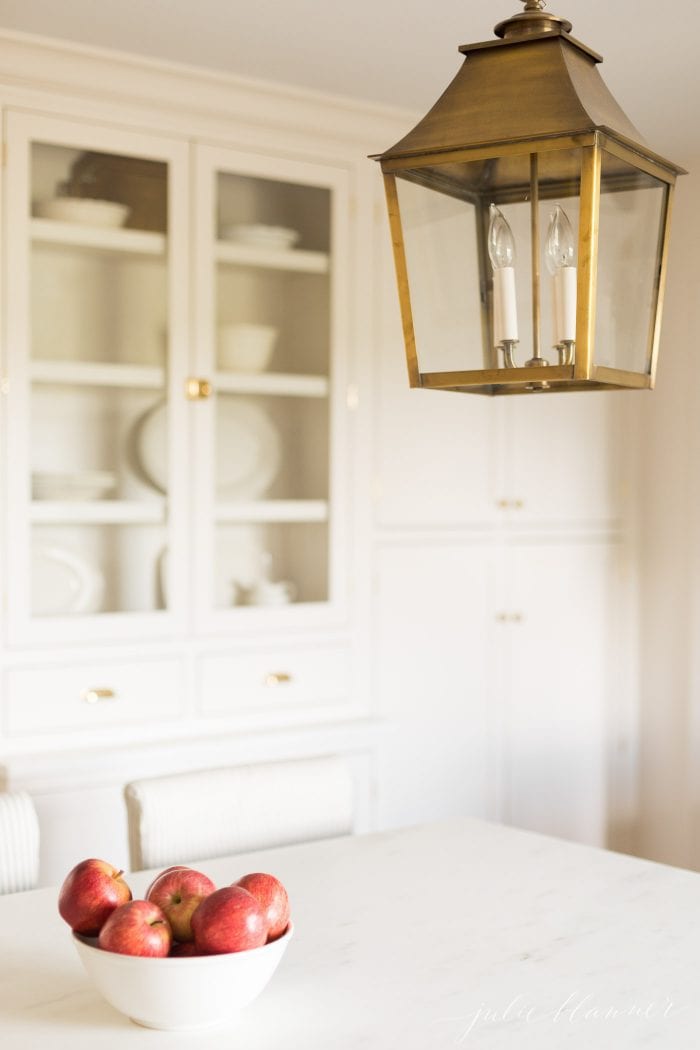 We have a rectangular shaped kitchen that is also a pass through from the dining room, living room, breakfast room and onto the mudroom and garage. We needed to keep pathways accessible.
Previously the wall between the kitchen and living room was consumed by appliances and one smaller pantry. It hosted our refrigerator, which even at cabinet depth stuck out beyond the cabinets, microwave and oven (see before photo above).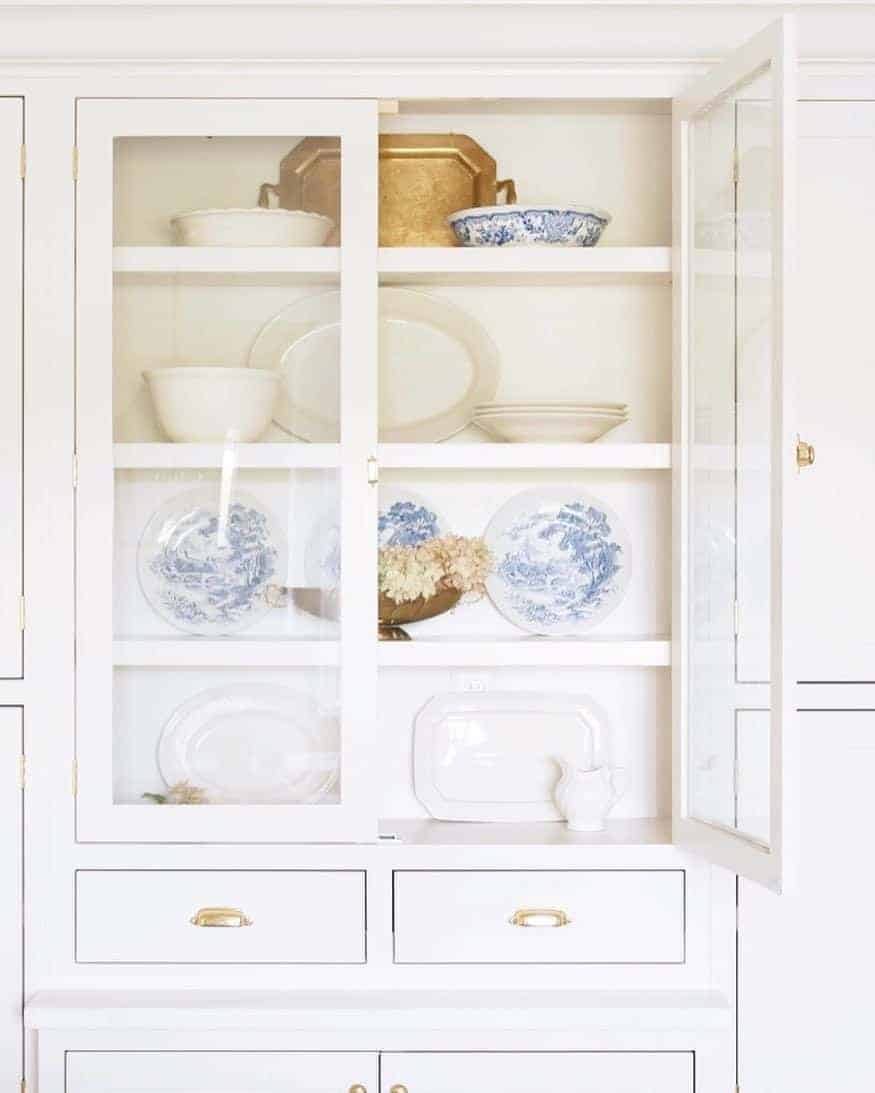 We opted to remove all appliances from the wall and replace the cabinets with 13″ wide cabinets (standard are 24″). While narrow, they allow a nice passageway and fit everything we need in our pantry effortlessly, without fear of something getting lost to the abyss of deep cabinets.
To visually break the wall up, in the center there is a hutch to store and display platters and pie dishes, and a cabinet that bumps out an additional 4″ to host my cast iron pots and skillets.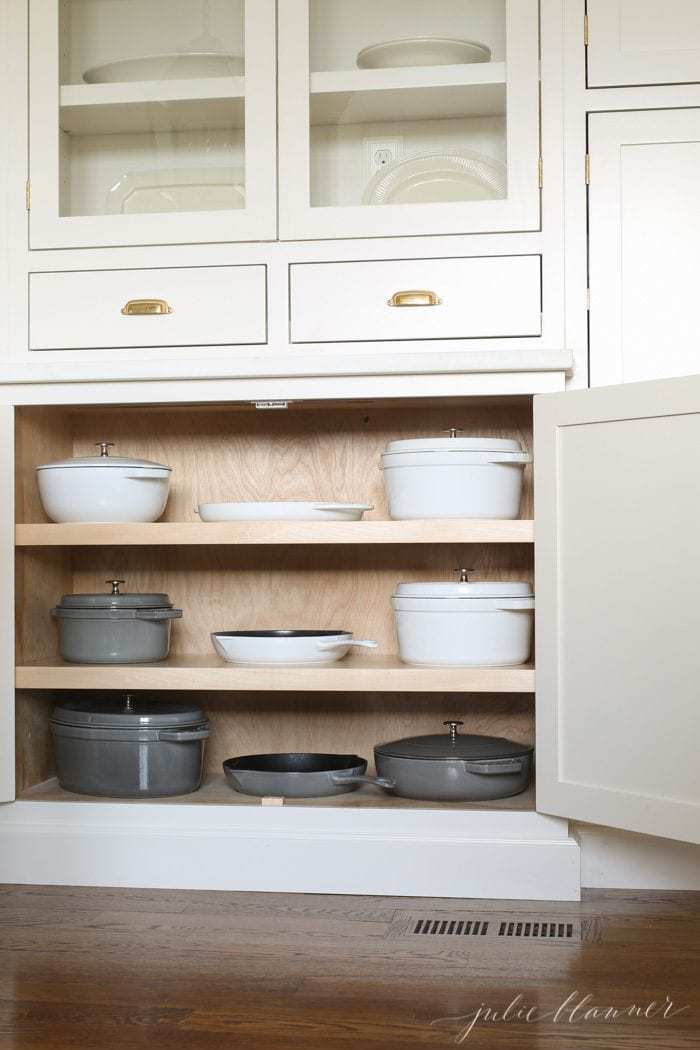 With a narrow wall of cabinets we were able to extend our kitchen island both in length and width (4'x6′). It now offers additional seating which we utilize when the girls help me cook, we're working on homework or entertaining.
The refrigerator was relocated to the far end of the kitchen that was previously defined for a kitchen table (we use the breakfast room). Consolidating wall ovens and stovetop to a single range also added space to our classic kitchen.
I personally don't believe in the triangle – I believe creating a natural footprint that works for you is far more valuable. The refrigerator is easily accessible and no longer impedes with traffic flow.
It is immediately off the mudroom where I bring groceries in and near the island where I do most of our food prep. You can see our refrigerator in the image below – designed to look like a freestanding french pantry. It's the one part of our kitchen that remains uncompleted, but isn't that how life goes?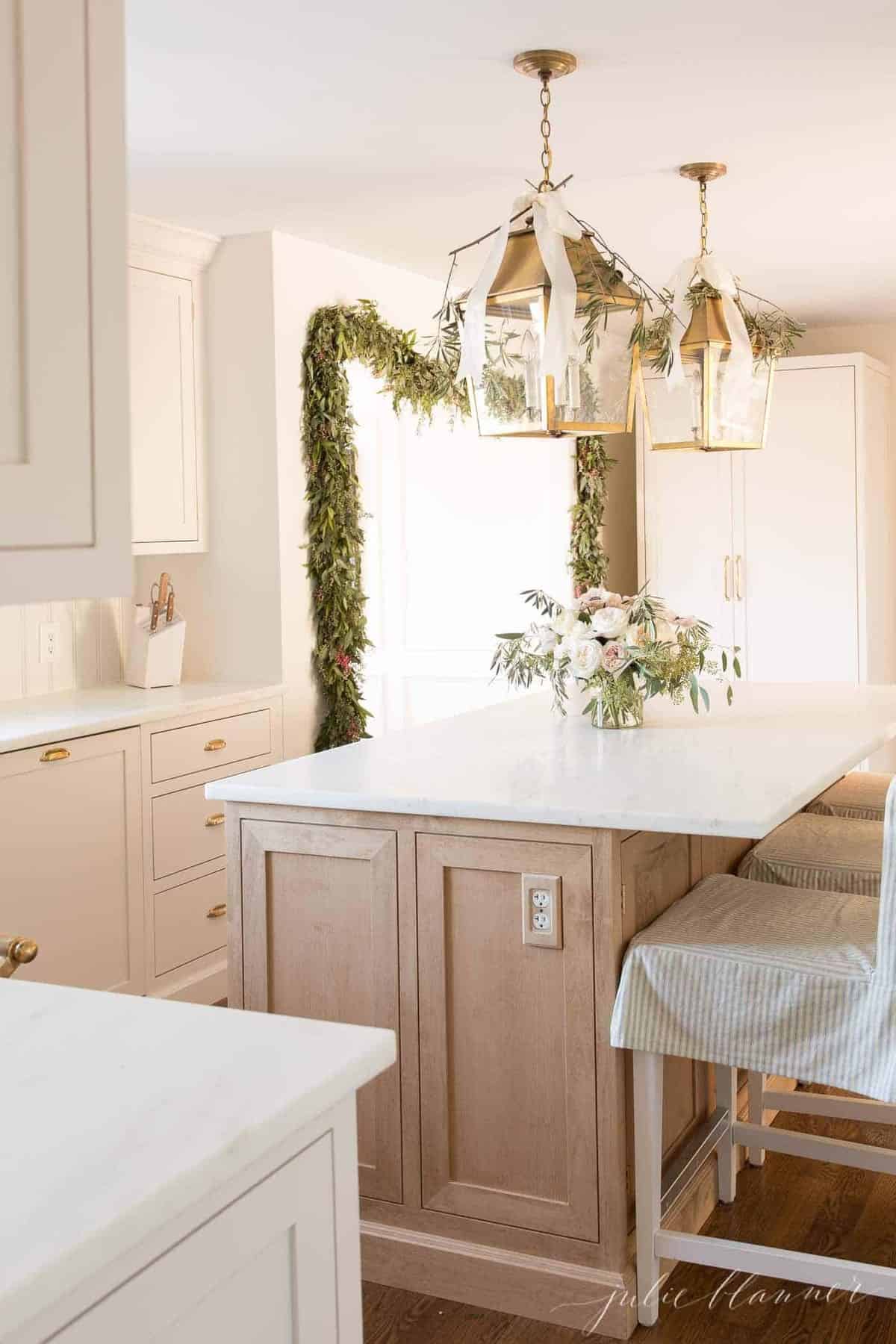 Adding Natural Light
In addition to painting the kitchen cabinets a color and sheen that would make the kitchen appear brighter, we also had a kitchen window made the maximize size the space we had.
While most people would center their sink below the window in order to keep cabinets symmetrical, we opted for more light instead. Rather than doing an upper corner cabinet, the cabinet to the right of the range ends at the wall so that the window frame could extend to it.
The frame also extends down to the sink and up to the exterior fascia to allow the most natural light possible to pour in.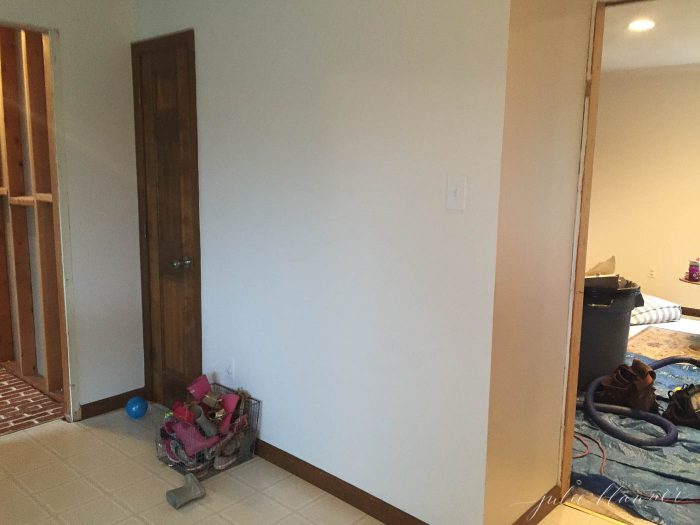 Opening the 2 1/2′ doorway (see before photo above) allowed natural light to flow through our kitchen from the living room and breakfast room.
Farmhouse Sink
Designing your dream kitchen on a budget requires a balance of splurges and compromise. One thing I didn't want to compromise on was the farmhouse sink. It's one of the prettiest, most functional elements that help achieve the feel of a classic kitchen.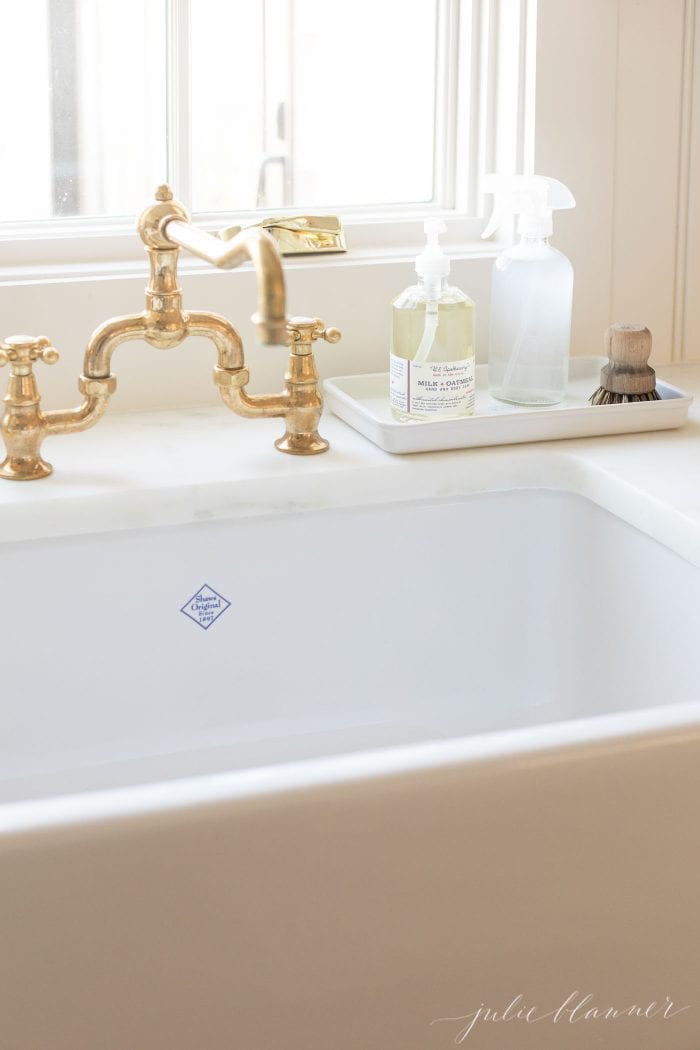 It's thick, making it feel substantial and there's so much beauty in the handmade imperfections of this sink. The little blue emblem adds a touch of country inspired charm and detail.
You'll find all the details about our farmhouse sink here, including what to consider if you're contemplating a farmhouse sink.
The bridge faucet also has a living finish, (read more about that in the detailed post linked here) adding a little character to the kitchen. We selected a faucet with a sprayer for convenience and had it installed to the left since Chris is left handed and frequently does the dishes.
When you're designing a new kitchen, make adjustments that work for your lifestyle. They tend to add a lot of convenience you'll enjoy for years to come.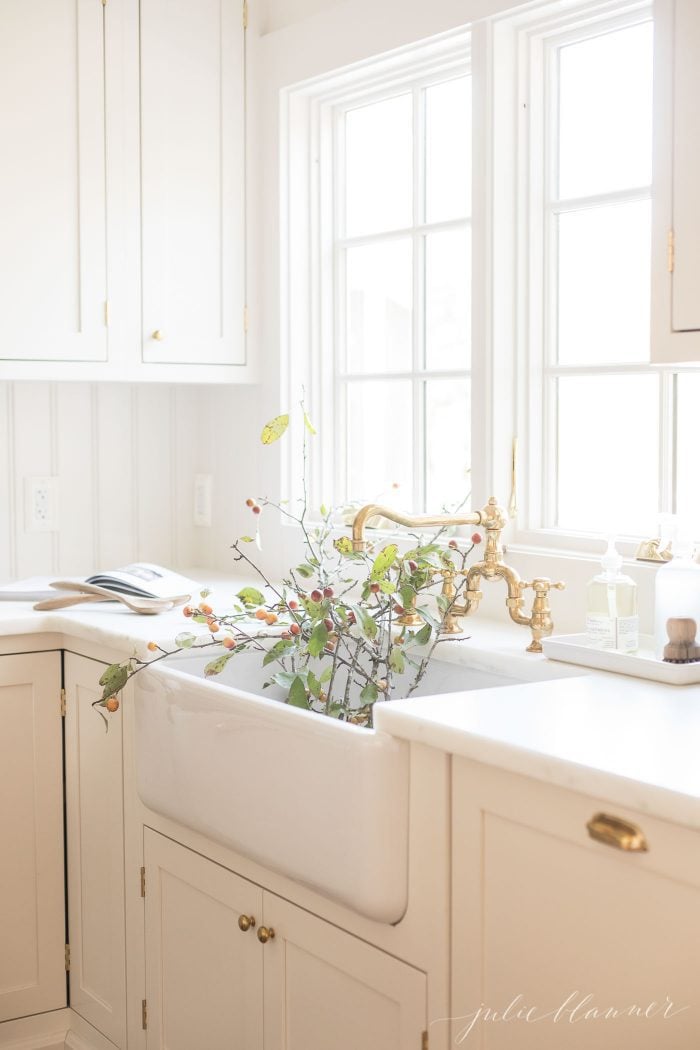 The low neck of the faucet also reduces spatter to keep cleanup minimal.
Kitchen Countertops
We chose a Danby marble for our classic kitchen. The subtle veining pairs well with cream cabinets. There are so many options that work well for a classic kitchen, but for me, nothing is more timeless than marble.
Marble is an authentic stone that wears and patinas with time, adding to the character and beauty. It's truly timeless because it's been used for centuries!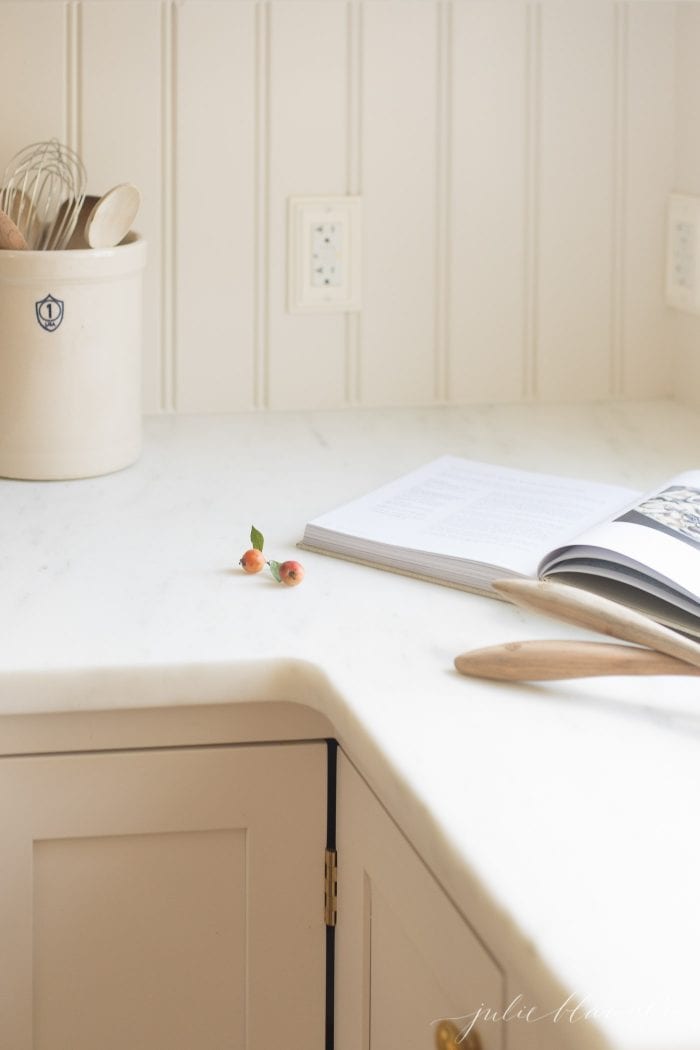 Once the marble is sealed properly, there is little to no staining. Etching does occur with acidic juices, but is minimized by using Comet. You can learn more about our marble counters here.
They're protected with StoneTech BulletProof Sealer and easily cleaned with this homemade marble cleaner.
Beadboard Backsplash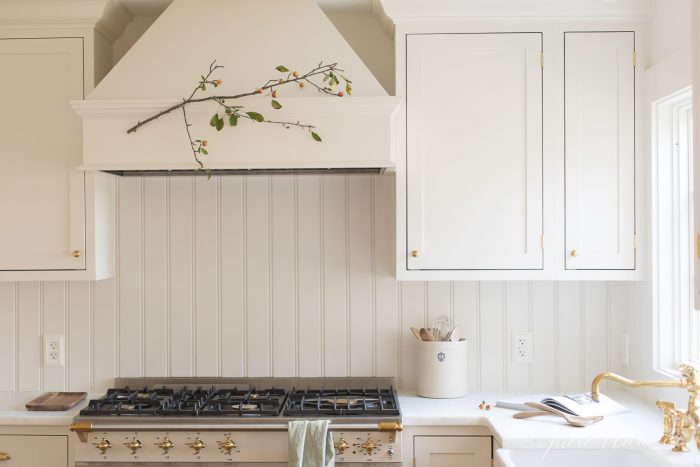 Beadboard backsplash blends traditional elegance with the classic comfort of an English country style kitchen. It's classic, timeless, and understated. It's also inexpensive and easy to wipe clean (when properly painted).
Kitchen Appliances (that make a statement – or don't)
Our Lacanche range was a significant investment, but offered a lot of versatility for my business. With eight racks on the electric / convection oven and two in the larger gas oven, multiple recipes or large quantities can be baked at once.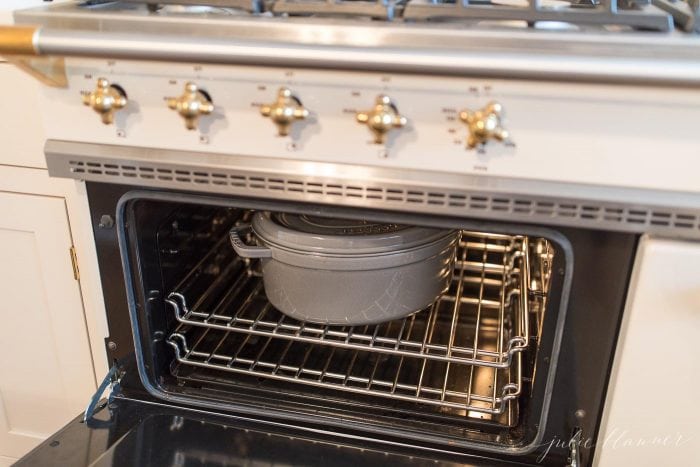 The french range is not only a workhorse, but also serves as the centerpiece of our kitchen.
In the new location, the refrigerator is seen from the living room, so we purchased an integrated refrigerator and had it designed to look like a french pantry. Again, it's yet to be completed but it's working well for us. (And so is this little wine bar area!)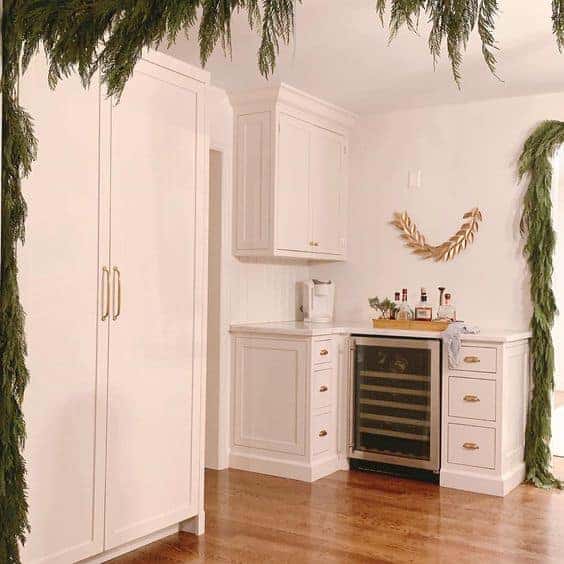 We also purchased a panel ready dishwasher and accented it with a brass pull so that it blends into the cabinetry, allowing the sink to shine.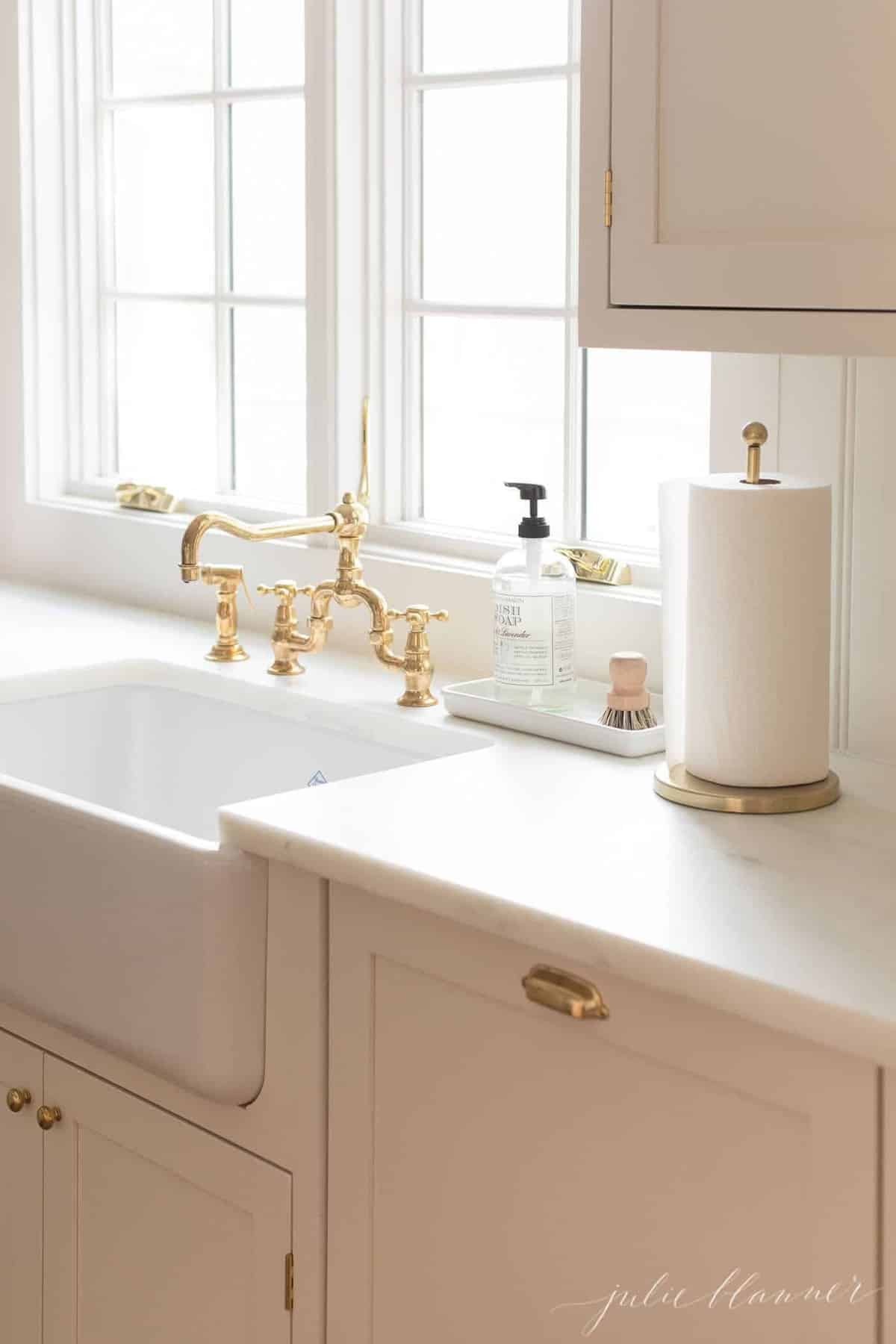 Brass Lighting
Another traditional element you'll find in our classic kitchen is brass lighting. We had two brass lantern island lights custom made that hang over the island to add an abundance of light in our previously dark kitchen. Another brass flush mount is affixed over the sink. Both have aged gracefully over time and help break up the walls of cream cabinets.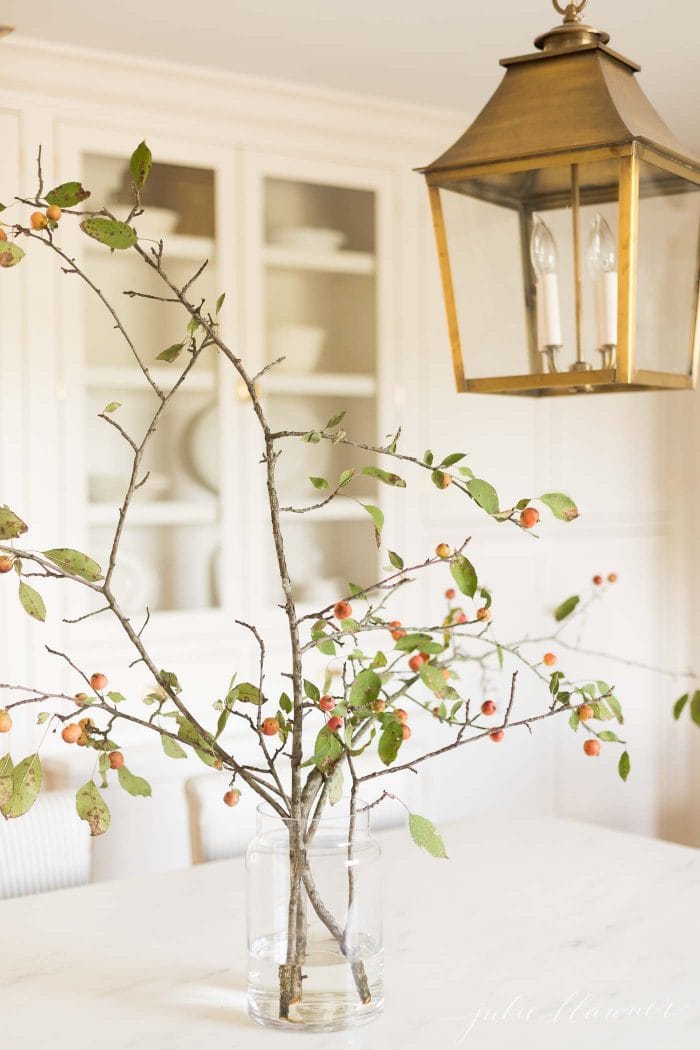 We paired the island with Ikea Counter Stools I painted cream and had slipcovered. Learn more about Bar Stools for Kitchen Islands here!
Let's keep in touch! Receive exclusive content, including never-seen-before photos, our favorite home decor DIYs and more!