Selecting furniture paint that won't chip and offers a flawless finish. The best paint for furniture whether you're painting wood or veneer! A beginner's guide to paint furniture without effort for a professional finish.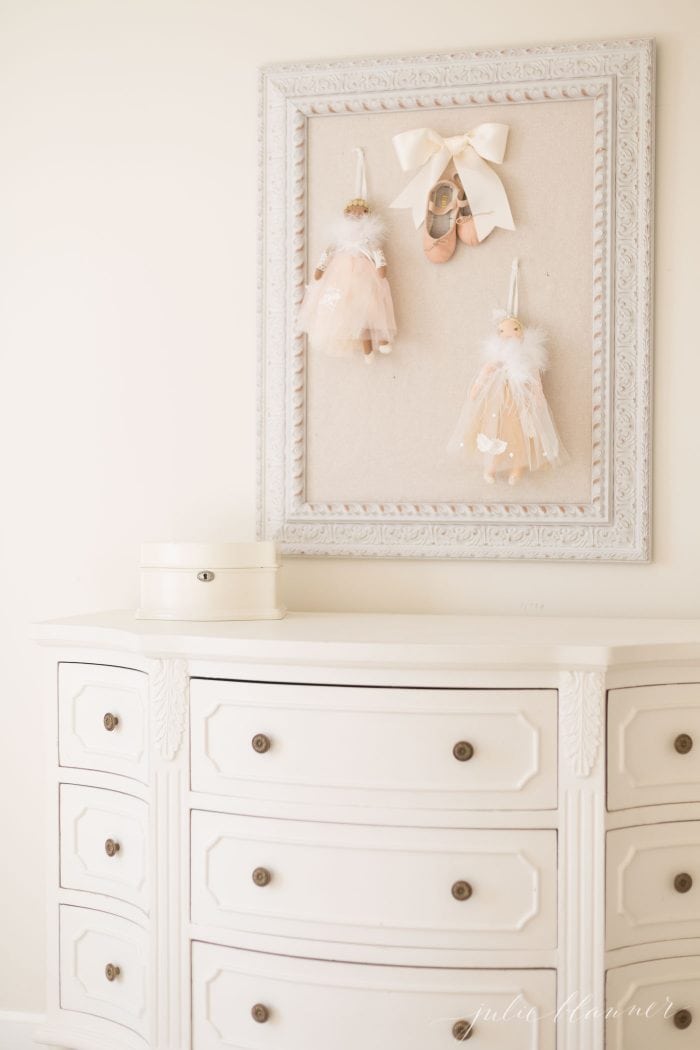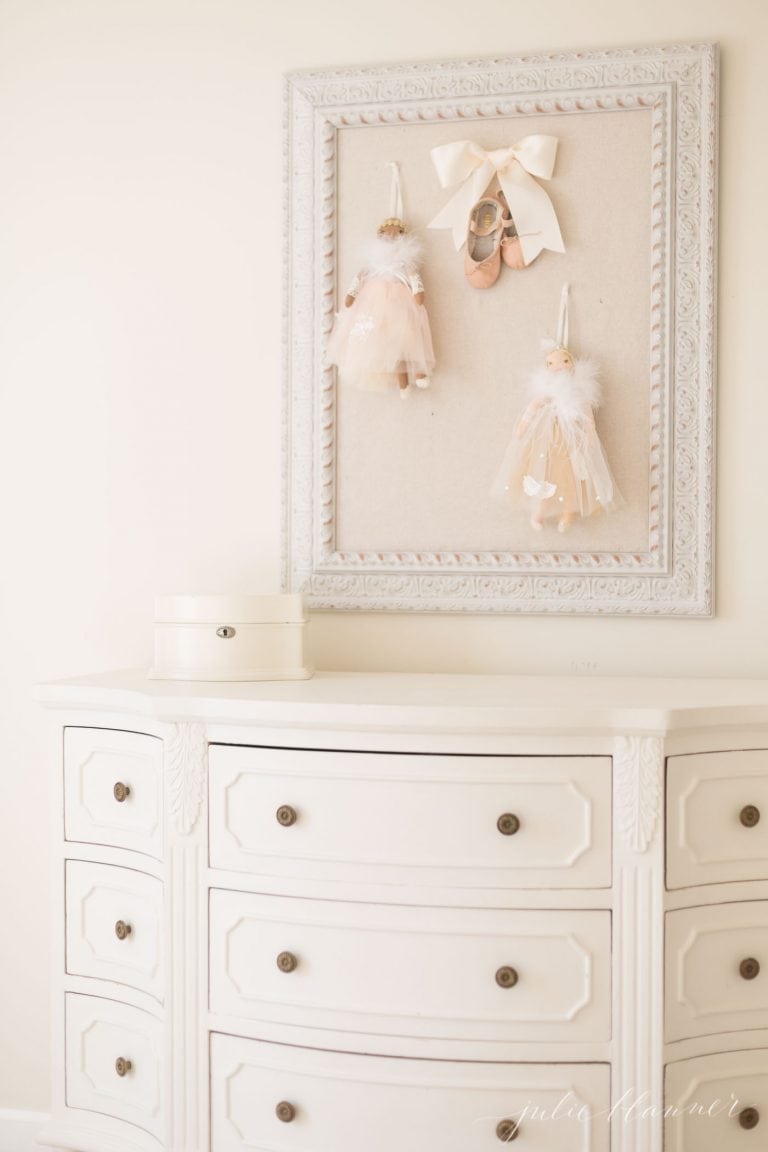 Painting furniture is one of the easiest ways you can transform a piece. It's an inexpensive way to update a tired piece of furniture or give it a fresh look.
Painting furniture is inexpensive and takes little more than time when you have the right products.
Through the years we have painted a lot of furniture. Through experience, we had learned a lot – often the hard way.
One thing we learned is that not all paint is created equal.
The kind of paint you use will determine how durable the finish is. It's important to stand up to cleaning, bumps and more.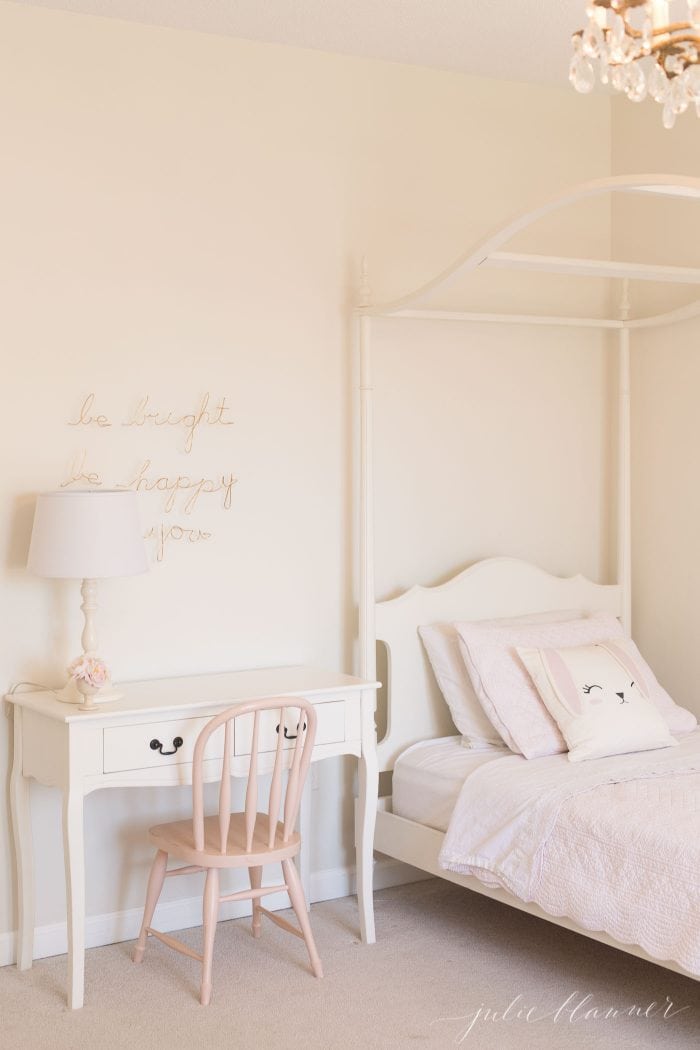 To save money, we opted to purchase used furniture for our girls' rooms. We knew that with kids it would experience heavy wear and tear. Though we have always attempted to prevent it, we also knew that markers and glue would be inevitable.
So, we painted pieces to match Pottery Barn Kids white in Sherwin Williams Creamy. We used a few different brands of furniture paint. It turned out, some were much more successful than others.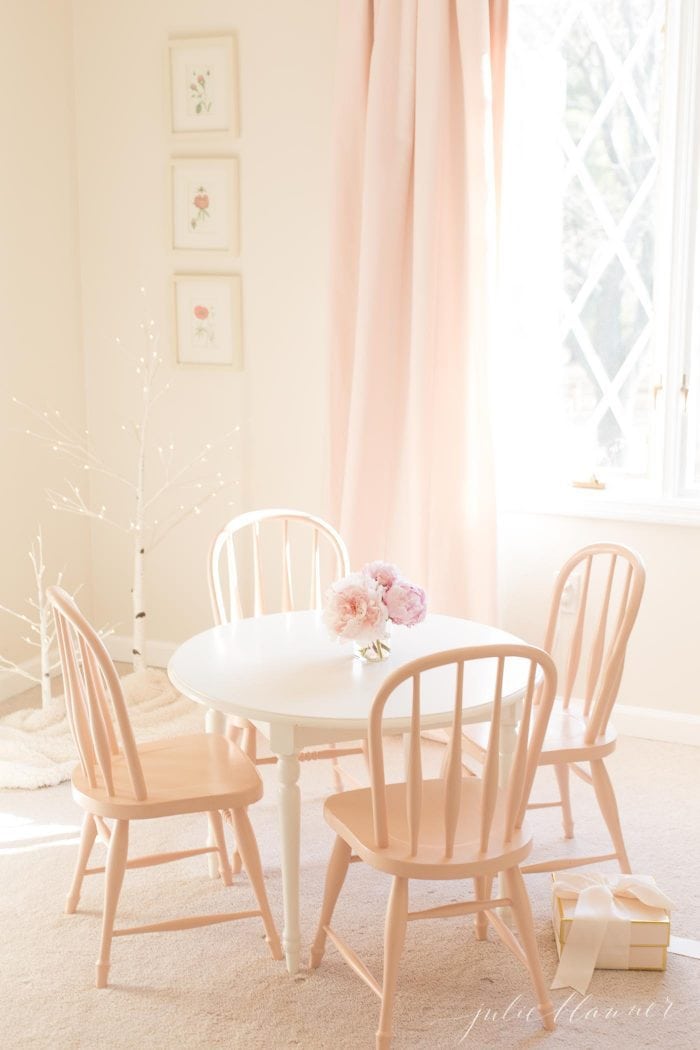 You know you're using the right paint when it doesn't chip, doesn't dent, wipes clean, has a smooth finish and is dry to the touch.
You need to choose the best paint for furniture for the best long term results.
After comparing several pieces over time, we found that the best furniture paint is Sherwin Williams Pro Classic.
We have painted so many pieces of wood furniture with it and not only does it provide a flawless finish, but it doesn't chip. It has a hard, beautiful sheen.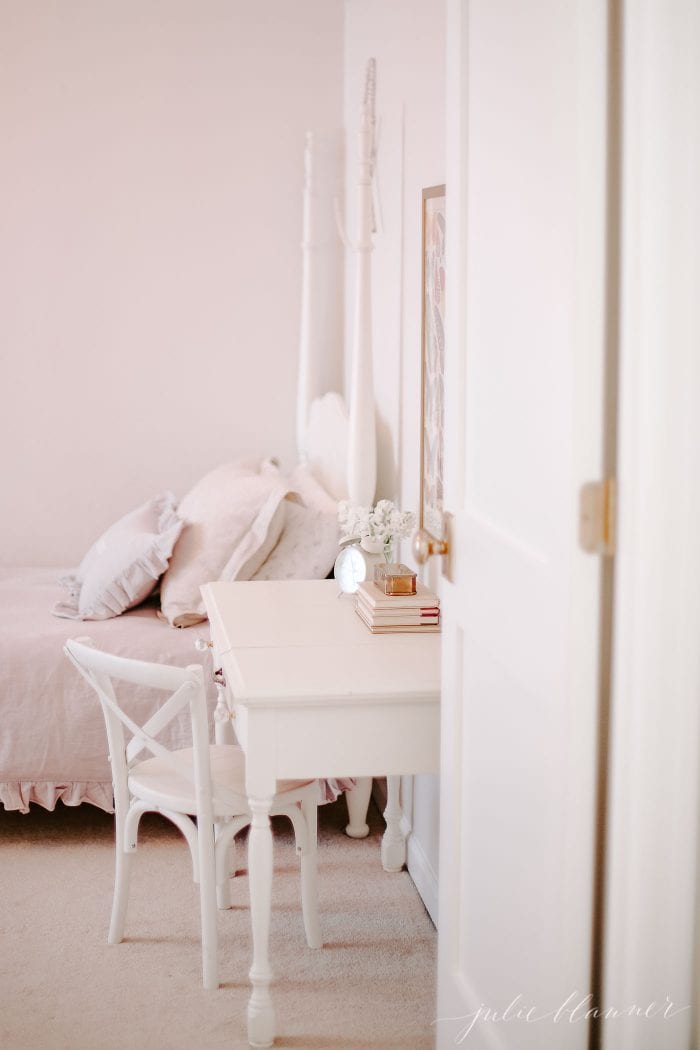 It came to no surprise that our painters highly recommend it, too! This furniture paint yields a smooth finish and incredible texture.
It is not only the best paint for furniture, but also for trim and doors! It doesn't scuff the way most paints do and adheres well to wood.
ProClassic goes on smooth without brush or roller marks. As proven by our children, it also stands up to wear and tear.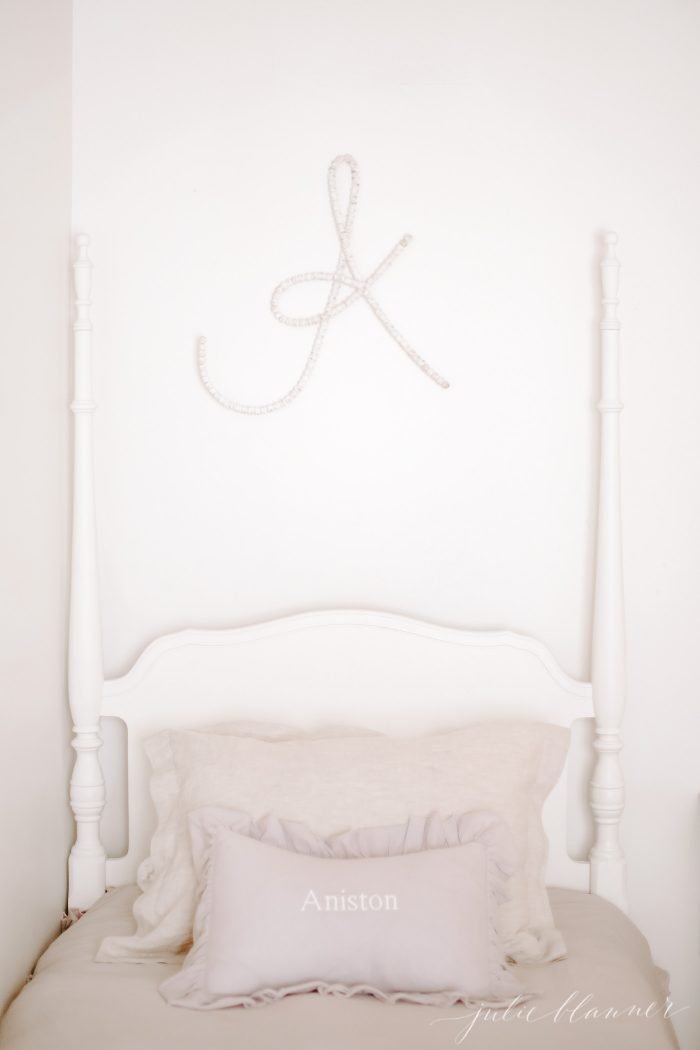 This furniture paint easily wipes clean. Glue, washable markers, makeup and more have been removed from "white" paint.
I love that it's a latex paint so there isn't a strong odor, which means you can paint a piece of furniture indoors or out.
Painting surfaces is especially easy! When you use the right furniture paint, it's a no fuss, no mess paint project.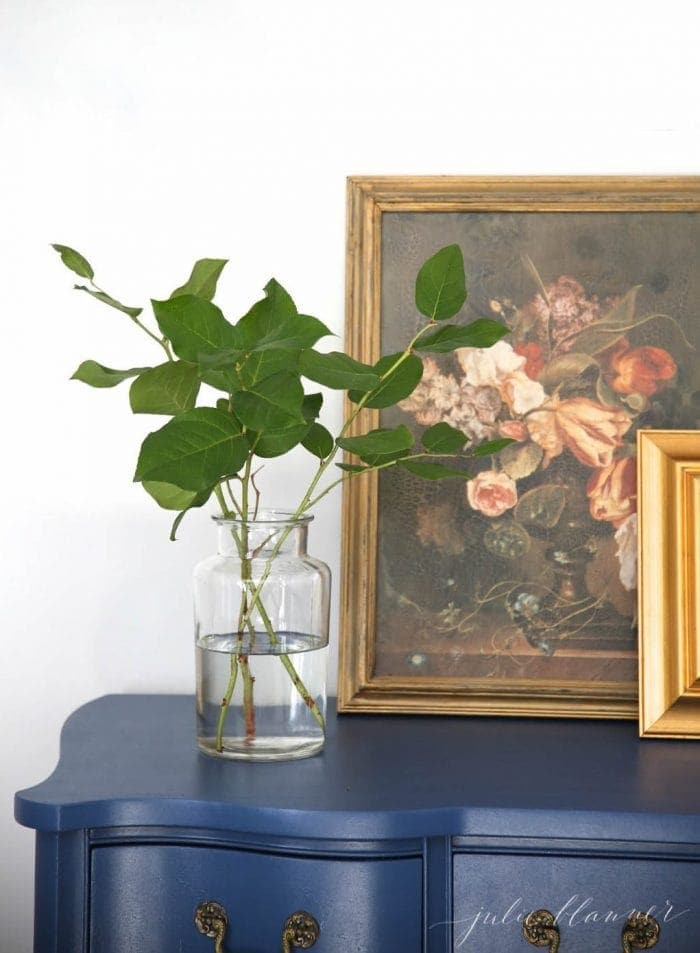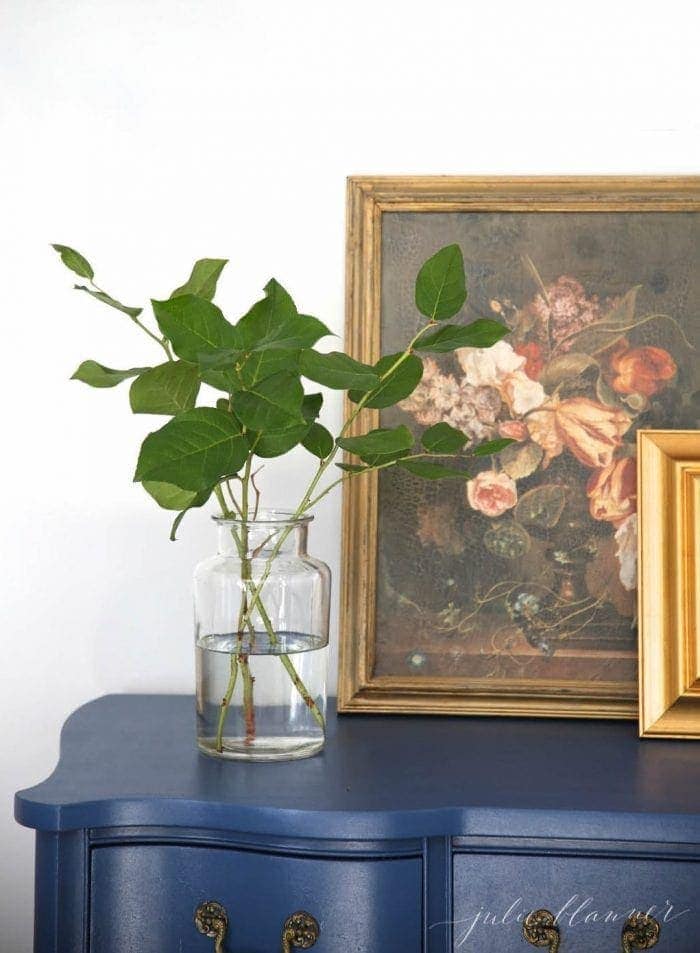 Unlike chalk paints, you don't have to paint, distress, paint, distress, paint and wax. In fact, whether you're painting a piece dark or light, you should only need 2 coats when using a quality furniture paint.
It's available in all the general finishes. You can paint in gloss, high gloss, semi-gloss, or satin. I tend to prefer semi-gloss or satin, but high gloss is beautiful for a more modern finish.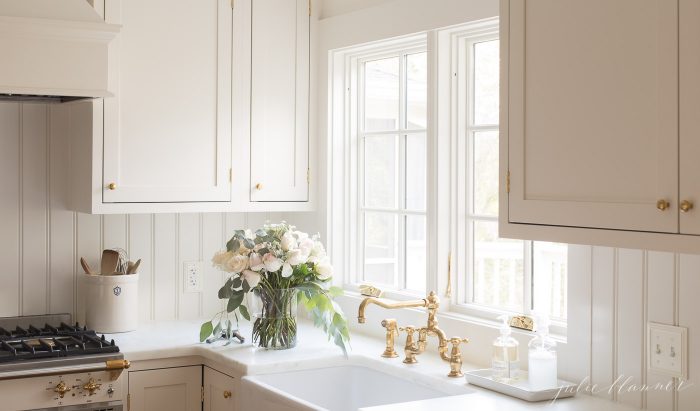 You may be wondering, why you should use furniture paint. Well, not only is not all furniture paint created equal, but not all paint is created equal. Paint is designed for a specific use, the most common use being for your walls.
Furniture paint is a harder finish, and therefore more resistant to scratching. It also won't peel off (yikes, could you imagine?) Sure, it's possible with primer, but it's best left for rarely-used pieces.
It's also much easier to clean. Have you ever wiped your wall down with water? Chances are it left some kind of mark that can be seen in natural light.
Why This is The Best Paint for Furniture
No need to use an oil based primer

No need for top coats

It's a water based paint
Tips When Using Furniture Paint
Use a foam roller rather than a paint brush to avoid brush strokes, if possible

Use two coats of paint

Work quickly – it dries quickly. When it becomes tacky you'll notice more brush/roller streaks

Let it completely dry between coats

For the most luxurious finish, use paint sprayers
Where to Use Furniture Paint
Furniture

Doors

Trim

Cabinet
Tools to Use for the Best Results
Paint Sprayer

4-6" Skinny Mohair Rollers

Roller Tray

Roller Tray Inserts

Drop Cloth
You may notice I didn't mention anything about sand paper. Did you know you can paint without sanding? Learn how here.
How to Paint Wood Furniture
It's so easy! Follow along these simple steps to paint wood furniture in the easiest possible way. Prepping is just as important as painting.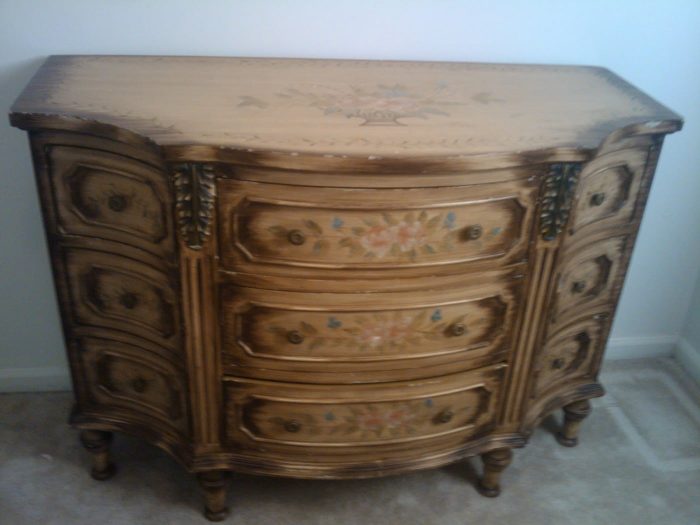 Remove Hardware
First things first! Remove hardware and any miscellaneous pieces.
Remove Drawers
This will allow you to get the area that surrounds the drawers!
1. Clean
This step is really important for a flawless finish. If there is any grime, use a degreaser to eliminate it. Otherwise a simple cleaning spray will do the trick. Allow it to dry.
2. Sand – or don't
See above how to skip the step without sacrificing quality.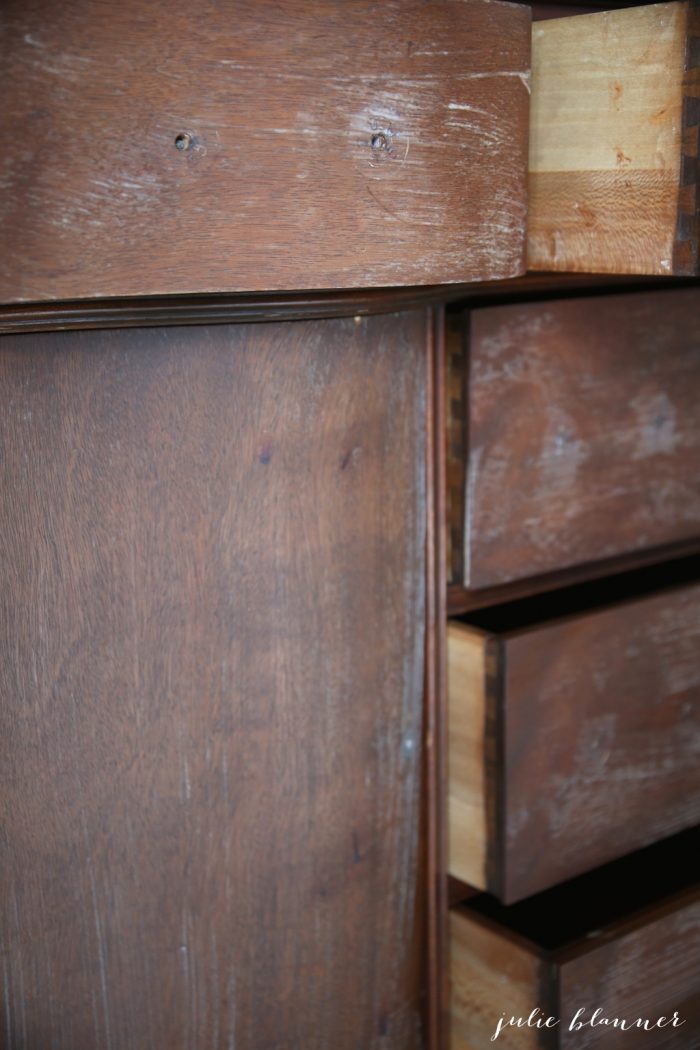 3. Clean, again
Remove any dust particles.
4. Paint Hard to Get Areas with a Brush
Paint any trim or areas that would be difficult to roll first. Skip this step if you're using a paint sprayer.
5. Roll the First Coat of Paint
Dip your paint roller in the tray and remove excess. This will avoid drips.
Working quickly, roll each piece – resist the urge to go back over any imperfections. This will reduce the risk of any brush marks.
Wipe any drips, if necessary.
Allow to dry completely.
6. Roll the Second Coat of Paint
This will eliminate any imperfections. Apply a smooth, even coat, while working on each piece or section individually. Again, resist the urge to touch up.
Allow to dry.
7. Touch Up, If Necessary
If you need to touch up your piece, now you can. You don't need to apply a third even coat. It should blend in seamlessly with the right furniture paint.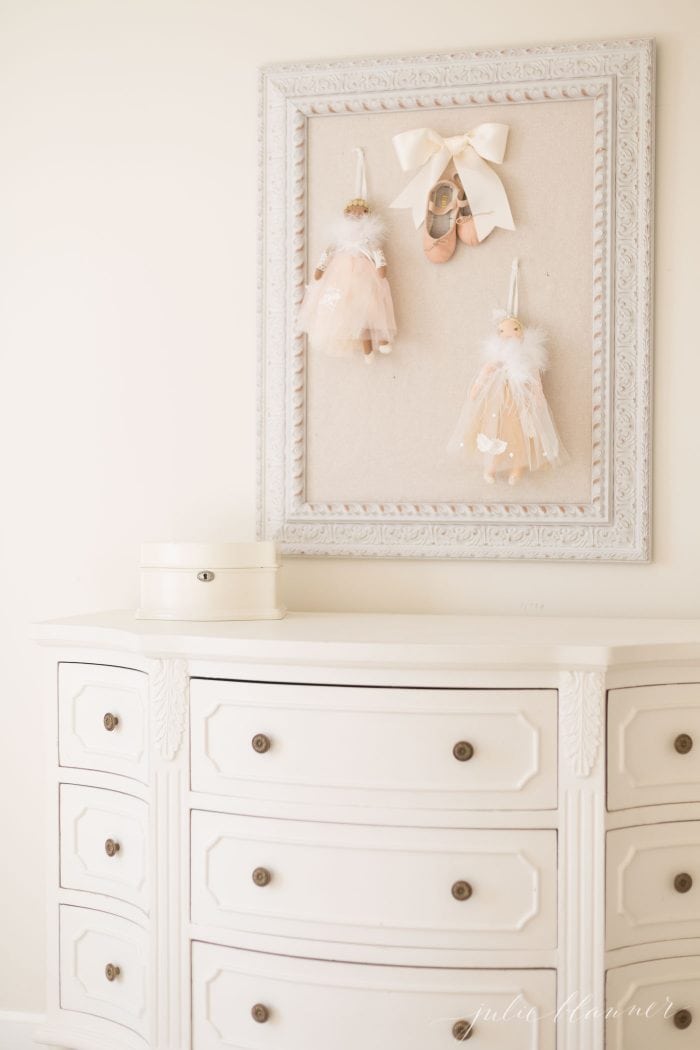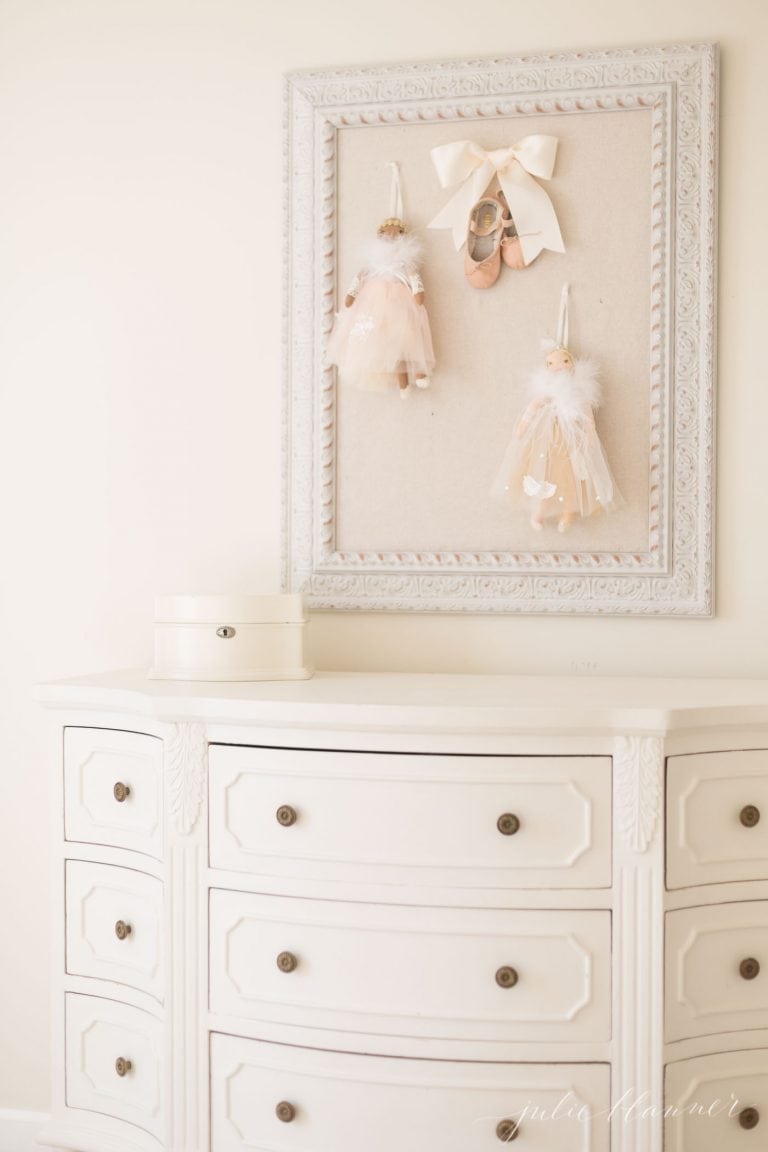 Wait 24 hours before putting the piece of furniture back together, putting hardware on or moving it. While paint may be dry to the touch, it takes several hours to cure, especially in high humidity. There's no reason to risk damaging your hard work!
One of my favorite pieces of furniture in our home is our oldest daughter's painted dresser we did 9 years ago. It looks just as beautiful today as it did when we created her nursery! Choosing the right furniture paint made pieces we thought were a temporary solution into a permanent fixture.
More Paint Projects and Colors You'll Love
Have questions? I'm happy to help! Leave them in the comments below.