Cabinet hardware is a finishing touch that elevates a room from so-so to stunning. Learn all about cabinet knob placement, so you can get your room's look just right!
A well-designed kitchen, bath, or laundry space is a beautiful thing. Every detail is well thought out and adds to the overall tone. Even the tiniest detail like cabinet door knob placement can make or break a space.
Get it right and you'll create a space that is cohesive and welcoming. Get it wrong and you'll end up with a space that just looks off and unbalanced. Read on to learn more!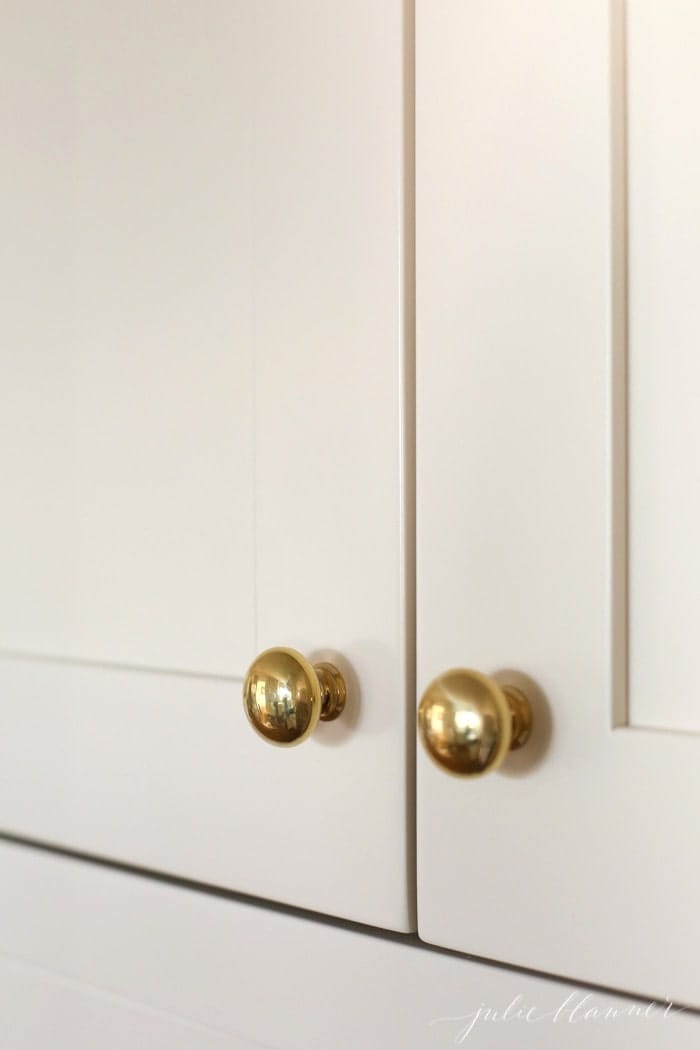 So where do cabinet knobs and pulls go? It's a question we don't usually ask ourselves until the moment we need to actually install cabinet hardware.
Don't worry if you're not quite sure – this guide will walk you through everything you need to know about hardware, placement, and proportions.
In our new kitchen, we've added a microwave drawer and panel ready appliances – come read all about them!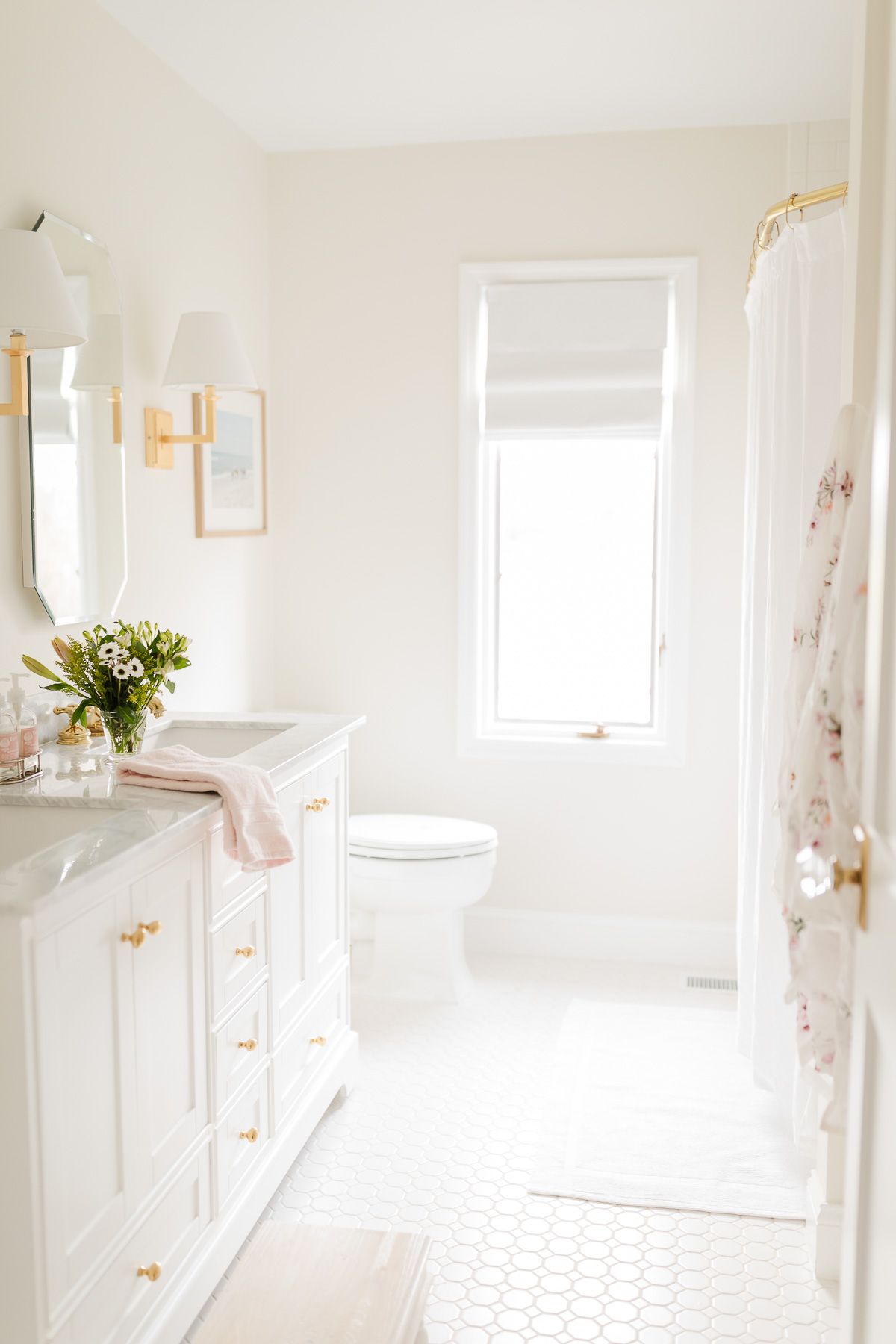 Cabinet Knob Placement
Cabinet knob placement is important for more than aesthetics – although creating a visually appealing space is reason enough to get it right. Proper placement is also necessary for function.
Different types of knobs and pulls have been designed for different functions, so it's important to put them in the right spot on your cabinets so they can do their jobs.
Perhaps you're renovating an existing space or planning a new build, or maybe you want to add hardware to cabinets that don't have any – this post is for you!
Even if you're just looking for a quick update to freshen up your space, changing out your existing hardware is a quick, easy, and fairly inexpensive way to bring new life to your space.
Changing out your cabinet hardware is like changing into a pair of sparkly new earrings. It's refreshing! Knobs, pulls, latches, and handles are the jewelry for cabinets. We all know that the right jewelry completes an outfit. It's time to let our cabinets shine!
See how I used cabinet hardware in my kitchen remodel, on my creamy inset cabinets, and in our spa bath makeover.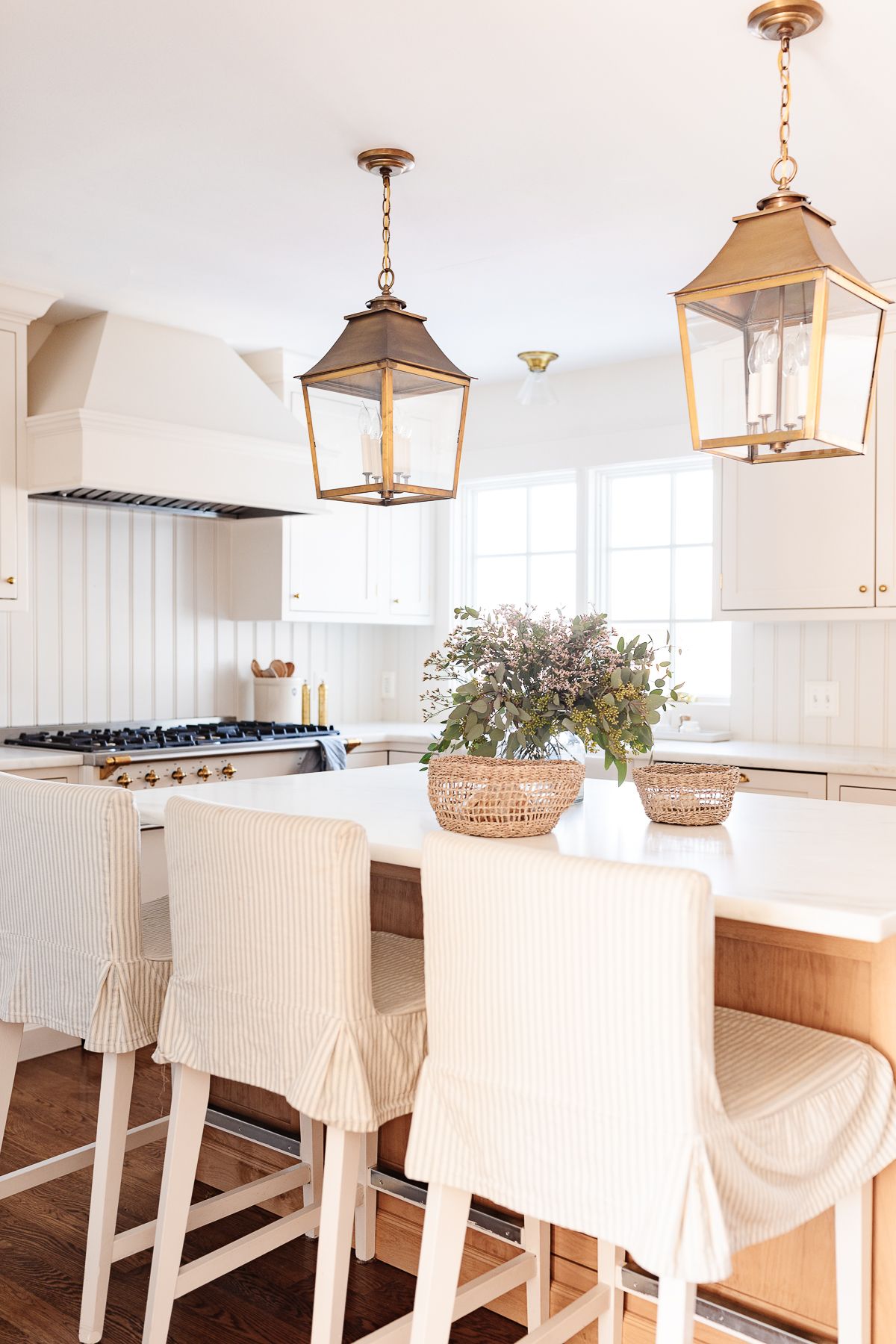 Types of Cabinet Knobs and Pulls
There are several different types of cabinet hardware, each with a distinct style and function. Knowing what they are and what they do is helpful in not only choosing your hardware, but in determining where to place it on your cabinets as well.
Knobs
All of us know what a knob is, so there's no need to explain it. The exciting thing about cabinet knobs is how far they've come in recent years. Sure, you can still find plenty of options for classic, round cabinet knobs. Many of them are beautiful!
But there are also so many options for other shapes – geometric, hexagon, T-shaped, square, cylinder, and more! They're no longer only metal, either. You can find them in almost any material – glass, acrylic, crystal, natural stone, wood, even leather.
Another plus of the knob is that it only requires one screw, so only one hole. If you're not quite ready to commit to a certain length pull, or you just don't want to drill extra holes into your beautiful cabinets, then knobs may be the choice for you.
Pulls
Cabinet pulls are another great option. They are easy to grasp and hold on to, so they can greatly add to the overall function of your space. There's also style to consider – and pulls have a lot of style! They come in almost any length and design you can imagine, from curved and classic to sleek and modern and everything in between.
One factor to consider with cabinet pulls is the size of your cabinets. You want your pulls to be the right size proportionately to your cabinet door or drawer.
Remember, it's okay to use different length pulls to fit your drawers. Choose a style, then use it in different sizes as needed. Check out these Appliance Pulls for more information.
Cup Pulls
Cup pulls are just what their name suggests – a pull in the shape of a cup. You slip your fingers up and underneath the cup to grasp it. They are highly functional and add a lot of style to a space.
Cup pulls have a timeless quality to them. They come in many different shapes and sizes, so they can go well with just about any design style. Traditional, farmhouse, even modern – there's a cup pull for all of them! They are a beautiful, elegant finishing touch to any cabinetry.
I used a combination of knobs and cup pulls on my cream kitchen cabinets for a warm and classic look.
Finger Pulls, aka Tab or Edge Pulls
Finger pulls lend themselves to a more modern and sleek dynamic. They are installed differently from the other types of cabinet hardware, which are typically screwed in from the front or back and through the cabinet door or drawer.
Finger pulls are instead mounted to the top or bottom edge of the cabinetry, with just the front lip exposed as a pull.
Finger pulls are sleek and minimal. In some designs they are barely visible. They don't stick out much past the face of your the cabinets – just enough for your fingers to slide under – so they help to maintain a streamlined look and feel.
Cabinet Construction – Rails, Stiles, and Panels
It will be much easier to talk about cabinet knob placement if we're all using the same terminology. The horizontal wood pieces across the top and bottom of cabinet doors and drawers are called rails. The vertical pieces up both sides are called stiles. The center area of the door and drawer, often inset between the rails and stiles, is the panel.
Flat cabinet doors with no dimension whatsoever have no rails, stiles, or panels. They are simply one solid door.
Now that we're all on the same page, let's get down to business!
Where to Use Knobs and Pulls
Traditionally, kitchen cabinet knob placement has been knobs for cabinet doors and pulls for drawers. There are many ways to install cabinet hardware, however, and it really all comes down to personal preference – with a few general design tips to keep in mind.
For example, pulls can be used interchangeably on both doors and drawers. This works well in modern installations when the pull is a simple, straight design. It also works with other styles – farmhouse, cottage, transitional – especially if the pulls are slightly more stylized.
Knobs can also be used on drawers, especially in bathrooms to add more delicate detail. Remember that a single knob will look best on a smaller drawer, whereas it will look disproportionate on an extra long or deep drawer.
If a drawer is more than 24″ wide, you can use two knobs or two pulls to balance. Measure your drawer, divide it into thirds and position the knobs or pulls in the left and right center positions. Not only will proper cabinet knob placement create visual balance, but it will improve the function of the drawer as well.
Cabinet Knob Placement on Doors
Follow these guidelines to ensure proper cabinet knob placement on doors:
Knobs
Cabinet knobs should be installed on the stile opposite the hinges. The general rule is to place a knob 2 1/2″ – 3″ from the corner of the door. For upper cabinets, install knobs in the bottom corners of the door.
For lower cabinets, place them in the upper corners. You may need to adjust this measurement a bit to keep the knob on the stile and not on the panel of the door.
Pulls
Place pulls vertically on cabinet doors. Use the same 2 1/2″ – 3″ range when installing pulls. For upper cabinets, the bottom screw should be in that range, and the top screw will depend on how long your pull is.
For lower cabinets it will be the opposite – the top screw will be about 2 1/2″ – 3″ from the corner. Pulls should be installed on the stiles of the doors, so adjust your measurements if they're falling on the rails or panels.
Finger Pulls
Finger pulls are mounted to the bottom edge of upper cabinet doors and the top edge of lower doors. Only the front edge of each pull is visible. For upper cabinet doors, mount finger pulls flush to each bottom corner (obviously opposite the hinges).
For lower doors, mount pulls flush to each upper corner. When the doors are closed, the two pulls together will create the illusion of one long pull.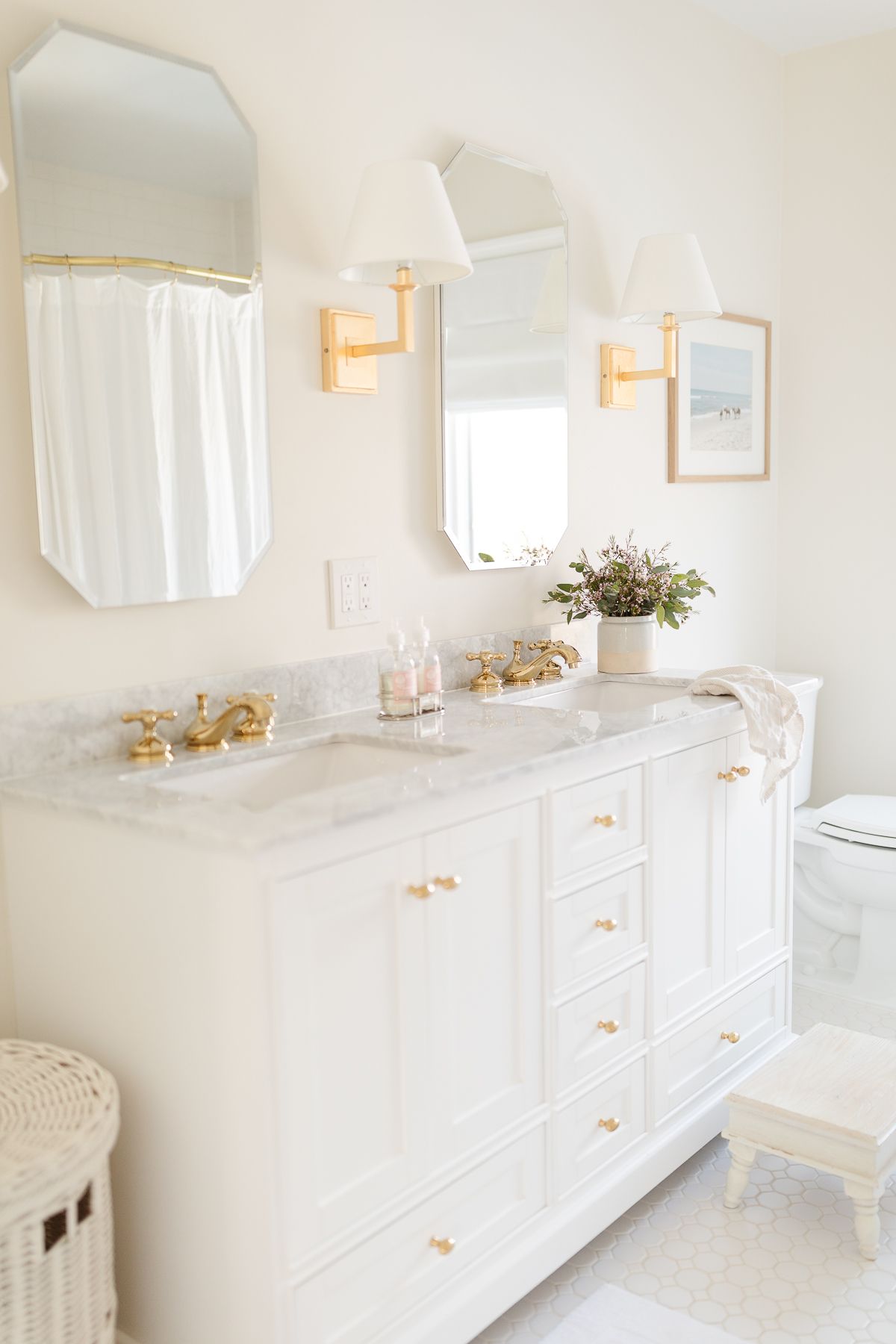 Cabinet Knob Placement on Drawers
The rules are different for drawers, since there are no hinges to work around. For cabinet knob placement on drawers, follow these general guidelines:
Knobs
Knobs should be centered on cabinet drawers less than 24″ in wide. Typically, knobs are centered both horizontally and vertically, so they will end up being installed in the center of the panel.
For shaker cabinet knob placement, you can also choose to center knobs on the top rail instead of on the panel. This works well with shaker cabinetry because it is designed with wide, flat rails – the perfect place for a pretty knob.
For drawers more than 24″ long, use two knobs to provide balance. Measure the drawer, divide it into thirds, and place the cabinet knobs in the right and left thirds.
For standard drawers, the correct cabinet knob placement is typically with knobs centered vertically, so they will be in the center of the panel. For extra deep drawers, you may install knobs centered in the top third of the drawer or on the top rail if you prefer. This creates a more contemporary look.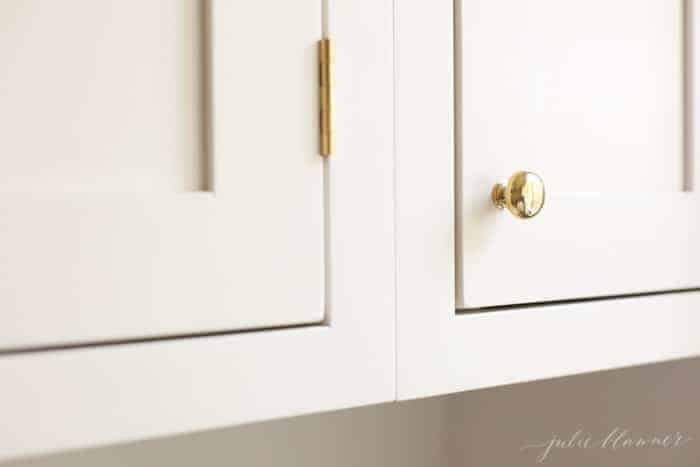 Pulls
Pulls are installed horizontally on drawers. For standard pulls, follow all of the same rules for installing knobs on drawers. Center the pull both horizontally and vertically on the panel, or in the top third of the drawer. Pulls can also be centered on the top rail. For long drawers, use two pulls installed in the right and left thirds of the drawer.
Cup Pulls
Cup pulls are used only on cabinet drawers, not on doors. They're also typically reserved for lower cabinets, even if you have drawers in your uppers.
This is because unlike standard pulls that can be grasped from the top or bottom, cup pulls can only be accessed from underneath. It would feel awkward to reach up high and twist your hand to use a cup pull on upper cabinets.
For low cabinet drawers, consider installing cup pulls near the top of the drawer – in the top third or on the rail – so you don't have to reach down as far to use it. Follow the tips for placing standard pulls, but also keep comfort in mind when installing cup pulls. Place them where the reach will feel natural and comfortable to you.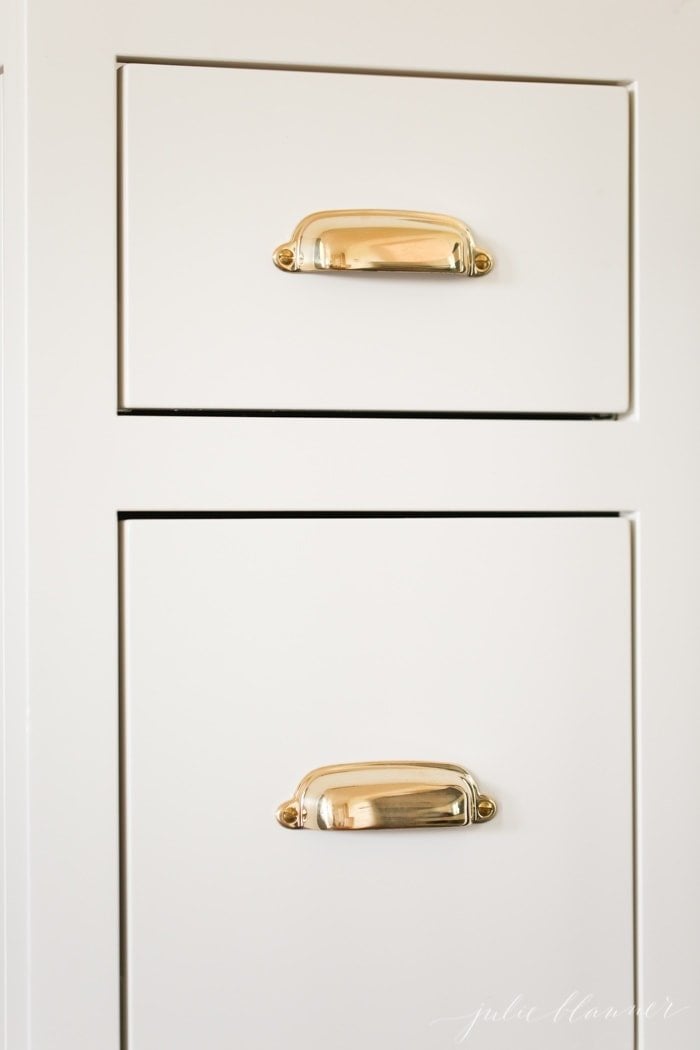 Finger Pulls
Mount finger pulls to the top edge of the drawer at its center. For drawers more than 24″ wide, two finger pulls may be used. Divide the drawer into thirds and install pulls in the right and left thirds.
On Appliances
Appliance cabinetry is a beautiful way to integrate appliances seamlessly into your kitchen design. Built-in appliances are disguised using decorative panels of cabinetry, also called cabinet skins, that match the rest of your space.
Using the right pulls is essential to the function of your built-in appliances. Standard cabinet hardware is not designed to support the weight of appliance doors. You'll need to install appliance pulls specially designed for the task.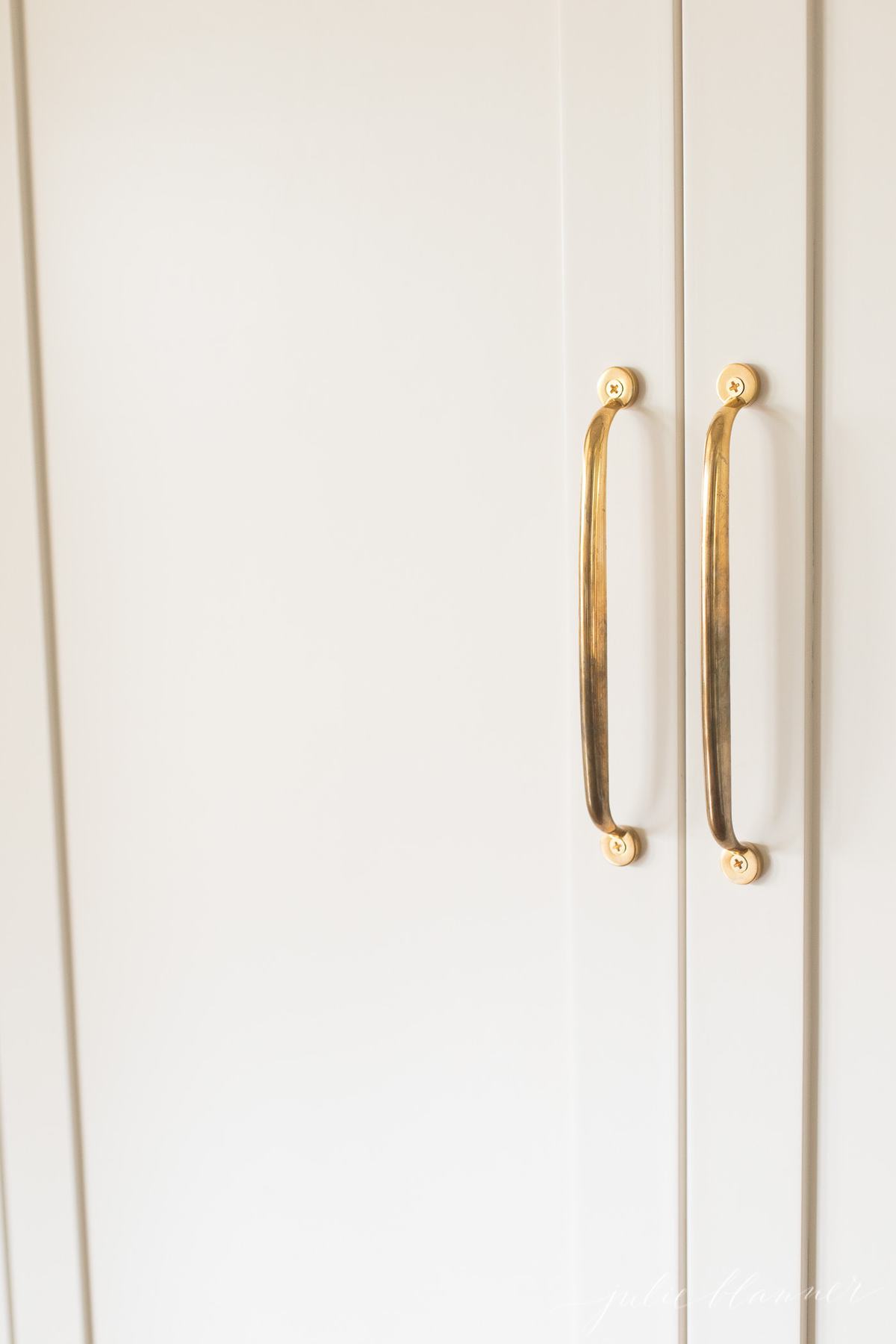 Refrigerator
Appliance pulls are similar in looks to standard cabinet pulls, but they are longer, thicker, and sturdier. They function the best for refrigerators because they can support the weight of the doors. They often come with shorter screws, but make sure you use strong screws of appropriate length.
Since appliance pulls are longer, they look proportionate to refrigerator door panels, which are taller and wider than standard kitchen cabinets.
Dishwasher
Even though dishwasher doors aren't as heavy as a refrigerator's, they are still heavier than a standard cabinet drawer. An appropriate appliance pull should be used to support the weight and look proportionate to the cabinet width. Center the pull horizontally on the top rail of the cabinet.
Appliance pulls come in countless different styles and finishes, so you can find exactly what you need to complete your kitchen. Place them on your cabinetry with function and your own comfort in mind.
Knowing the design rules for cabinet knob placement will help you create stunning spaces in your home. Follow this guide to make this decision easy and stress free – it's sure to give you beautiful results!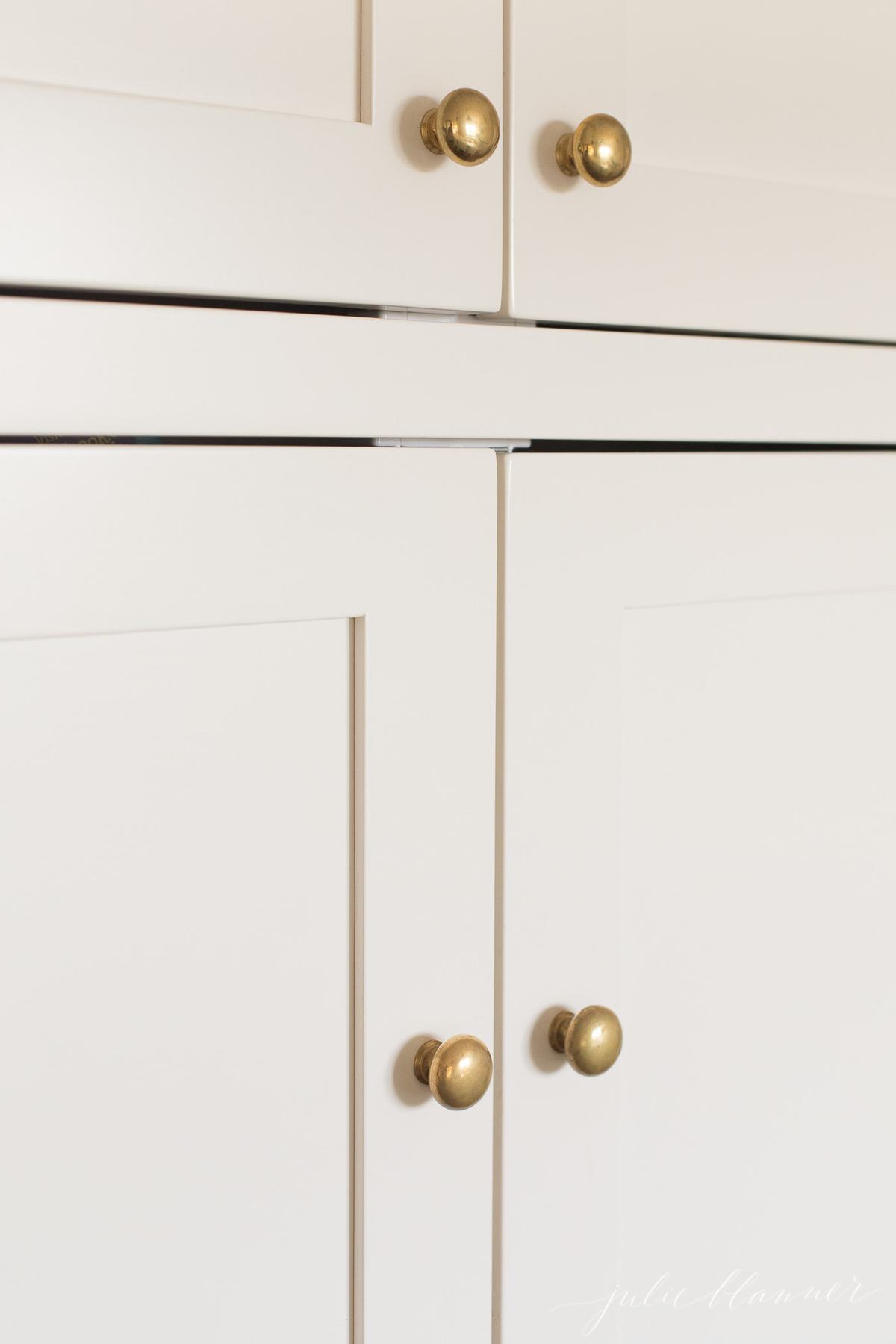 Let's stay in touch! Join our newsletter for access to exclusive content, never-before-seen photos, your questions answered, and our favorite projects. You'll receive the best design secrets delivered directly to your inbox! Sign up here!
Don't skip this guide to Exterior Door Handles too!
---
Shop This Post
---