Fiesta Ranch Baked Cauliflower
This Fiesta Ranch Baked Cauliflower is going to spice up your life! (Or at the very least, spice up your dinner!) This effortless Roasted Cauliflower with ranch is a deliciously healthy side dish.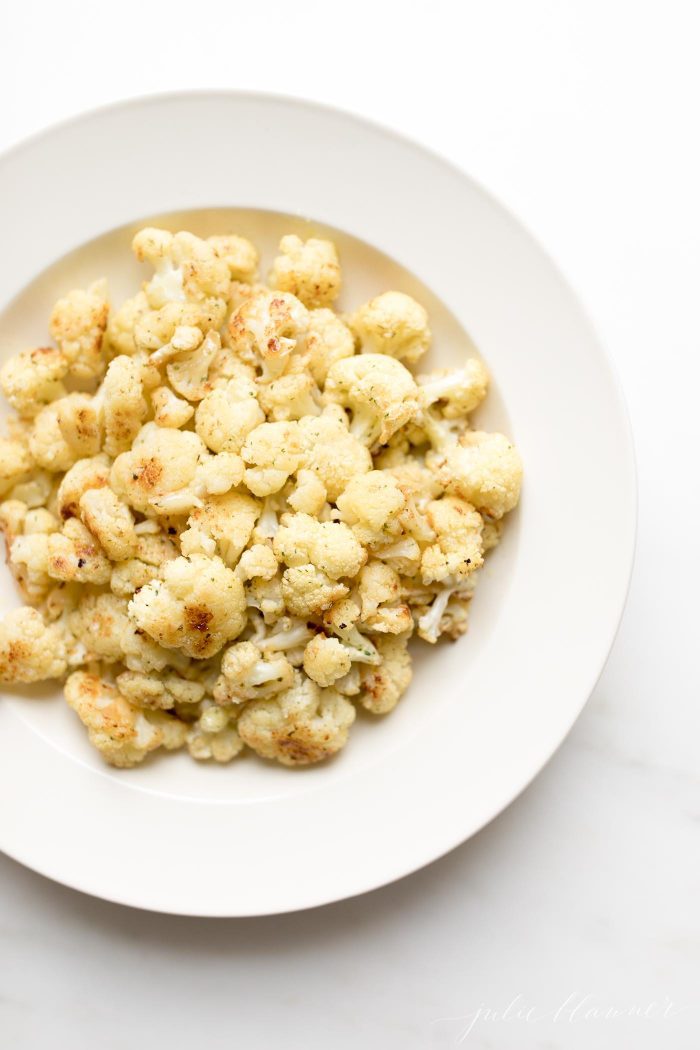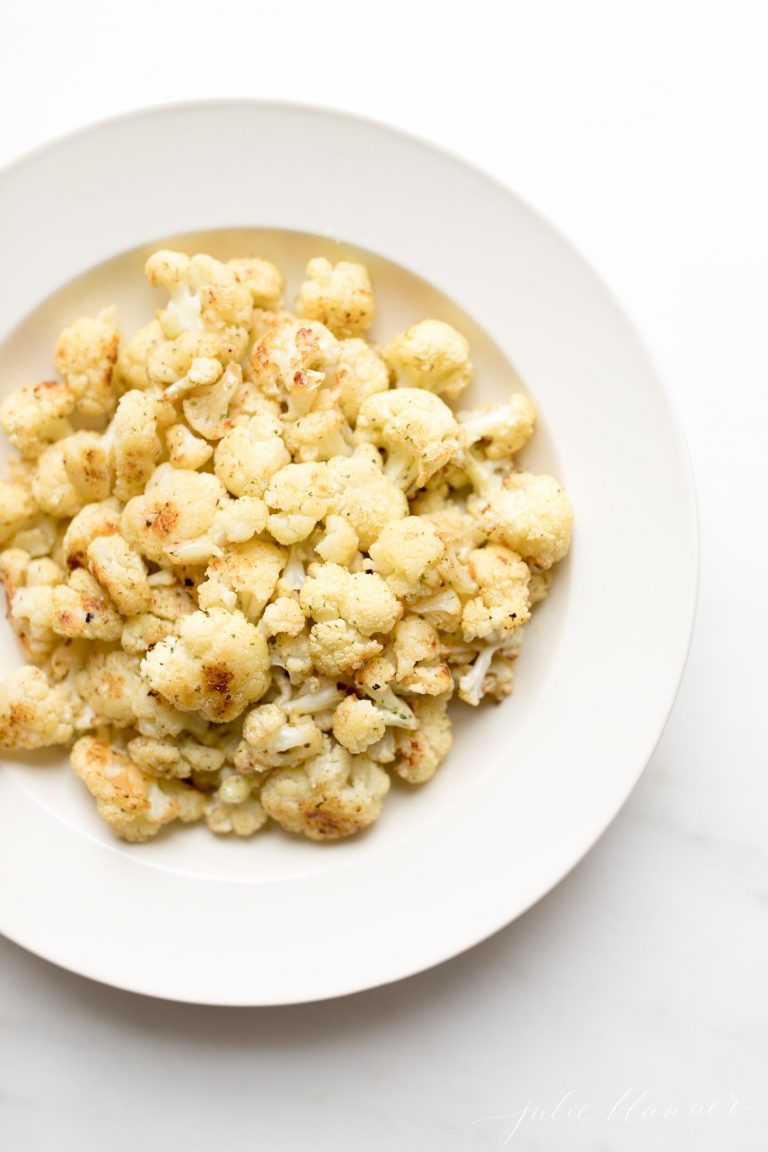 If your family is as busy as ours, you know that the weeknight dinner rush is a never-ending battle.
What are we having tonight? Do we have any of the ingredients to make something that sounds good, and something the kids will eat? If I was half as organized in my dinner planning as I am in my pantry, it would be a stress-free dinner every night.
That's one of the reasons I love making my own seasoning blends. Check out my classic homemade ranch seasoning, and this incredible fiesta ranch, too!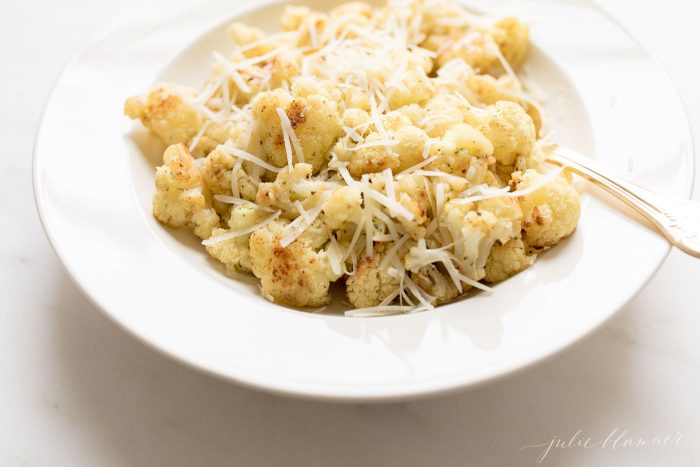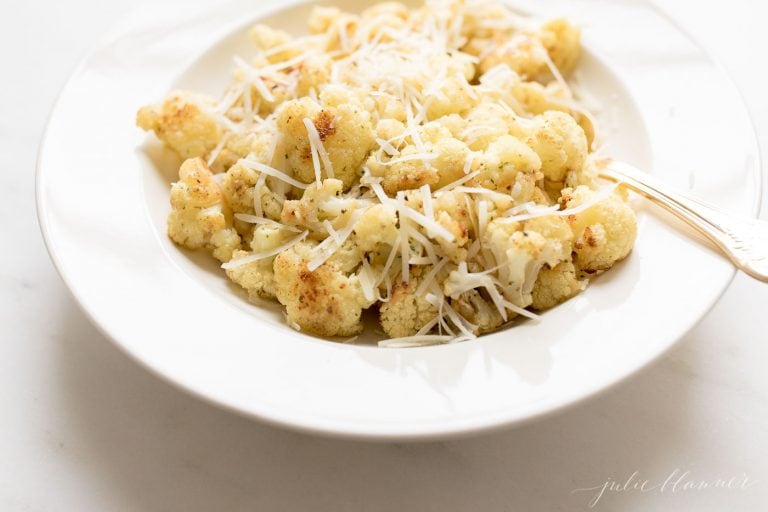 However, the truth is often the opposite. In our rush to put something delicious, quick and healthy on the dinner table, we don't have time to think too much.
I need side dishes that are so fast, so effortless and so tasty that I can whip them together and feed hungry kids in no time! Enter this Fiesta Ranch Baked Cauliflower. You won't believe the simplicity of this delicious, healthy side dish.
Adding a little kick with the fiesta seasoning make it fun to serve alongside any Mexican-inspired main dishes as well. This makes a beautifully low-carb dinner when you pair it with my cilantro lime chicken.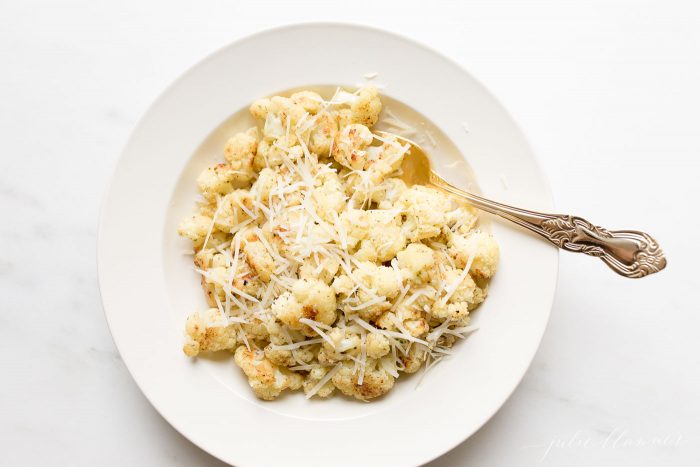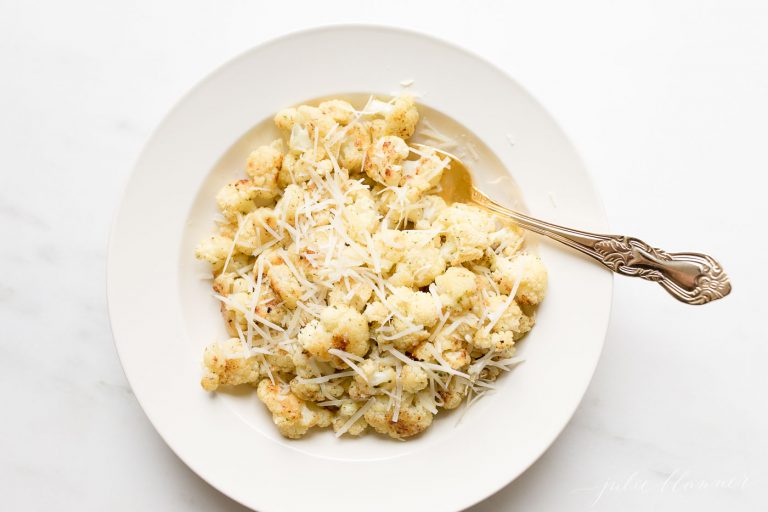 Why You'll Love Fiesta Ranch Baked Cauliflower
When you add the word ranch to any snack or dinner situation, you can count my kids (and myself!) in for the dipping.
The best part of this simple side dish is that the ranch seasoning coats the florets of the cauliflower beautifully. They caramelize with a rich, buttery flavor that is out of this world!
Something about the roasting process creates a little extra sweetness in the cauliflower that makes this side dish very kid-friendly. (Let's be honest, it's adult-friendly as well!)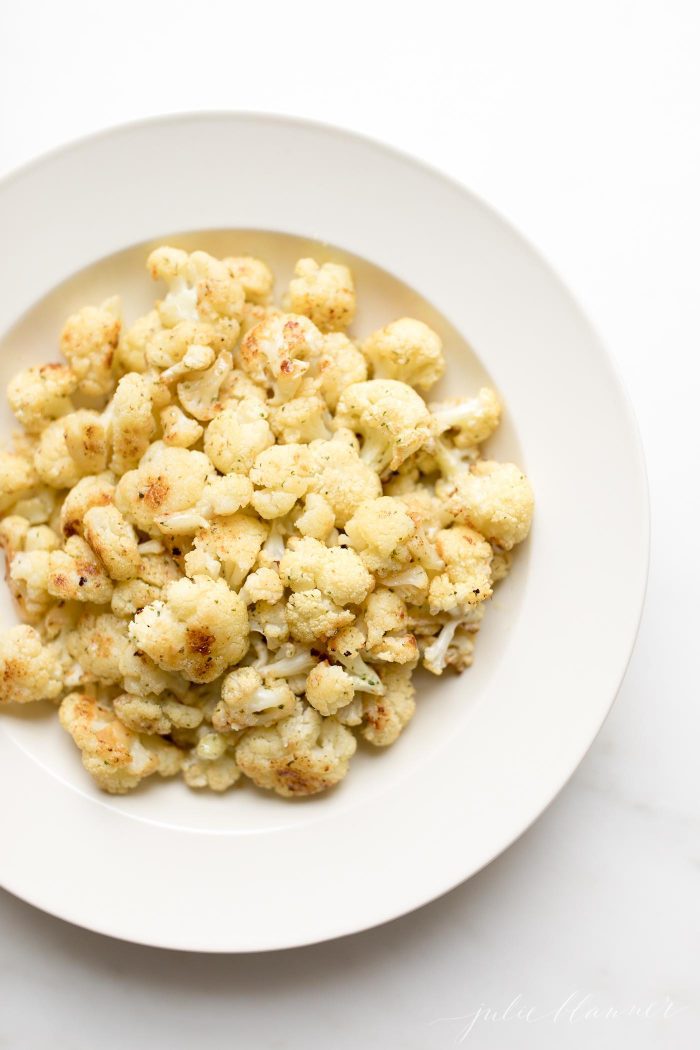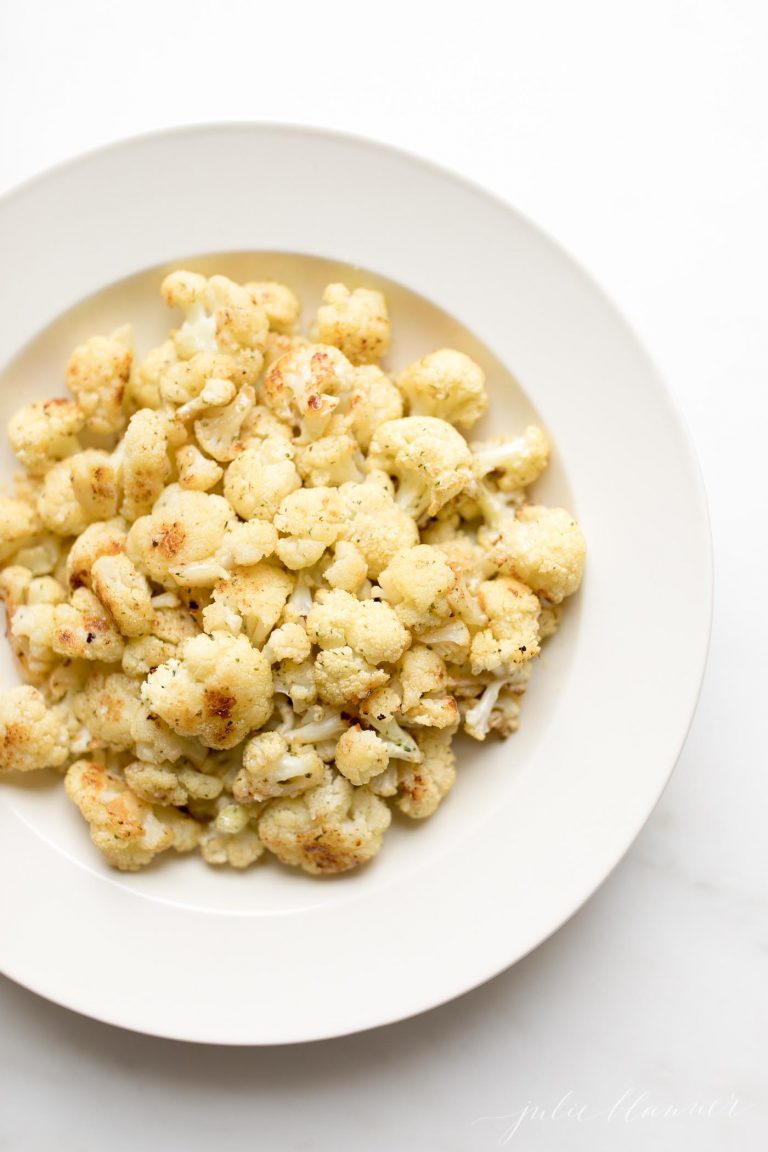 Tips To Make The Best Ranch Roasted Cauliflower
This is such a versatile dish! While I tend to go with a Fiesta Ranch seasoning mix, there's all kinds of variations on ranch seasoning. Buffalo ranch, spicy, buttermilk, dill, and more are all available at your local grocers or Amazon! Try a few different flavor combos until you find your favorite.
The girls tend to prefer their cauliflower bites to be a little softer, so I use parchment paper sheets to line my baking pan. If you want a crispier finish, turn up your heat and use aluminum foil instead!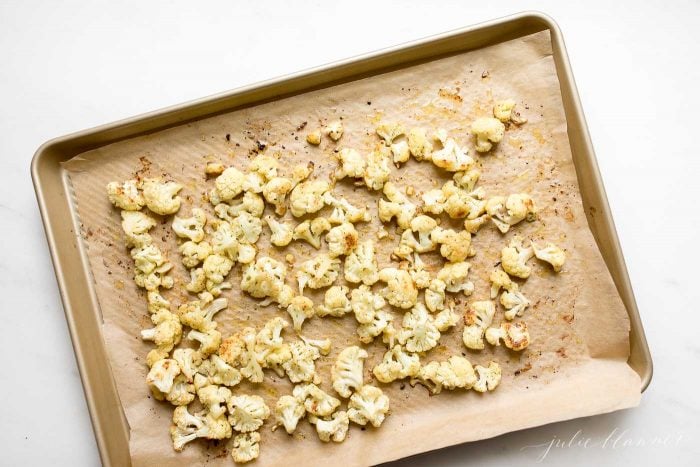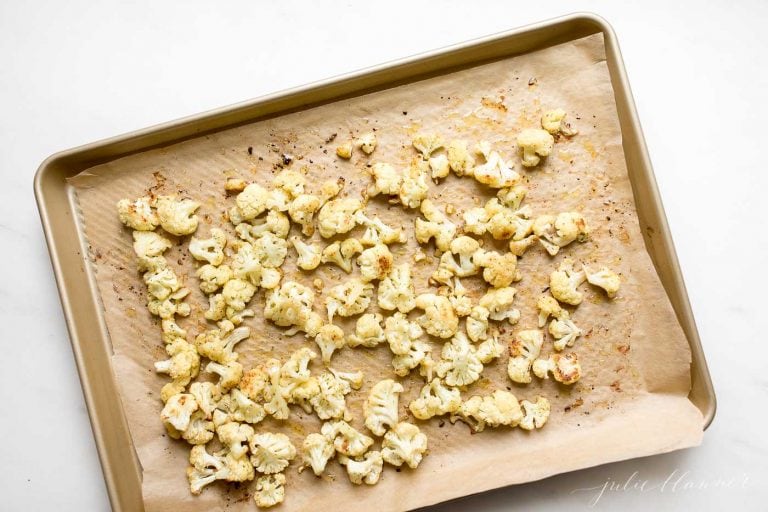 More tips:
Keep your cauliflower pieces fairly uniform.
Yes, you can use stems! They soften beautifully while roasting.
The smaller the pieces, the quicker it cooks!
Adjust your seasoning to personal preference. Strong ranch flavor? Feel free to use more.
Turn the oven up to broil for the last two minutes if you'd like a little extra browning and crunch.
Top with fresh grated cheese. I chose parmesan, but any cheese will work. Yum!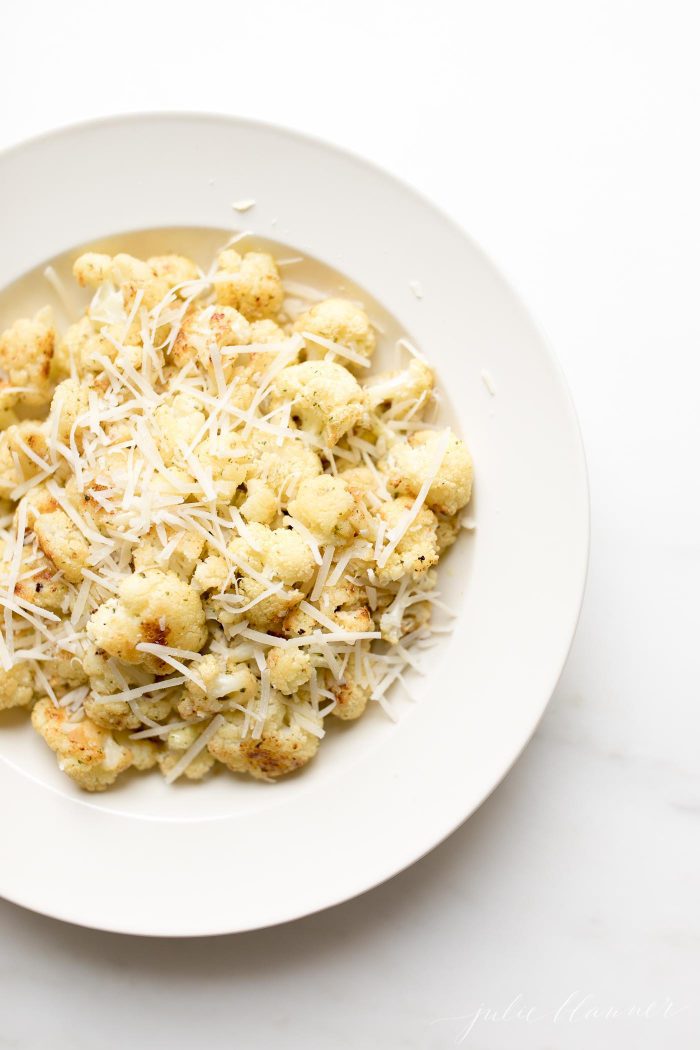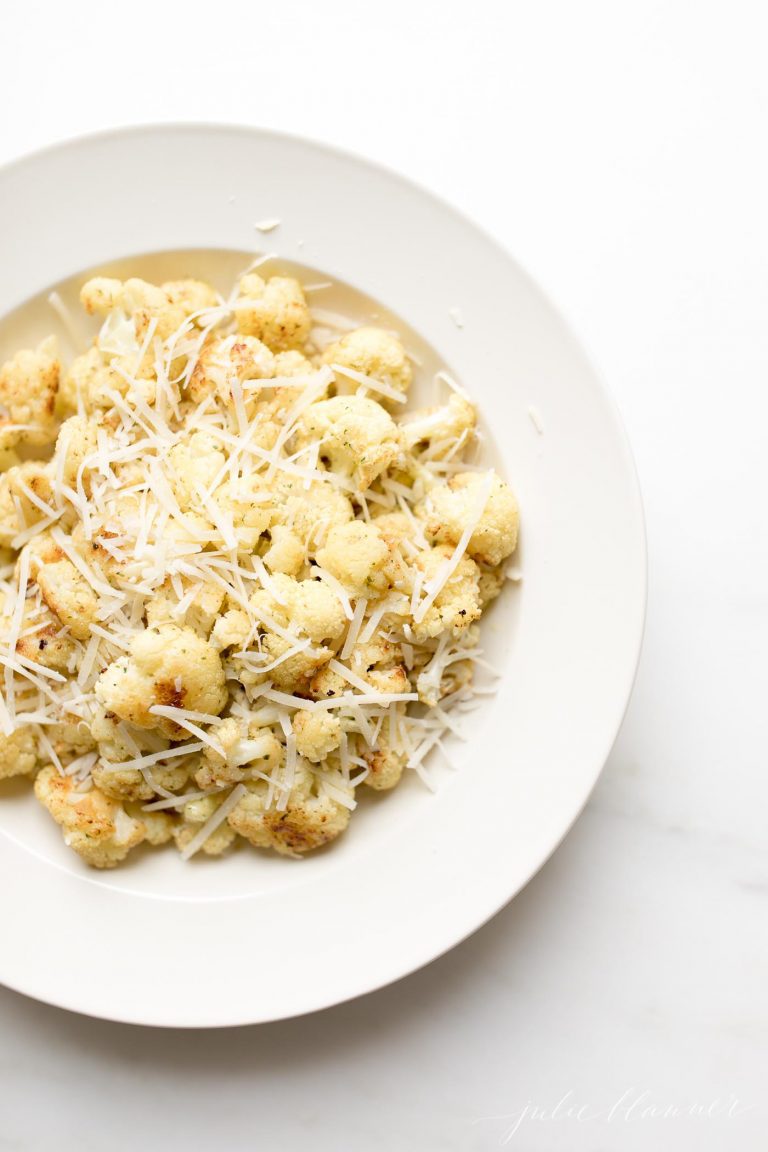 Fiesta Ranch Baked Cauliflower Bites
This fiesta-flavored baked cauliflower is also delicious as a simple appetizer or snack! You'll be surprised at how quickly this goes at parties. I always find that my guests appreciate having a variety of options. You never know when someone will have started a lower-carb diet or need some healthier options.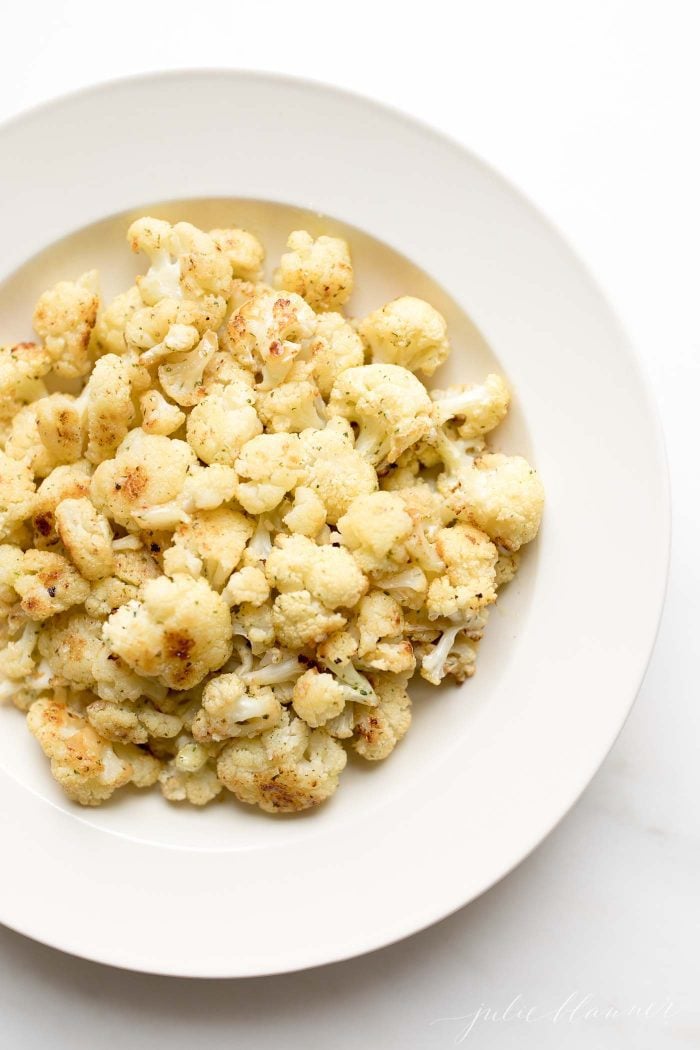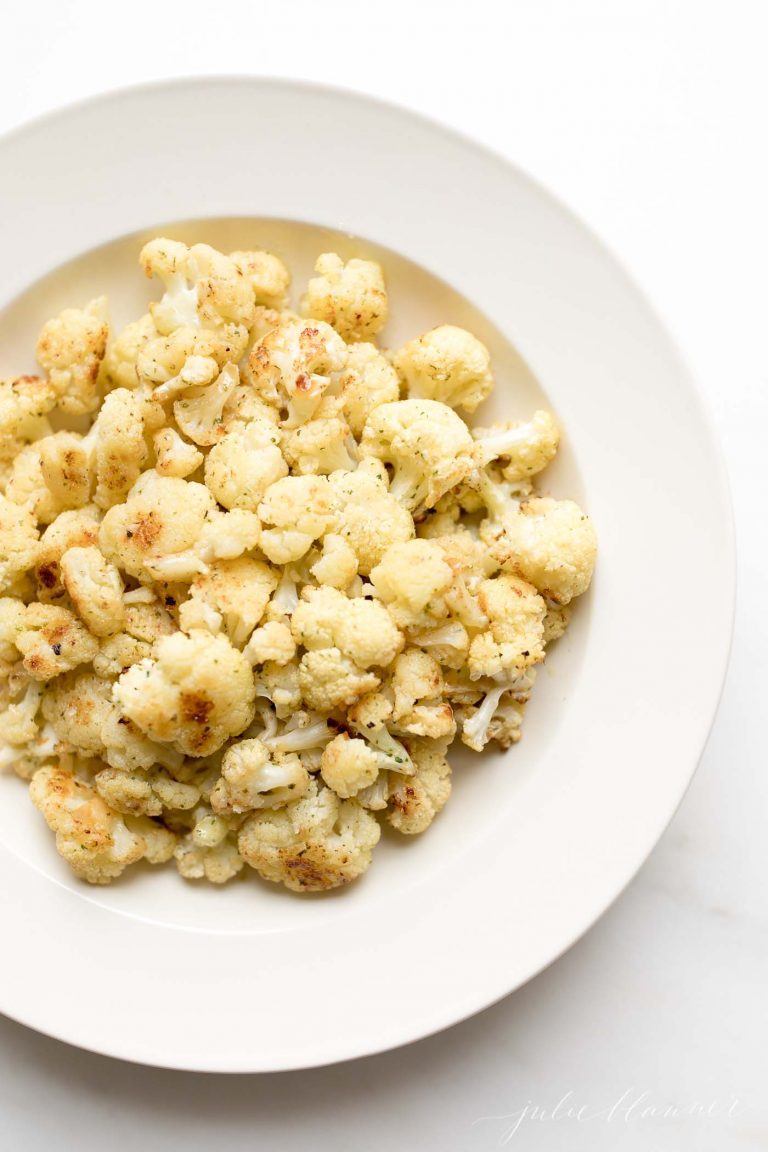 Serving it for a party? Use a variety of dips for a fun element of flavor. Serve with buffalo sauce, bbq sauce or hot sauce for a little extra kick!
If you try this ranch roasted cauliflower, I'd love to hear! Please come back and leave us a five star review.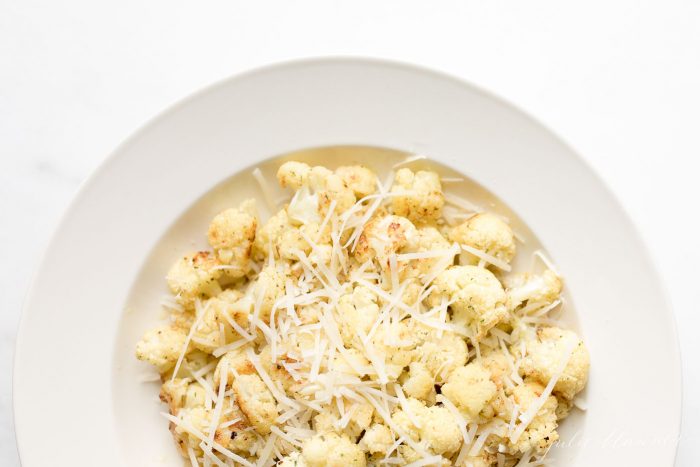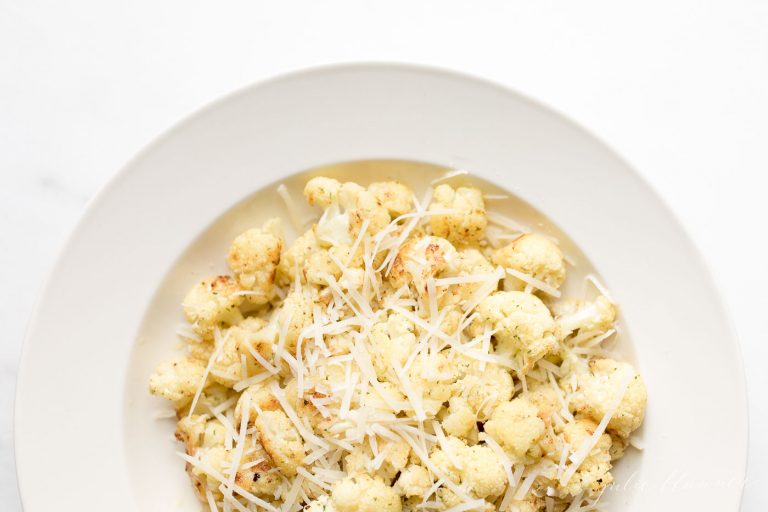 Looking for a more traditional taste? You'll want to check out my Easy Baked Cauliflower Recipe!
Want more? Receive the best ideas directly to your inbox and connect on Youtube, Instagram, Facebook, and Pinterest!
Other Healthy Sides You'll Love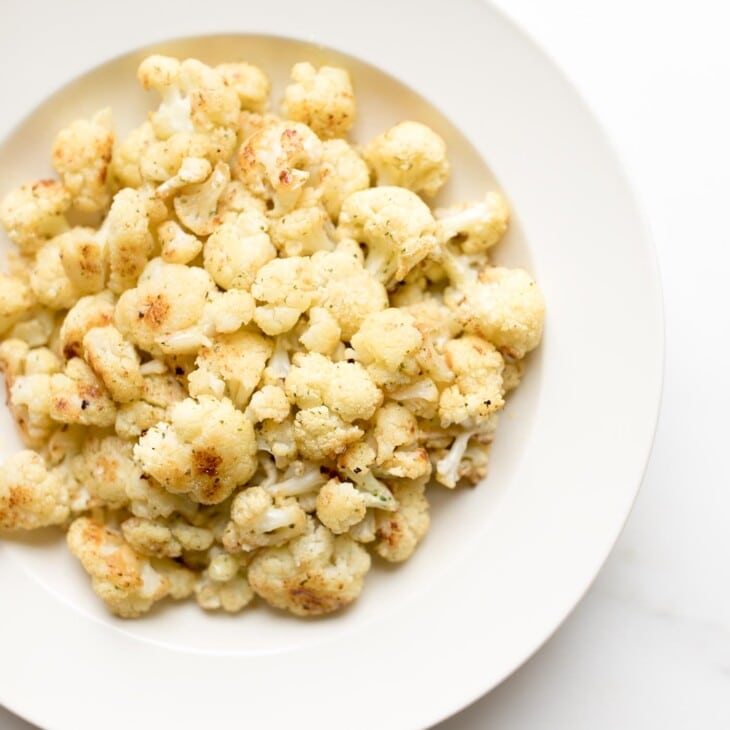 Fiesta Ranch Baked Cauliflower (Ranch Roasted Cauliflower)
This Fiesta Ranch Baked Cauliflower is going to spice up your life! (Or at the very least, spice up your dinner!) This effortless Roasted Ranch Cauliflower is a deliciously healthy side dish.
Instructions
Preheat your oven to 375 degrees.

Cut your cauliflower into small florets. Keep the size as uniform as possible to ensure even baking.

Place on baking sheet (lined in foil or parchment for easy clean-up) and toss with olive oil.

Season with your preferred Ranch dressing packet. (I use 1 full tablespoon and 2 teaspoons, but feel free to adjust according to your preferences!)

Roast for 25-35 minutes, tossing halfway through.

When the florets begin to show a golden brown edge and become soft, remove from oven.

Top with fresh grated parmesan cheese.
Tips
Add more or less seasoning to your preference.
Line your pan for the easiest clean-up.
Nutrition Information
Calories:
123
kcal
(6%)
,
Carbohydrates:
7
g
(2%)
,
Protein:
2
g
(4%)
,
Fat:
10
g
(15%)
,
Saturated Fat:
2
g
(10%)
,
Cholesterol:
1
mg
,
Sodium:
393
mg
(16%)
,
Potassium:
287
mg
(8%)
,
Fiber:
2
g
(8%)
,
Sugar:
2
g
(2%)
,
Vitamin A:
13
IU
,
Vitamin C:
46
mg
(56%)
,
Calcium:
41
mg
(4%)
,
Iron:
1
mg
(6%)
Estimated nutrition information is provided as a courtesy and is not guaranteed.