These Cheese Enchiladas are so easy and restaurant worthy. Wholesome and authentic, the creamy cheese and zesty sauce combine for a flavor explosion the whole family will love!
Sponsored by Cabot Cheese.
My love for Mexican and Tex Mex food runs deep. I can't help my love for these flavors, and luckily, our girls love so many of our family friendly Mexican-inspired meals, too.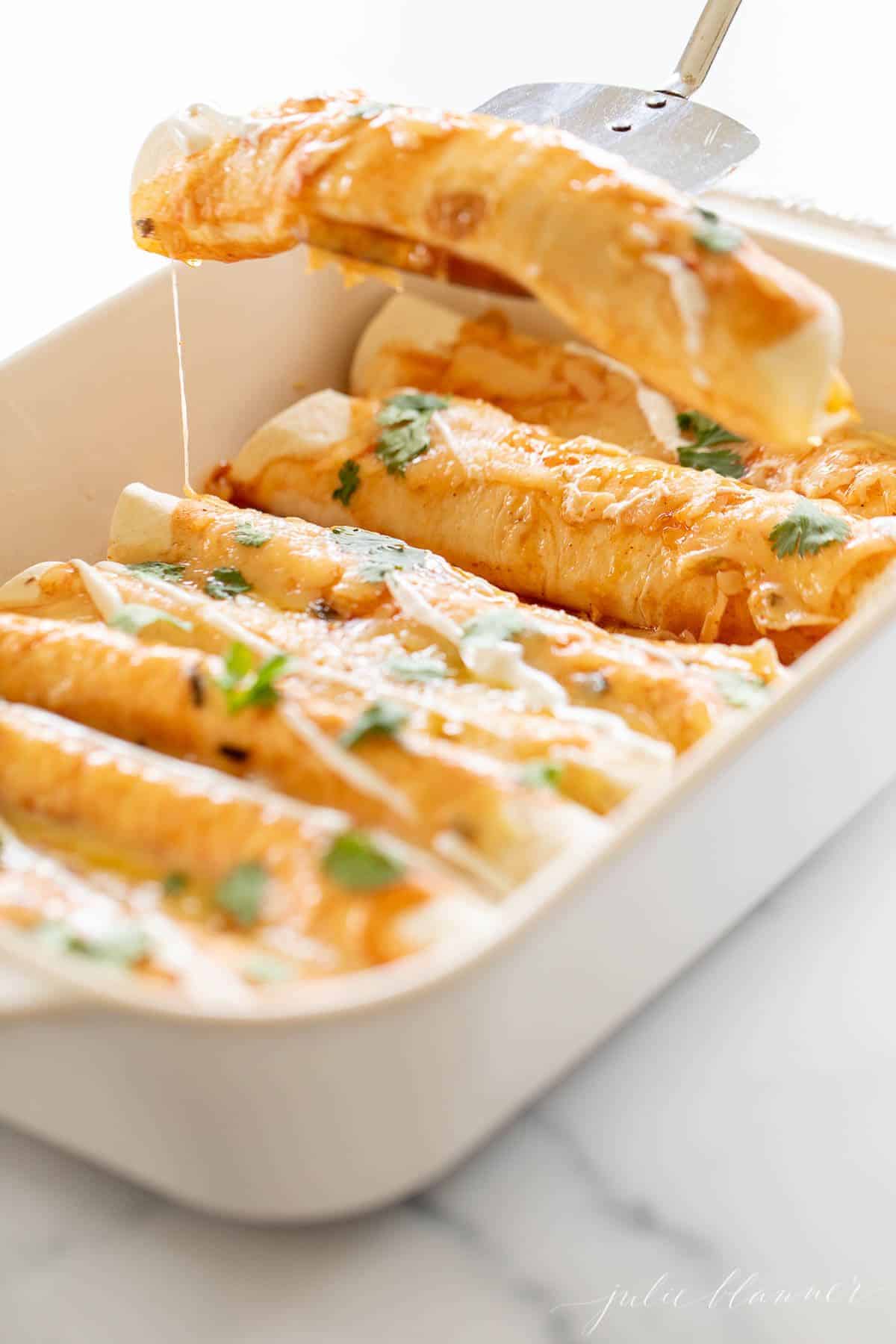 These easy Cheese Enchiladas require just three ingredients and are made in minutes. In fact, they're so simple, the girls help, too! They're perfect for a weeknight dinner, but amazing enough to serve when entertaining.
The secret? Quality ingredients! When you're making something so incredibly simple, it's important to let the individual ingredients shine. In our family, it's always about the cheese.
Enchiladas date back to Aztec times where traditionally corn tortillas were rolled around small fish. It's like a Mexican take on grilled cheese. They pack a lot of flavor for such a simple dish!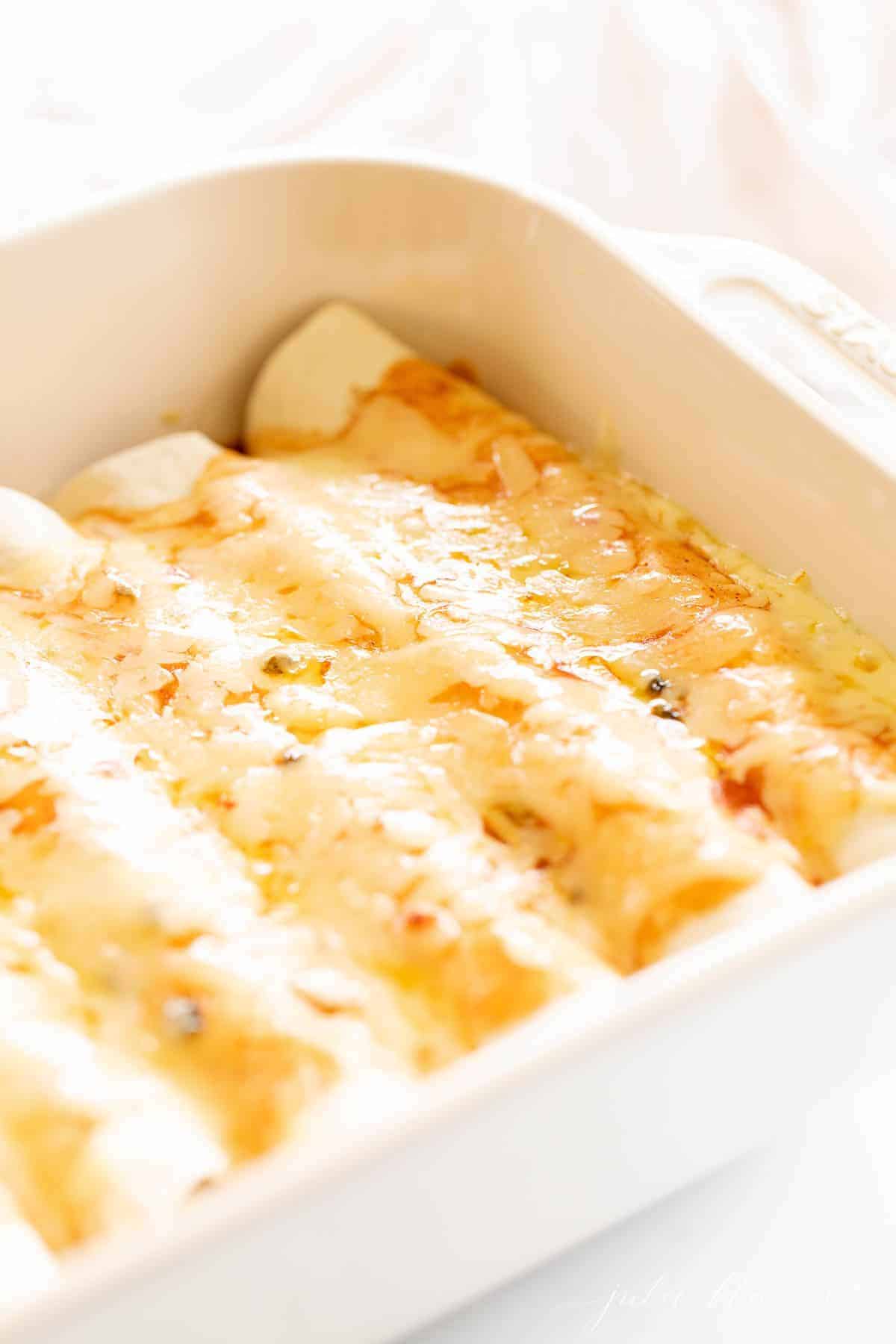 Enchiladas are one of those dishes that are almost deceptively simple. They are such a crowd pleaser that they're perfect for guests, but incredibly easy for a weeknight dinner, too.
It's something about that casserole dish that immediately conjures images of comfort foods, right? If that's your family's favorite kind of warm and cozy casual dinner, don't miss Mexican Spaghetti and Easy Minestrone, too.
And if you love Mexican flavors as much as we do, don't skip my incredible Beef Tacos, Chorizo Tacos, Homemade Guacamole, and Margarita Mix. I even have a Complete Tequila Guide to help you make amazing margaritas to pair these enchiladas with!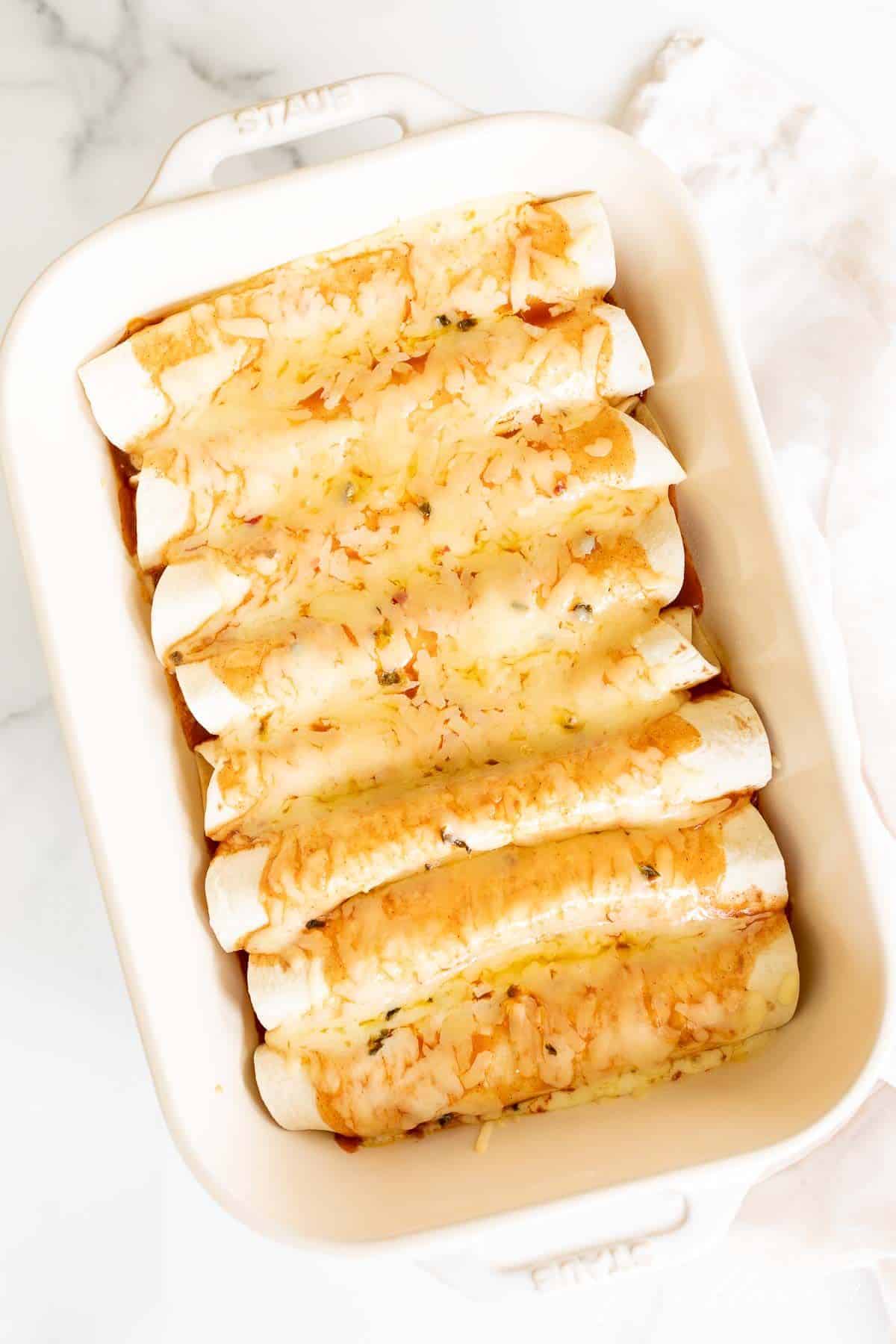 Why You'll Love these Cheese Enchiladas
These cheese enchiladas are truly the perfect weeknight dinner. Made with Cabot Cheddar Cheese, the fresh flavors absolutely shine! Cabot Cheddar is available in 1, 2, 3, and 5 year cheddars – there's something for every serious cheddar enthusiast.
Customizable – You can use your favorite Cabot cheese! Pepper Jack, Habanero Cheddar, Monterey Jack and more!
Quick – They take just five minutes hands on time.
Easy – Simply fill, roll, top and bake!
Make Ahead – These keep well and can be reheated for a quick lunch or dinner.
One Dish – That's all you need from start to finish! This makes cleanup a breeze!
They're made with creamy, freshly shredded cheddar. It makes all the difference!
Another extra little step that makes a world of difference? The best pre-packaged tortillas! They may not be homemade but they are pretty close- read on for all the details.
These enchiladas are mild and you can control the level of spice in the sauce. In our house, that makes all the difference for a kid-friendly meal!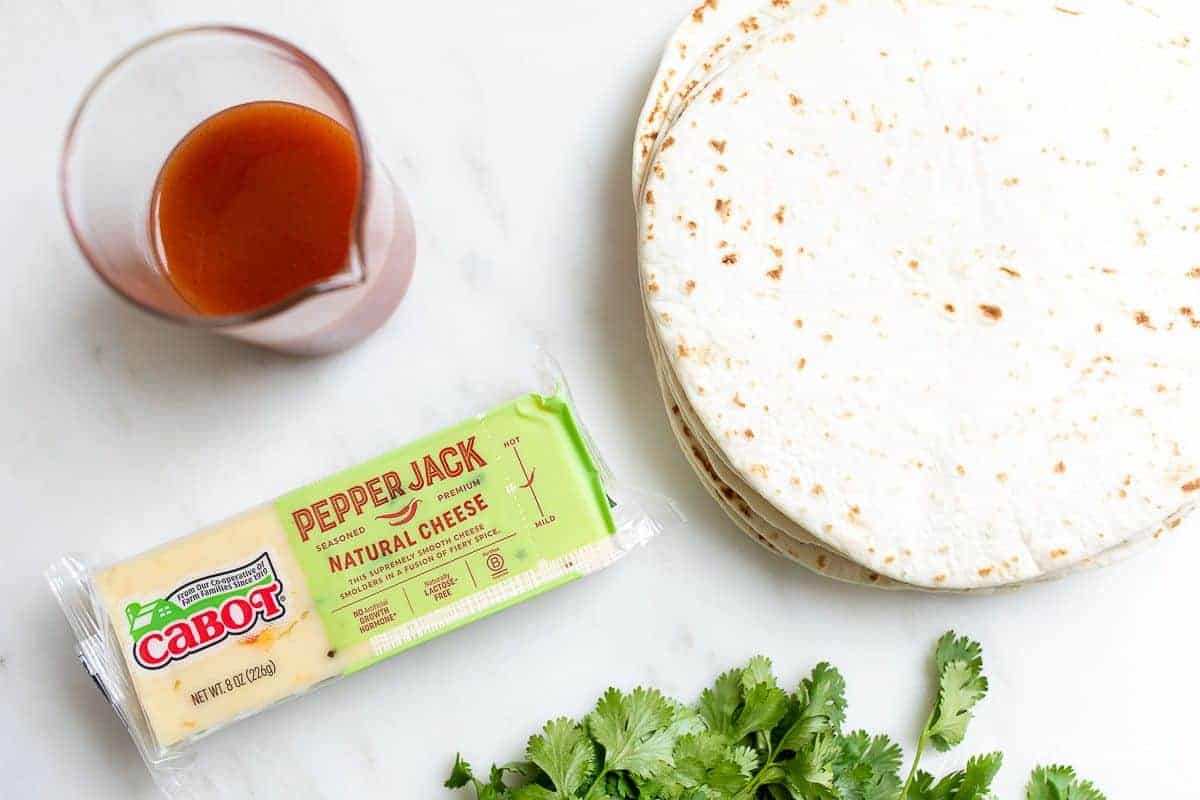 Cheese Enchilada Ingredients
This recipe makes one, 9×13″ casserole dish full of enchiladas.
Enchilada Sauce – Store bought or homemade enchilada sauce. You can mix it up using green chile sauce (aka green sauce).
Tortillas – Flour or corn, your preference. Typically they're made with corn tortillas which makes them gluten free. Yellow corn tends to be sturdier than white corn tortillas, but you can use either. We love to warm uncooked tortillas (found at Costco and other grocers) because it's such a simple step that truly upgrades this dish.
Cabot Cheese – Fresh grated Cabot cheese from a block has the best texture and makes these cheese enchiladas stand out! We like to make them with Pepper Jack, but you can use Cheddar, Monterey Jack and Habanero Cheddar as well!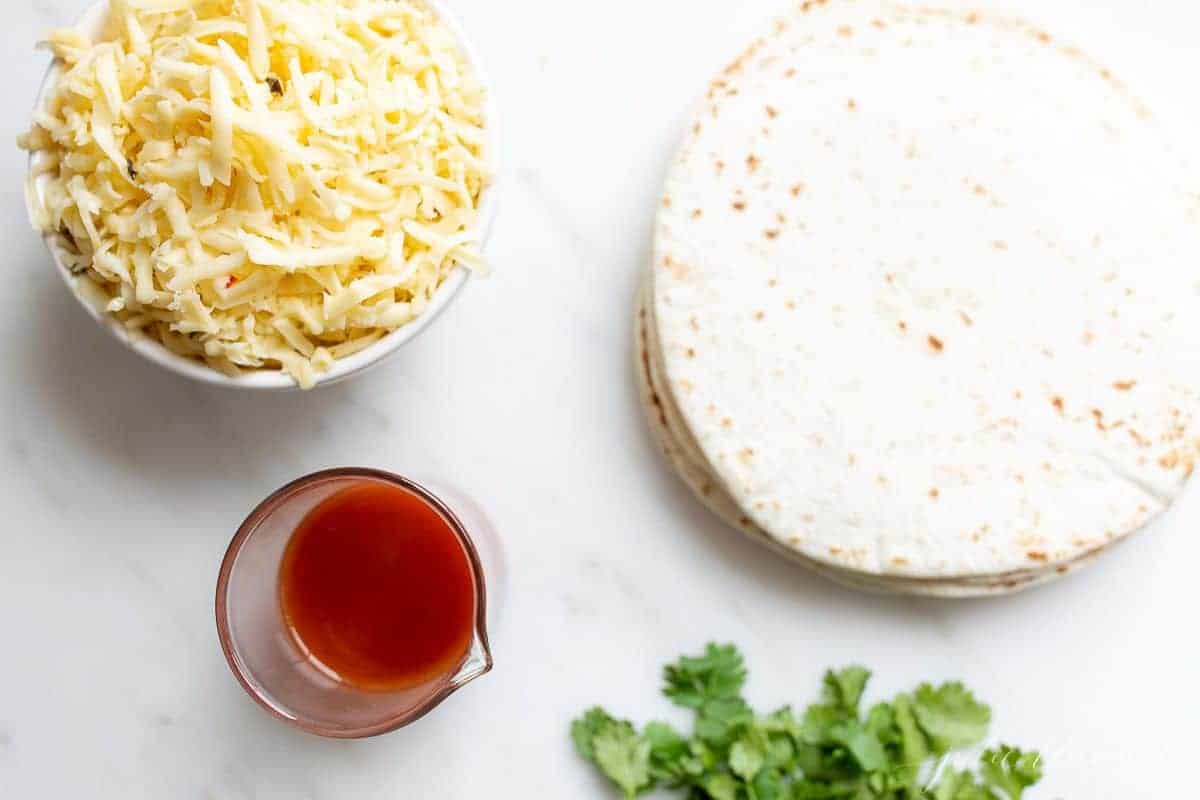 Variations
Fry the Tortillas – Add a tablespoon of oil to a fry pan over medium heat. Once hot, fry a tortilla until it bubbles, flip and repeat. This makes corn tortillas more durable and adds another layer of flavor.
Add Heavy Cream – Add 1/4-1/2 cup heavy cream to the bottom of your baking dish for richer, creamier flavor.
How to Make Cheese Enchiladas
Prep – Preheat oven and coat baking dish with enchilada sauce.
Fill and Roll – Add shredded cheese to the center of a tortilla and tightly roll. Place in baking dish with fold down.
Top – Cover in enchilada sauce (alternatively you can dip tortillas to fully coat with enchilada sauce if you prefer) and more fresh shredded cheese for good measure.
Bake – Bake until irresistibly melted!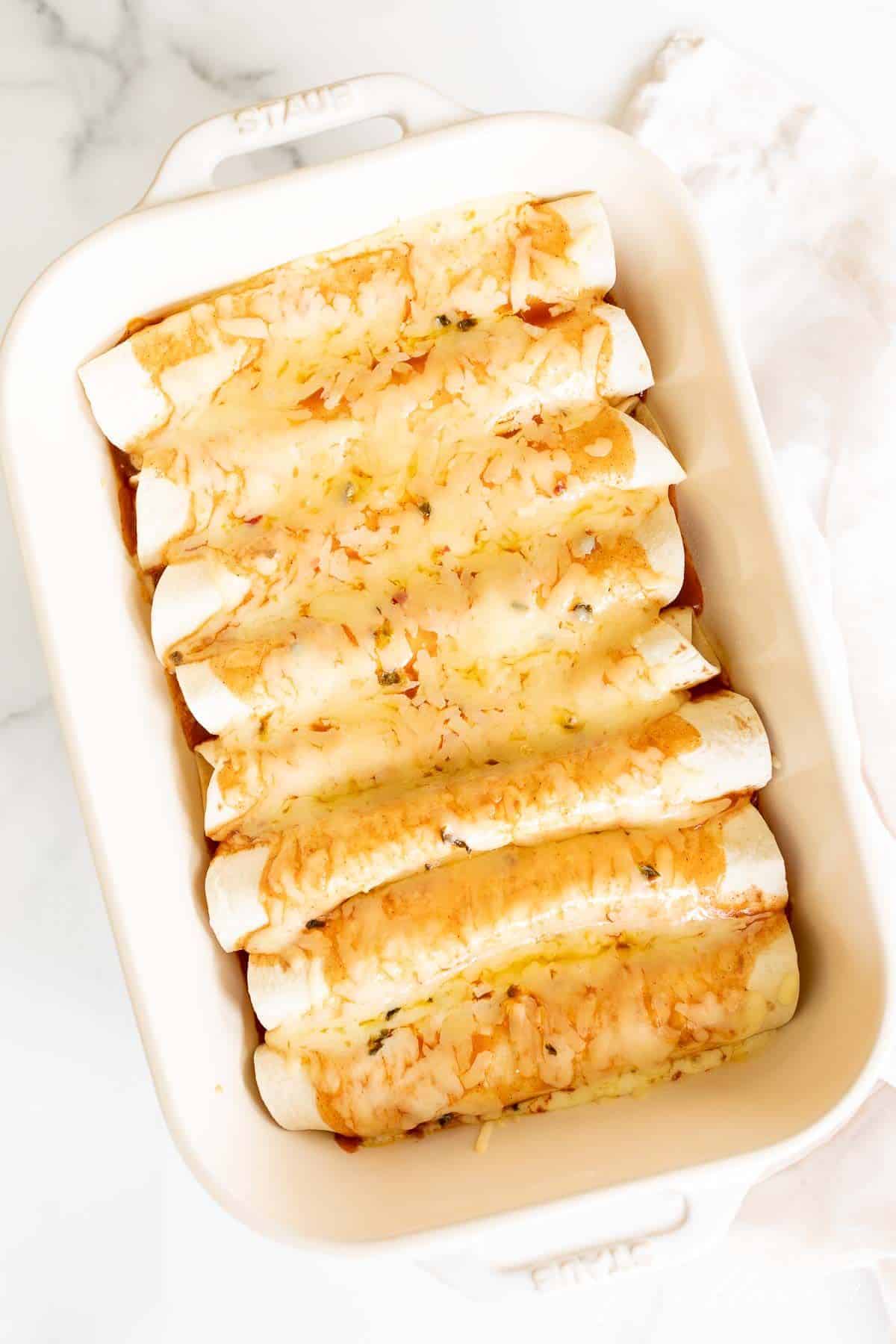 How to Serve – Garnish Suggestions
Cilantro
Lettuce
Cabbage
Sour Cream
Jalapeños
Avocado
Tomato
Olives
How to Warm Tortillas
It is best to warm corn tortillas before filling and rolling to prevent tears.
In the Microwave
Wrap in a damp paper towel or flour sack and microwave 20 seconds.
On the Stovetop
In a skillet over medium heat, warm tortilla 15 seconds on each side. If you're using the uncooked tortillas, follow package directions to pan fry until they bubble- so good!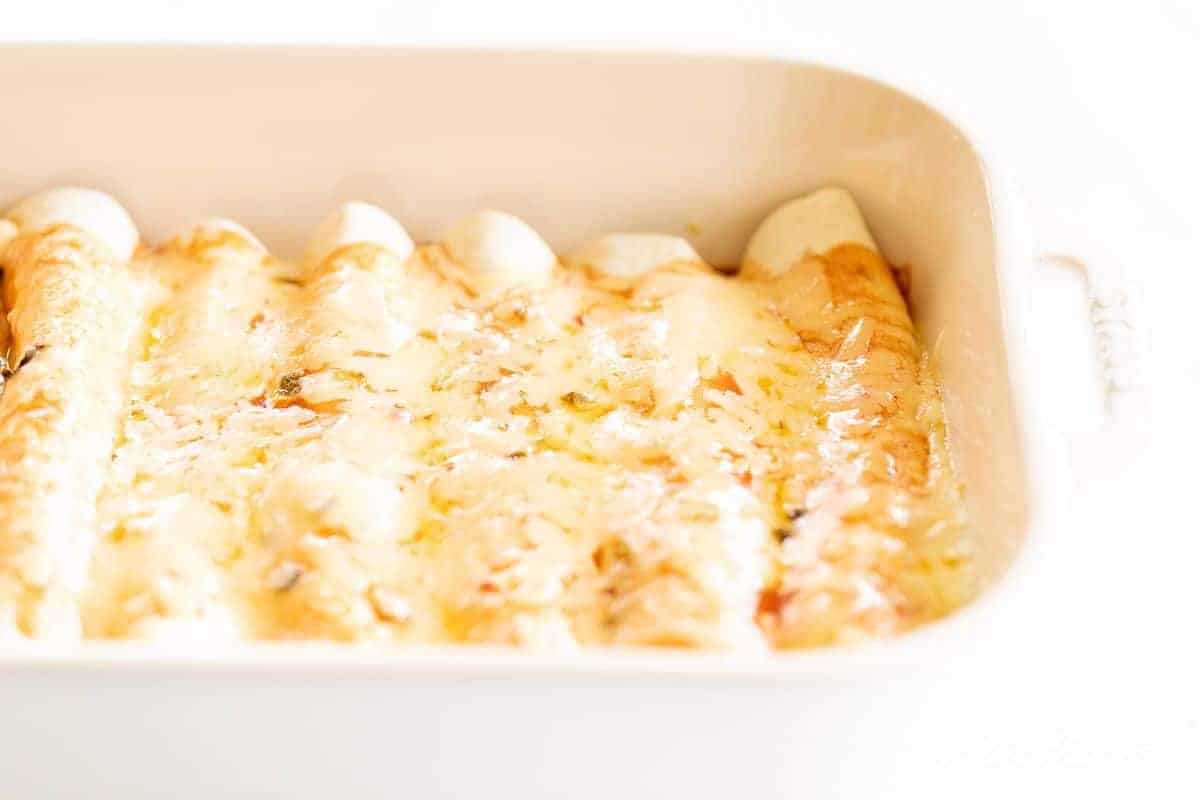 Tips
Freshly shred cheese for the creamiest texture and best melt.
Grease your baking dish and add a layer of enchilada sauce to prevent them from sticking to the dish. It also makes the bottom of the enchiladas perfectly tender.
If you'd like to go the extra mile, dip each tortilla into your enchilada sauce prior to adding cheese and rolling. It gets the delicious sauce into every crevice!
Use 8″ (medium) tortillas. They're just the right size for most baking dishes and perfect for enchiladas. We love using the fresh uncooked tortillas (found at Costco and other grocers) because they're so good warmed through in a pan before completing this dish!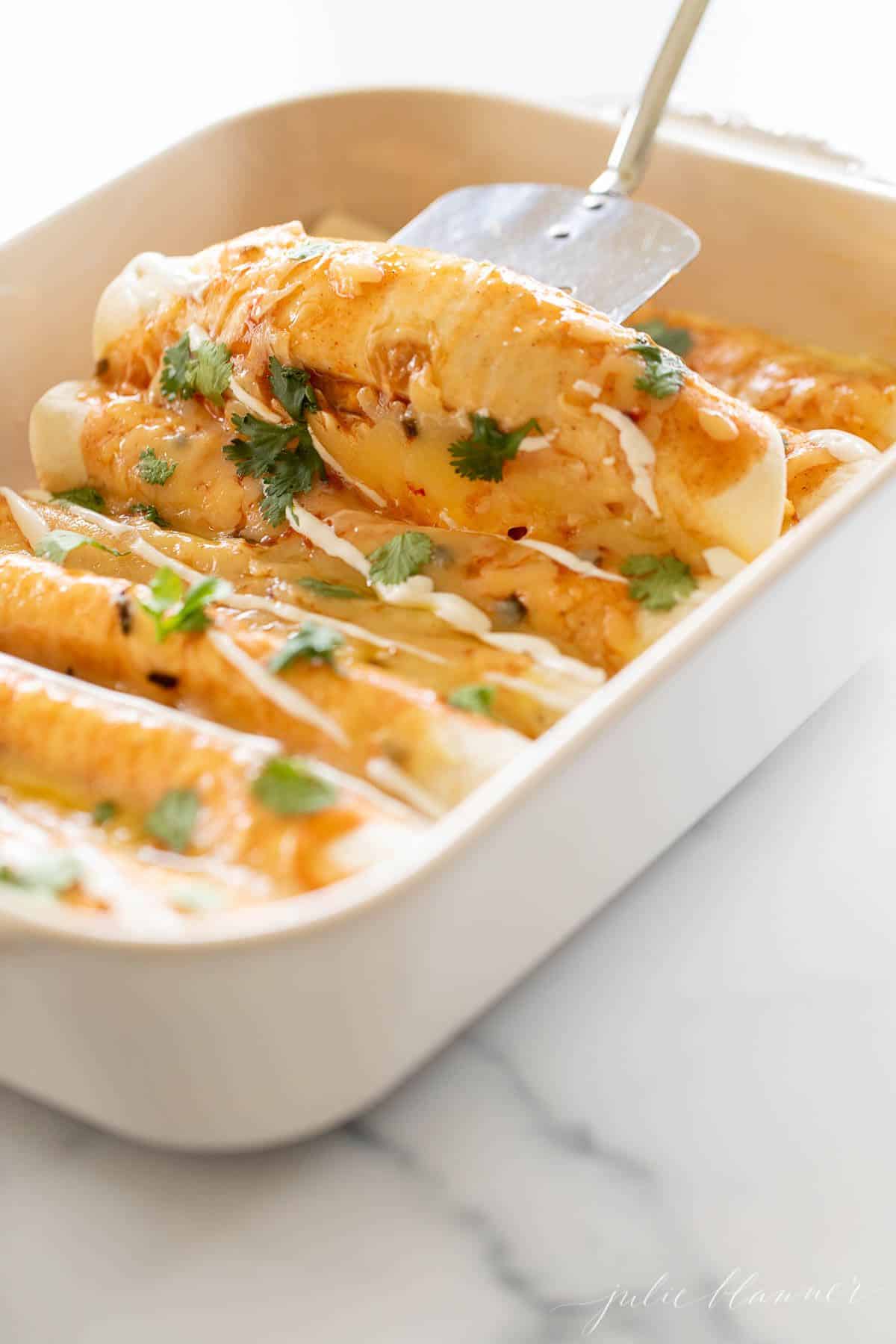 How do you keep tortillas from breaking when making enchiladas?
Tortillas break because they aren't warmed properly. Solve this problem by heating them in the microwave or a saute pan!
What is the best melting cheese for enchiladas?
For Tex-Mex dishes like these, I'll always vote for a freshly shredded cheddar cheese like Cabot- they've swept the cheddar categories for years and years with a total of 37 awards last year alone.
Can you make enchiladas ahead of time?
Yes! Assemble your enchiladas a day before, and refrigerate until you're ready to bake.
How to Store
Refrigerate – Store in an airtight container up to 4 days refrigerated.
Freeze – Freeze in an airtight container or wrapped in foil and placed in a freezer bag up to 3 months.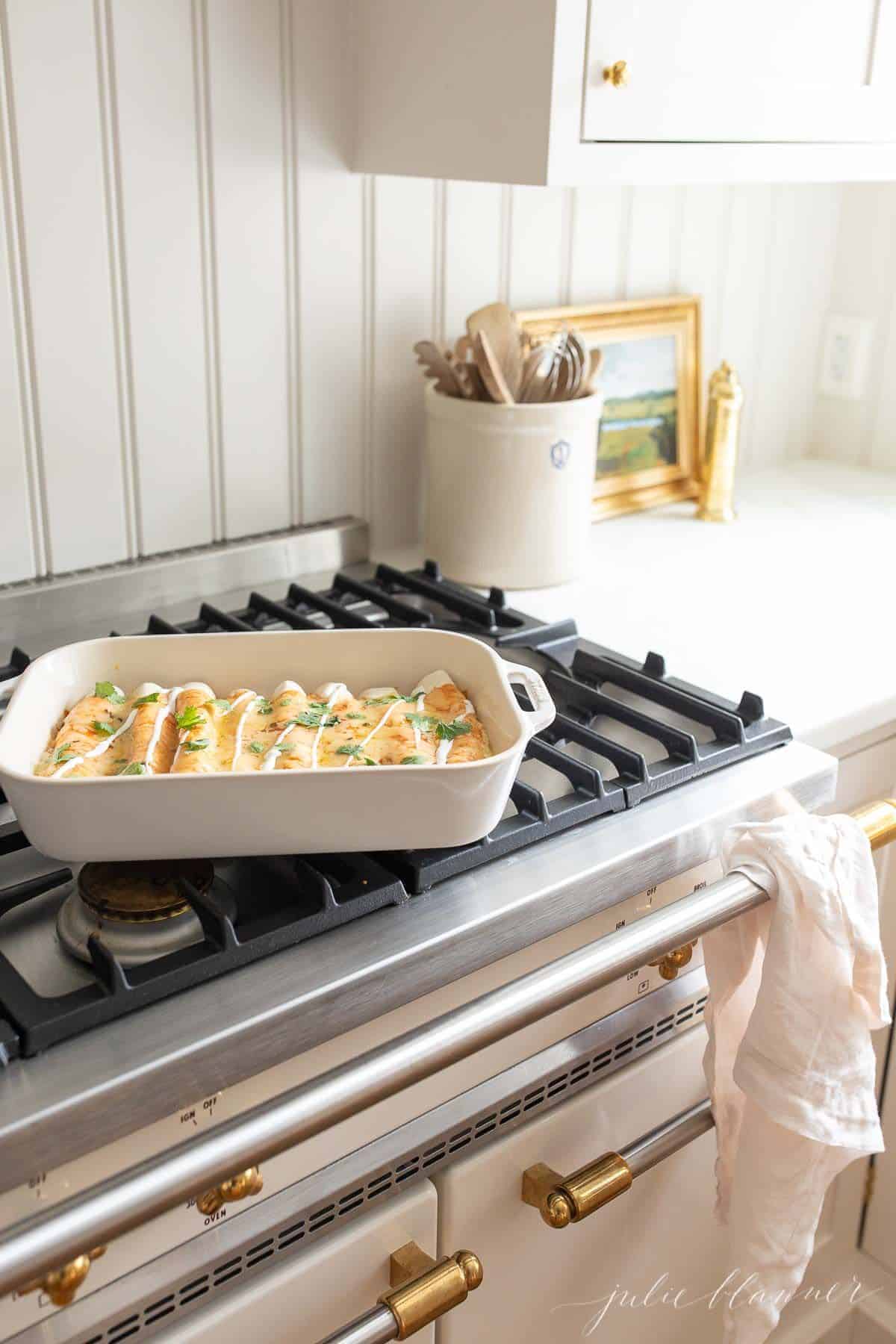 What to Serve with Cheese Enchiladas
Dietary Considerations
Lactose Free – Cabot Cheddar is naturally lactose-free.
Gluten Free – Simply use corn tortillas.
Nut Free
Vegetarian
Hungry for more easy recipes? Sign up for my free recipe club and have amazing recipes delivered directly to your inbox each week!
More Enchilada Recipes