A beautiful mojito bar allows guests to create their own fresh cocktail with bright and delightfully sweet citrus flavor with an array of fruity options!
Creating a DIY signature cocktail bar is the easiest way to relieve the burden of manning the bar at a party. Instead of endlessly creating craft cocktails all night, you'll do the work ahead of time and leave the bartending to each guest so they can create a drink they'll love!
A mojito bar will be the hit of your next event, no matter the season! These fresh and fruity cocktail are always a hit, and you'll have so much fun experimenting with flavors.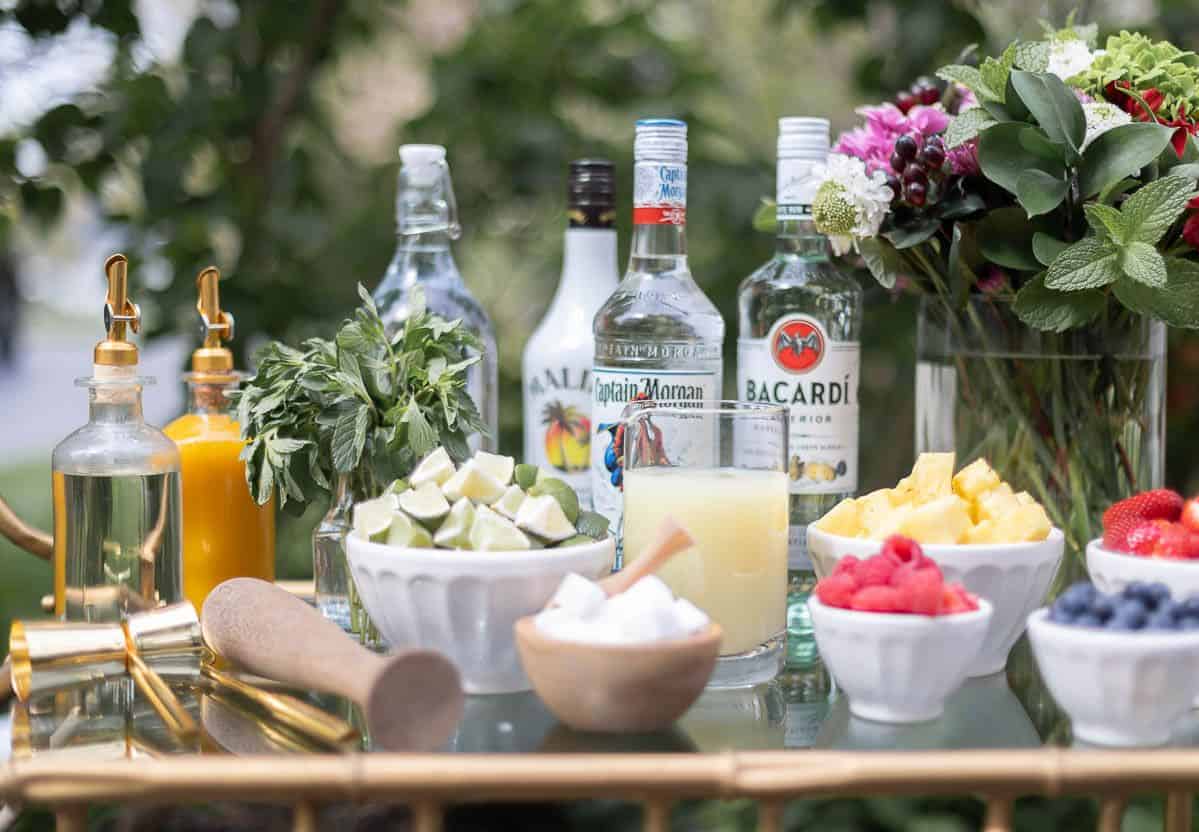 A mojito is a classic cocktail (also called a Cuban highball) made with lime, mint, sugar, white rum and soda water.
While they certainly aren't entirely effortless to make, they are delicious down to the very last sip. Without question, this is a cocktail that is worth the work!
While you can't always be the hostess with the mostess and stand at the bar all night, what you can do is make your life so much easier with a DIY mojito bar! It's the easiest way to set up beforehand and allow guests to have fun mixing and matching all night long.
Learn the keys to setting up your very own mojito bar in any corner of your home or yard. It will be the hit of your party… switch things up instead of a margarita for Cinco de Mayo, or try one any time of the year! Find the Best Rum for Mojitos, too!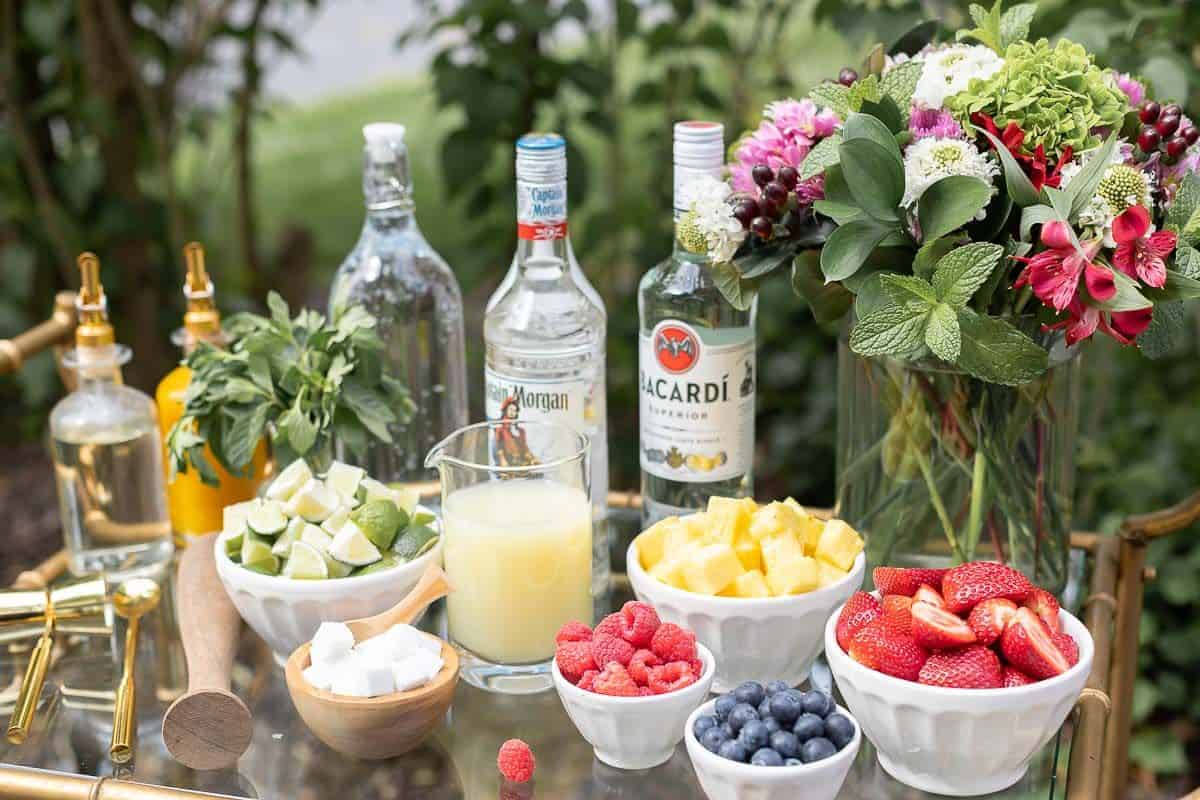 What is a Mojito?
The original mojito is considered the traditional highball cocktail of Cuba. With just five ingredients (white rum, lime juice, soda water, sugar and mint) it's an enduring classic, and with good reason.
It's believed that the original Mojito might have began as a medicinal style drink on the island of Cuba, centuries ago.
Mojitos have a sweet, refreshing and fizzy lime taste, with the lime and sweetness overpowering the rum. It's so hard to stop at just one on a warm summer night!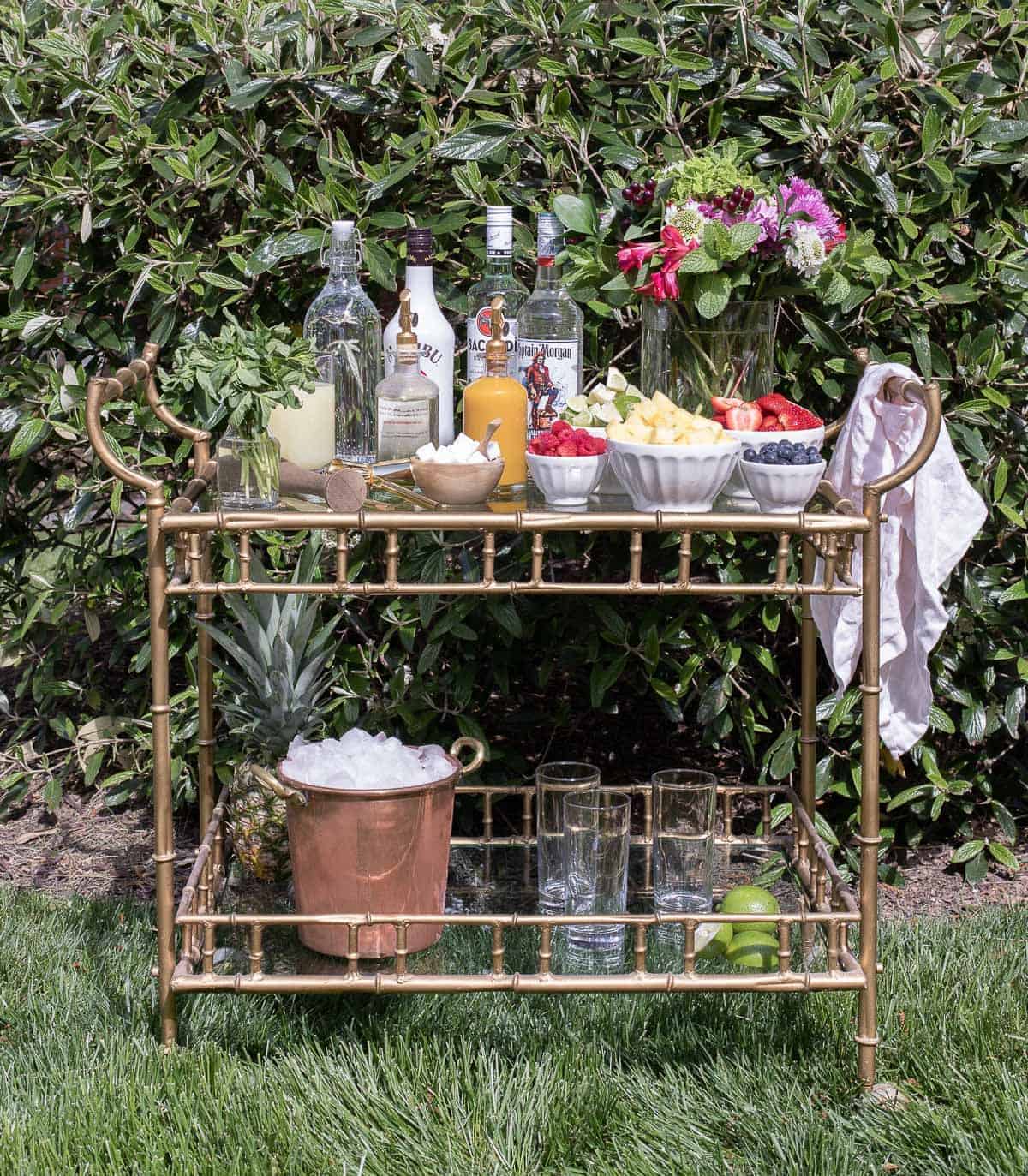 Why You'll Love a Mojito Bar
Easy for Guests to Serve Themselves
Fun and Festive
Allows Guests to Create Their Own Concoction to Their Preference
How to Set Up a Mojito Bar
Display Basic Mojito Ingredients
Limes – A bowl of pre-quartered limes is not only convenient, but looks beautiful, too! Display in a bowl ready to muddle or offer fresh squeeze lime juice in a bottle or small pitcher.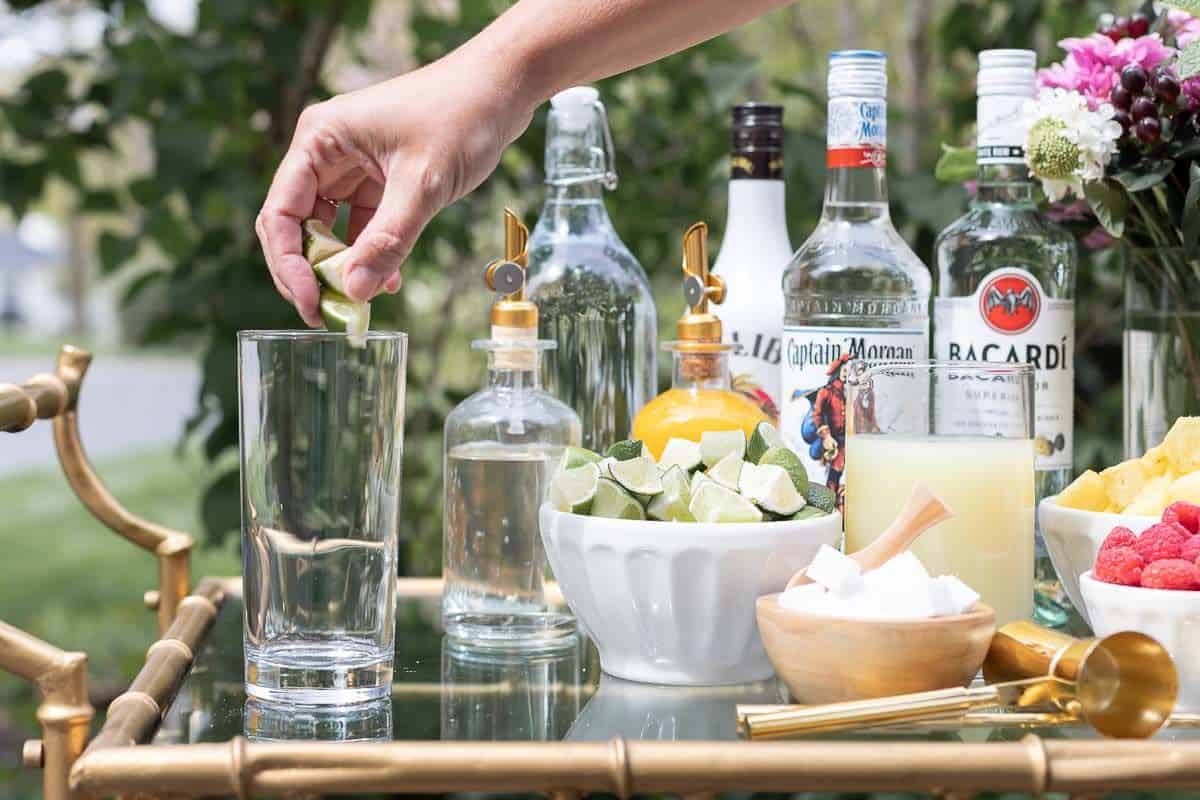 Mint – Add mint from your garden in a glass or vase filled with water or allow guests to pick directly from the plant! (Talk about types of mint good for mojitos).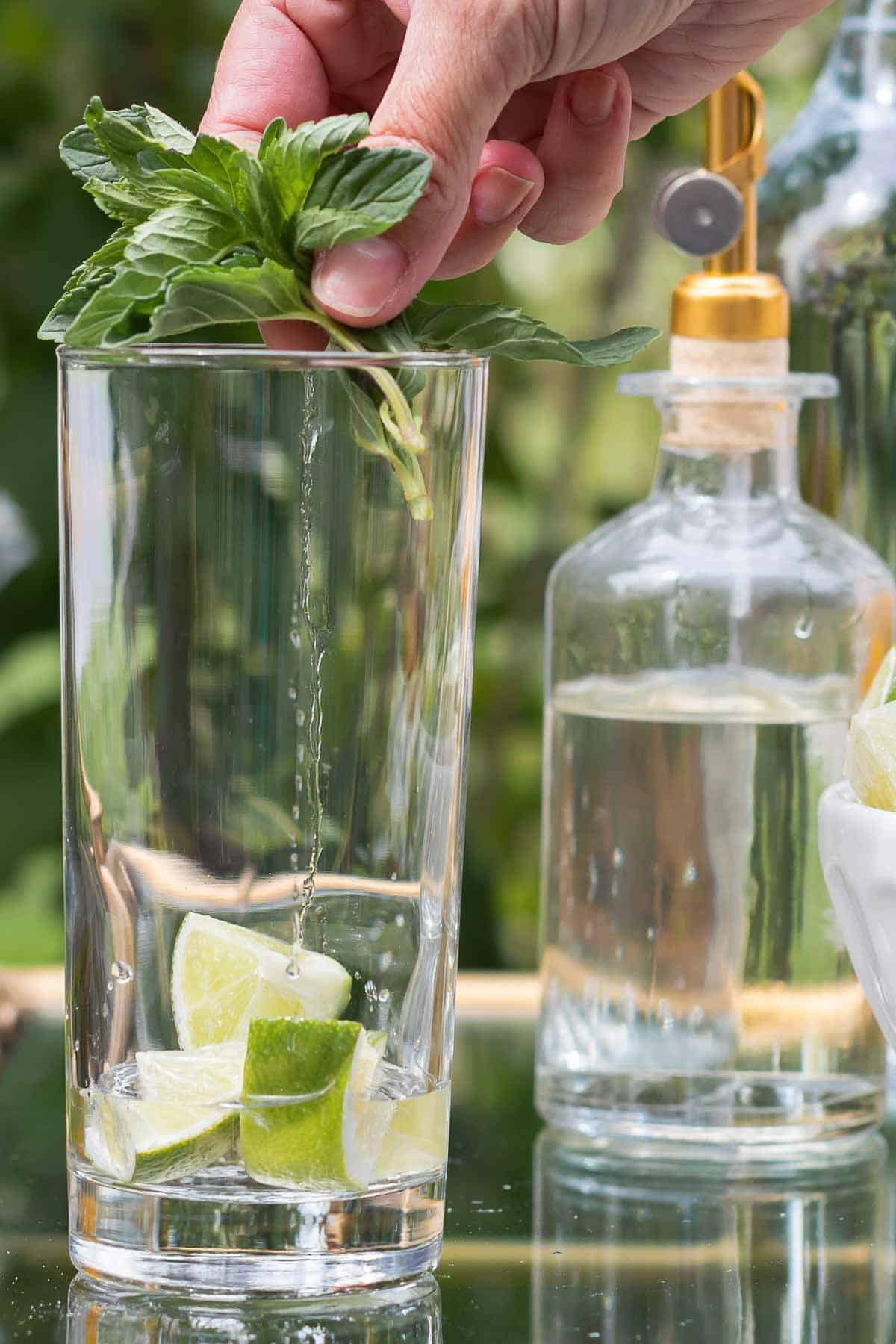 Sugar – Combine sugar and water to make simple syrup or use white granulated sugar. Sugar cubes are easy to mix and adorable, too!
Soda Water – Club soda adds a little carbonation to this fresh cocktail. You can substitute sparkling water or offer both if you prefer. To make it a skinny mojito simply substitute soda water and sugar with a diet lemon lime soda.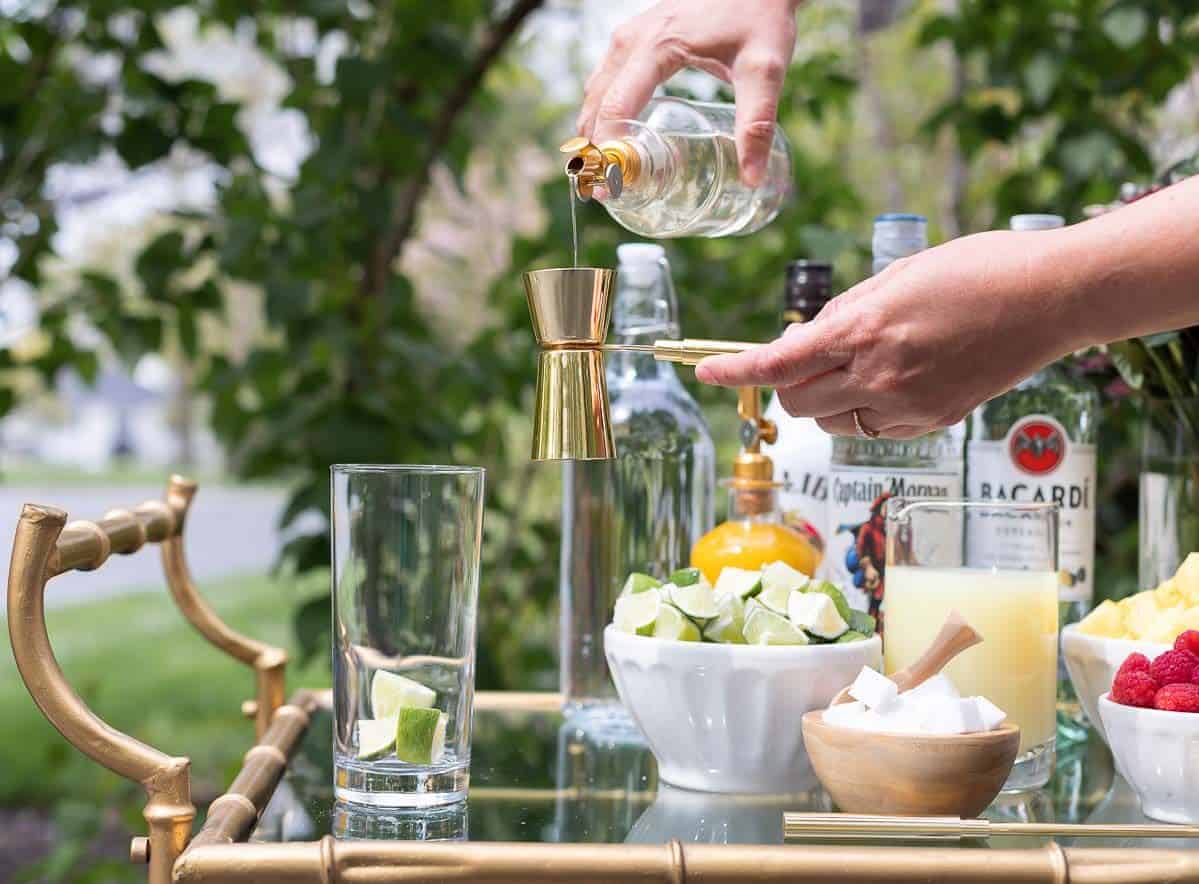 White Rum – Any white rum will do. I like to choose a few mid-level rums for cocktails. Bacardi Superior, Captain Morgan White Rum, Cruzan, Malibu Rum. Substitute vodka, tequila, gin or champagne to mix it up!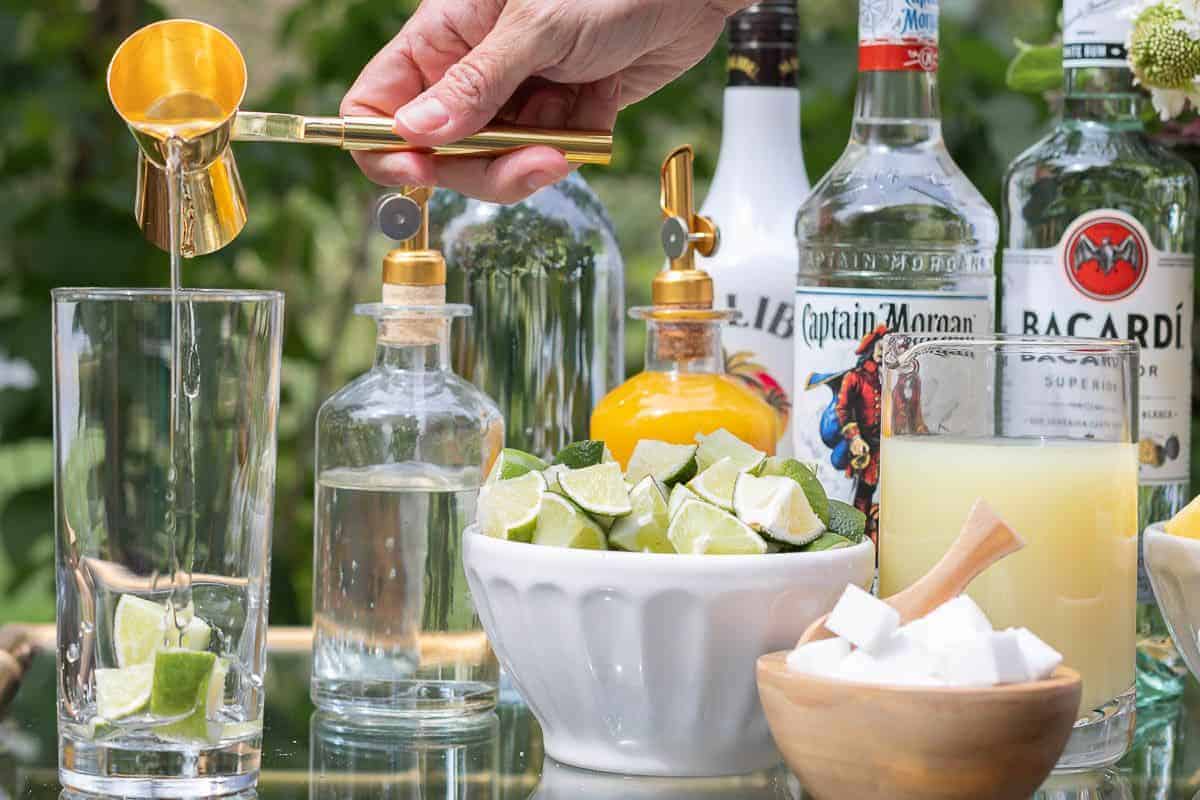 Flavors – Add fresh fruits, nectars and purées to offer an endless array of options on your mojito bar!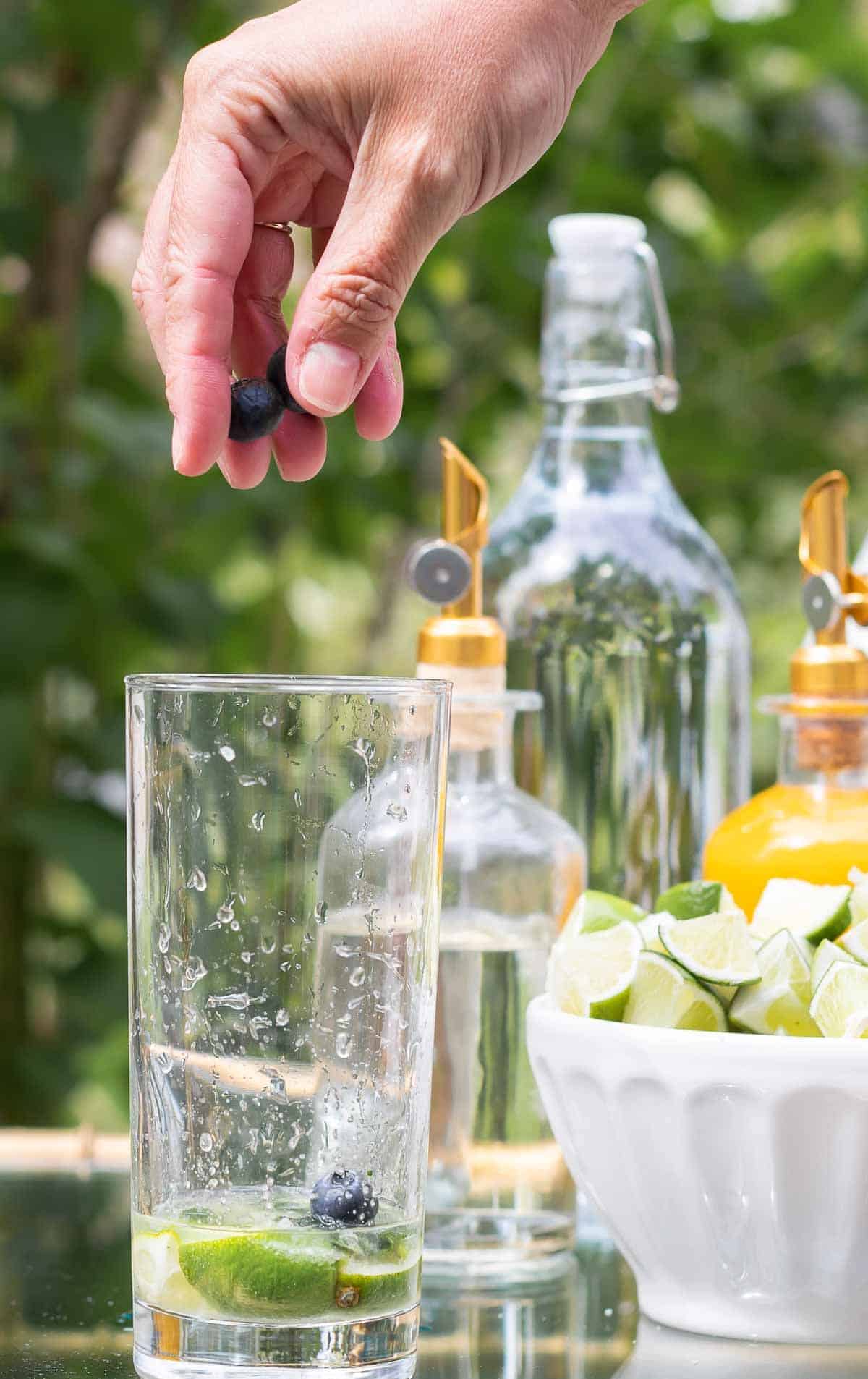 Set Up Indoors or Outdoors
You can set up a mojito bar on your kitchen island, at the bar, a side table or bar cart indoors and virtually anywhere outside!
Make it Accessible
Artfully display your ingredients on a Gold Bar Cart, a Rattan Bar Cart, or any small table or countertop area of your home. Using matching bowls (or charming mismatched pieces work well, too!) can allow guests to better see their options.
You can print cute signs from Etsy to help guests have an easy recipe to follow, too or create your own!
Learn How to Style a Bar Cart for more of my favorite tips and techniques!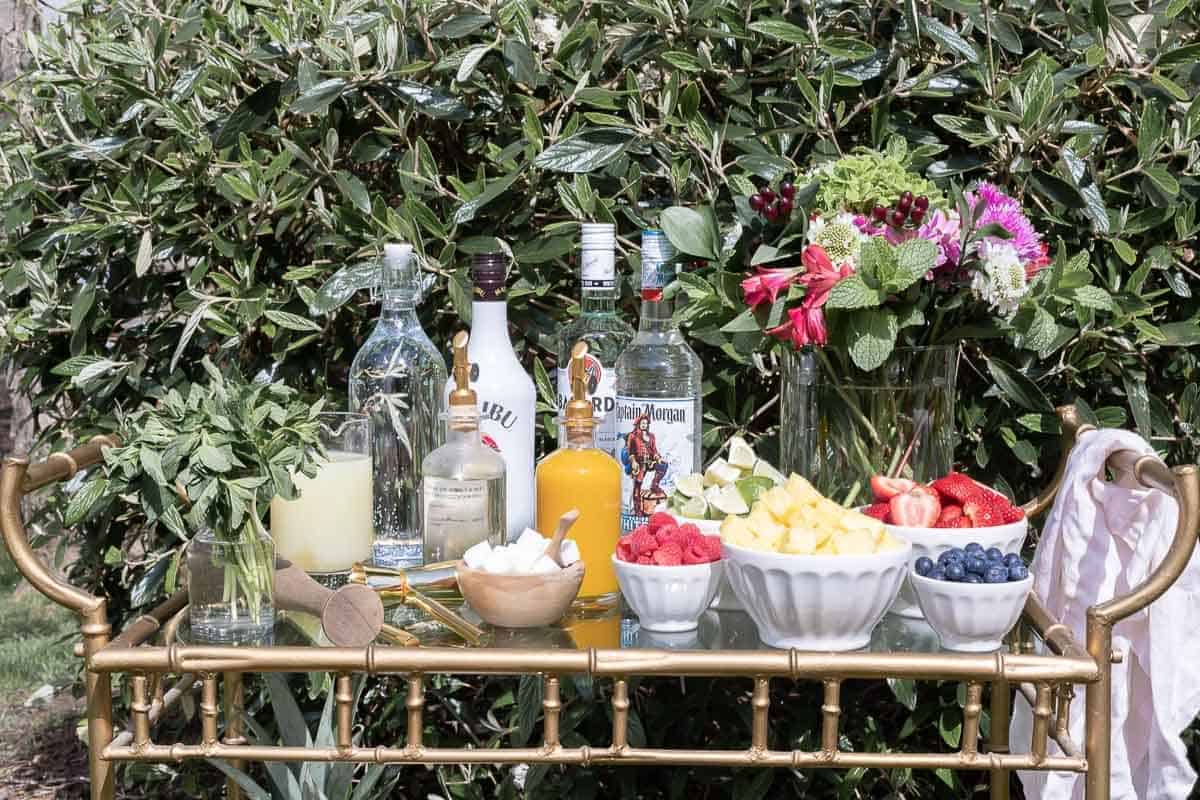 Tools
Have a muddler, jigger, cocktail shaker or mixing spoon on the mojito bar ready to measure, mix shake or stir! You'll also want a tall glass for traditional mojito style.
Flowers on a bar always make it feel more special and create a focal point for guests to enjoy while mixing. I've got countless floral design tutorials you can learn from, allowing you to look like a true pro!
Learn my favorite tips for becoming your own florist with these Florist Secrets, as well as the best flowers to shop for at Trader Joe's!
For Cinco de Mayo style, use colorful flowers and add in sprigs of fresh mint for greenery.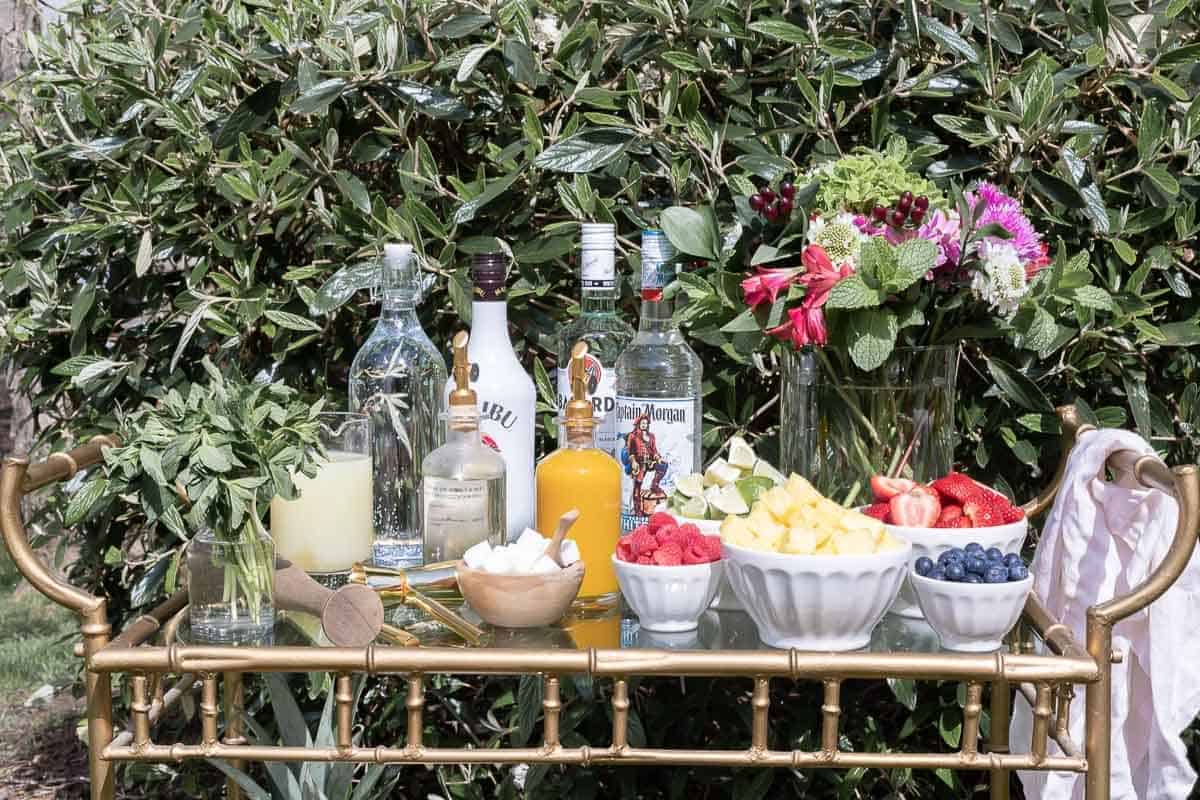 Variations
Strawberry Mojito – Use puréed or smashed strawberries for a sweet spring sip!
Raspberry Mojito – Muddle raspberries with lime and sugar in a cocktail shaker, strain and add rum, ice, soda water and mint.
Blueberry Mojito – Blueberries are such a fun and festive addition to your mojito bar lineup!
Pineapple Mojito – It doesn't get much more tropical than this! Use pineapple for the feeling of palm trees swaying in the breeze.
Coconut Mojito – Add cream of coconut for fresh coconut flavor and a frothy consistency. You can also use coconut rum to add even more coconut flavor!
Mango Mojito – Add two ounces of mango nectar for sweet mango flavor.
Watermelon Mojito – Add puréed watermelon to your mojito for the ultimate summertime sip.
Mojito Float – Add a few scoops of lime sherbet or lime sorbet to turn it into a float, perfect for a hot summer day!
Champagne Mojito – Simply substitute rum and soda water with champagne!
Tequila – Replace rum with tequila for a fun twist on this classic cocktail.
Helpful Tools
Muddler
Jigger
Cocktail Shaker or Mixing Spoon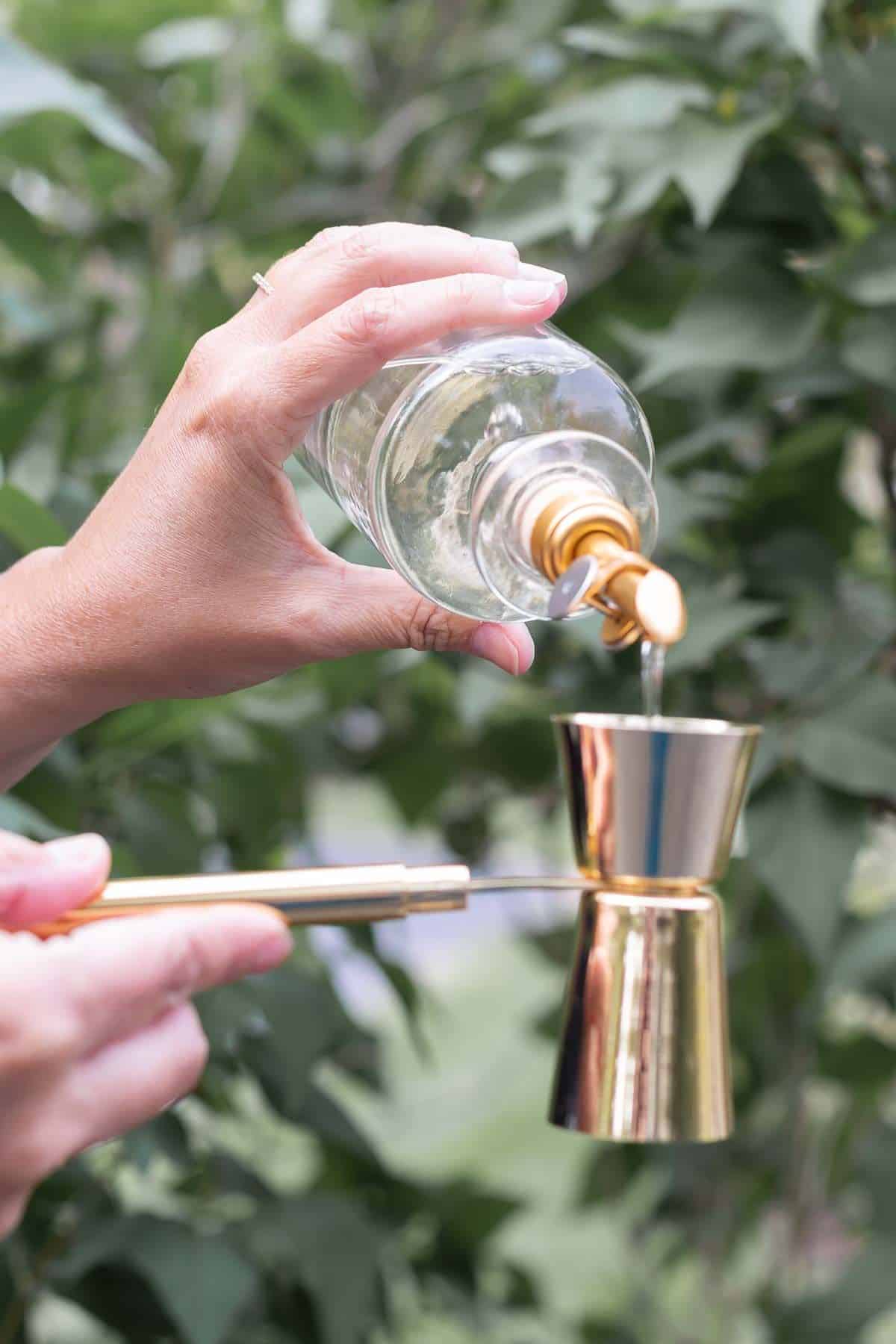 Frequently Asked Questions
How do I make a skinny mojito?
The best way to keep any drink on the skinnier side is to eliminate or replace the sugar in the recipe. This goes for simple syrup, any juice you would traditionally use, and sugar cubes as well.
Do you shake a mojito?
You can, but you can also simply stir. Bartenders have argued these points for years, but one thing we know for sure: a mojito is good whether shaken or stirred. It's completely up to you!
Can I use vodka instead of rum in a mojito?
Absolutely! It's easy to make a Vodka Mojito just by switching out your spirits in this recipe. You can also get wild and use tequila, too!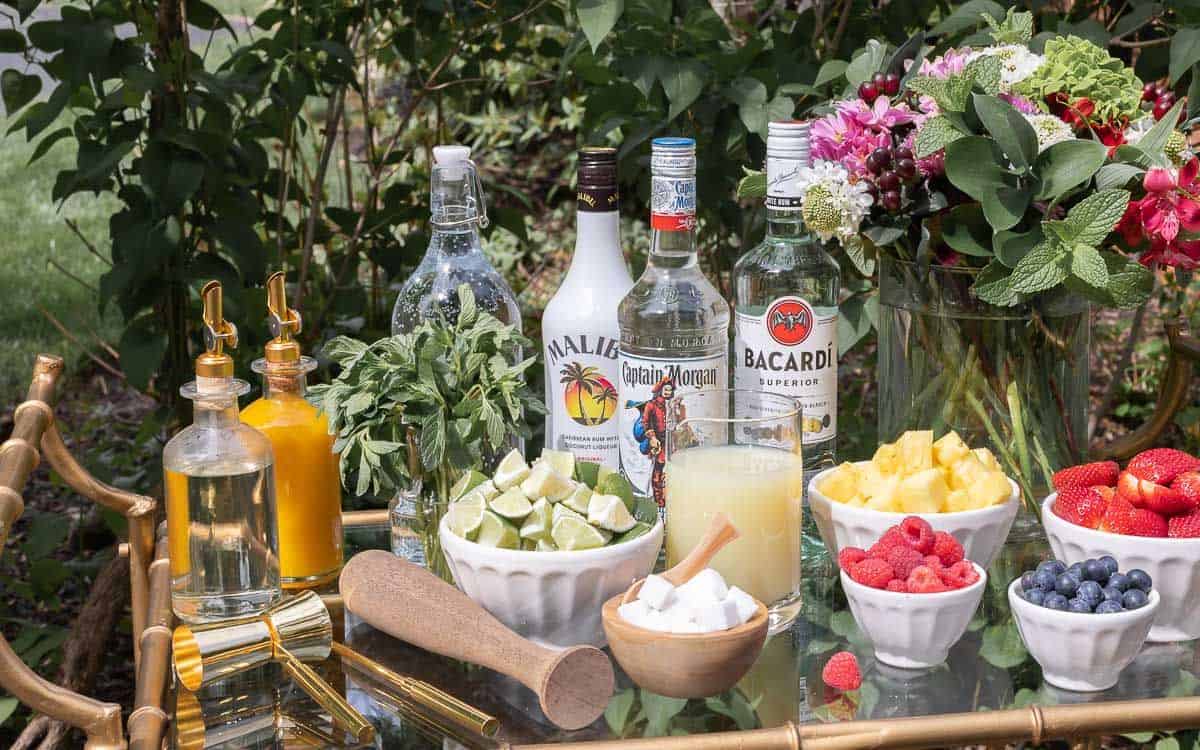 Tips for Making Mojitos
Use Fresh Mint – And it's so easy to grow your own! Add mint to your summertime Garden Containers for the ultimate in function + form!
Use Fresh Lime Juice – Fresh lime juice offers the best flavor, so add wedges to your bar or you can fresh squeeze lime juice with a citrus juicer and add to a small pitcher.
Muddle – A mojito muddler is a bar tool similar to a pestle. It is used to mash fruits and herbs to release their flavor. If you don't have one, try mashing with the end of a wooden spoon instead!
Serving Suggestions
Rim Glasses – Run a lime wedge around the edge of the glass. Fill a small plate with white granulated sugar. Dip glass in granulated sugar.
Garnish – Garnish with lime wedge or slice and a sprig of mint.
Straws – Mojitos can be sipped with or without a straw. Try these pretty copper straws for a more sustainable option!
The Best Mojito Recipes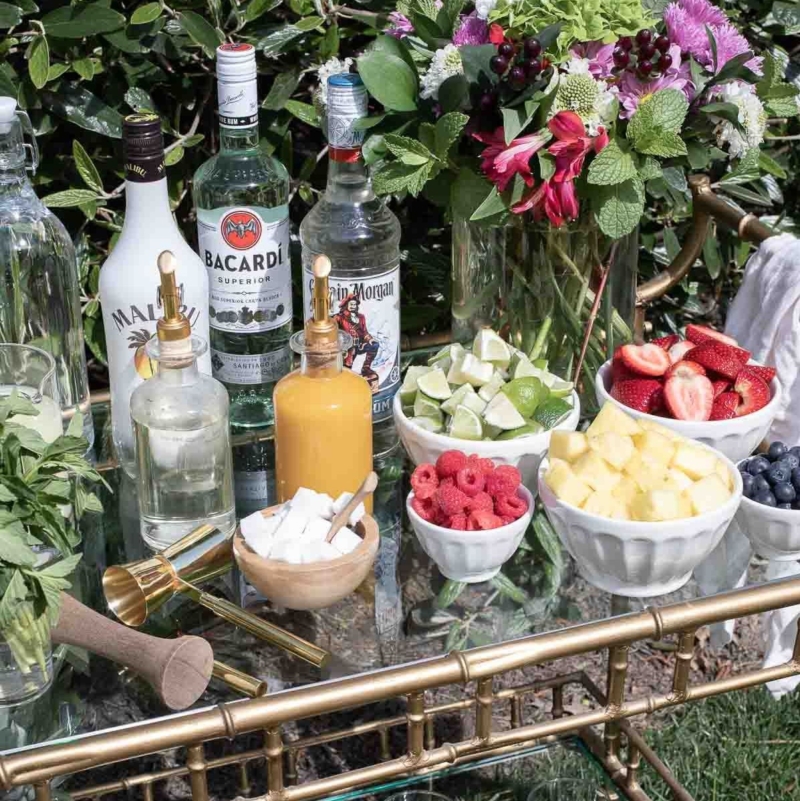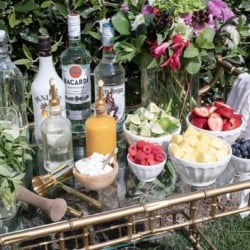 Mojito Bar
A beautiful mojito bar allows guests to create their own fresh cocktail with bright and delightfully sweet citrus flavor with an array of fruity options! Use this classic mojito recipe as a great starting point to build an array of mojitos.
Ingredients
½

lime quartered

5

mint leaves

ice filled to the brim

1½

ounces

white rum

2

tablespoons

simple syrup

½

cup

club soda or to taste
Instructions
Start with a mojito glass.

Muddle lime and mint.

Fill the glass with ice.

Pour rum over ice.

Add simple syrup.

Top off with club soda.

Stir and garnish with lime slice and/or mint sprigs.
Tips
Squeeze juices and slice fruit garnishes a day ahead.
Think of all the variations – use berries, pineapple, coconut, watermelon and so much more!
You can also mix up your alcohol – try a tequila mojito or use champagne instead of rum.
Calories:
219
kcal
|
Carbohydrates:
34
g
|
Protein:
1
g
|
Fat:
1
g
|
Saturated Fat:
1
g
|
Polyunsaturated Fat:
1
g
|
Monounsaturated Fat:
1
g
|
Sodium:
51
mg
|
Potassium:
91
mg
|
Fiber:
1
g
|
Sugar:
30
g
|
Vitamin A:
229
IU
|
Vitamin C:
11
mg
|
Calcium:
34
mg
|
Iron:
2
mg
Estimated nutrition information is provided as a courtesy and is not guaranteed.
Explore More