Maybe you really can have it all! Craving a mojito and a margarita all at once? Try this fabulous tequila mojito for a fresh, minty taste of both of your favorite cocktails combined.
With all the sweetness of a mojito and the refreshing bite of limes and tequila, this is a cocktail to sip and savor all summer long.
A Tequila Mojito is the best of both worlds – the refreshing flavor of mojito with a hint of margarita flair!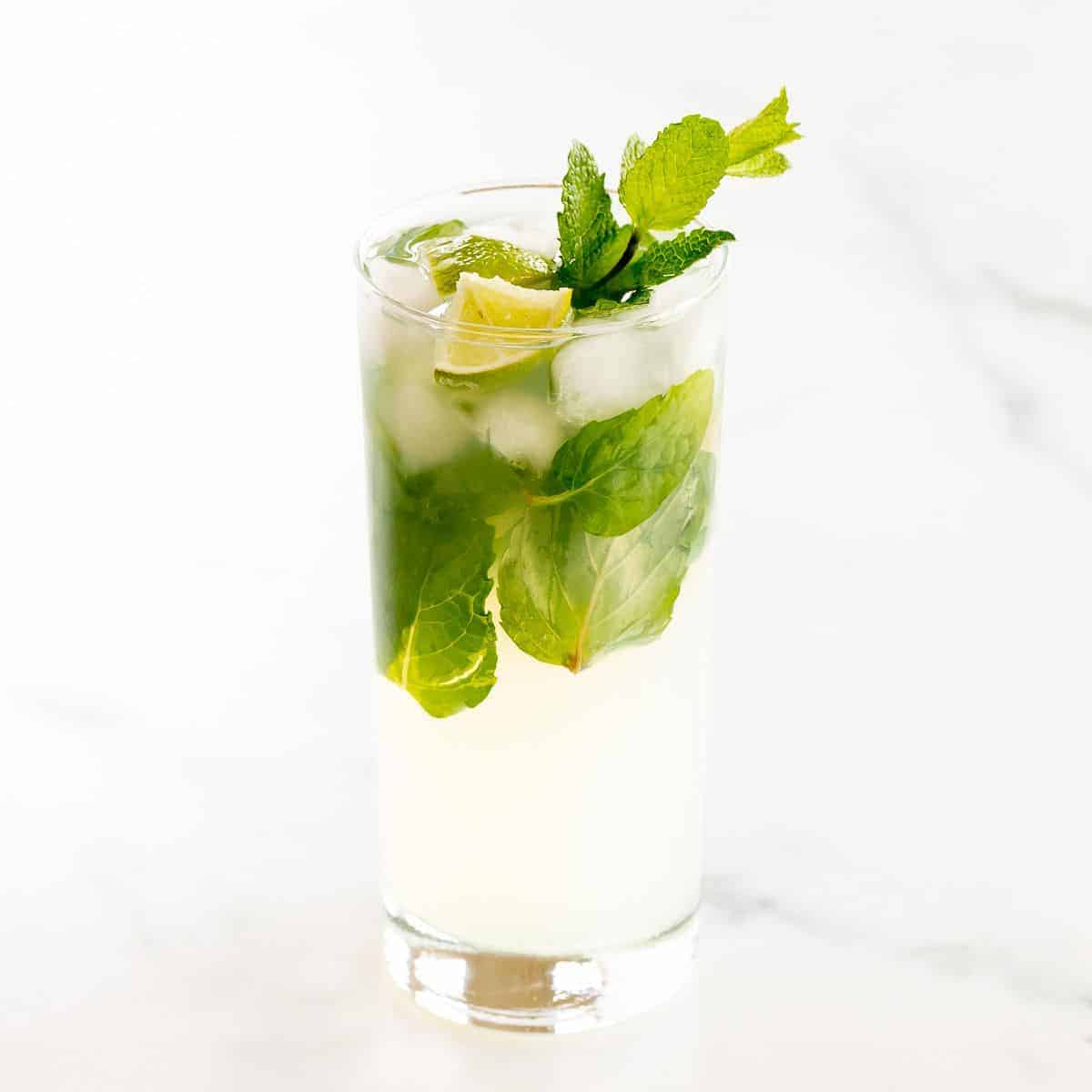 Once you've mastered the fine art of a classic mojito or margarita, the sky is the limit. While these two cocktails are similar with their sour, lively taste of fresh squeezed lime juice, there are differences, too!
A margarita is filled with the sour, acidic taste of lime juice, balanced by the clean and refreshing taste of tequila. The sweetness is secondary, only meant to balance the tart bite of the lime juice perfectly.
In a mojito, there's still plenty of lime juice. However, it's generally a little sweeter and finished with some bubbles. The rum in a mojito is naturally sweeter than tequila, which makes this cocktail a little less tart overall.
Luckily, you really can have the best of both worlds! While a mojito is of course traditionally made with white rum, you can have the whole world with this cocktail.
Try a Vodka Mojito, a Gin Mojito, or even a Virgin Mojito for a fresh spin. I've got an incredible round-up of mojito recipes I know you're going to love!
Much like my Mint Margarita, this cocktail is a fun spin on a classic. Let's put our bartending skills to good use and mix up a new favorite!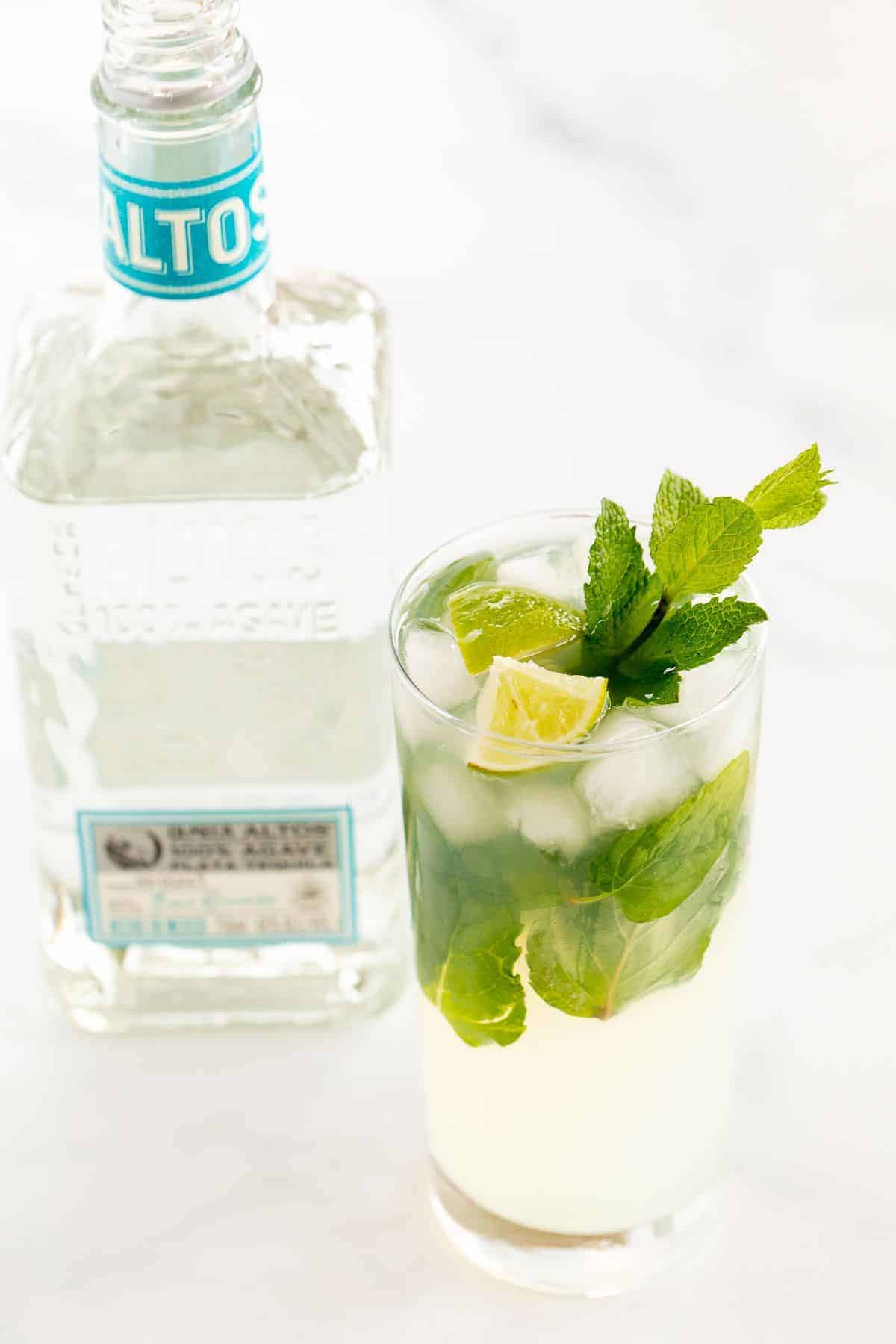 Why You'll Love this Cocktail
Refreshing
Light
Delightfully Minty
Easy to Sip
Easy to Make One or a Whole Pitcher!
A mojito is so perfect for parties! In fact, you can learn how to set up a DIY Mojito Bar that will be the best feature of your next gathering – don't miss it, along with the Best Rum for Mojitos!
Tequila Mojito Ingredients
Tequila – Learn about tequila in this full Tequila Guide. I like a light, high quality Blanco or Silver Tequila for this cocktail.
Limes – Fresh lime juice is always best, but you can take a shortcut with a bottle of lime juice if you're short on time!
Mint – Fresh mint leaves are a necessity for any good mojito.
Simple Syrup – Store bought or homemade simple syrup adds a hint of sweet flavor to this cocktail! To make your own just allow equal parts sugar and water to dissolve in a pot over medium heat. You can also substitute with white granulated sugar or sugar cubes if you prefer.
Soda Water – Club soda or sparkling water adds a little bubbly to this refreshing cocktail.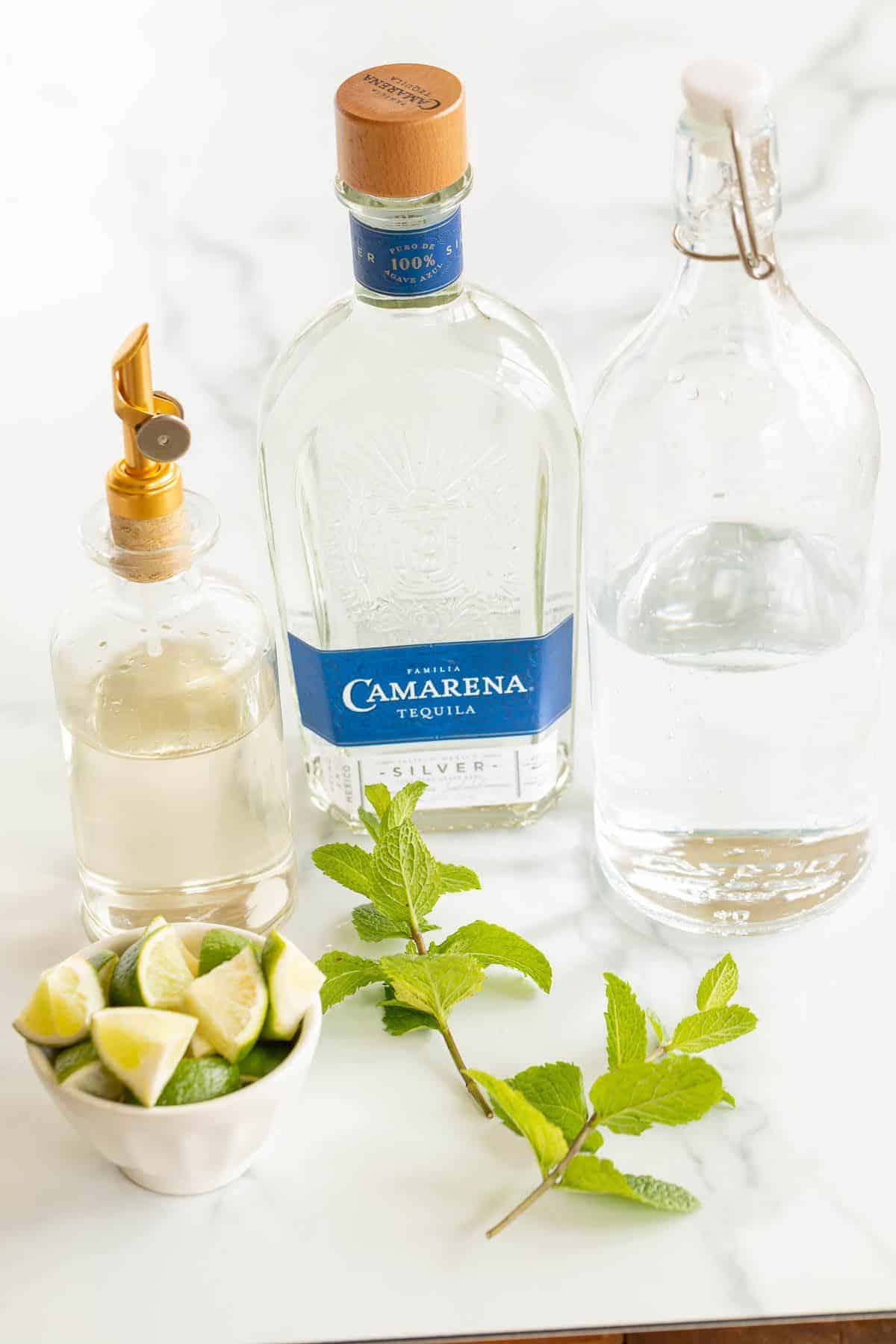 Variations of a Mojito with Tequila
Best Tequila for Mojitos
The secret to a great margarita or tequila mojito is often in an excellent quality tequila. However, you don't have to spend a fortune to find a great one!
Don Julio Blanco
Patron Silver
Altos Tequila Plata
Camarena Silver Tequila
Casamigos Blanco
Tools
Muddler
Jigger
Cocktail Shaker or Stirrer
How to Make a Tequila Mojito
Muddle – In a highball glass, muddle mint and lime (plus sugar cubes if you're not using simple syrup) to release lime juice and oils.
Add Tequila
Add Ice – Fill glass to the brim with ice.
Sweeten – Add simple syrup or sugar cubes.
Add Bubbly – Top off with club soda.
Garnish – with lime slice and/or mint sprigs.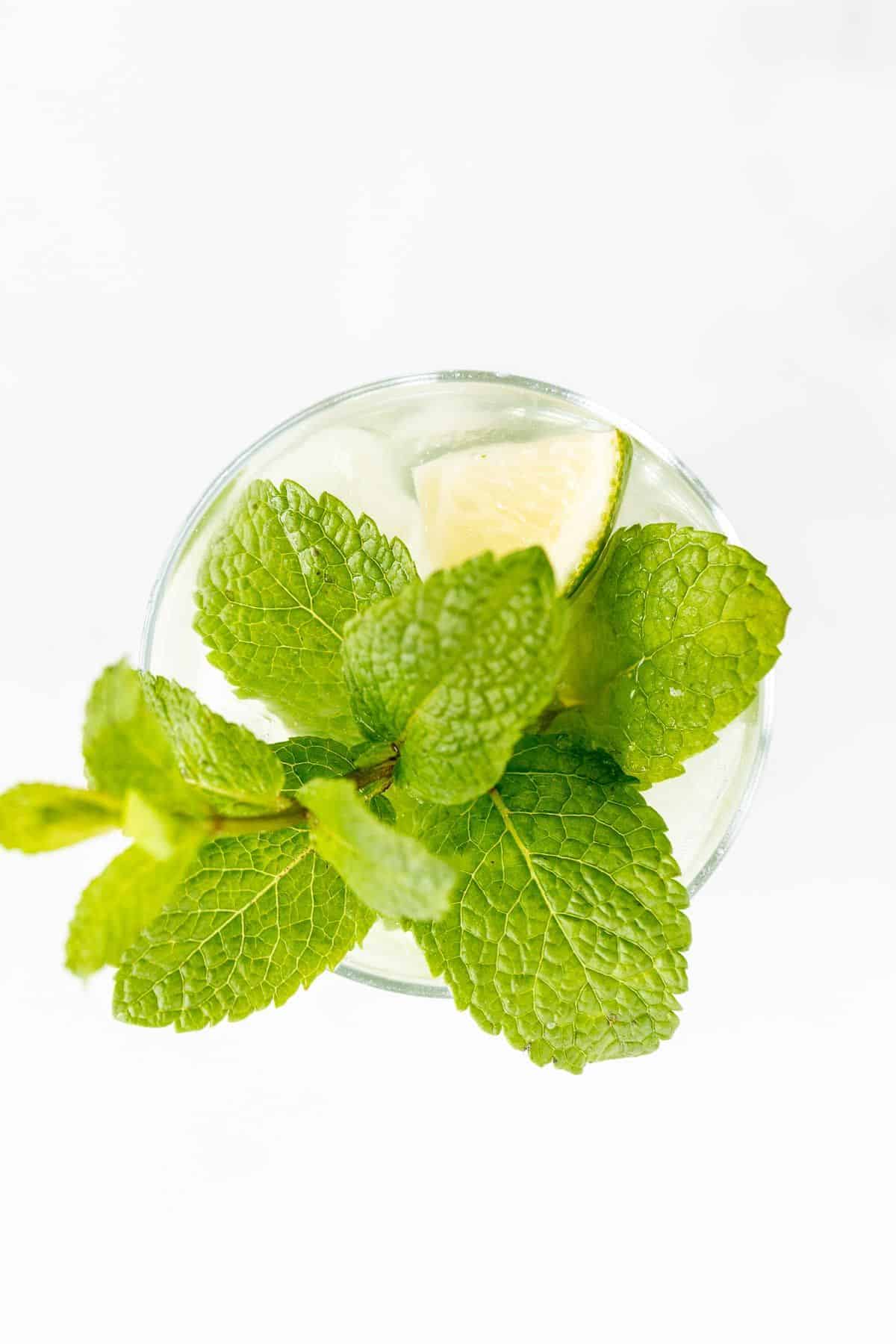 Tips
Try a cocktail shaker for a more formal way to shake and stir.
The joy of this easy recipe is that you can experiment to find your ideal version of sweet, minty and citrusy. Play with the ingredients to find your perfect mix!
If you like a little more lime (or more tequila), that's great! Less syrup or sugar, that works great too… make it to your own personal preference after you experiment a bit!
Scaling up, down or substituting? You'll love this printable Measurement Conversion Chart!
Shortcuts
Store-Bought Lime Juice – Make sure you purchase fresh squeezed lime juice in the juice or produce aisle (not sweetened lime "juice" in the liquor aisle).
Store-Bought Simple Syrup – Simple syrup is so quick and easy to make, but if you prefer, you can purchase in the liquor aisle/store.
How to Serve
Mojito Bar – Add fresh mint, rum, club soda and or sparkling water and fresh fruits to create a mojito bar.
In a Pitcher – Add a couple of fresh sprigs of mint to a pitcher filled with ice and mojitos.
In a Glass – Fill with ice, a sprig of mint and lime wedges or a slice of lime on the rim. Optional: rim the glass with sugar by rubbing a lime around the edge. Dip in a shallow plate of sugar.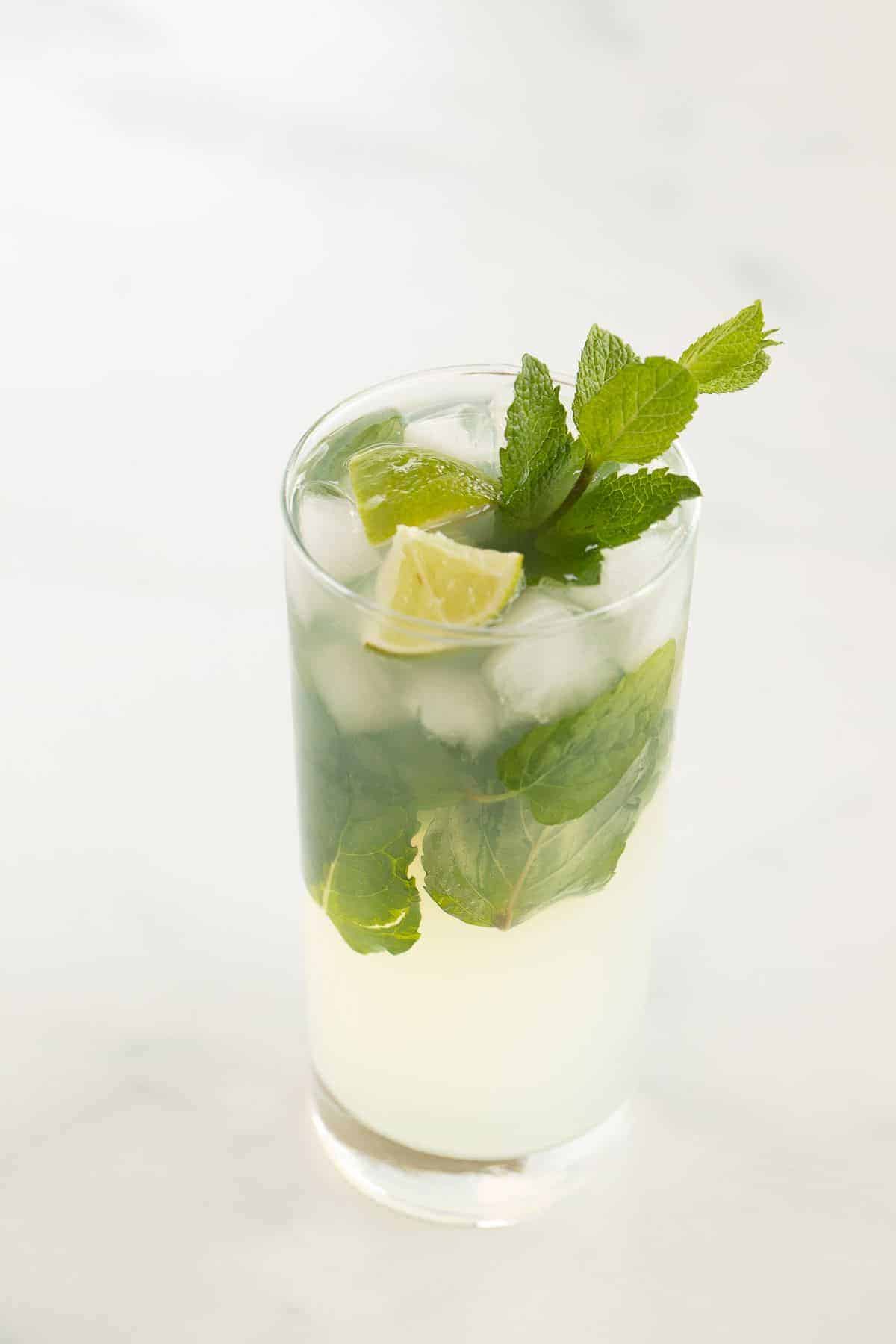 How to Store
Refrigerate – Make up to 2 days ahead, cover and refrigerate. Top off with fresh club soda or sparkling water to serve.
Freeze – Make a frozen tequila mojito. Simply freeze to make it slushy. Store in an airtight container up to 3 months.
What to Do with Leftovers
Make Tequila Mojito Shrimp – Add a tablespoon of oil and use the mix (without club soda) as a marinade!
Make Tequila Mojito Chicken – Add 1/4 cup vinegar and 1/4 cup oil and minced garlic to make an mojito chicken marinade.
How to Make a Pitcher (Serves 8)
1 pound raspberries
1 bunch fresh mint (discard stems – 50-60 mint leaves)
4 limes, quartered into wedges
4 cups ice
1 cup simple syrup
12 ounces tequila
4 cups club soda or sparkling water
Make it Frozen
Same ingredients… simply blend with 3-4 cups of ice as follows.
Squeeze – lime juice and remove mint leaves from stems.
Purée – Blend additional frozen fruit (if you'd like – not required!) + ice in food processor.
Combine – Add tequila, club soda, and simple syrup.
Add Ice – If you want it slushier, blend more ice and add in.
Garnish – Garnish with lime wedge, sprig of mint.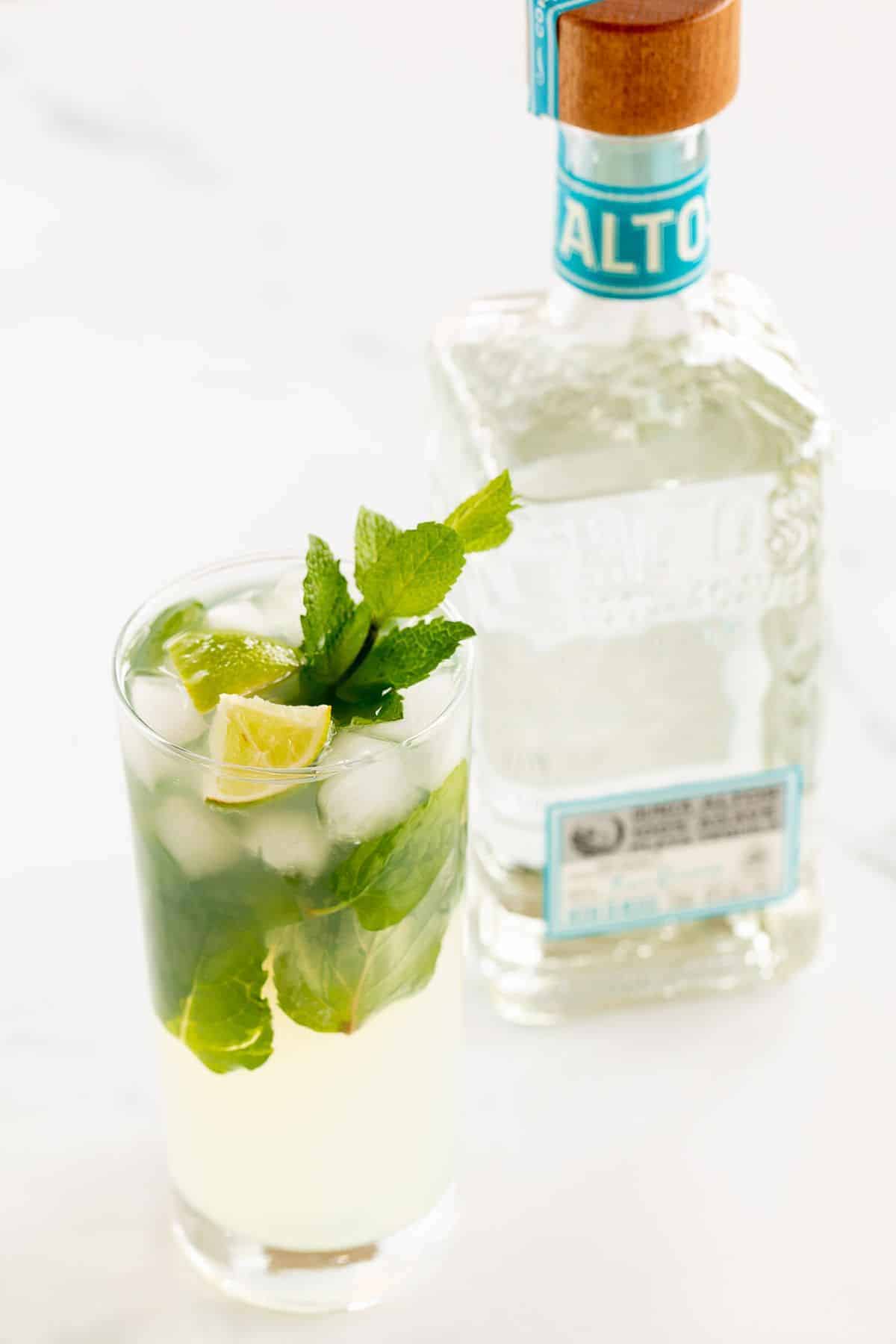 More Cocktail Inspiration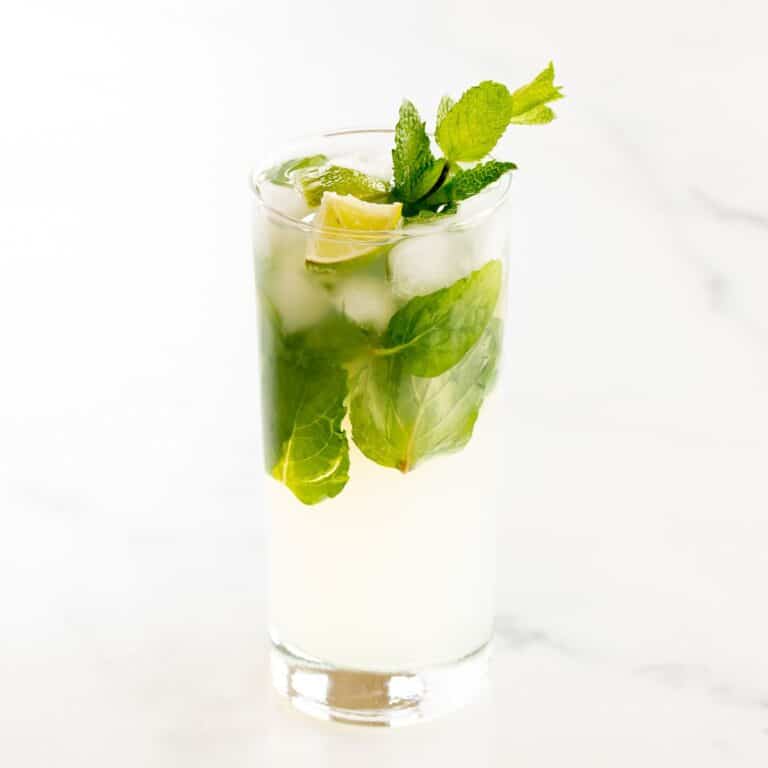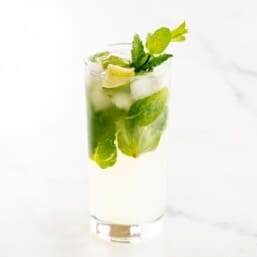 Tequila Mojito
Craving a mojito and a margarita all at once? Try this fabulous tequila mojito for a fresh, minty taste of both of your favorite cocktails combined.
Ingredients
½

lime quartered

5

mint leaves

ice filled to the brim

1½

ounces

tequila

2

tablespoons

simple syrup

½

cup

club soda or to taste
Instructions
Start with a mojito glass.

Muddle lime and mint.

Fill the glass with ice.

Add simple syrup.

Top off with club soda.

Stir and garnish with lime slice and/or mint sprigs.
Tips
Use Fresh Mint – It will make all the difference to the flavor of your mojitos.
Use Fresh Limes – You can use bottled lime juice, but it won't approach the flavor of fresh limes.
If you don't have a traditional muddler, that's okay! Instead of a classic mojito muddler, try using the end of a wooden spoon.
Play with the ingredients until you get it exactly as you like it! Try using more or less lime or syrup, etc.
Calories:
219
kcal
|
Carbohydrates:
34
g
|
Protein:
1
g
|
Fat:
1
g
|
Saturated Fat:
1
g
|
Sodium:
51
mg
|
Potassium:
91
mg
|
Fiber:
1
g
|
Sugar:
30
g
|
Vitamin A:
229
IU
|
Vitamin C:
11
mg
|
Calcium:
34
mg
|
Iron:
2
mg
Estimated nutrition information is provided as a courtesy and is not guaranteed.
Explore More