This lime sorbet recipe is a perfect summer treat with its refreshing and tangy flavor. With just three simple ingredients, it's so easy to make.
Bonus! It's not only light in calories compared to ice cream, it is dairy-free and vegan-friendly.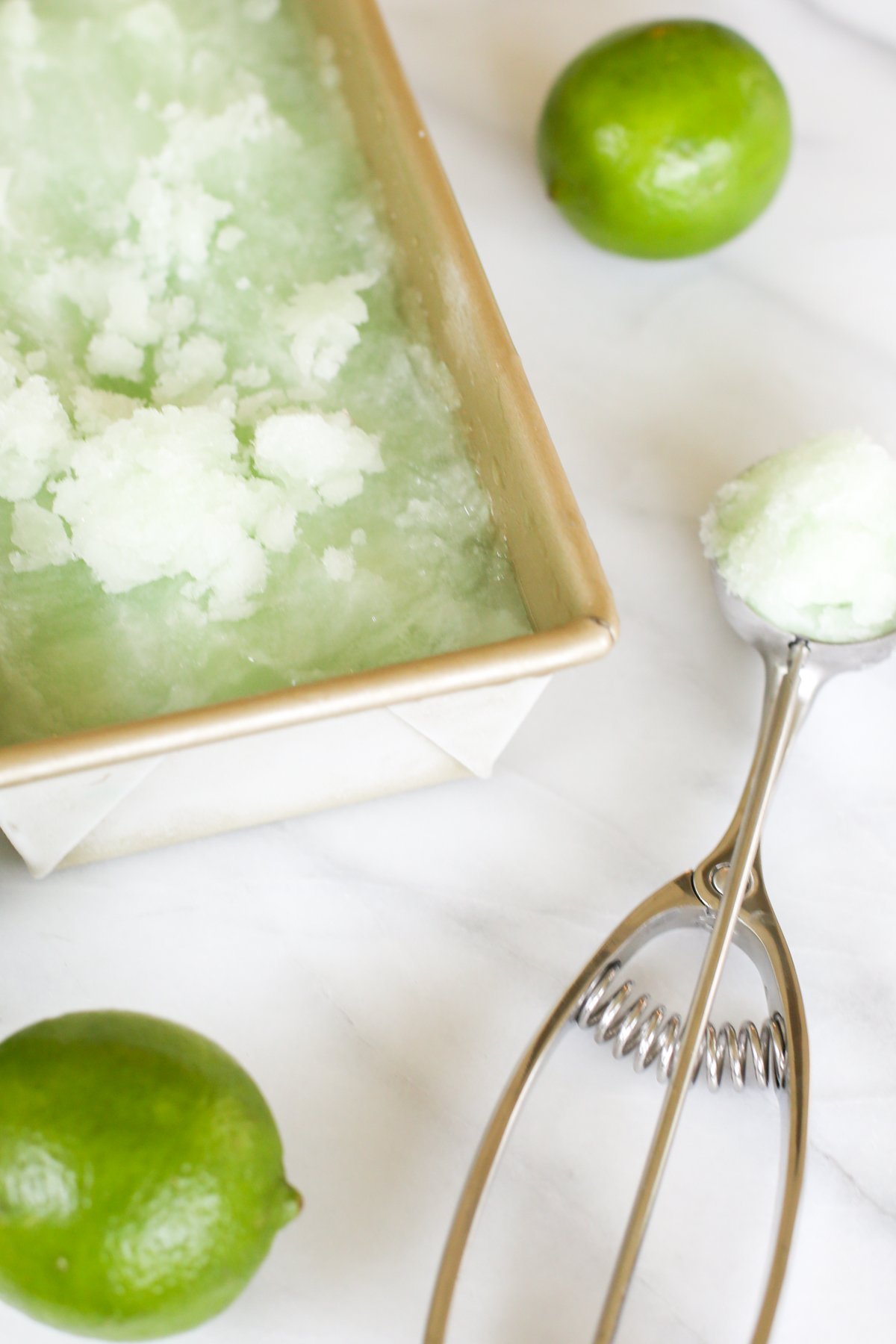 With its tangy, refreshing flavor, this sorbet is sure to cool you down on a hot summer day! This easy sorbet recipe is not too sweet or sour and will delight your taste buds! It takes just 3 ingredients and 3 minutes to prep!
Lime Sorbet
It's amazing on its own, in a sugar cone, or as a margarita float – because why not? Or try this creamier Orange sherbet, too.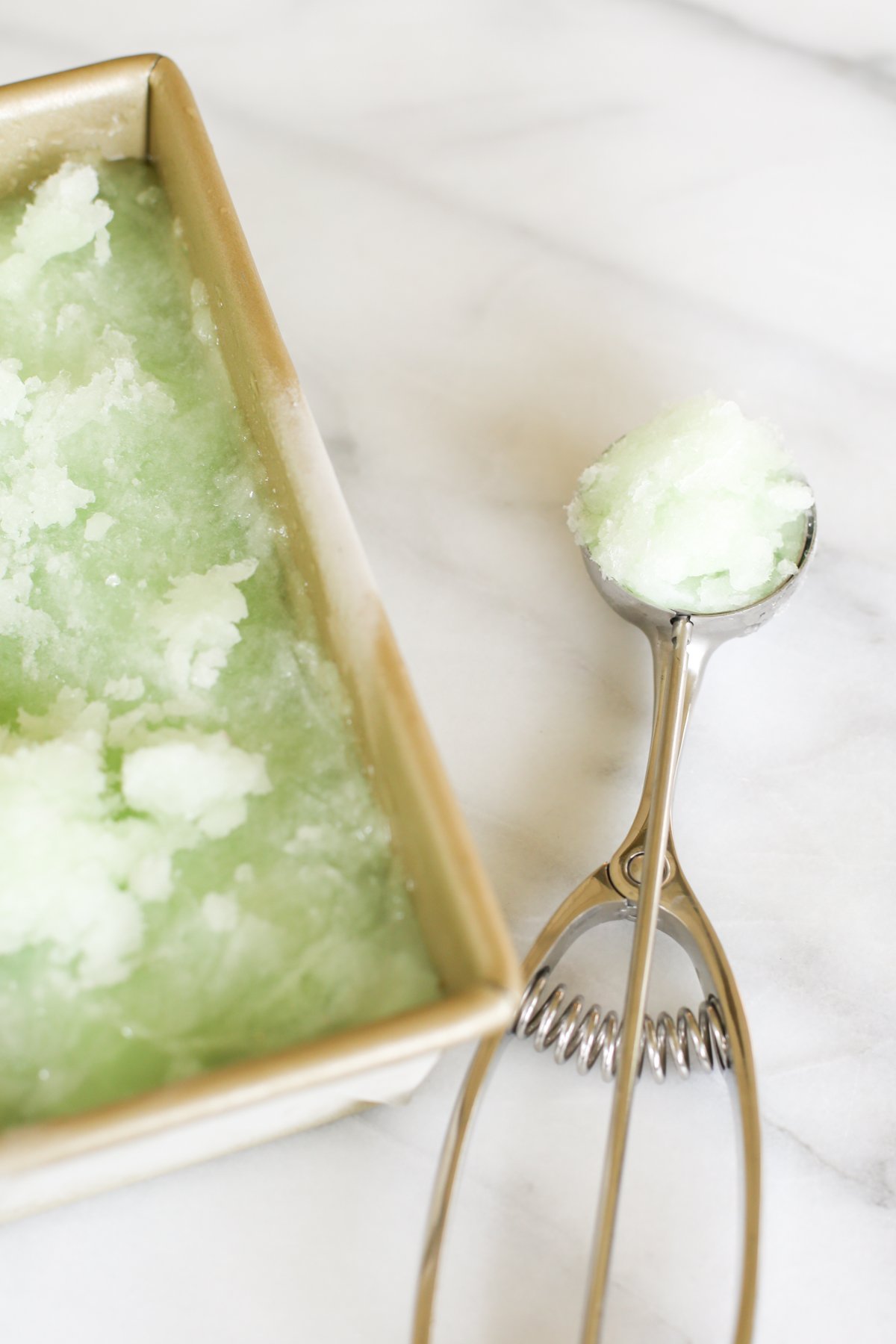 Ingredients and Substitutions
Lime Juice – Freshly squeezed or store-bought in your grocery store's produce or juice section. Use standard limes or Key Limes, your choice!
Simple Syrup – Adds just the right amount of sweetness to sorbet. You can make your own by combining equal parts sugar and water in a saucepan over medium heat. Cool to use.
Water – Reduces the tartness and provides great consistency for this dairy-free treat.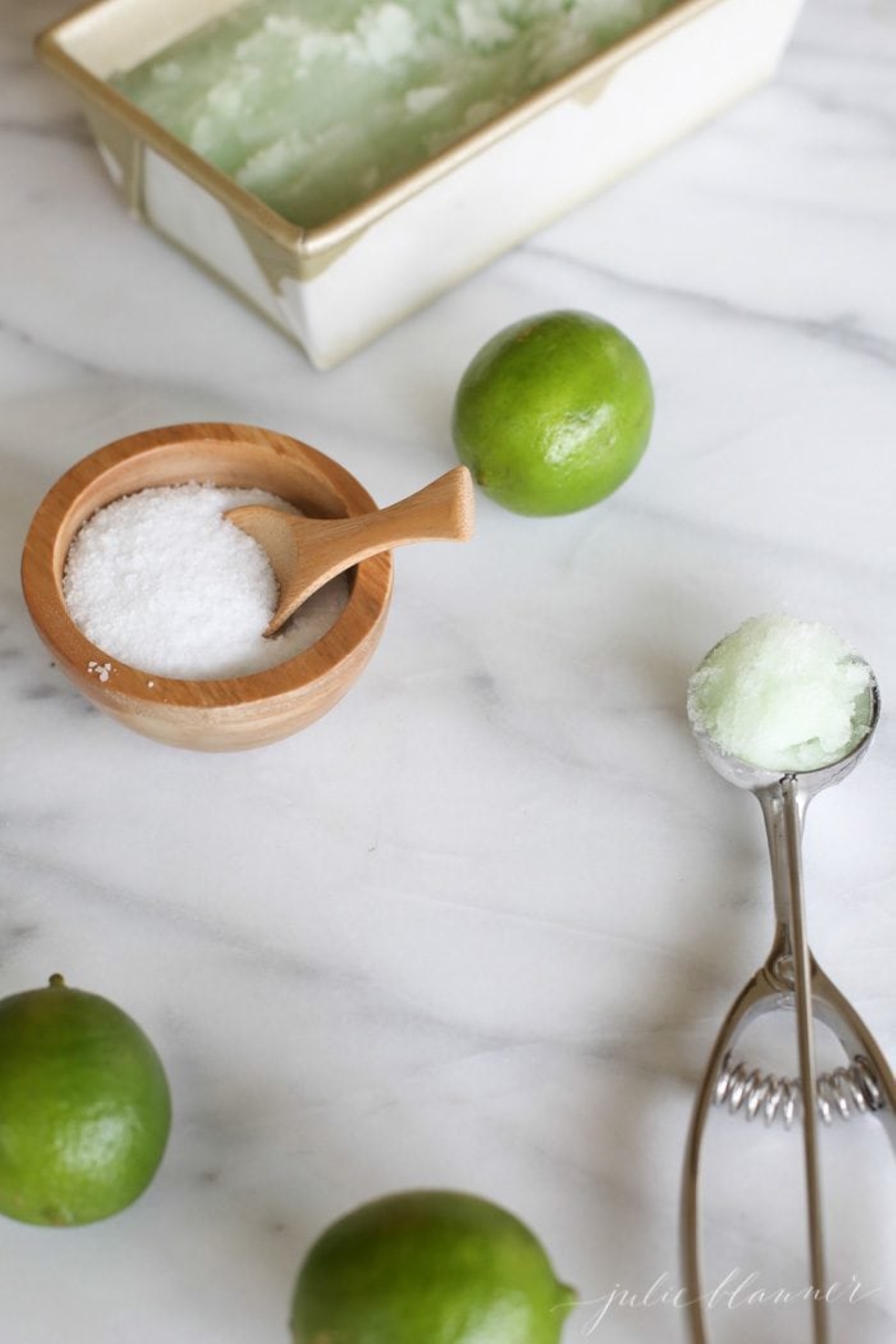 Variations
Zest – For even more lime flavor and a little texture, add the zest of 1-2 limes.
Herbs – Chopped Mint or Basil is the perfect compliment to lime sorbet.
Fruits – Fold in sliced strawberries or papaya, or tropical fruit.
Whipped Cream – A dollop of whipped cream is always a good idea to top with!
How to Make
This is an overview. Visit the printable recipe card for complete ingredients + steps.
Prep – If you're starting from scratch, juice limes and make simple syrup (about 1.5 cups sugar and 1.5 cups water on a stovetop over medium heat until sugar dissolves. Allow to cool. Use 2 cups for this recipe.)
Combine – Combine lime juice, simple syrup, and water in a loaf pan.
Freeze – Freeze overnight or approximately 8 hours.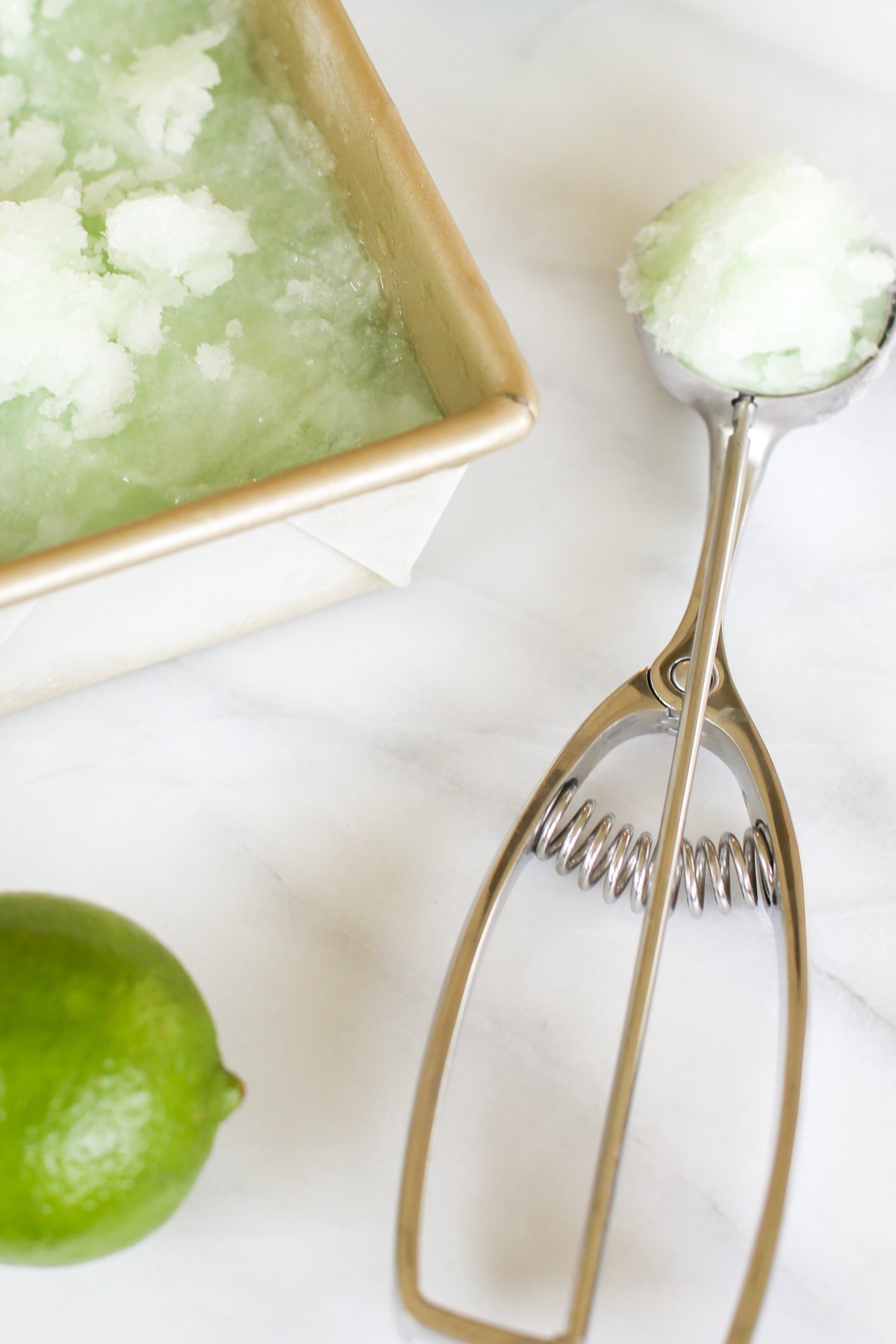 How to Squeeze Fresh Limes
Citrus Juicer Attachment – Affix to your KitchenAid Mixer. Cut lemon into half. Turn mixer on 2 or 4 and press lime on attachment with a bowl underneath to capture the juice.
Citrus Squeezer – Cut lime in half, place one half in the citrus squeezer and squeeze over a pitcher or a bowl.
By Hand – Roll lemon firmly on counter to soften. Slice lime in half. Squeeze over bowl multiple times, pressing a spoon to release any remaining juice if needed.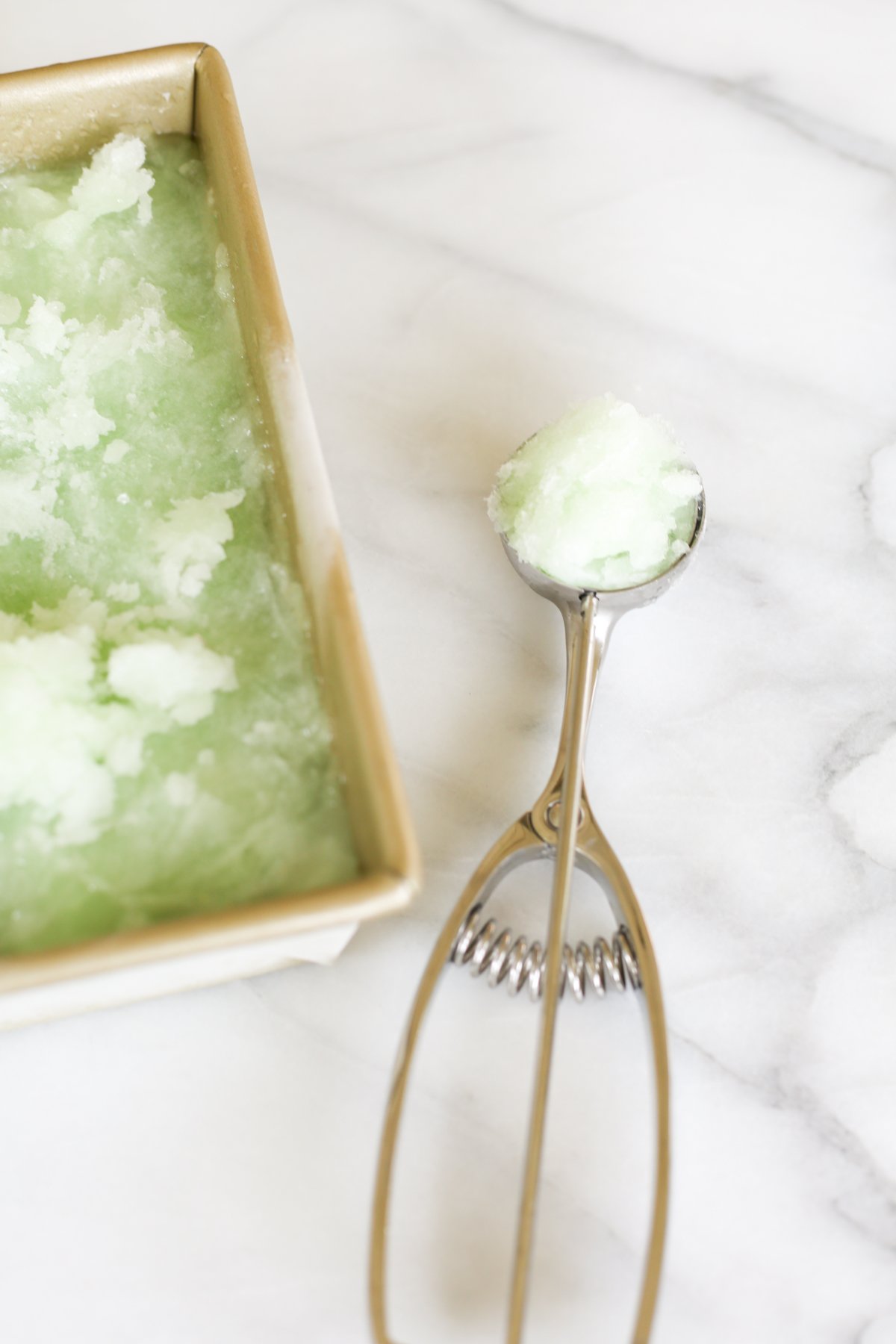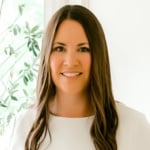 Tip
Allow the sorbet to soften for 5 minutes at room temperature before scooping.
Serving Suggestions
How to Store
Freeze – Store in a freezer-safe container or cover securely in plastic wrap. Double wrap in a freezer bag to store for up to 3 months.
Frequently Asked Questions
Can I make lemon sorbet with this recipe?
Yes! The same steps apply – juice the fruit, make the syrup, add water, then freeze.
Do I need an ice cream maker to make the sorbet, or can I make it without one?
You don't need an ice cream machine to make this recipe! All you need is a loaf pan!
Can I add any additional flavors or toppings to the sorbet to make it more interesting?
Of course! You can add ingredients like lime zest for texture or coconut milk for extra creaminess!
Can I make this recipe ahead of time?
Absolutely! All you need to do is prep the sorbet, then freeze for at least 8 hours!
Is this recipe low fat?
Yep! Lime juice, sugar, and water are all low fat!
Can I use corn syrup instead of simple syrup?
Yes! Corn syrup is a great substitute for simple syrup if you have it on hand!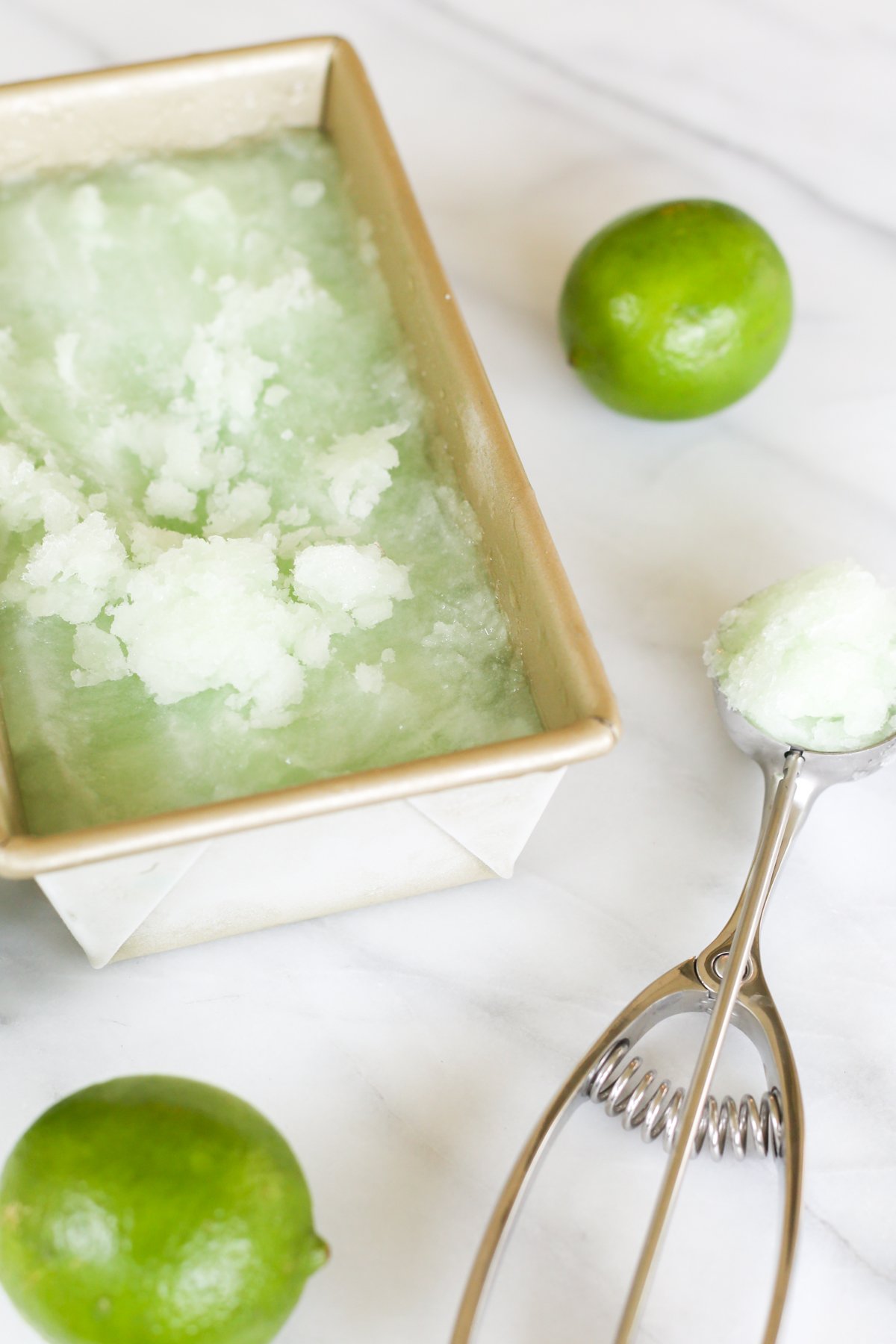 More Lime Recipes You'll Love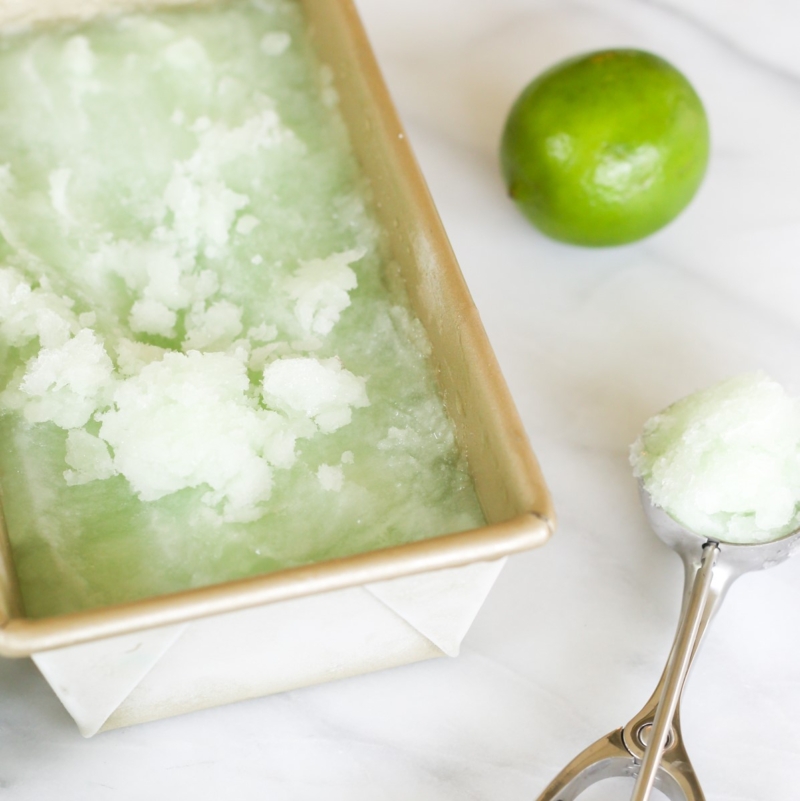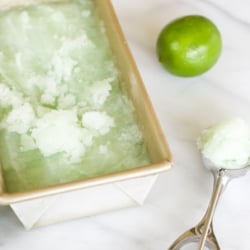 Lime Sorbet
Easy and refreshing 3 ingredient lime sorbet recipe. In just 3 minutes hands-on time, you can put together a refreshing lime sorbet!
Instructions
In a loaf pan or small baking dish, mix ingredients.
Tips
Allow the sorbet to soften for 5 minutes at room temperature before scooping.
Store in a freezer-safe container or cover securely in plastic wrap. Double wrap in a freezer bag to store for up to three months.
Calories:
187
kcal
|
Carbohydrates:
51
g
|
Sodium:
40
mg
|
Potassium:
70
mg
|
Sugar:
49
g
|
Vitamin A:
10
IU
|
Vitamin C:
7.3
mg
|
Calcium:
12
mg
|
Iron:
2.4
mg
Estimated nutrition information is provided as a courtesy and is not guaranteed.
Explore More