Learn how to set up a Margarita Bar for fun and effortless entertaining. A margarita bar is perfect for Cinco de Mayo, summertime holidays and events.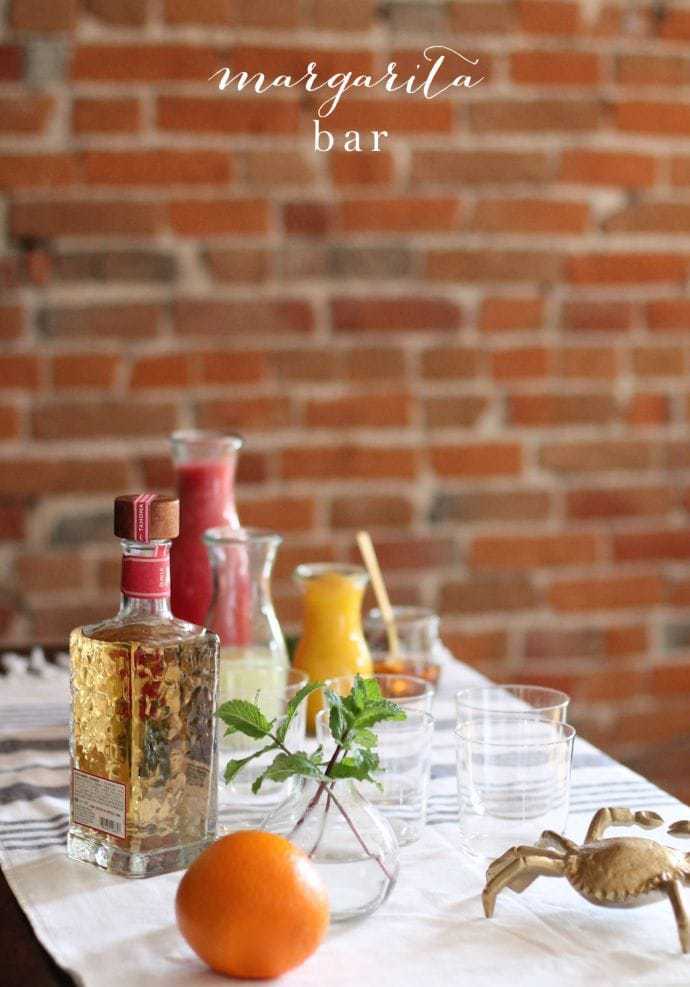 You all know I'm a fan of "serve yourself" bars. It keeps entertaining easy for both the guests and the hostess.
They don't have to wait anxiously with a dry glass and you get to relax and enjoy your company. It's a win for all, especially when margaritas are involved!
Margaritas for any Fiesta
Kick off Cinco de Mayo or summer with a bright and beautiful margarita bar with everything guests need to create their own concoction. In just a few minutes, you'll have everything set up and can celebrate with a cocktail of your own.
That's another one of my entertaining tips – relax and enjoy a cocktail before guests arrive! I love sharing menu ideas, recipes and entertaining guidelines with you. Check out my full Cinco de Mayo menu with everything you'll need to create an incredible fiesta!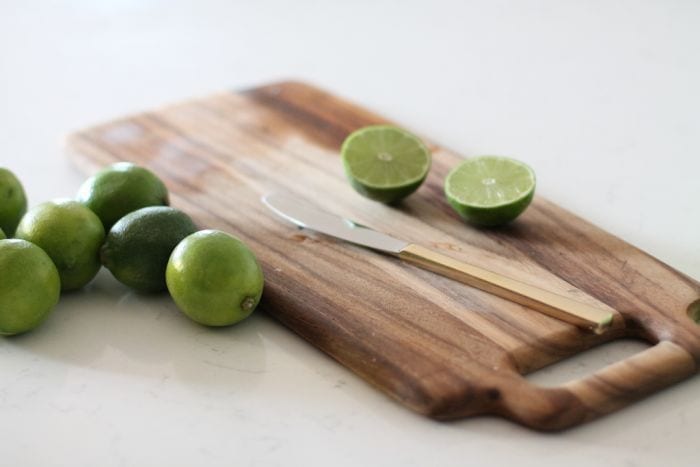 Creating a Margarita Bar
Last week, Ali of Gimme Some Oven got together for a little concoction of our own! We created a few fun skinny margarita recipes and this little cocktail bar.
We all know she's the queen of margaritas! If you haven't tried one of her recipes yet, you must!
When it comes to setting up a margarita bar, there are a few things you'll need to keep it fun and easy.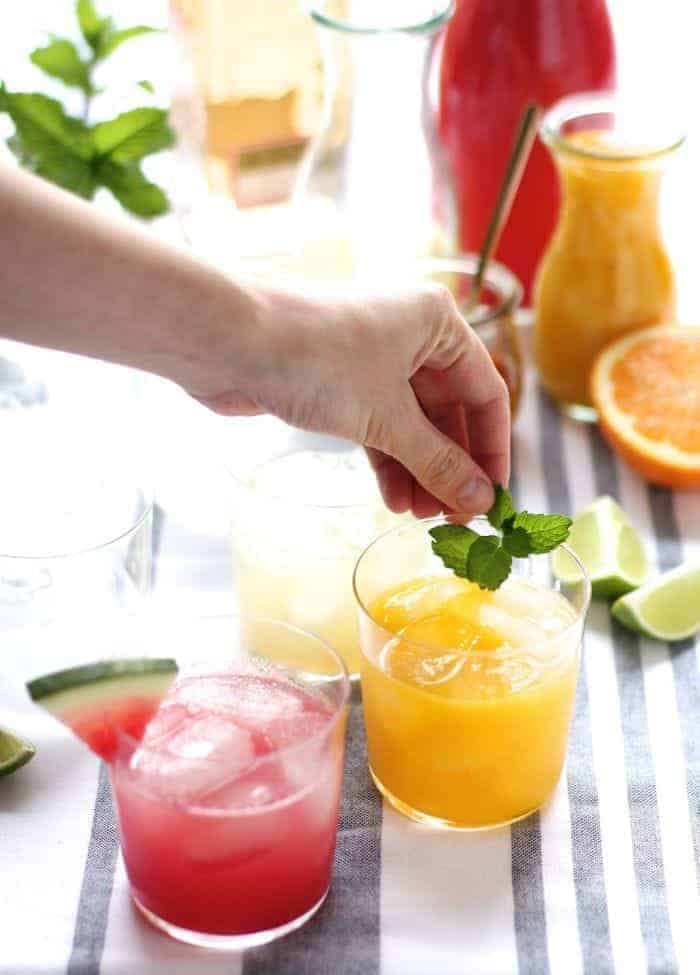 Cute margarita glasses or tumblers
Juice carafes (wine carafes will work too, whatever you have on hand)
Ice, lots of ice! (We love our Opal ice maker, but any ice will do- crushed is always nice for margaritas if you have it.)
Fresh fruit slices for garnishes. Think limes, lemons, cherries, raspberries, pineapple chunks.
Fresh fruit juice. Yes, you can squeeze your own, but if you're crunched for time and patience, feel free to buy pre-made juices.
Fresh fruit purees
Agave nectar – for added sweetness.
Water – a little water is a key to a perfect margarita, believe it or not!
Stir sticks/spoons – cute ones are always fun but whatever you have on hand in your bar will work.
Tequila – let's not forget the star of the show.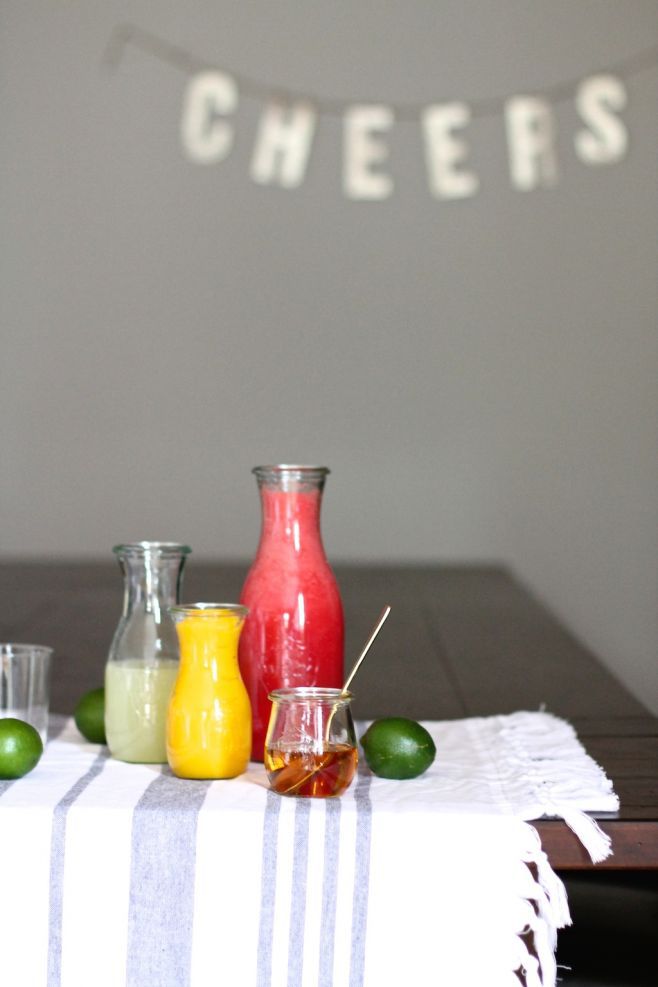 What's the Best Tequila for Margaritas?
Well I am sure the answer to this question is up for debate! But I do have a few recommendations based on years of margarita-drinking experience.
Try a Blanco (also known as silver) tequila. These aren't aged so they have a lot of agave flavor! Patron Silver would be a great option here!
Reposado is another type of tequila that works well for your cocktails. It's aged in oak barrels… just like all my favorite wines!
Añejo tequila is also aged, but it takes it even further than Reposado, turning the tequila into a richer, amber color.
Ideally, your margarita should not ever be overly sweet, as this takes away the flavor of the tequila and other ingredients. Allow the fresh, wholesome ingredients to shine!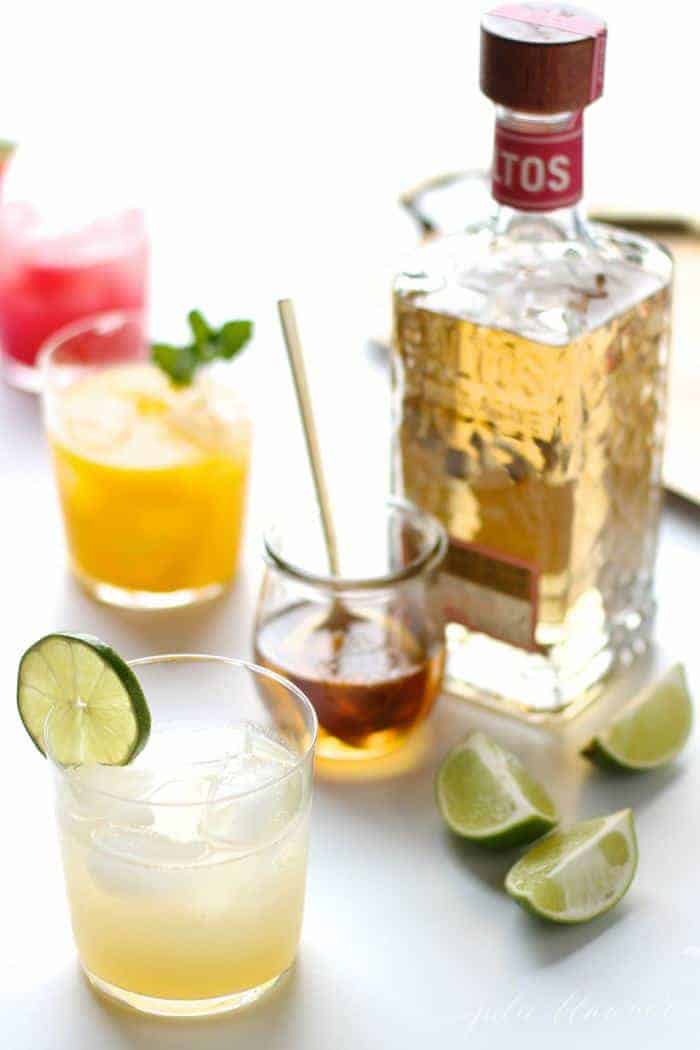 Where to Set Up a Margarita Bar Area
Rather than fussing over moving furniture or putting up a table, I create a bar where it makes sense with both existing furniture placement and room flow.
At Ali's, it was her oversized dining room table! It's in a great pass-through area with an open area just behind it, which allows guests to enter the room, create a cocktail and mingle!
It's always a great idea to give guests a little recipe guidance. Use a chalkboard or printed signage to suggest recipe combinations and amounts as they create their masterpieces. For recipe inspiration and direct links, see below!
Psst… Read the background story of our vintage gold bar cart here if you're in need of a laugh!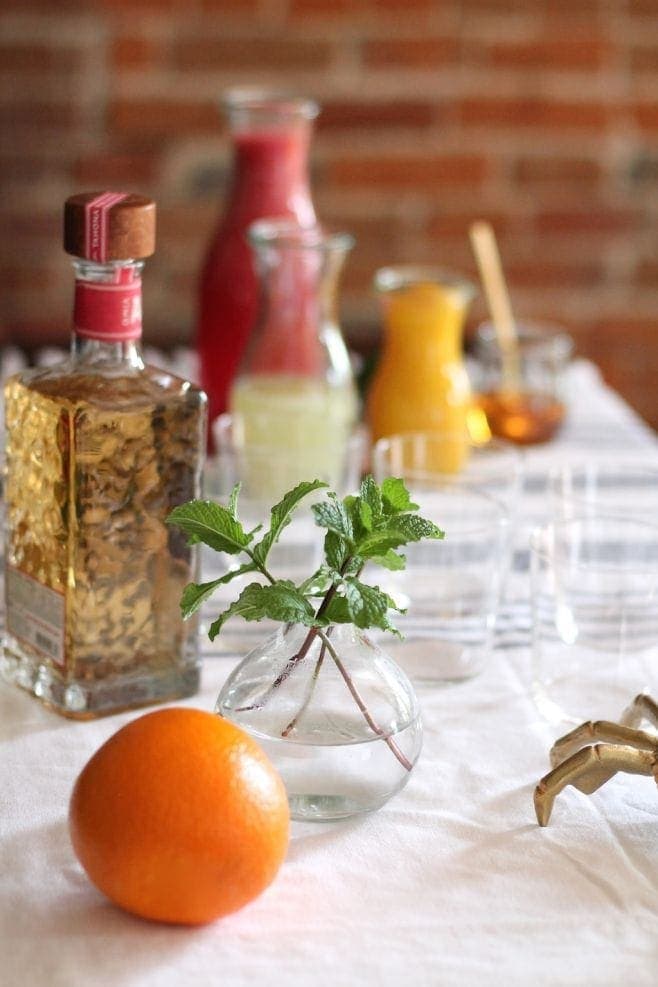 Margarita Recipes You'll Love
Need some fun combinations and recipe inspiration? Check out these ideas!
What's your favorite way to make a margarita? I promise, if you're still using a bottle of mixer, you'll never go back once you've tried a fresh, homemade marg.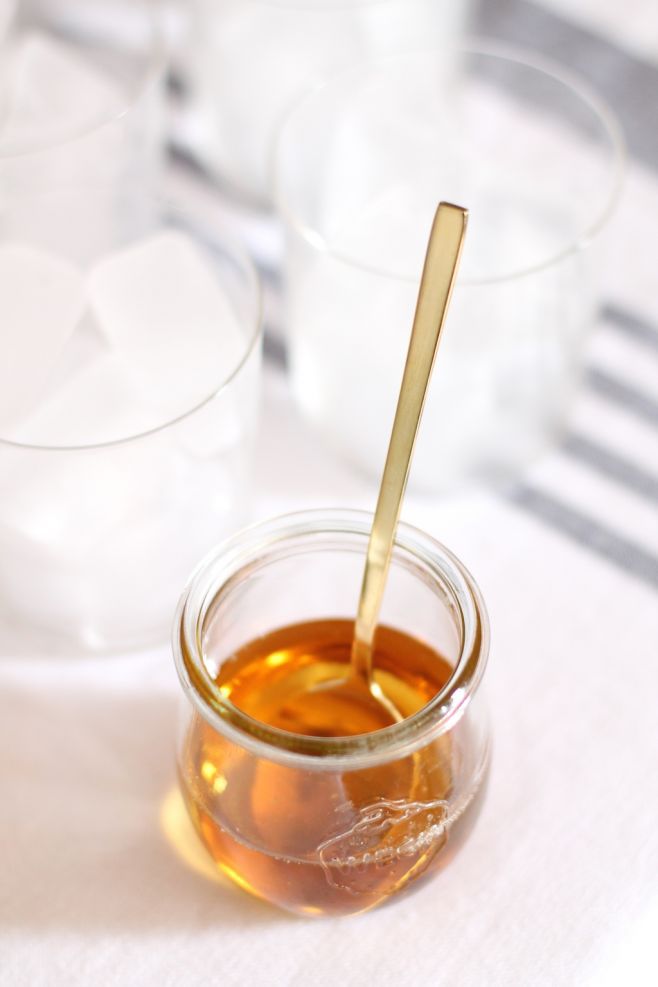 Garnish Ideas for Your Margarita Bar
Rather than using fresh flowers, I opted for a few sprigs of mint from my herb garden. It's simple and beautiful, allowing the colorful cocktails to shine!
A few more fun margarita garnish ideas?
Simply salt the rim! A pretty rimmed cocktail glass goes a long way!
As a fun addition, consider adding a little spice to your salt. Add some chili powder or pepper for a fun kick.
Sliced fruit! Think limes, lemons, cherries, watermelon, pineapple, mango, the list goes on.
Basil, rosemary or mint sprigs work beautifully with a variety of margarita flavors.
Jalapeños or any kind of pretty peppers are such a fun addition!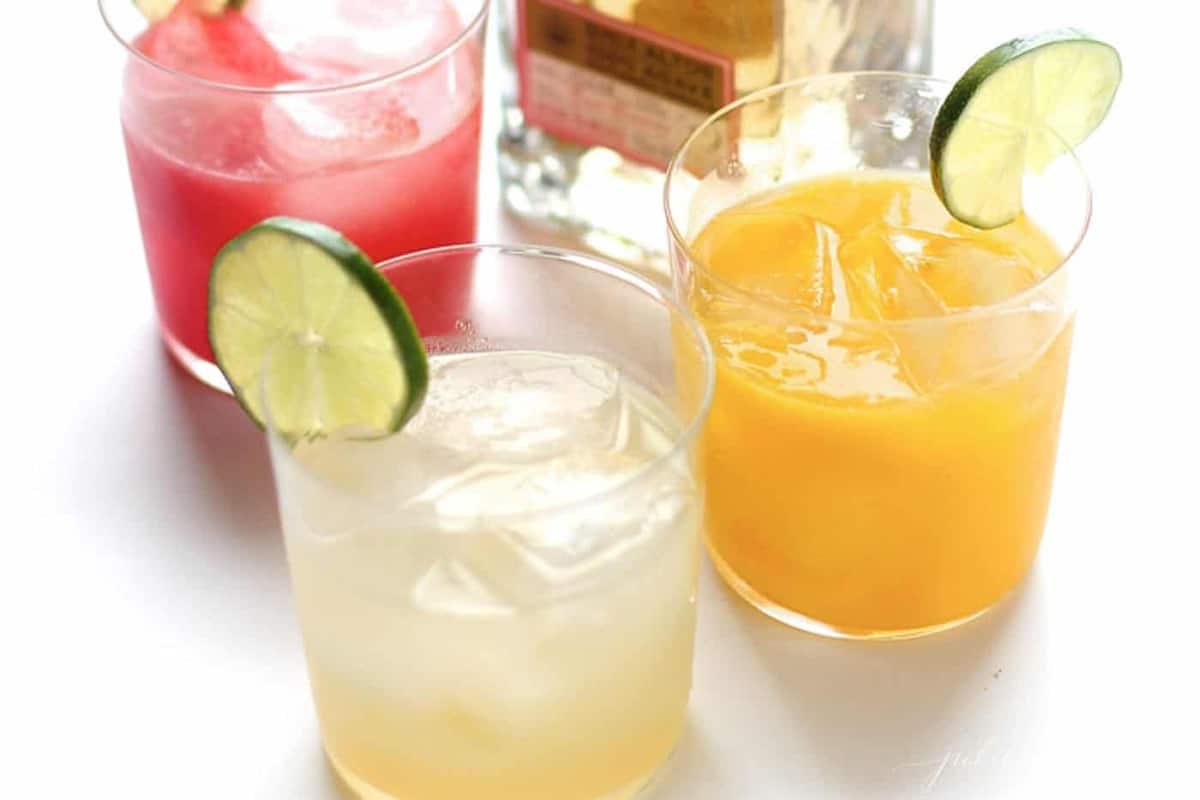 Decorating a Margarita Bar
The cocktails themselves are the star of this show, so you won't need much decor.
Personally, I like to invest in things that have a second use if I'm going to buy anything new for decorating a party. Consider charming towels or placemats that will work in your decor elsewhere.
Trays are an easy way to dress up any drink station, and it makes it easier to gather ingredients. Consider labeling ingredients as well, to help guests know what they're adding to their concoctions.
Of course, a gorgeous floral arrangement is the easiest way to add a festive touch to any bar area for a party! Check out any of my fun centerpiece ideas, like this arrangement of ranunculus, a hydrangea centerpiece, or this roses and eucalyptus arrangement.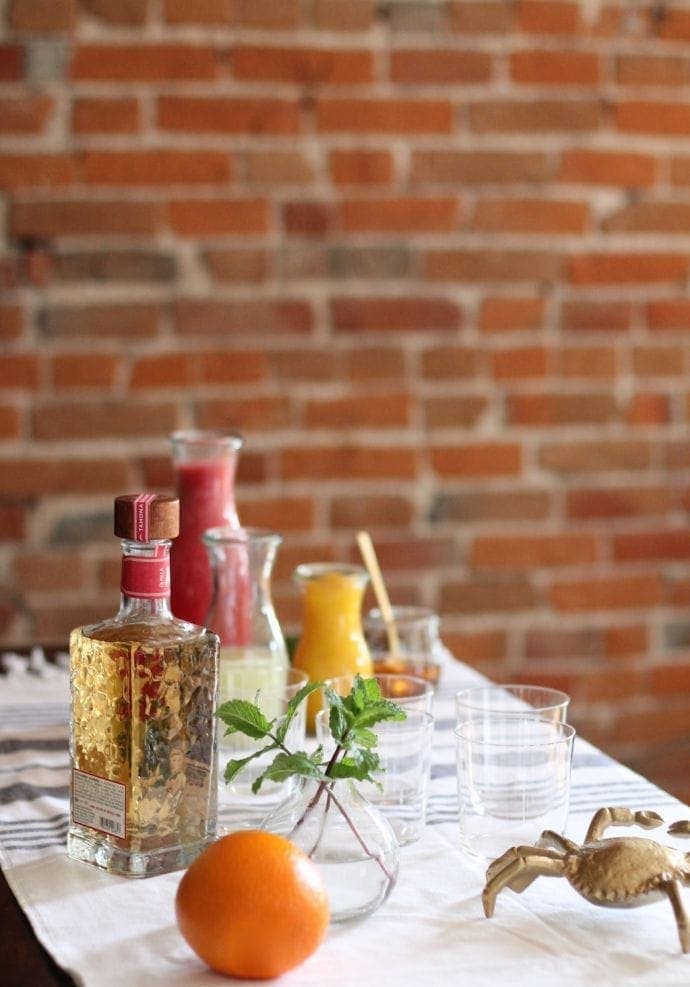 This margarita bar is the best way to celebrate any occasion in your life! Personally, I can think of a million reasons to have a margarita – what about you?
Want more? Receive the best ideas directly to your inbox and connect on Youtube, Instagram, Facebook, and Pinterest!
If you try any of these festive margarita bar set up ideas, please let me know in the comments below! You can also share your favorite photos in Celebrating Simple, my Facebook inspiration group.