These home improvement tips are going to take your old home into the new decade. Get simple, actionable DIY house projects that will make buying an old house (or even a slightly dated one) so much more fun!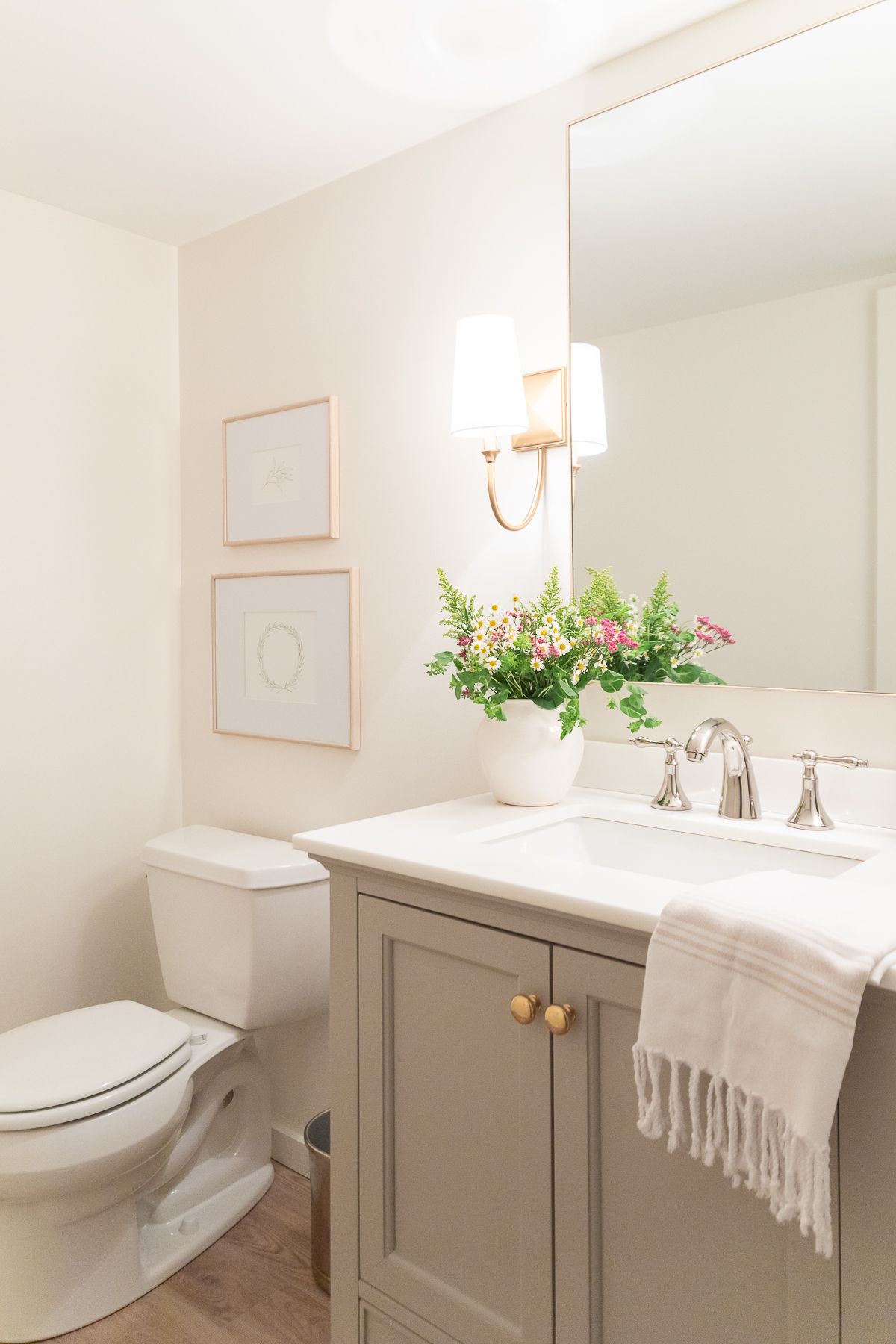 In my ideal world, I would have a picture perfect new home with all of the old home charm. Apparently, a knock down is not in our budget, nor are the high quality building materials that I would want to use!
The solution? Finding ways to make an old home feel new, without losing character.
Home Improvement Tips
In each of the homes we've lived in, we've worked on DIY improvements as well as taken on larger construction projects with the help of contractors. We've learned so much along the way!
We've taken on countless adventures, including renovating our modern lake house, fully remodeling our kitchen, a new spa bathroom, and more.
I love sharing ideas with you – check out this list of ways to get a luxury home for less, and where to invest in your home for the best return.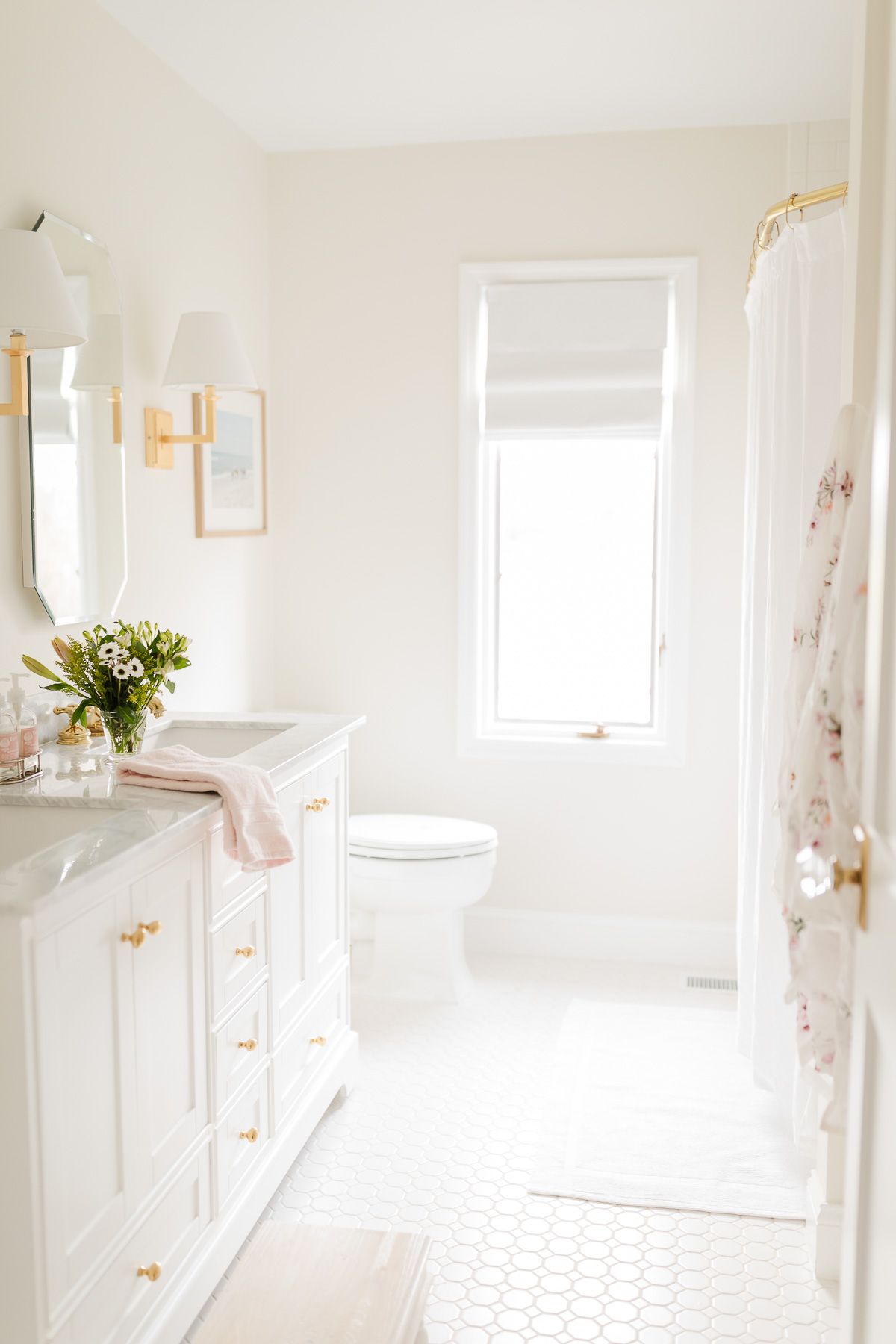 Over the years we've also done some inexpensive quick fixes, including painting tile, refreshing grout lines, and we've utilized the most brilliant trick for painting over stained wood without sanding. (PS if you've never tried that little tip, you've got to start now!)
One of the most important elements in our last home search was neighborhood. I passed up my picture perfect colonial home, loaded with details and charm, in favor of an enchanting neighborhood that we knew would be perfect for raising our girls.
Did I love the home itself as much? No, but it was a better fit for our family overall.
So far, I don't regret it! Okay, I'm still mourning the loss of those two levels of hardwoods, the perfect floor plan, and the butler's pantry I've dreamed of my entire life. However, neighbors welcoming us with friendly smiles, cake bites and fireworks on the driving range have compensated for the loss of that house!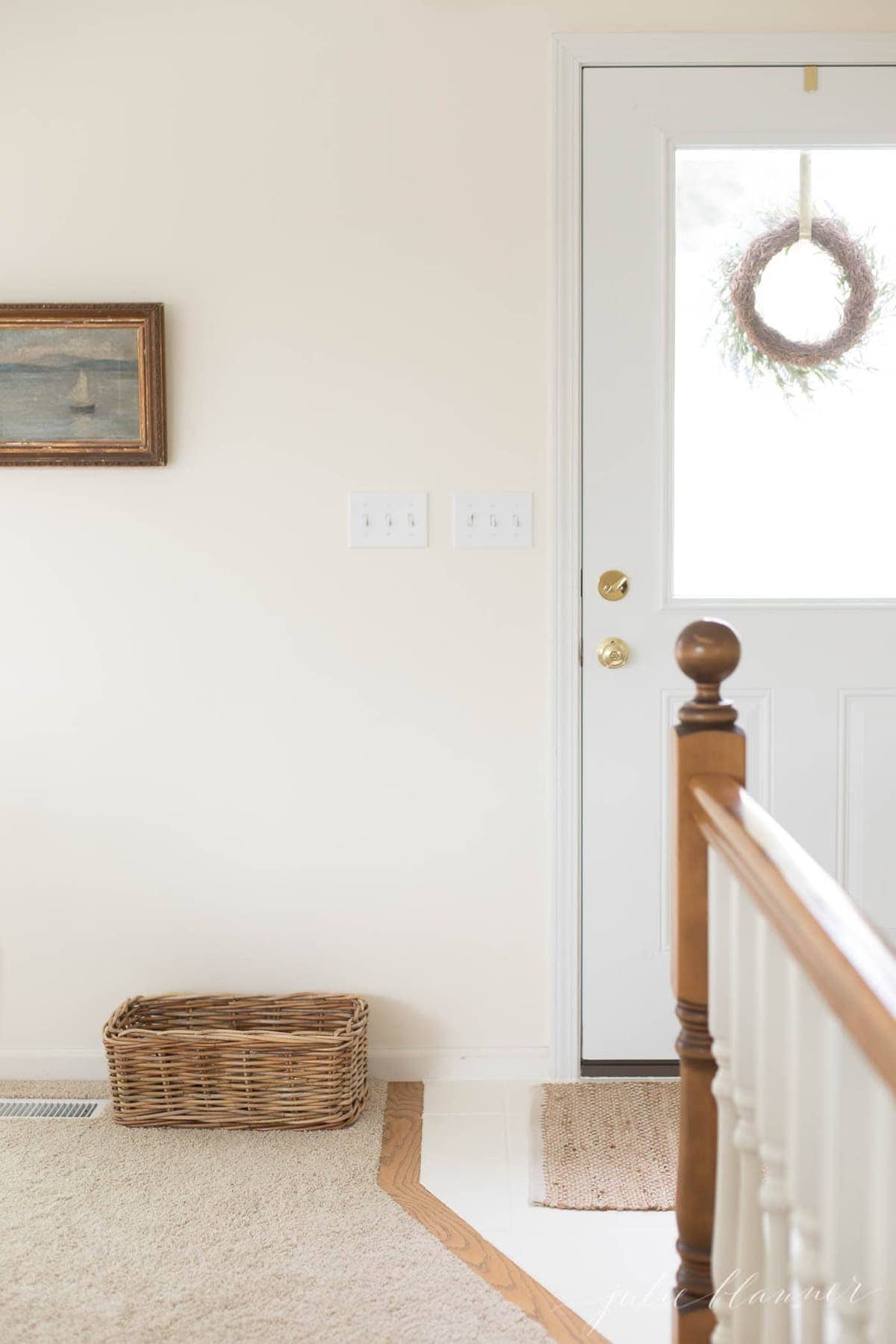 Buying an Old House
There's probably some debate about what's considered an old home. Personally, if it's over 20-30 years old, I think it can be called an older house. If it's at least 50 years old I think you can even call it vintage! Our lake cottage is certainly not considered old, but there were still many improvements to be made.
Regardless of your home's age, many of these ideas can be implemented for updates. Often I hear from readers who live in a home that's only 10-20 years old. Guess what? Even those homes might need updating, and they will all show some wear and tear!
Whether you're buying a home that's 100 years old or only a decade old, there are inexpensive DIY home projects you can take on to make improvements.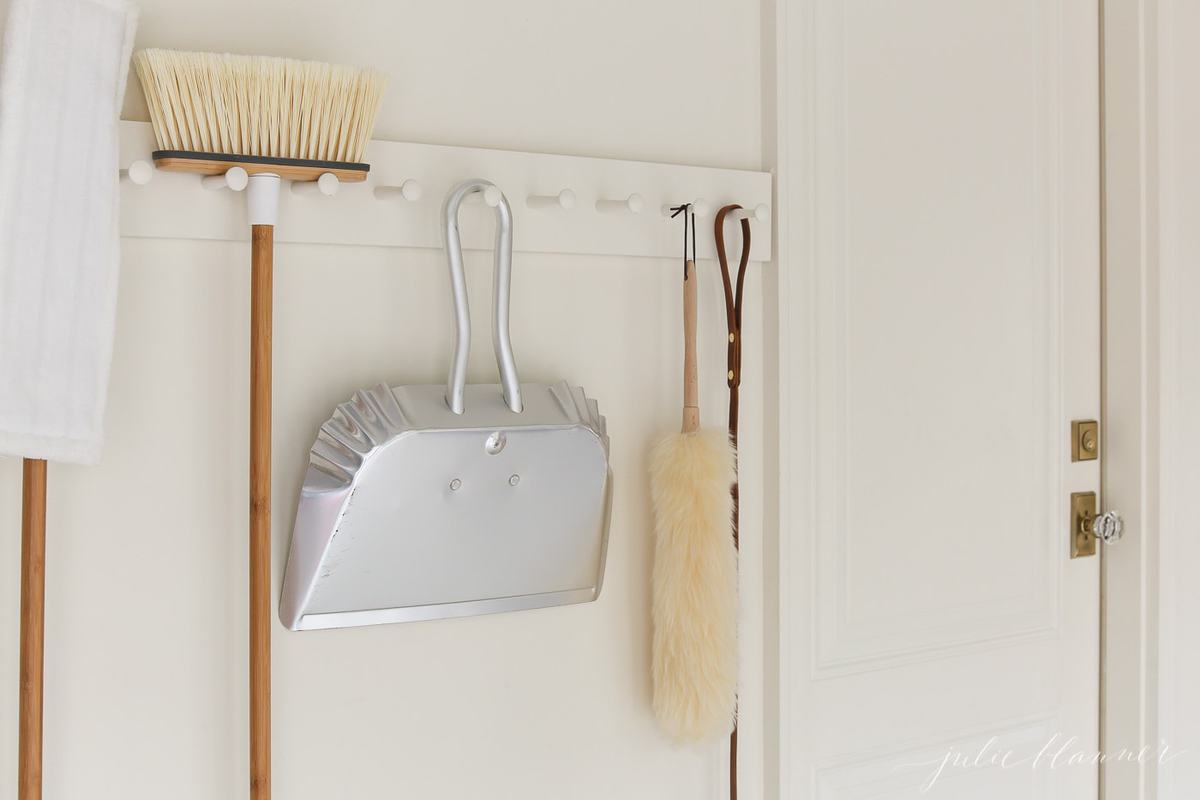 This home showed signs of heavy wear and needed a little refresh. Come inside to see the easy ways we updated our home. In fact, you can see our entire before and after here – don't miss it!
Easy DIY House Projects
Many of these ideas are things you can truly accomplish yourself, and some of them can be done in a weekend!
Buying an old house is not for the faint of heart. But if your home is just dated cosmetically, there are so many actionable ideas that can make a big impact… with very little cost or time!
Read on for some of my favorite home improvement tips to make your old home feel new.
Buying an Older Home? Get Started Here!
Clean or Replace Carpets
Make the space feel fresh with new carpet or by having it thoroughly cleaned.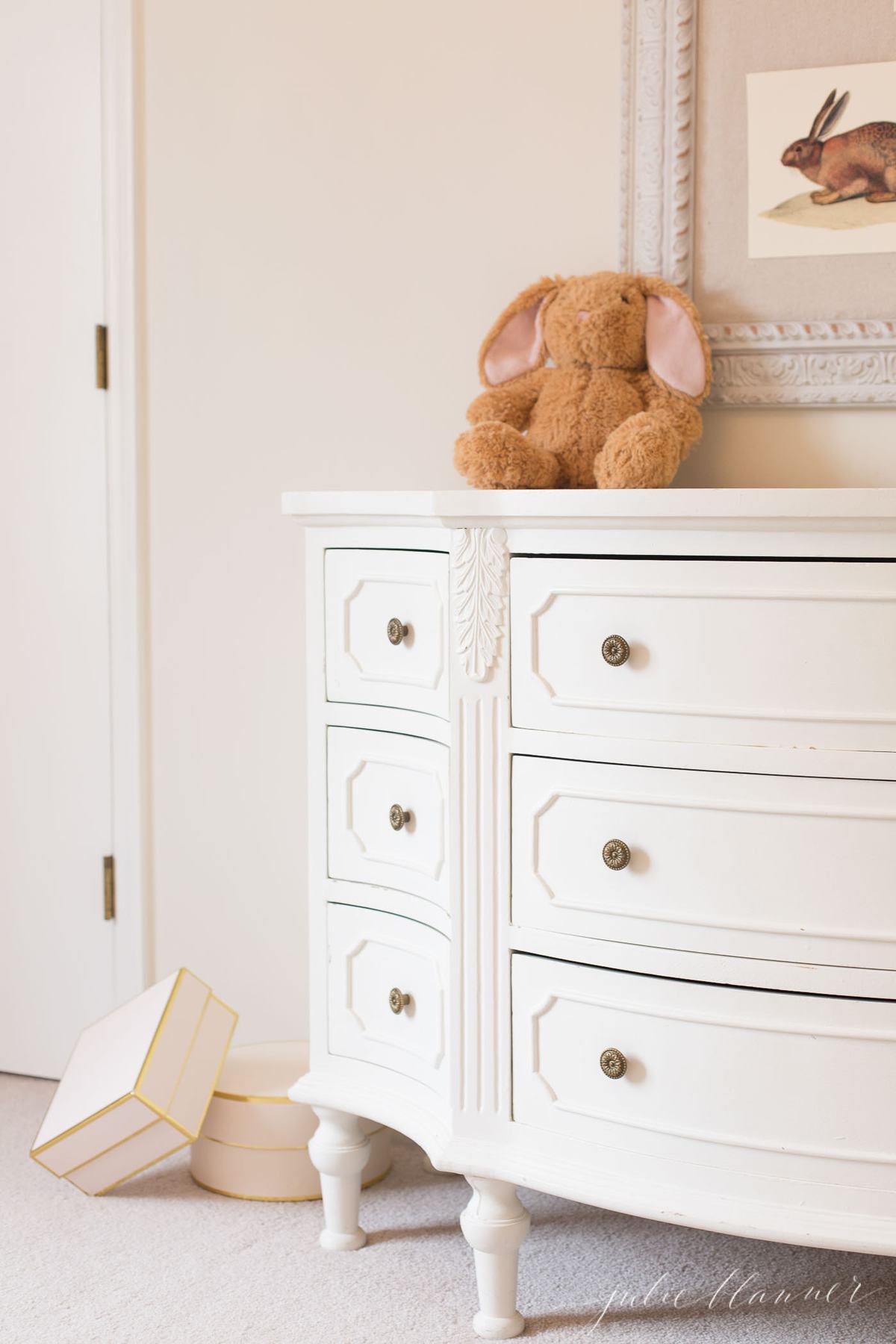 Make it Cohesive
A lot can be lost through the years – an update here and there can leave the home in a state of mis-matched chaos.
Determine how to make room by room finishes connect throughout the house to feel cohesive. It will feel polished, thus giving it new life.
This can be best accompolished by connecting your flooring choices and paint palettes throughout the home.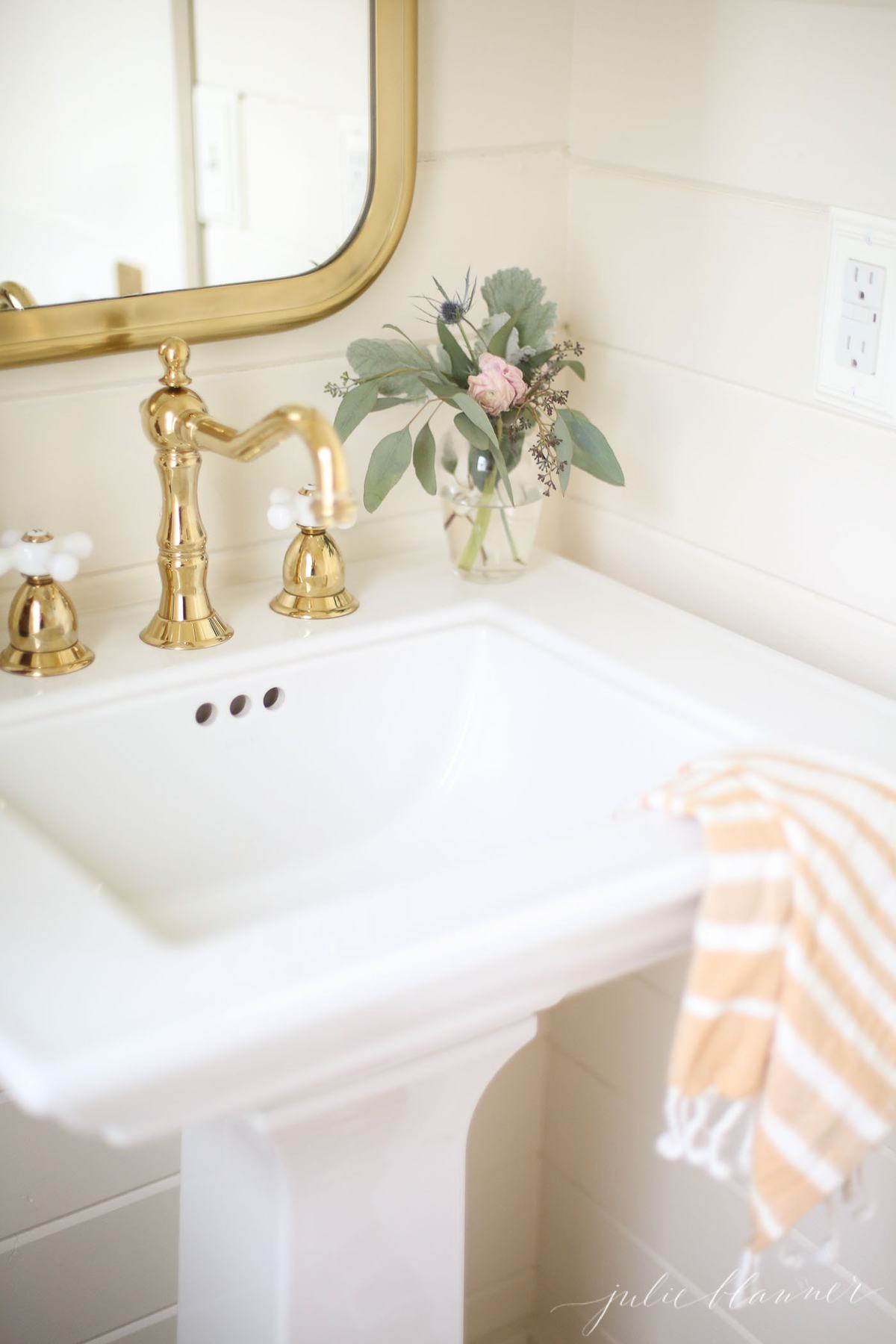 Update Outlets, Light Switches and Plates
This has made a significant difference in all four of our older homes. Sometimes they yellow, have been painted over, or are various shapes and styles from "updates" through the years.
You can easily update your home by making all of the light switches and plates cohesive. We completed our entire house for under $100 and one minor shock. Find our switch plate covers here!
Note: if you're not experienced in doing this, hire a licensed electrician or find a great online video source and watch a few tutorials. It's relatively simple, yet tedious work. Also consider replacing yellowed alarms, thermostats and most importantly, smoke detectors.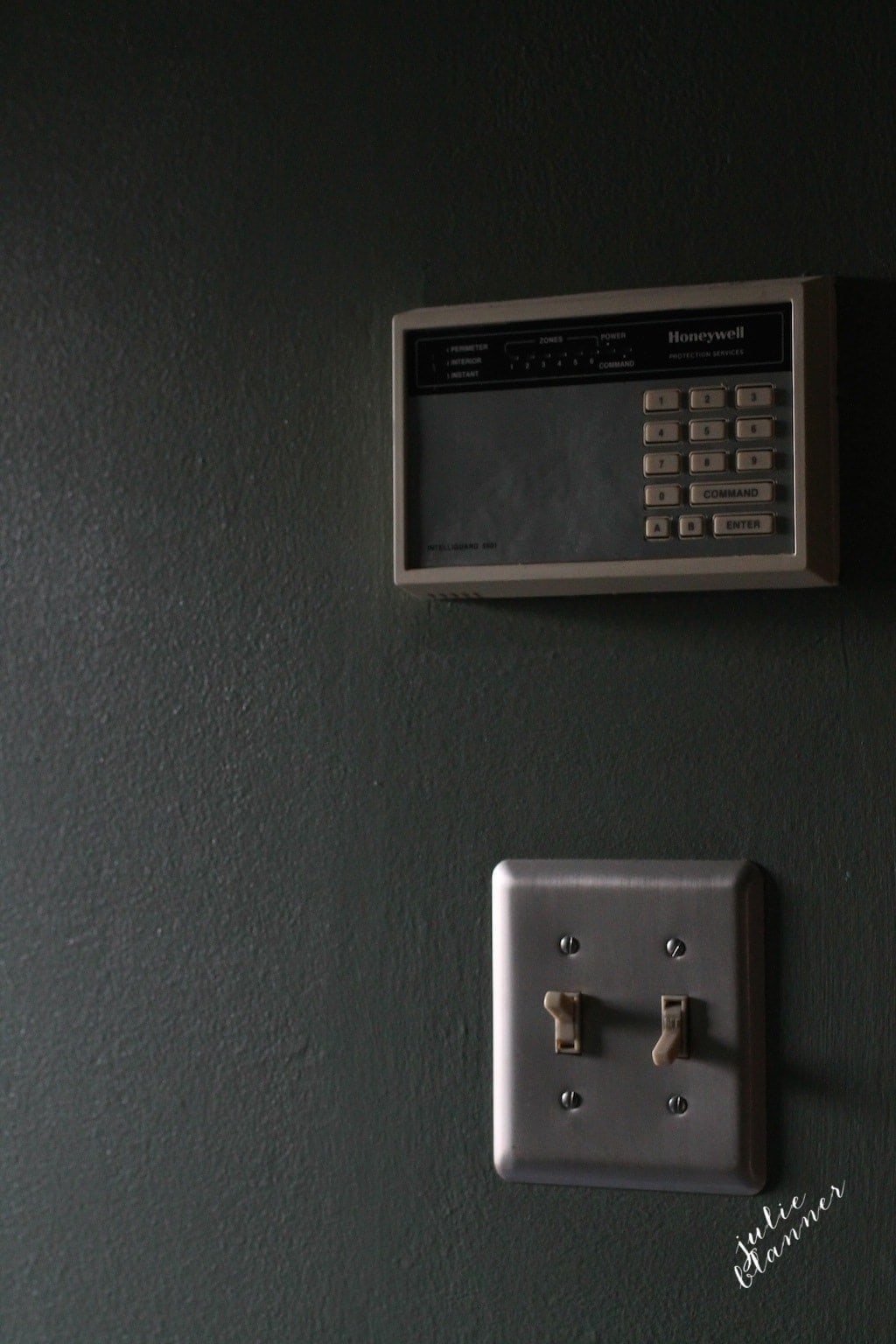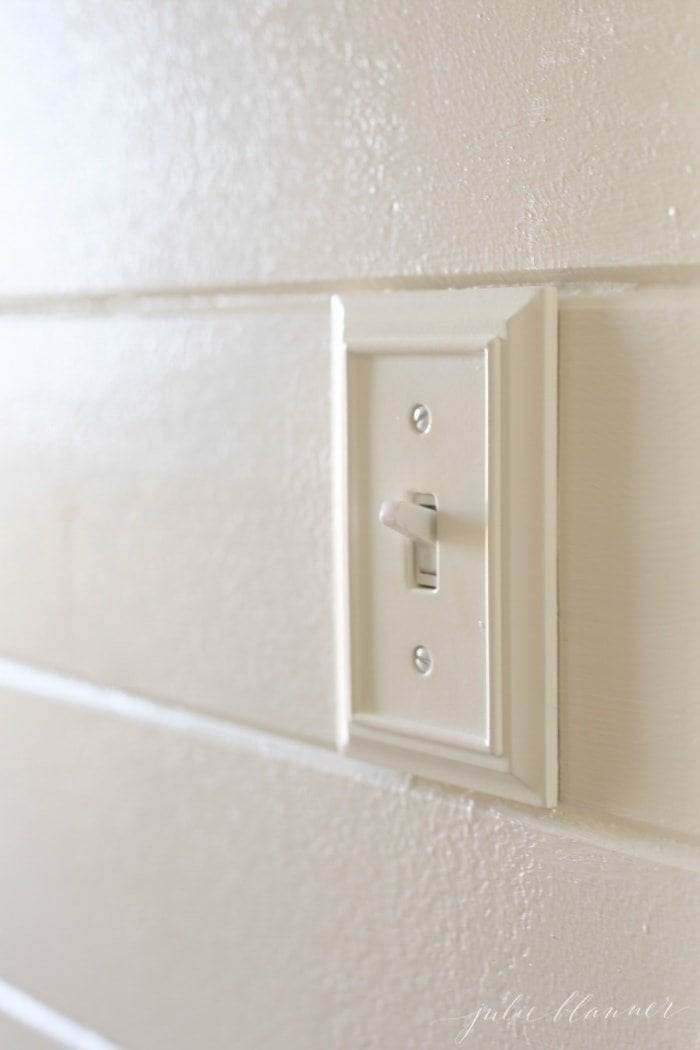 Repair Walls
When we purchased our home, it was apparent that years of poor quality DIY patching had taken place. We had our painter fix the blemishes and fill all 240 nail holes. Yes, 240. Now when the light shines on them, it looks like new drywall!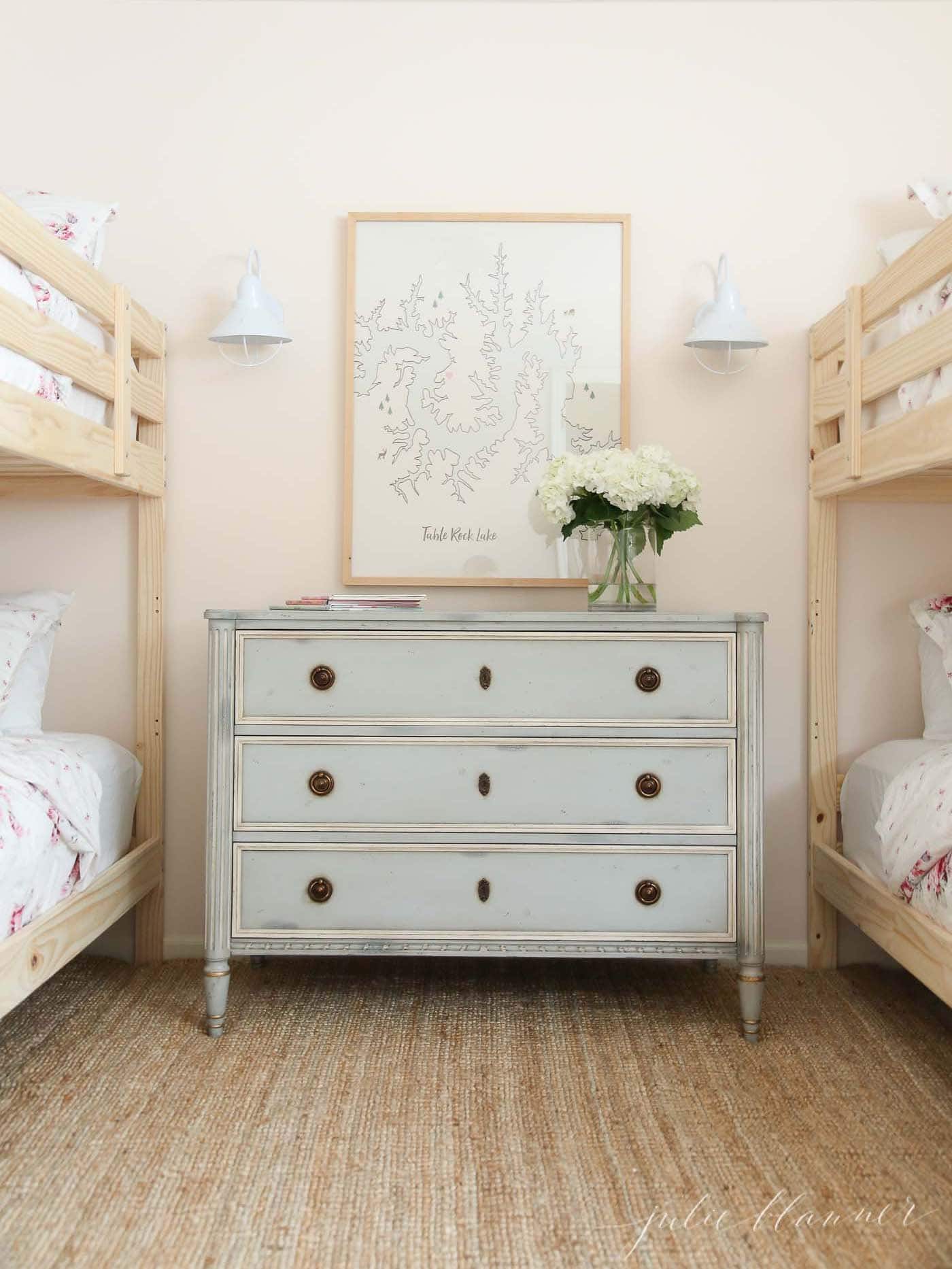 Add Light
See my post about 7 ways to add light to your home – there are several tips and tricks to add light to your home beyond new fixtures that can help breathe new life.
Have an old light fixture that's in great shape but a terrible color? Consider spray painting it for an inexpensive quick finish.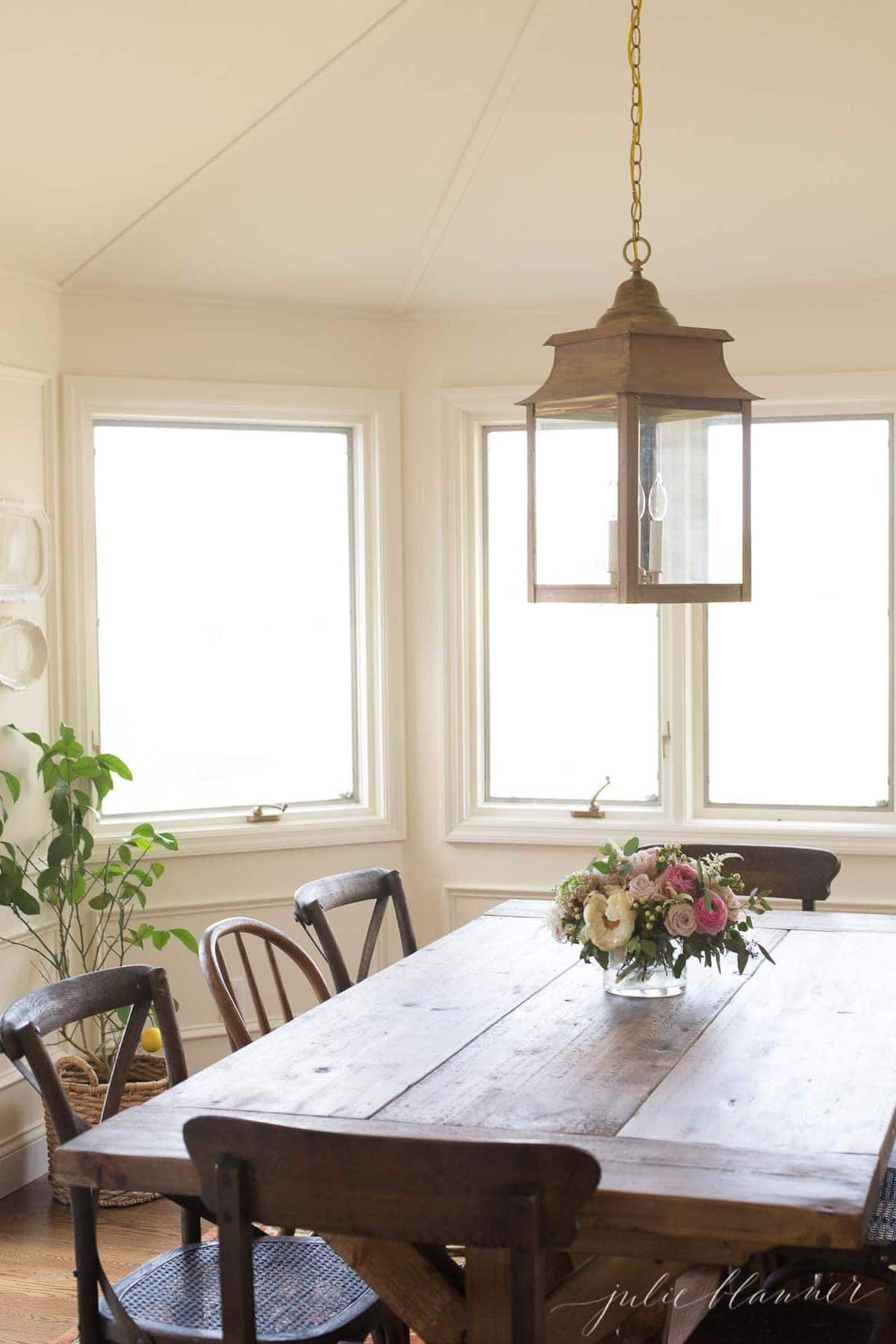 Paint
If I would have mentioned this first, you would have moved onto another site, but it's true. A current and cohesive paint palette brings the home into the present.
Paint is also incredibly important for your exterior. Improving your curb appeal is so valuable when it comes to feeling proud of your home, regardless of its age or condition.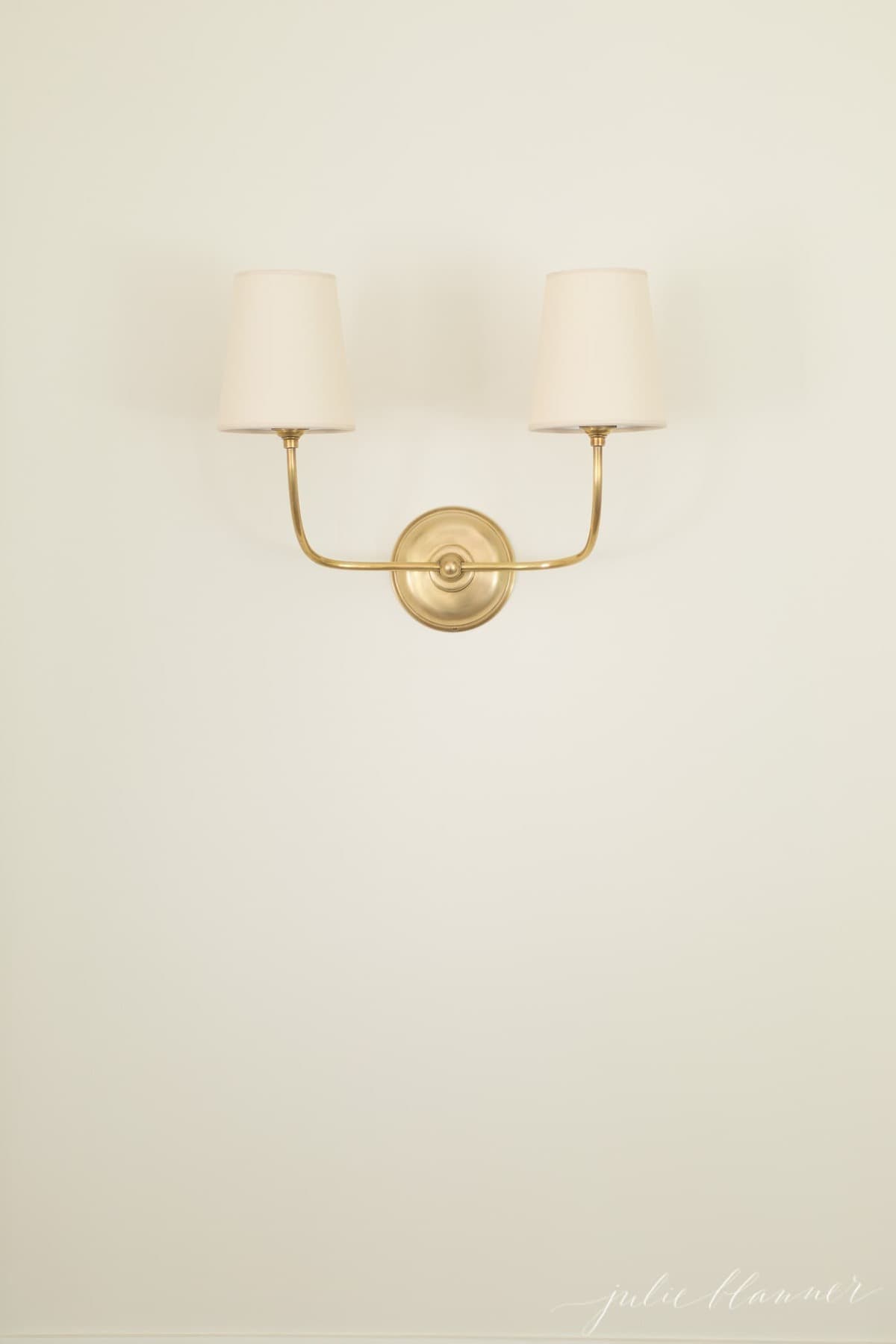 Remove Dated Fixtures
Replace dated and builder's grade light fixtures and hardware for a quick fix to make your home feel like new. Find all my favorite Brass Light Fixtures here!
Psst… this goes for walls, too! Read here for how to decorate around Dated Wallpaper if you don't want to put the time and energy into removing it!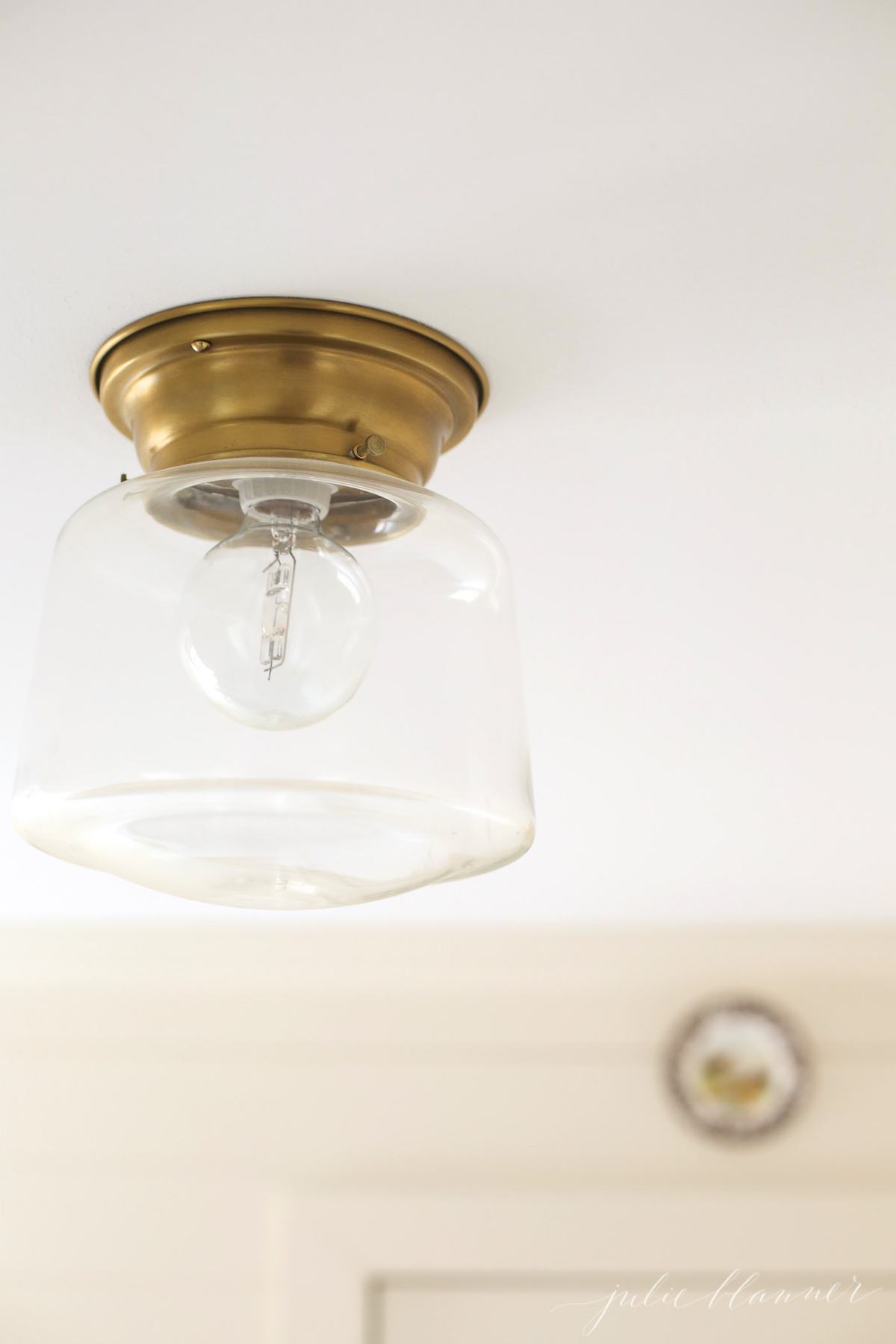 New Doors
If you really want to go all out, replace your doors with shaker or 6 panel doors. A front door can add a lot of curb appeal.
While older homes are full of charm, it's often the most disappointing updates of decades gone by that need to be replaced! We have found that previous decades can strip an old house of its original character.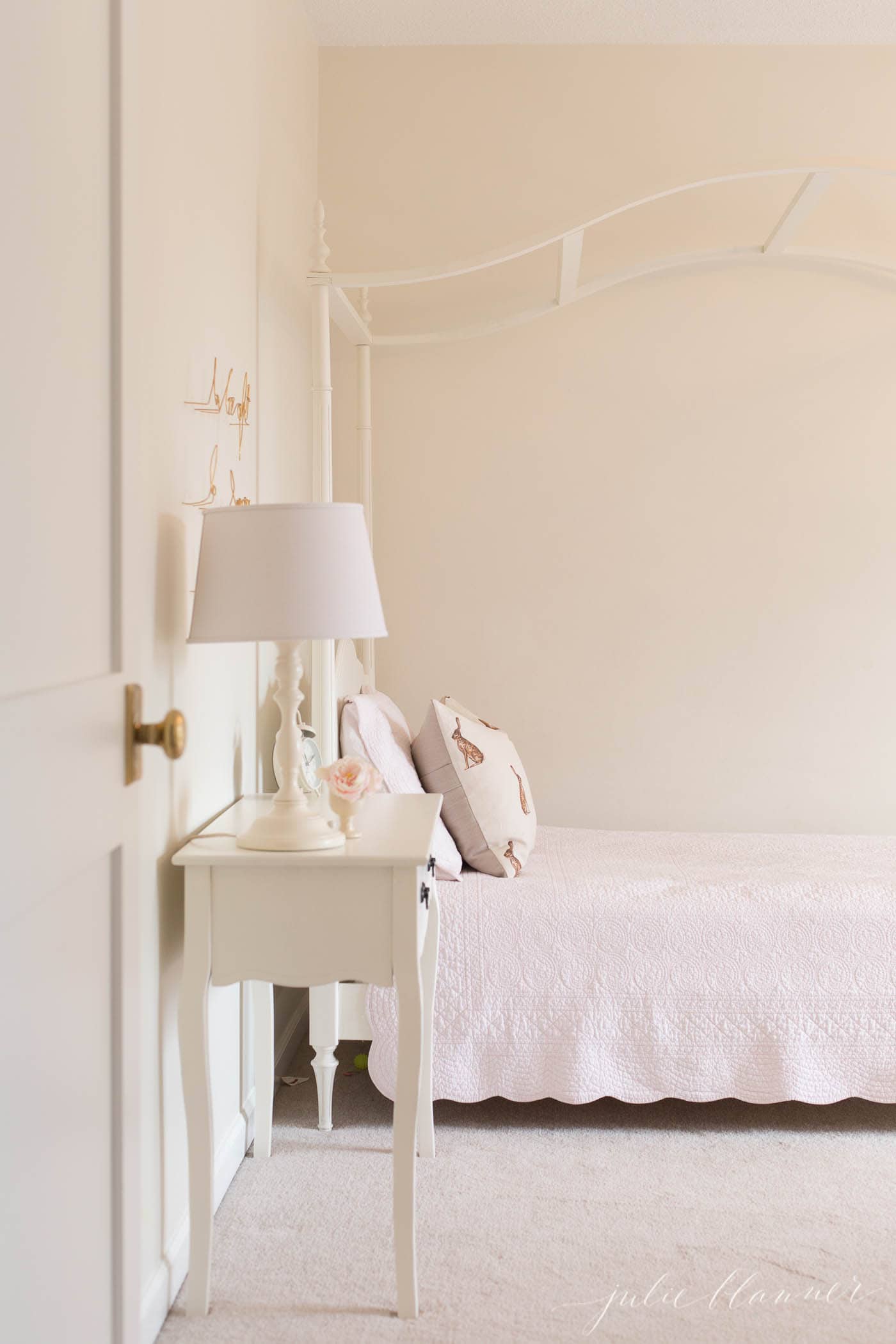 Refinish Hardwoods
Choose an appropriate stain and give your hardwoods new life! I remember being astonished at how inexpensive it was to do the living room in our previous home.
This is one of those perfect real estate returns, as well! Hardwood floors are timeless and always a great investment because it's what home buyers are looking for.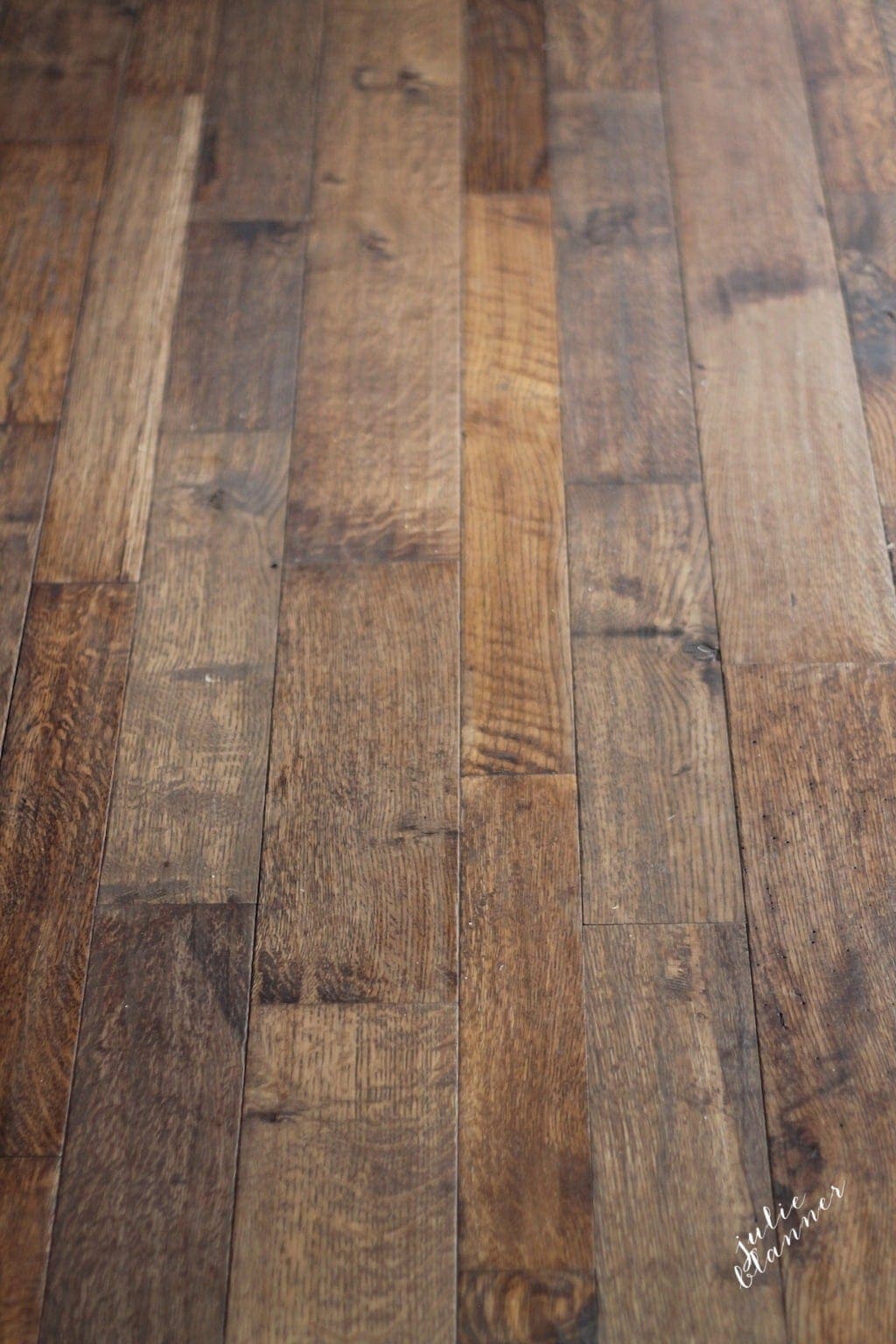 Tour our Neutral Living Room and our Modern Living Room, too!
Do you have any tips to make an old home feel new? I'd love to hear from you – please leave a comment and if you have any questions feel free to ask!
Paint Colors, Tutorials & Tips