Brass Mini Lanterns | New Hall Lights
If you are looking for an elegant way to light up your hallway, brass mini lanterns could be just what you need
. These timeless, classic and beautiful brass lanterns age gracefully and add character to any space. These lanterns make beautiful entryway or hall lights.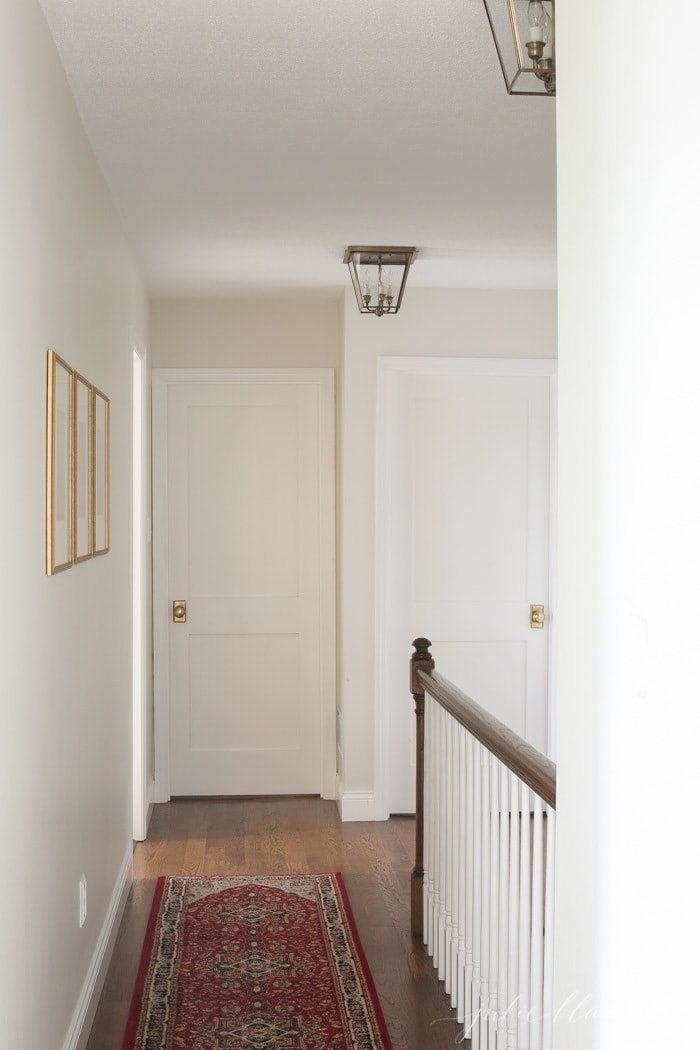 Updating your lighting can do wonders to a space and can make it go from dated to classic and elegant in the flick of a switch! I'm so enamered by these brass mini lanterns, and if yo love them too you can find the lanterns here.
Be sure to check out my lighting design tips, our Light Bulb Guide and my other favorite brass hardware & lighting.
New Lighting To Update Our Hall
I cannot tell you how good it feels to cross projects off the list, but I'm even more elated that completing this project means we're down to just one boob light.
When my girlfriends first came over to see our new home, one mentioned that I had a lot of boob lights. You know, those pleasantly plump round lights with the awkward accent that builders and flippers alike love to use because they're just $10?
Well, we had several and another one bites the dust. Well, two! Once Alicia mentioned it to me, that's all I could think about each time I glanced at one of the lights.
My apologies if you have some as well and can't eliminate the imagery from your mind. See below if you need confirmation.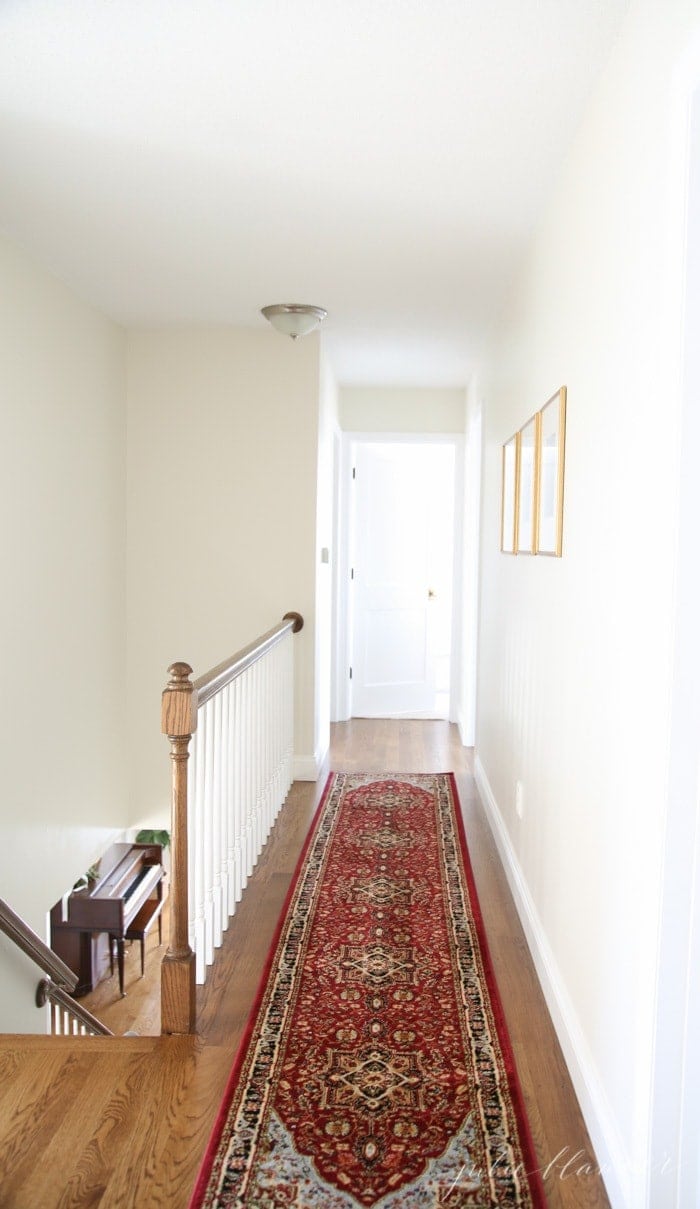 Brass Mini Lanterns – A Much Needed Update!
As I mentioned earlier this year I'm often guilty of starting projects I don't complete or setting them aside because of some silly task that feels like too much effort to complete.
I had planned on purchasing these brass lanterns nearly two years ago, but it required taking a step stool upstairs to measure the ceiling and ensure that there would be enough clearance.
Last fall I finally ordered them and when they arrived last week, I promptly pleaded with Chris to install. I felt free of the boobs that had been taunting me.
Interior Mini Lanterns
Lanterns are often associated with exterior lighting, I love the shape and style of them so set about hunting down an interior version. They are understated and elegant, and honestly, brass is always a good idea!
The structure isn't bulky and they don't overcrowd the space and I love that they come with three lights inside them rather than one.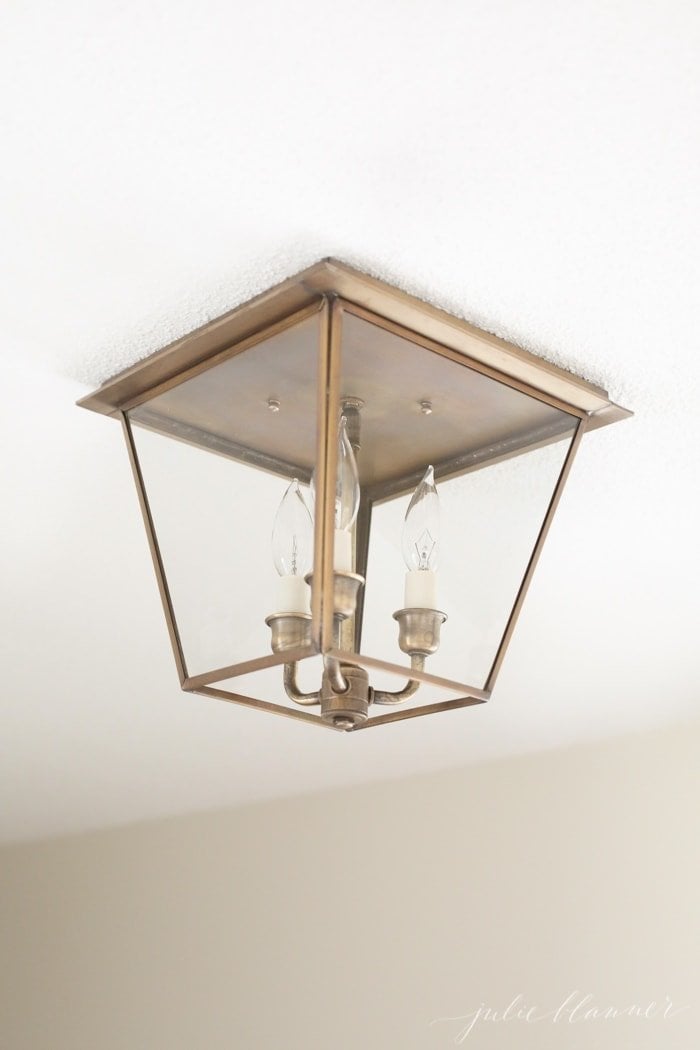 Why Choose A Mini Lantern?
One of the main reasons I opted for lanterns in this space is the amount of light they give off. Because the sides are glass they really help to brighten the space. They are subtle and don't take over the small space and add a timeless air of elegance.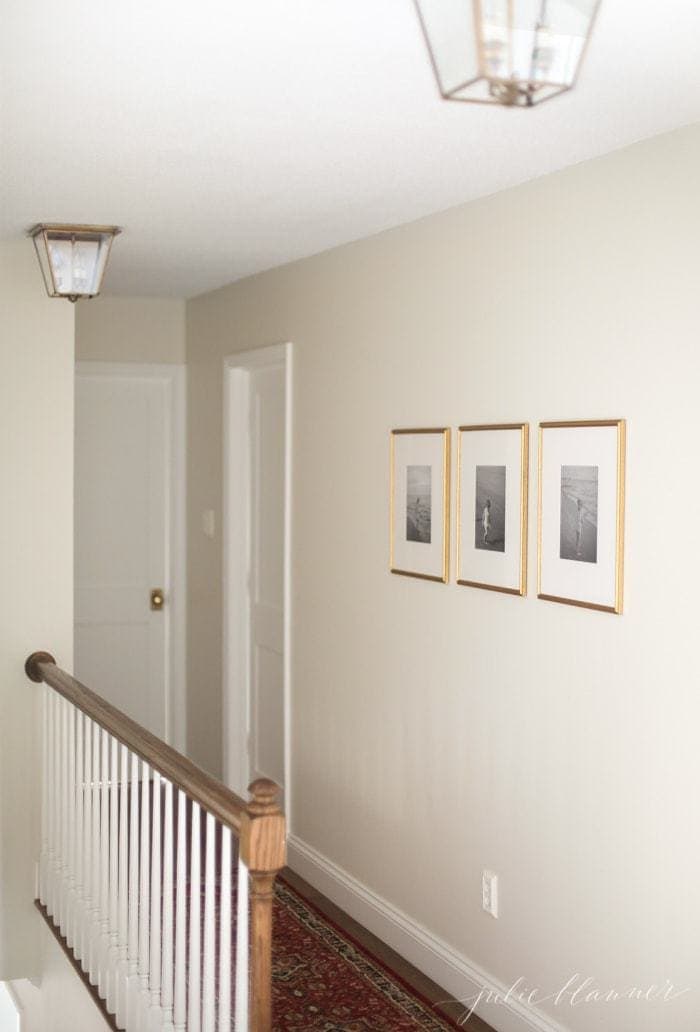 Tips For Hallway Lighting
Hallways tend to be narrow, so lighting needs to be ceiling mounted rather than wall mounted to give you as much space as possible.
Hallways can often be quite claustrophobic with little natural light, so you need it to be brightly lit. These brass mini lanterns are perfect because the sides are glass.
If you have high hallway ceilings you can opt of a statement pendant light, but for standard or lower ceilings avoid a low hanging fixture.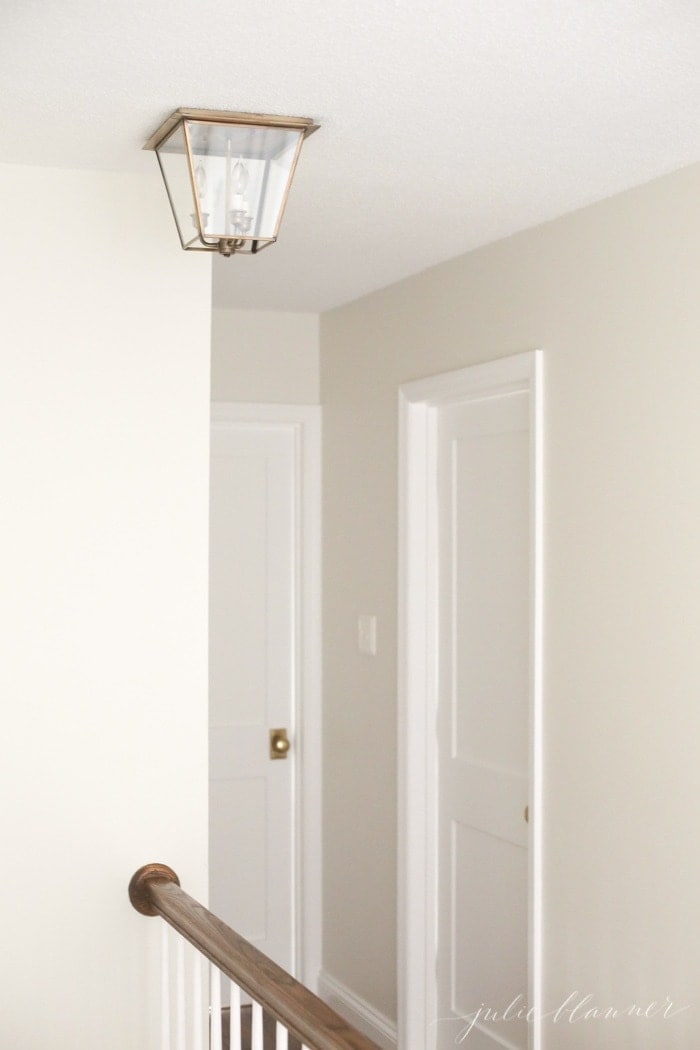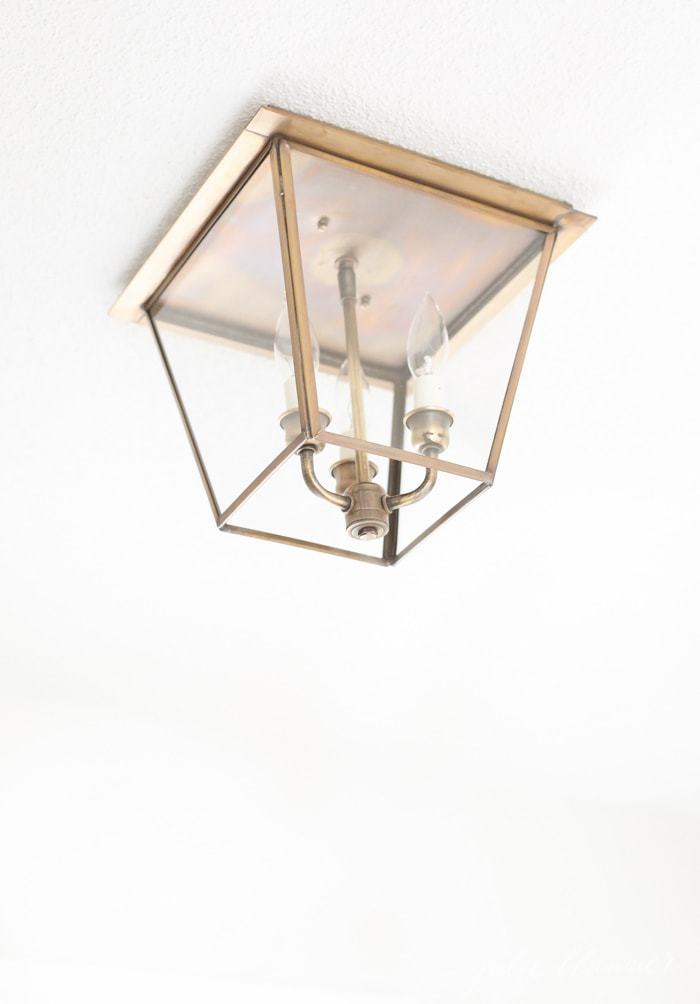 Love the look of brass as much as we do? Check out this Rub 'n Buff tutorial to turn any home accessories into the perfect antiqued brass, like these Gilded Frames! You can also learn all about my favorite Brass Polish, too.
The brass lanterns are simple, understated and offer just the right amount of light to complete the hall. Now if those popcorn ceilings could just magically disappear as well! You can find the lanterns here.
What project are you excited to cross off your list?
Let's keep in touch! Receive exclusive content, including never-seen-before photos, our favorite home decor DIYs and more!