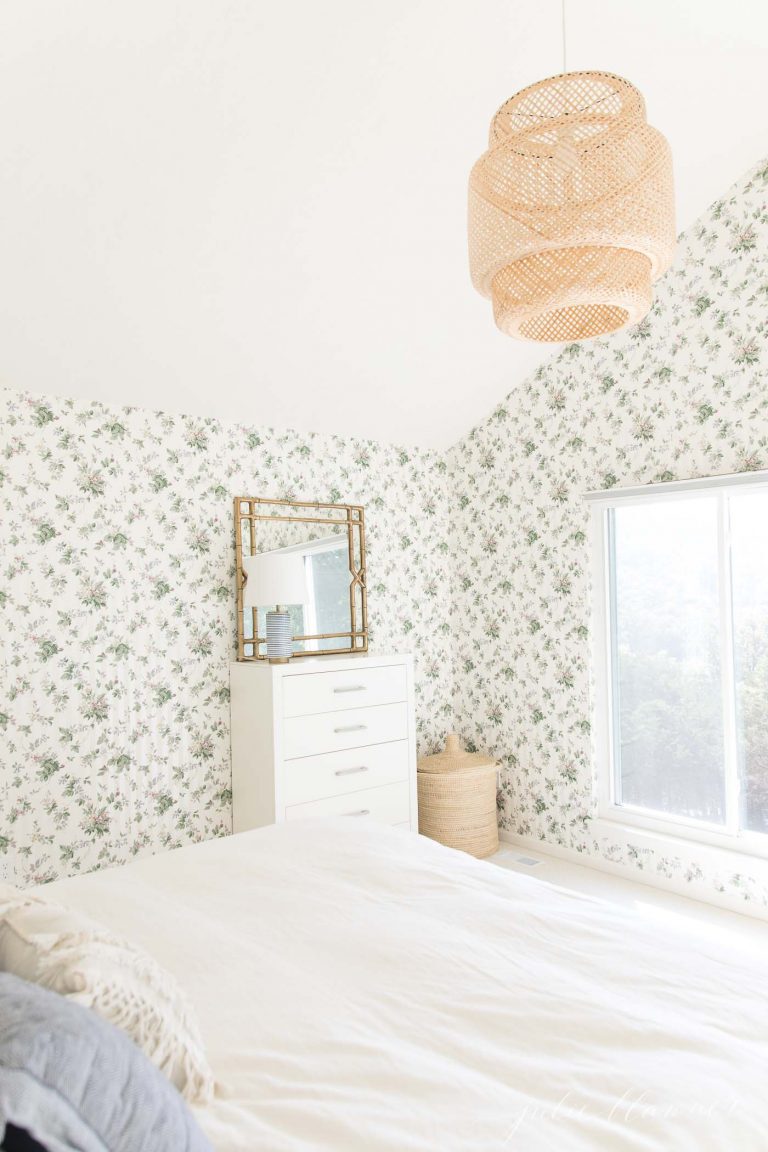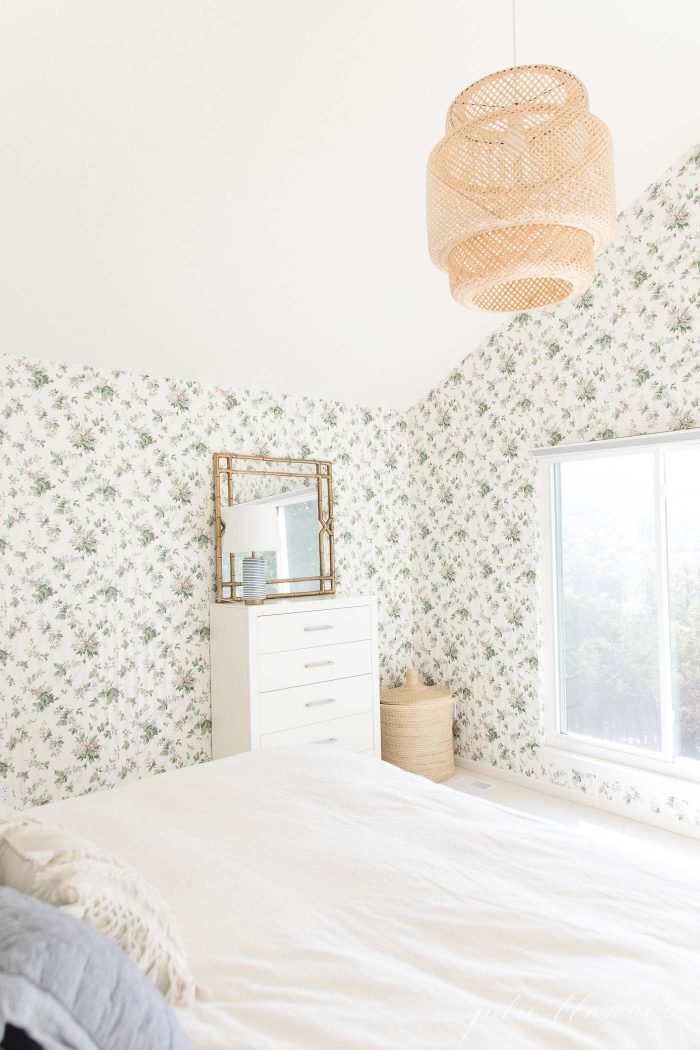 When we purchased our lake cottage earlier this summer, the first thing we said is "we have to get rid of all of this wallpaper." When we first stepped into the home, it was a little overwhelming. In fact, the pattern in the kitchen is what my sister had in her kitchen a couple homes ago and the basement bath has a pattern that a friend of mine had from her childhood. That's a few more years than I care to admit.
First, a few before photos…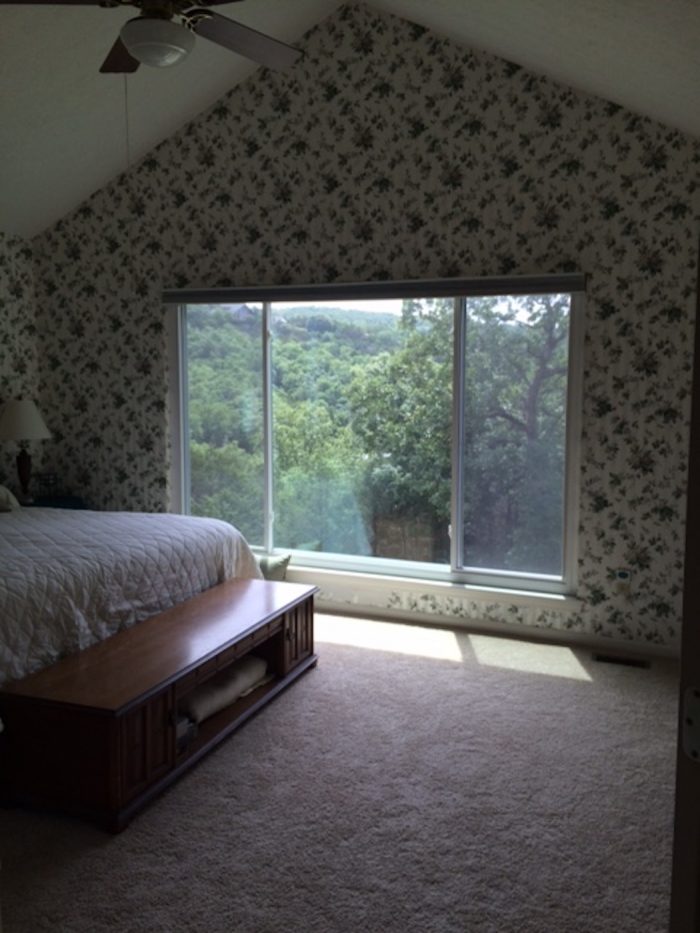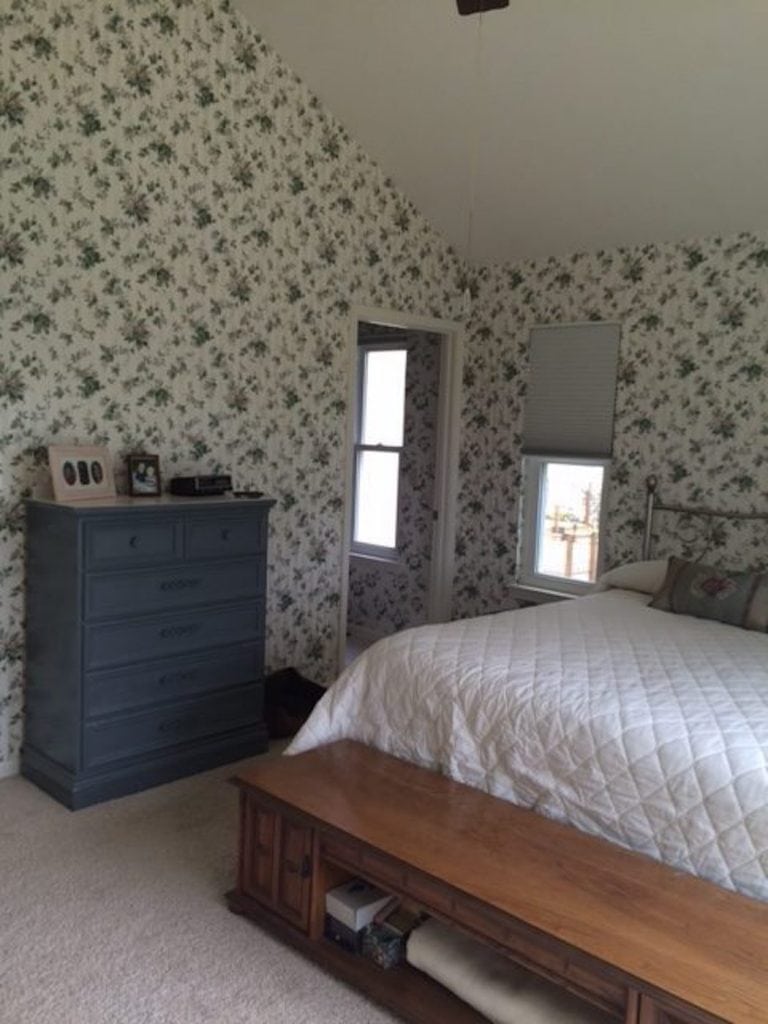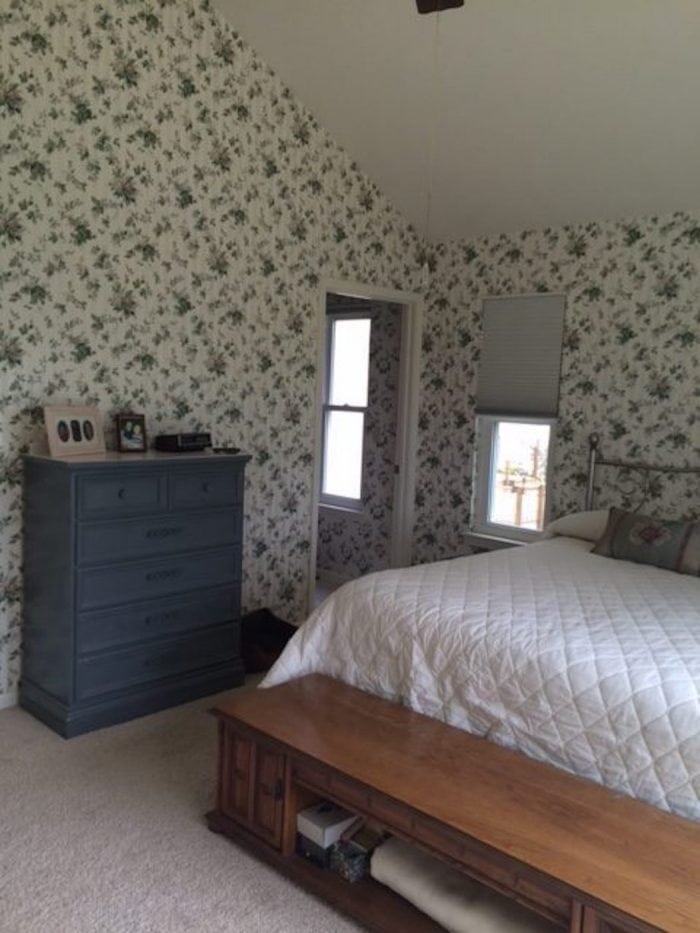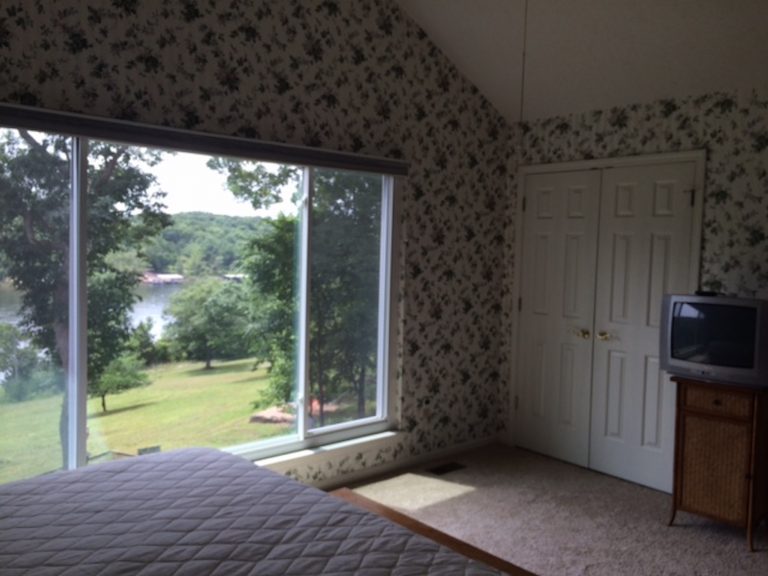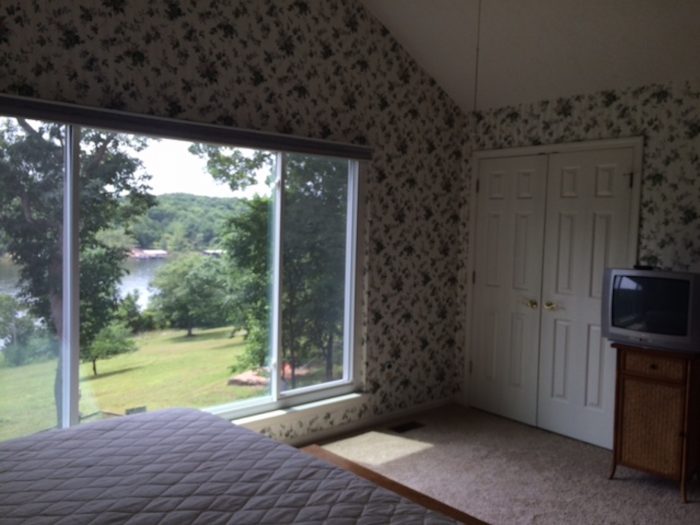 Once we moved into the home, we began to appreciate the cottage for what it is, rather than taking it at face value. It's a lake front home, with beautiful views of the water in a peaceful setting. Suddenly, it didn't seem to matter quite as much and I decided that rather than spending a significant amount of money to remove it, we would embrace it.
A couple neighbors have warned that their wallpaper (which was installed when the homes were built) was difficult to remove. Eek, right? I'm going to take the chance in the kitchen and girls' bunk bed room, but for our bedroom, I decided to take a different approach.
First, we repositioned the bed to embrace the view. It really opened up the room and allowed the view to be front and center.
The floral wallpaper is so busy, so I kept the decor simple for the cottage master, integrating texture, a hint of color and subtle patterns.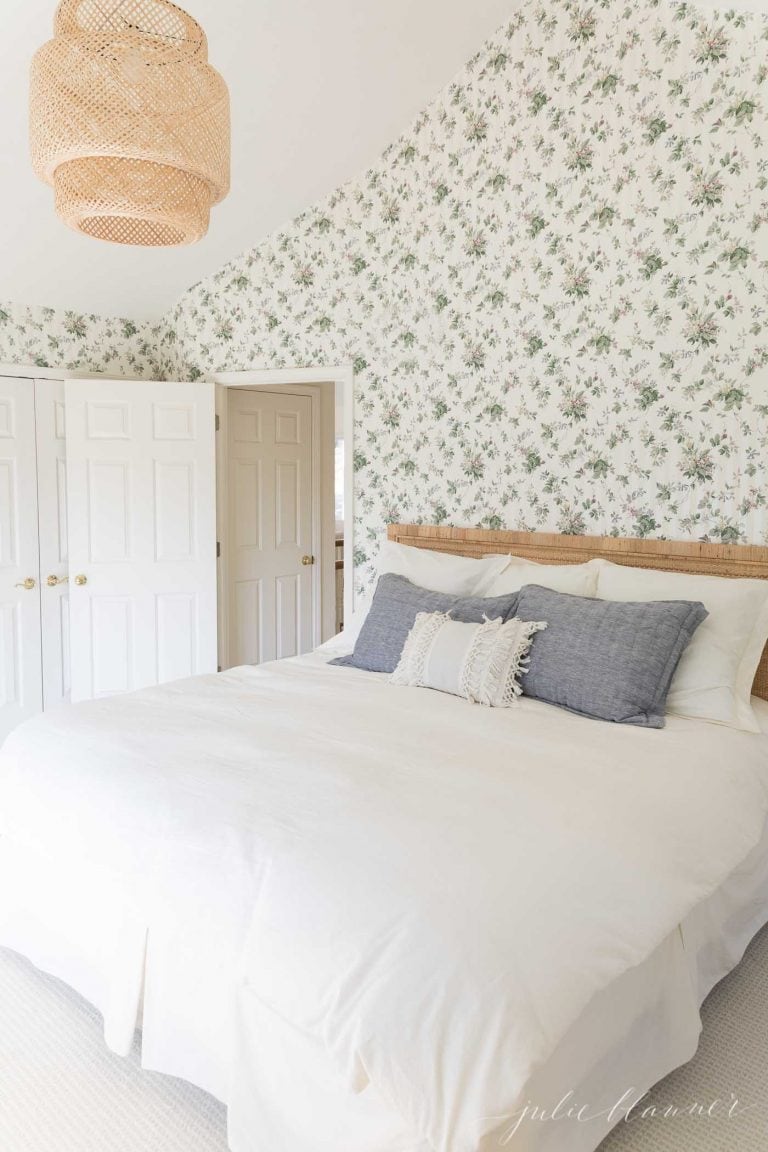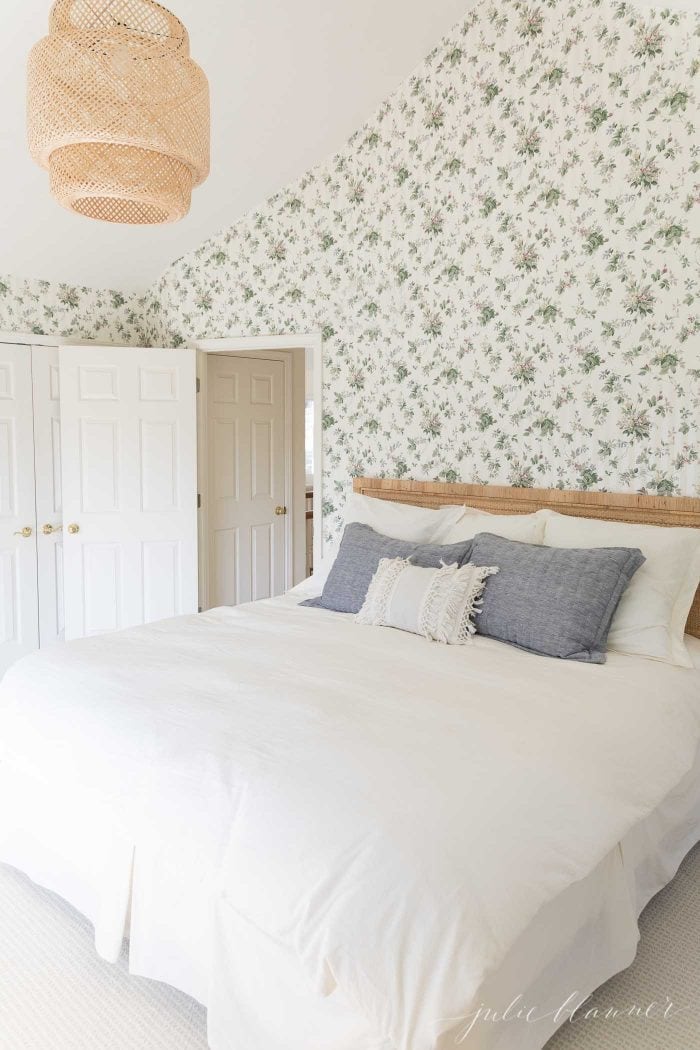 We brought in a little neutral texture by integrating a rattan headboard. It makes the space feel fresh and modern while adding to the vacation vibe. It is the most significant piece of furniture in the room, so it provides a little balance as well.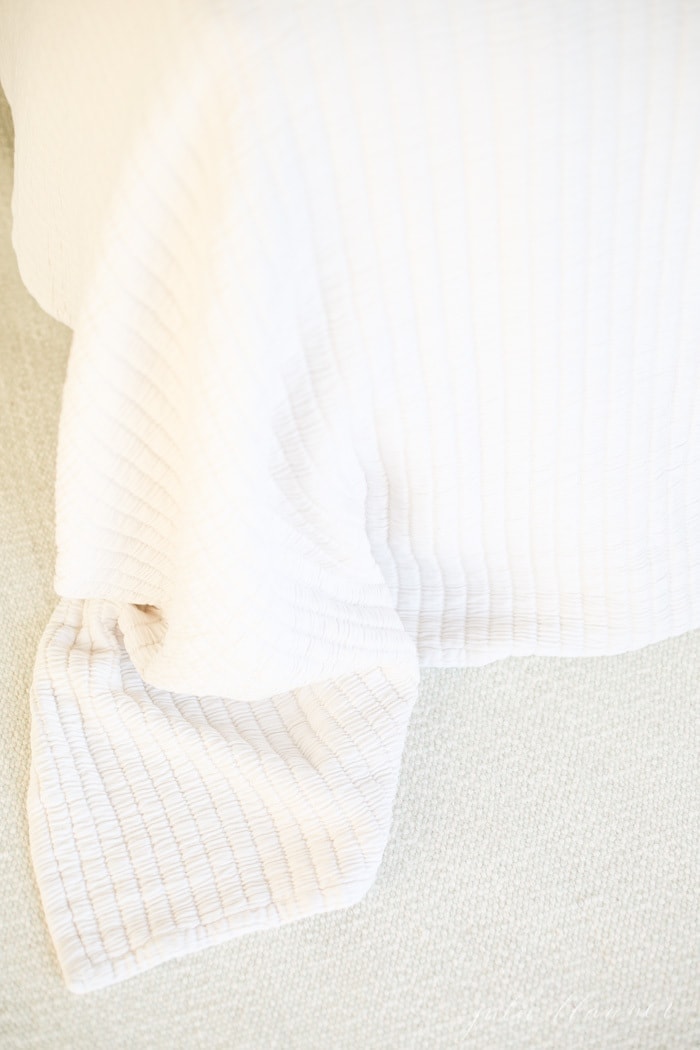 While the carpet appears new, it's various shades of tan and kind of blah, so I selected a large wool rug in a soft green tone to make the room feel light, placing it under the bed so that extends for the length of the room and on each side of the bed. Later we replaced it with patterned carpet.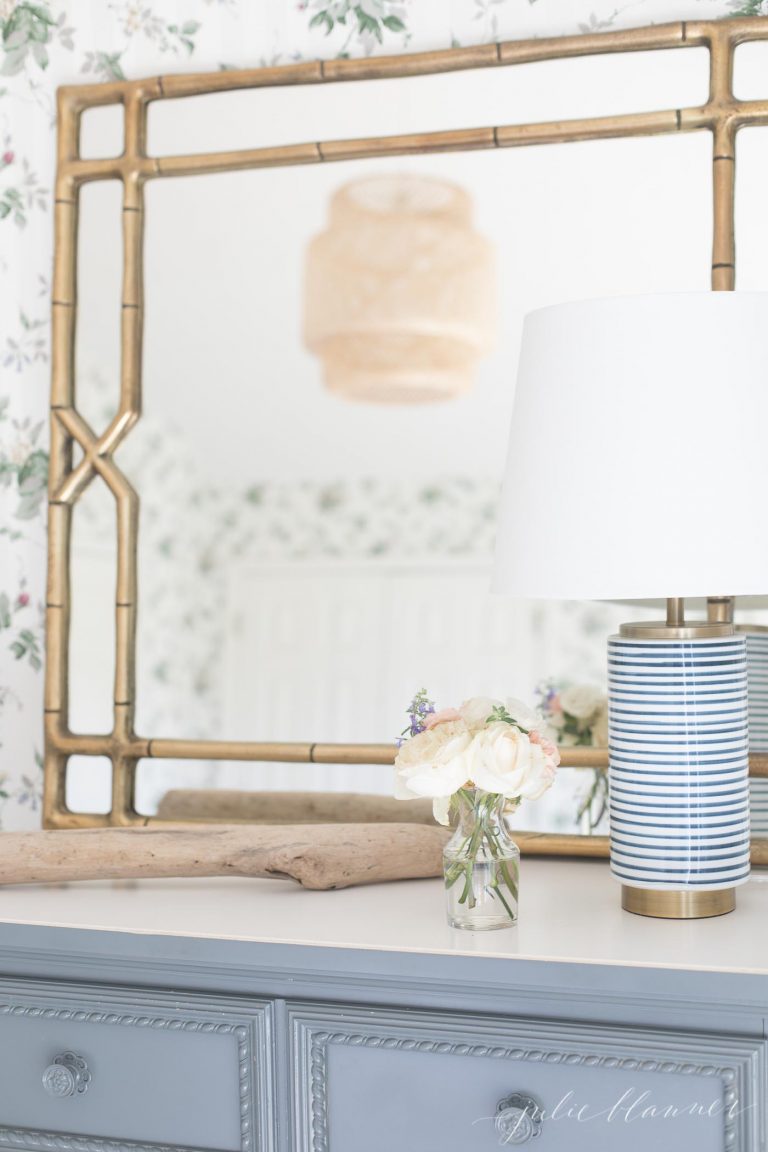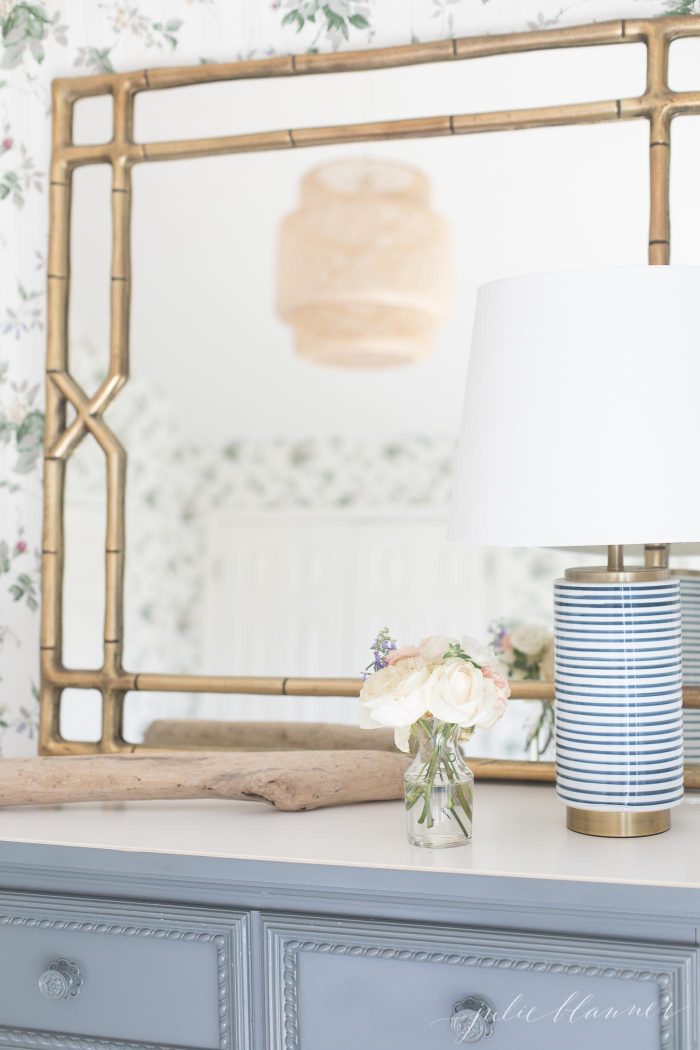 The previous homeowners were kind enough to leave us a few pieces of furniture, like this blue / grey chest of drawers. Ironically, it's the same as my sister's childhood set that was yellow! It pulls from the color in the wallpaper. I added a mirror just above it to reflect light and add a little height. Chris adorned it with a piece of driftwood and of course I added a plant to bring the room to life.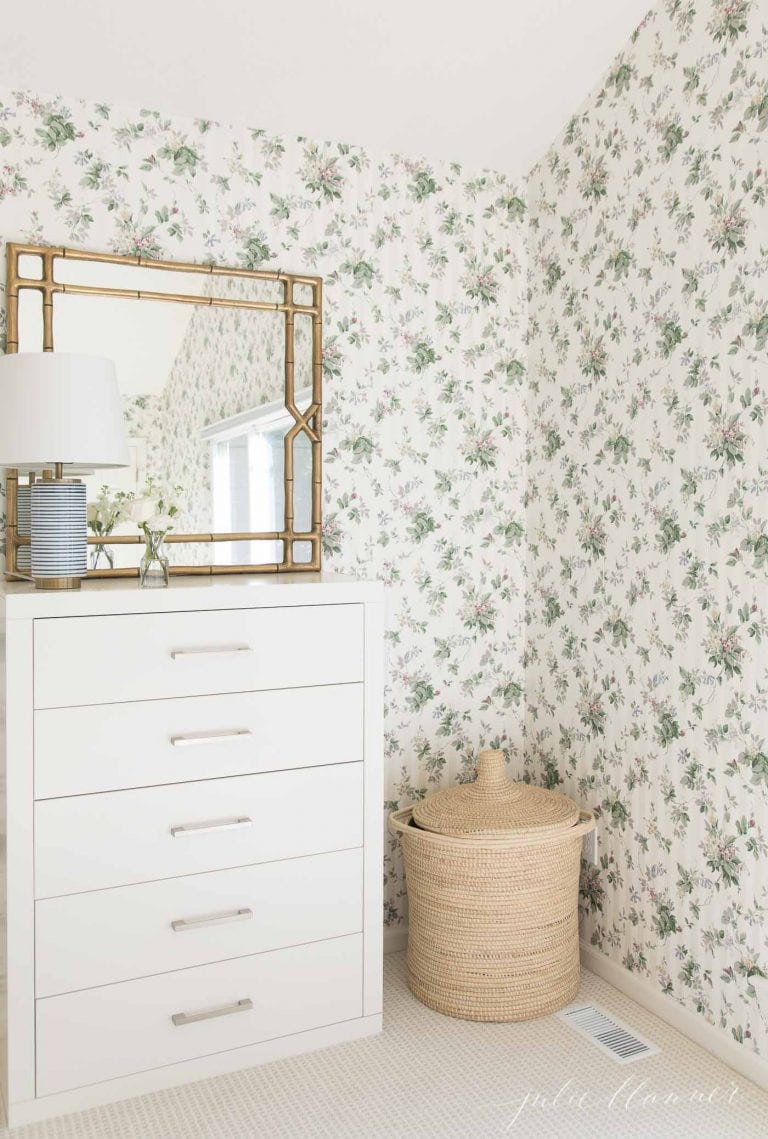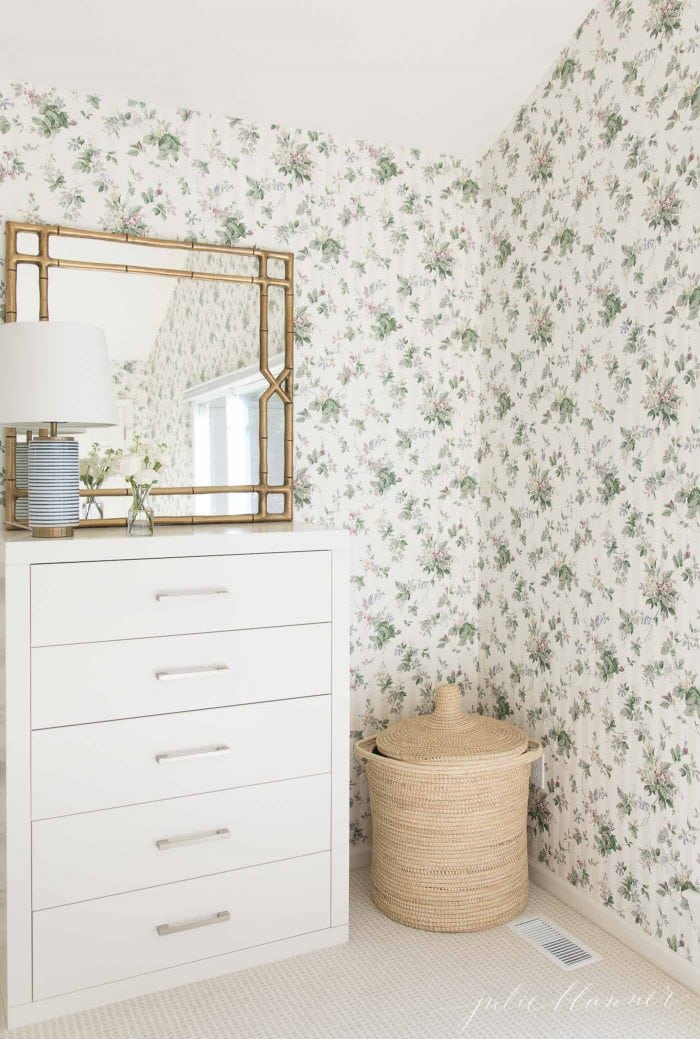 As time and money permitted, it was replaced with an inexpensive white dresser, but you can see how you can make the most of just about anything!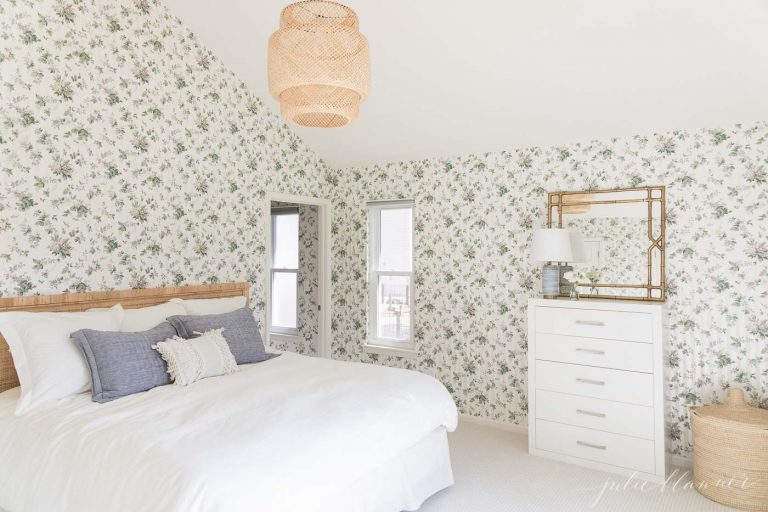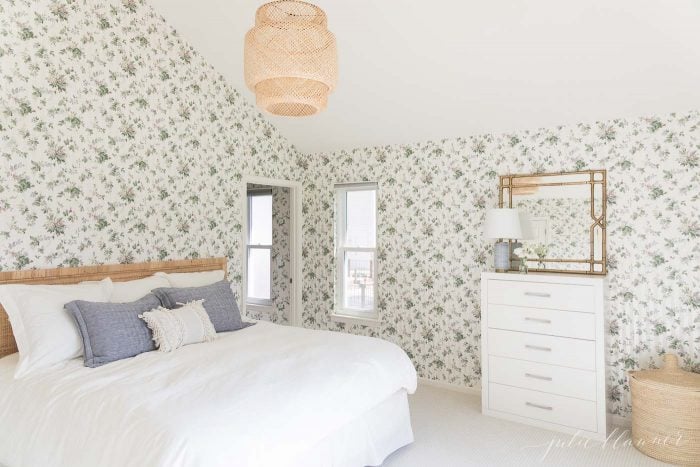 A statement light fixture (like this $60 pendant from IKEA) accentuates vaulted ceilings while drawing the eye away from wallpaper.
Looking out the window at the foot of the bed…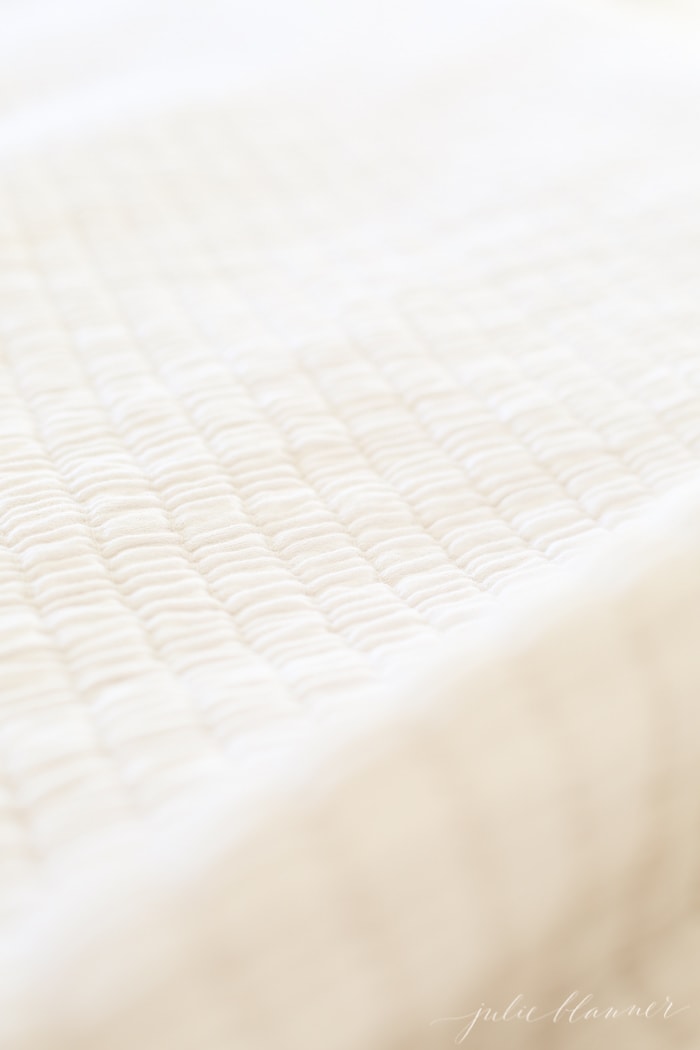 It was really important to us to have a calm and cozy retreat to escape to, so I kept the bedding soft and simple, selecting a matelassé coverlet that conforms to you. It's so soft! And well, I'm not really one to make a bed and it looks beautiful just draped on top. I complimented it with a couple of ivory shams, hemstitch sheets and the most beautiful quilted shams for a little pop of color.
Suddenly the 90's wallpaper feels like it belongs in a current catalog and I feel at peace with it. A little bedding can go a long way and save so much effort and this guy likes it and that's all that really matters, right?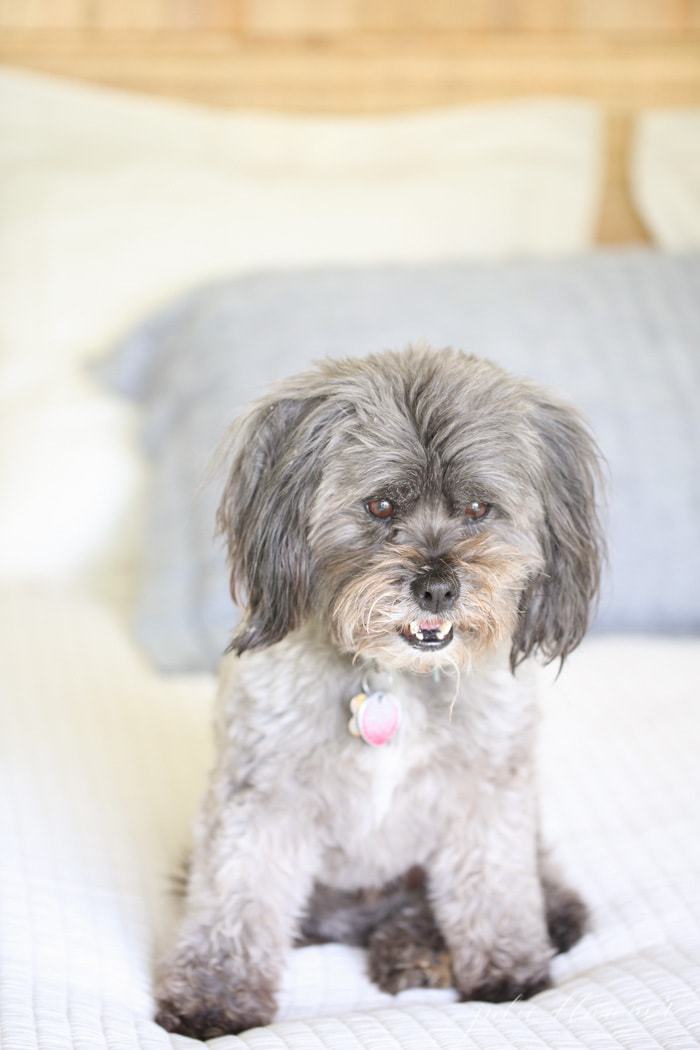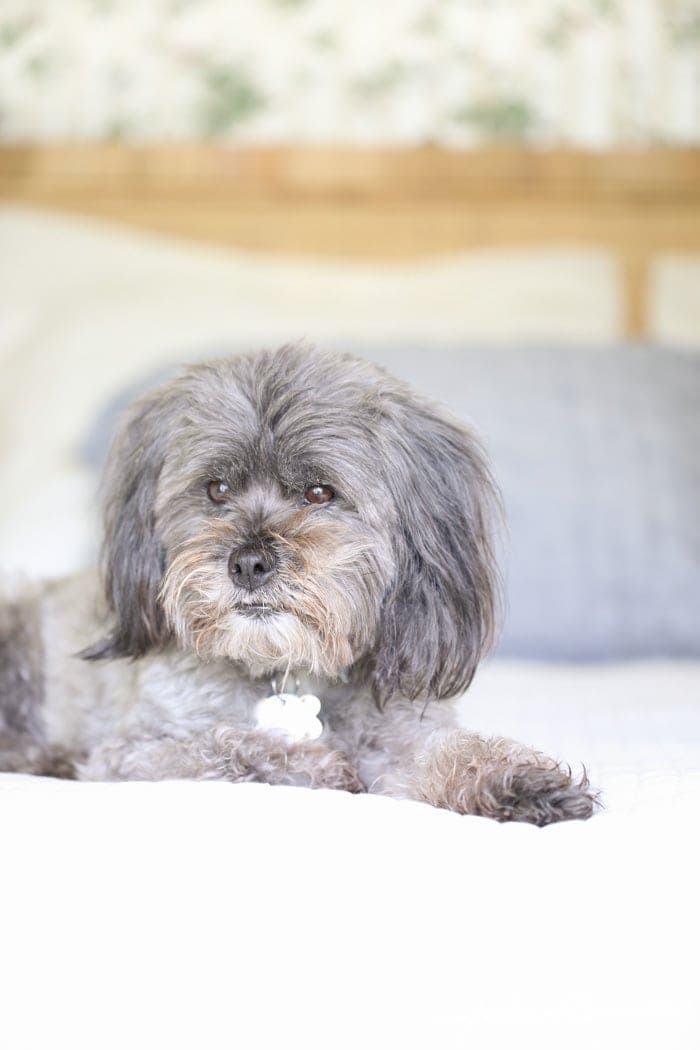 You can see more of our lake cottage here. Do you have dated wallpaper you're trying to work with?
LET'S CONNECT!
instagram | newsletter | facebook | pinterest