Learn all about our beautiful hand scraped wood floors! You'll find out why or why not hand scraped hardwood flooring might be the right fit for you, with pros and cons and all the details.
Hand scraped wood floors give your home a slightly rustic, historic look that can add a lot of charm. They blend beautifully into older homes and can add an element of history and cozy vibes to a new build, too.
Get the details on these rustic scraped wood floors in this complete guide.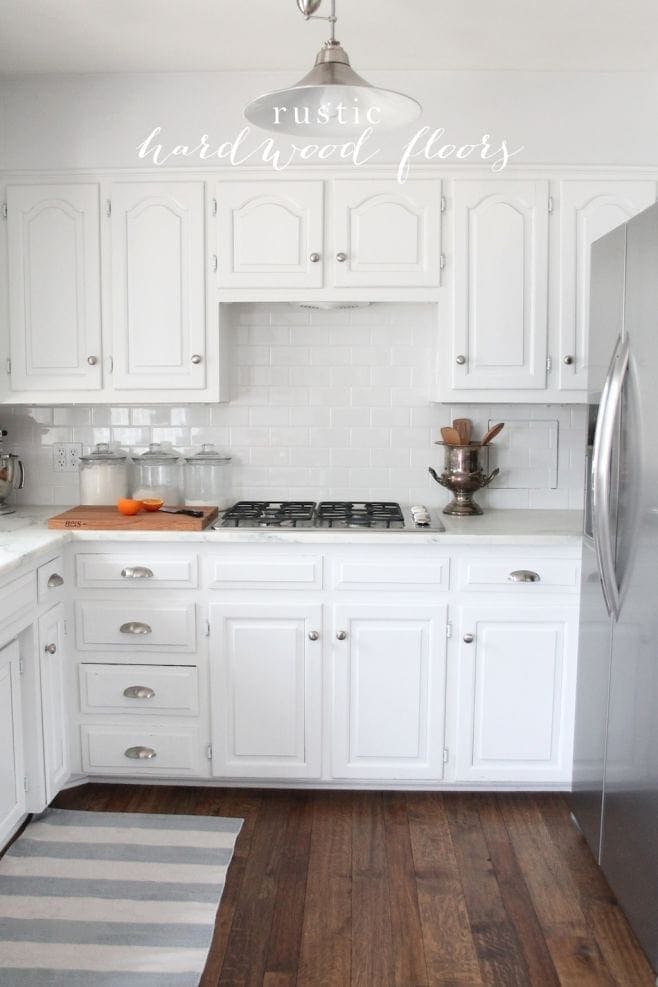 Now that I have shared our kitchen, I realized, I never shared one of the most commonly asked questions about our home – our custom hardwood floors. Next to our White Kitchen Cabinets they are one of the things we receive the most questions about!
Very few people entered our Colonial home without commenting on them. They're a little unexpected. You've seen them in various posts, but now it's time to let them shine!
With the rise in popularity of everything farmhouse inspired over the last decade, it's no surprise that hand scraped wood floors are a hot ticket item. They evoke the feeling of historic charm that so many of us want to add to our homes, no matter the era.
We didn't install these floors ourselves, but it was a labor of love in patience and a significant investment in our home. They didn't exactly go as planned and it wasn't the most pleasant experience. Anyone who has worked with contractors can relate!
In the end, we love them. These floors are so forgiving, which I'm thankful for with three kids and a pup! Let's learn a little more about hand scraped wood floors today!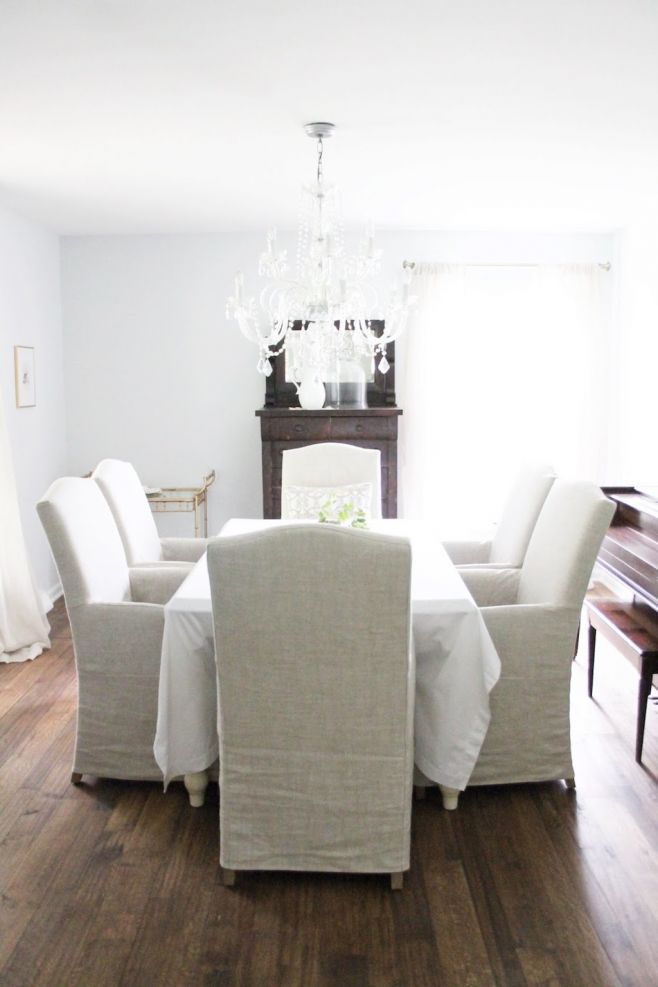 What is Hand Scraped Wood?
Hand scraped wood floors are trendy in recent times because they capture the old world historic charm of days gone by. This style of flooring can be a touch more expensive than others – especially in comparison to a traditional white oak flooring or an LVP flooring option.
The name comes from the old time technique, where a craftsman would draw a knife across the wood to scrape the plank into a smooth finish. The woodworker would pull the draw knife across the wood, removing shavings to create a flat, even surface.
This traditional process would leave scrape marks and slight imperfections, which at one time were the hallmarks of wood flooring. That's the rustic charm that new hand scraped wood floors are attempting to recreate!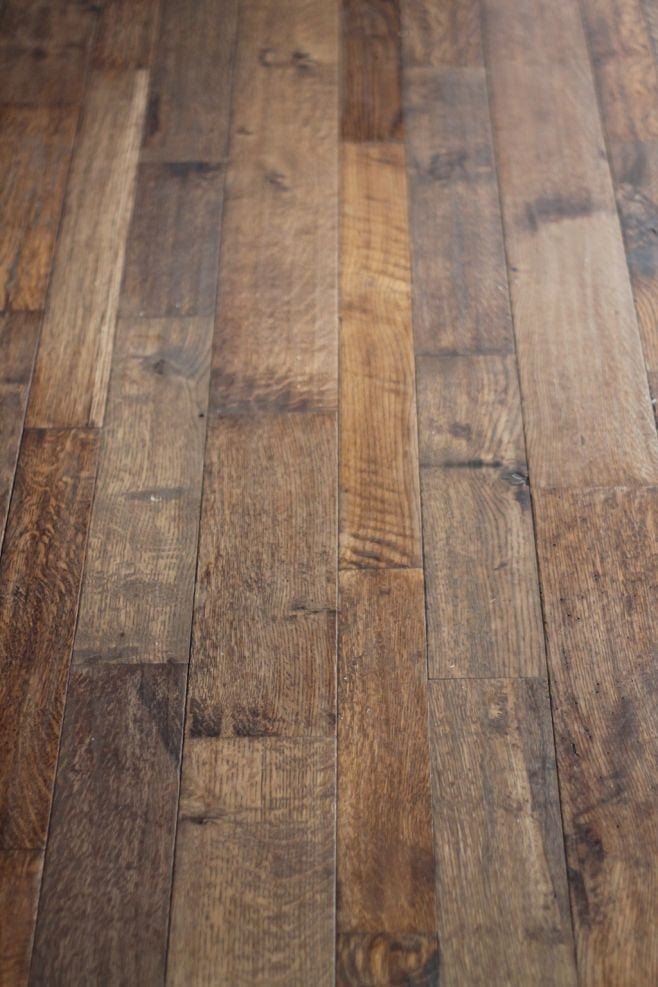 Scraped Wood Details
Hand scraped flooring creates a unique look. So unique, that it cannot be duplicated in a factory. Each board is scraped and/or distressed by skilled artisans.
No two boards look alike, instantly adding interest and character. When we were pricing our floors (in 2013), we found that true hand scraped flooring was hard to find. However, the term is used loosely, especially with partially engineered hardwoods.
It's important to know the process if you're doing a price comparison.
We chose to do 3″, 4″, and 5″ boards to give varying widths, and we selected rift and quartered white oak wood with a chestnut stain.
We had them finished in tung oil versus polyurethane to give them a subtle rustic, comfortable lived in feel. Traditionally, hardwood floors are finished in polyurethane.
The oil is significantly more expensive, so when we had our living room floors sanded and stained to match, we opted for a matte polyurethane.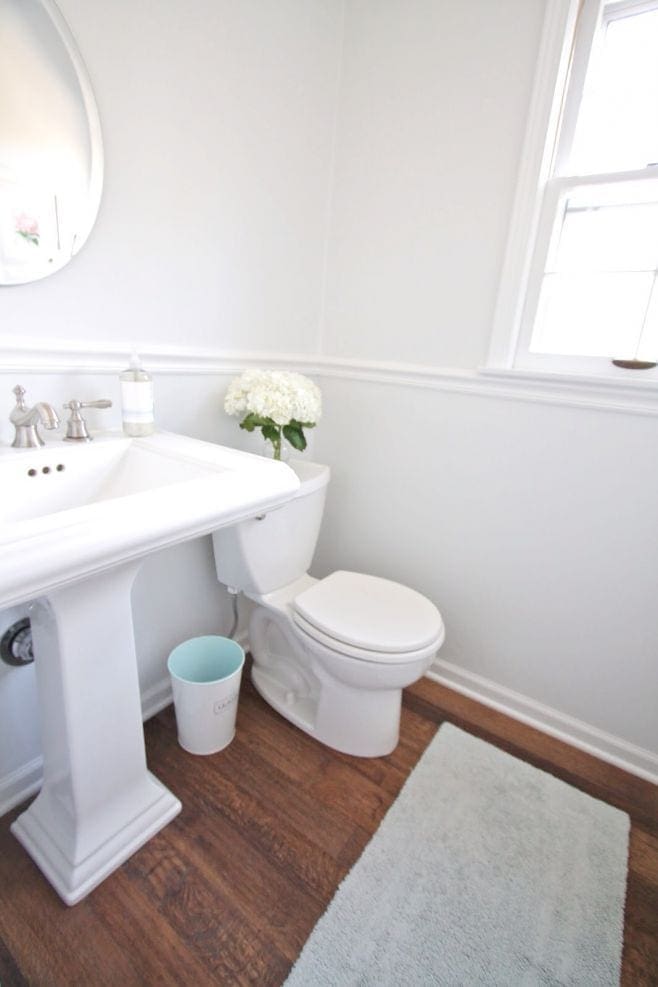 Hand Scraped Hardwood Installation
Unfortunately, not everything goes as planned when you are renovating a home, as I'm sure many of you know. In our case, we had planned for our hand scraped floors to be installed on sight, allowing us to plan carefully and choose a beautiful stain we would love.
Alas, that dreamy lighter color was not meant to be.
As you can see, ours are much darker than the original sample and plan. Long story short, they were supposed to be stained in our home and they actually stained them at the factory – in the wrong color.
I would have loved the original, but love our darker hardwoods just as much. What do you think? Click here to see how we created this look for less in the basement.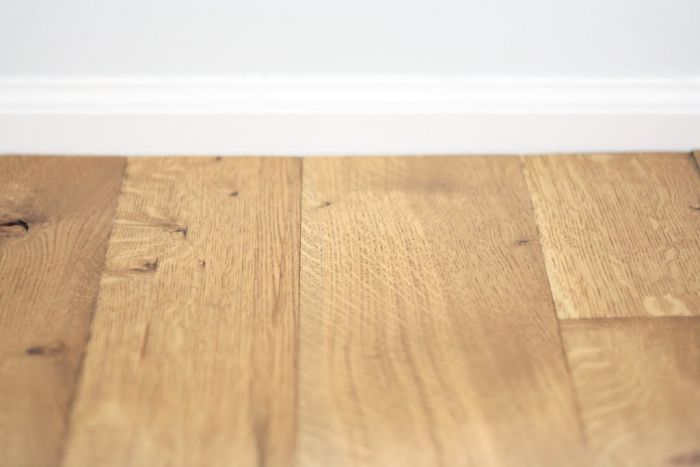 Frequently Asked Questions
Why use hand scraped wood floors?
Hand-scraped wood flooring can help create a more historic, time worn feeling in your home. The distressed planks add character and texture to your home.
Is hand scraped flooring a fad?
While the popularity of this rustic look might ebb and flow with time, this is a charming look that reminds us of the history of our homes. That means hand scraped flooring is a timeless choice for your home, not a trendy one.
How do you deep clean hand scraped hardwood floors?
Use your vacuum with a hardwood flooring attachment. Dry mop with your favorite hardwood floor cleaner.
Hand Scraped Hardwood Pros and Cons
If you're making this decision for your home, be sure to consider all the good and the bad with this style of flooring.
Hand Scraped Flooring Pros
Unique – No two boards are the same, and your house won't look like everyone else's!
Long Term Durability – while normal wear and tear might be catastrophic for more refined hardwood floors, these are more beautiful with time.
Low Maintenance – because this flooring is already rustic and distressed, a scrape or scratch here and there won't be cause for concern.
Hand Scraped Flooring Cons
More Expensive – hand scraped hardwood tends to be more expensive than traditional manufacturing processes, just because of the extra steps to achieve this look.
Deeper Grooves – that can tend to catch dust and debris. Just take note for cleaning purposes.
Refinishing – can be more difficult down the road because it's harder to keep the grooves and scrapes when you're sanding.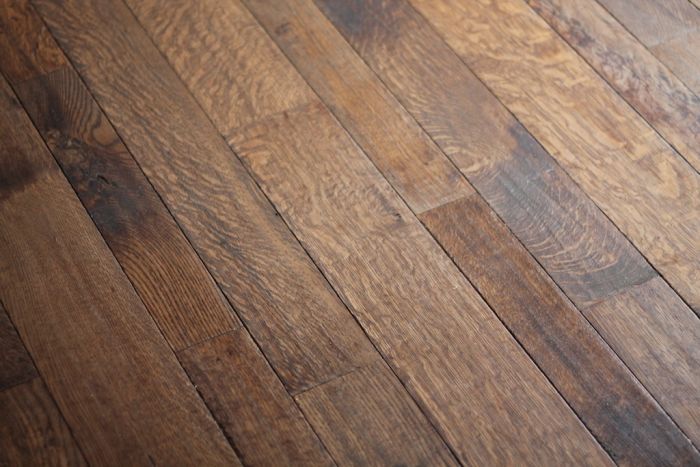 More Flooring Inspiration