Learn how to sell a house fast, for the highest price possible. It goes beyond home staging – it's about making wise home improvement decisions that bring you the best return on investment!
We've gathered 17 of the best tips if you're thinking of selling your house. Some of these ideas are even free, and sure to inspire you!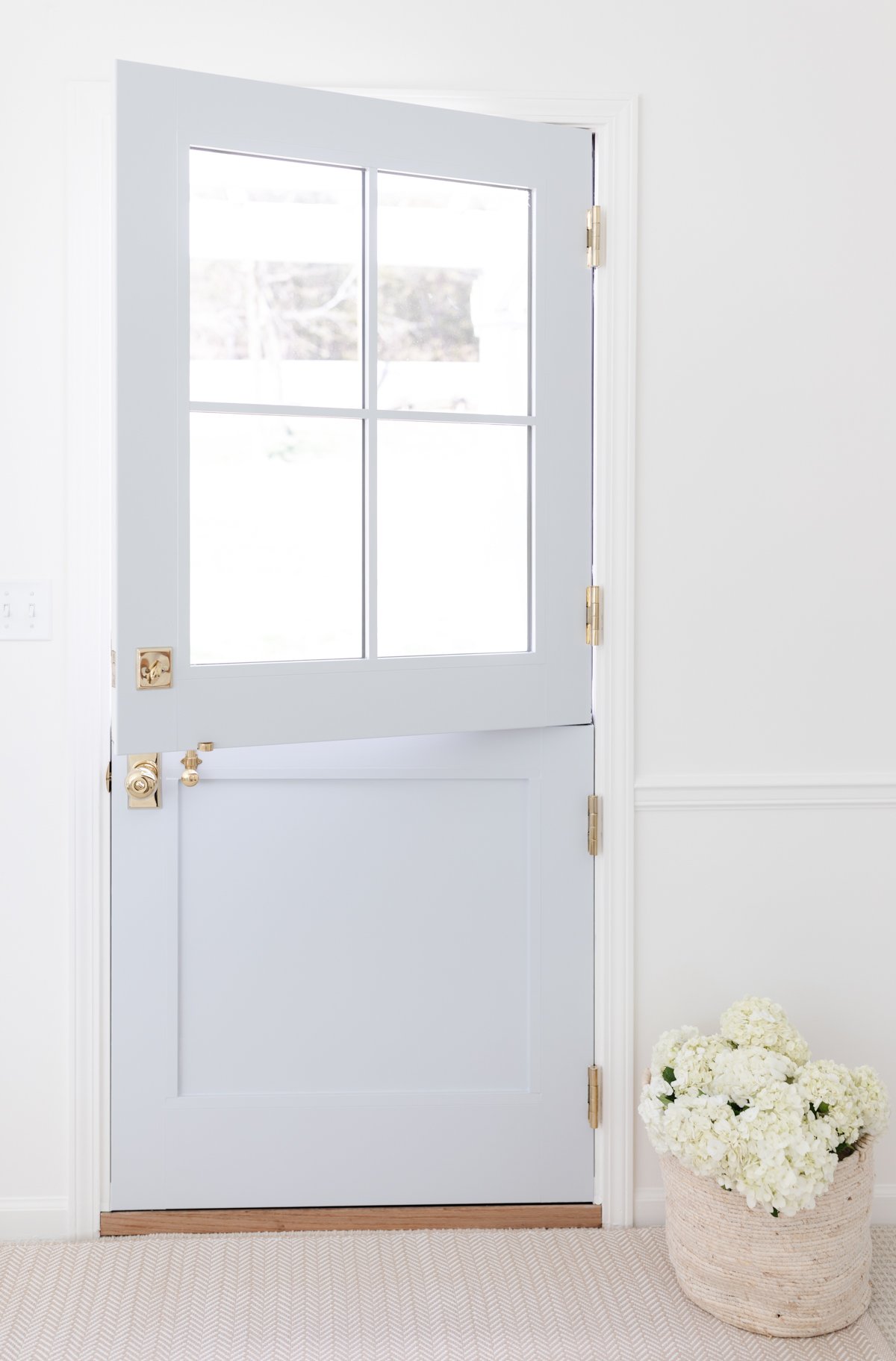 I've been urged by a few friends through the years to write about how to sell your home. Of course everyone wants to sell their home fast, and for the highest price possible.
Honestly, I've been hesitant to write about it because I'm not a house flipper or real estate agent. But what you may not know is that for one short year, I managed an office of over 30 realtors – in a down market.
In addition, we have had a lot of success selling our last homes and have now remodeled, bought and sold at least six homes over the years.
If you'd like to see the full before and after of our St. Louis tudor, click through! You can see the before and after of our Modern Lake House on Table Rock lake, too.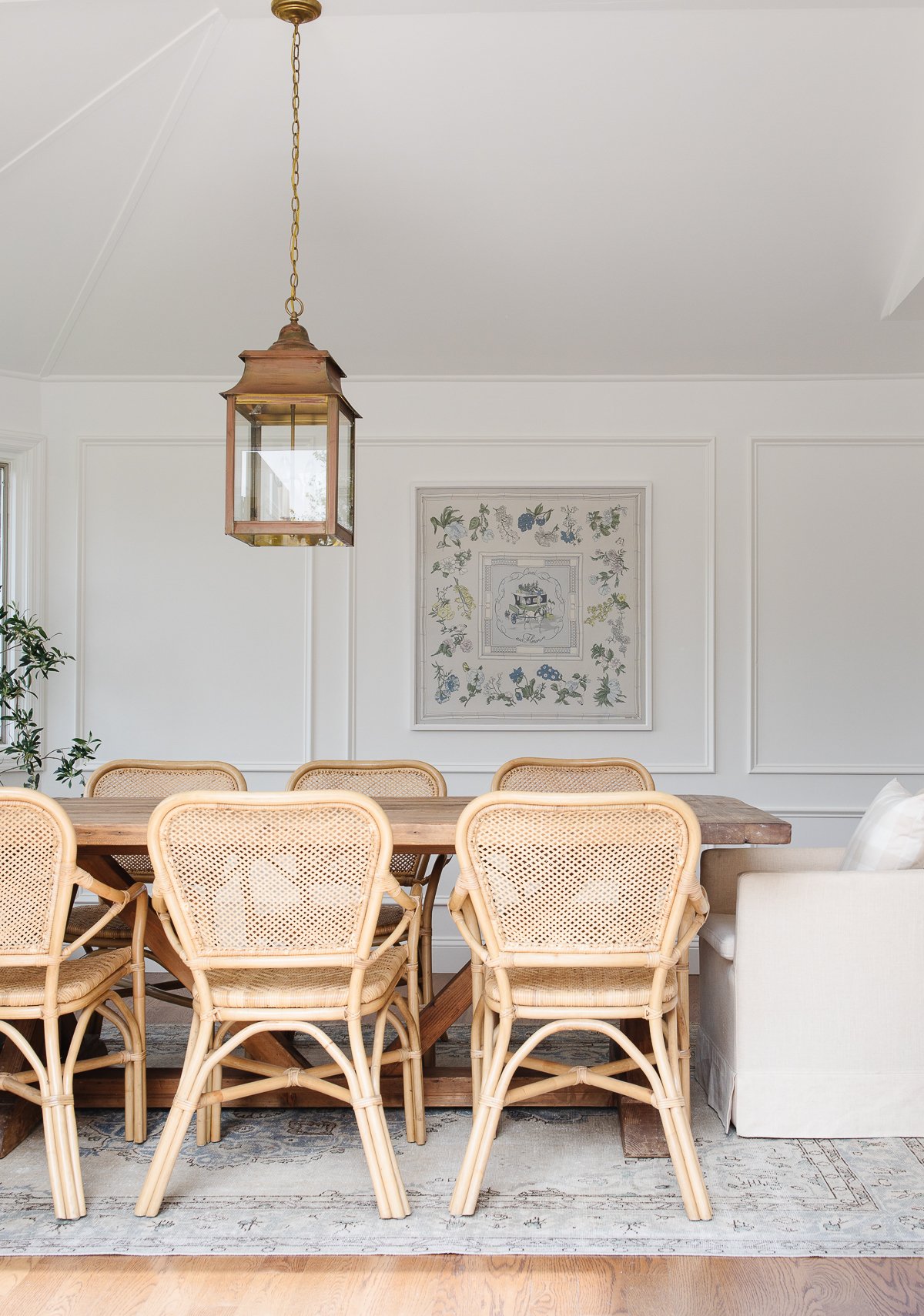 How to Sell Your Home Fast
These are my tips to sell your home fast with the highest property value possible – and some answers to your frequently asked questions, too!
Tips
One thing to remember is that buyers get distracted. You don't want them to think of clutter, but features.
While many of these ideas are inexpensive and even free, you'll need time to implement. Give yourself time or be willing to hire some help!
Prioritize! Whether you need to sell ASAP or you're just considering it within the next couple of years, spend time (and money) on the projects that will make the biggest impact.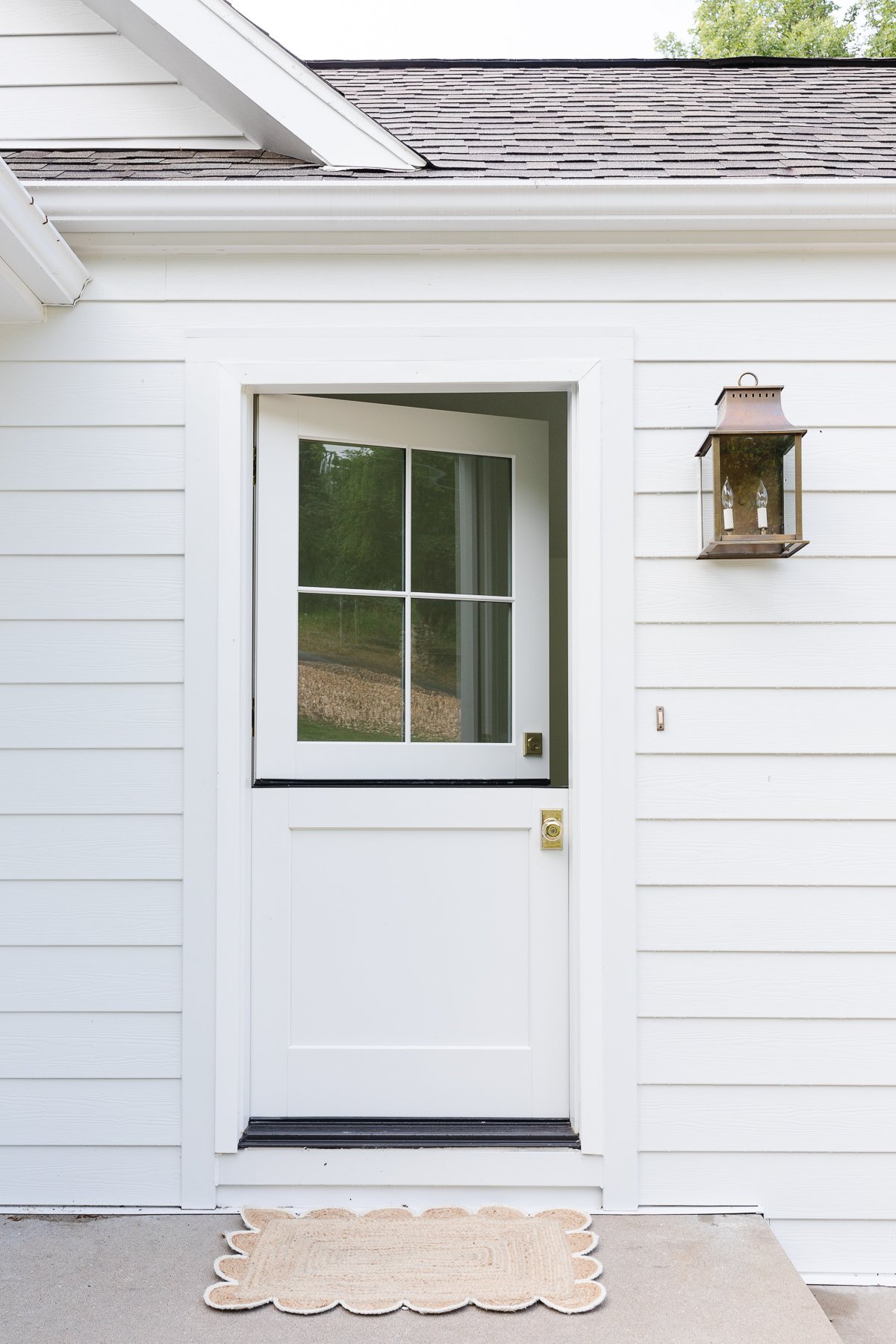 Frequently Asked Questions
How long do most houses take to sell?
According to Zillow, the average time to sit on the market varies from year to year, and of course by location, too. In 2020, the average time for a house to be listed was just 25 days. In 2023, it's closer to three months.
Is it better to show a house with or without furniture?
Historically, empty houses take longer to sell than those that are furnished. While some folks prefer to imagine what an empty space can be, many need to see the space laid out with furniture in order to envision living there.
What month is the best to sell a house?
In the US, the best month to list is generally March. Families like to move in and out during summer months, when kids are off school!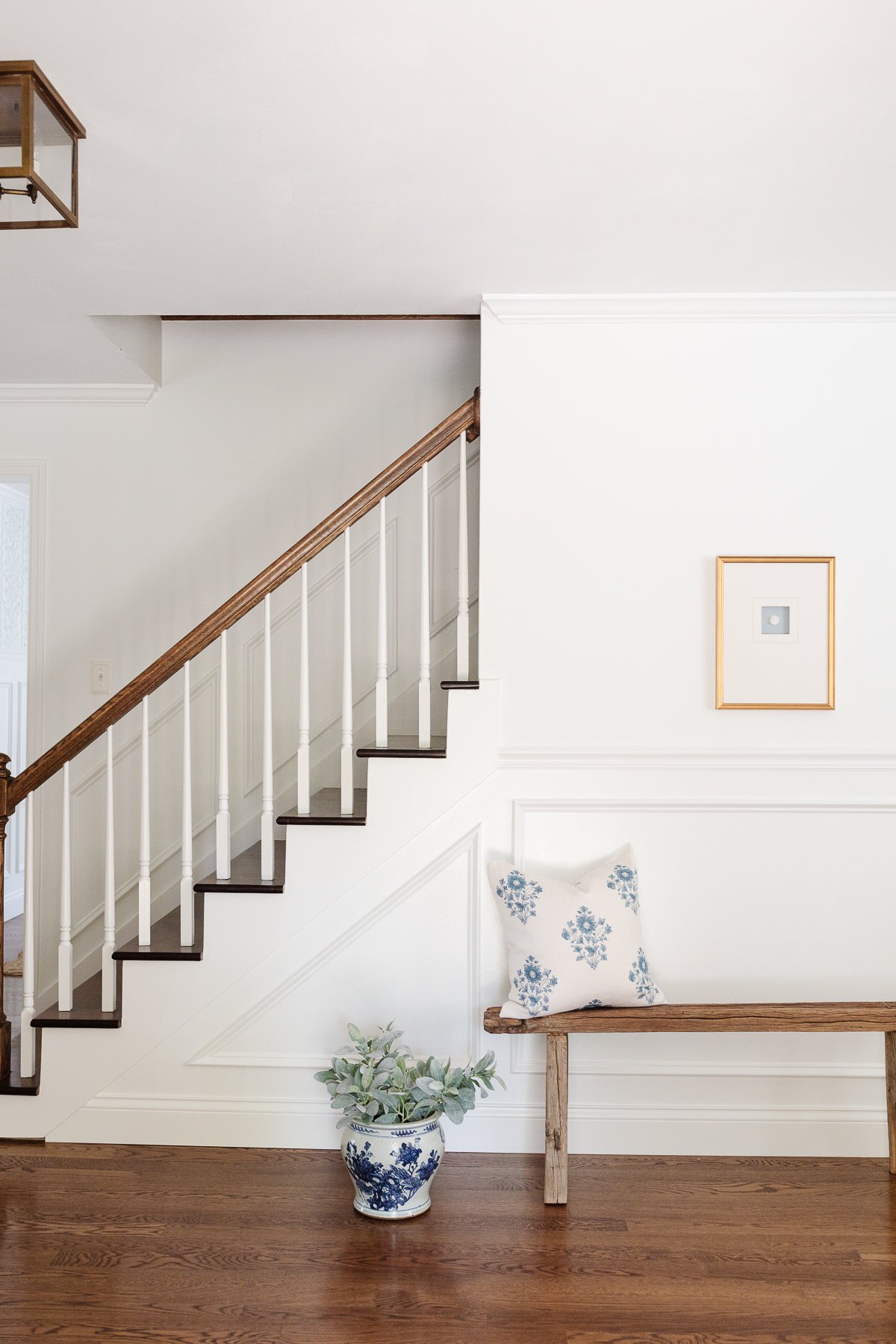 2
Paint
You can't discuss all the ways to sell a home without thinking of paint!
Consider painting or touching up the interior and exterior of your home. I know it's an investment, but a few hundred or thousand could easily be tripled with well selected neutral paint colors.
You can see the difference paint made in our Colonial home and see our Tudor Paint Colors here.
When we purchased this St. Louis home, the market was hot. All of the other homes were selling before we could offer.
One of the reasons I think ours didn't sell was the variety and tone of paint colors indoors and out. Buyers couldn't visualize the space or what to do with a dark, dated home.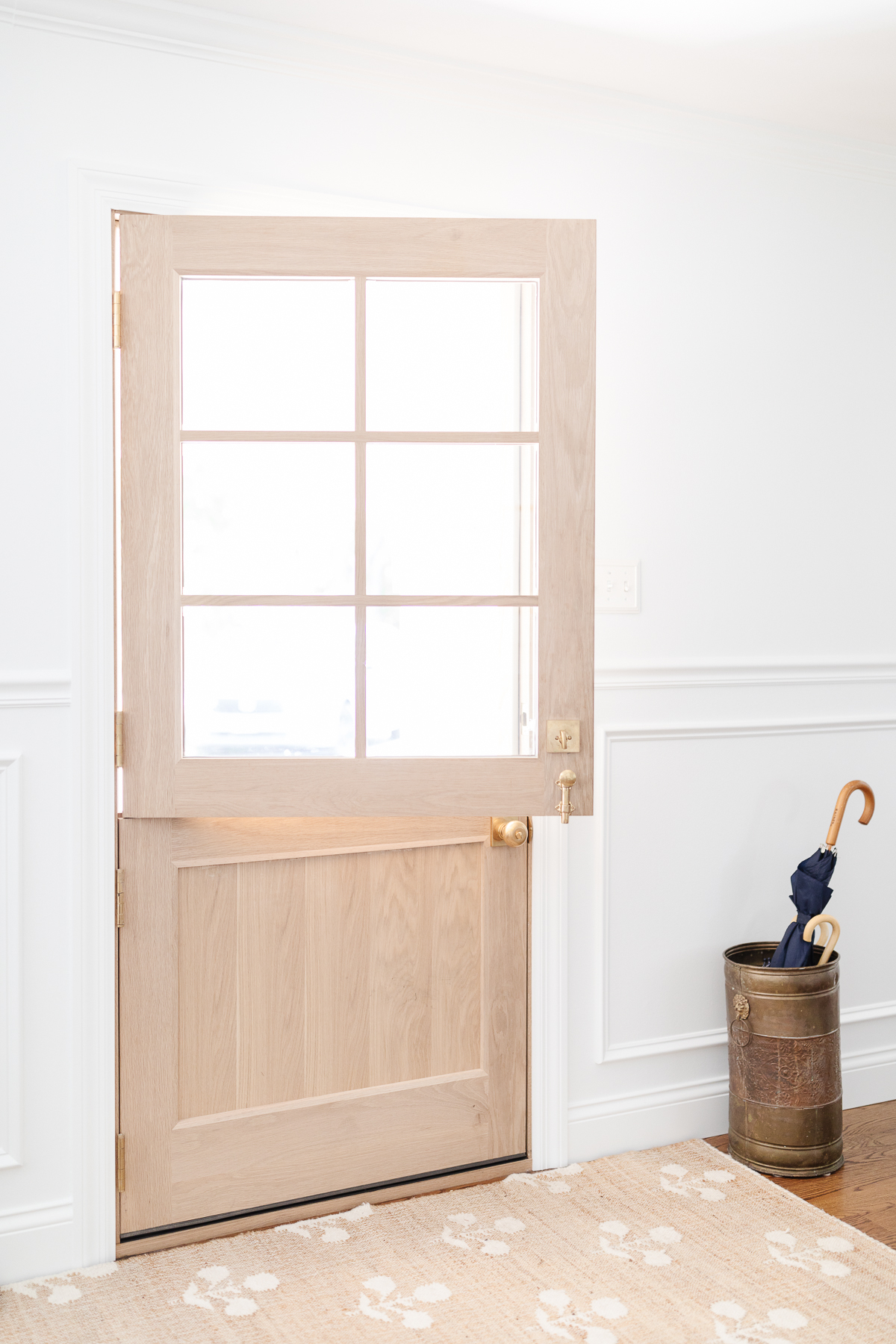 Keep it Neutral
This means your paint color palette and also your decor. Keeping a calm, soothing color scheme can help others envision themselves in your home.
Colors are a very personal choice. Buyers may not like the same bright yellow or bold red that you do. It's best to play it safe so they can envision their things in your home, not a lengthy to do list and upfront expense before they move in.
I recommend selecting warm creams over gray because warm colors tend to feel more inviting. You can find my favorite cream paint colors here.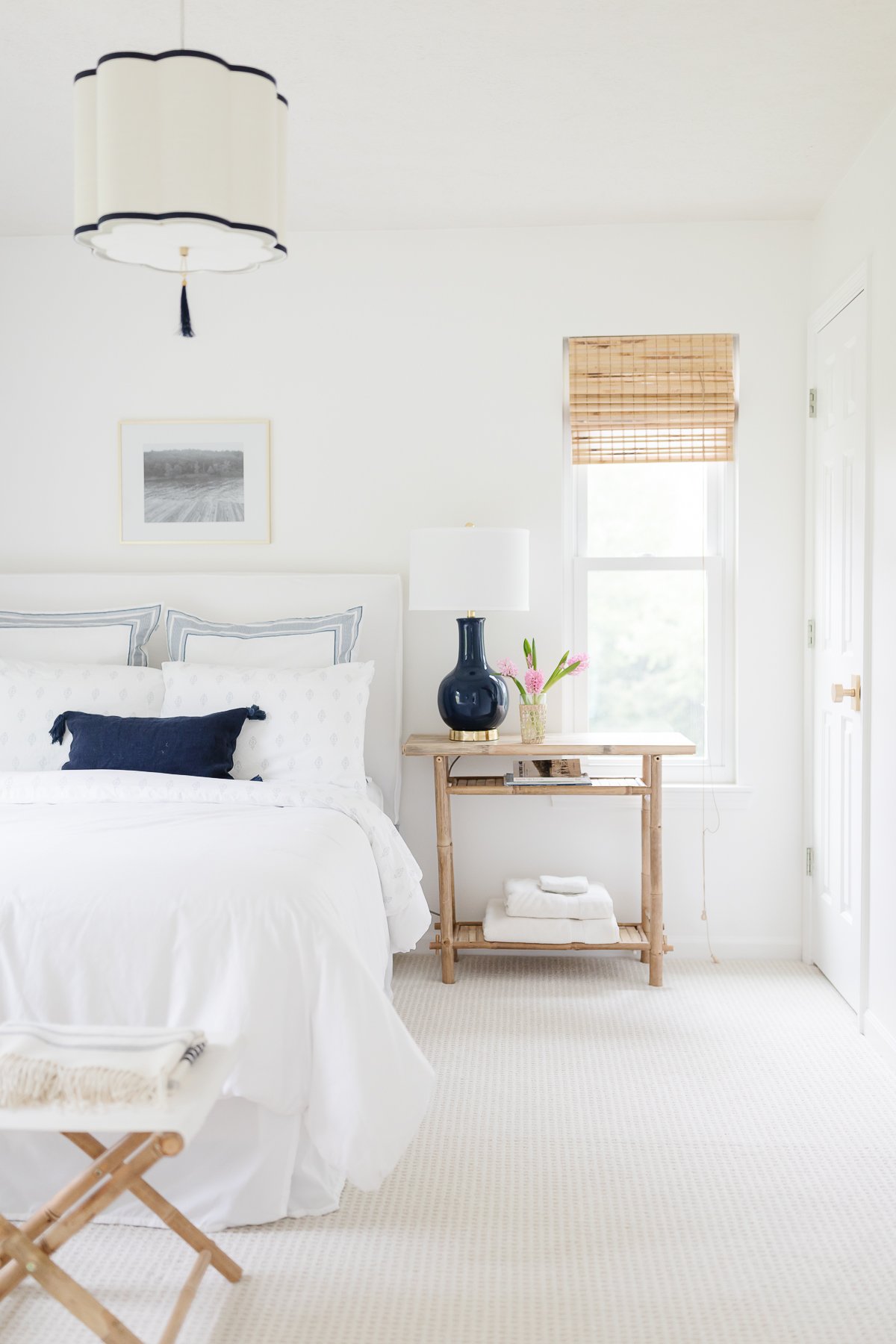 De-Personalize
Painting also helps depersonalize your home. Buyers tend to want move in ready.
You know what's not move in ready? Removing painted names from walls, or telling your son he has to sleep in a hot pink bedroom.
In my opinion, you don't need to remove it all, just keep little hints of your family.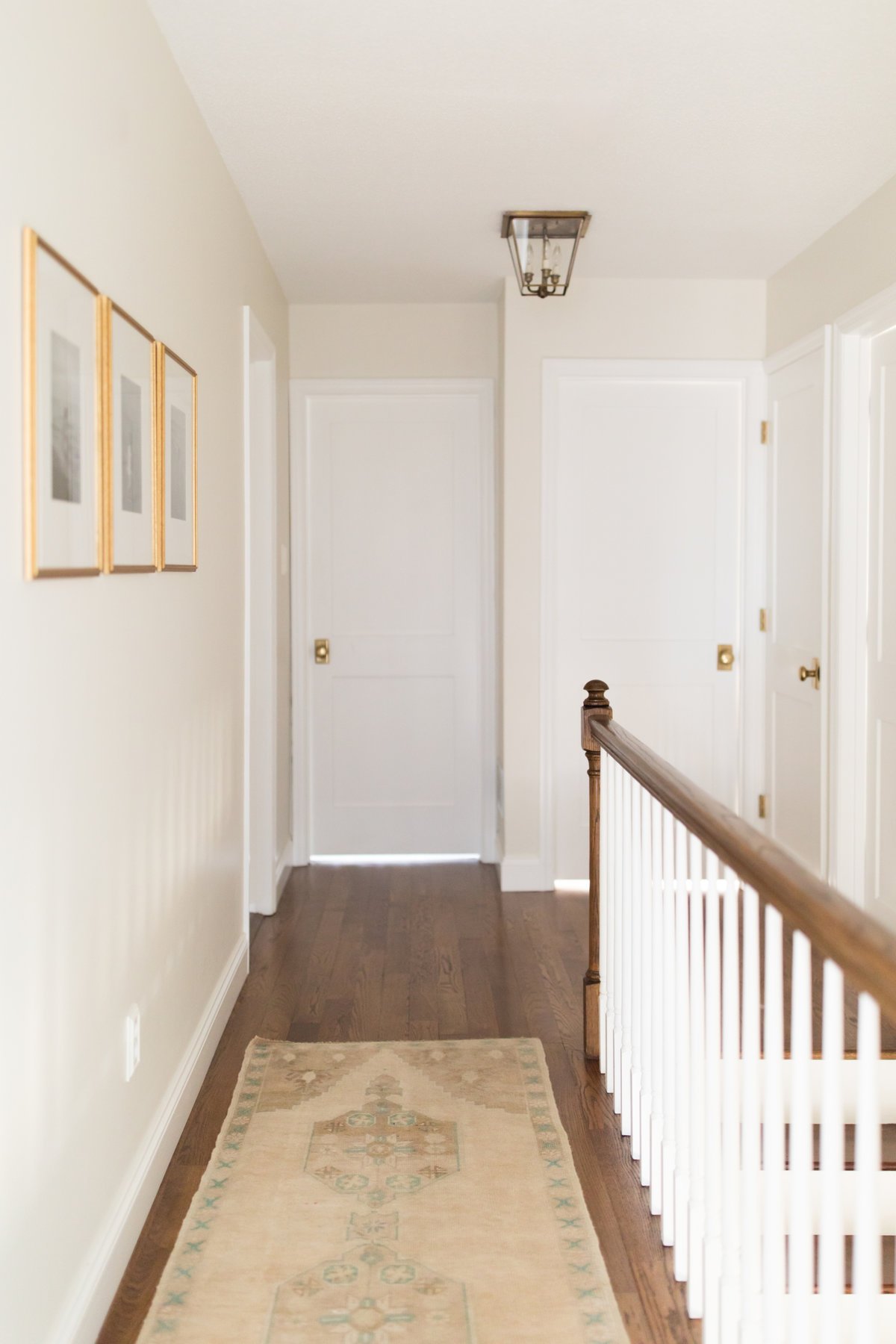 Declutter
One of the best things you can do when selling your home is also free – decluttering! Click through for my free decluttering checklist.
Nothing says "this home lacks storage" like clutter does. In fact, you can use this as an opportunity to make money! Sell pieces you're not using on Craigslist or donate and receive a tax deduction.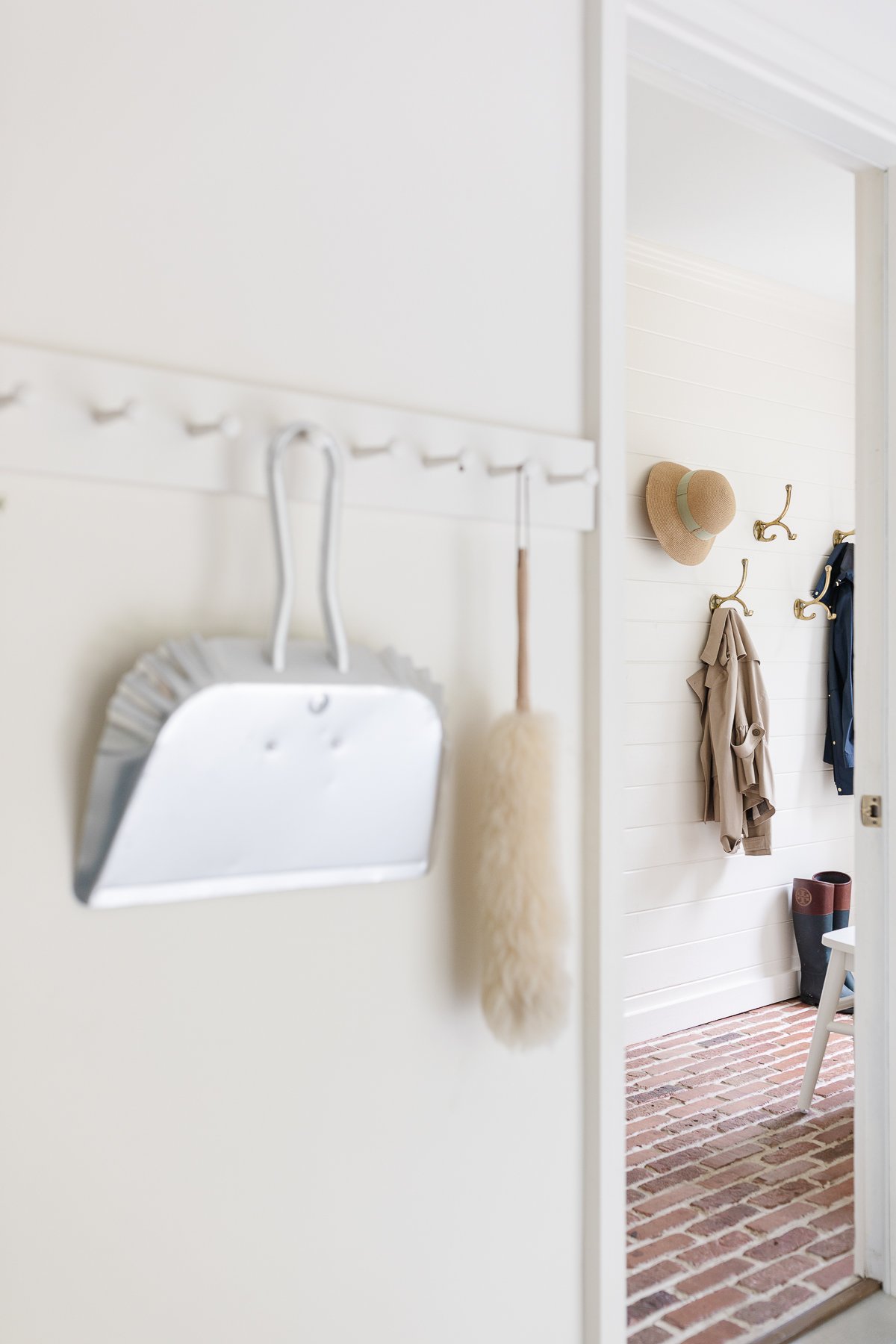 Organizing is not only free (or really inexpensive). It also gives the illusion of more space. More space = more value/money.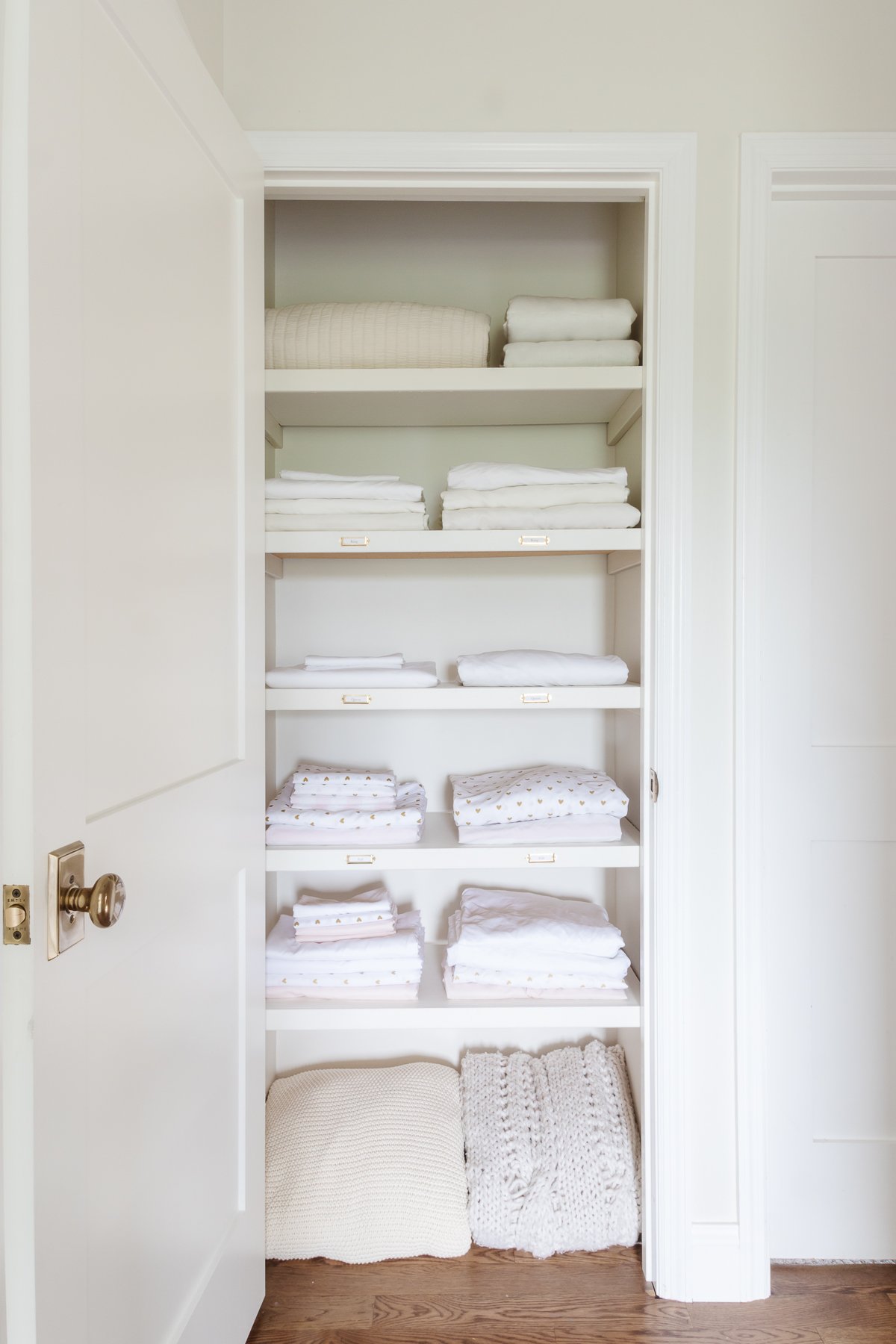 Add Woodwork
From Board and Batten, to Beadboard and Picture Frame Moulding, adding trim to your home is a great way to add value.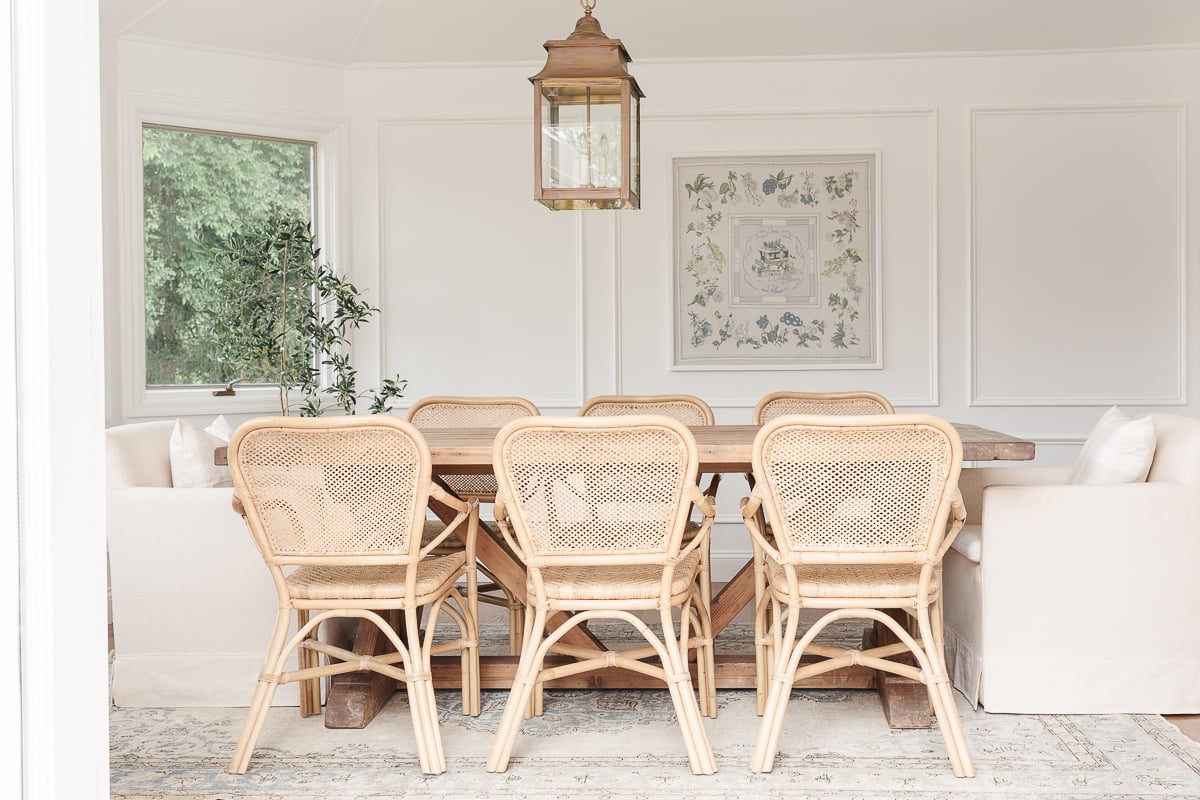 Lighting
When all of your things are stripped away, few things remain, like lighting. Replace dated or builder's grade lighting with a few well selected fixtures and you'll immediately add value, far outweighing your investment.
I've written a lot about lighting, both indoors and out. Check out this Lighting Design Guide, as well as our guides to Brass Lighting and Flush Mount Lanterns as well.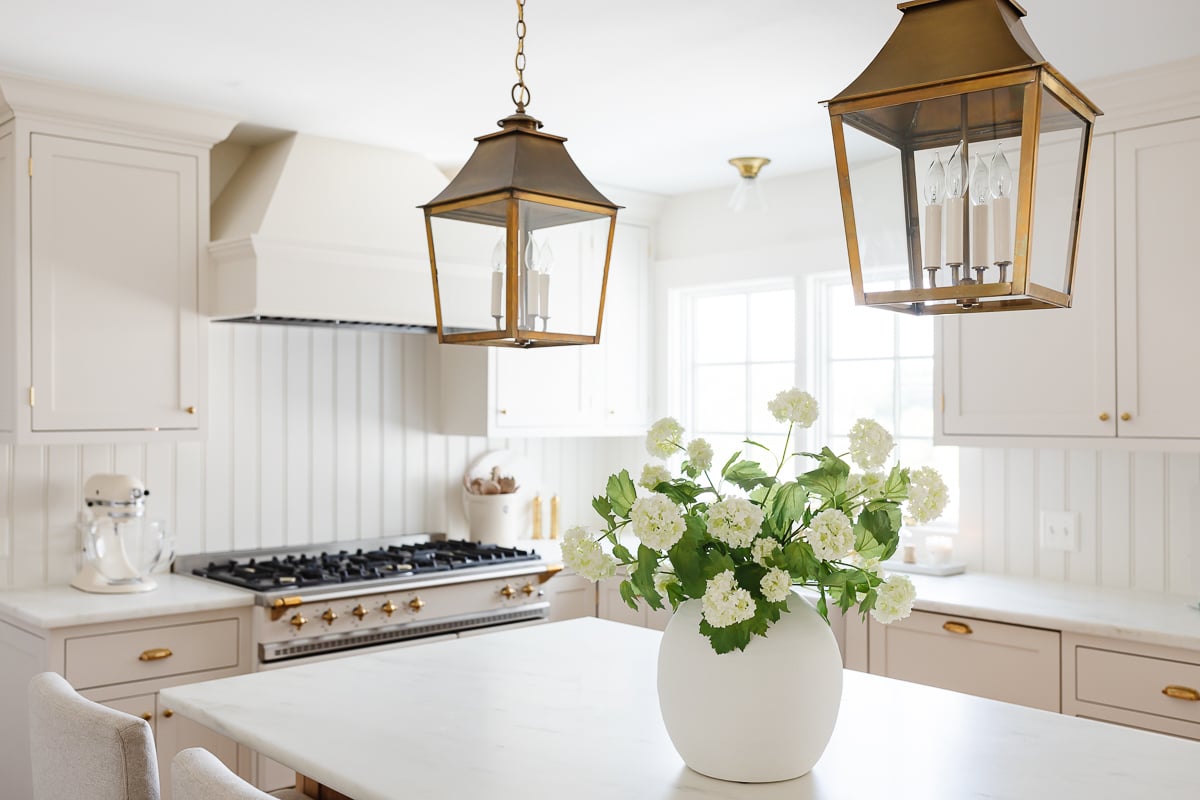 Speaking of lighting, open up (or remove) those old window shades! Buyers tend to like light and airy homes. Learn how to add light to your home with my simple tips.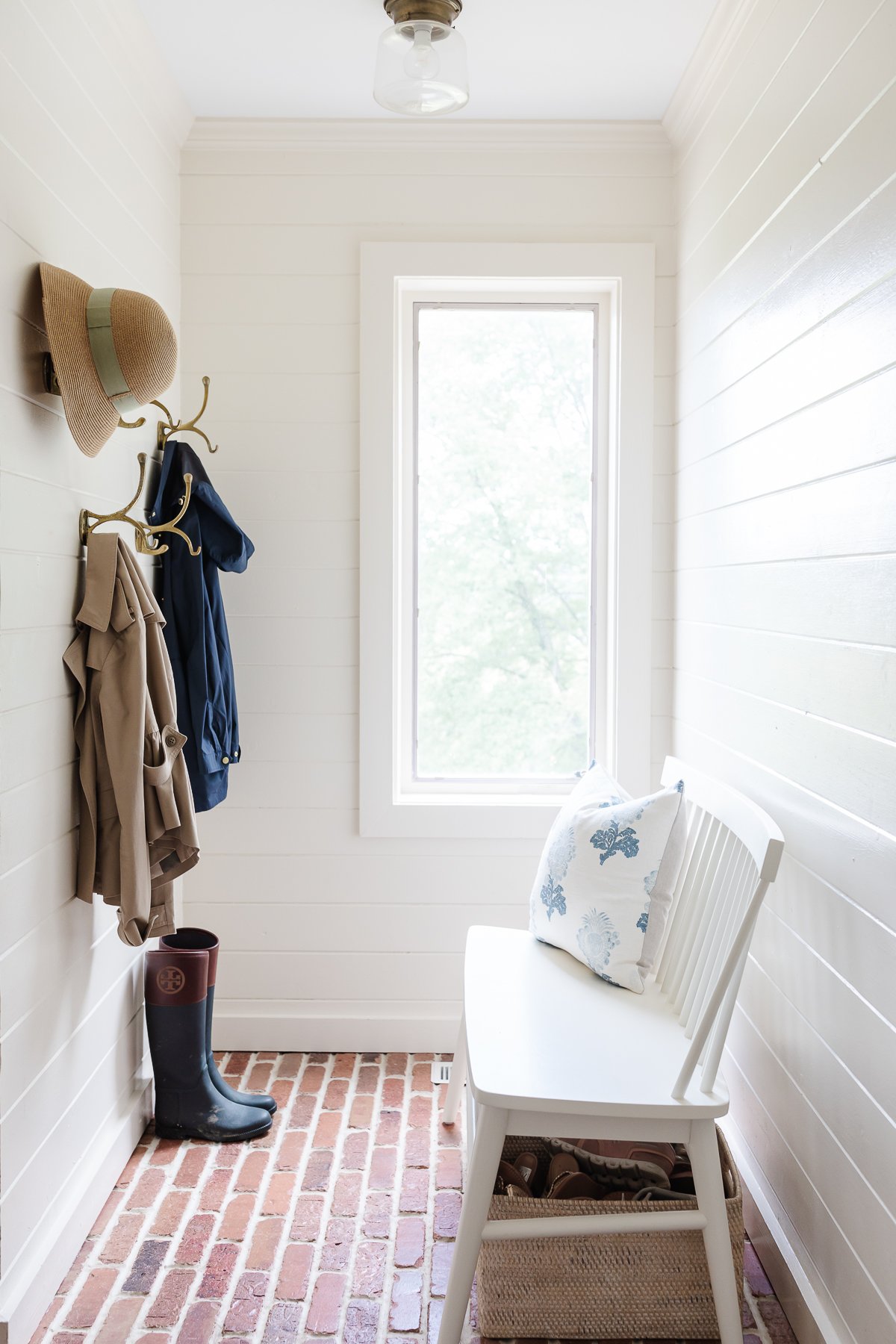 Clean Your Carpet
Vigorously clean your carpet. Each time we've looked at homes I've been surprised at how the dirty seller's carpets are.
Buying a home with dirty carpet might make a buyer worrying about the expense of replacing them. Not to mention carpet tends to trap smells!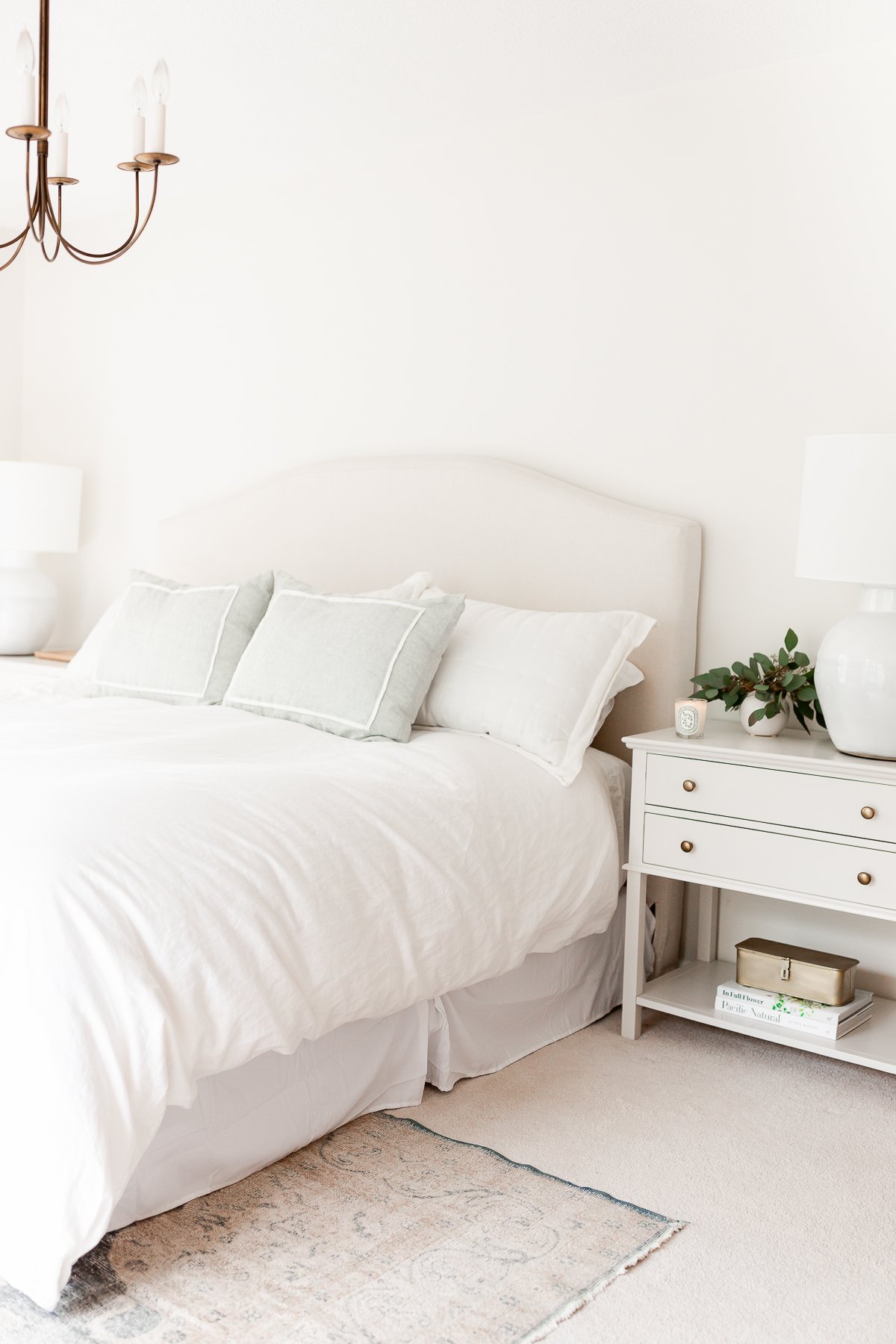 Update Light Switch Plates
This is one of my biggest tips for how to Make an Old Home Feel New. Light plate switches are inexpensive to replace, and they easily become dirty and stained over time.
This is one of those simple updates that can really make a bigger impact overall!
There are so many simple tweaks that can really make your home feel fresh to buyers – check out the guide above for more ideas.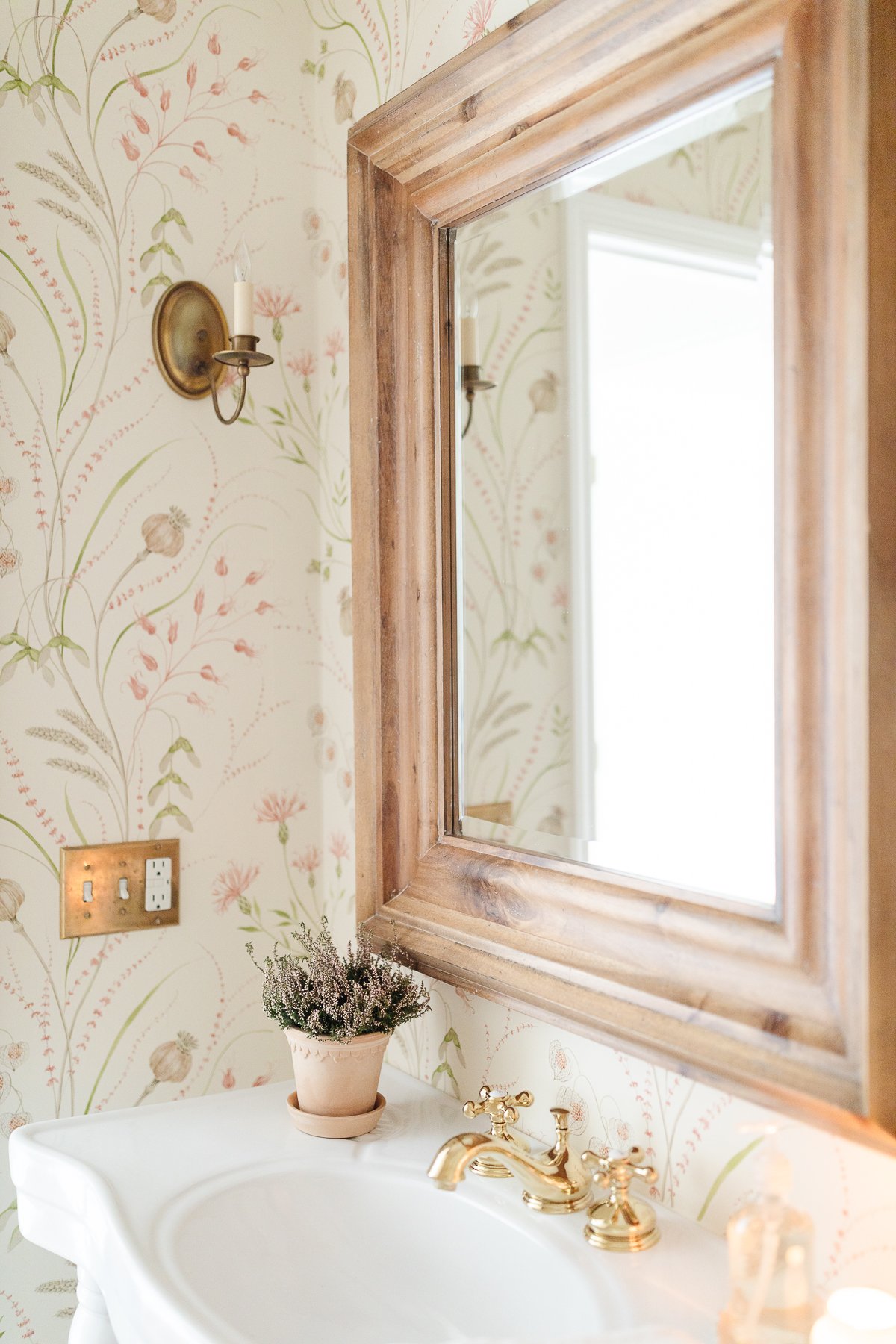 New Doors (or Door Knobs)
New doors are quite a significant investment, obviously. Whether it's a new Dutch Door like we added to both homes, or interior doors to replace dated ones, this is a great way to instantly update the look and feel of a home!
Can't afford to replace? That's okay – learn how to paint interior doors here.
You can also simply replace the hardware. Check out our guide to Brass Door Knobs for more inspiration.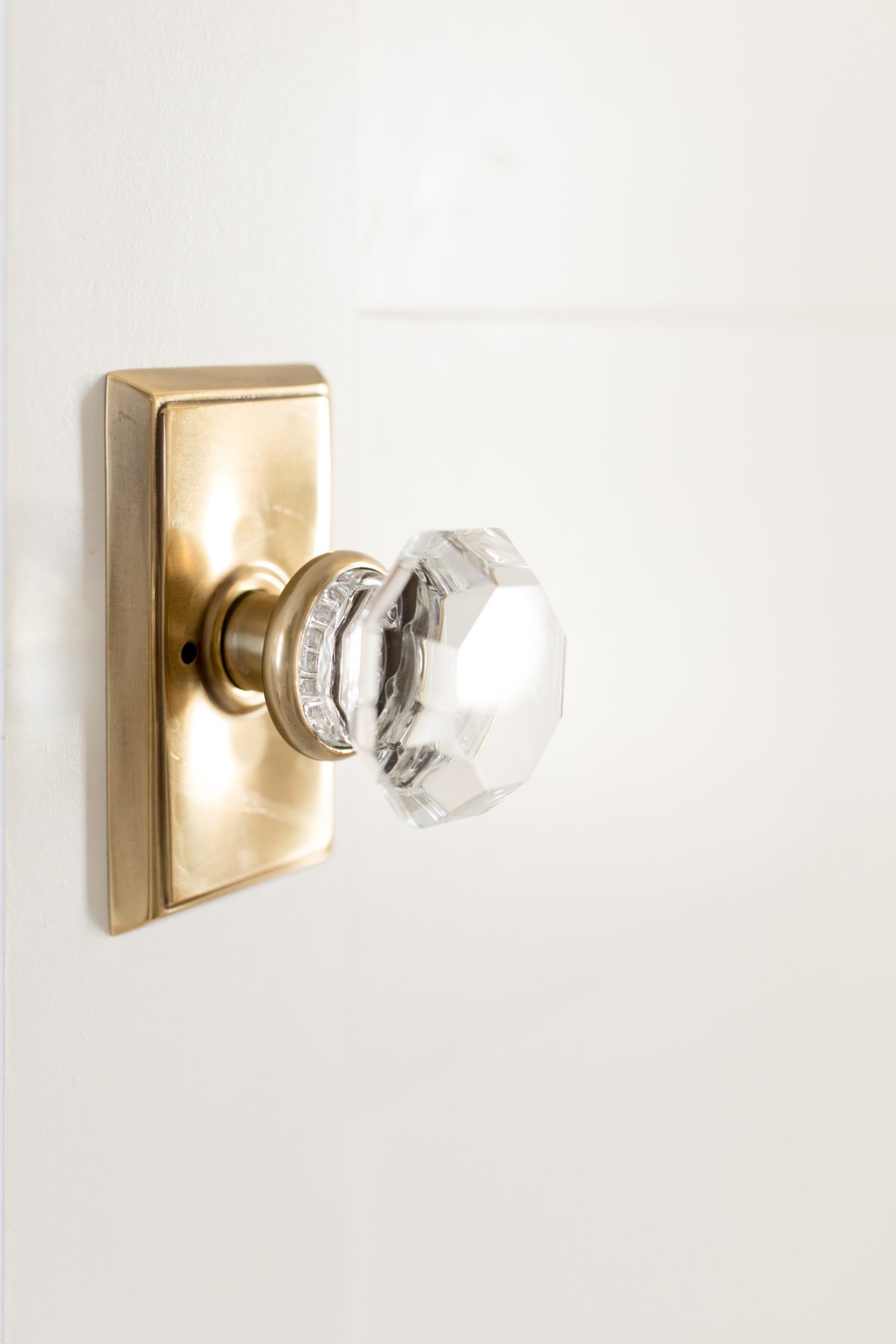 Use Rugs
Why? Because rugs can do several things – most importantly, they can help define a space. Do you have a room that feels lost? Did you know that using a small rug could make your room feel smaller?
I've shared a lot about rugs over the years! From the best Indoor Outdoor Rugs to the best Bedroom Rug Size Guide, we've got all the tips.
Learn about how to update tired carpet with rugs, too, in our guide to Can You Layer Rugs on Carpet?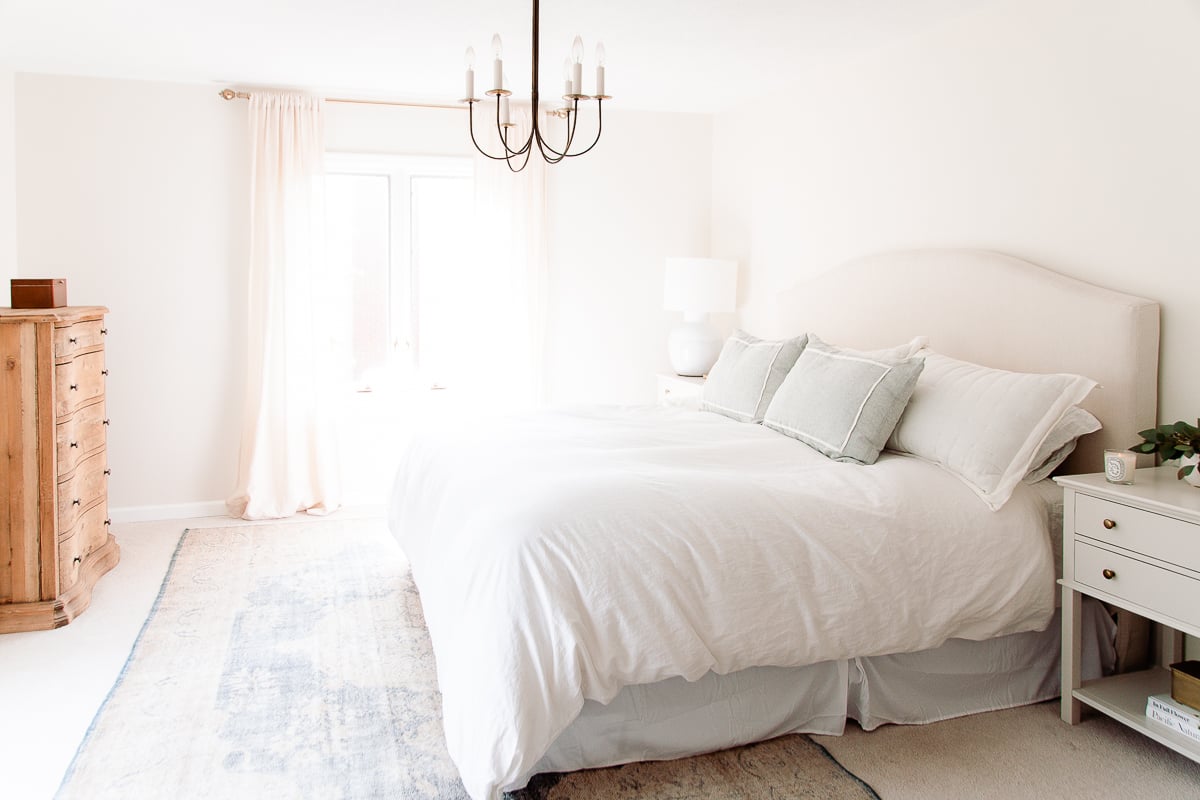 Update Faucets
We all know that kitchens and baths sell a home. They can be your biggest money maker, but that doesn't mean they have to be your biggest expense.
While you might not want to spend the time or money on a big renovation, consider just making a few small changes – like faucets! Check out our guides to Brass Bathroom Faucets and Bridge Kitchen Faucets for inspiration.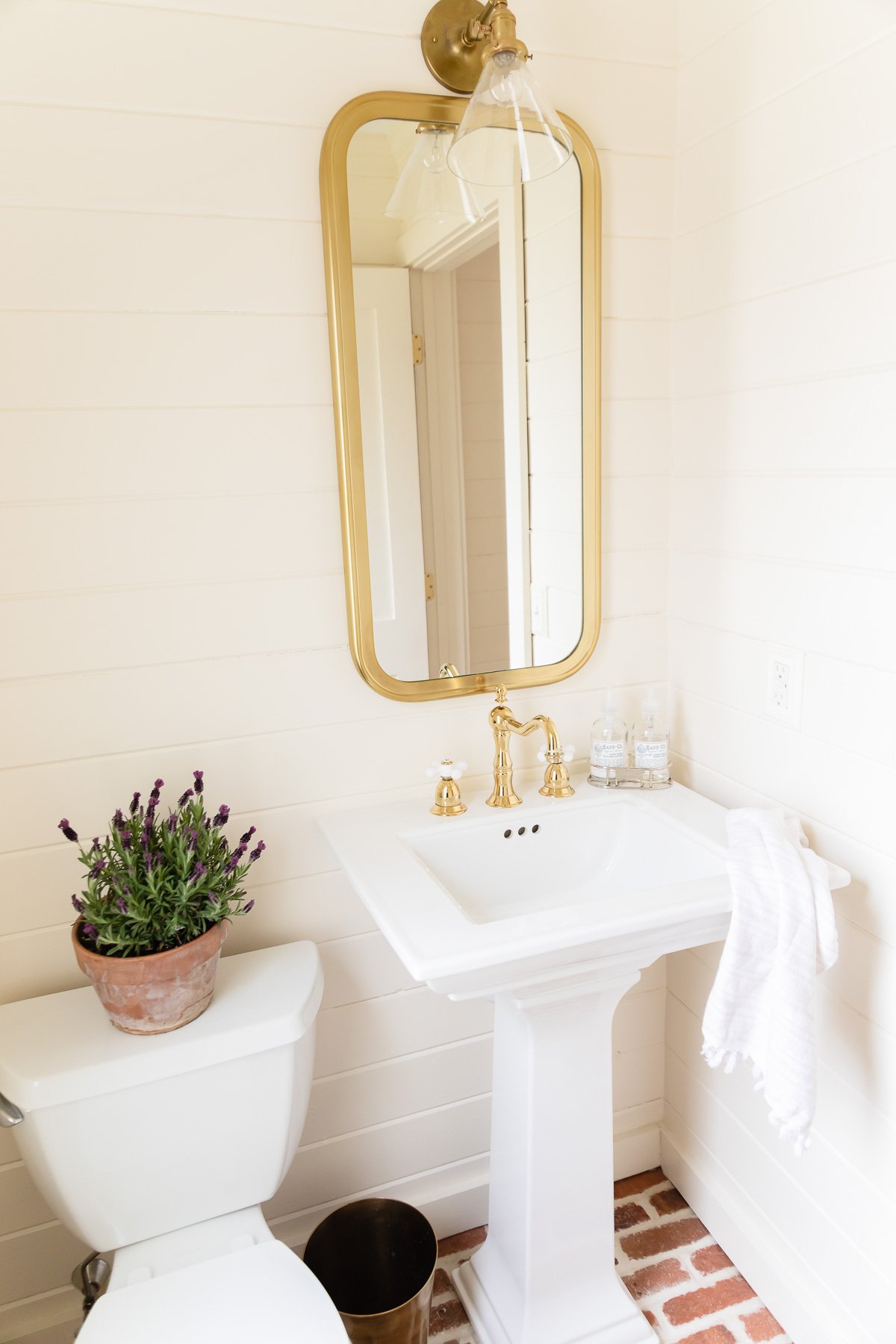 Make Windows Appear Larger with This Trick
Sometimes curtains need to be removed to sell a home, just because we need to bring in more light. However, when you learn how to hang curtains to look like custom drapes, they are able to help define a space.
They can also make windows appear larger, once you learn how to hang them high and wide.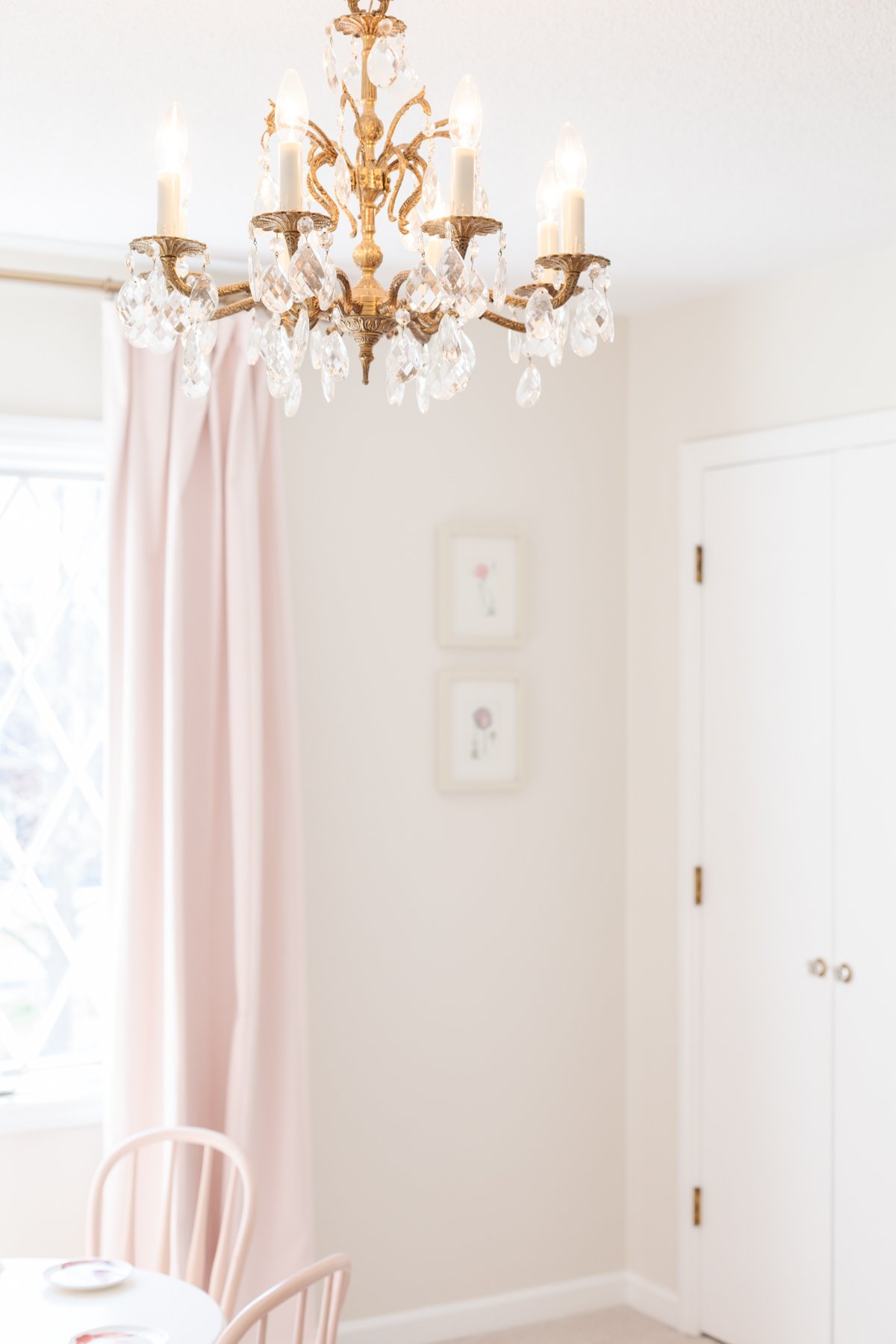 Create a Welcoming Entry
It's okay if you don't have a huge front porch! No matter what your space looks like, you can update with potted plants – learn how to arrange garden containers.
If you've got a bigger budget, prioritize the landscaping in the front of your home. Check out our original cottage garden tour for inspiration!
Add flowers or plants for realtor photos and showings, both indoors and out. Flowers make a home feel lived in, yet welcoming. They're the perfect pop of color in an otherwise neutralized space.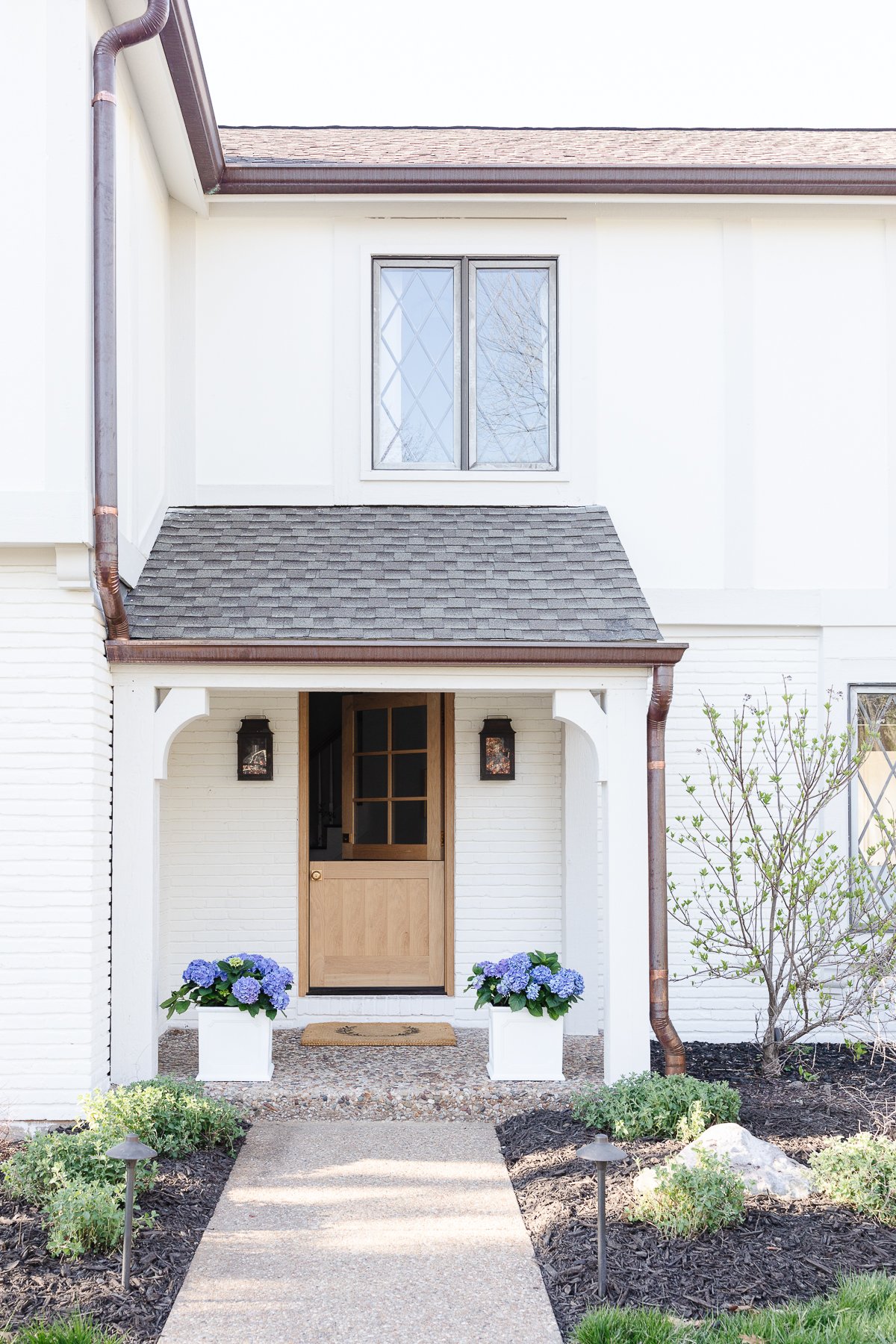 Remove Popcorn Ceilings
Having popcorn in your home isn't near as exciting as enjoying it at the movie theatre.
Buyers may immediately deduct thousands in their head or think the entire home needs to be updated for something that just takes a lot of time or a big investment per room.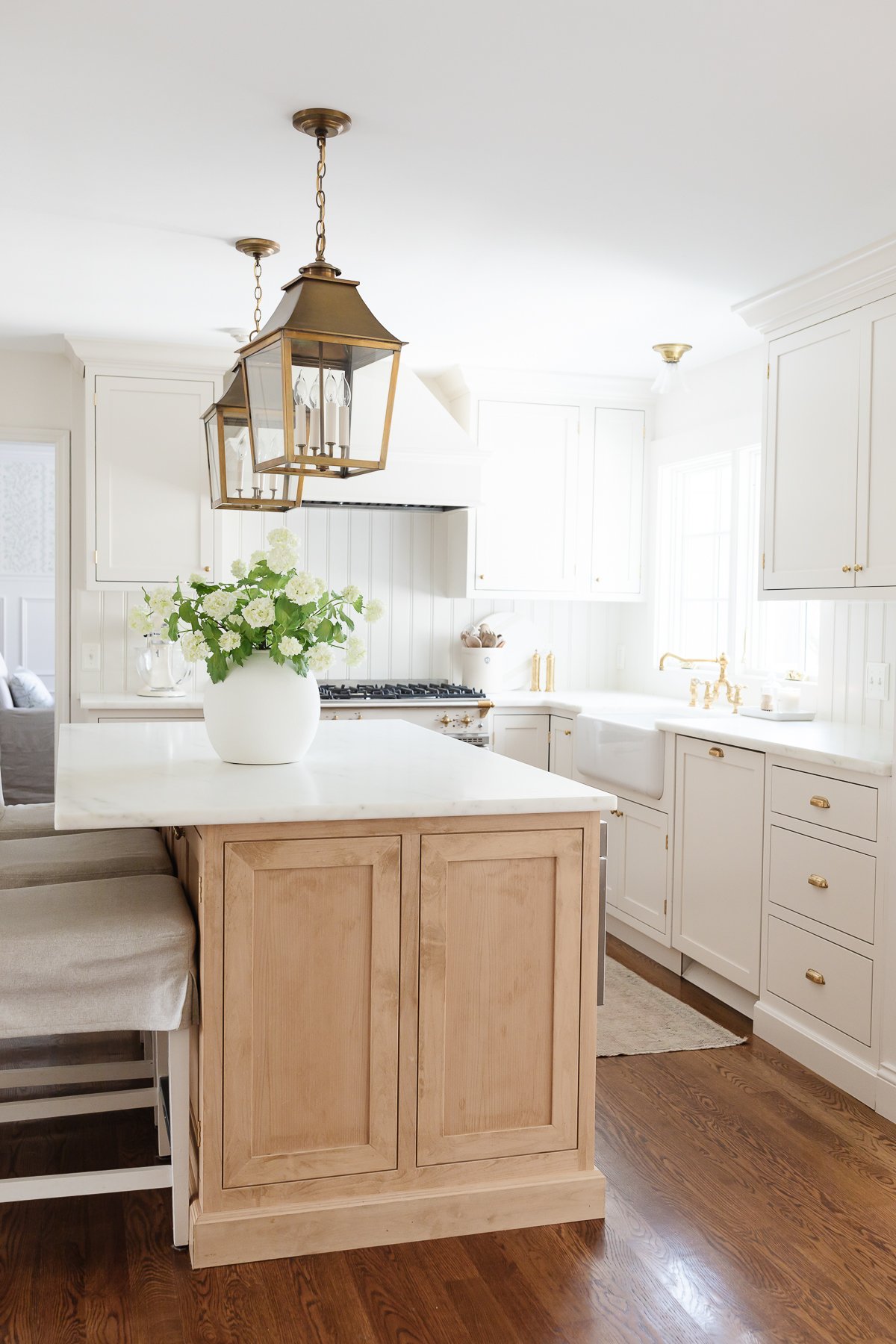 Avoid Overpowering Fragrances
Don't use air freshener. When we were lake house hunting several years ago, that was our first sign when something was amiss.
It made us feel like the sellers were trying to cover something up! In fact, we rushed out of a couple homes because the smell was so overpowering.
Instead, opt for a soft scented candle (blow it out just before you leave) or subtle room spray. Of course fragrant flowers like peonies always work well, too. Get all my best tips for How to Make Your House Smell Good!
Interview Three Realtors Before you Set a Price
Finally, here's my last (and perhaps most important) bit of advice for how to sell a house fast (and for more money, of course)! Get price opinions from at least three realtors. I am so thankful we did this on our last house.
Price opinions are just that – opinions. Your home is only worth what someone is willing to pay for it, so naturally, it varies, despite market data. Just because your neighbor's house sold for xyz and had the same layout and features, doesn't mean yours will sell for the same price.
We took the time to seek a few price opinions and it paid off exponentially. In fact, we sold our Kansas home for $65,000 more than our first suggested price. Of everything we have done to sell our homes in the past, that was the best investment of our time.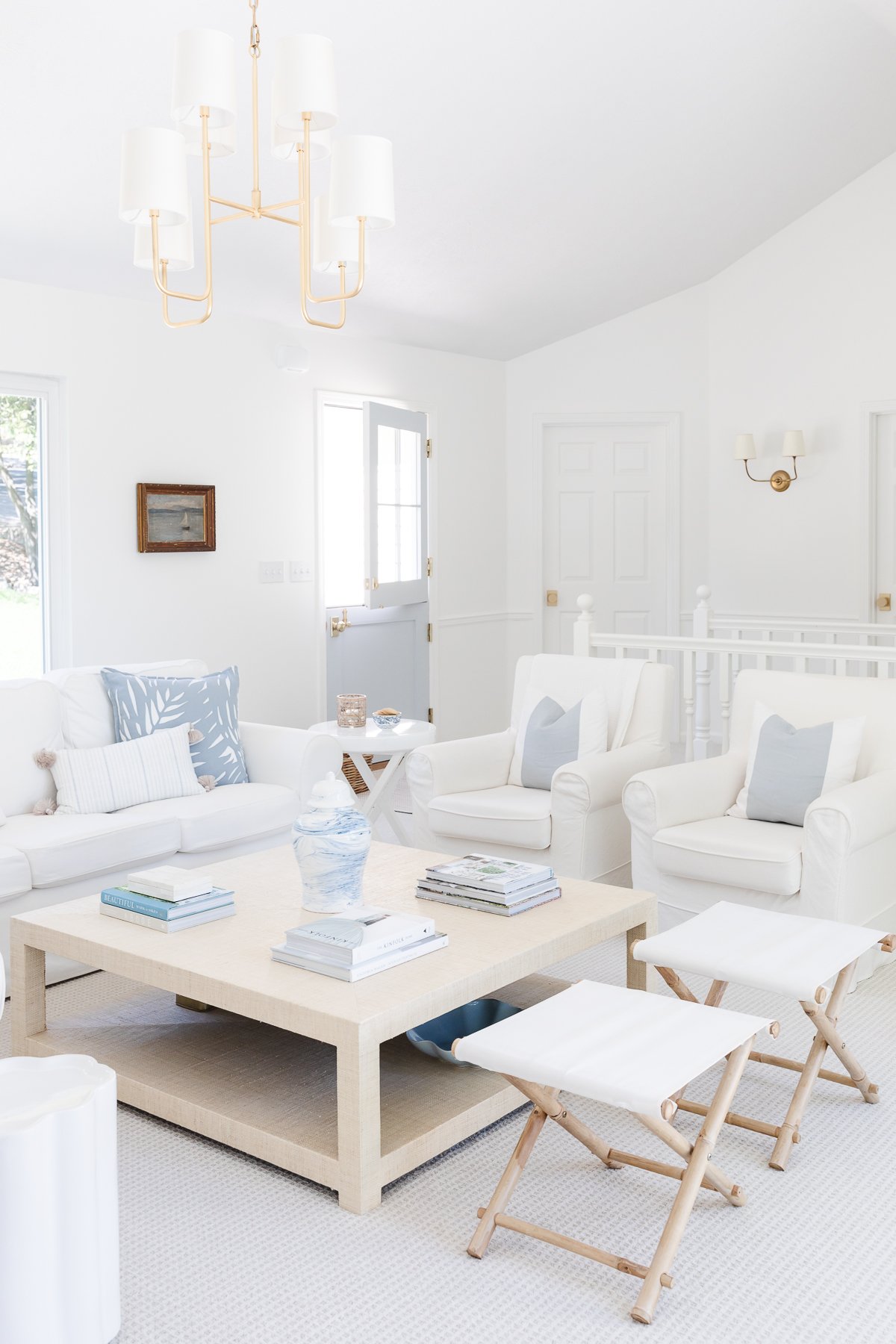 I hope you find these tips for selling your home helpful. If you have any, please add them below for others!