Find all the best tips and tricks for updating your kitchen without painting your oak cabinets! From lighting, cabinet hardware, accessories and more, it's easy to create a fresh and modern kitchen with oak cabinets!
If you're not ready for a full remodel or if painting your cabinets isn't an option, then you'll love my ideas for working with what you have to create a modern kitchen with oak cabinets. I promise, it can be done!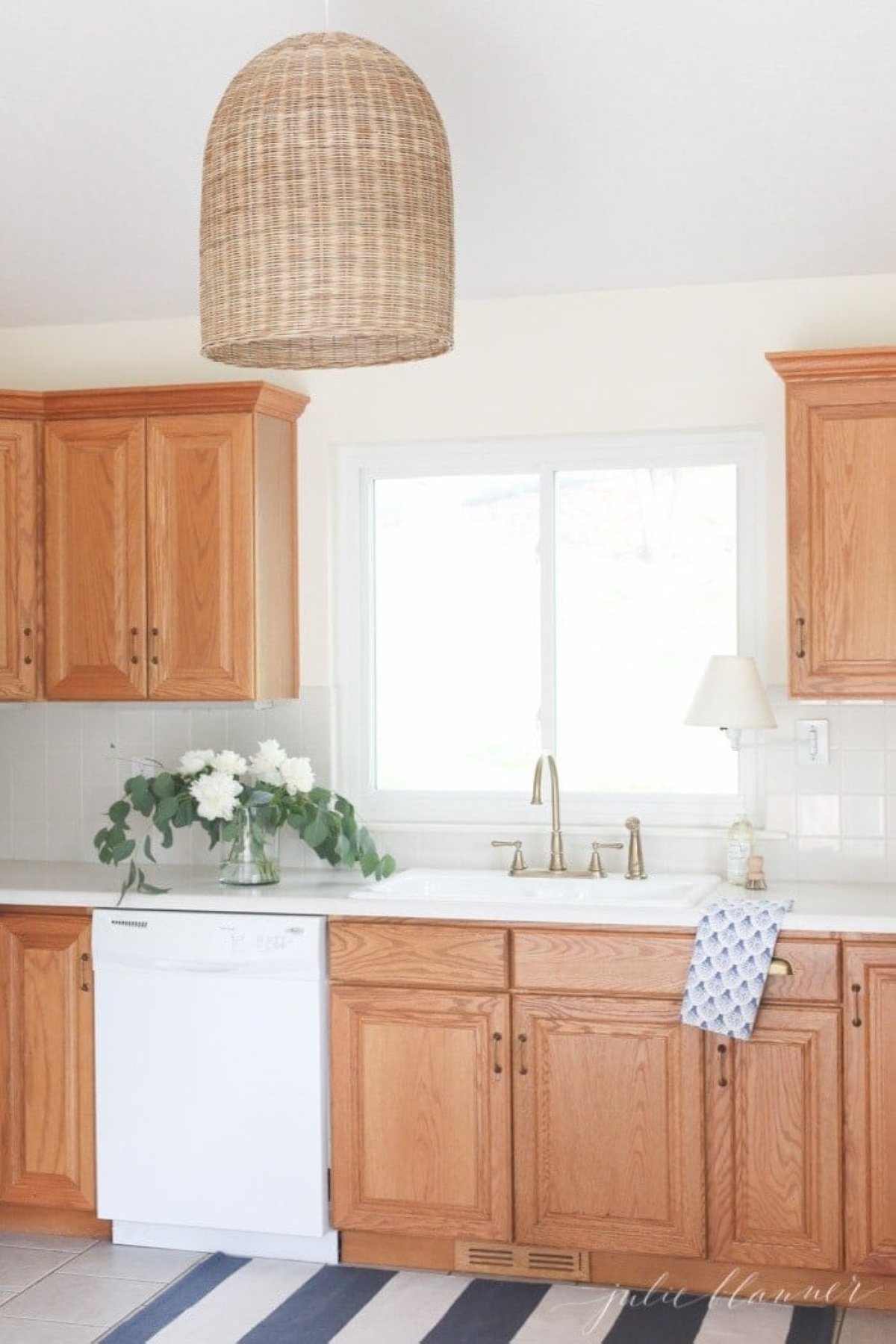 If you've been here long, you know that I have some experience with oak cabinets. I've updated two kitchens with them! In both cases and for various reasons, I decided to embrace what I had and get a modern kitchen without painting the cabinets.
Of course, I'm not against painting cabinets either. In our colonial, we painted our heavy, dark cabinetry to be a light and airy white. You can see the before and after photos of that budget kitchen remodel here.
And in our current home, we chose painted inset cabinets that are so beautiful! The cream kitchen cabinets are so warm and welcoming – they're everything I wanted.
However, we lived with the oak cabinets for a few years prior to our renovation, modernizing it with these simple touches. We had saved and were ready for a full renovation, but updating the oak cabinets made the space easier to live with in the meantime.
This post is filled with ideas and images from two different oak kitchens. You'll see our lake cottage kitchen and our original St. Louis oak kitchen as well! My step by step updating process is outlined for both kitchens, so keep reading!
How to Update a Kitchen With Oak Cabinets (Without Painting Them)
I'm going to walk you through the simple steps I used. These steps worked both times, in two different kitchens. I think you'll enjoy seeing how the same process worked in two unique spaces.
Gather inspiration
Look at what you have and be realistic
Paint the walls a soothing neutral color
Change hardware and fixtures
Update lighting
Add warm coordinating accents
Lake Cottage Kitchen Before
First up, the lake cottage kitchen! When we purchased the lake cottage, I told myself that we didn't have to decorate it all at once. We could relax, enjoy the lake and embrace the charm.
After winter and spring, I was ready to freshen it up a bit. We wanted to make it feel fresh, without doing major remodeling, painting the oak cabinets or spending a lot of money.
Here's what the kitchen looked like when we first bought the lake cottage. It had a good layout and solid cabinets, but it felt heavy and dark with the busy wallpaper and outdated lighting.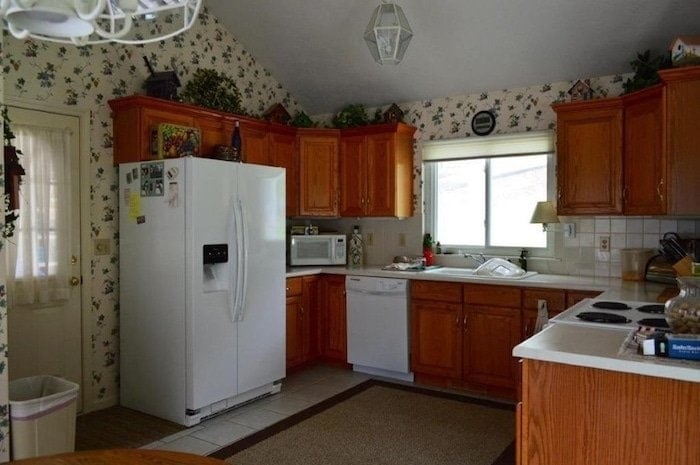 See the full lake cottage before and after here.
Get Inspired to Update the Kitchen
I started with finding my inspiration – a guide that would help me make design decisions along the way. I knew that a few simple changes could make a big impact on this space.
After I visited Chicago for a work trip, I was so inspired by the water that surrounds the city, the history of Chicago, and architectural details of the old buildings. I wanted to integrate a few of those elements into our kitchen design.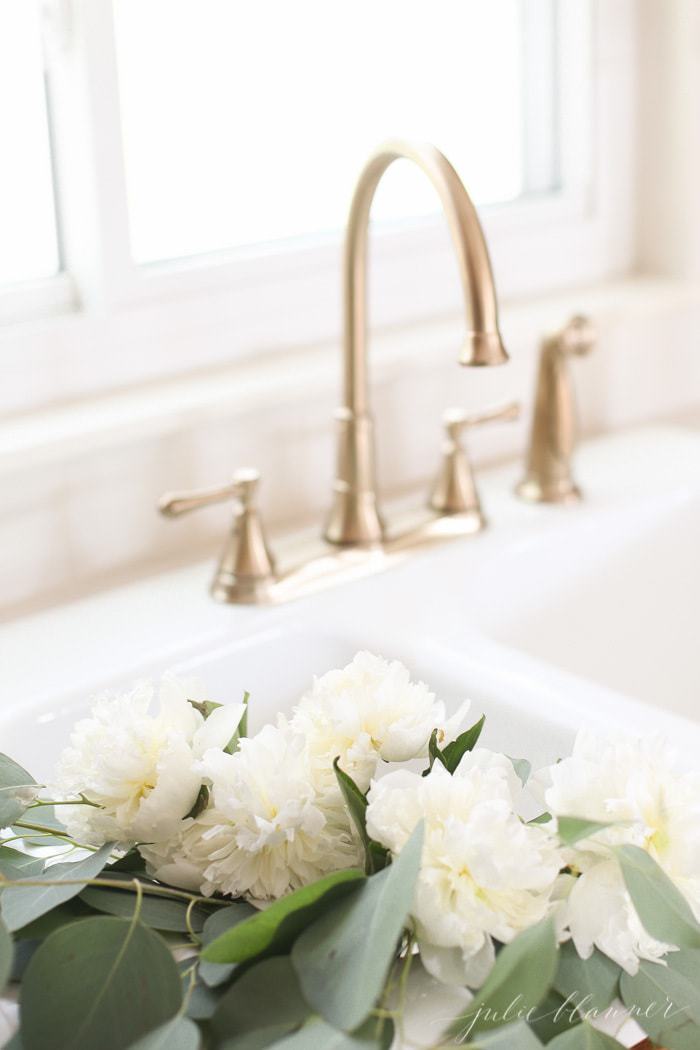 Look at What You Have
The first step to creating a modern kitchen with oak cabinets is to look for existing features you can work with. It's easy to think a kitchen needs to be entirely redone to be modern, but often a space will already have several elements going in its favor!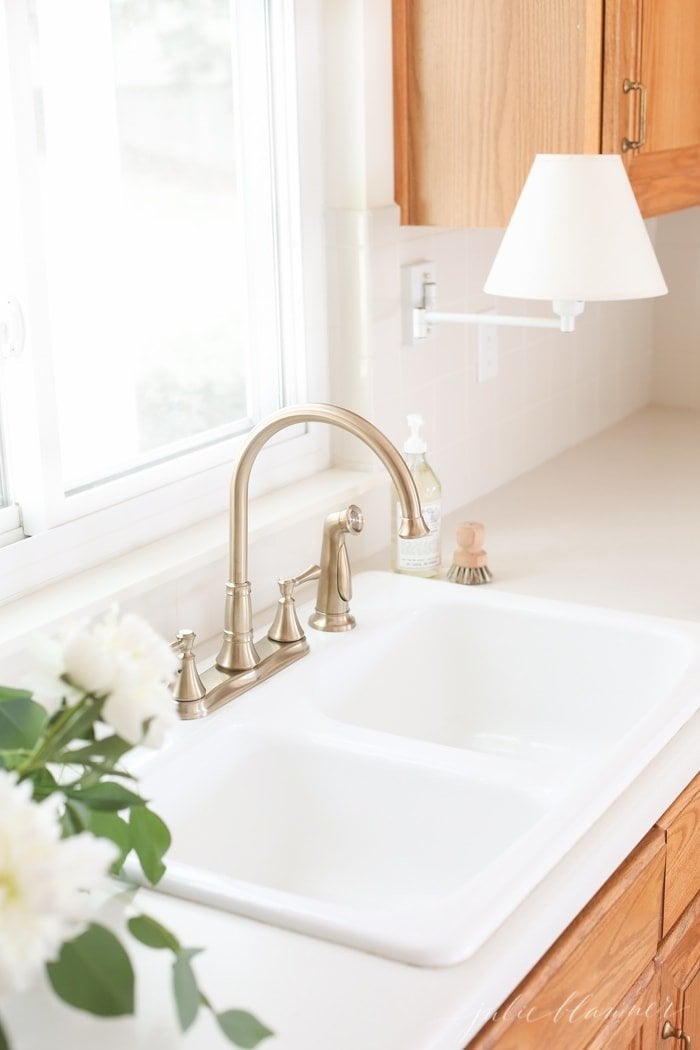 When we moved into our lake cottage, we immediately decluttered the kitchen, removing wall hangings and ivy. It instantly felt bigger and brighter once its natural charm could shine.
I loved the unexpected sconce the builder put just to the side of the kitchen window and sink. We were also lucky to have neutral appliances, countertops and a backsplash similar to the one in the Delta Showroom to work with.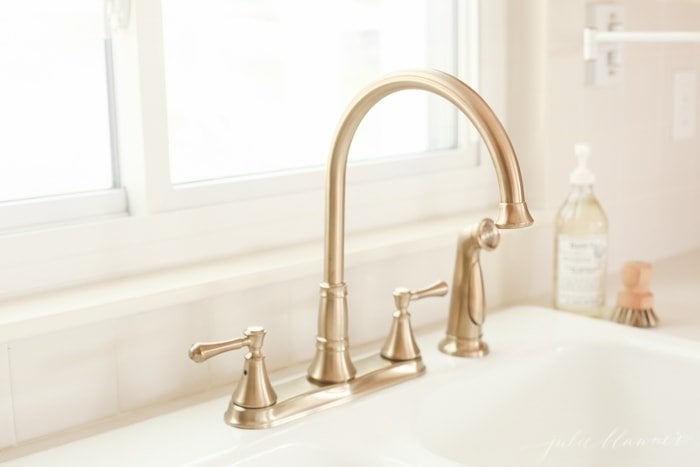 What positives does your kitchen have? Maybe it has great natural lighting, good neutral flooring and countertops, or cute built-in shelves. Even a basic tile backsplash can be easily painted or covered in beadboard for a fresh, clean look that doesn't break the budget.
Choose a Wall Paint Color that Goes With Oak Cabinets
At the very beginning of the process, we removed the wallpaper and painted the walls to make the space feel light, bright, and open. Painting your walls is almost always a good idea to freshen up a space. New paint makes everything feel clean and fresh!
Painting trim white, no matter what your wall color, will make it feel clean and bright. And painting your walls and trim the same color is a great way to make your space feel even bigger and brighter.
The most important part of painting your walls is to choose the right color – one that will complement your oak cabinets. Colors with warm undertones like cream, beige, and warm greens will minimize the orange in the oak. Cool colors such as gray, blue, or purple will actually make the orange stand out.
Learn how to choose kitchen paint colors that go with oak cabinets here. You can also see the White Kitchen Cabinets in our Kansas City home here.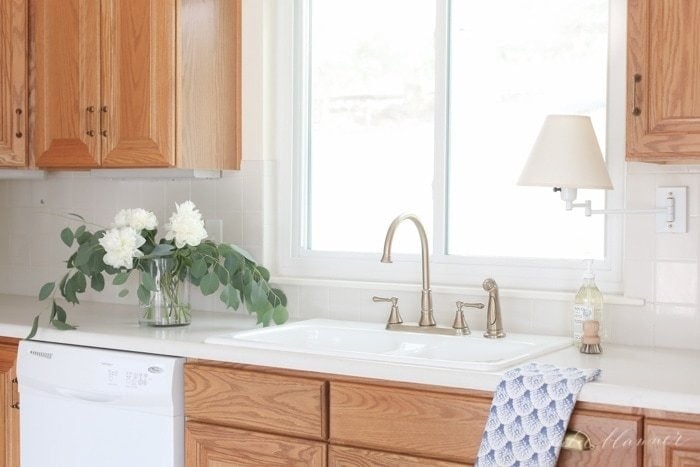 Update Hardware and Fixtures
Replacing outdated hardware goes a long way to make a space feel more modern. Hardware and fixtures are like the jewelry of a kitchen, after all!
Look for warm metals like bronze, copper, gold, and brass. They'll look stunning against the warmth of your oak cabinets. Cold metals like chrome, stainless steel, and brushed nickel are fine, but they may fall a little flat. They often won't look as rich or polished against the cabinet's wood tones.
In the lake cottage kitchen, we replaced the original faucet with a Delta faucet in beautiful Champagne Bronze. Of any single change we made, this one made the most significant impact.
The original faucet felt dated while this new one felt fresh and beautiful. It reminded me of the timeless banister at the entrance of the Chicago Cultural Center and the trolley we'd spent the day on – how the handrail and oak complemented each other so well.
It's perfect for this space. It brings the original porcelain sink back to life!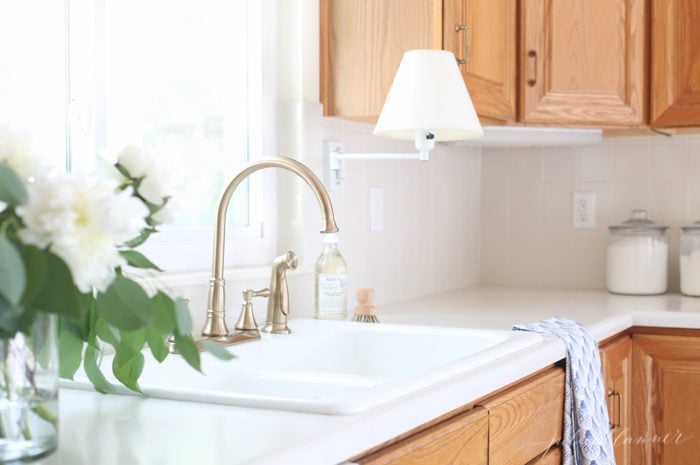 We repurposed the hardware we were using in our St. Louis kitchen so that this one now feels classic and up to date. They are a warm brass.
The pulls complement the new champagne gold faucet without competing with it, allowing its classic design to be the centerpiece of the kitchen. The cabinet hardware makes my oak cabinets feel timeless.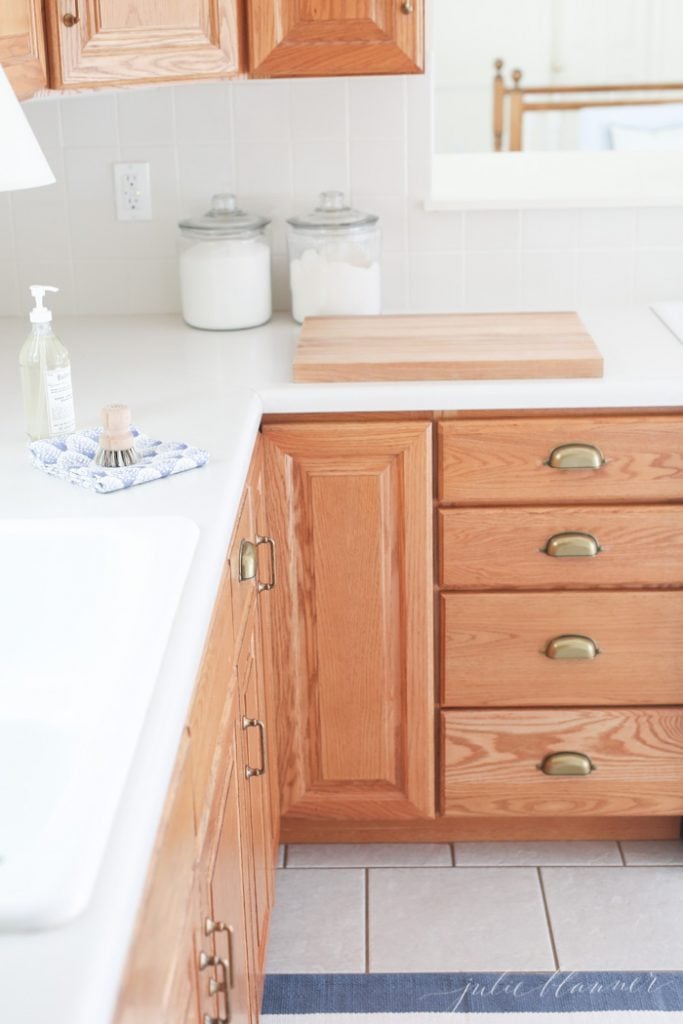 For more hardware ideas, see how I used unlacquered brass hardware in my current kitchen. Brass is a beautiful way to create a modern kitchen with oak cabinets.
As you consider changing your hardware, make sure to read my guide to cabinet knob placement – it has everything you need to know to get it just right.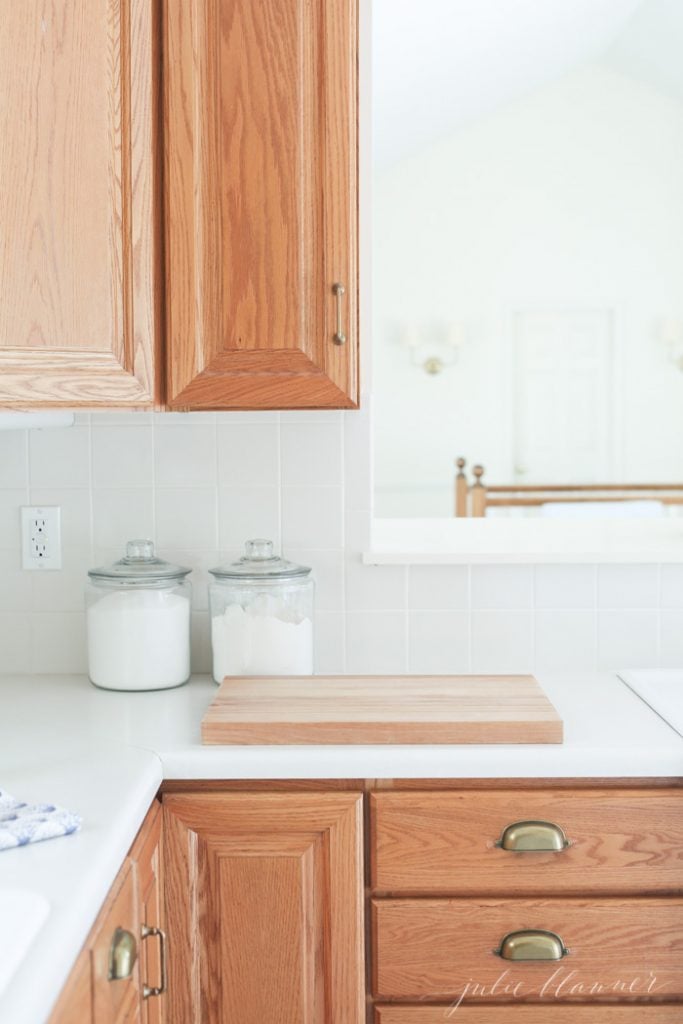 What Lighting Does For A Kitchen
Don't overlook your lighting! Your light fixtures go a long way in influencing the overall tone of your kitchen.
At the lake cottage, I couldn't resist adding a rattan light fixture after admiring them at lunch while in Chicago. Its bigger size fills the void above the kitchen window and gives the previously dated kitchen a more modern and waterside aesthetic.
The rattan also provides a lovely, warm texture. In other rooms, it's easy to use rugs, pillows, and textiles to bring in color and texture. In a kitchen the opportunities can be a bit more limited, so I loved being able to introduce another layer of texture through the lighting.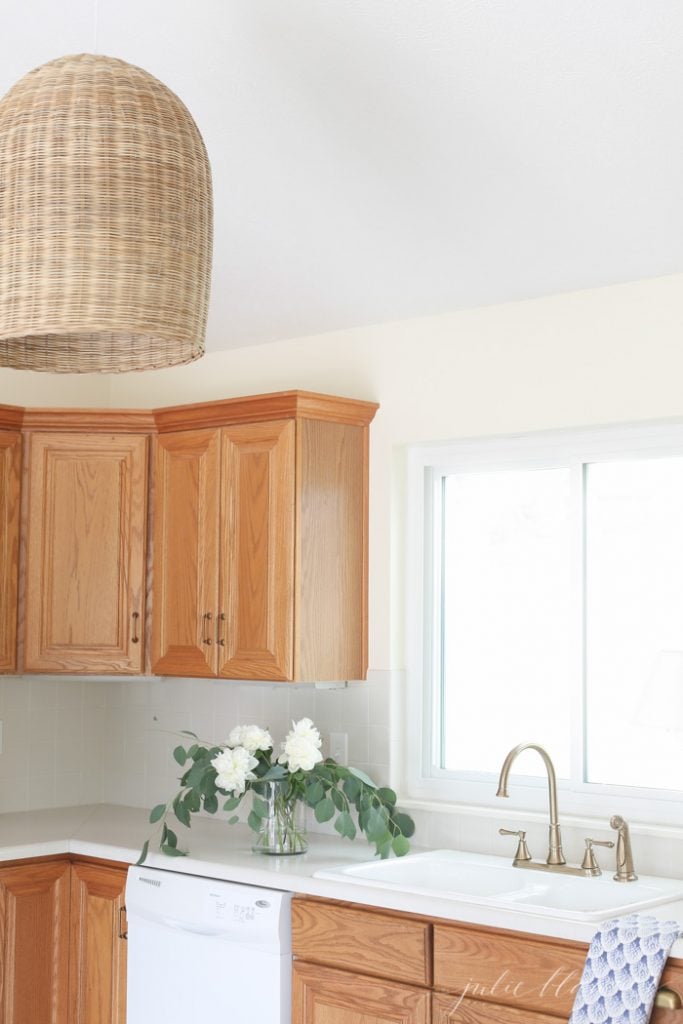 Use Accents to Make a Modern Kitchen With Oak Cabinets
After all of the other elements are in place, it's finally time for the best part – the decorating! A few well-placed accents are all it takes to make your oak cabinets feel updated and fresh.
I incorporated a striped rug just below the sink as a nod to the blue stripes on the horizon above the water on Lake Michigan. As an added bonus, it distracts from the original ceramic tile floors.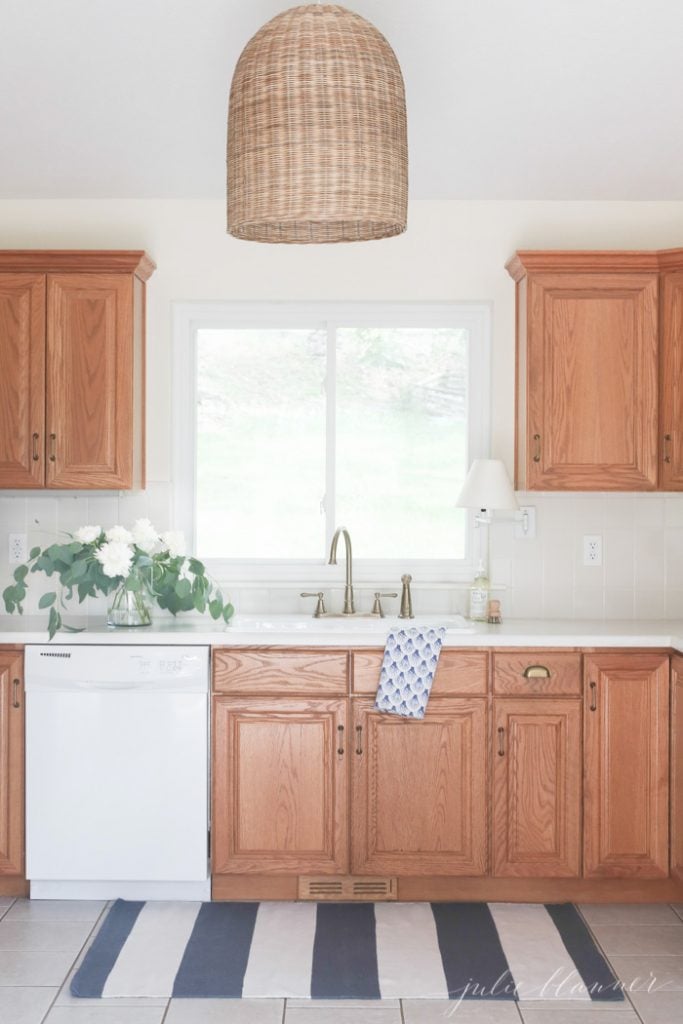 A kitchen is a great place to have fun with a rug. Usually a kitchen rug is smaller in size, so it isn't a huge investment to try something different.
Indoor outdoor rugs work well because they're so easy to clean and maintain. Or a vintage Turkish rug can bring so much charm and warmth to any space. Whichever you choose, get all of my best tips for purchasing a rug!
To accent the original oak cabinets and porcelain sink, I also added a kitchen towel in a beautiful scallop pattern. It reminded me of the breathtaking stain glass ceiling at the Chicago Cultural Center.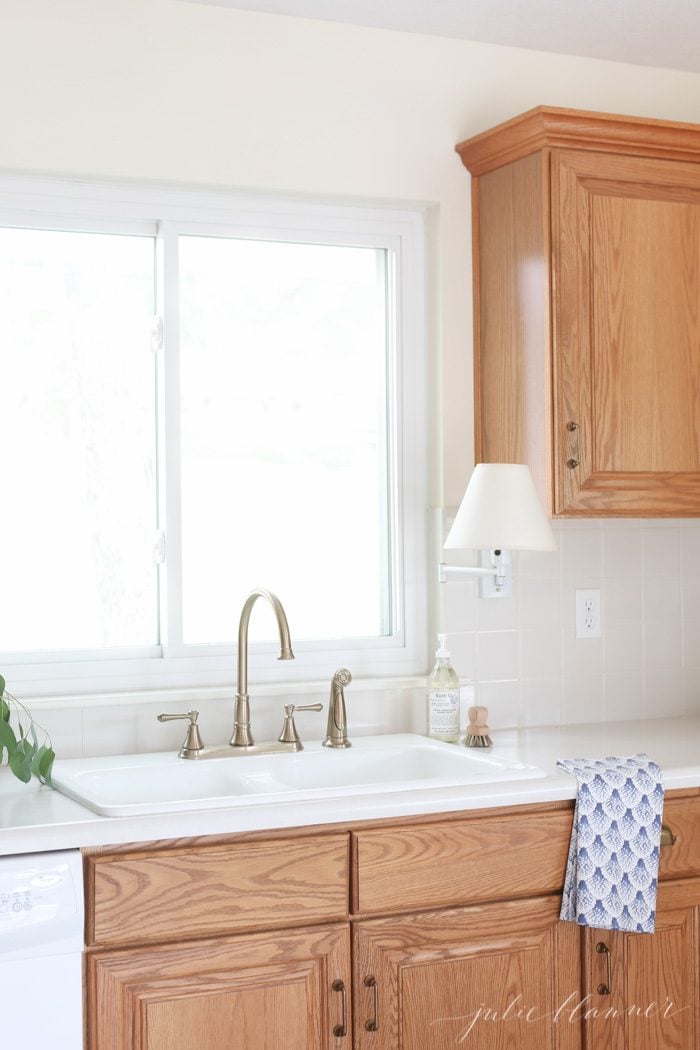 Updating an 80s Kitchen With Oak Cabinets
Several years ago, I set out to make simple, inexpensive changes to help me love our kitchen a little bit longer. We were saving for a full renovation, so I didn't want to paint the oak cabinets.
I used the same steps as the lake cottage kitchen update, above, and absolutely loved the result!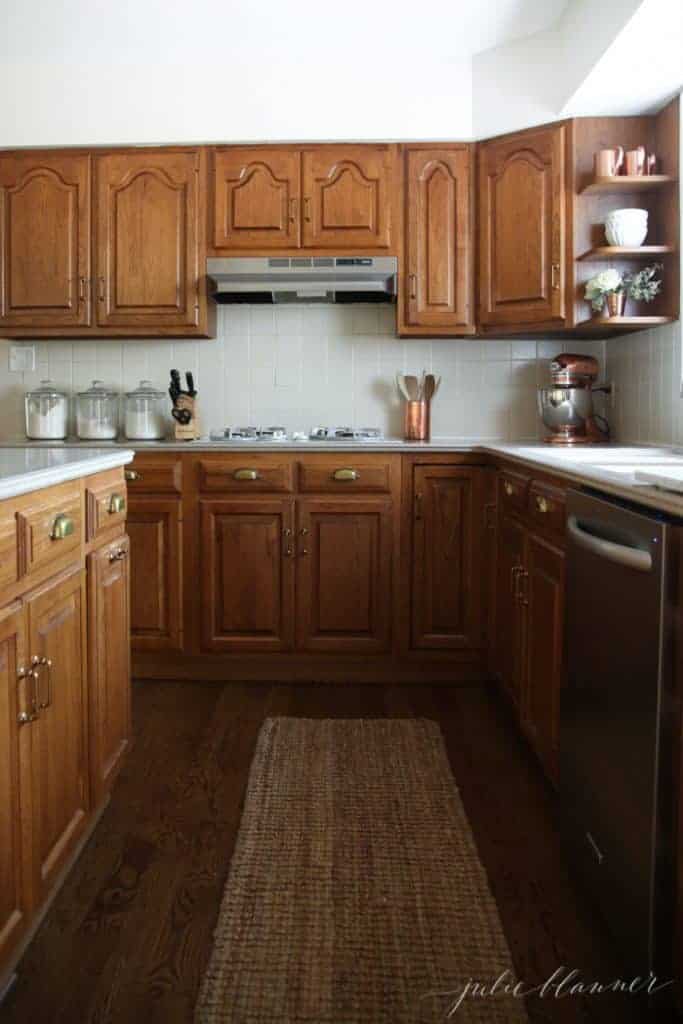 80s Oak Kitchen Update Inspiration
Just like the inspiration I found in my Chicago trip for our lake kitchen update, this kitchen upgrade sprung from design inspiration too! It was Martha's original Turkey Hill kitchen, so warm and full of oak tones and lots of copper finishes.
I loved all of the warm copper accents and textures in her kitchen. It looked classic, warm and inviting – just what I wanted my kitchen to be.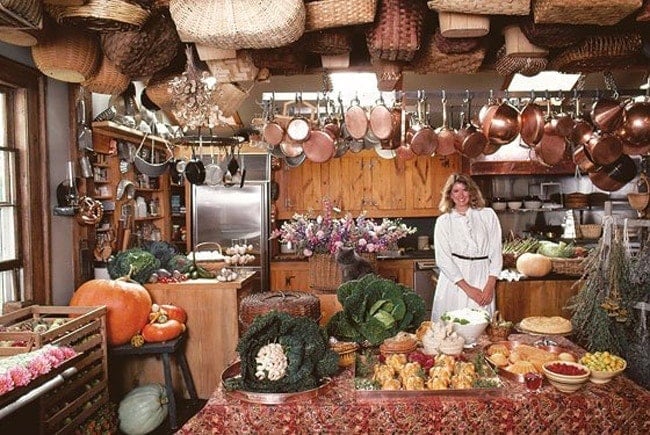 St. Louis 80s Kitchen With Oak Cabinets Before
First, I looked at what I already had. The wall colors made the kitchen feel small and dark, but I knew that was an easy fix. It had a good layout, especially with the island. Plus the cabinets were in good condition, and the countertops and backsplash were neutral.
With a few simple changes, I knew I could take this kitchen from sad to bright and cheery. A modern kitchen with oak cabinets was just a few simple steps away.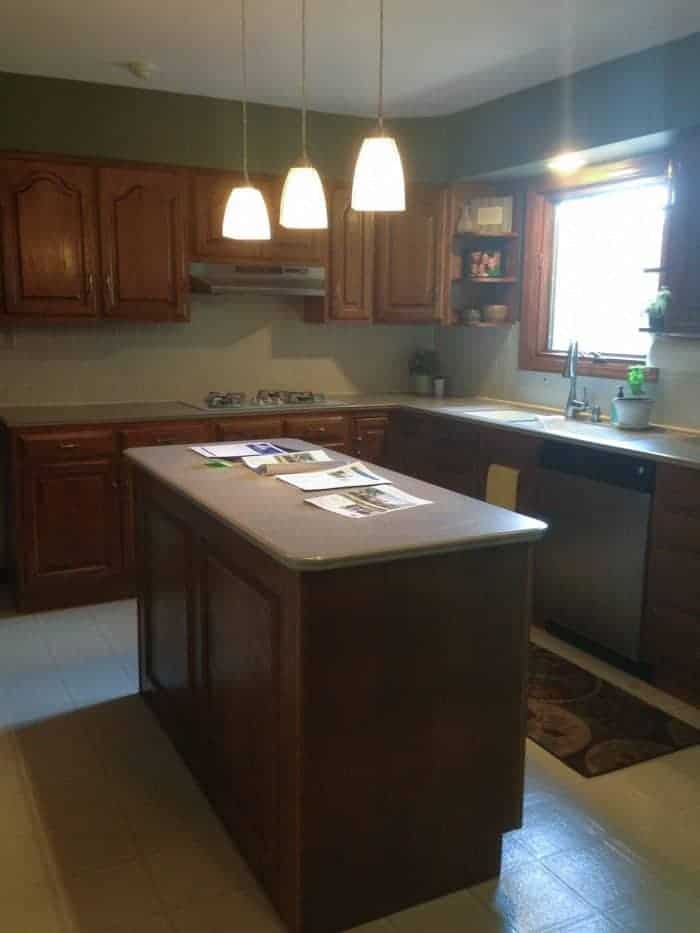 Painting Walls to Go With Oak Cabinets
I chose a soft, creamy white for the walls and soffit. The room instantly felt larger, lighter, and more airy and open. Fresh paint is a quick and easy weekend update you can do to improve your home.
With the new paint, the soffit blended in so the ceilings looked higher than before. Plus, the paint color was close to the color of the existing backsplash. Before the space looked choppy and uneven, but with the new paint it looked cohesive.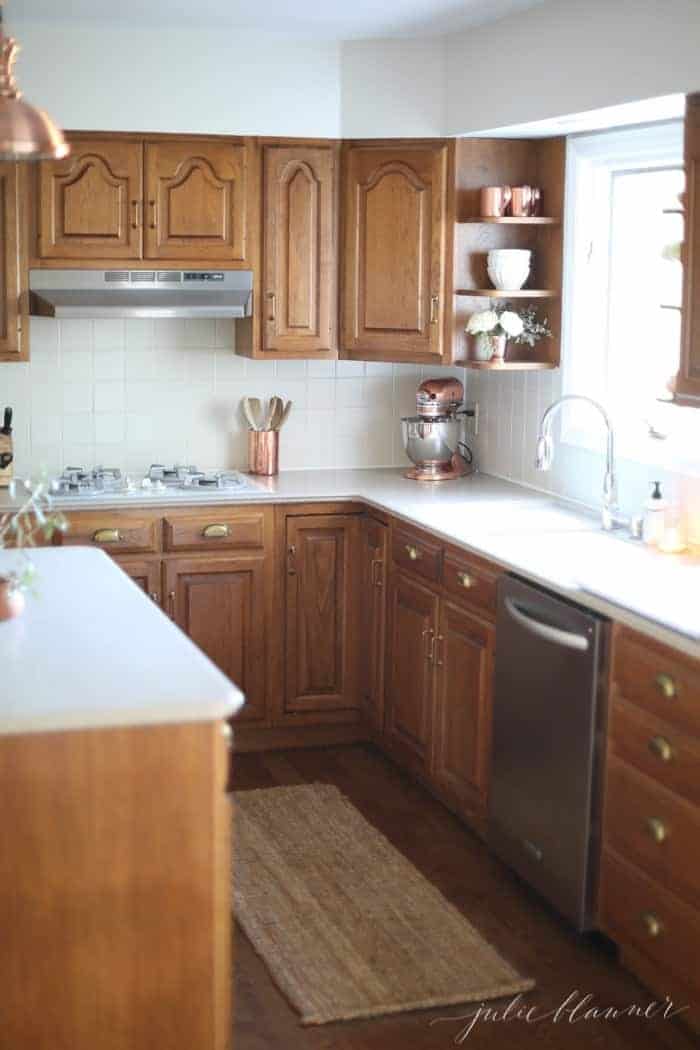 Updating Oak Cabinets With New Hardware
Upon moving into the house, we almost immediately removed the square nickel hardware and warmed it up by adding brass pulls and handles – the same ones we ended up using in the lake cottage remodel.
Just like with choosing the right wall color, the brushed nickel tried too hard to compete with the warmer oak cabinets. Brass, on the other hand, complements the wood tone. In other words, the new hardware worked with the cabinets instead of against them.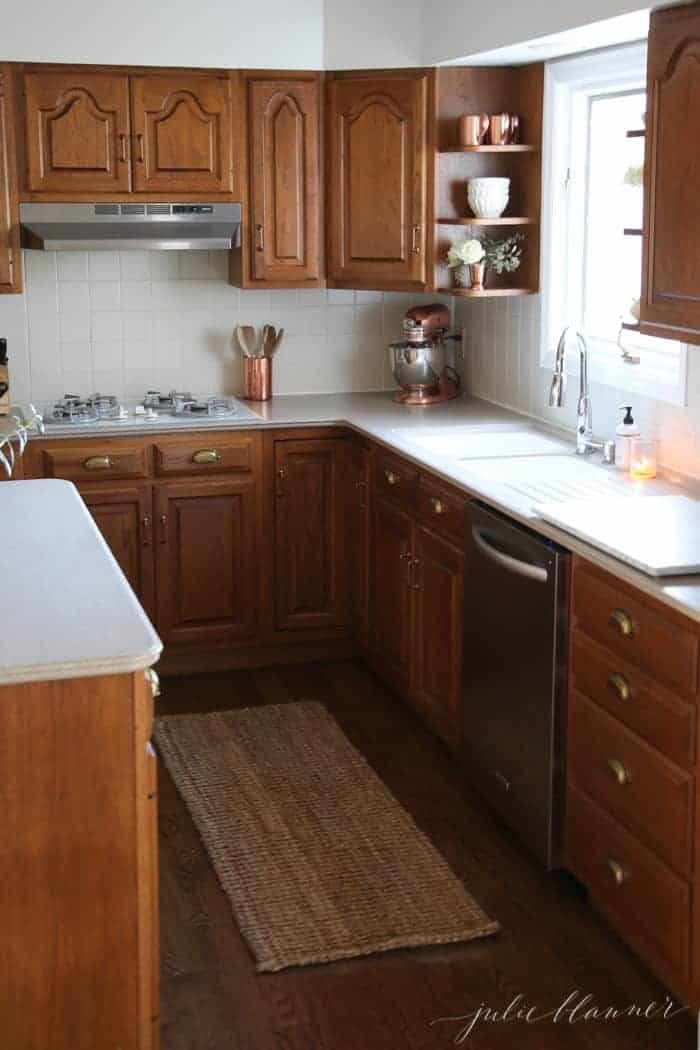 Adding Warm Accents to Update a Kitchen With Oak Cabinets
Martha's Turkey Hill kitchen has been notoriously filled with copper. It reminds me of my grandma's basement kitchen – she needed two kitchens to bake all of the pies she did!
Much like Martha's, Grandma's kitchen boasted a pot rack filled to the brim with copper pots, plus pretty copper bundts hanging on the walls, doubling as decor.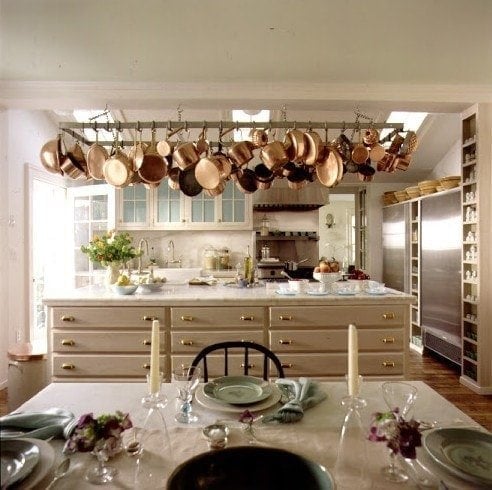 When our chrome KitchenAid mixer met its end, I replaced it with a copper KitchenAid stand mixer. I was torn between cream and copper, but in the end I knew copper would add a needed decorative element to our kitchen.
The copper utensil holder was a birthday gift from my sister. It makes a beautiful wine chiller and a vase as well – I love versatile pieces!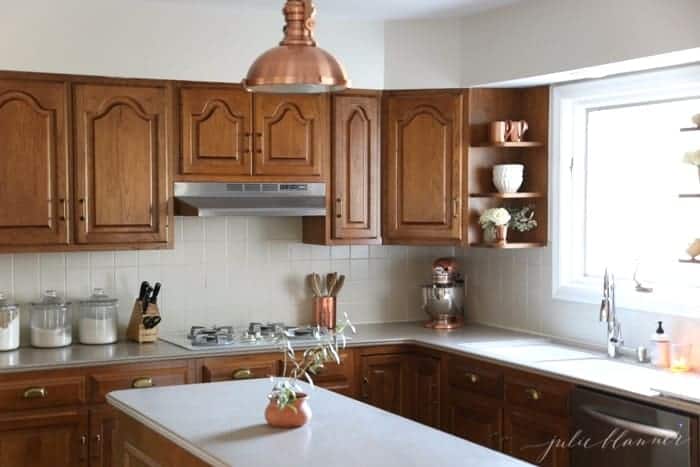 I found the corner shelves to be a bit awkward and susceptible to clutter, so I used them as pretty storage. I filled the sweet little julep cups with a few blooms until their next use. They were a great place for storing extra mugs and bowls, too.
Intentionally keeping the shelves filled with pretty items deterred us from letting random things collect there.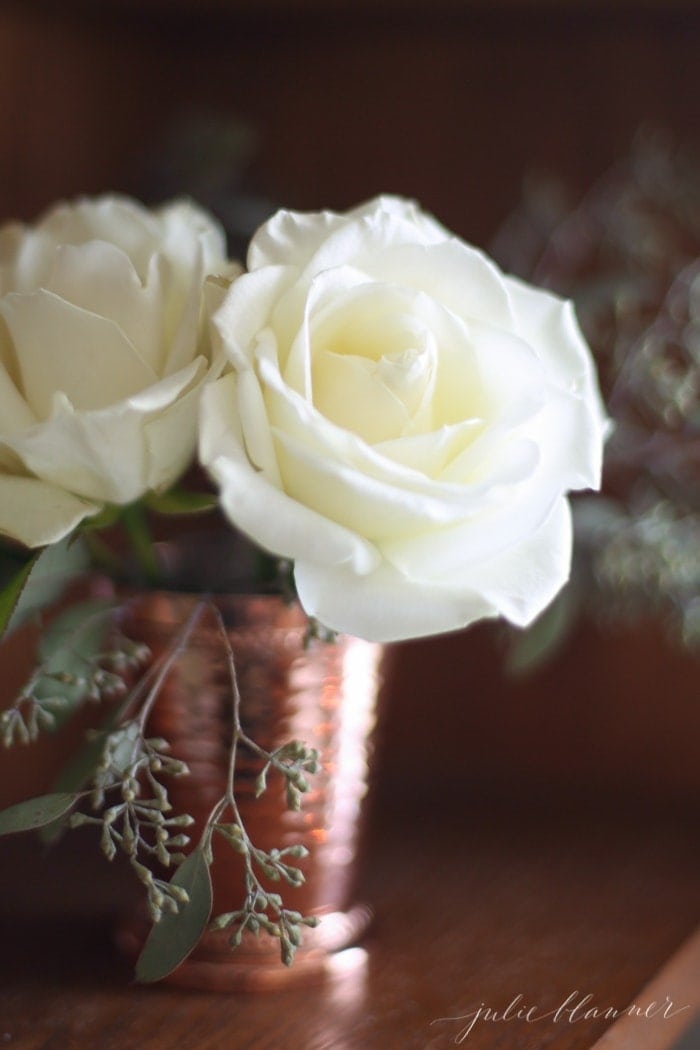 Warm oak cabinets just seem to call out for warm, inviting textures! I added a plush sisal runner along the front of my sink cabinet. It has warm, rich tones that complement the wood tones in my kitchen instead of fighting with them. And it is so soft underfoot – perfect for the time we spend at the sink preparing meals and washing dishes.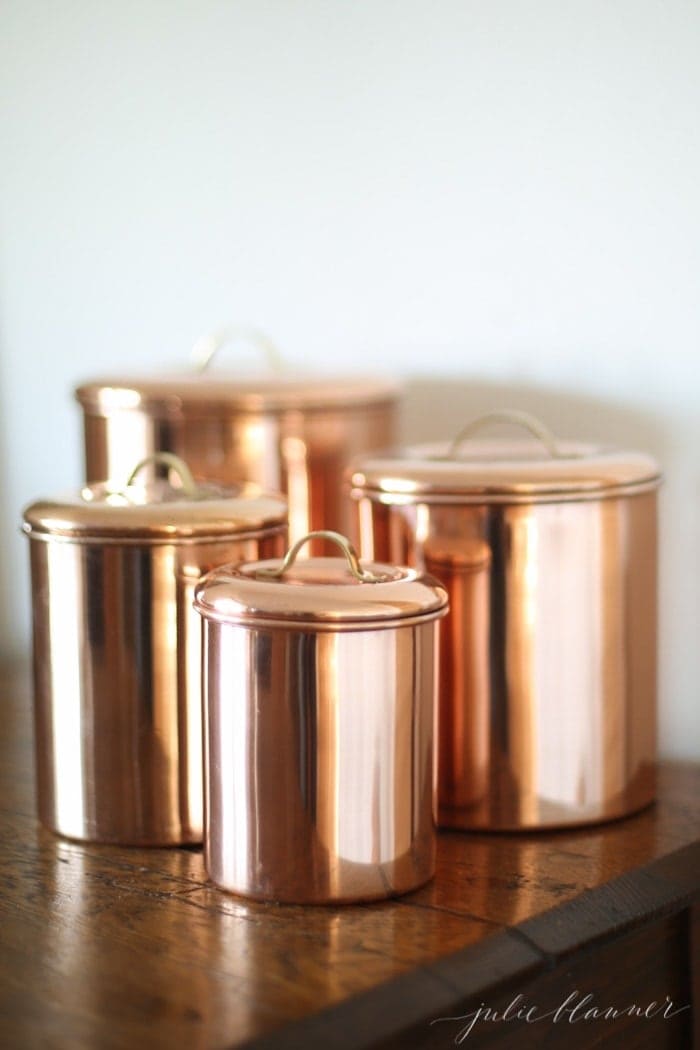 What other warm textures do you see in my kitchen? A wood knife block and wooden spoons near the stovetop, a flickering candle by the sink, pretty green stems in a clay vase on the island – even the smallest details add up to create a warm and inviting space!
New Lighting to Create a Modern Kitchen With Oak Cabinets
The kitchen used to have three tiny island lights that felt very 90s and out of place. When I saw this copper pendant, I knew it would be right at home in my kitchen.
Changing out lighting is a quick and fairly inexpensive fix. In ten minutes, this one change completely transformed this space. Where the old lighting looked strange and distracting to the eye, this copper pendant looks like it has always belonged right here.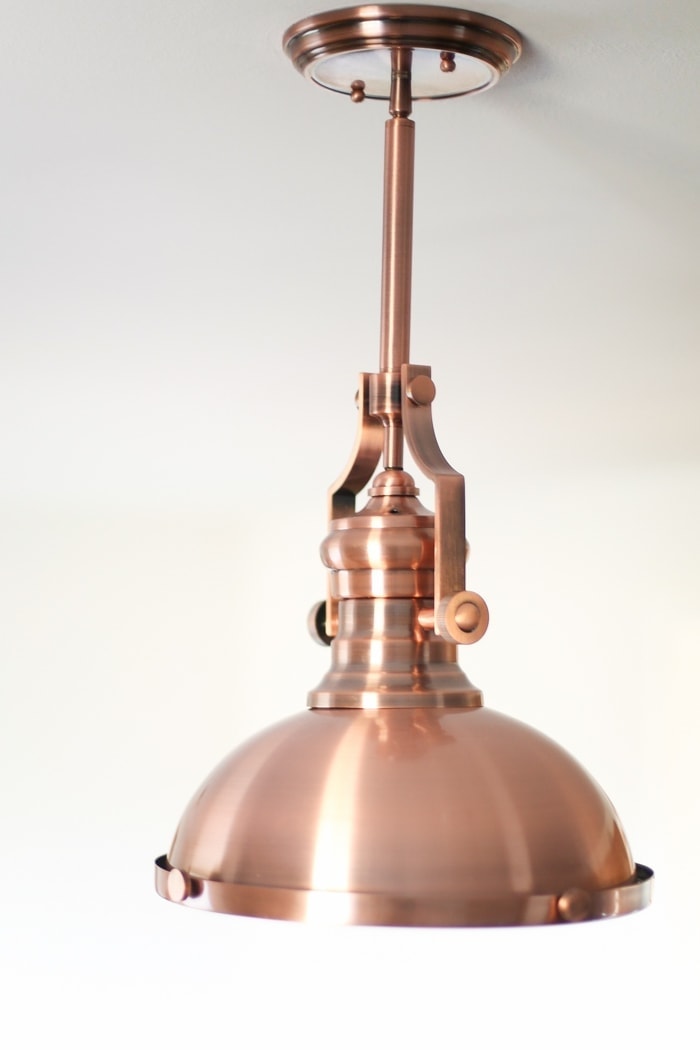 Of course, the copper tone once again looks beautiful with the oak cabinets. Plus the shape of this light just looks classic and welcoming.
Lighting is often an overlooked element, but it makes such a huge impact on a space. So the next time you're doing a simple update, don't forget to look up!
Our kitchen makeover was simple – embracing what we had and making the most of it, rather than fighting it. Key elements like new wall paint, copper details, warm textures, brass hardware, and a new light fixture made the kitchen feel more classic – and outshined what I didn't love about the space.
Do you have an 80s or 90s kitchen with dated oak cabinets? If so, do you plan to paint or refresh?
More Kitchen Resources