Kitchen Counter Organization
Create a clutter free kitchen in just 10 minutes with these simple kitchen counter organization tips with creative kitchen counter storage ideas.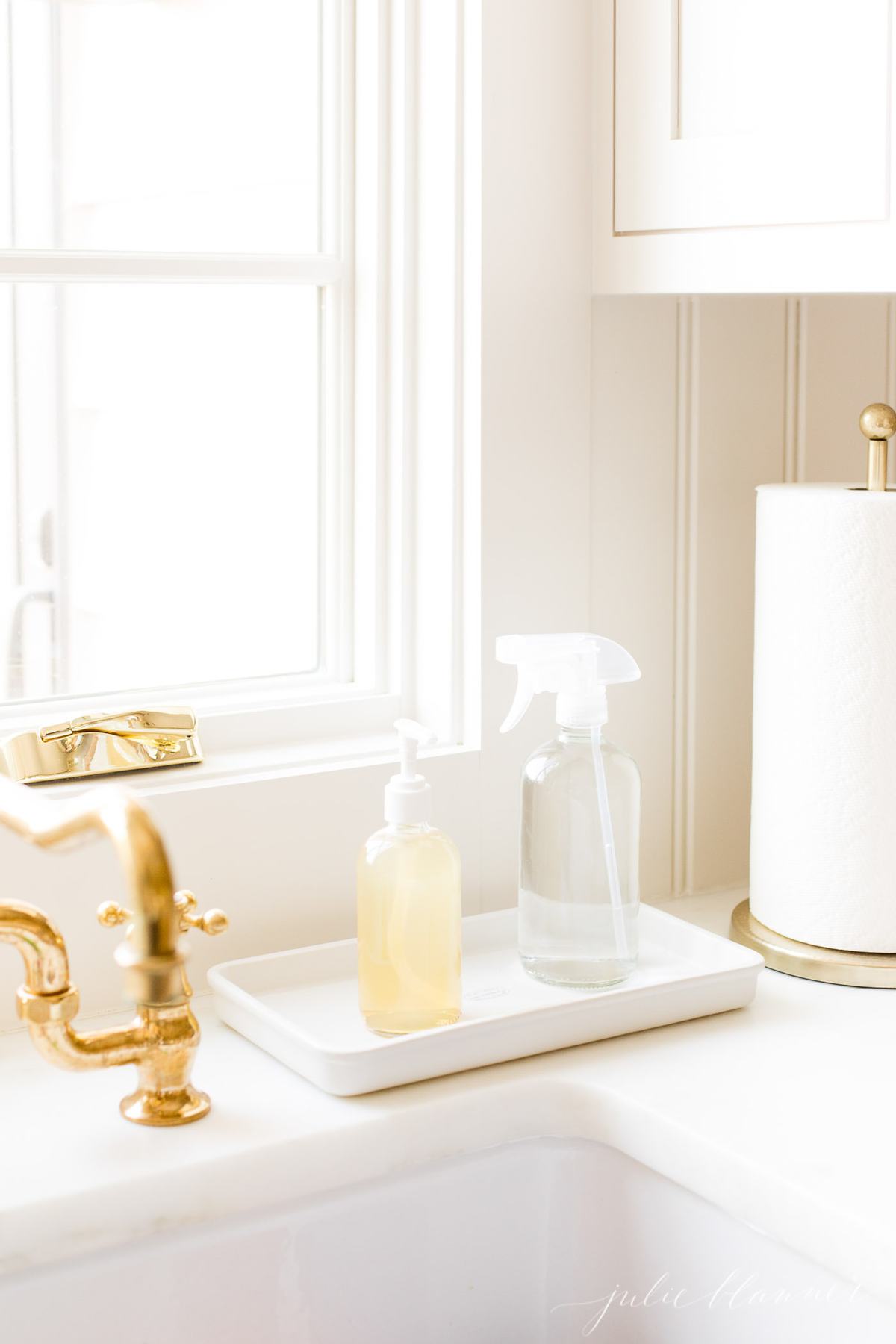 If you're feeling overwhelmed by "stuff", the first thing to do is to clear your countertop! Kitchen counter organization is a quick and easy place to start. In fact, you can do it in 10 minutes or less!
I've been on a mission for a clutter free kitchen. When you clear the counter top, it immediately makes the kitchen feel clean and neat. For a moment everything feels at peace. After all, counter top space is valuable real estate!
The kitchen is the hardest working room in the house – and requires plenty of workspace. You can maximize space in the kitchen with these simple tips.
Kitchen Counter Organization Tips
The easiest way to eliminate kitchen counter top clutter is to organize inside your cabinets. If everything has a place, it won't get misplaced on your counter. You can learn more about organizing inside your cabinets and see all my Kitchen Organization ideas here.
As a minimalist, I'm passionate about blending design and function – especially with kitchen counter storage.
A few well-selected things can add a lot of function to your kitchen without cluttering your countertop. They'll easily integrate into your overall home decor. You can find my favorite kitchen picks in my shop and Amazon store.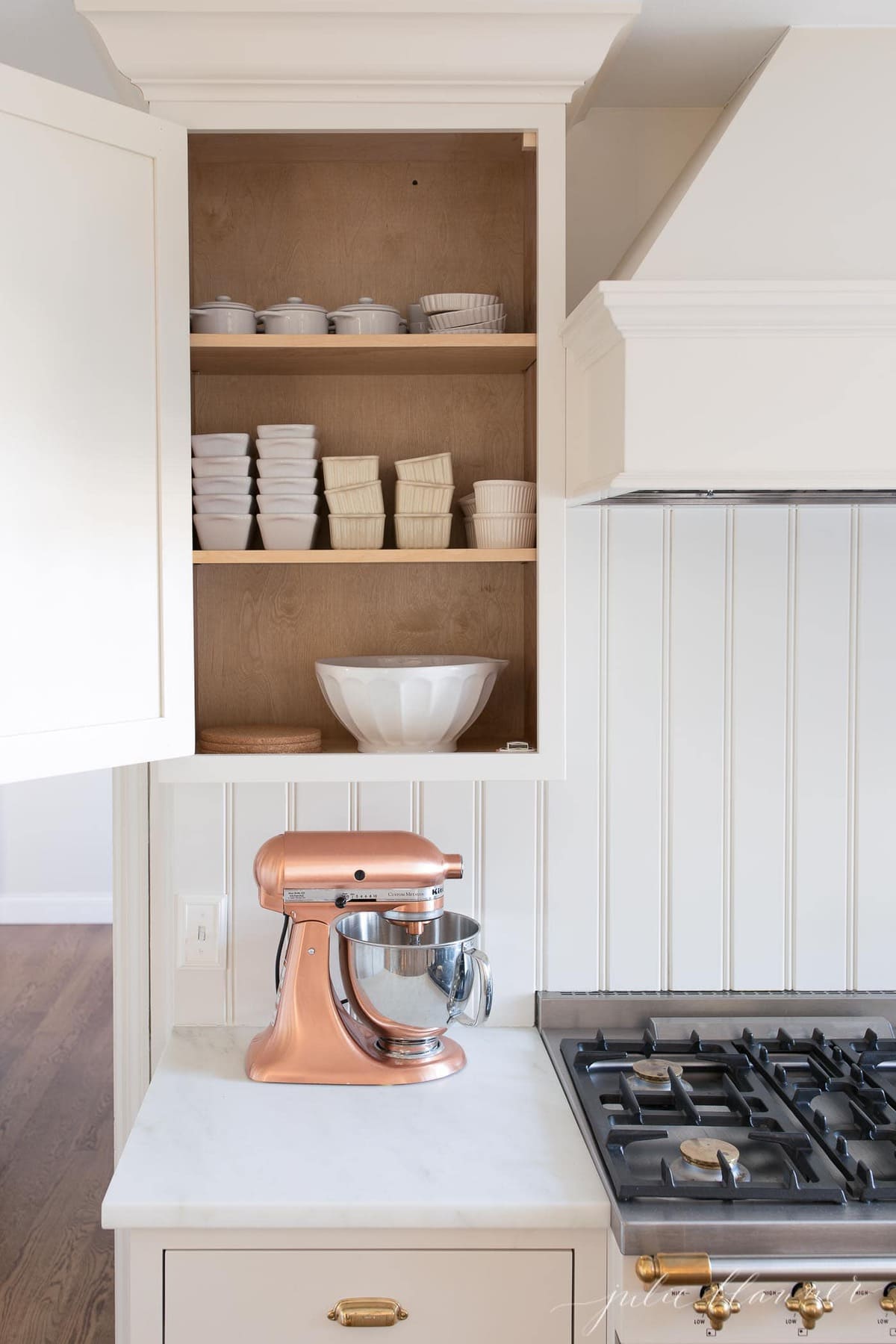 Assess what needs to be on your counter. If an item is used daily it can remain on the counter. For larger items, if you use it 3-5+ times a week it's also a good fit for your counter.
In our kitchen, larger items include the coffee maker and KitchenAid mixer. I know many people have mixed feelings on a mixer being on the countertop. Our working countertop space is limited, but our mixer is used 3+ times a week whether it's to make homemade pasta, juice or baked goods.
With each item, ask yourself, how often do you use it? Does it offer a convenience to be on your counter or is it utilizing much needed space?
Consider items that multi-task. For example dish soap that doubles as hand soap, a blender that doubles as a food processor, etc.
Find kitchen counter storage ideas that fit your lifestyle.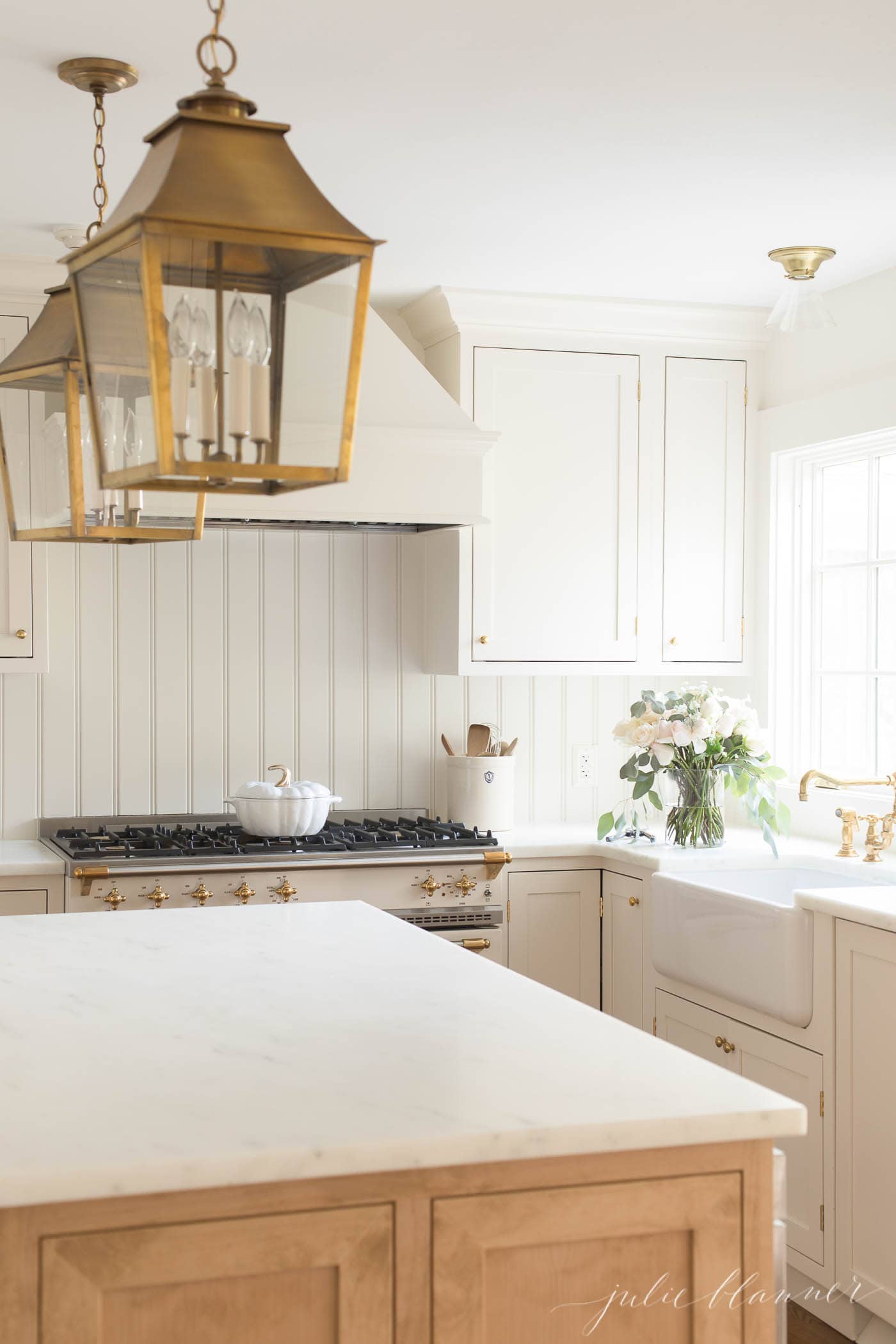 Kitchen Counter Storage
Utensil Holder – Make frequently used cooking tools easily accessible placing them in a crock or utensil holder next to your range. Grouping items together feels tidy and reduces the space it consumes.
Sugar and Flour Canisters – Do you use flours and sugars often enough to occupy the space? I go back and forth on this one. We have limited counter space and sometimes during baking season they come out, but they are often stowed away in summer.
Knife Block – A knife block is convenient to keep on the counter and keeps them all together safely in addition to making them easily accessible. A magnetic knife stripe also works well.
Large Kitchen Appliances – If you use a coffee maker or stand mixer frequently, you may consider having them easily accessible.
Paper Towel Holder – This one may surprise you, but if you use paper towels frequently, there's no shame in keeping them on the kitchen counter. We had looked into having one installed below our kitchen cabinets but it would have consumed valuable interior space and made them less accessible. You can also keep them just below the sink, but they're not quite as handy there for frequent use, so I say it's okay to have a visible paper towel holder! Design your kitchen to function for you.
Soap and Dish Scrubber – I used to hide these under the sink, but I found it's just not that practical. Displaying next to the sink provides easy access to the most frequently used items in your kitchen. A pretty tray is easy to clean and keeps them tidy, but convenient. Seek items that multi-task when possible. We use dish soap in a hand soap dispenser! Since a dish scrubber is used frequently, it's also a perfect contender for the counter. Bonus points for using something pretty. We make marble cleaner in this clear glass spray bottle, and use a wood scrub brush. They're accessible and easy on the eyes!
Paper Problems? – Last year, our bar was being consumed by papers. It quickly became a catch all to mail and school papers with no end in site. First, we had to change our habits. When bringing the mail in, we immediately stopped by the recycling bin to discard junk mail and envelopes. Anything that needed additional attention goes to a foot bath so it's neatly compiled (and disguised). We go through it once a week to ensure things are being filtered where they belong and tended to.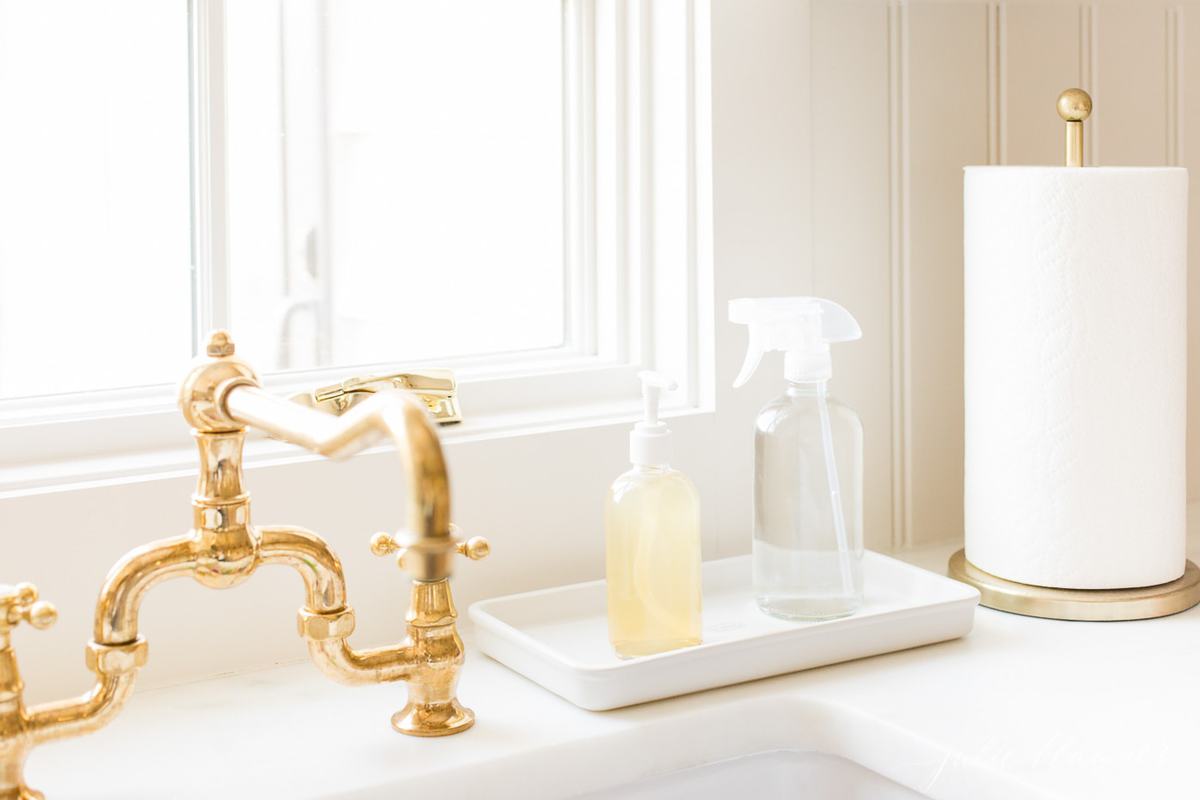 If it works for you, do it!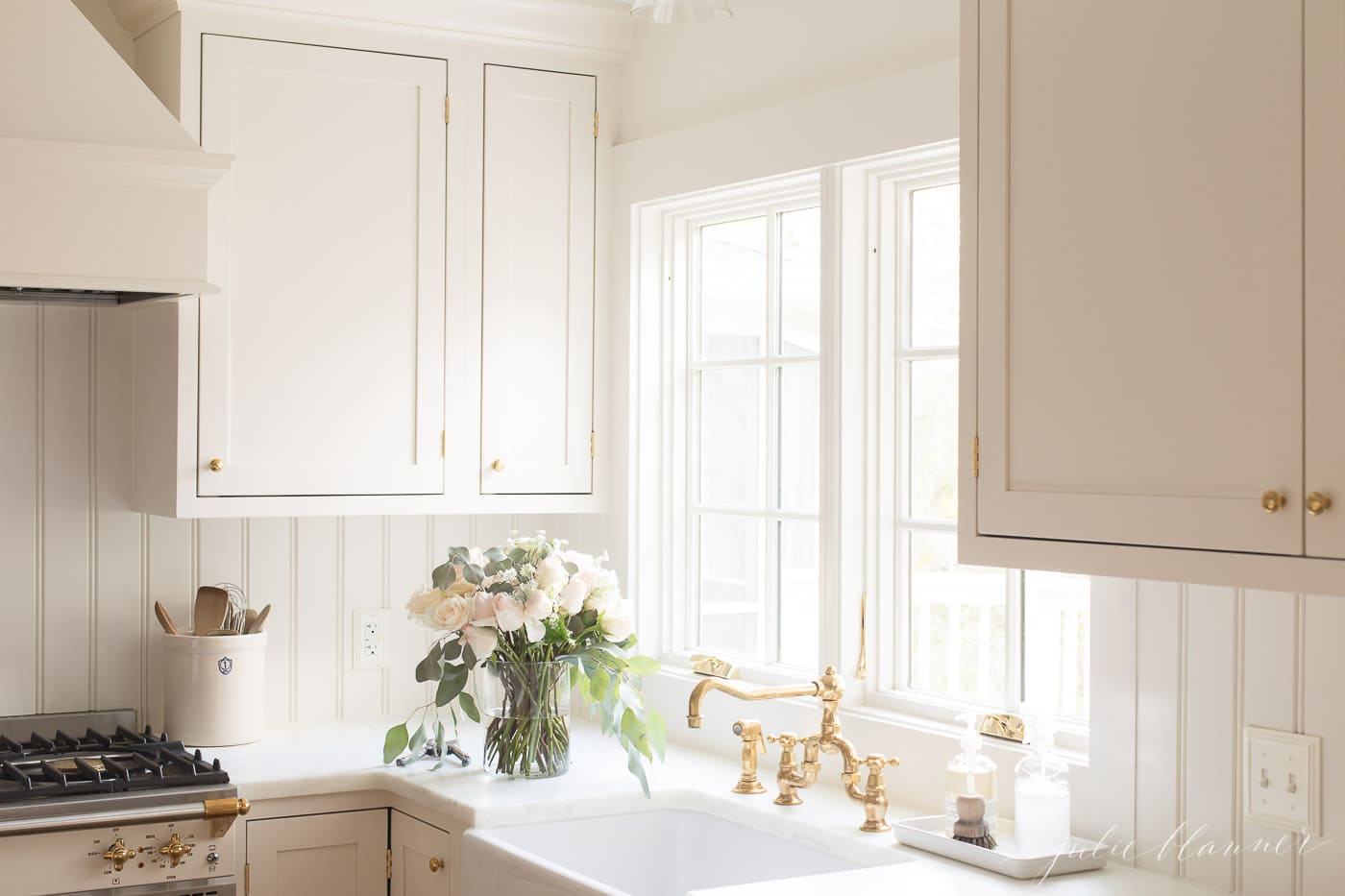 Click here to join me in getting organized, one space at a time with achievable ideas, printables and more!
Check out how to organize your mudroom right here, and get tips for organizing closets!
Clutter Free Kitchen
To maintain a clutter free kitchen, we store small appliances like a mini food processor, waffle maker and can opener in a cabinet where they're easy to grab. We also added a Microwave Drawer in our kitchen island and it made such a difference.
We identify problem areas and find solutions to prevent them. As previously mentioned, the best way to keep your kitchen clutter free is to make sure your cabinets are organized so everything has it's place.
I hope you enjoyed these kitchen counter organization ideas!
What do you keep on your countertop? Read more about our new Quartz Countertops at the lake, as well as all of the different Countertop Edge options!
More Cleaning and Organizing