Are you shopping for a new rug for your bedroom? This bedroom rug placement guide is here to rescue you – and you'll learn about the correct sizes, too!
Bedroom rug placement and sizing can be so confusing, and you probably have questions. What size rug for a queen bed? What size rug for a king bed?
No worries – we've got answers with simple guidelines! Get all the information about how (and where!) to place the correct size of rug under your bed, no matter the size of your bed and your bedroom overall.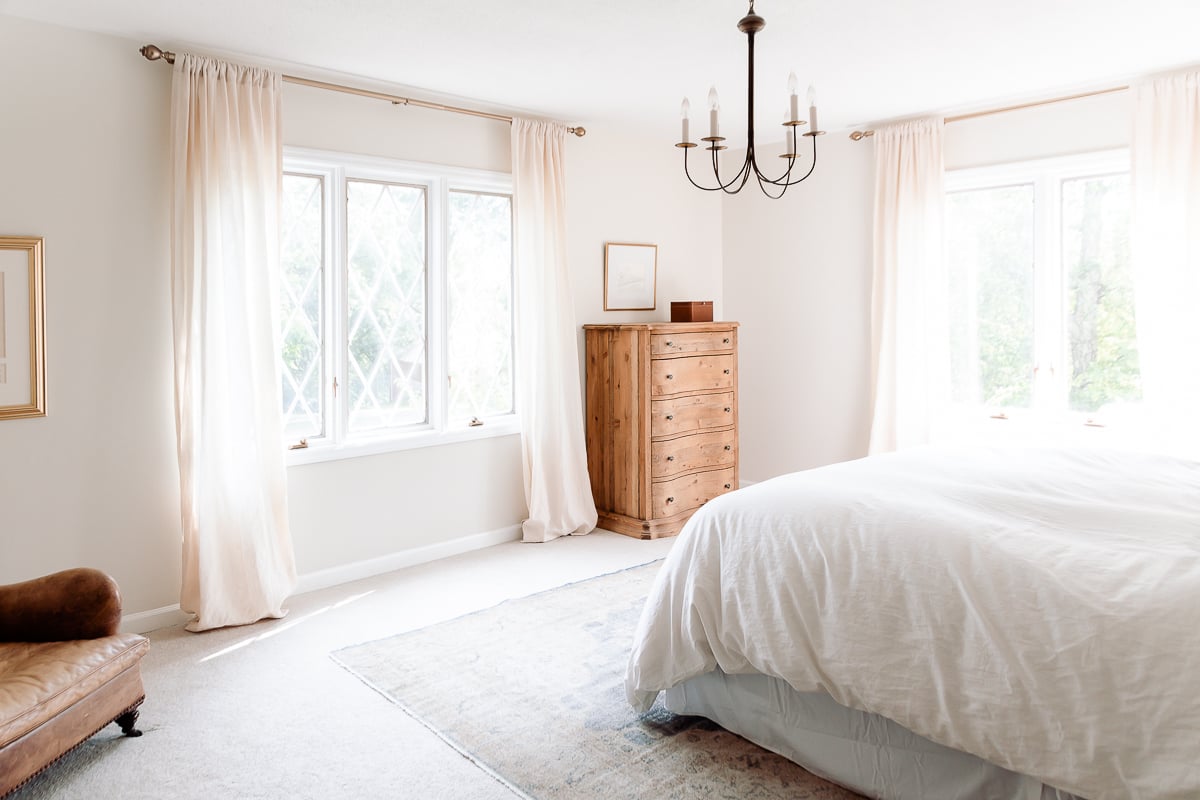 Recently we discussed all the guidelines for Layering Rugs On Carpet. This is a trick we've used in our Primary Bedroom for ages! We've been saving and waiting for the right time to add White Oak Floors in this room.
I've written a lot about rugs, including the best Indoor Outdoor Rugs, the Best Kid and Pet Friendly Rug, Indoor Outdoor Rugs and more!
It sounds so simple, right? Just hide your dated carpet with a pretty rug layered on top. I wish it were that simple! You have to think about the size of your bed and the size of your room. You'll also need to consider your nightstand placement, anything you're putting at the end of the bed, and more.
When I realized the bedroom rug placement was actually somewhat tricky, I knew it was time to dedicate a post to these questions! When you're investing in a new rug, you want to make sure it's right… the color, the style, and the size are oh-so-important in your space.
A rug under your bed can anchor the entire room and help the space feel finished. It's a way to add texture, dimension, and a cozy soft feeling underfoot every morning when you wake.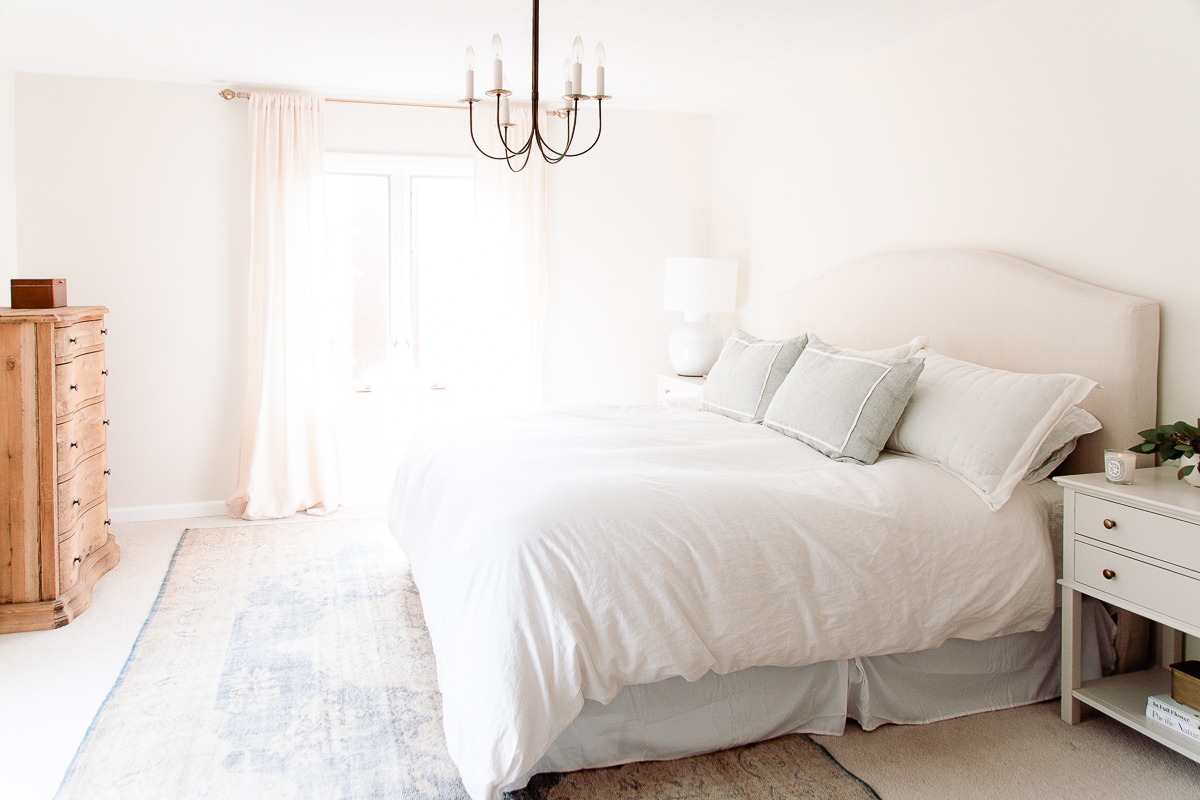 Bedroom Rug Placement Guide
Today, let's chat about how to choose the right size of bedroom rug, and how to place it under a king or queen sized bed!
First, here's the information you'll need to consider!
Your Bedroom Size
Your Bed Size
Nightstand size and placement
Texture
Color
Durability
We've even created a complete rug guide with the best tips for Purchasing a Rug according to size, budget, materials and durability! You can learn about virtually every type of rug out there, and find out what works best for your family.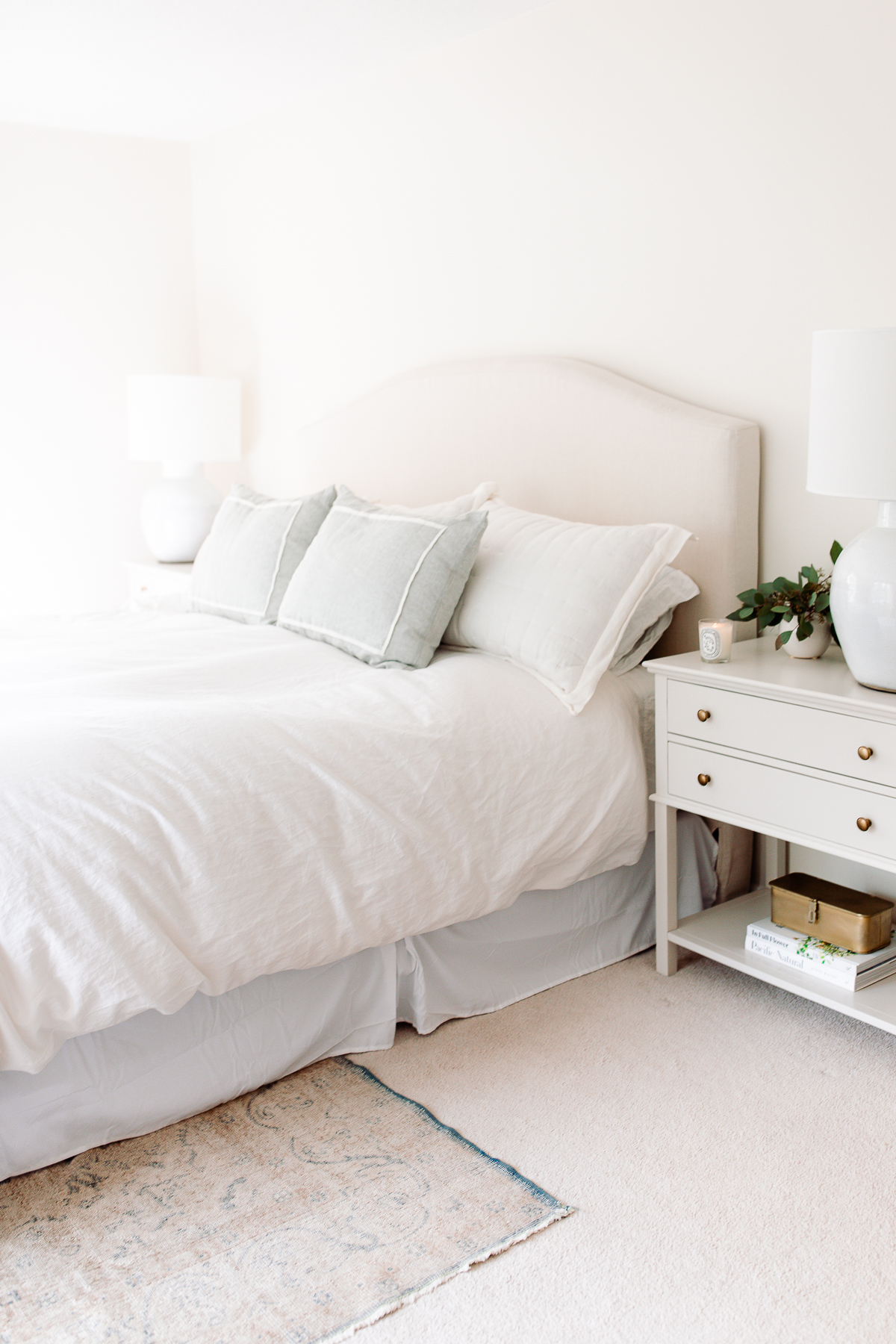 What Size Rug for a Queen Bed?
Depending on the overall size of your room, an 8×10 rug is often a great starting point. However, a 9×12 rug will show a little more under the bed, which can have a greater impact in the space.
Bigger is also better if you're trying to fill a larger room or cover unsightly flooring.
An 8×10 rug will allow approximately two feet of rug to show on either side of your queen bed. 8×10 area rugs are often quite affordable and easily accessible because they're a common size. However, much of the rug's design will be covered by the bed, so keep that in mind as you choose.
Take-aways:
For a queen bed, you'll need at least an 8×10 if not a 9×12.
If you choose an 8×10, you won't see much of a pattern, so keep that in mind.
If your room has the floor space, always go larger instead of smaller!
In fact, that's an important rule of thumb in general. Always go with a larger rug… in the store it might look larger than you think you need, but will look amazing once in your space.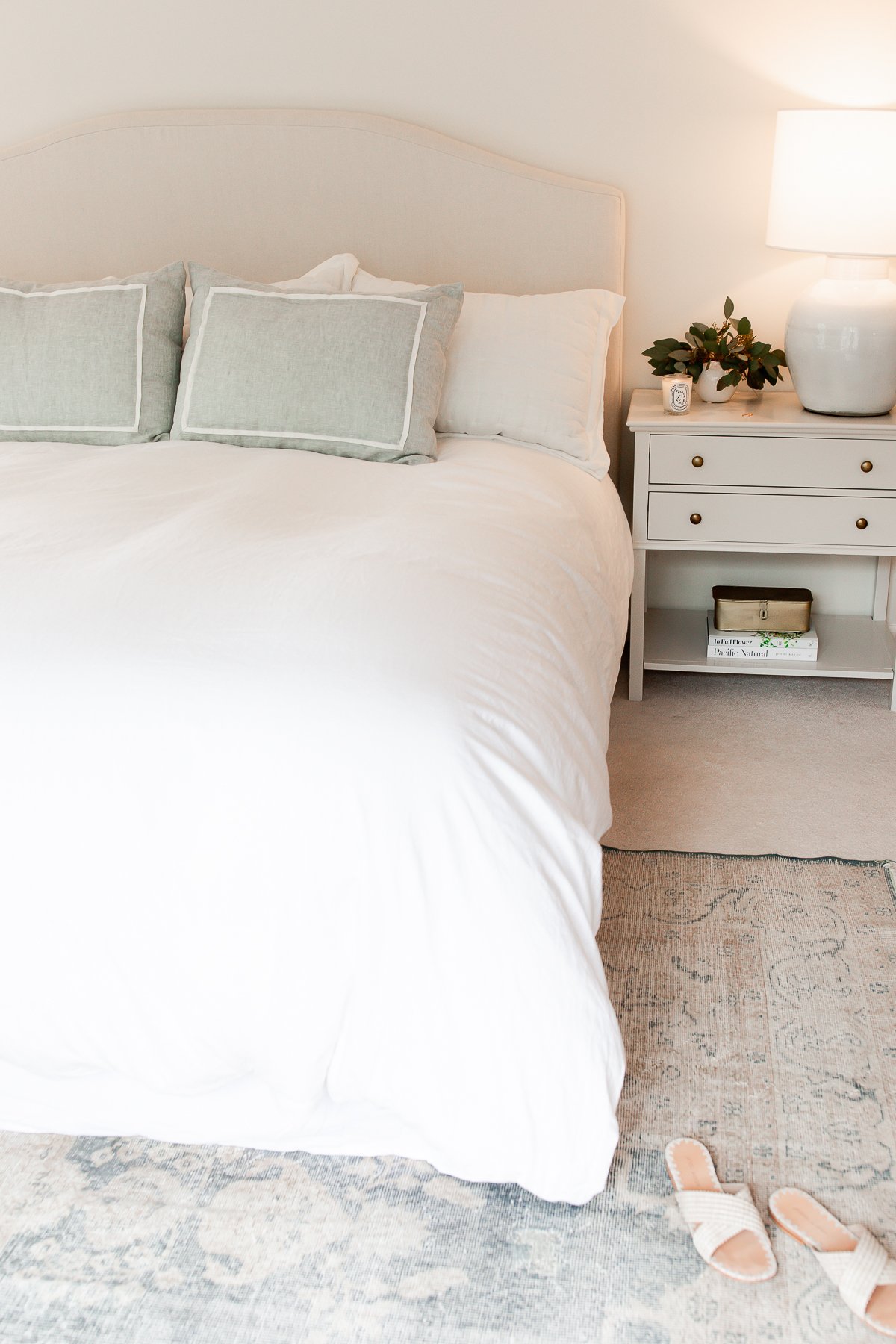 What Size Rug for a King Bed?
For your king-sized bed, you'll want at least an 9×12 area rug, if not larger.
With this size rug under a king bed, you'll have plenty of space surrounding the edges of the bed, even if you'd like to place a bench or stool at the end of your bed.
Another option? Yes, an 8×10 will also work as a rug under a king bed—but it certainly shows less around the edges and end of the bed. This size could be an excellent choice if your bedroom is smaller, but still has a king size bed.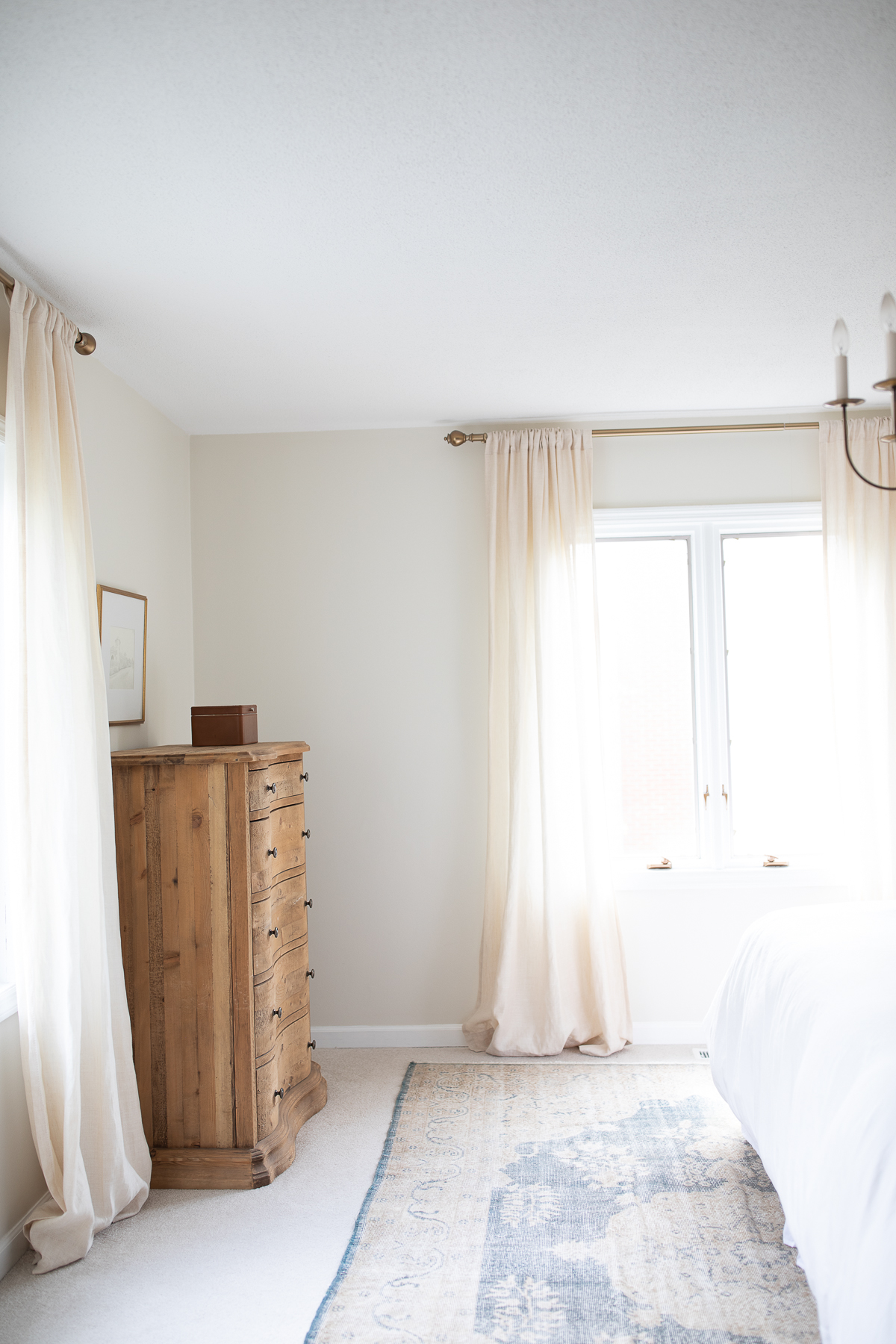 Take-aways:
A standard suggestion for a rug size for a king bed is 9×12.
Leave 6-12″ of space between the feet of your nightstands and the start of your rug, if possible. (This of course depends on the size of your room versus the size of your rug.)
Make sure the rug extends beyond the foot of the bed by at least a foot… more, if you're adding a bench.
When in doubt, go bigger!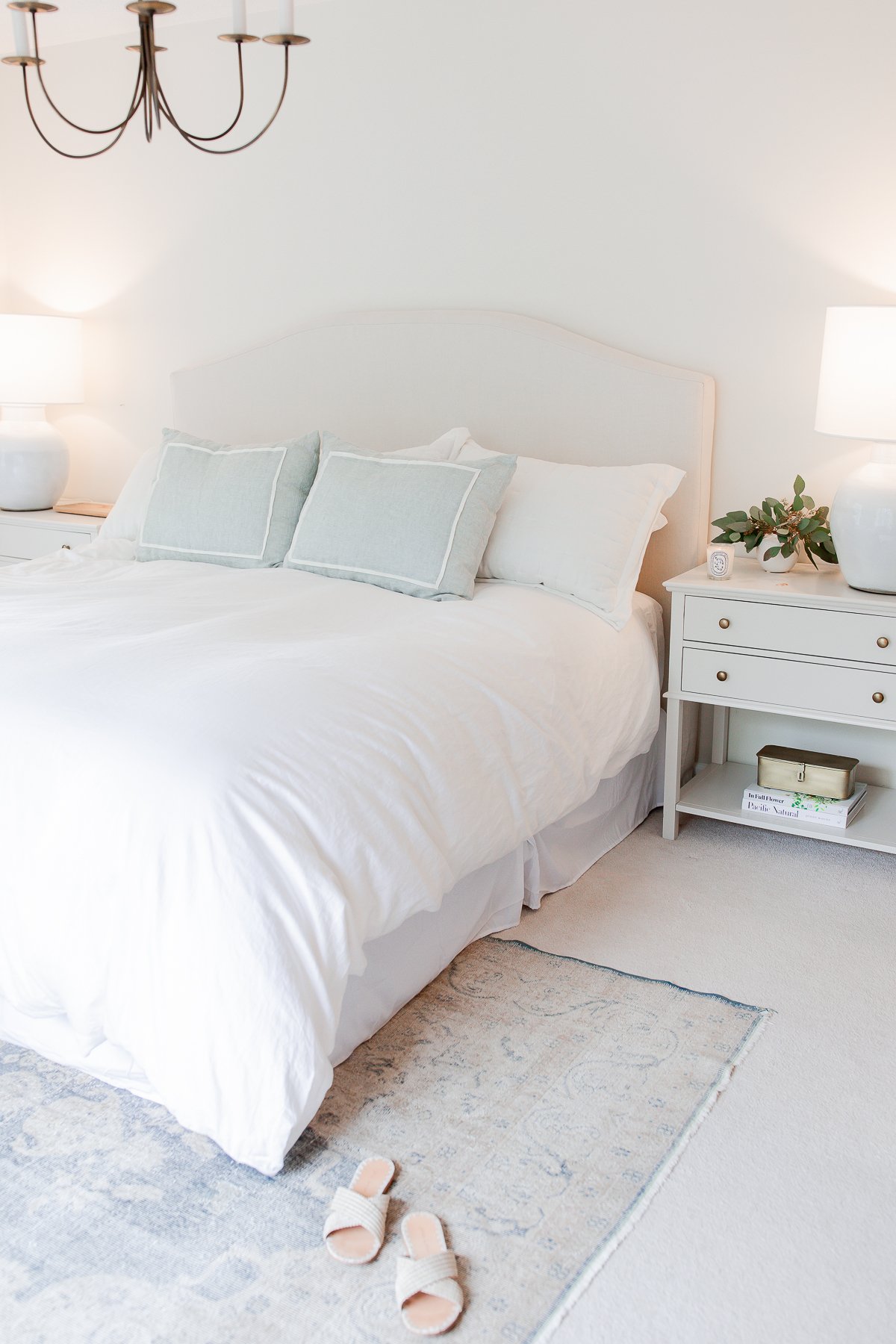 Tips
It might be unexpected if you're new to the discussion of rug placement, but ideally, you'll want to place your rug in the opposite direction of your bed. This means it will run length wise against the bottom 2/3 of your bed.
While the placement can depend on the size of the rug, bed and room overall, consider placing the rug with its length against the width of the bed, under the front two-thirds of your bed.
No matter the size of your room, try to allow at least 2′ to 3' of rug to show on each side of the bed. There's nothing better than waking up in the morning and placing your feet on a soft and cozy rug!
Ensure your bedroom rug placement under your bed doesn't extend to the nightstands, to get the designer look you're after.
When it comes to the correct size of rug, consider the space between the edges of the rug and the walls of your room. Try to leave at least a two foot border between your rug and the walls.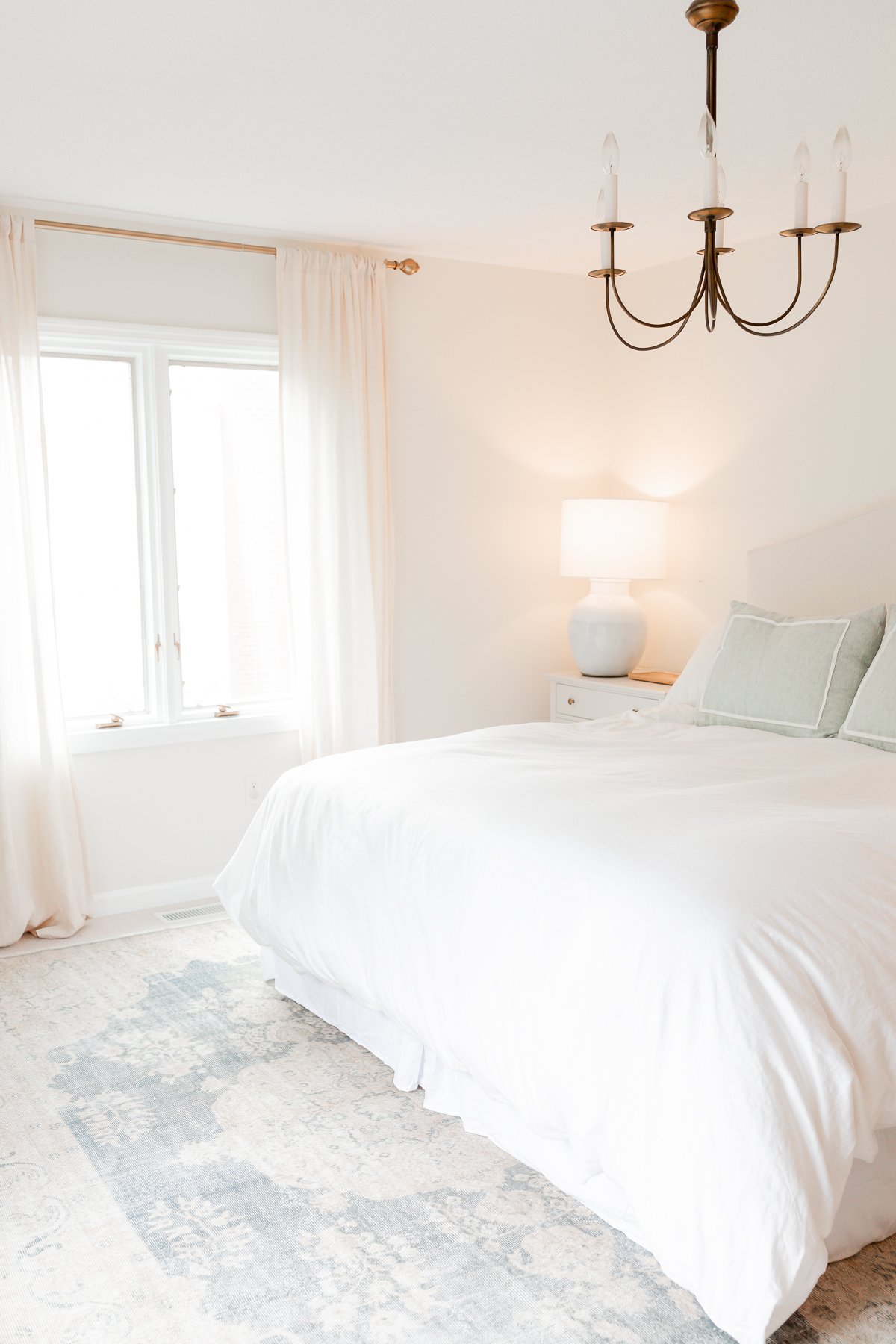 Frequently Asked Questions
Do you need a rug under your bed?
As with any room of your home, a rug can help define a specific area within your room. A rug under your kind bed or queen bed can help create a cozier, more defined space to showcase the furniture in your bedroom!
Can a rug be too big for a room?
If your rug nearly reaches the baseboards of your room, it's likely too large. This can actually make your room look smaller than it is, so be sure to add a rug that leaves approximately two feet of space between the edge of the rug and the walls.
What size is a king size bed?
King size bed dimensions are 76" x 80", or 5′ x 6'6″. This means a 9×12 rug could leave 3 and 1/2 feet on each side of the bed, if it's placed with the longer ends coming off the sides of the bed.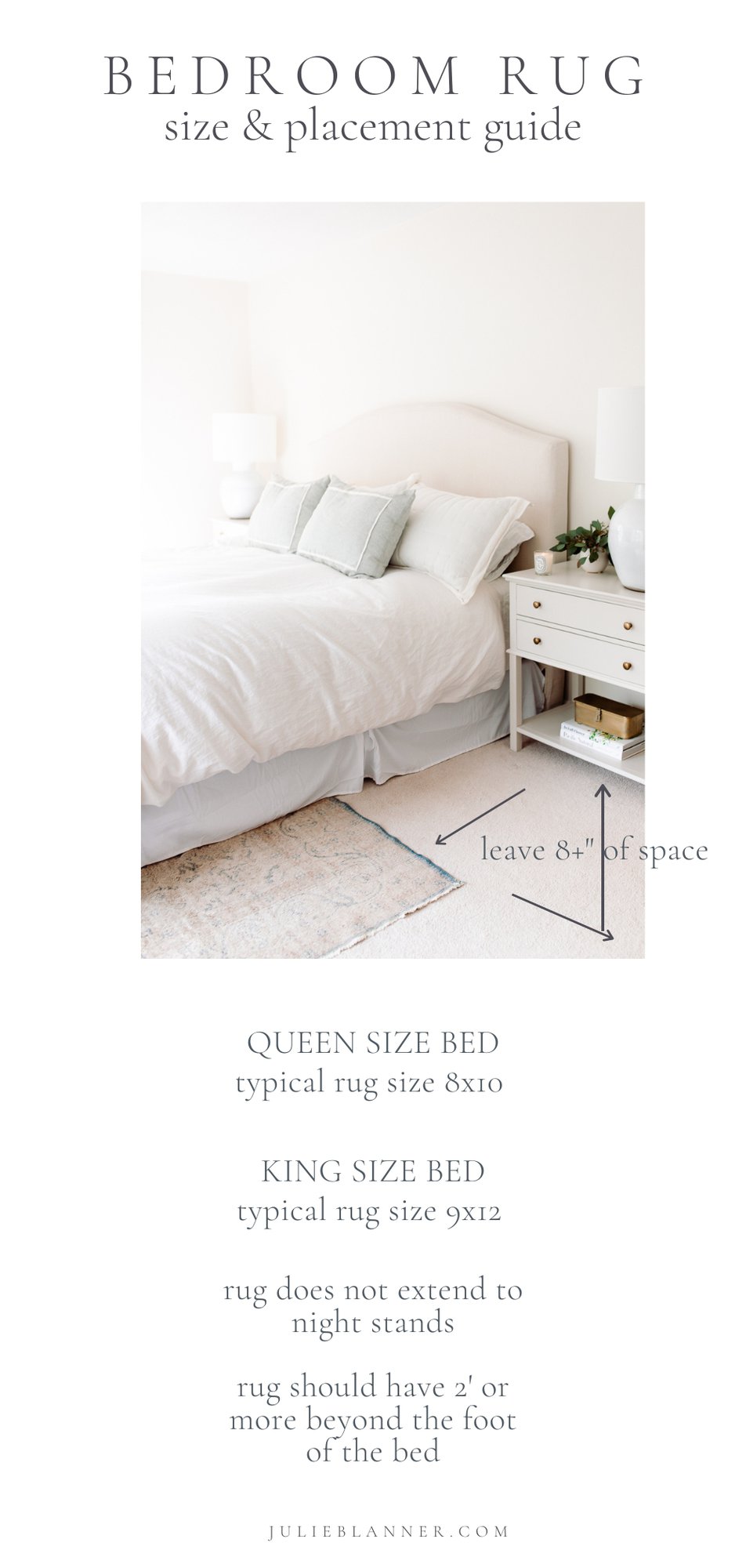 Furnishing a bedroom? Get 17 Ideas for Art Above a Bed and find the best Upholstered Beds. Find all my best Nightstand Decorating Ideas, too!