When you're looking to update a living room, dining room or bedroom, neutral rugs can help create a warm, cozy feeling that is also fresh and up to date. A neutral area rug also gives you so much flexibility with color schemes and styling options!
A new area rug can totally refresh any space in your home. Learn all about the pros and cons of neutral rugs, and shop my round up of favorites!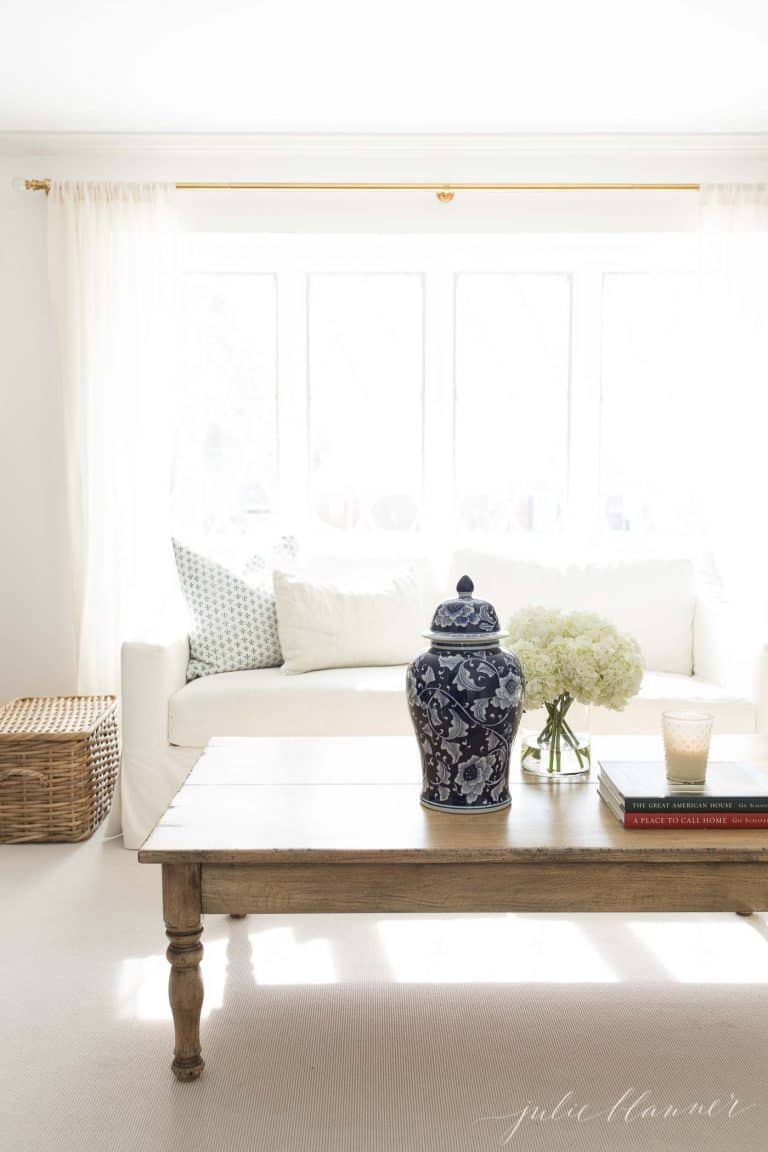 We often discuss what a difference paint can make in your home, but one of the other big changes you can make (effortlessly, I should add…) is rugs. A new rug can warm up a space, help it feel clean and updated, and generally change your style, color scheme and entire vibe of a room!
It might sound crazy, but I love talking about flooring inspiration! Learn about indoor/outdoor Stair Runner on Basement Steps, the Best Kid and Pet Friendly Rug, Indoor Outdoor Rugs, Vintage Turkish Rugs and Sisal Rugs you can Clean!
In fact, we've recently discussed all the guidelines for Layering Rugs On Carpet and Bedroom Rug Size and Placement. I know it can be so confusing to make decisions about sizing, color and style for a rug investment, so I love laying out all the options for you!
Today we're chatting about neutral rugs… why we love them, what they bring to a space, and where to buy them. These beauties can bring a muted, earthy tone to any room of your home!
Rugs might be tricky to shop for, but this little guide and shopping links will make your decisions so easy!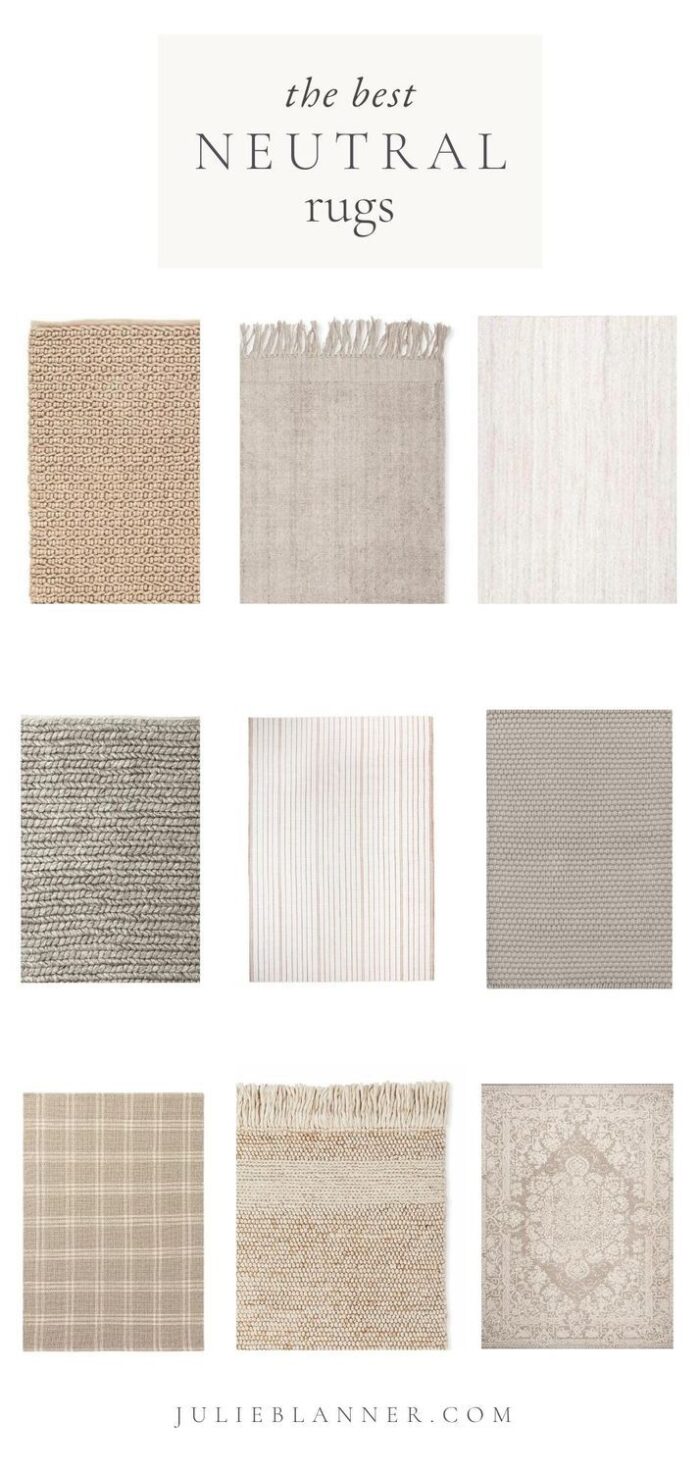 Is a Neutral Area Rug Right for Your Home?
For me, the answer is always yes. You know I love a neutral paint palette and you've seen our neutral living room. It's just a warm, calm and cozy feeling that I love so much!
However, there are things to consider. If you're a person who loves a big bold pop of color, perhaps a rug is a great place to do that! Especially if you prefer to choose more affordable rugs thanks to kids and pets, rugs can be a place to play with color and have fun with your decor.
Keep in mind, that rugs run the full gamut of price points and the quality is often in line with what you pay. A high quality wool or other natural rug will be a significant expense, but there are plenty of quality synthetic rugs at lower price points. There's something for everyone when it comes to neutral rugs!
I think part of what I love about this look, too, is that it feels natural. Neutral rugs are often made from natural fibers like wool, cotton, jute or sisal. While that's certainly not always the case, it can contribute to a natural, neutral feeling in a room overall… no matter your color scheme elsewhere.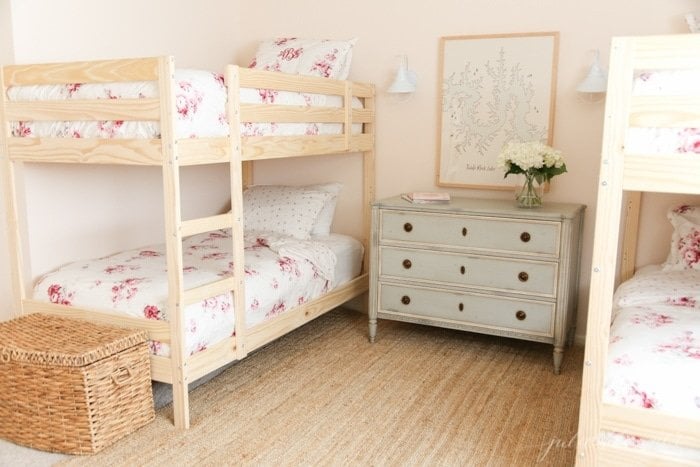 Pros and Cons of Neutral Area Rugs
While a neutral rug might seem like a safe choice, that doesn't mean they have to be boring! Here are the pros and cons of adding neutral rugs for your home.
Pros
This "safe" choice is safe for a reason – it's timeless!
Easy to accessorize with a variety of colors in accessories like art, pillow covers and more
Neutral rugs add quiet texture to a space
Soothing and calm
Grounds a space
The easiest way to create cozy home
Ties other colors together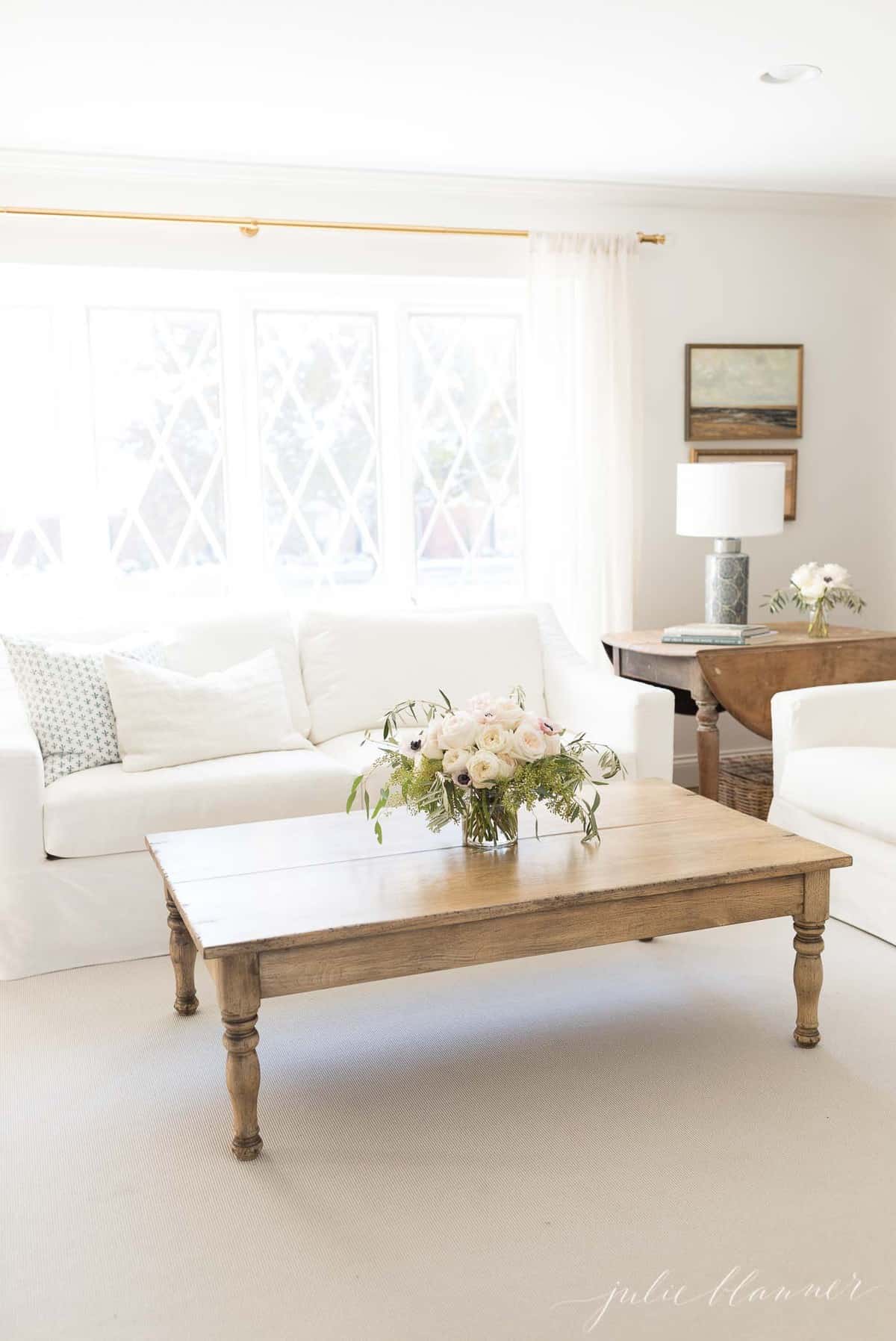 Cons
Can feel a little too safe
Depending on color and foot traffic, they might show spills and stains more easily
They might not offer as much contrast if that's what you're after
Can show wear and tear, depending on pile and traffic
Not always a great idea under a dining table or in a kitchen – choose something a little darker or specifically washable (like an indoor outdoor rug) for a space where kids dine!
Tips
Keep it interesting! Neutral doesn't have to mean a solid, plain rug. Consider a neutral stripe, floral or geometric.
Add texture with a high pile rug or a soft jute or sisal
Read reviews. This is a really important way to get a sense for what other people think about their purchase!
Before you purchase, measure your room. Then measure it again! Use my rug purchasing guide to check and double check.
Keep in mind that neutral doesn't always mean light. Neutral can also be deeper tans, grays and browns if that's what works best for your home.
Frequently Asked Questions
Do sisal and jute rugs shed?
Rugs that are made from natural plant based fibers do tend to shed. Though they have other wonderful qualities, the rug fibers tend to bend and break at the edges with wear and tear, which can lead to shedding.

Consider a natural and synthetic blend to extend the life of your sisal or jute look rug.
How do you clean a light colored rug?
Vacuum frequently, and try Folex for spot treating stains. Scrub lightly. In the future, try to shake out your rug whenever possible to avoid stains and build up.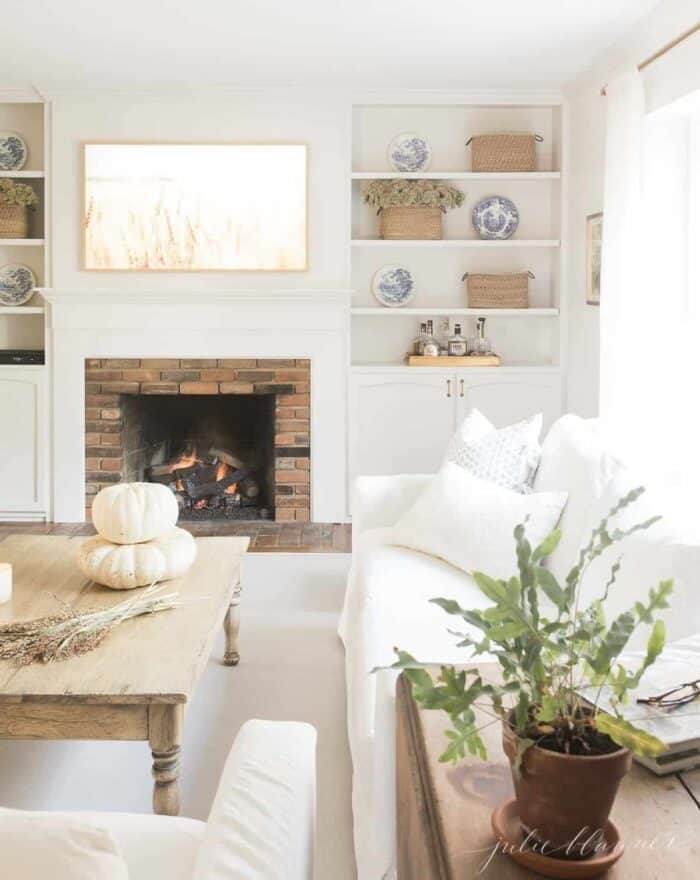 Sources
Here are a few of my favorite neutral rugs, at a wide variety of price points!
More Sources for Neutral Rugs