Score a touchdown with these 2022 Super Bowl Bingo Cards! These free printable cards are one more way to add an element of fun to your Super Bowl party. Adults and kids – and even people who don't care for football – will enjoy this game!
Bringing people together is one of my favorite things, and a Super Bowl get-together is another opportunity to do that. Watch the big game together, enjoy some delicious game day bites, and have a few laughs during the commercials.
Everyone can join in the fun with these free printable Super Bowl bingo cards that will keep them on their toes during commercial breaks. There's a timeless version that can work for any year or game, and there's three specific 2022 versions, too.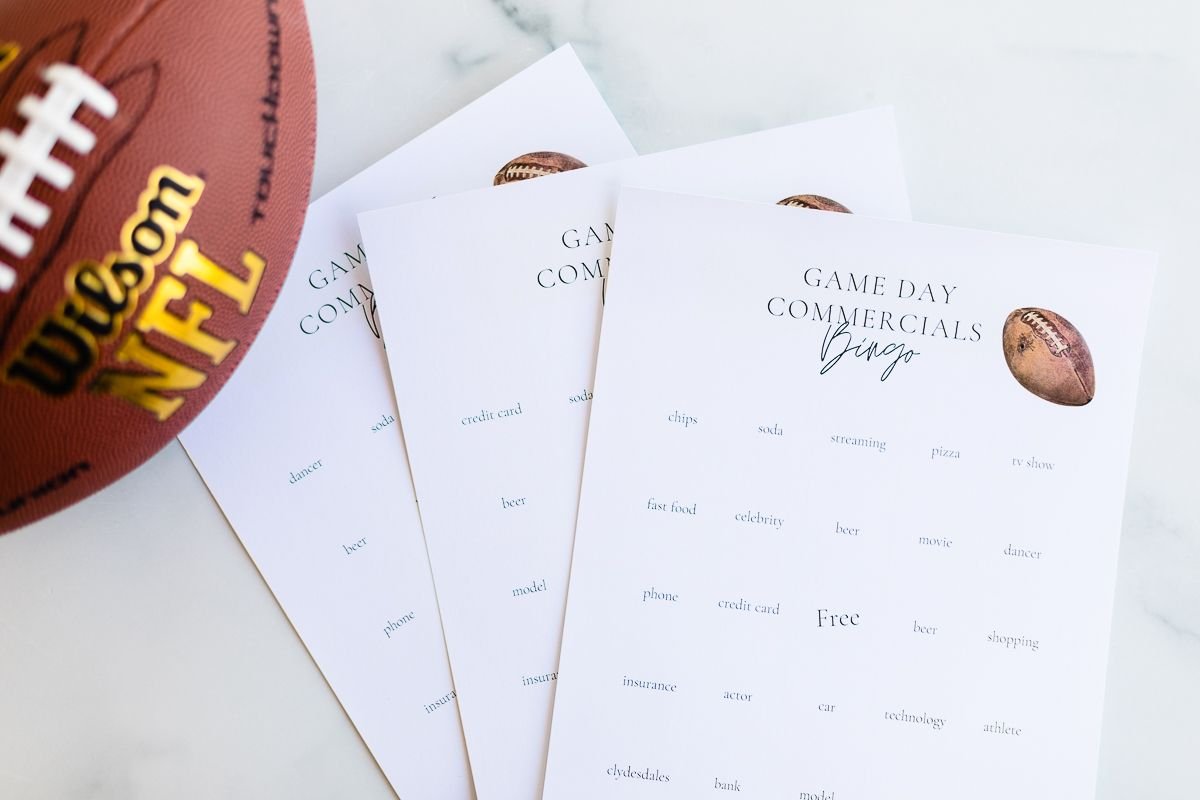 Print these bingo cards on your home printer, and then keep your eyes on the commercials to try to win! This is a family friendly way to keep everyone entertained during the big game.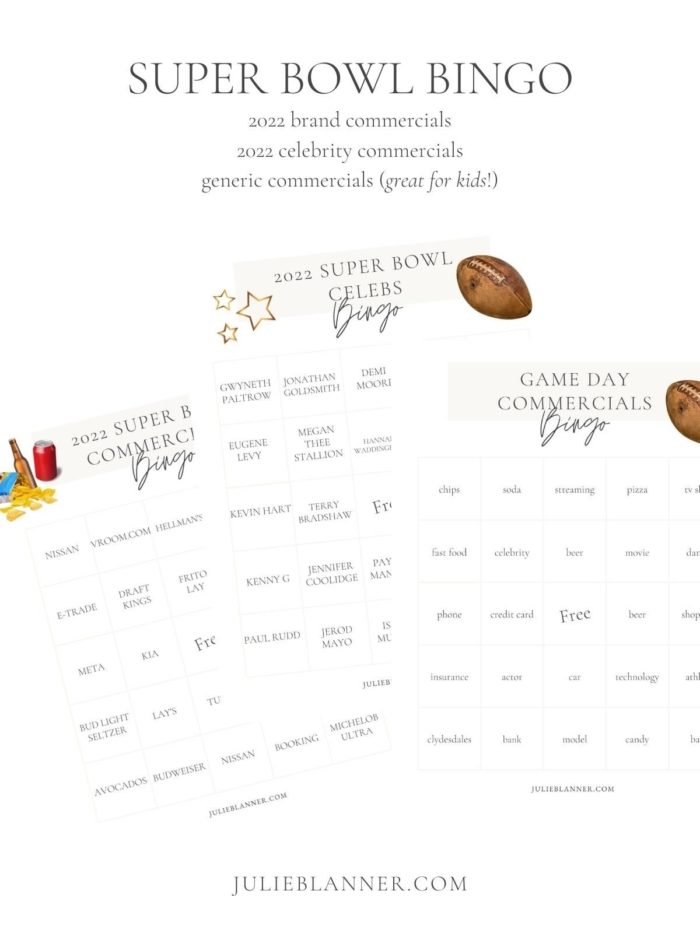 This year's Super Bowl bingo is even better! Why? Because I've created FOUR new bingo cards to help you celebrate!

There's one that is a new classic version that anyone can play, one that is dedicated entirely to 2022 Super Bowl commercials, and one that is aimed at the 2022 Super Bowl celebrity sightings!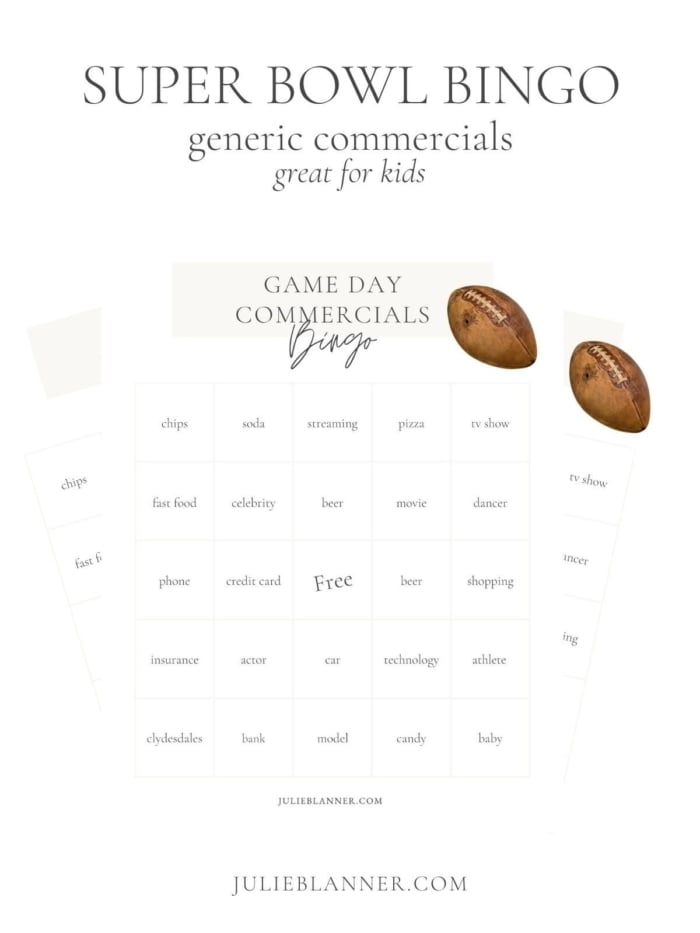 Super Bowl Bingo
Super Bowl Bingo will score a touchdown at a party with your friends. Or just play it at home with your family or on your own, and let me know how you did!
Whether you're football fans who are intent on the game, or just at the party for all of the amazing food, Super Bowl bingo cards just add to the fun and complement the other activities.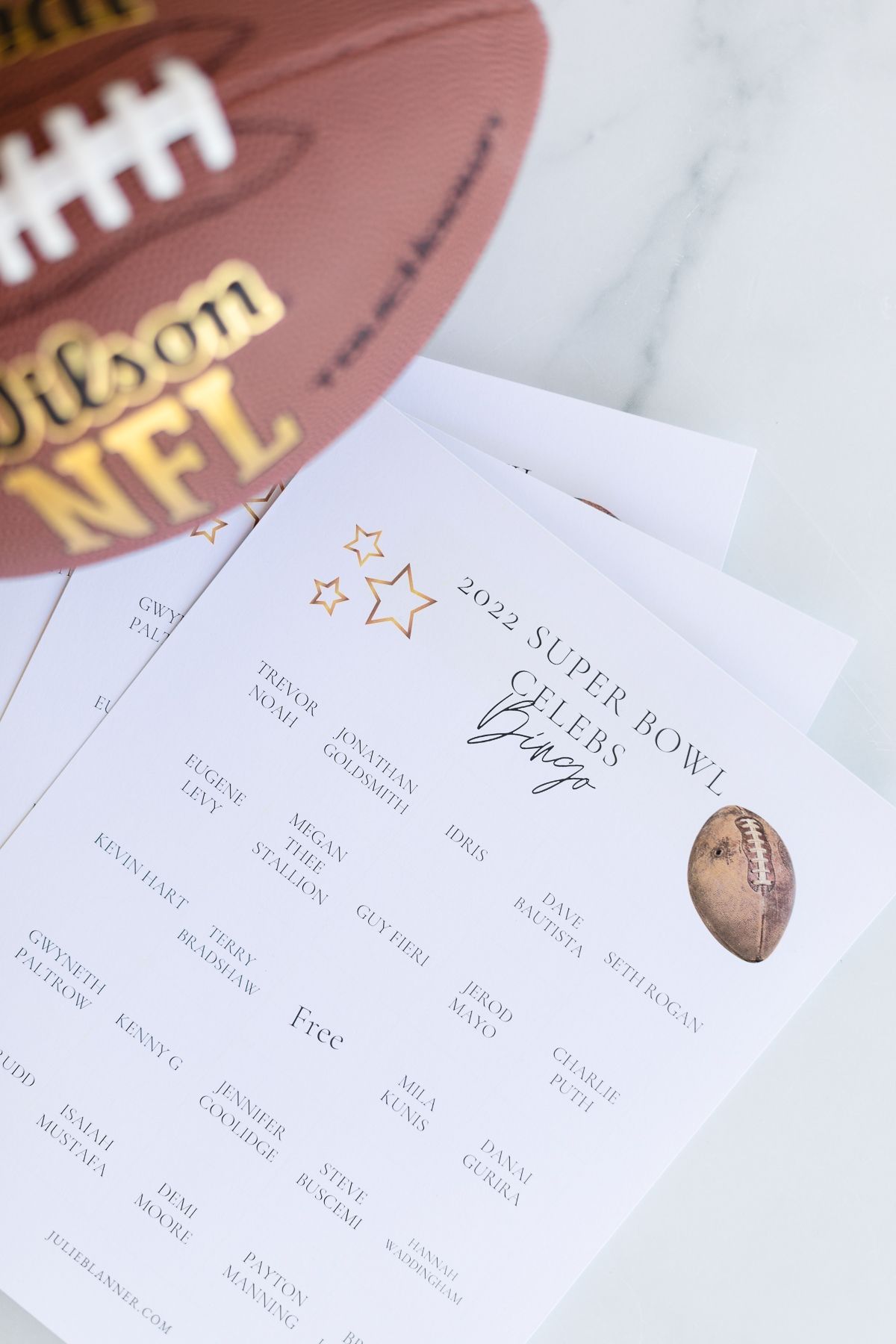 Quick tip: Trying to decide whether to print the classic version or the 2022 version? I'd suggest going for the classic (much less specific) if you're hosting really young kids, or perhaps an older crowd who might be less likely to have current pop culture and celebrity knowledge!
How to Play 2022 Super Bowl Bingo
Click here for the original free printable Cocktails and Commercials Super Bowl bingo cards. Even better, now we've updated to a NEW classic option and three more specific 2022 Super Bowl bingo versions. One is aimed at celebs and one is commercials.
Have a bowl of small candies (these cute football candies are adorable) to use as markers, or just use traditional bingo markers.
When a commercial airs that is the same theme as one of the squares, cover it up.
Have a fun prize prepared to give to the first person who gets a bingo!
What You'll Need to Print these Cards:
A wireless home printer (any printer will work after you download the free printable cards!)
A steady hand with scissors (to cut each printable sheet in half) or a Paper Cutter.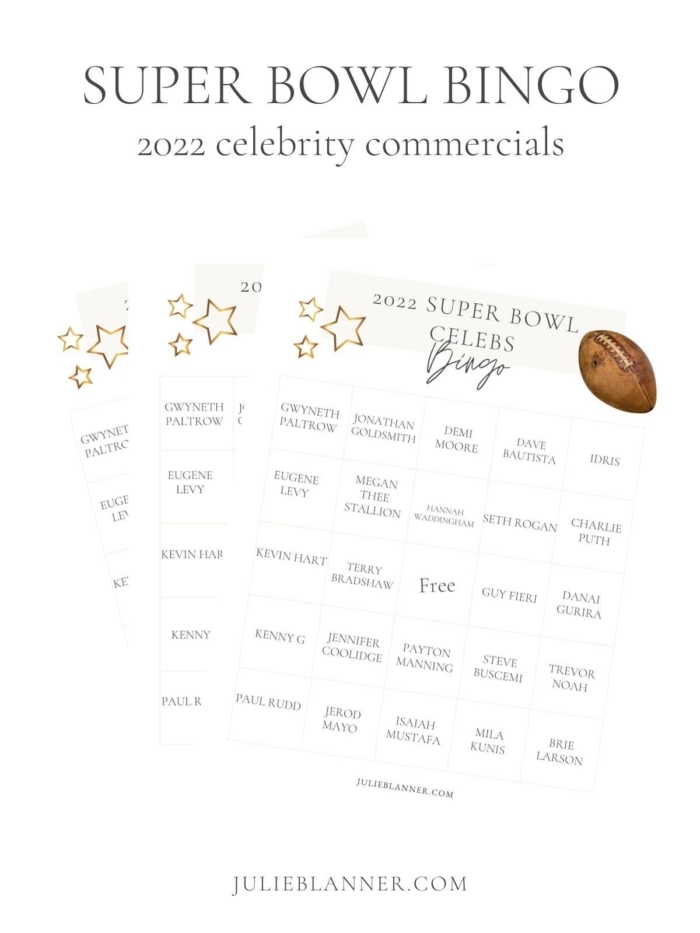 Frequently Asked Questions
What are some fun Super Bowl games?
Try a free printable game like bingo or Super Bowl trivia! You can also set up traditional party games – think ring toss, Twister, pin-the-football, and more!
How do I entertain my kids for the Super Bowl?
Print these family-friendly Super Bowl commercial bingo cards and you're off to a great start! You can also plan a Puppy Bowl party, which can be even more fun for the littles in your life.
Set up a fun ring toss game, make some incredible Super Bowl appetizers, and set them up for this fun Bingo game so they have to pay attention to win… and then everyone wins!
I know you all are excited for your free printable Super Bowl Bingo Cards, but did you know I also have Puppy Bowl Bingo cards?
This game will keep the kids busy while you're working on party prep. Puppy Bowl is a great event that is worth supporting, and your kids will enjoy it even more when a Bingo game is thrown into the mix!
Let's keep in touch! Receive exclusive content, including never-seen-before photos, our favorite home decor DIYs and more!
More Game Day Inspiration
Recipe Collections
15 mins