Score a touchdown with Super Bowl Bingo Cards! These free printable cards are one more way to add an element of fun to your Super Bowl party. Adults and kids – and even people who don't care for football – will enjoy this game!
Bringing people together is one of my favorite things, and a Super Bowl get-together is another opportunity to do that. Watch the big game together, enjoy some delicious cocktails, and have a few laughs during the commercials. Everyone can join in the fun with these free printable Super Bowl bingo cards that will keep them on their toes during commercial breaks.
I know you all are excited for your free printable Super Bowl Bingo Cards, but did you know I also have Puppy Bowl Bingo cards? This game will keep the kids busy while you're working on party prep. Puppy Bowl is a great event that is worth supporting, and your kids will enjoy it even more when a Bingo game is thrown into the mix!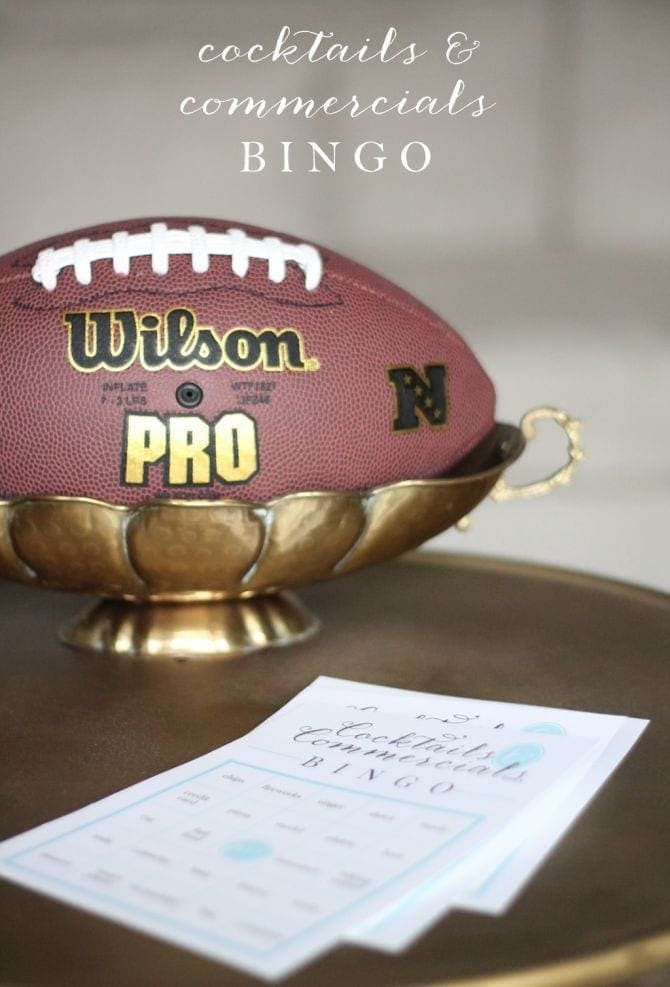 Super Bowl Bingo will score a touchdown at a party with your friends. Or just play it at home with your family or on your own, and let me know how you did!
Whether you're football fans who are intent on the game, or just at the party for all of the amazing food, Super Bowl bingo cards just add to the fun and complement the other activities.
So make some Little Smokies, Hot Ham and Cheese Sliders, and Amazing Bacon Cheese Dip to create a delicious spread. Throw in your favorite cocktails or try something new like Spicy Jalapeño Margaritas or Mango Margaritas.
How to Play Super Bowl Bingo
Click here for the your free printable Super Bowl bingo cards. And for you Puppy Bowl fans, including your kids, don't forget to print your Puppy Bowl Bingo Cards here!
Have a bowl of small candies to use as markers, or just use traditional markers.
When a commercial airs that is the same theme as one of the squares, cover it up.
Have a fun prize prepared to give to the first person who gets a bingo!