A classic mojito recipe (you can call it a mojito receta for a little Spanish twist!) is the ultimate refreshing summer cocktail. It's an EASY five ingredient recipe that features a mouthwatering blast of fresh squeezed limes and mint, balanced with rum, soda and sugar.
I love a great margarita as much as (okay, maybe more than) the next girl, but a fresh minty mojito can really hit the spot. Let's learn how to make this fabulous classic mojito cocktail!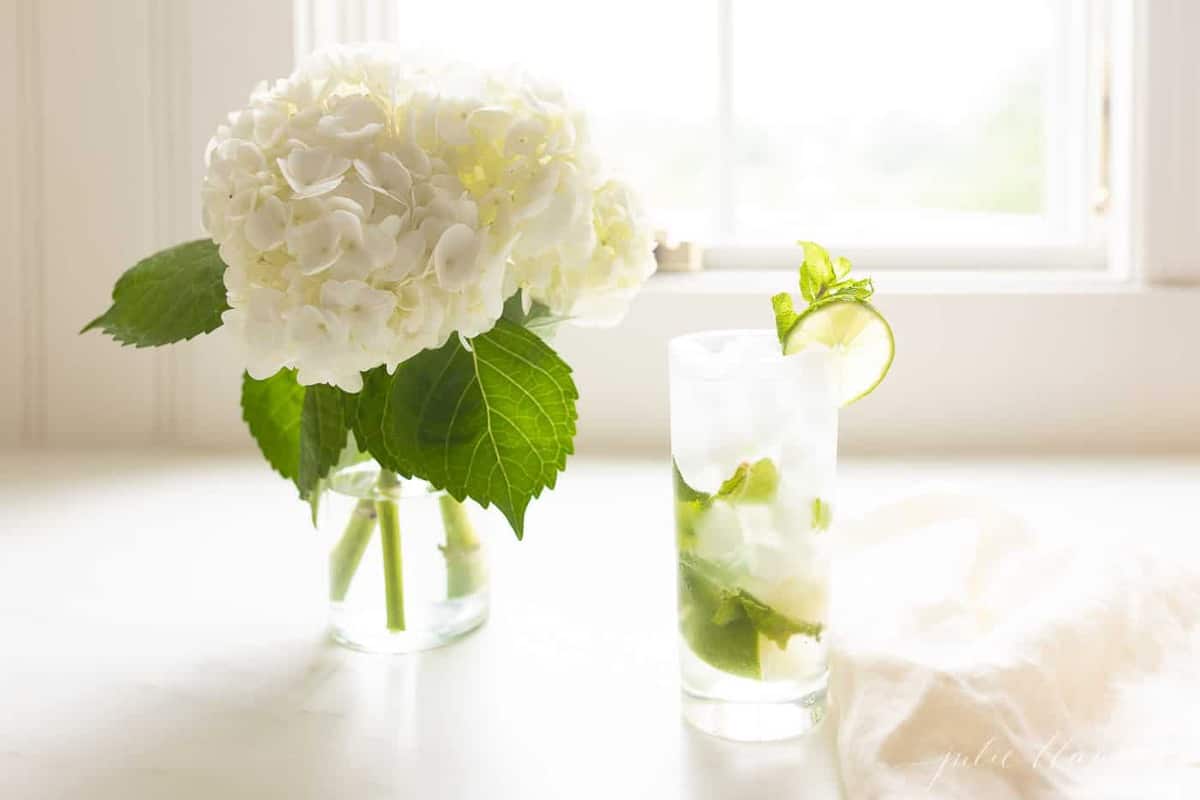 If you've never had a refreshing mojito, wow are you in for a treat today! This classic, vibrant cocktail is as refreshing as it gets.
It's not only a beautiful cocktail, but it's filled with lively fresh flavors that will immediately transport you to memories of your favorite island vacation. All you need is a lounge chair in your own backyard!
This mojito recipe is where it all started. It's a classic, made with white rum, lime, mint, simple syrup or cubed sugar. I fell in love with this classic cocktail when vacationing in Mexico years ago and haven't been able to get enough of it ever since!
I'm so excited to share a few of my favorite ways to enjoy one amazing cocktail – the mojito! Mojito Float, Skinny Mojito, Watermelon Mojito, Vodka Mojito, the options are endless!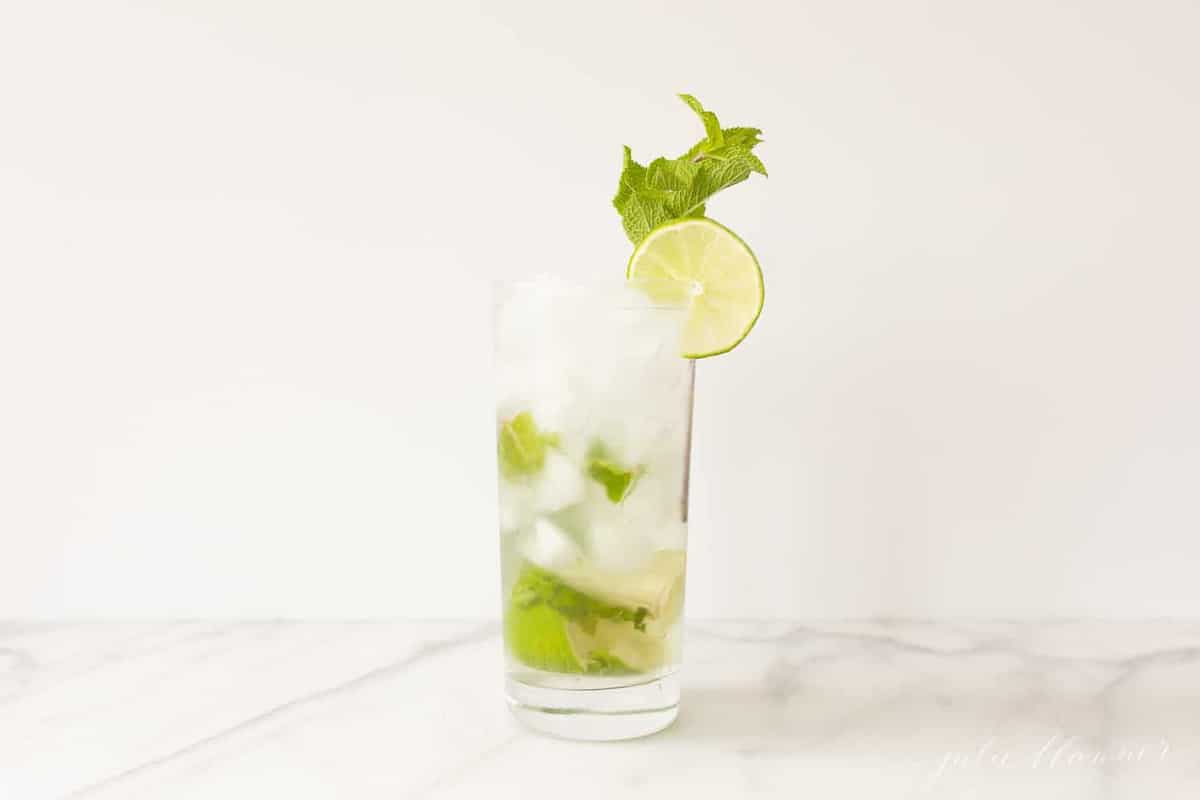 What is a Mojito?
Mojitos are a Cuban cocktail that have been embraced the world over because of their refreshing, tangy flavor. It's often said that Hemingway made it famous, but most historians believe that it was a part of Cuban culture long before he visited.
It's a sweet summer sip, perfectly balanced with the taste of mint and sugar and the tangy citrus of fresh limes. I warn you – one is never enough!
The key to a memorable mojito cocktail is a perfectly balanced combination of sweetness, acidity and fragrance.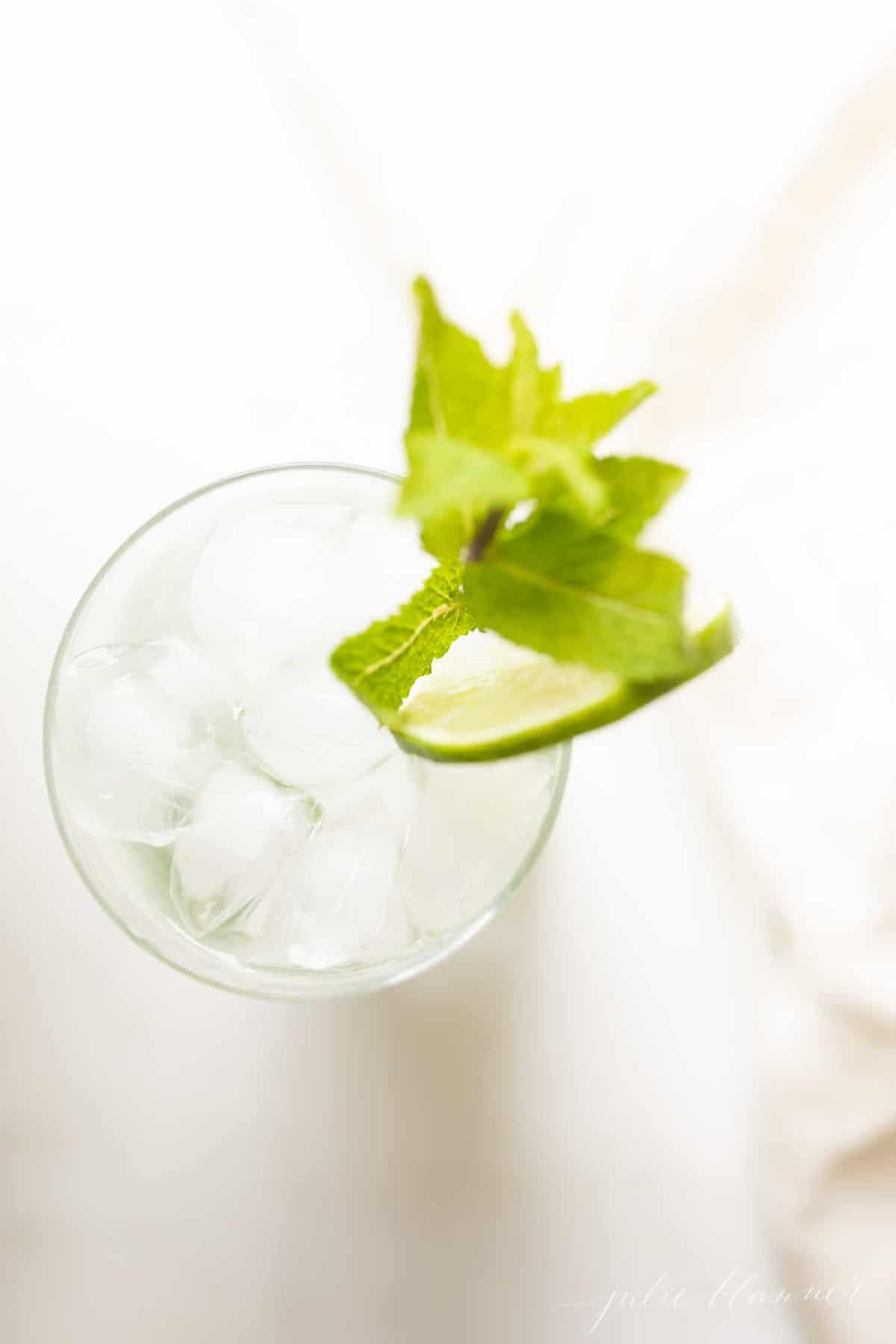 Why You'll Love this Classic Mojito Recipe
So easy to make
The perfect summer sip
Great way to use the mint from your garden
Perfect for entertaining
A mojito is so perfect for parties! In fact, you can learn how to set up a DIY Mojito Bar that will be the best feature of your next gathering – don't miss it, along with the Best Rum for Mojitos!
Mojito Recipe Ingredients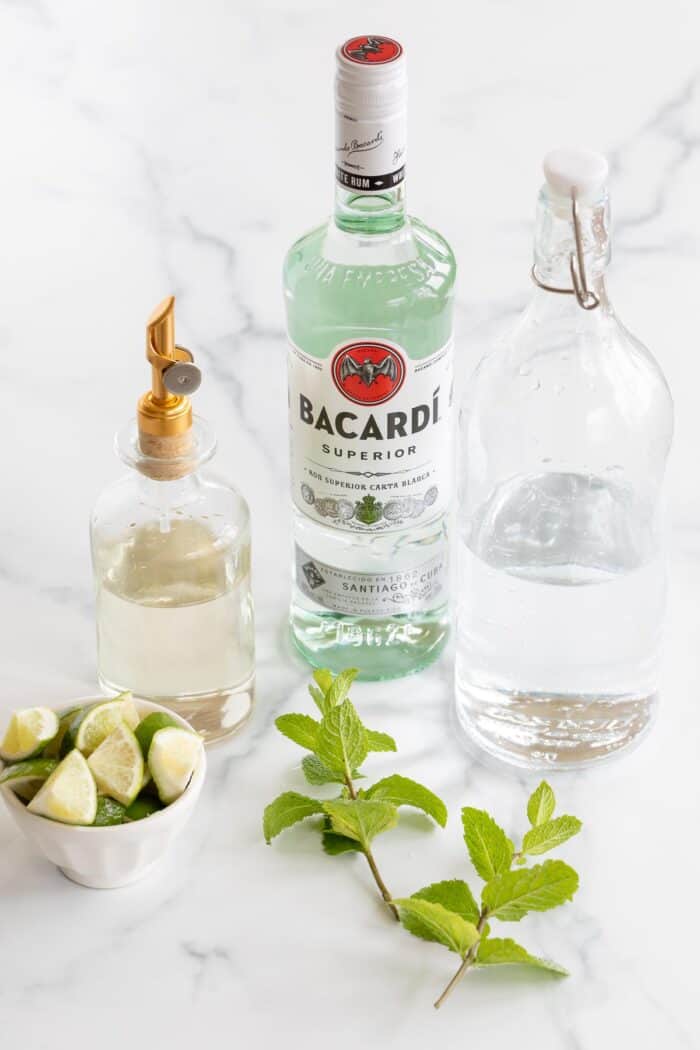 Rum – Rum is the foundation for this amazing cocktail. The best option is generally white rum – you'll often see it referred to as silver rum, blanco rum or light rum.
Mint – Fresh mint adds a lot of flavor. When muddled, the oils release both flavor and fragrance. A sprig also makes a beautiful garnish.
Lime – When lime juice blends with mint – magic happens! The sweet citrus flavor releases with the squeeze of a lime. While you can use bottled lime juice, I promise that fresh-squeezed flavor is worth the extra step!
Soda Water – Also known as sparkling water, it adds a few bubbles to this cocktail. Club soda is my soda water of choice here.
Mojito Syrup or Sugar – This essential ingredient sweetens the cocktail. Whether you choose to muddle your lime and mint with a couple cubes of sugar or blend it with Simple Syrup you'll love this easy cocktail.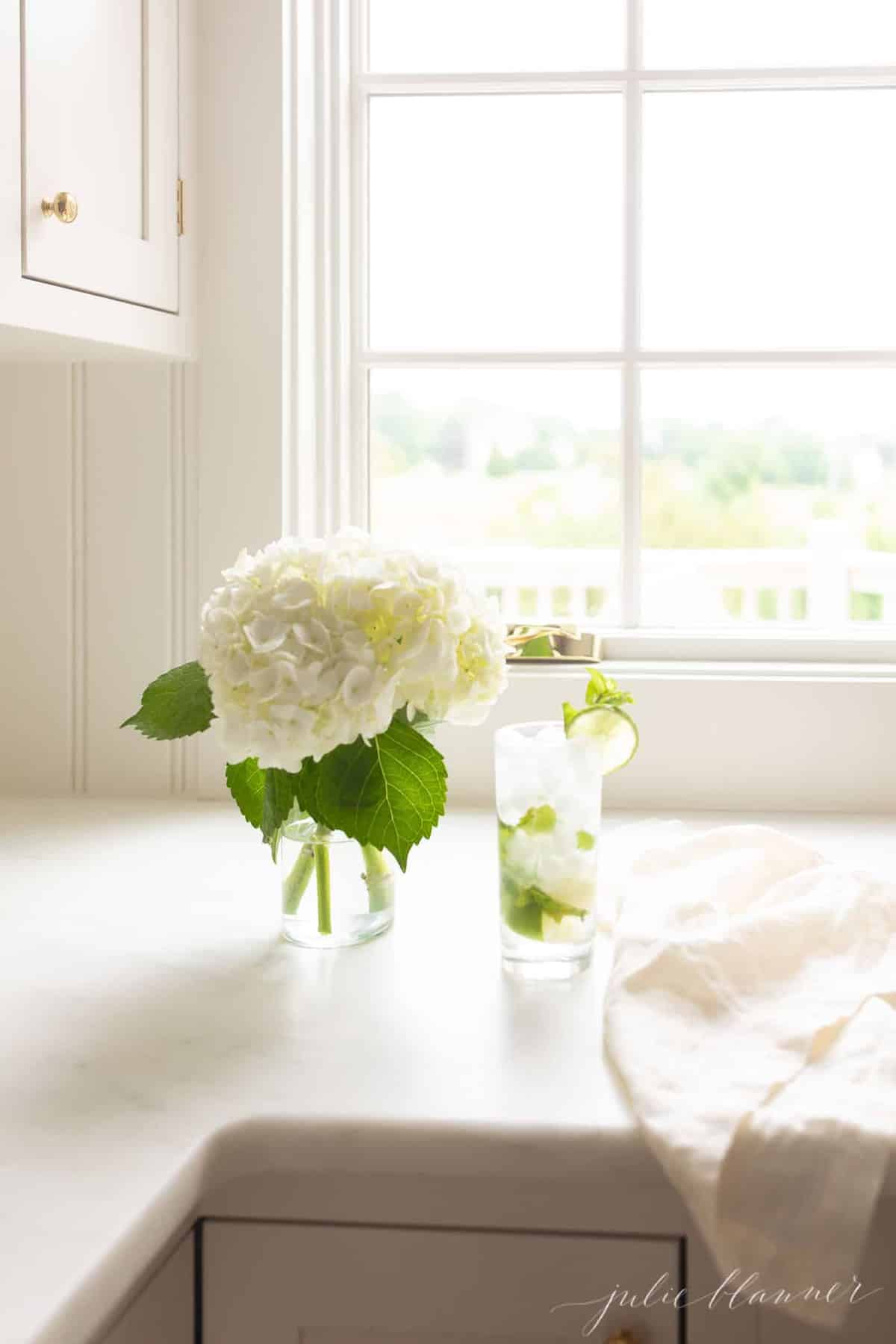 Variations
How to Make Mojito Syrup
You can make an easy simple syrup or sugar cubes to make the perfect mojito. To make the syrup, simply:
Combine equal parts water and sugar (I typically use a cup of each) in a medium saucepan over medium heat.
Stir until all sugar has dissolved and remove from heat to cool.
Should you choose to use sugar cubes or granulate sugar, muddle it with mint and lime to help it dissolve.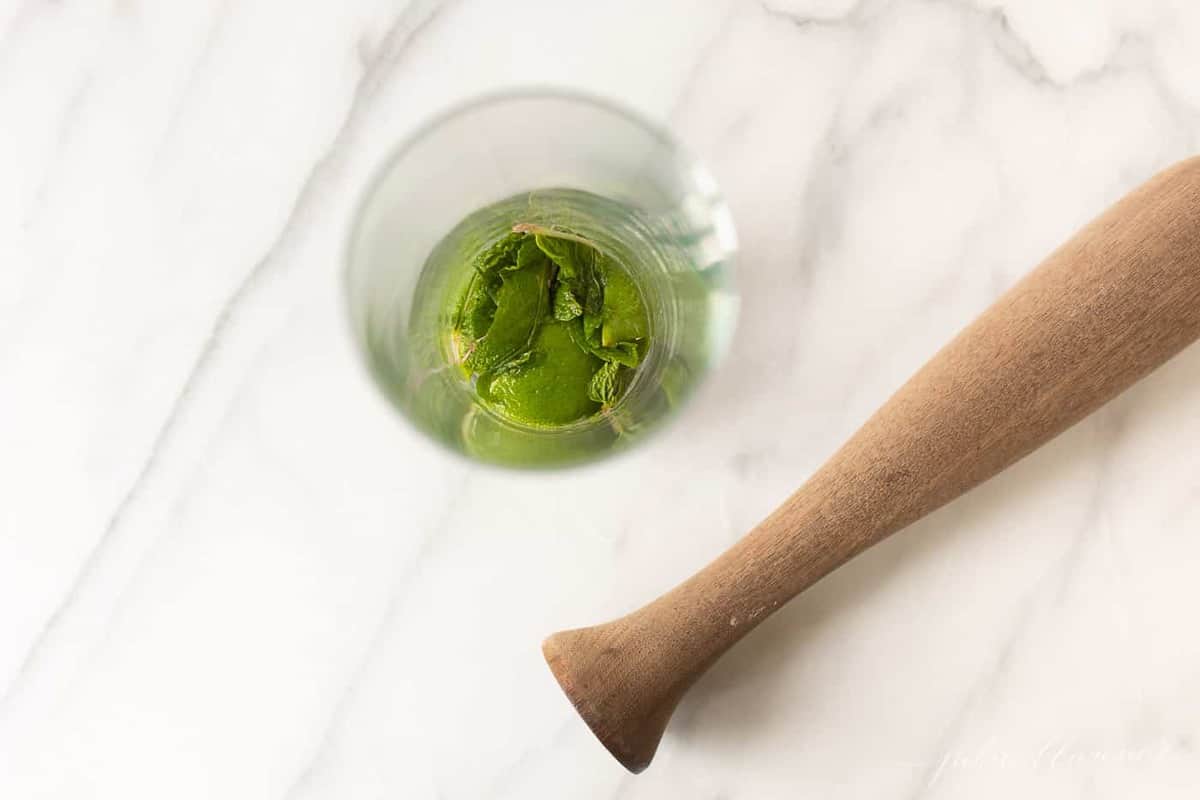 Mojito Muddler
A mojito muddler is a bar tool similar to a pestle. It is used to mash fruits and herbs to release their flavor.
If you don't have a muddler, that's okay! You don't need a special bar tool for muddling the mint.
Instead of a true muddler, try using the end of a wooden spoon! It will work well, although it might take a touch longer to truly release the mint and lime flavors.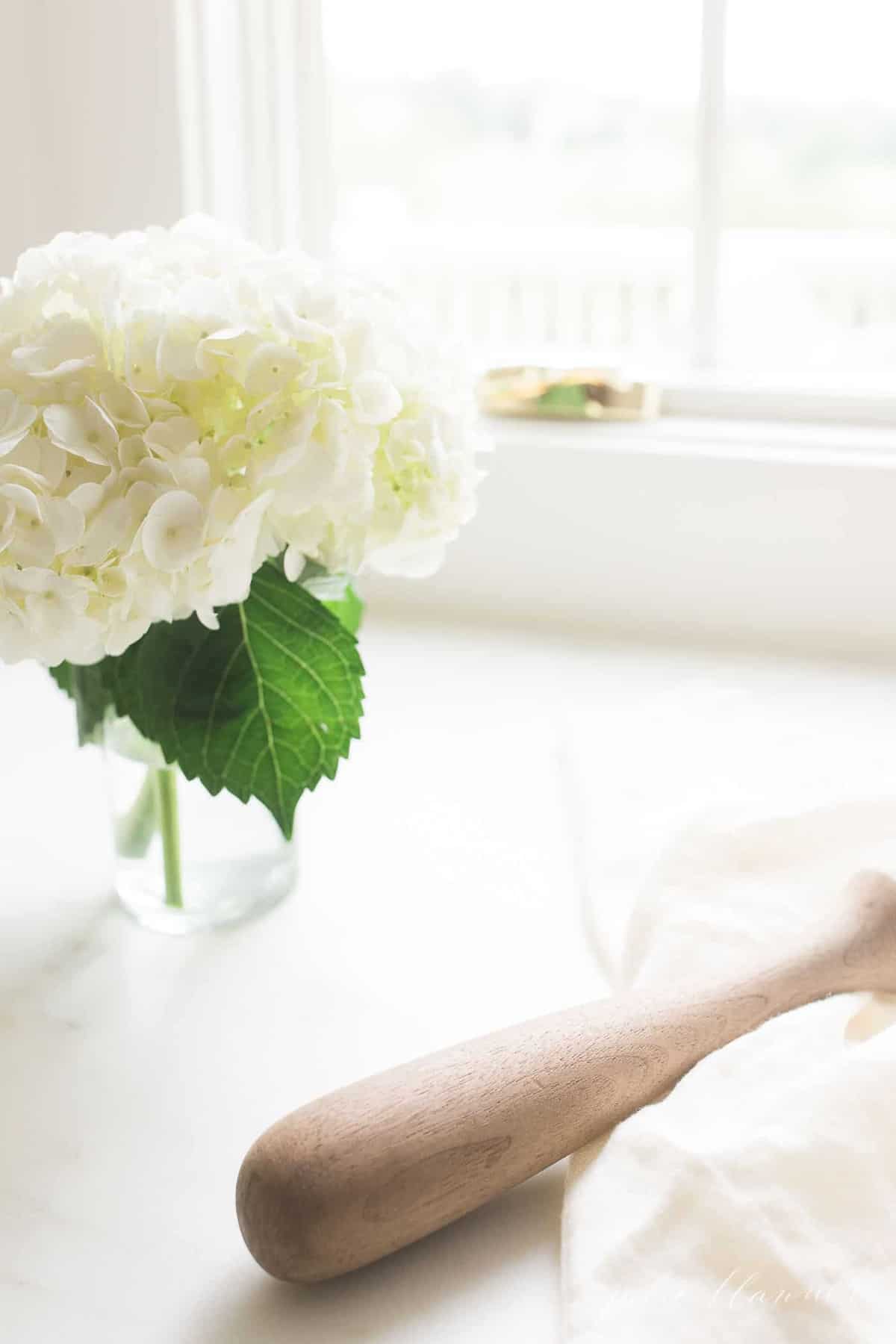 Quick Tip: this wood muddler is available for under $10!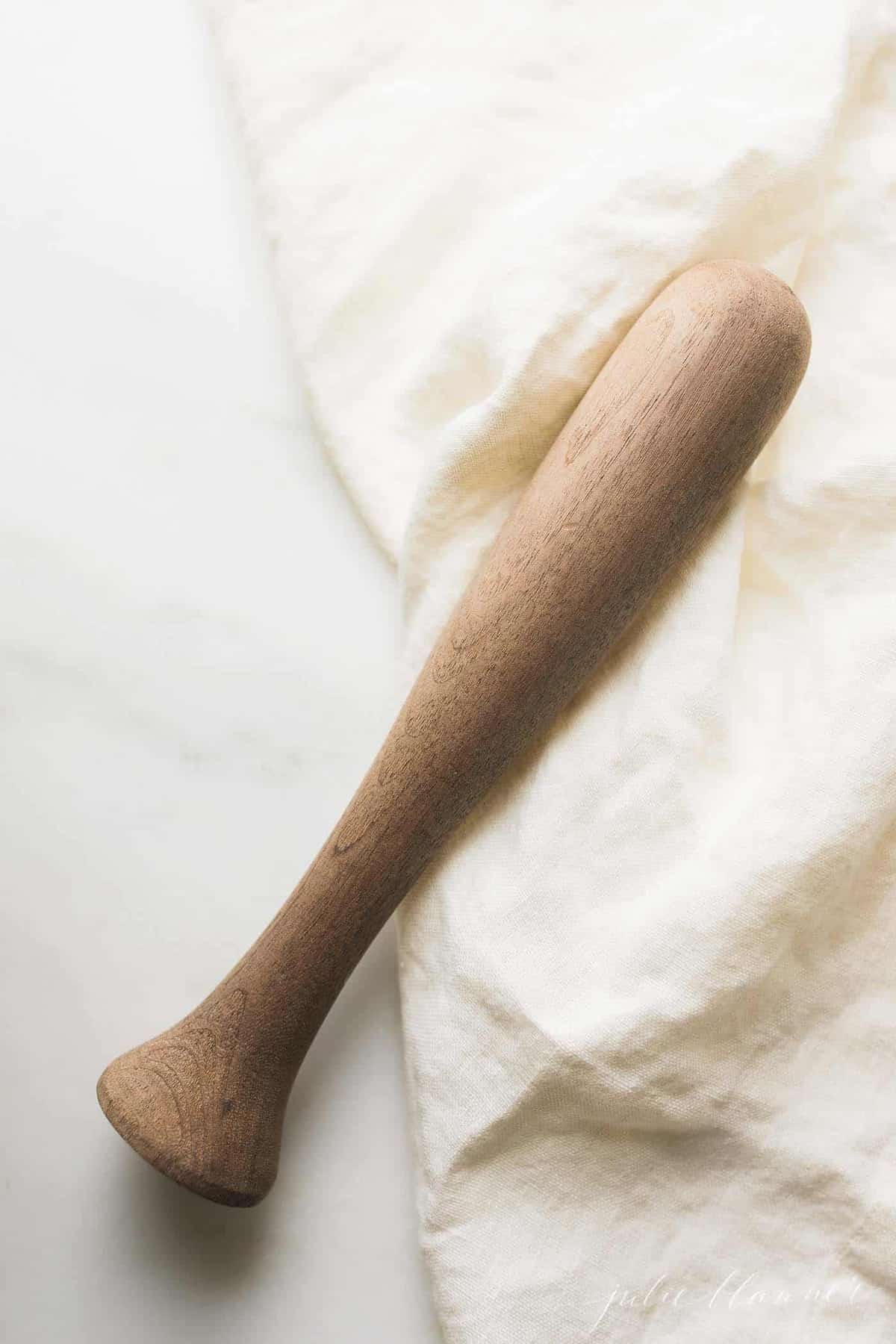 How to Make a Mojito
Start with a mojito glass.
Muddle lime wedge and mint.
Fill the glass with ice.
Pour rum over ice.

Add simple syrup.
Top off with Club Soda, stir and garnish with a sliced lime and mint sprig.
More Mojito Flavors
What kind of rum is used for mojitos?
The best rum for mojitos is white rum – you'll often see it referred to as silver rum, blanco rum or light rum. Of course, Cuban rum is a fun addition – you can often buy Havana Club rum (now made in Puerto Rico).
What mint is used for mojitos?
In general, spearmint is a favorite. Any mint will work, but your local garden center will often carry a variety called "mojito mint" too, which is so much fun!
Can I use vodka instead of rum in a mojito?
Yes, you can! You can use tequila, too! Get our classic Vodka Mojito Recipe and learn all about tequila in this Tequila Guide.
Mojito Recipe Tips
Try a cocktail shaker for a more formal way to shake and stir.
The joy of this easy recipe is that you can experiment to find your ideal version of sweet, minty and citrusy. Play with the ingredients to find your perfect mix!
If you like a little more lime (or a little more rum), that's great! Less syrup or sugar, that's perfect too. This cocktail is so flexible and yet always, always, delicious.
What's your favorite summertime sip? I'd love to hear!
More Cocktail Inspiration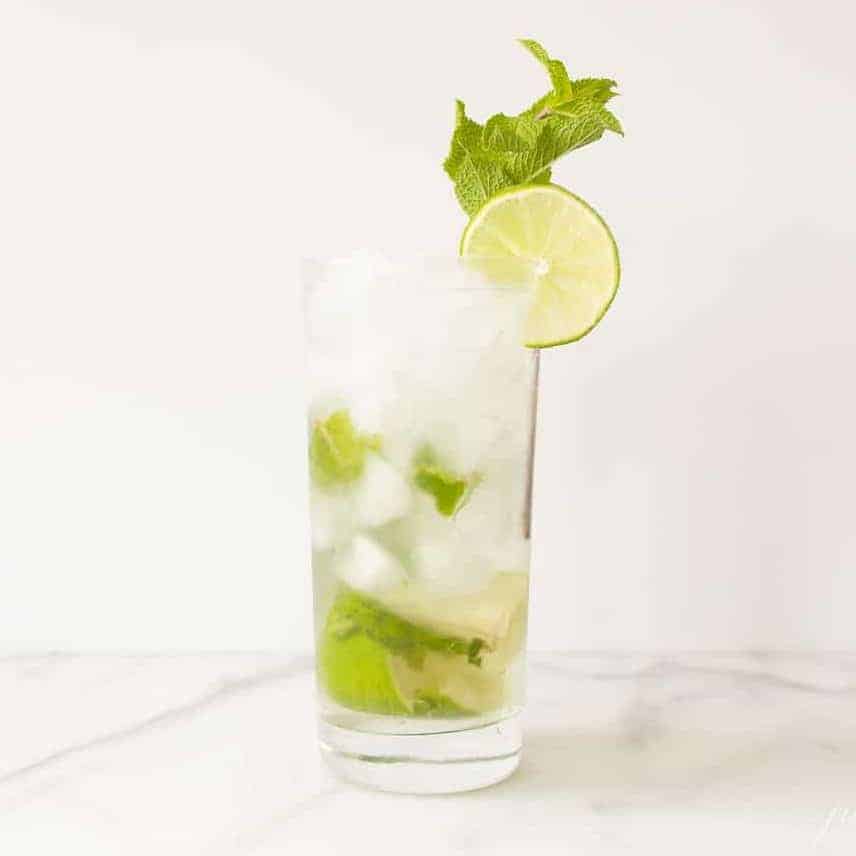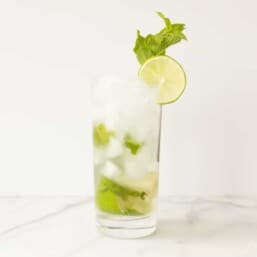 Classic Mojito Recipe
A classic mojito recipe made with lime, sugar, white rum, fresh mint and topped off with club soda for the ultimate cocktail!
Ingredients
½

lime

quartered

5

mint leaves

ice

filled to the brim

1½

ounces

white rum

2

tablespoons

simple syrup

½

cup

club soda

or to taste
Instructions
Start with a mojito glass.

Stir and garnish with lime slice and/or mint sprigs.
Tips
If you don't have a taditional muddler, that's okay! Instead of a classic mojito muddler, try using the end of a wooden spoon.
Play with the ingredients until you get it exactly as you like it! Try using more or less lime or syrup, etc.
Calories:
219
kcal
|
Carbohydrates:
34
g
|
Protein:
1
g
|
Fat:
1
g
|
Saturated Fat:
1
g
|
Sodium:
51
mg
|
Fiber:
1
g
|
Sugar:
30
g
|
Vitamin A:
215
IU
|
Vitamin C:
11.4
mg
|
Calcium:
23
mg
|
Iron:
1.9
mg
Estimated nutrition information is provided as a courtesy and is not guaranteed.
Explore More