What kind of wall decor should you hang over your bed? If that's the question you're asking, you're in the right place. Find inspiration for a wide variety of art above a bed with these inspiring ideas!
Learn the keys to choosing art that speaks to you, how to choose the correct size of art according to your bed size, and more. There are links to free art sources, tips about how to group art, and so much more!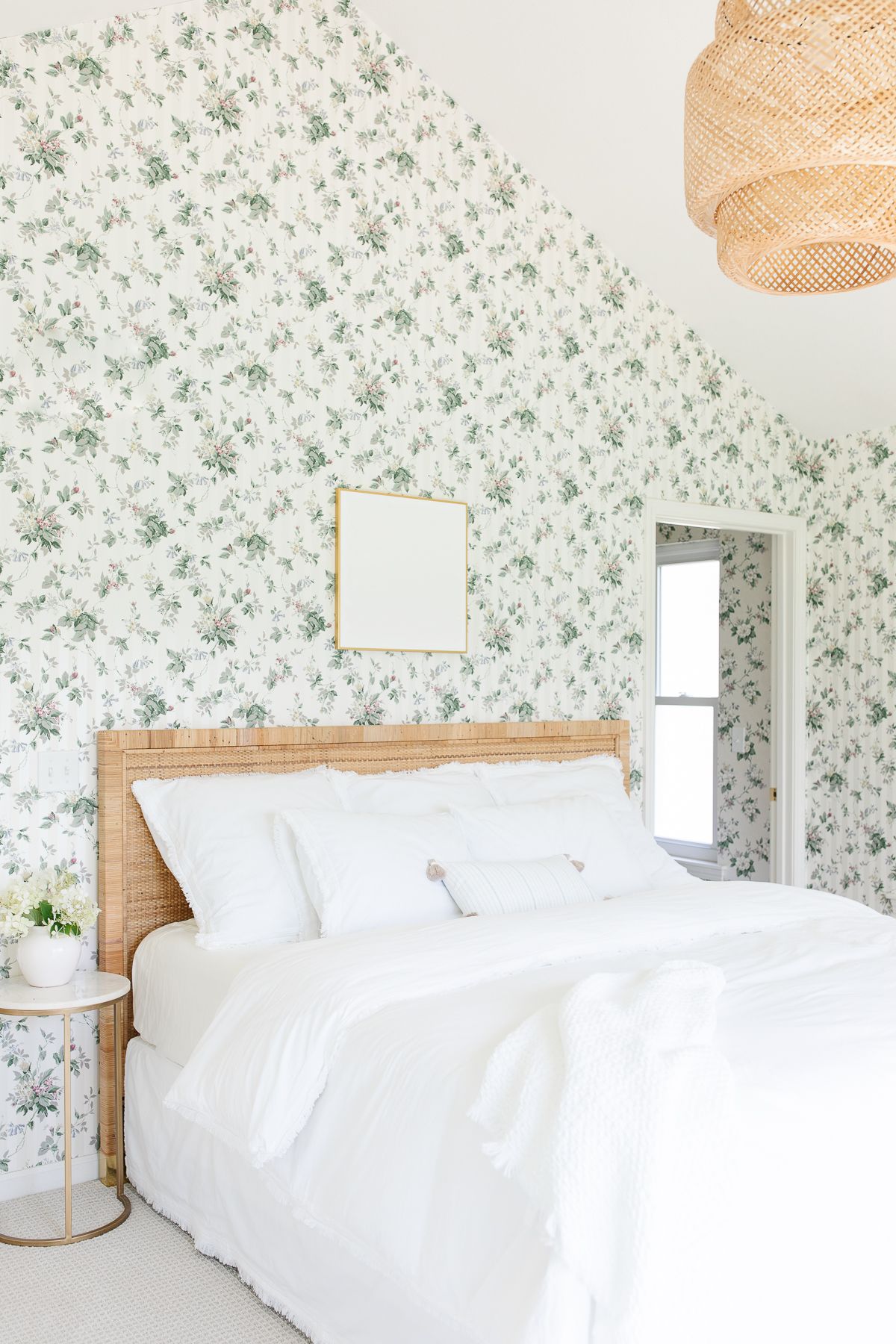 We've been refreshing our primary bedroom over the past few months, and it was long due! The main bedroom of a home tends to be a space that gets overlooked, and I'm not sure why.
Of course, it's not an area where guests spend time, so it's easy to leave this room for last. But it is a space that should be a sanctuary of your own, and a homeowner tends to spend at least eight hours a day in this room, right? So why do we wait?
Learn about the Best Bedroom Colors for Couples, along with the Perfect Nightstand Height and Dining Table Size Guidelines. I've also got a complete source for Bedroom Rug Size and Placement Guidelines that is so helpful for choosing a rug!
If you've chosen a fresh wall color, freshened up your bedding, and added a new rug, you might be ready for one of the final steps for bedroom decorating: art above the bed!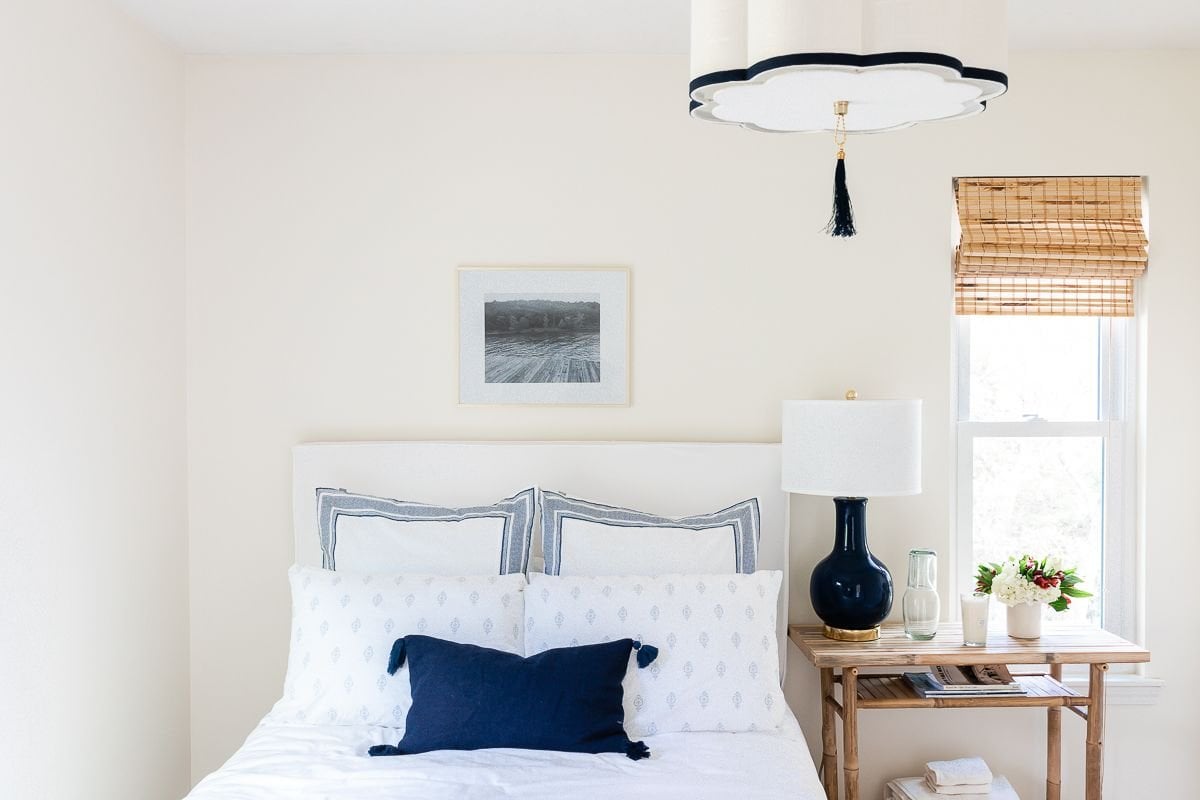 If you're new here, feel free to take a look around. I love sharing fresh, pretty art inspiration with you! Don't skip my favorite FREE Art Sources, 20 Easy Wall Decor Ideas, and Where to Buy Art for The Frame TV.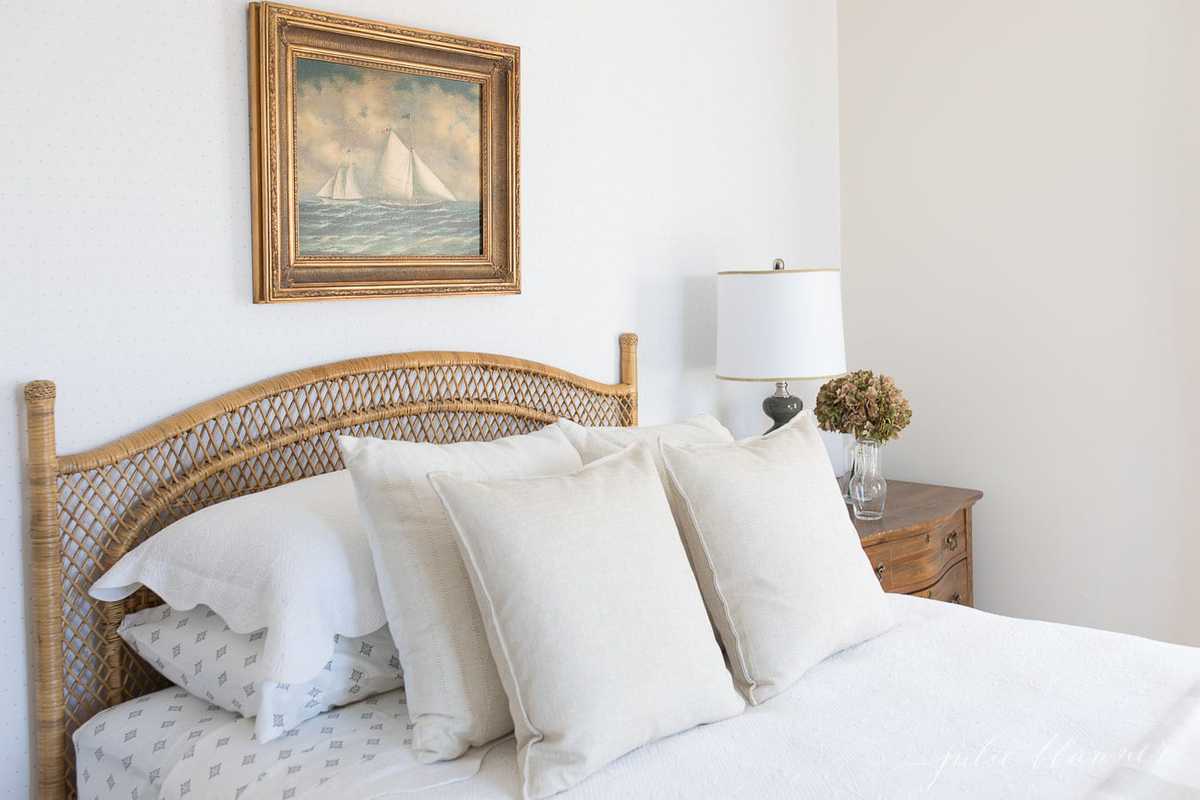 Art Above a Bed
Today, we're chatting about an area that can be difficult to decorate… the space above your bed! Why is it so hard to choose something for this little area?
For me, personally, I often struggle with scale and I am never sure about the appropriate size for something to go above a headboard. Leaving it empty doesn't always feel right, (although my minimalist heart loves this too) but doing something large and over-scaled doesn't really fit my style.
With that in mind, I tend to look to my favorite interior designers for inspiration. How are they styling the space above a bed with wall decor? Can I mimic that look on a more affordable and personal scale?
That's what I hope you take from this round up – inspiration for your own art above a bed!
Julie's Tips
Use one, two or even three pieces of art over your bed if you'd like (or more)! This is a great place to play with a pairing or a trio of pretty pieces. Just be sure that they have commonalities so they work well together.
When hanging a pair or trio of art pieces, be sure to put them close together. Leave no more than 2-3 inches in between to show that they belong together and that this is an intentional choice.
If you can't commit to a certain color scheme or style, swap it with art from another room! We love to shop the art in our home. This can help you determine if a different size, pattern or style will work for you in the space, and it's free.
When it comes to art size, there are no rules when it comes to the space over your bed. Big oversized pieces work beautifully here, and a more intimate, petite scale of art can also be gorgeous and feel so special.
Your bedroom in particular can speak to the things you love. Since guests so rarely see this space, it's a wonderful area for self expression and something that brings you joy. Choose pieces that reflect your love of travel, of family, or history.
Frequently Asked Questions
What kind of art goes above a bed?
Any kind of art can go above a bed, as long as it's something you love! Play around with your favorite styles, textures and groupings.
Is it ok to hang a mirror above your bed?
Absolutely – mirrors can bring so much light into a room! Anything goes. Just be sure to attach it securely.
How big should artwork above bed be?
Art can be any size, and there really aren't any rules when it comes to art over your bed. You can see so many examples of this right here in this post!

However, there are guidelines you can consider to help you make a choice you'll love! When purchasing art to hang over a bed or sofa, a good guideline is to have it be 2/3 to 3/4 of the width of the furniture. This can be more than one piece hung together, of course.

Again, this is just a guide. Small, more intimately scaled art can be beautiful and unexpected too!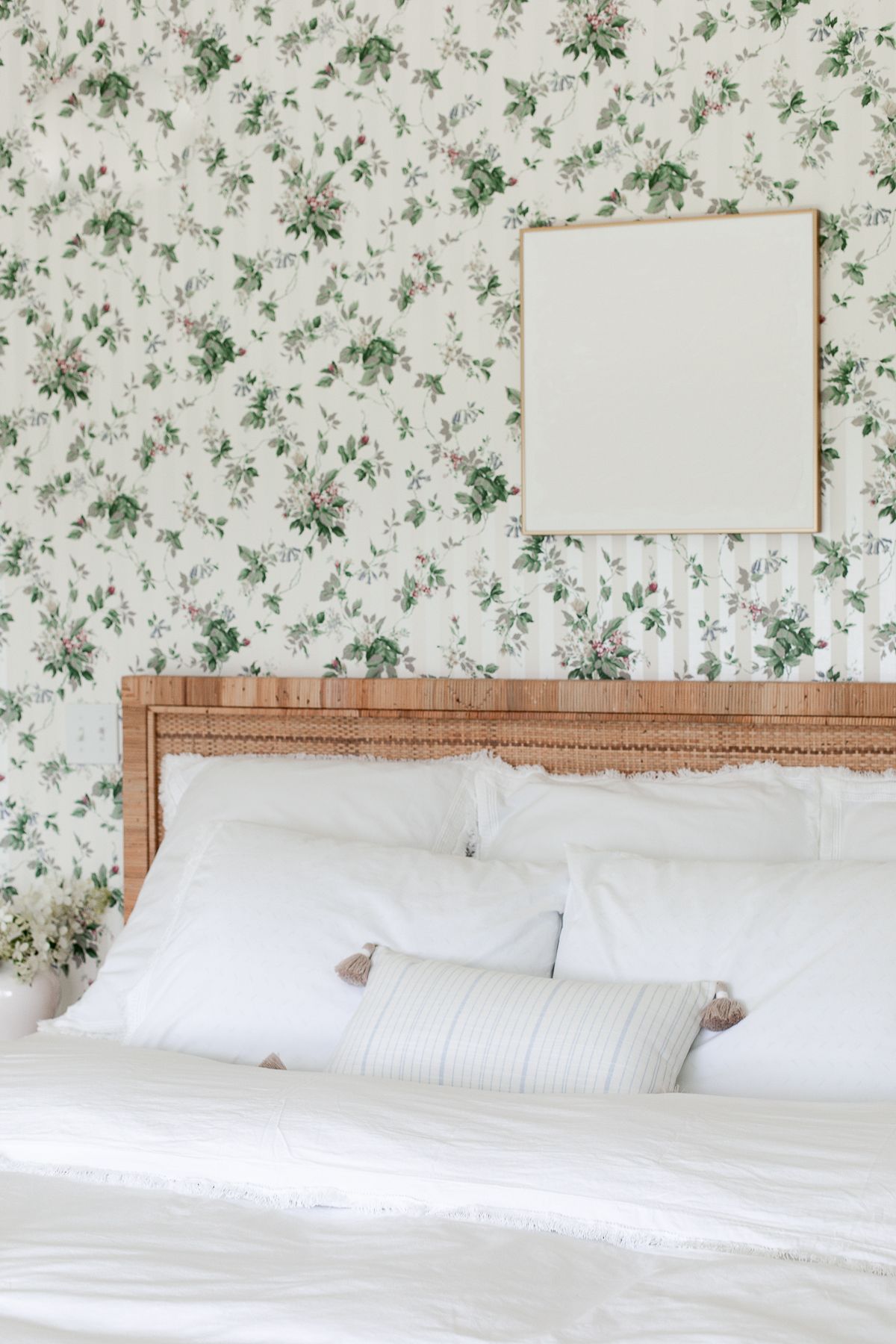 The Best Ideas for Wall Art Above a Bed
Many of these ideas are classics. Some are less expected, but no less beautiful. Whatever you choose to hang over your bed, I hope it's something that adds a calm, peaceful feeling to your bedroom. We all deserve that!
Add a Mirror
This is a classic look and one that is so easy to accomplish! However, it's easy to go a little too crazy with mirrors in a bedroom, so be sure that a mirror over the bed is a focal point you're not repeating.
In fact, this is a great place for a small mirror with a big frame. Consider a sunburst or something with a chunky molding so it's more about the texture and less about the actual reflection.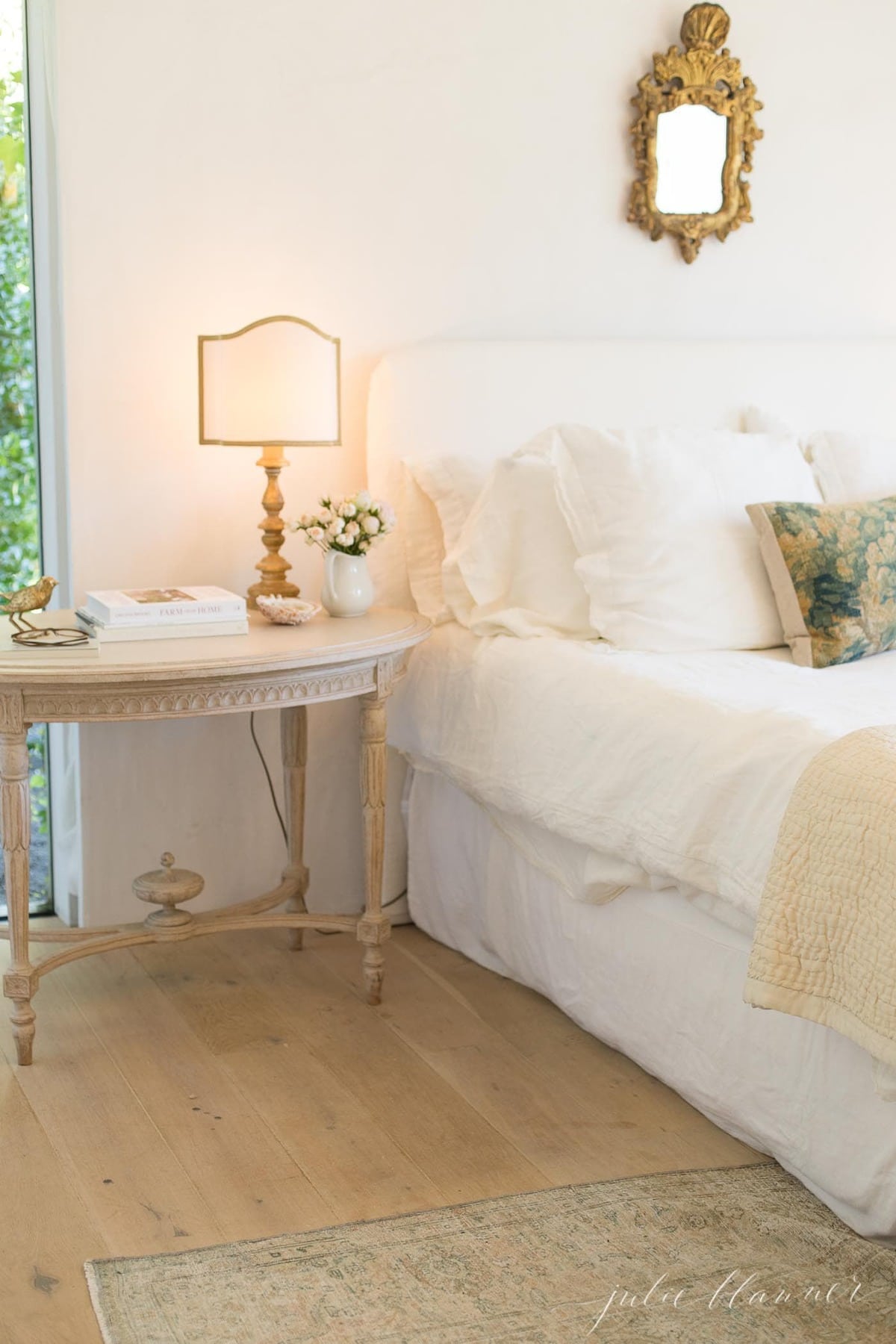 Hang a Framed Art Print
This is such a classic, timeless look! Choose a framed art print that is incredibly inexpensive (start in my Amazon Storefront) or you can even choose free art that is available in the public domain!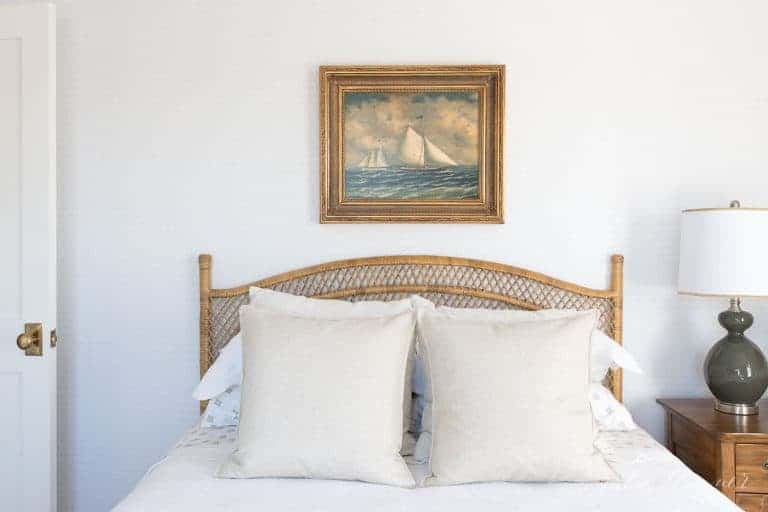 Use a Wreath
This isn't just for the holidays! Add an everyday wreath or a spring wreath, and change it out for the season for a fun switch.
One of my favorite tricks is to remove our year round wall art and add a wreath on that same nail for the holidays. It's such a fun switch and one that is so easy to do!
Choose Free Printable Art
Similarly, this year we added a sweet wintry print to hang over our bed all winter. I love the way it turned out, especially with the garland draped over our linen headboard.
Print something at home and add it to a frame you already have on hand. You might be surprised at what's available!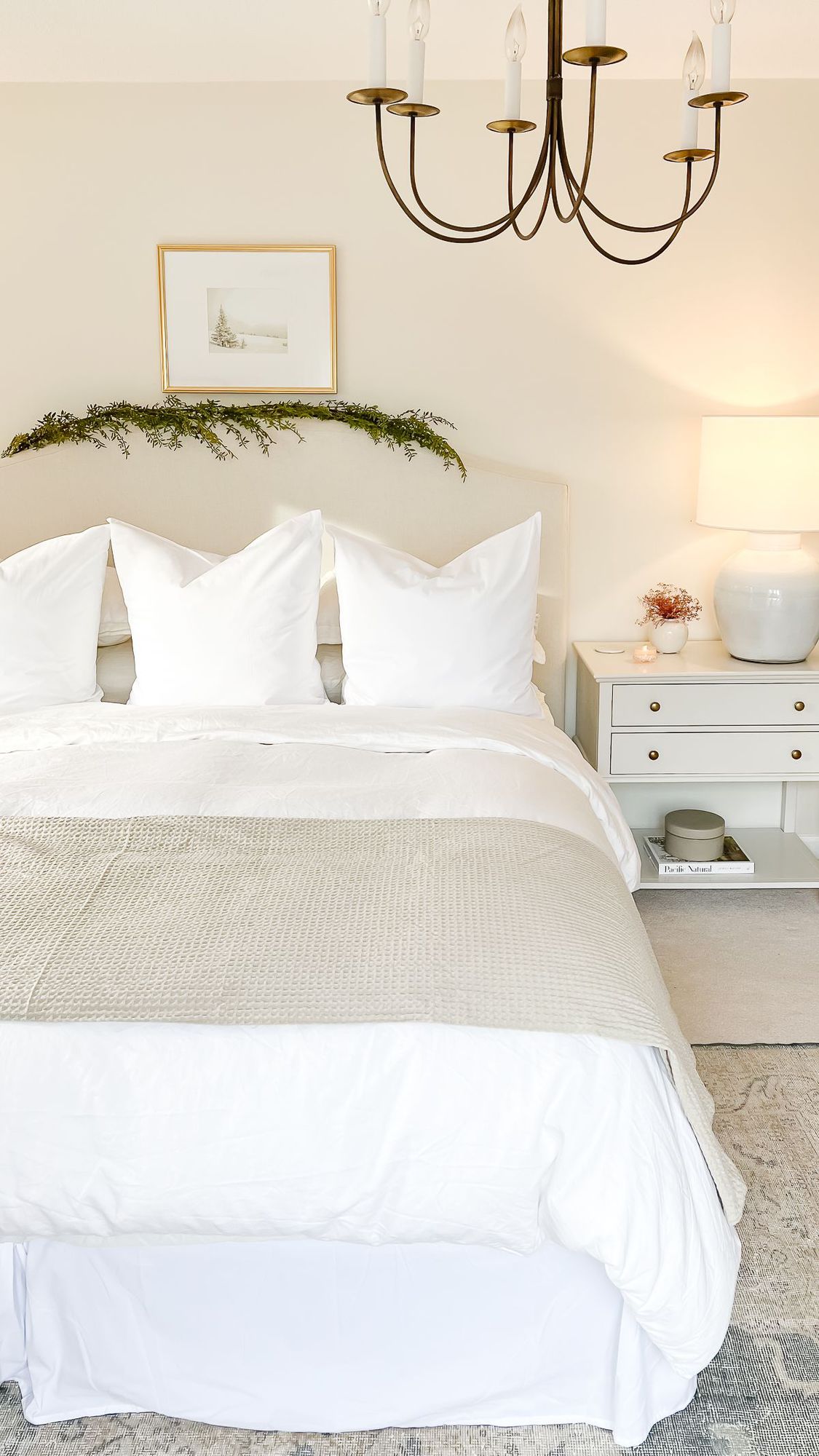 Frame Sheet Music
If you're a music lover, what could be better than framing a favorite song, or one with deep meaning? Sheet music is elegant and feels super fresh when framed.
For a touch of romance, consider using your wedding song, or one that played the night you met your spouse. Find beautiful sheet music art here!
A Map with Meaning
Have an Etsy artist create a map of a meaningful place and use that as wall art over your bed.
Maps are a timeless wall decor element, and one that can be made in any color scheme! As you can see below, this makes a special piece in a bedroom or anywhere.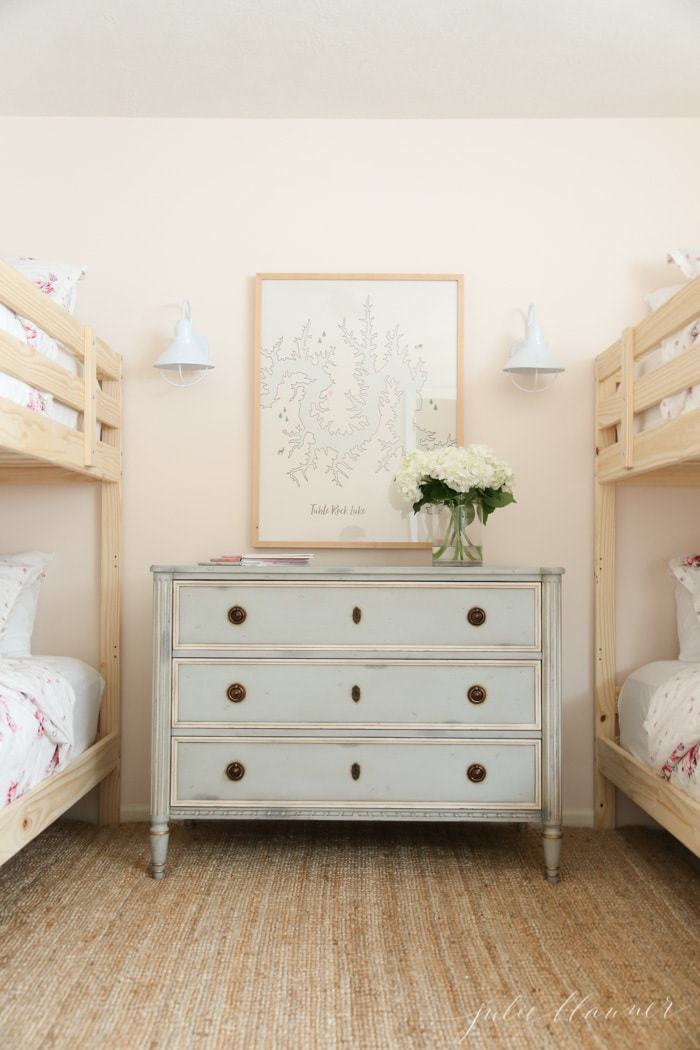 Use an Architectural Piece
This is a great place to incorporate an antique piece! Think of elements like vintage windows, wooden trim pieces and even a fireplace mantel or surround.
Can decide on a pattern or a color scheme? Don't want to commit to a certain style or look?
Consider adding a pretty textured wall art piece. You can even make it yourself with our easy tutorial! We wanted a soft, modern look for this primary bedroom at our lake cottage, to play against the old wallpaper pattern.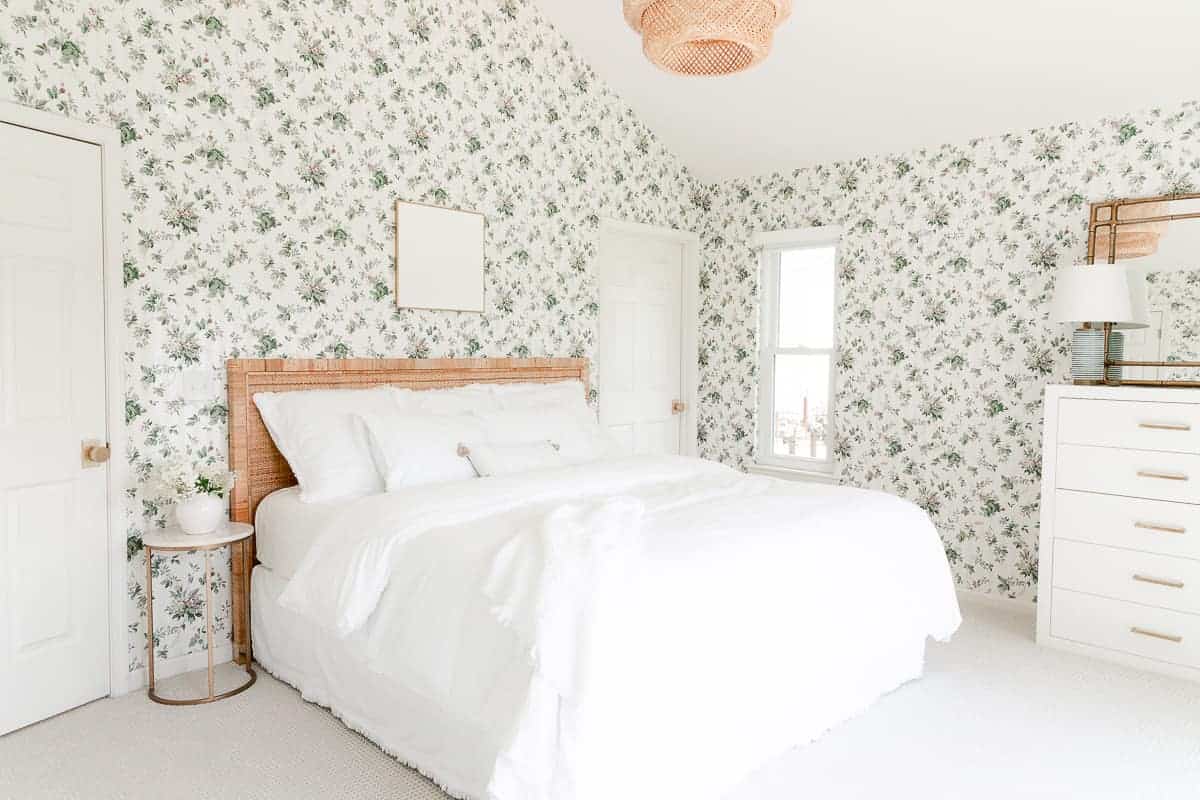 Frame a Favorite Photo
This is such an inexpensive way to create art! Use a photo with meaning. Think of family portraits, casual snapshots, or a landscape image of a place that you love.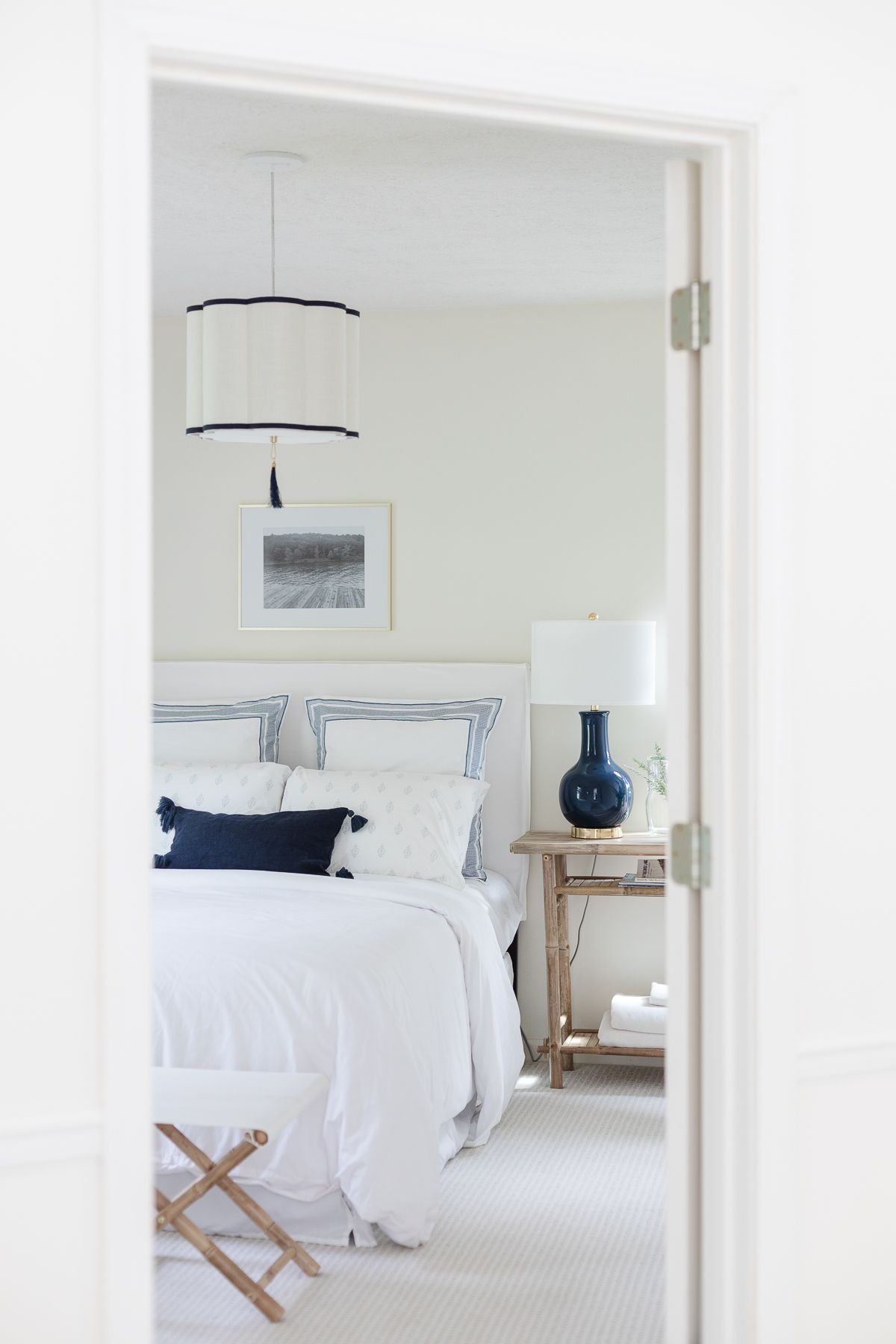 A Group of Plates or Platters
Learn how to hang platters and plates with this easy step by step. This look adds so much cottage charm to any room of your home, but why not over a bed?
Choose vintage plates in one color or pattern, or a variety of colors to work within your color scheme.
Save your favorite garden flowers and press them to use in a floating frame. Follow this pressed botanical tutorial for an easy step by step process.
Of course, you can also use your wedding flowers, special blooms from Valentine's Day and more!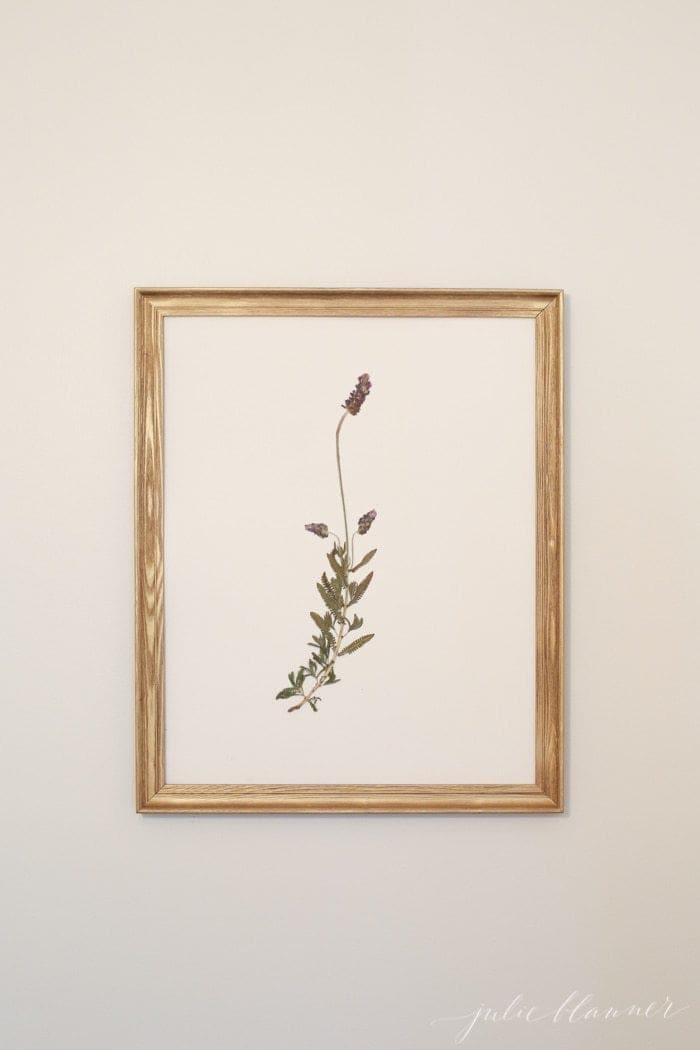 Add Moulding
Can't decide what kind of art you'd like to do, but want to add architectural interest? Consider adding picture frame moulding to the wall behind your bed!
With or without additional art, this creates an incredibly customized, special look. It's easier than you'd think, too!
Use Beadboard
Add cottage inspired charm with a wall of textural beadboard behind your bed. With so much texture and interest, additional art is unnecessary, although of course welcomed!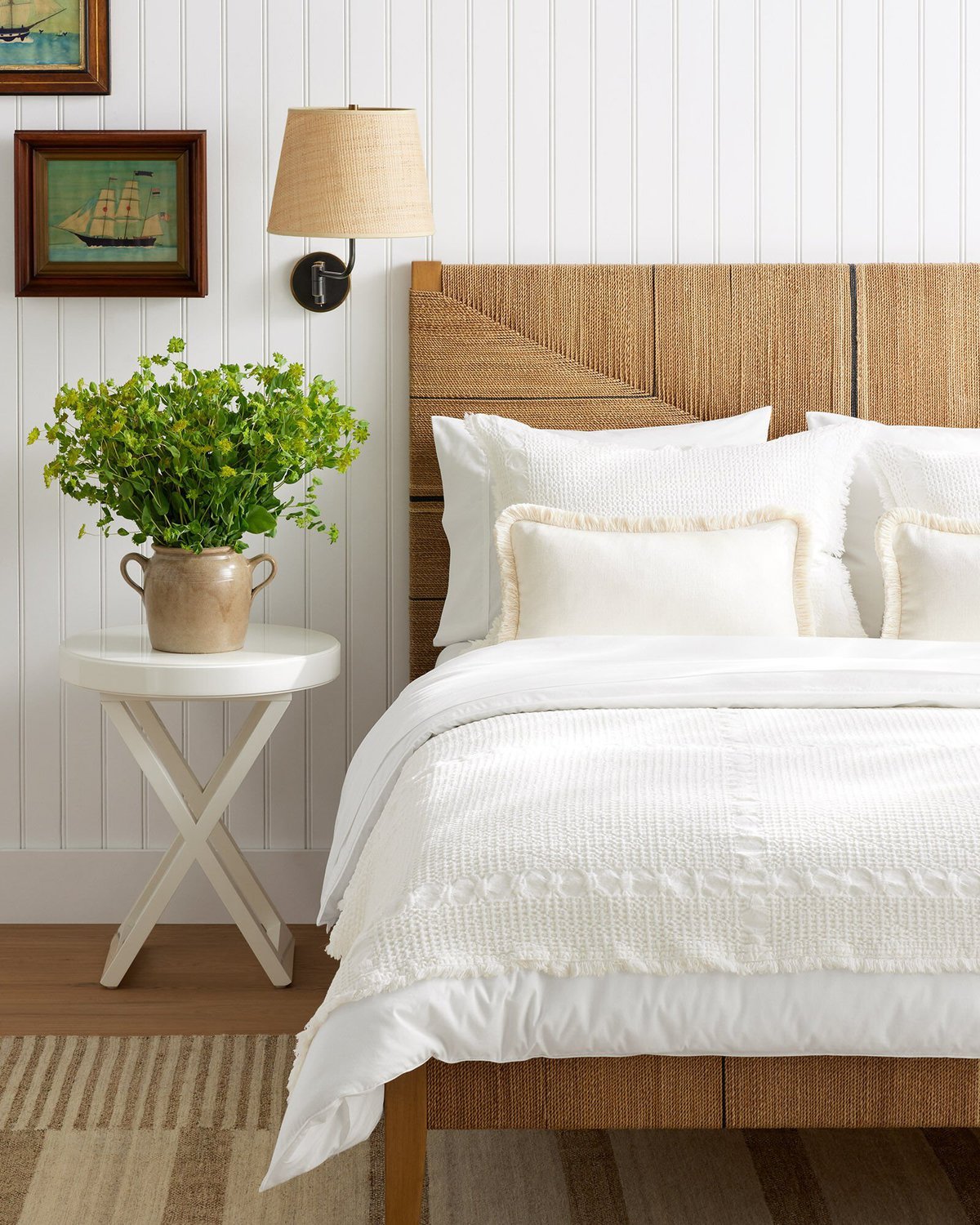 Use Baskets or Woven Trays
Adding woven, textural pieces like woven baskets adds immediate interest, without an intense pattern that will feel too messy when you have patterned bedding or drapes.
Consider the rule of odd numbers for your design over your bed. Group your pretty basket art into a group of three or five for maximum impact and an even, elegant number.
I love the look of these Three Seagrass Wall Pieces.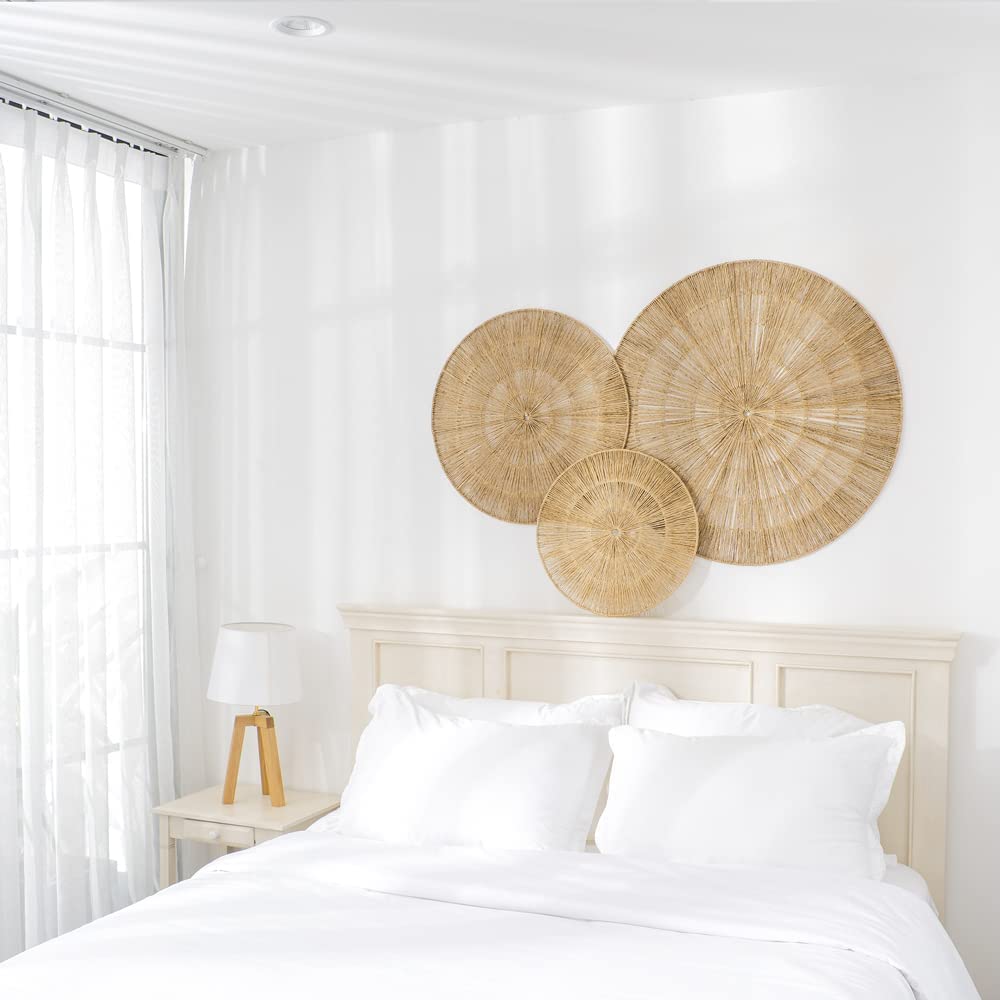 Wallpaper
One of the prettiest ways to dress up a space and add pattern is with wallpaper. It creates so much interest and give you an incredible focal point!
I've written about how to decorate with dated wallpaper, and I've brought you my favorite Serena and Lily Wallpaper options in this round up. I still think it's one of the most fabulous ways to create a beautiful space!
Don't skip this guide to Peony Wallpaper, too – such a popular way to make an incredible statement behind your bed!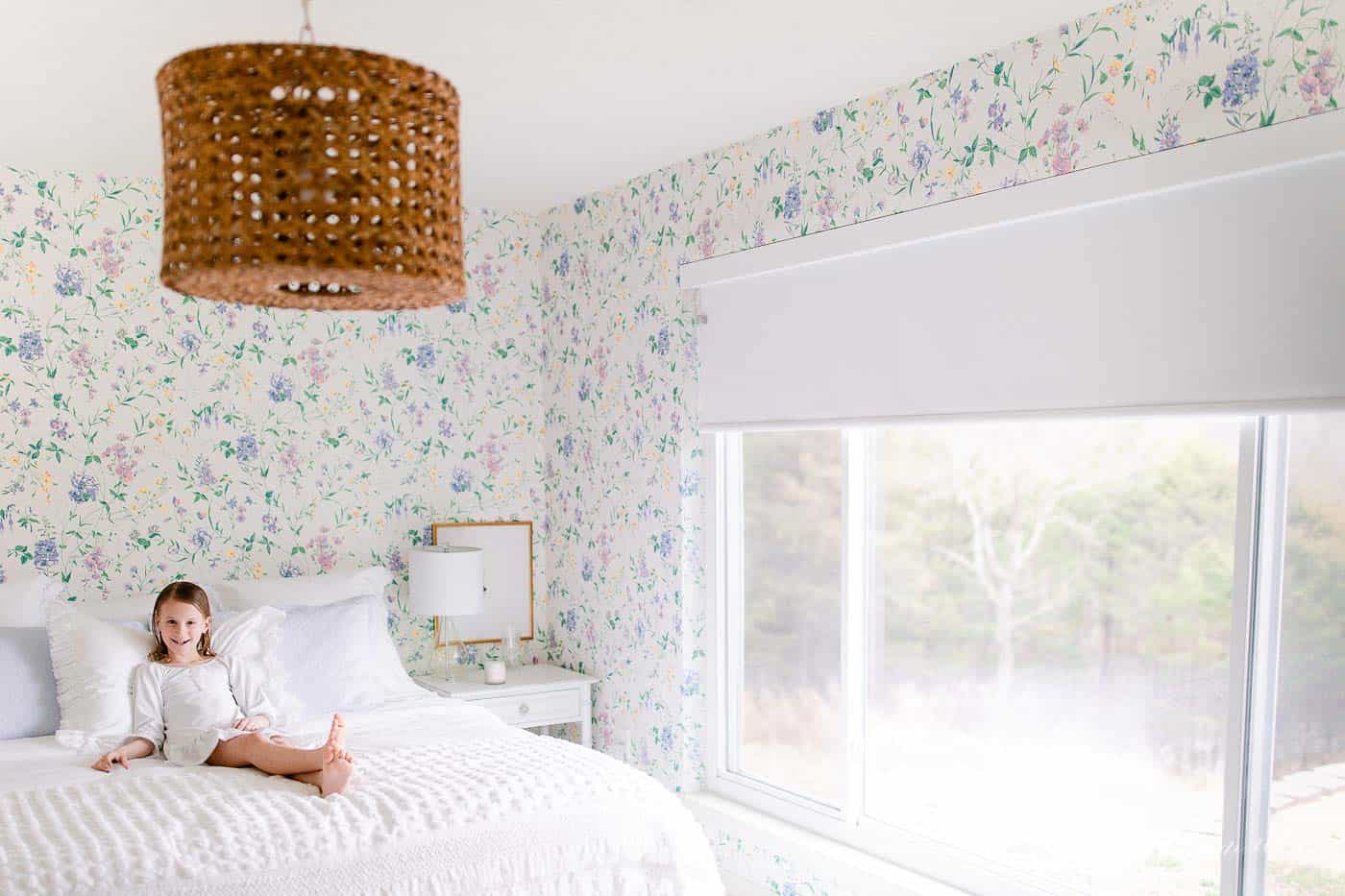 Add A Shelf
This is an easy way to add more functional storage and decor elements, too. Use a pair of staggered shelves or one single long shelf for modern interest.
These can fit a variety of styles, too… think rustic wooden shelves for a farmhouse or lodge, sleek modern pieces for an urban condo, and more!
Group Framed Botanicals
I'd love to hear from you! Are you planning a bedroom refresh any time soon? I hope this post inspires you to think outside the box for art over your bed!
Let's keep in touch! Receive exclusive content, including never-seen-before photos, our favorite home decor DIYs and more!
More Bedroom Decor Inspiration
Design Guides, Decor & Tips
Design Guides, Decor & Tips