How tall should your nightstands be? The answer might surprise you! Take the guesswork out of design to determine the best nightstand height with this simple guide.
It's important for nightstands to be at a comfortable size, scale, and height and offer practical storage in addition to being beautiful!
This guide will help find the perfect nightstand height and overall for your bedroom.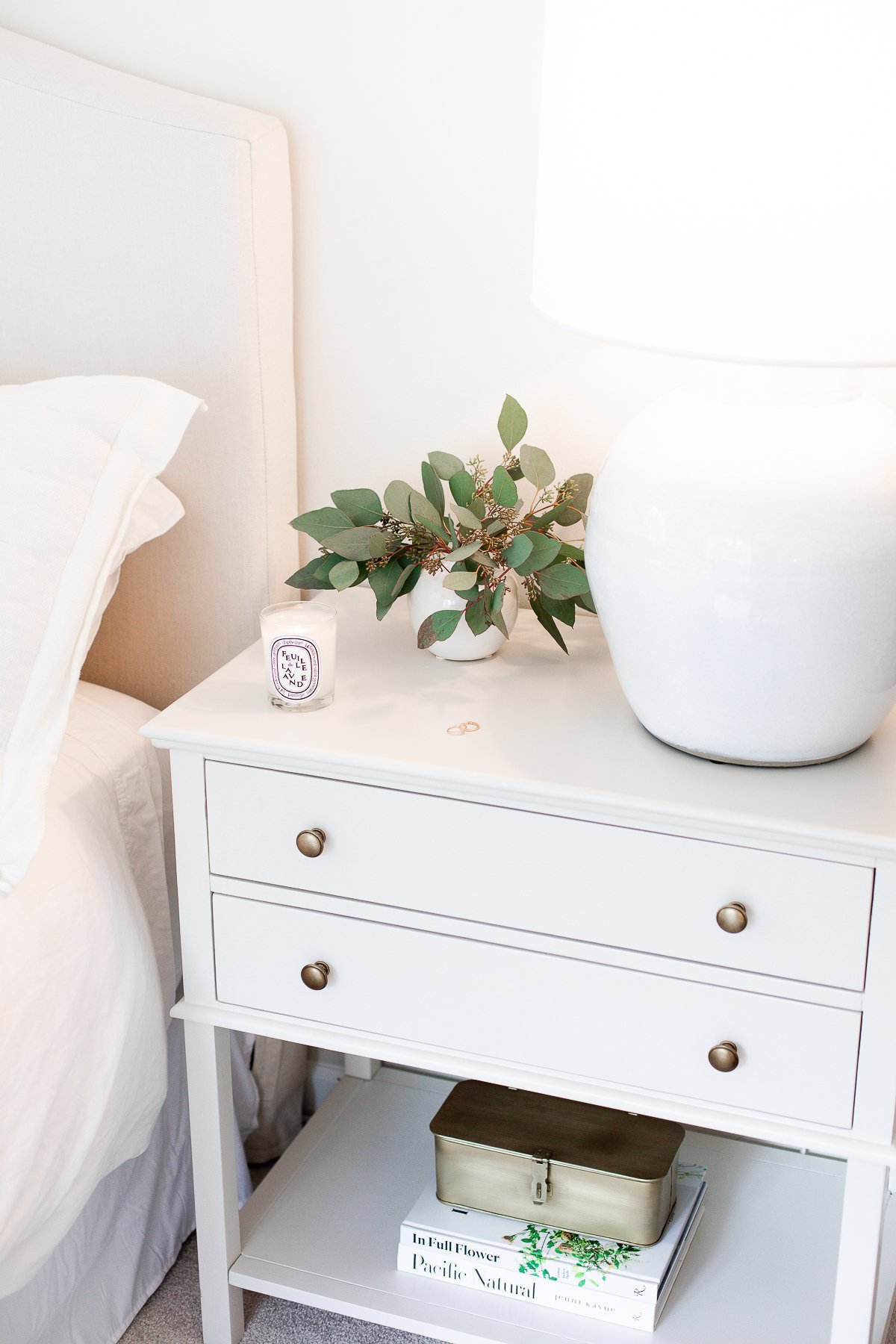 Even with extensive research and planning, sometimes I get it wrong… I make snap decisions in a rush, purchase items because the price is right, or just don't plan.
That was the case with our last pair of nightstands in our primary bedroom. Even though the color wasn't quite right, I purchased them for the size and scale, believing them to be "close enough" to the right fit.
Unfortunately, I was wrong, and we've just never been in love with them. They just felt "off". We've all been there, whether it's purchasing bedroom furniture or anything new for your home.
I replaced them with the correct nightstand height and scale that fit the space and offer plenty of storage and am excited to share all the details with you so you don't make the same design mistake. (PS We painted them in Benjamin Moore Pale Oak – get my Nightstand Decorating ideas here, too.)
Today, I am sharing how to choose the perfect nightstand height for your own bedroom! One size does not fit all, friends!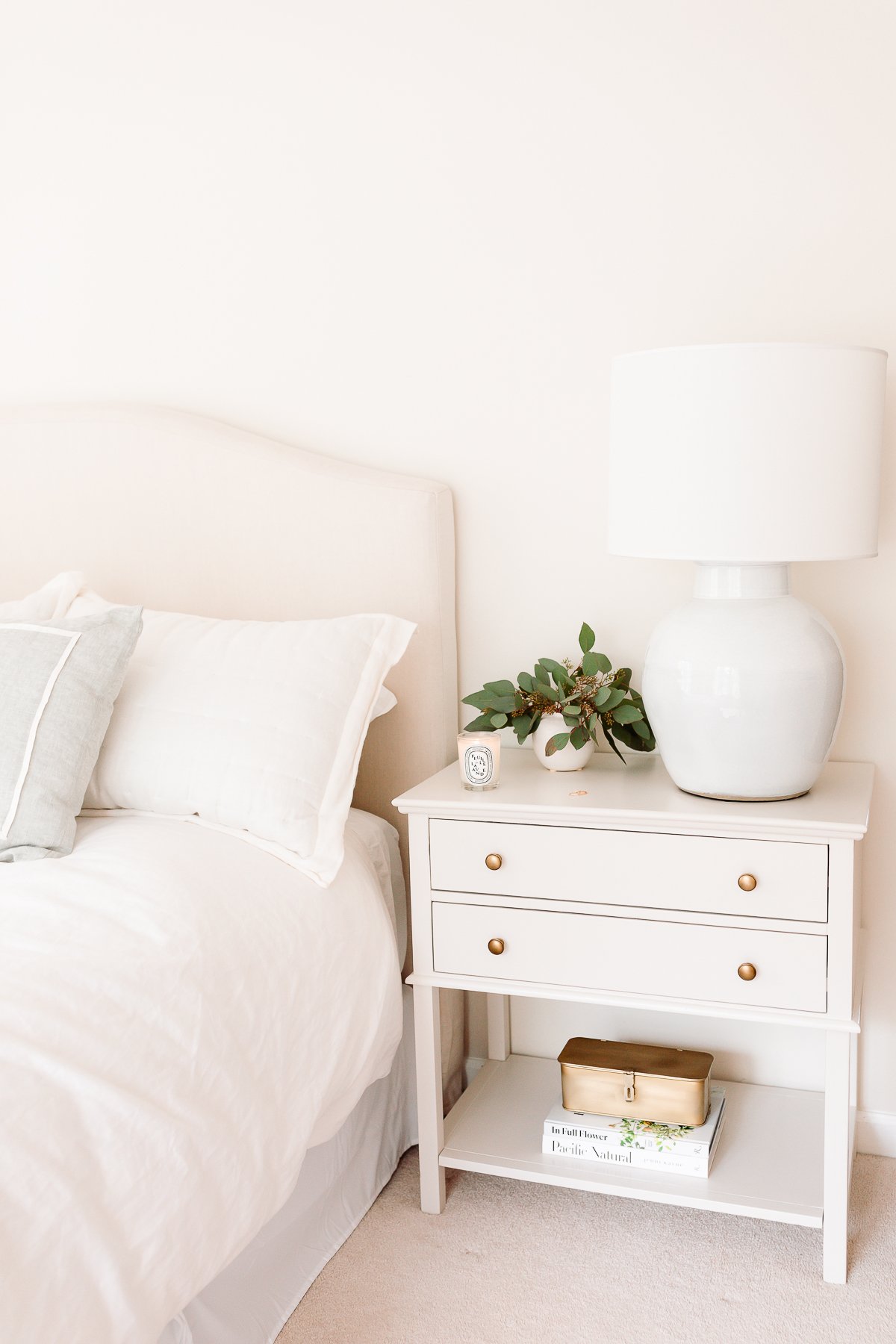 What to Consider
Once you start shopping, you'll soon realize that there isn't a specific, standard nightstand height. That's because many bedframes and mattresses vary in height, too… making your bedside table purchase more specific than you might have realized!
The height of your mattress in total, with bed frame, mattress, mattress pads, etc, included.
Your height (mostly your arm length) plus that of your partner – yes, the length of your arms might matter!
How much space you have on either side of the bed for nightstands.
Consider headboard height and scale as well.
Are you using lamps? Think about bedside lamp height on top of your bedside tables.
How to Choose the Right Nightstand Height
The average height of nightstands on the market today is between 24 and 30 inches. Beds average approximately 25 inches from the floor to top of the mattress. A nightstand should not be more than 5″ higher or lower than the top of the mattress.
However, there are incredible variables in mattresses and frames today. Take the full height of your bed into consideration as well as how long your arms are (yes, seriously!) when reaching for your glasses, glass of water, or alarm clock.
If your bedside table height isn't quite right, it can make it really uncomfortable to reach across when you're looking for something at night. Ensure that it's the same height as your bed and you'll generally be on the right track!
Looking for a great rule of thumb to take away? Ideally, you'll want the top of your mattress to line up to approximately the bedside table height.
If your bedside tables are too small or over-scaled, it can change the entire feeling of your room… and not necessarily in a good way.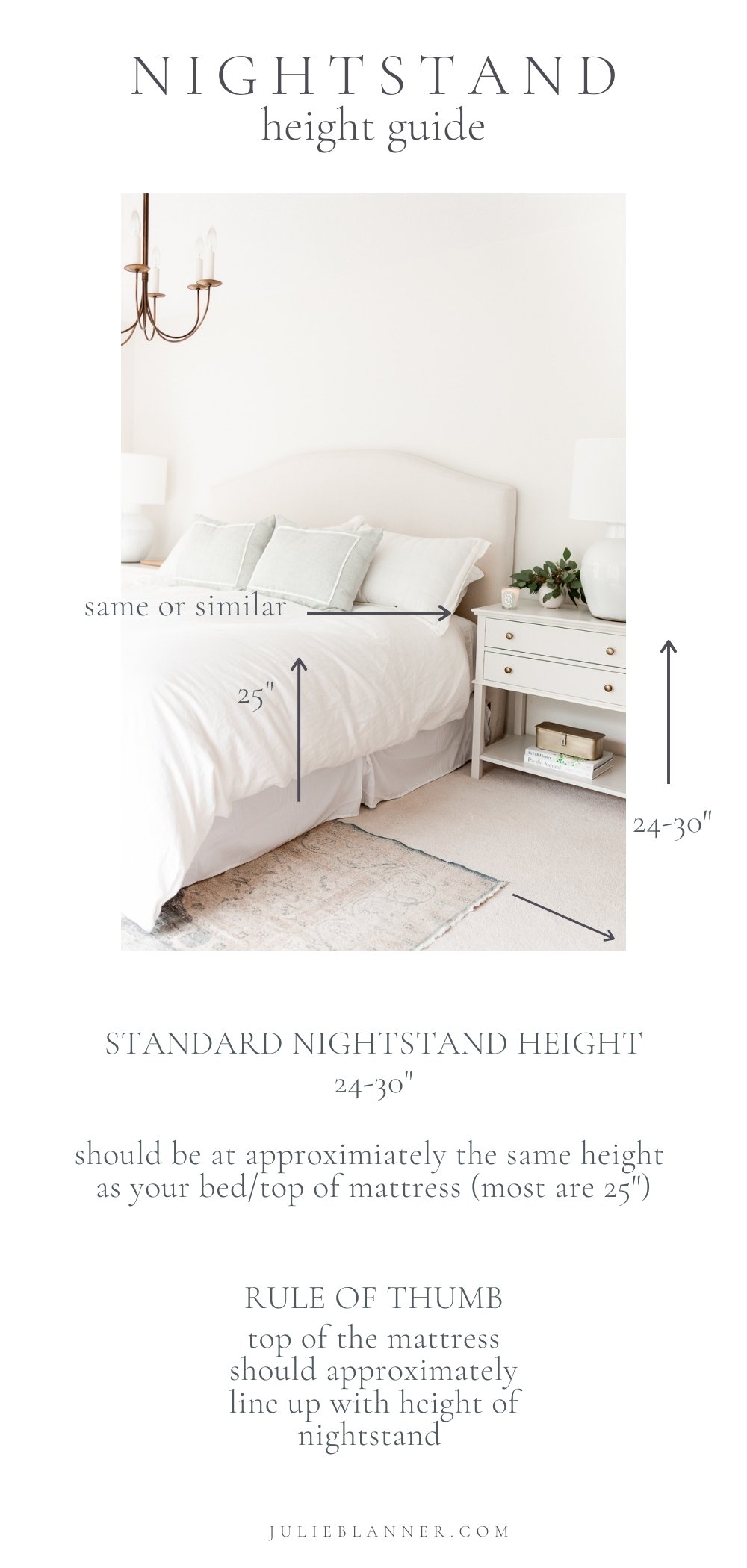 Tips
Place your nightstand a few inches away from your bed so your bedding will have room to spare if you want to have your linens drape.
Consider more than just this piece of furniture – look at their scale next to your queen or king bed, and how much wall space you have surrounding.
When considering the scale and width of the top of your nightstand, make a list of everything you generally keep on top and make sure it will all fit with room to spare!
Storage space is so important, but keep your drawers from feeling cluttered with a Drawer Organizer just like a drawer in your kitchen or bath!
Just like in your living room, Coffee Table Books make an excellent accessory for styling here.
Looking for more bedroom inspiration? Don't skip my guide to the best Romantic Bedroom Colors.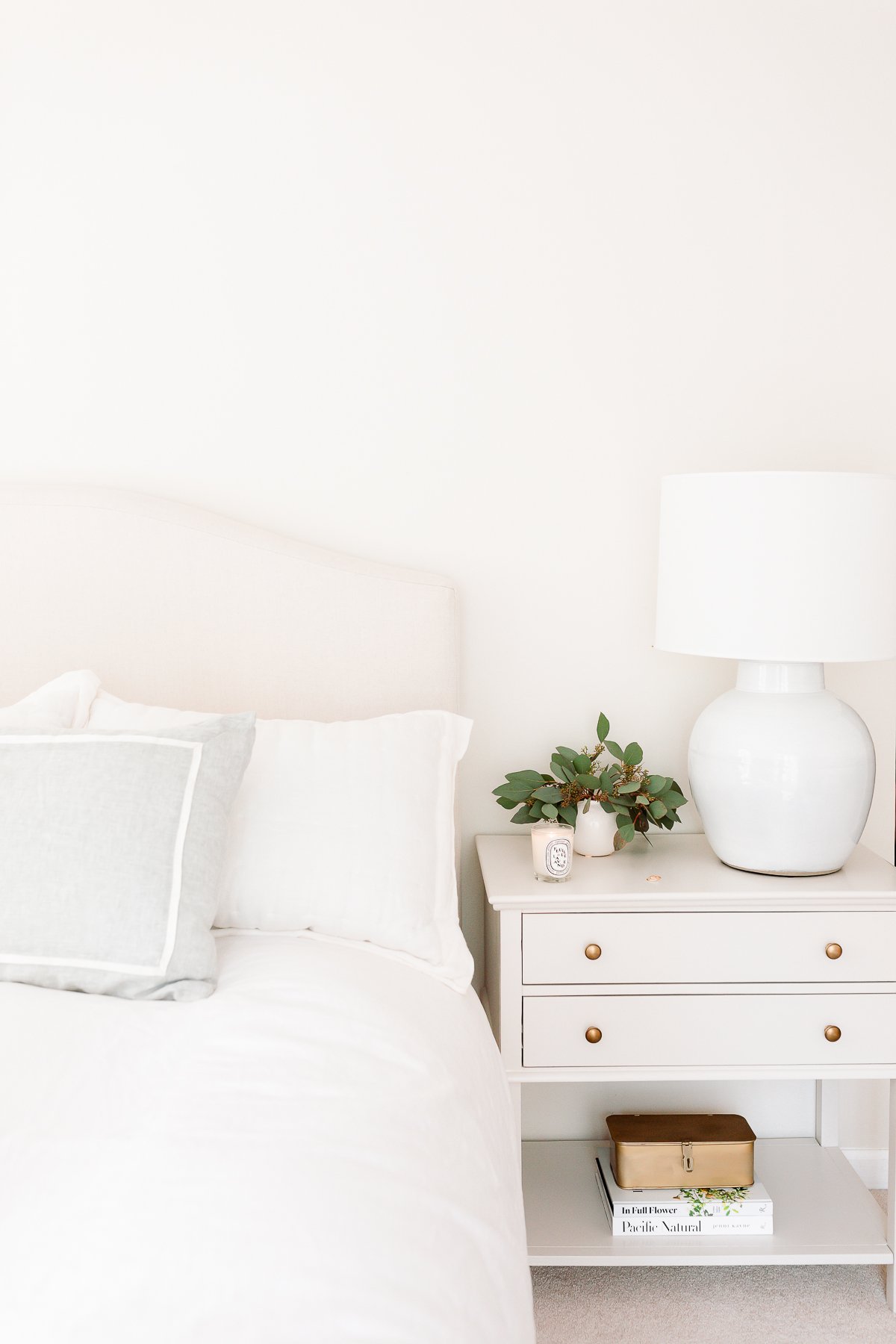 Learn all the secrets and techniques for how to measure furniture, and get it right the first time!
Frequently Asked Questions About Bedside Table Height
What height should bedside tables be?
The height of the nightstand should be equal (or as close as possible) to the height of your bed for proper alignment in your room.
What is the standard size of a bedside table?
Generally speaking, many nightstands measure 20″ wide deep, with many variations across the board.
Should nightstands be same height as bed?
In the ideal situation, your nightstand should be very close to the same height as the top of your bed for easiest access.
Sources
I'd love to hear from you! Are you shopping for any new furniture for your home right now? Are you as indecisive as I tend to be?