Learn all about upholstered beds! Find out what makes these comfortable, cozy beds so popular with interior designers and homeowners alike.
Your bed is the focal point of your bedroom and it's the piece of furniture where you spend the most time! Add warmth and luxury to your bedrooms with this romantic, clean look that can work with any design style.
We're rounding up resources, too, with beautiful upholstered beds at every price point!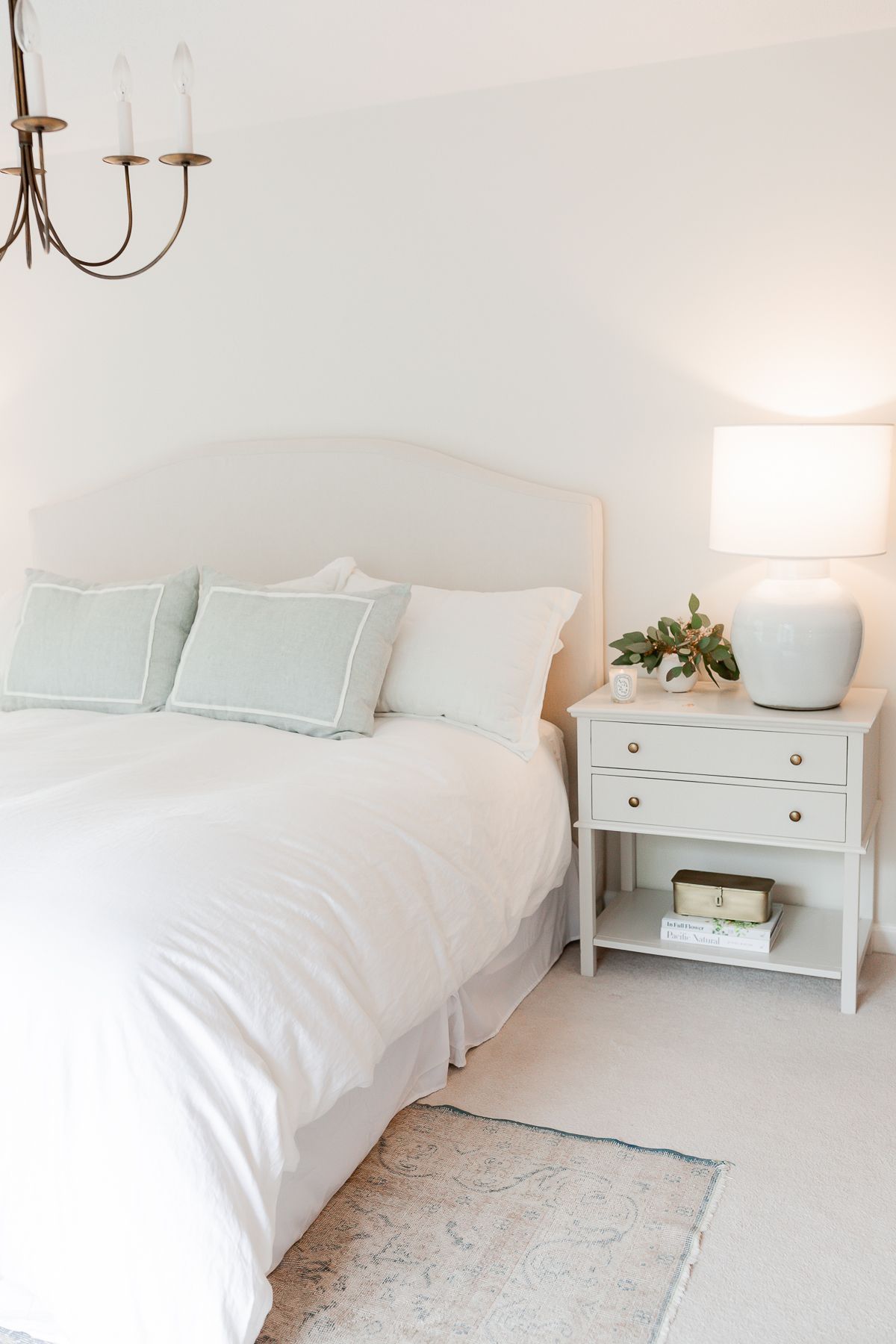 You know how much I love chatting about furnishings and decorating with you! I really enjoy the process of searching for items and feeling so good when you land on the perfect piece (at the perfect price).
That's why I've been creating these guides to walk you through all the shopping inspiration out there. It can seem a little overwhelming – setting a budget, researching the styles, materials, and resources you need.
Lately, we've shared about our rattan bed, garden stools, and even bar stools for kitchen islands.
Our goal is to guide you through a few basics about an item you might be considering, show you our decision-making process, and give you a curated list of a few wonderful options to purchase.
I hope it's helpful, and we've really enjoyed putting these resources together! We have a couple different styles of upholstered beds between our St. Louis home and our lake cottage.
Use the drop down Table of Contents to navigate this post. Don't forget to pin it and save for later, too!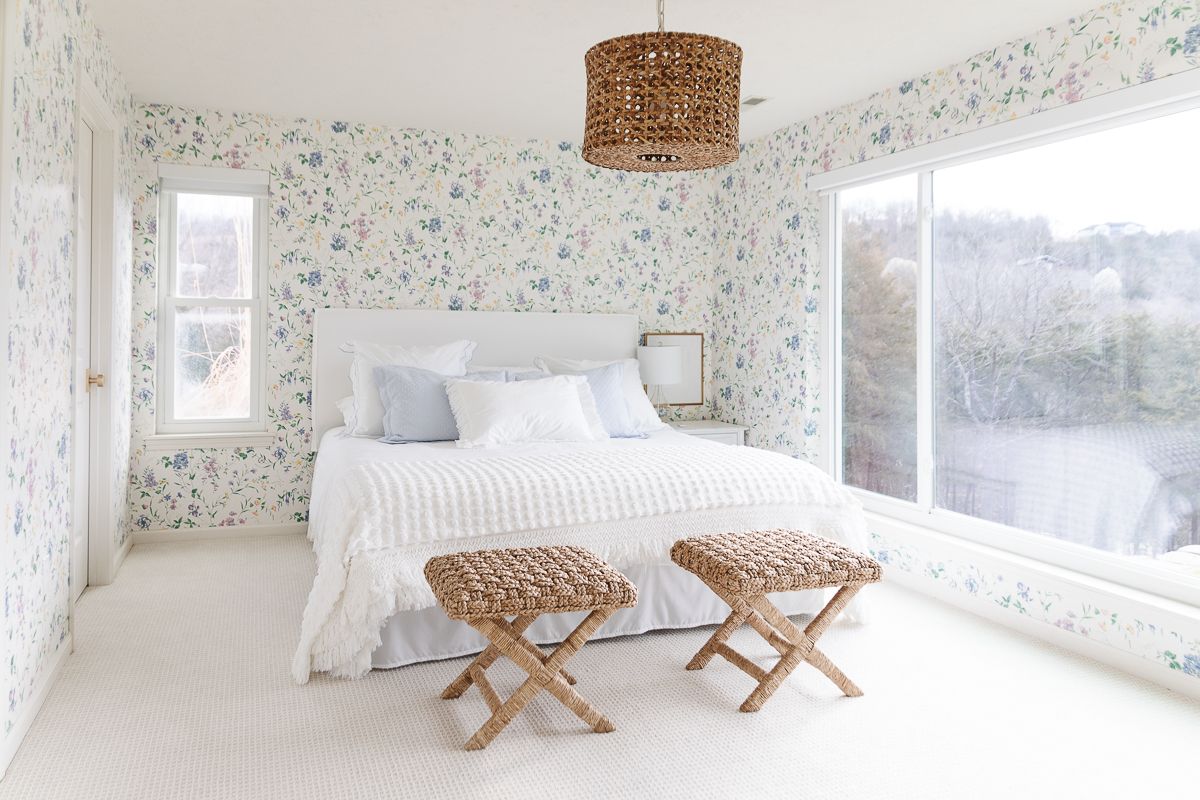 What are upholstered beds?
The term "upholstered" generally refers to furnishings with a fabric covering, often with padding or cushions to soften the surface underneath the fabric.
An upholstered bed is much the same – it's a frame, covered with a layer of padding, and then covered with a fabric textile. While an upholstered bed can refer to the headboard, footboard, and even side rails, many people will choose to only use an upholstered headboard over the full frame.
Upholstered beds are available in an incredible array of design styles. You can find glamorous tufted pieces, sleek modern options, vintage inspired slipcovered pieces, and so much more.
Fabrics range from luxe velvets to linen, cotton, and everything in between. While a solid fabric will tend to stand the test of time, a fabulous pattern can make an incredible statement in your bedroom, too!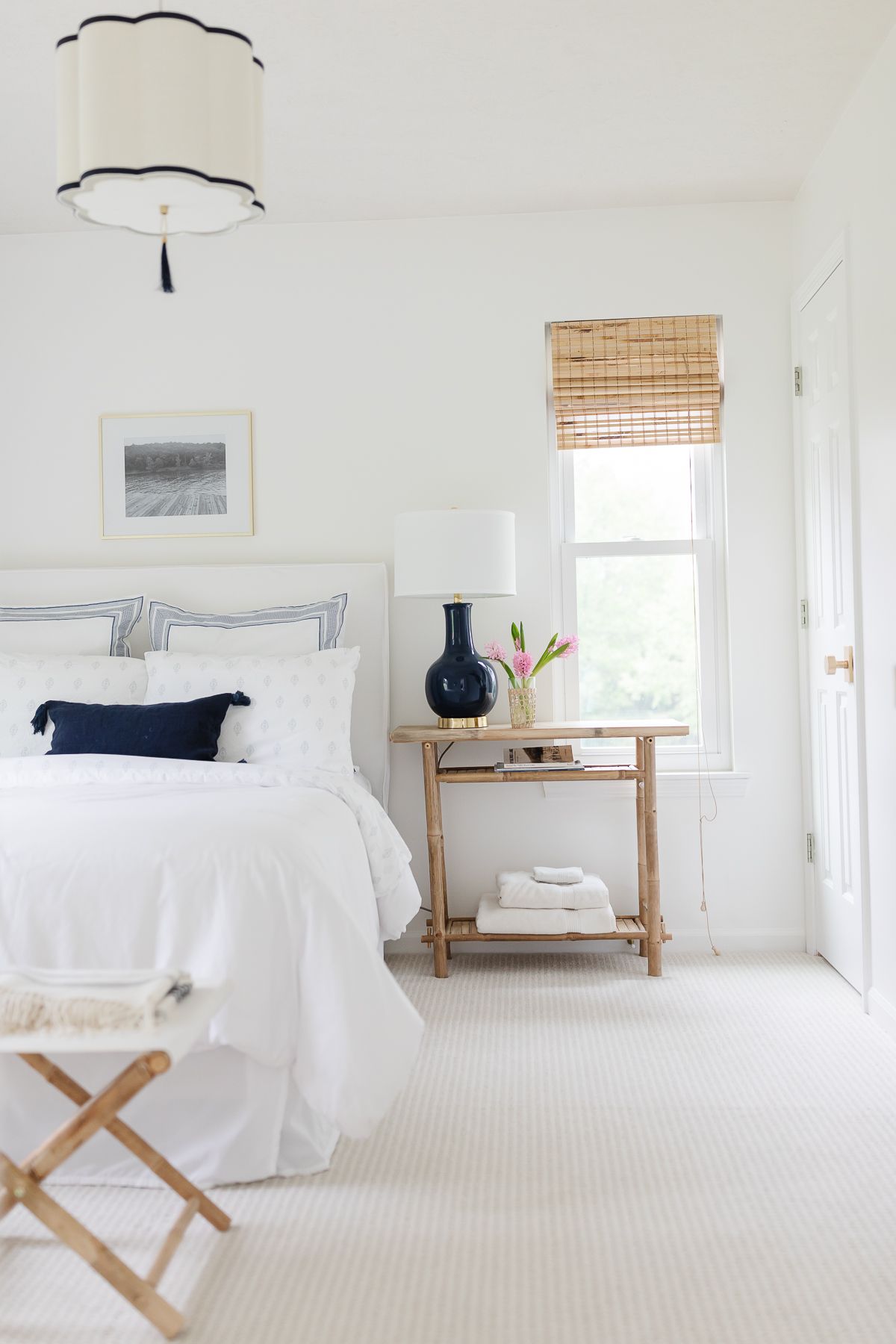 How to Choose an Upholstered Bed
Set a budget. Upholstered beds are available from $300 up to many thousands.
Decide on a style to fit your room – modern, cottage, traditional, and so many more options are at your fingertips!
Choose a fabric carefully. As you'll see below, upholstered beds can require a little more upkeep than a traditional wood option.
Measure once, twice, three times to ensure that your bedroom can handle the bed you're considering. Upholstered beds can take up a little more space than a traditional wooden frame.
How to Care for Upholstered Beds
Caring for an upholstered bed (and especially cleaning any stains) will be dependent on the specific material of your bed.
Velvet fabric would require a different treatment than line, for example. So be sure to read the manufacturer's directions before treating stains!
Try these techniques to keep your upholstered bed in top shape.
Vacuum weekly: Use a handheld vacuum attachment to reach tight spaces and catch any hidden dust.
Baking Soda: Just like cleaning your mattress, baking soda helps to absorb any odors and will leave your upholstery feeling fresh and clean.
Lint Roller: This can be especially important if you have pets.
Fabric cleaner: Apply a small amount of fabric cleaner (we love Folex) and check to ensure that the fabric doesn't fade or change. Always apply any cleaners sparingly.
Steamer: Using a handheld steam cleaner (just like one you'd use for carpets and rugs) can be a great way to treat stains.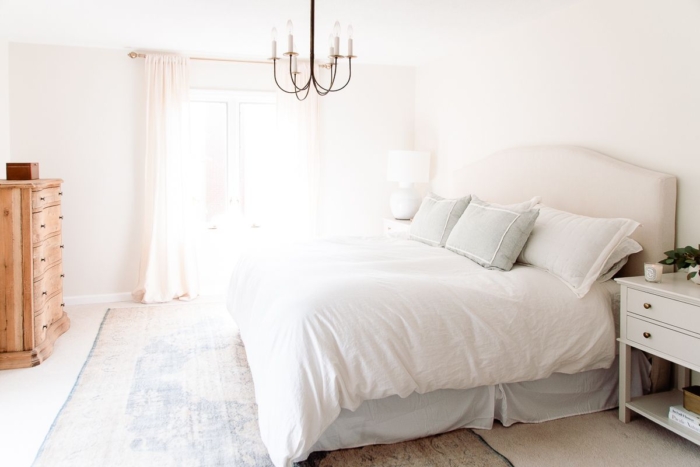 Tips
Manmade fabrics (like polyester) are generally considered easier to care for, and more resistant to stains. However, (in my opinion) nothing beats the look and feel of natural fabrics. The choice is yours!
Test any cleaners in an inconspicuous spot before using on your upholstered bed.
Blot, don't rub, which can set stains into upholstery.
While tufting can add a touch of vintage charm, it's also an area where more dust can settle, so keep that in mind!
Consider a slipcovered headboard for the best of both worlds – an option that gives you luxurious comfort, but also allows you to remove and wash.
Frequently Asked Questions
Why are upholstered beds so popular?
Not only are upholstered beds comfy and ultra-cozy, they are available to fit any design style, any budget, and can be customized for a personal look in your bedroom. What's not to love?
Do upholstered headboards get dusty?
Yes, much like any furniture or fabric in your home, an upholstered bed can attract dust. Vacuum weekly and you can use a lint roller, too!
Are upholstered beds hard to clean?
While they are not difficult to clean, they do require a little more maintenance than a traditional wood or metal bed frame. Consider both the function and the aesthetics of the fabric you choose!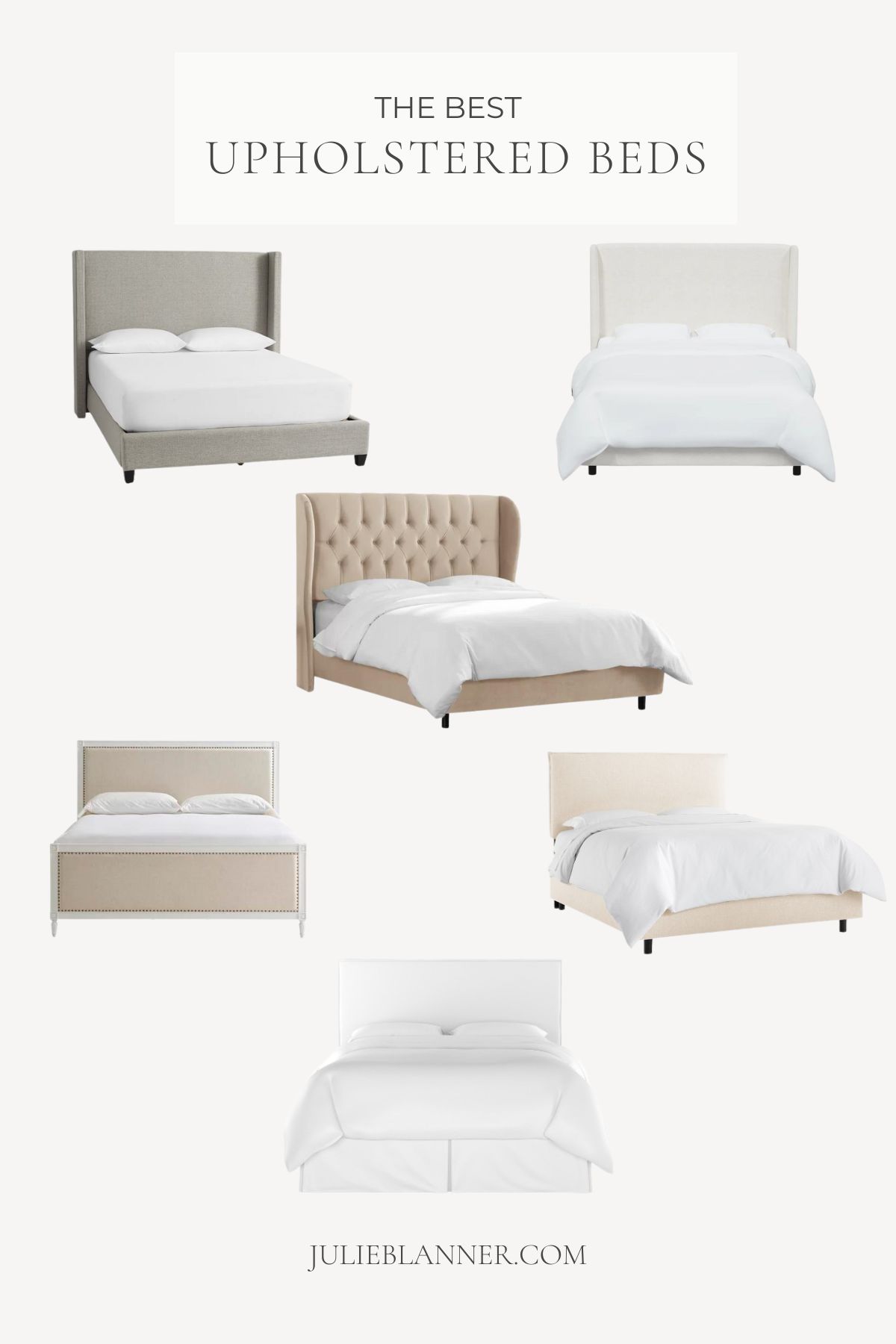 Sources
No matter your aesthetic, here are a few dreamy upholstered beds at a wide variety of price points.
Our primary bedroom headboard is from Restoration Hardware (no longer available) and our slipcovered headboards in the lake guest rooms are linked below. Enjoy!
Note: prices are subject to change.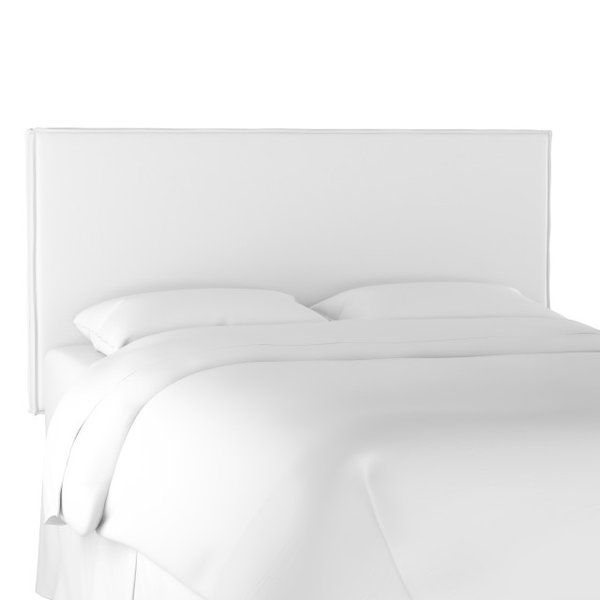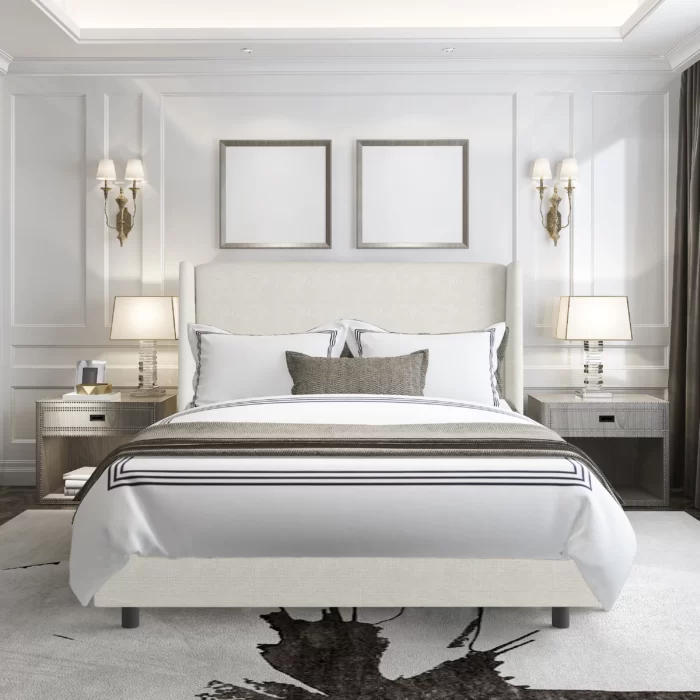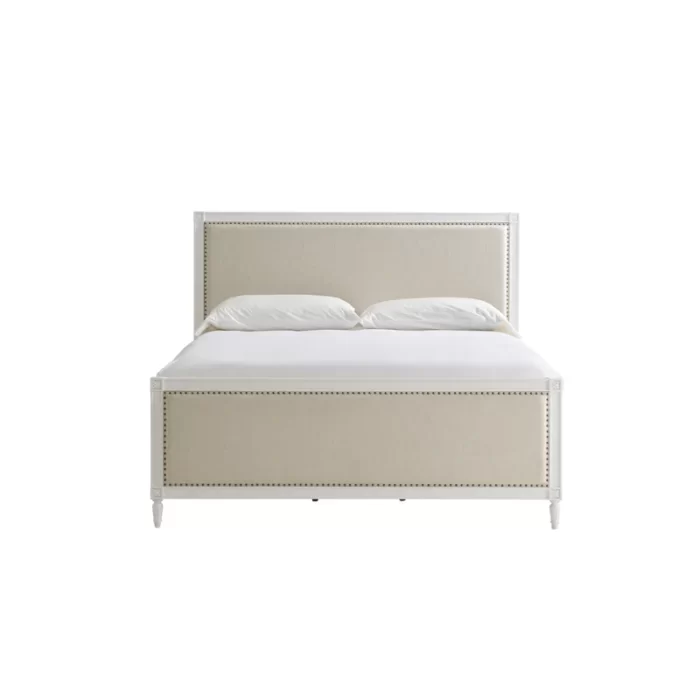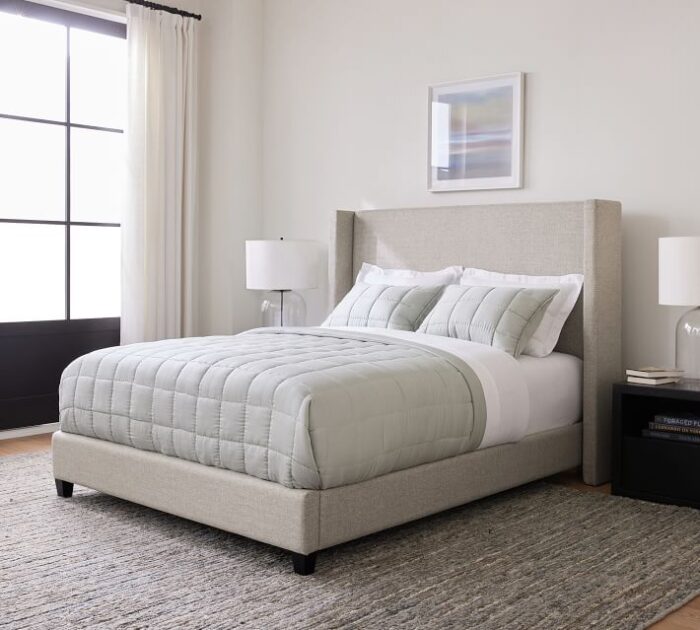 King, $1699 (available in many fabrics)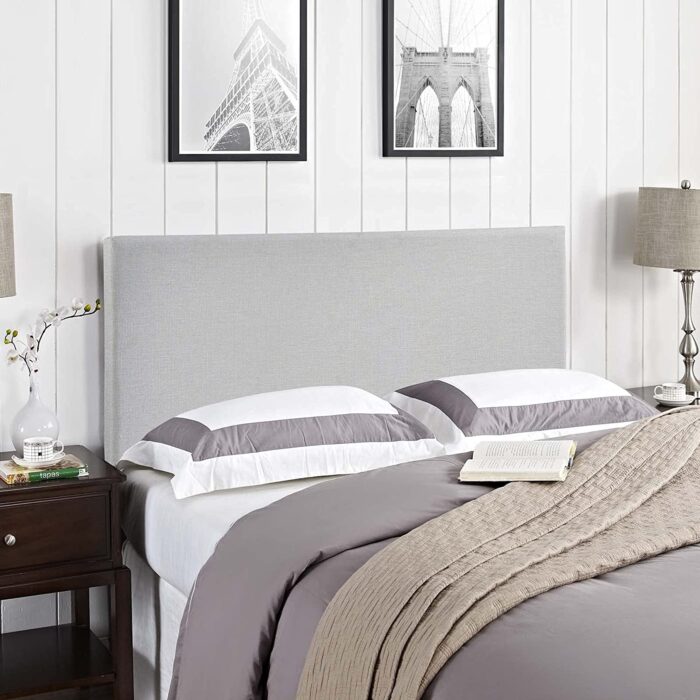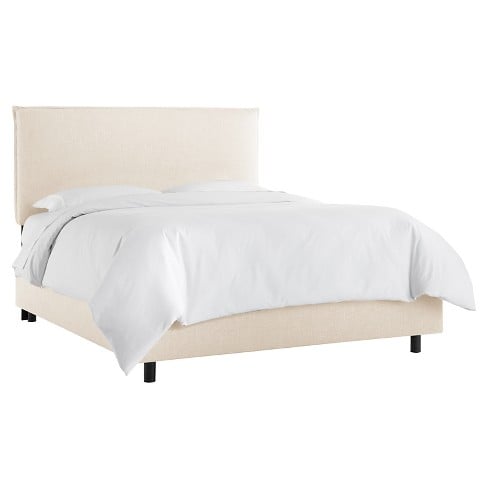 $881 for a King – available in Natural linen, Ivory and Charcoal. Navy is available as a headboard for $446 for a King, too