If the idea of redesigning your nightstand decor feels like a challenge, this post is for you! Get easy, pretty, minimalistic nightstand decorating ideas that anyone can accomplish – affordably and quickly!
Bedside table decor isn't complicated! It can be practical, organized, and pretty all at the same time – I promise! Learn how to create a calm, cozy nightstand that helps you relax at the end of the day.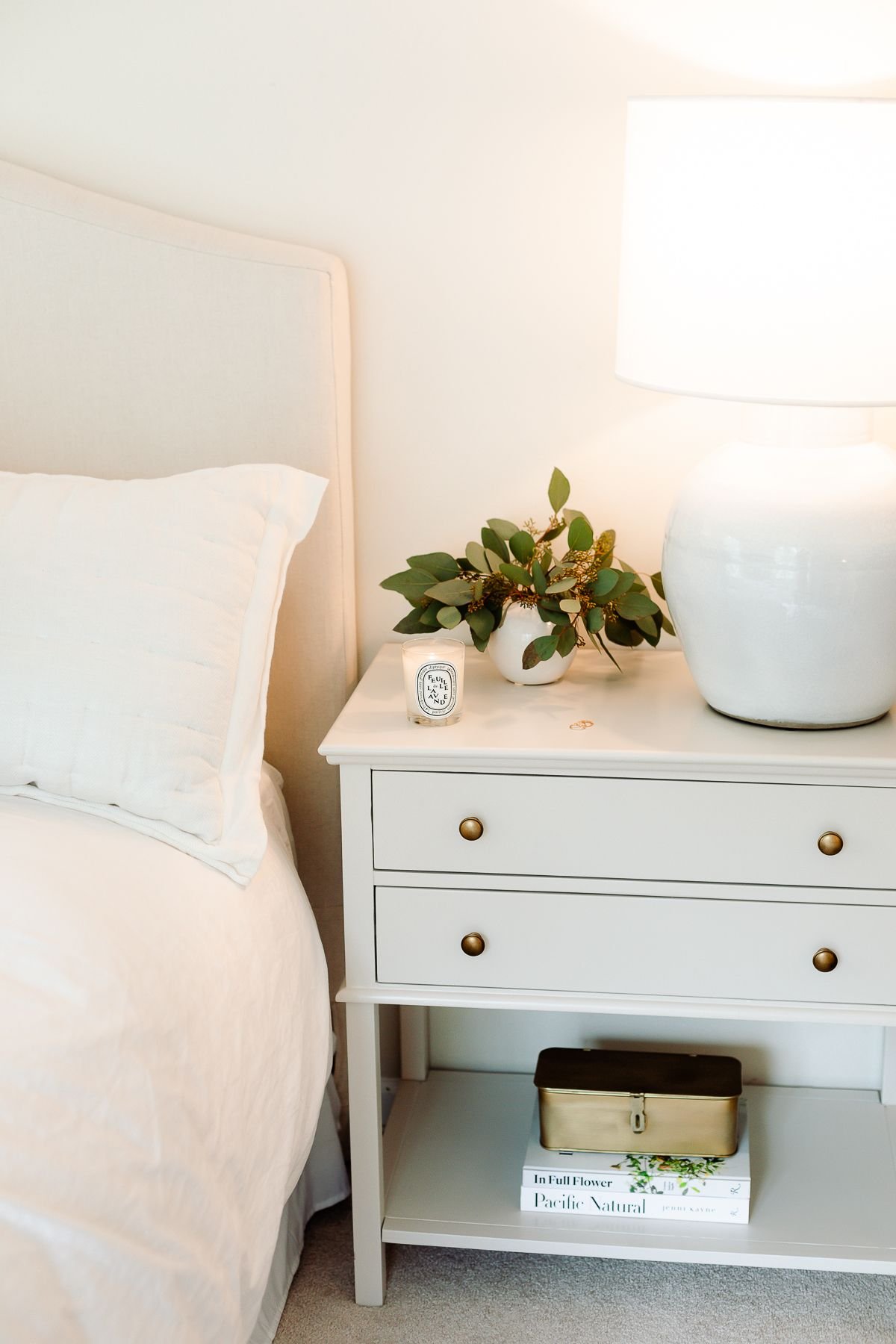 We've talked about nightstands quite a bit lately! That's because I was so thrilled with the size and style of our new nightstands – and they were so affordable.
Together, we've learned about the perfect nightstand height and how to organize nightstands, too.
I hope you're enjoying these little projects that can make a big impact in your home.
In fact, this little purchase actually inspired an entire refresh of our primary bedroom, because I just felt so inspired! Sometimes, it's the little things in life… these cute nightstands included.
Find sources for all our favorite items at the end of this post, as well as tips and tricks to recreate this style and make it all your own! Use the table of contents menu to jump categories and read at your own pace.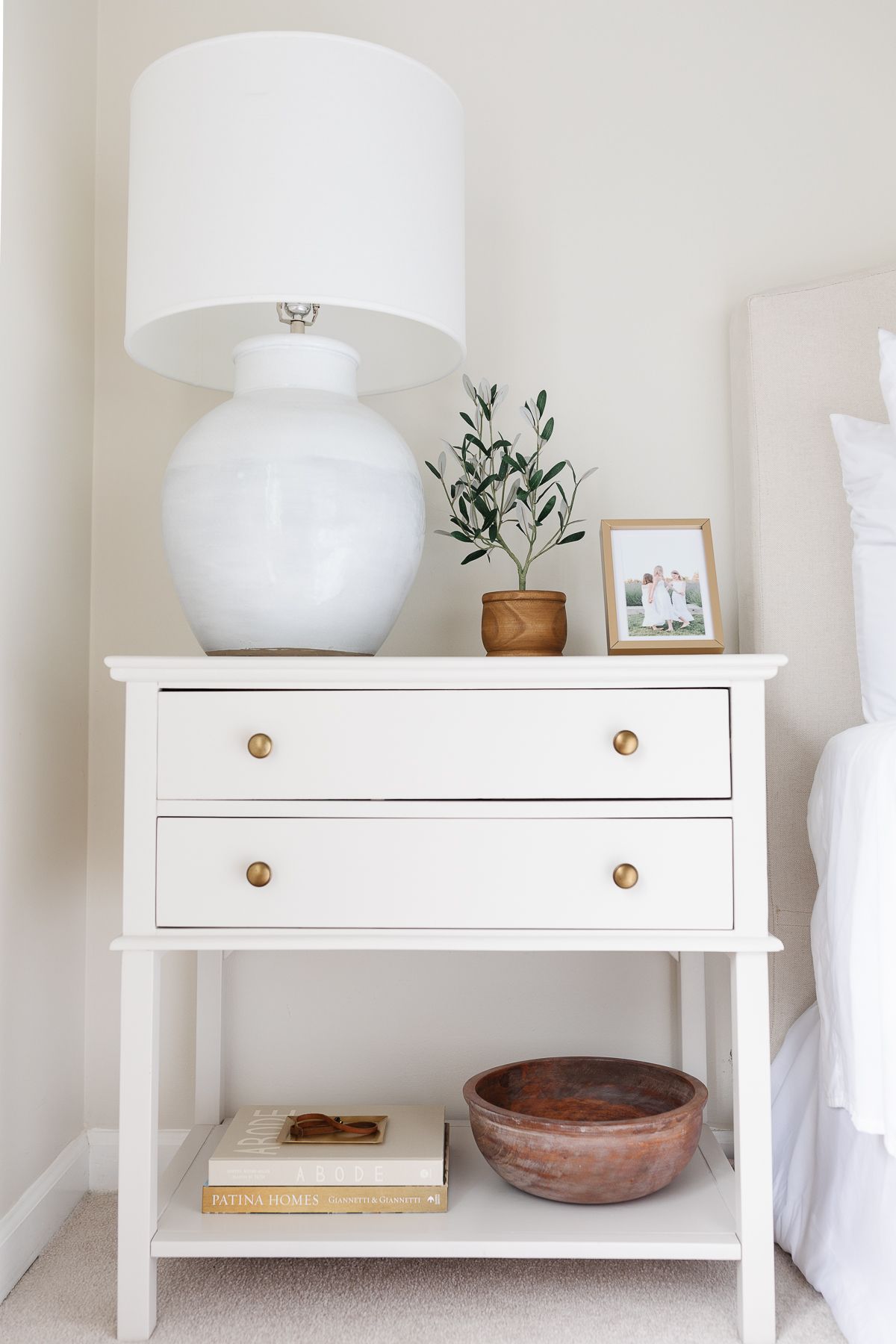 Nightstand Decorating
We painted our new nightstands in a favorite greige paint color, Benjamin Moore Pale Oak and it really upgraded them to such a pretty, custom look.
After finally feeling like we had gotten organized on the inside of these cute bedside tables, we tackled the decorating! You know I'm a minimalist, so I don't like a lot of "stuff"… but I do still like things to feel pretty and functional.
With that in mind, here's a few of my best tips and tricks for nightstand decorating! Learn how to style your nightstand in just a few simple steps.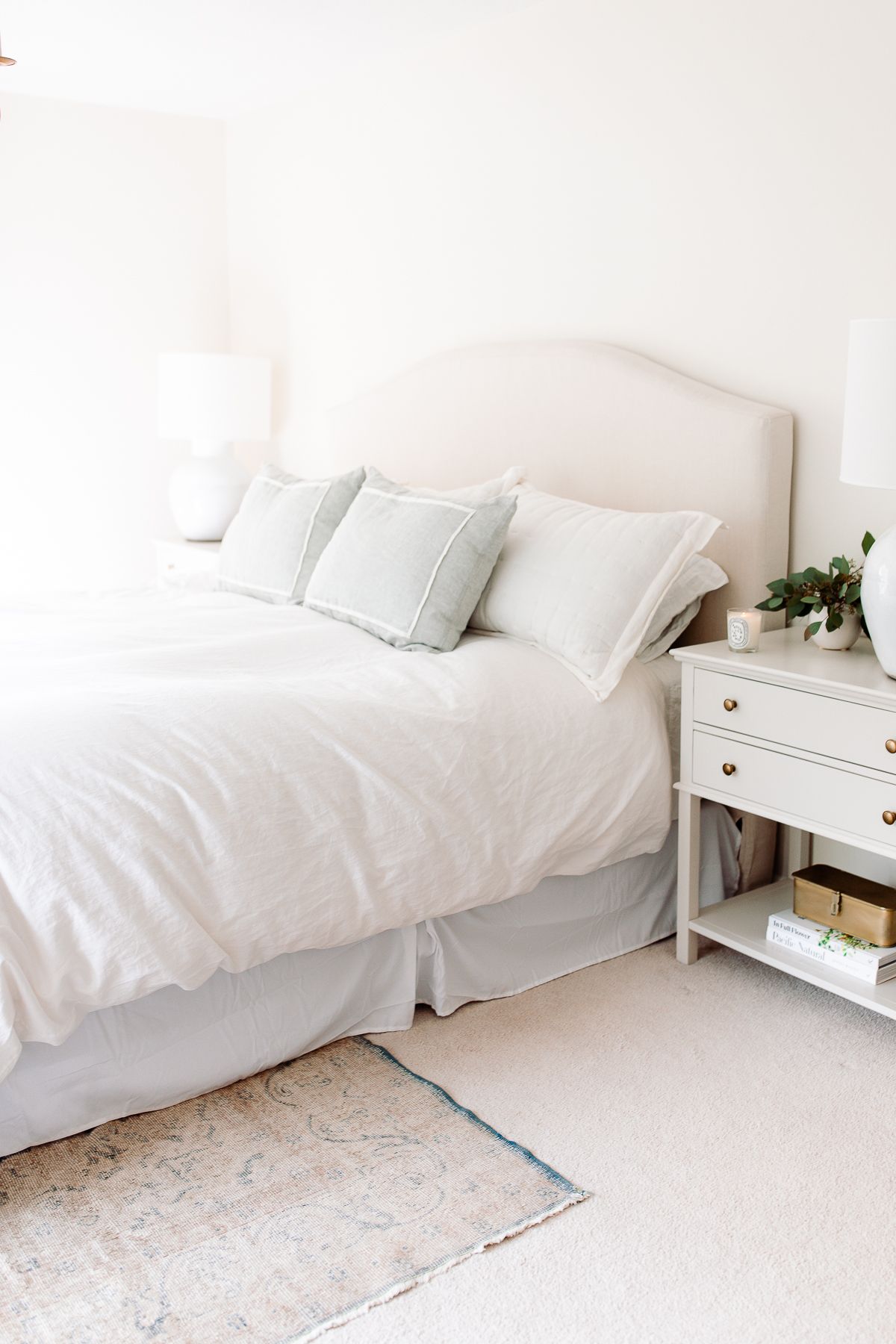 What Goes on a Nightstand?
This is a completely personalized situation, and one that is different for everyone! The following items might (or might not) work for your nightstand decor:
Lamps
Coffee Table Books (or whatever you're reading right now, of course)
A vase of Flowers or…
A Houseplant (check out my favorite houseplants you can't kill)
Framed photo
Tray
Bowl (for jewelry or small items)
Box (consider wooden or metal for a functional storage element)
Baskets
Candle
Diffuser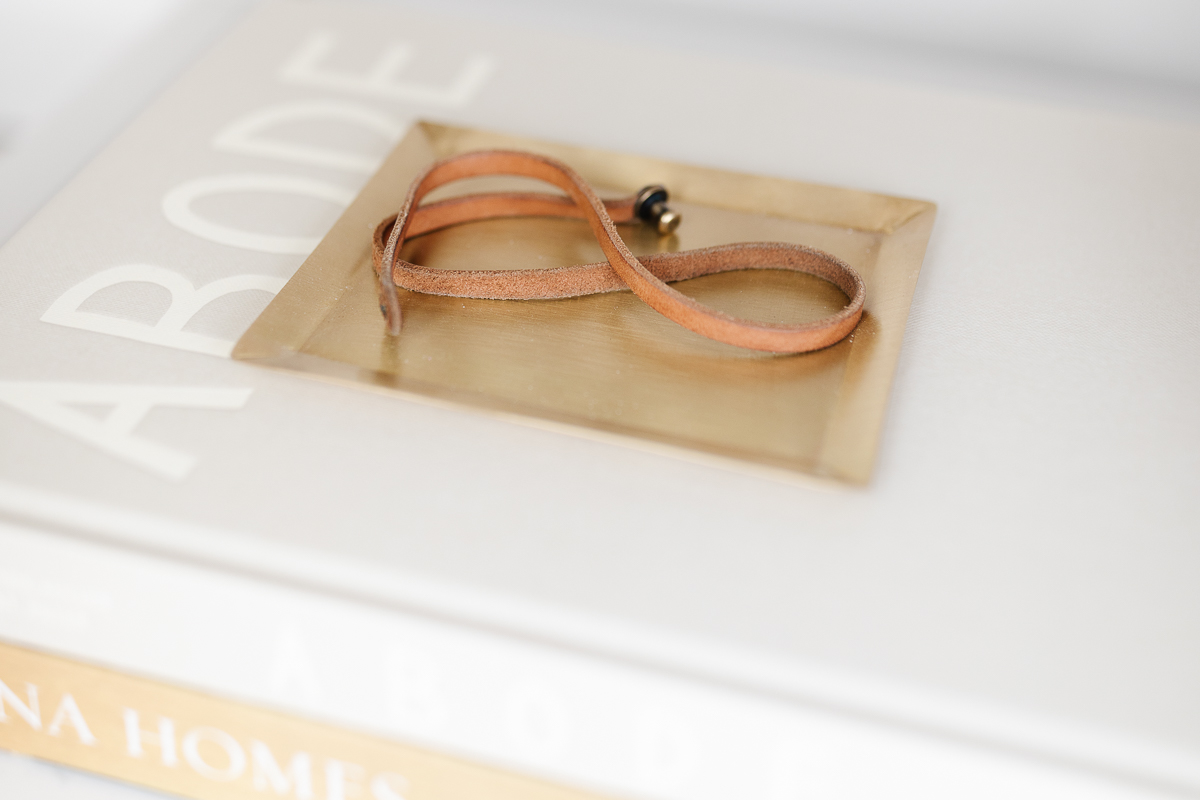 Bedside Table Decor in Six Steps
First, choose a beautiful pair of lamps! You can also use a set of sconces on either side of your bed, which frees up even more space for bedside table decor.
Add books. This can of course mean books you're actually reading, or you can choose from my favorite coffee table books for more design impact.
Next, choose something organic. In our home, we love a vase of flowers or a pretty green houseplant.
Add fragrance. This can be your favorite relaxing candle, reed diffuser, or plug in oil diffuser.
Create texture. I love using trays, baskets, ceramic or metal boxes for contrast and texture. Plus, we can stash items like remotes in them!
Personalize. The easiest way to do this is to add a sweet family photo. This can be a current snapshot, a favorite vacation memory, or even a vintage family photo that brings you joy.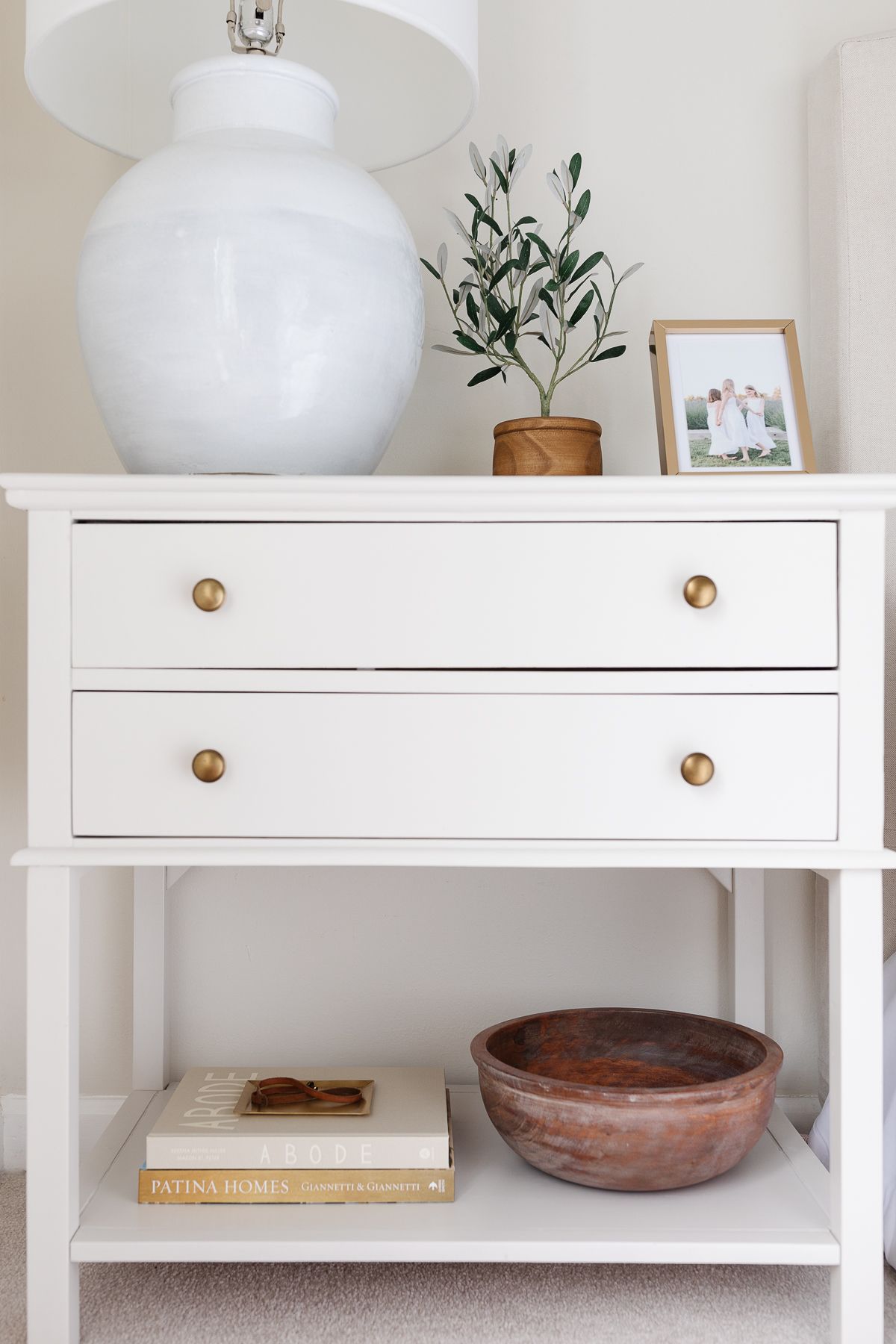 Tips
Out of all the items on this list, lamps are the only items considered a "need" instead of a want. Do what works for you!
Choose pretty coffee table books if you'd like, or of course, whatever you're currently reading.
Want an even more dramatic look? Lean or hang art or mirrors on your bedside tables. (Keep in mind that this look works best when there is no art over your headboard!)
Aim for the classic design triangle: items arranged in varying sizes in groups of three, or odd numbers. Read more below!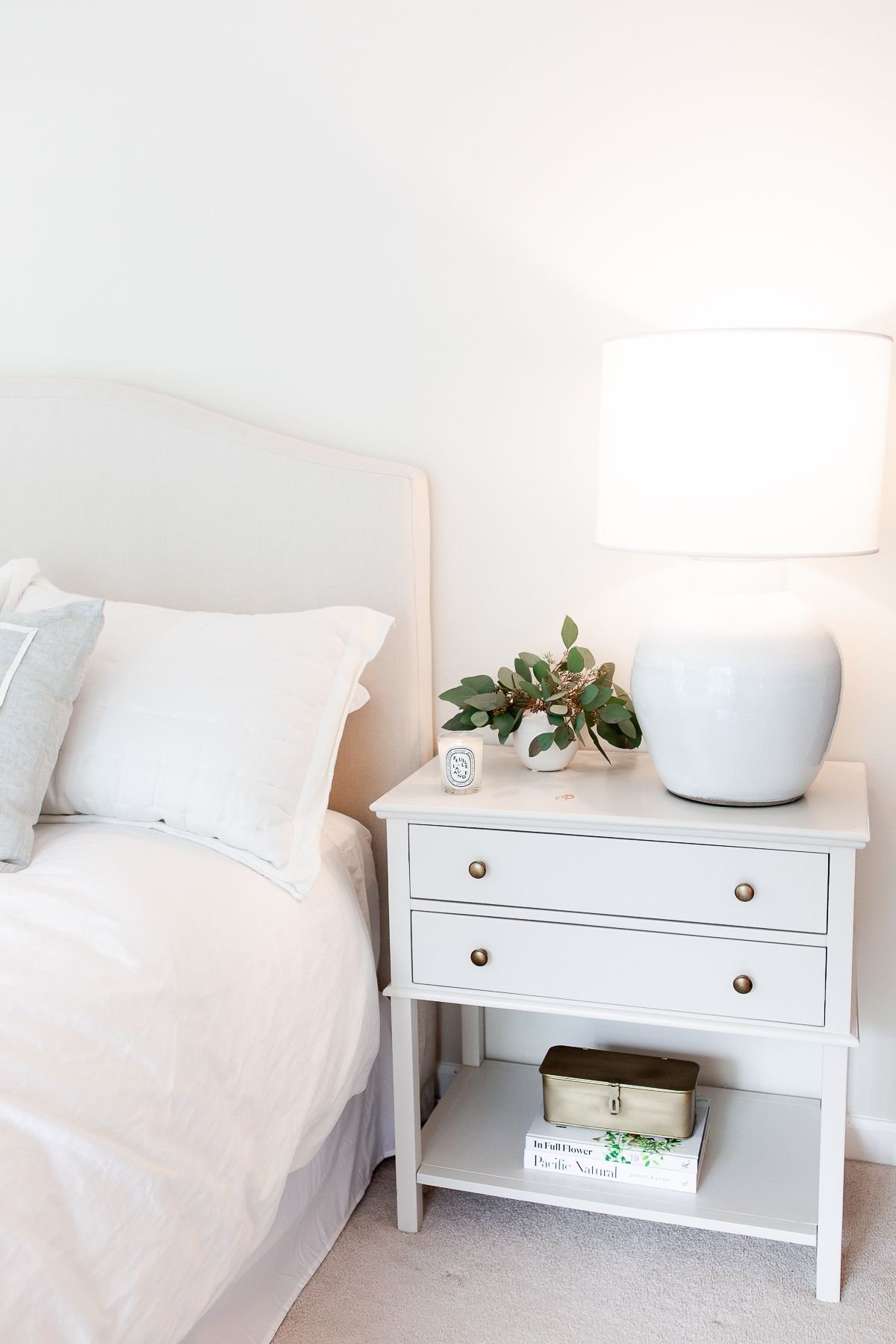 What's a Design Triangle?
Also called the rule of thirds or rule of three, a design triangle is a simple technique that can help you display objects in a form that's pleasing to the eye. It just implies that items arranged in odd numbers are often more aesthetically pleasing.
Interior designers use this rule for the overall design of a room, but it also works for styling built in bookshelves, coffee tables and more!
This simply means that an odd number of items (small, medium and large in scale) tend to look great in a group. This technique works beautifully for nightstand styling because it's such a small tabletop space. If you need more than three items, go for five or seven. An odd number tends to be a key to success here!
In interior design, odd numbers are intentionally used to create interesting displays. You don't have to be an interior designer to use this trick, of course! Learn how to design a room when you're not a designer.
Remember, rules are made to be broken. If perfect symmetry is more pleasing to you for your nightstand decor, go for it!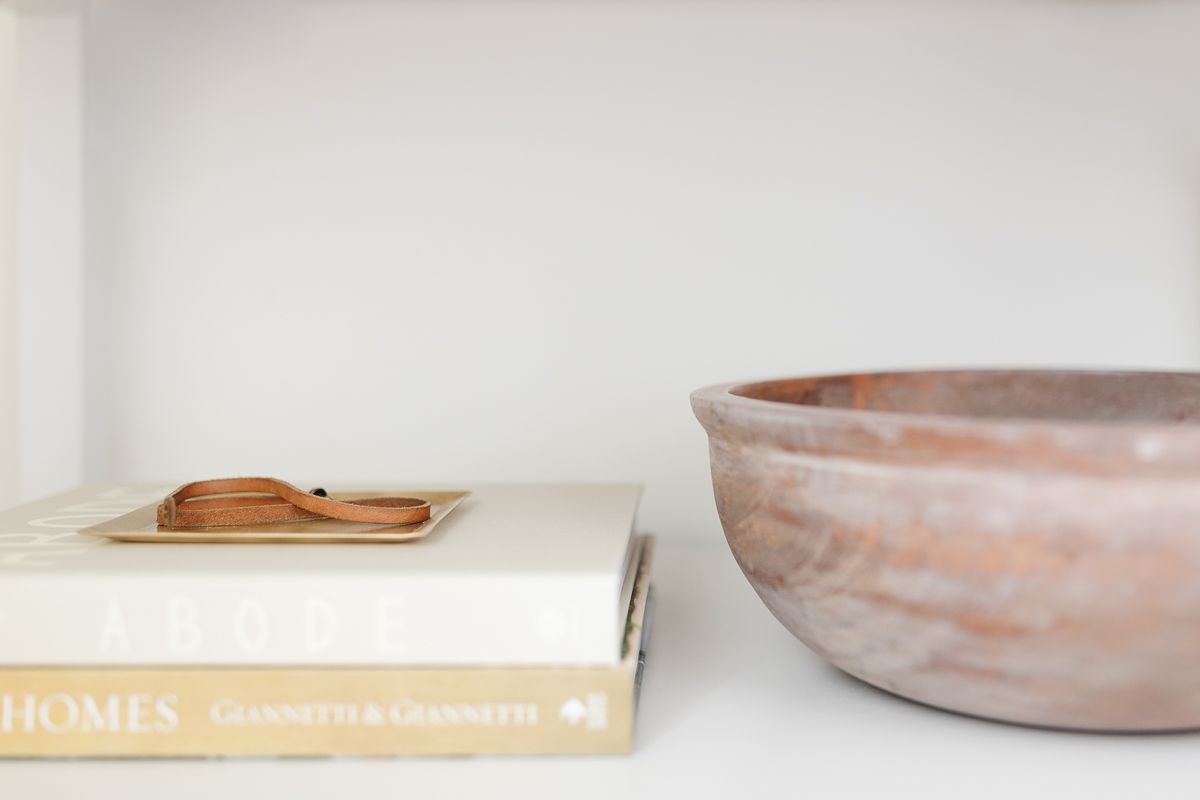 Frequently Asked Questions
What should I put on my nightstand?
That's entirely up to you! Classic additions are lamps, books and photo frames.
Do bedside lamps need to match?
Absolutely not! If you love the look of a more eclectic, whimsical style, choose your bedside lamps with that in mind. One suggestion would be to choose two lamps in the same color or finish, so they tie together and still look cohesive.
How close should your nightstand be to your bed?
Ensure that your bedside table is within arm's reach. This might mean as close as 1-2 inches or as far away as 6 inches, it all depends on your comfort level.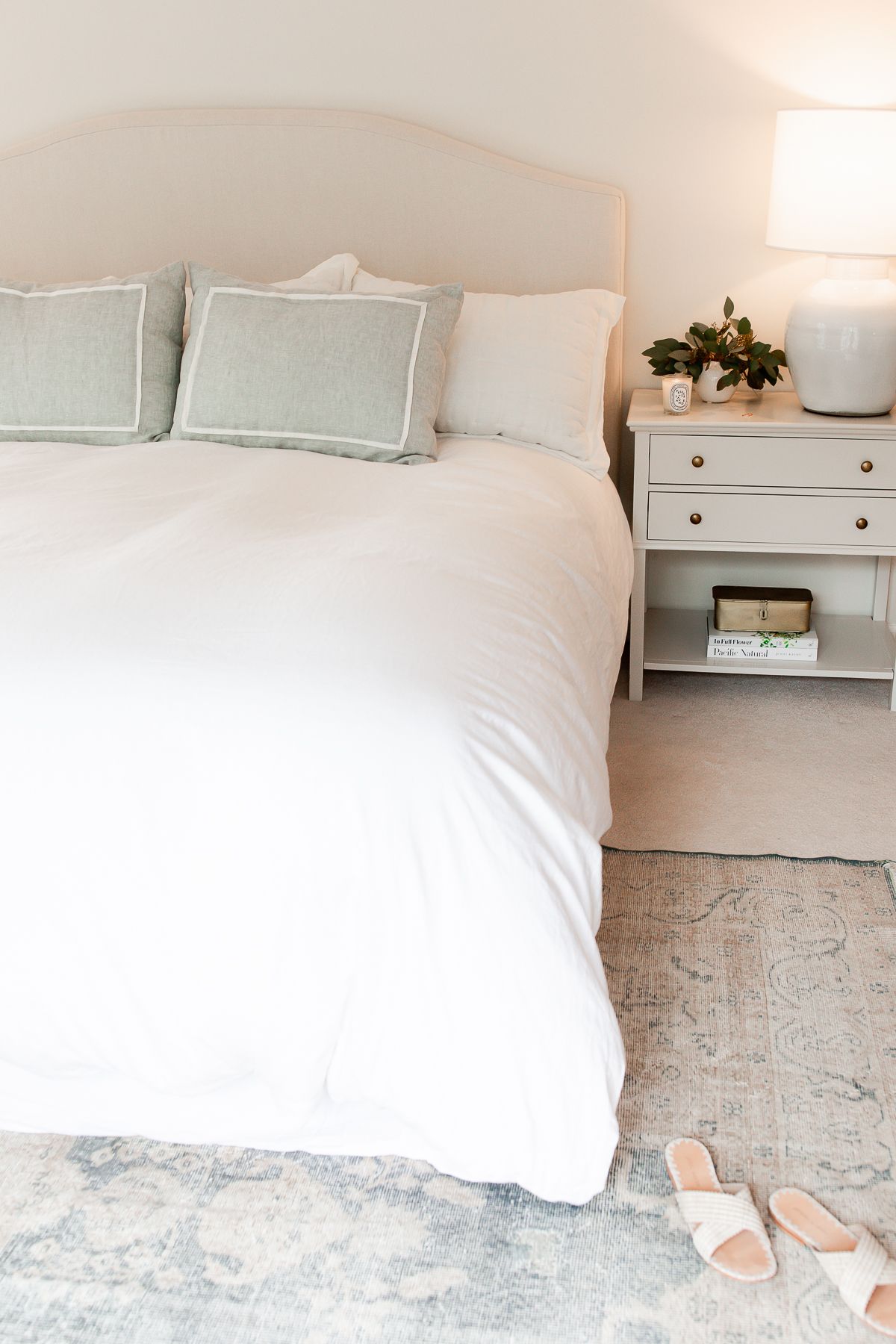 Sources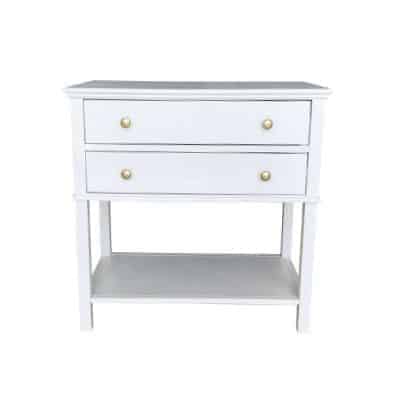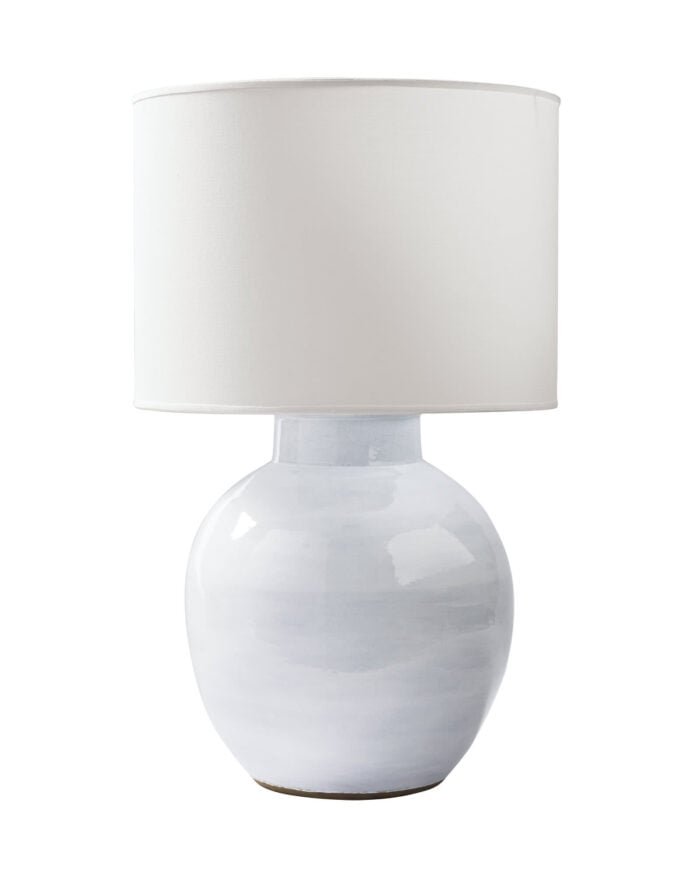 For a similarly over-scaled glazed lamp look, check out these from Studio McGee.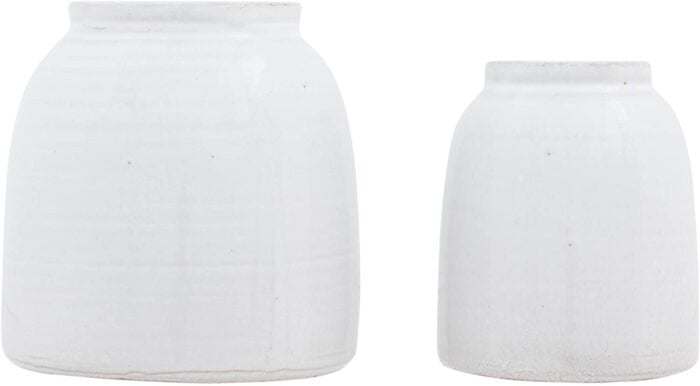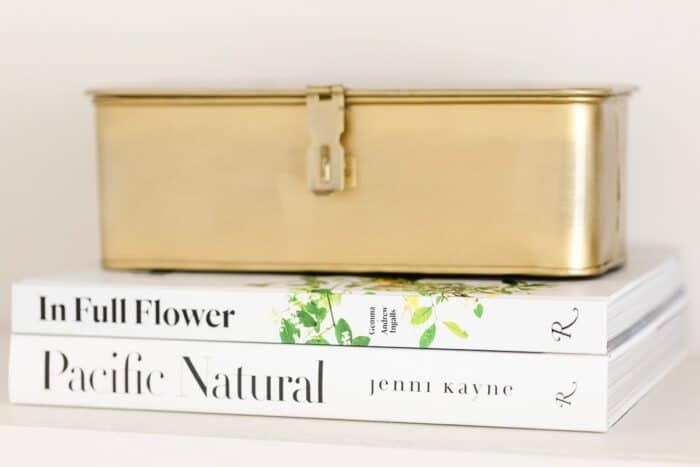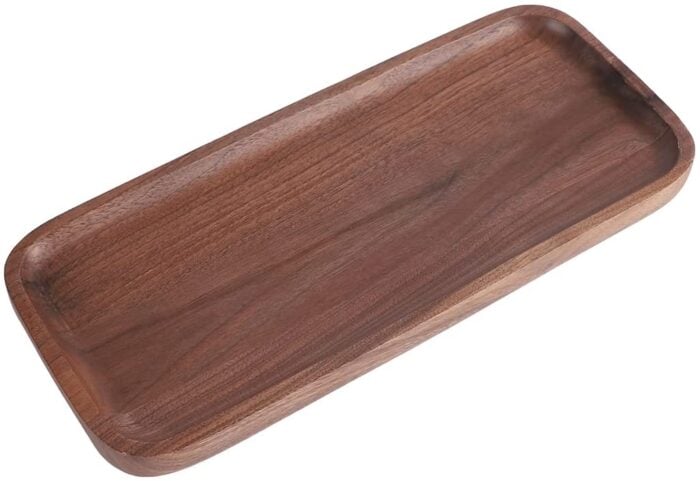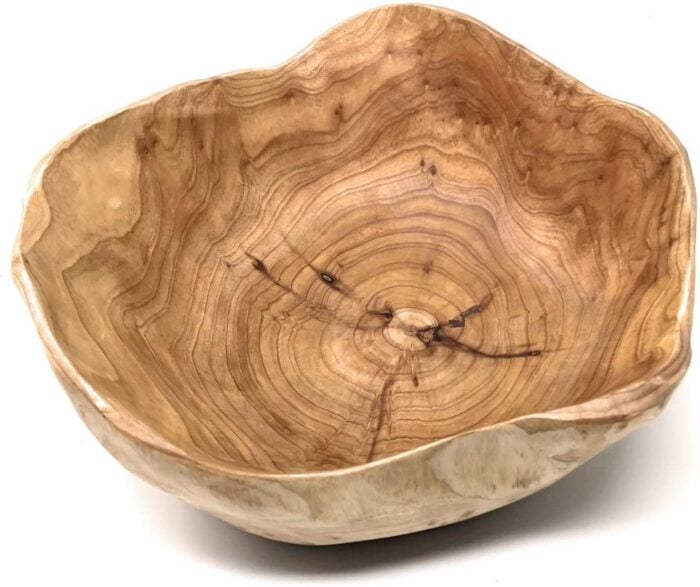 Design Guides, Decor & Tips