What are standard dining table dimensions? What is the best dining table height? Get the answers to these questions and more in this handy dining table size guide!
If you're shopping for a new dining room set, or simply trying to freshen up your space with new chairs or accessories, these guidelines are so helpful.
Or, if you're having a new table built by a local craftsman, it can be customized to your space with some simple measurement techniques. Let's learn more!
Whether you're working with a traditional dining room or a smaller, more modern space like this eat in kitchen, you'll learn how to plan for the right dining table size, the first time!
If you're working on a dining room refresh, read on! You'll find everything you need to know about the right height for a dining table, standard dimensions, and how to know which size of table is best for your dining space.
We've even got a dedicated guide to How to Measure Furniture that can be so helpful when it comes to Designing a Room When You're Not a Designer! Today, we're digging deeper into dining rooms.
To easily navigate this post, use the drop down Table of Contents menu. Don't forget to pin and save for later, too!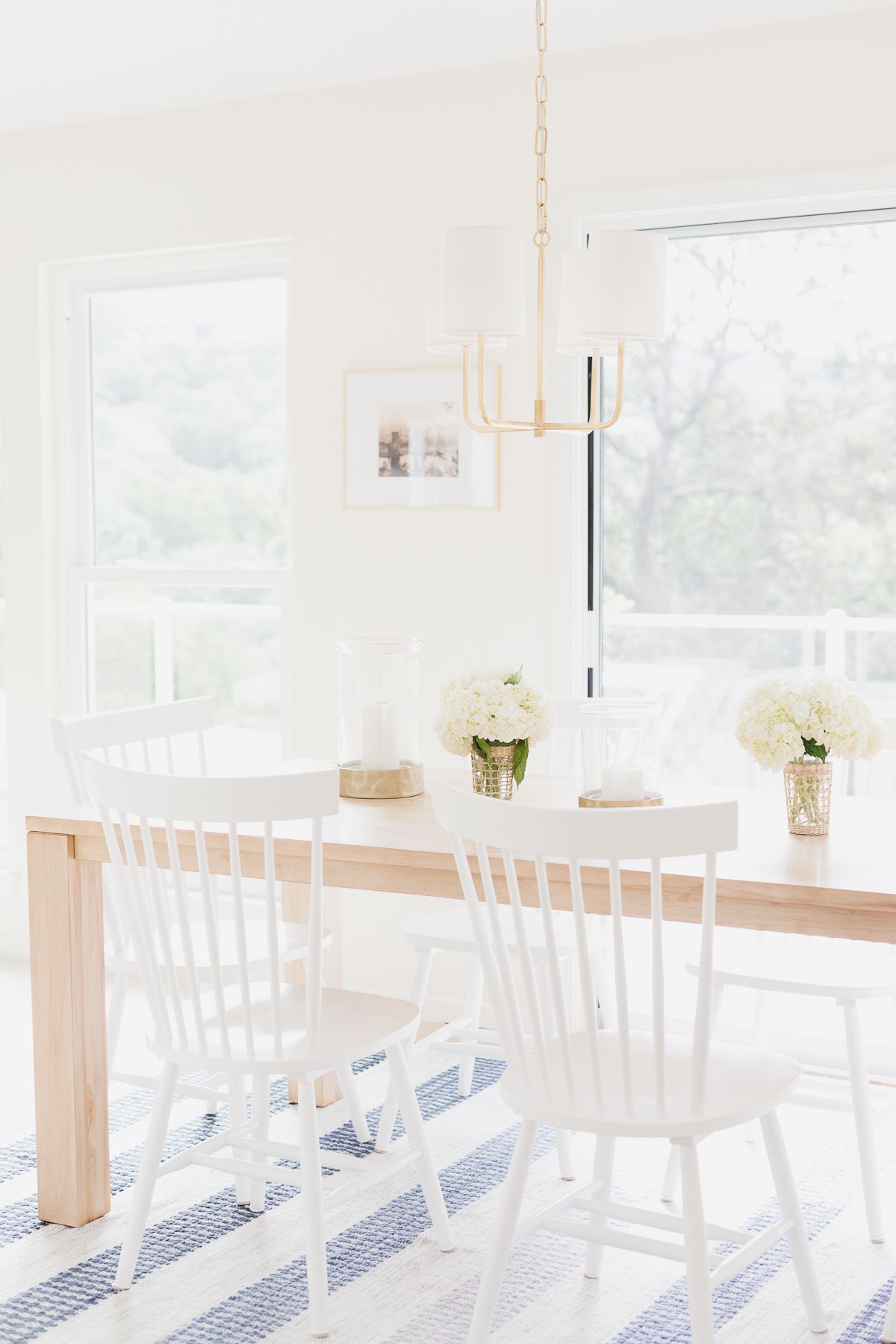 Dining Table Dimensions
You'll need to consider the perfect table height, clearance between walls and chairs, size and shape. Of course, you should also determine if you'd like a table with leaves for expanding and seating more guests.
Here's how to get started!
Measure your dining space.
Deduct 36″ around each side. (Ideally you'll have 24″ of space between the back of your chairs and any walls or furniture in the background. The full 36″ or more gives you an allowance for the dining room table and chairs.)
For a simple equation to get the right dining table dimensions, measure the length and width of your room. Now, you'll subtract six from both the length and width of your dining space. The answer you get will give you the maximum length and width of your dining table, leaving three feet of clearance on all sides.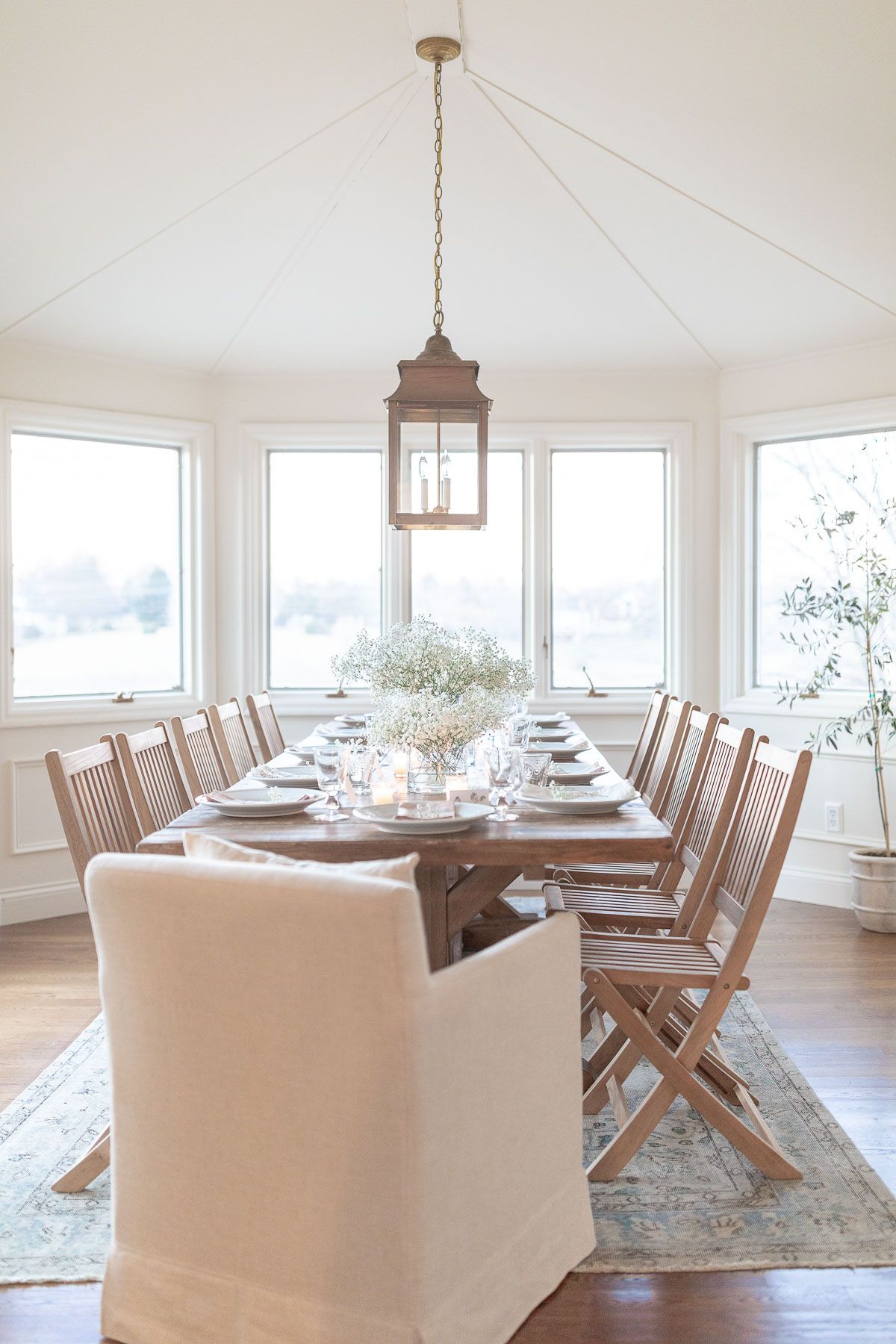 Tips
If you have a formal dining room, a standard dining table height is probably the best fit.
However, if you're creating a dining space in your kitchen, check into counter and bar height dining tables.
Be sure to allow enough space between guests, as well as space between the table and chairs, and space between the chairs and any walls when the chairs are pulled out.
If you're purchasing arm chairs, ensure there's plenty of clearance so the arms can tuck under the dining table.
If your room is square, you might consider a round pedestal table. They are great for conversation and take up less space underneath.
Be sure to allow at least 24 to 26″ of tabletop space per person when you're considering various sizes. I've found that 30″ per table setting is actually ideal.
Leave 10 to 12 inches of space between the underside (also called an apron) of the table and the seat of the chairs.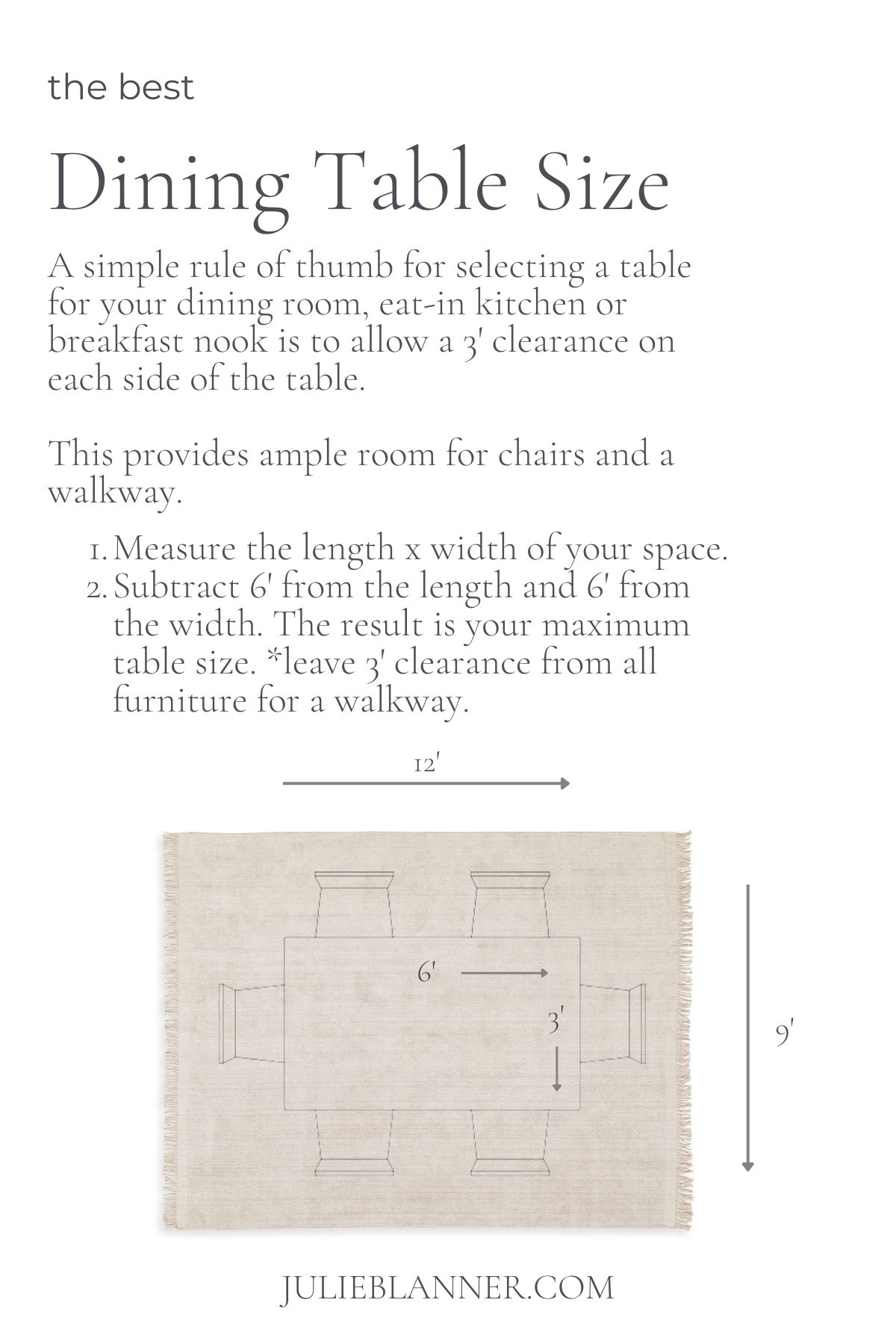 Dining Table Height
First, let's take a look at the right height for your dining table!
A traditional dining table height is 28 to 31 inches high, and a table of this height is generally paired with chairs that have seat heights of 17″ – 20″. This style of table and height is more traditional and formal.
Next, we have counter height tables. Generally, the average counter height is 34 or 36 inches. These are often used in more modern homes, or in a small dining area where you want to give the illusion of more space.
That puts a counter height table at approximately 6 inches taller than a traditional dining room table. Of course, this size of table requires counter height stools vs traditional chairs.
Bar height tables are another option, of course, and average around 40″ to 42″ tall. This can work well in modern homes, basement bars, or even apartments. Learn more this type of dining in our post about kitchen island dimensions.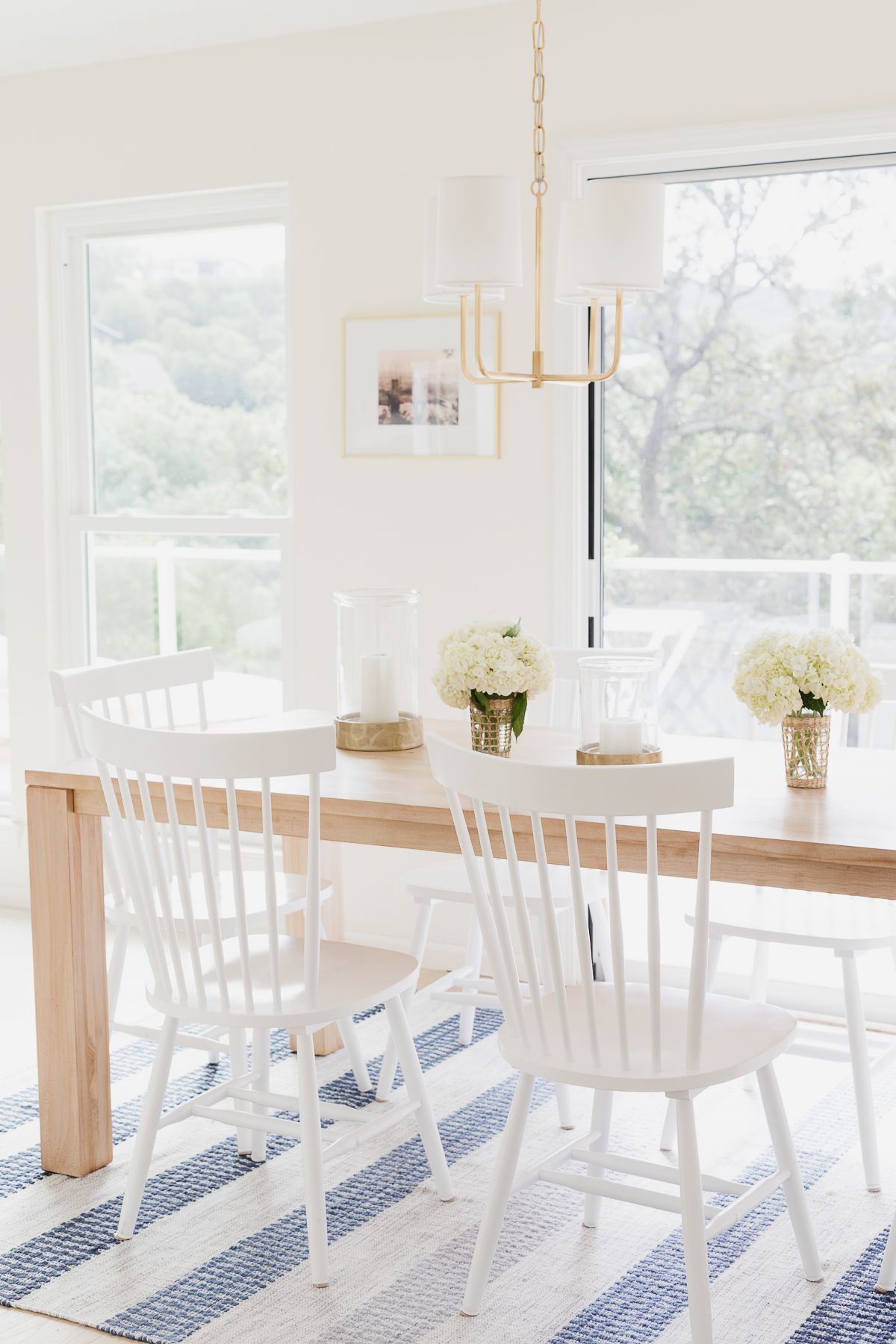 Dining Table Width and Length
The table width (measured along the head or narrowest part of the table) is what determines the placement of serving pieces and centerpieces down the length of your table. For easily passing food, you'll want the width to be no greater than 48″.
If you're planning to serve from a sideboard or buffet, (with nothing but place settings on the table) the width of your table can be narrower. In this case, you can go as slender as 30″ wide.
Ideally, guests will each have 26″ to 30″ of space per place setting. Also, 6″ between chairs is visually ideal.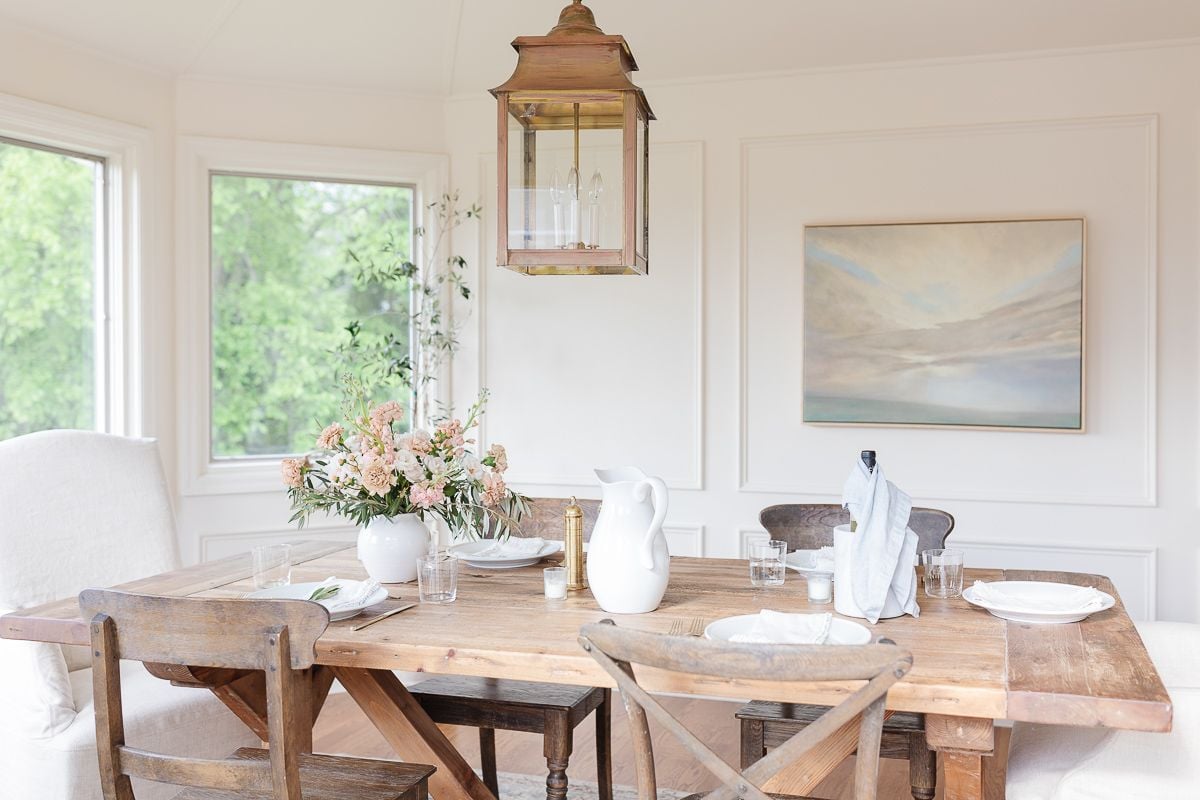 Dining Table Clearance
The space around your dining table is very important, both for serving and for the comfort of your guests. Be sure to consider comfort as guests move around your table, while others are seated.
At a minimum, you'll want to allow 24″ between the back of the chair (while it's empty and pulled up to the table) and any surrounding walls. Up to 48″ is great, because this allows a host to move behind a chair while a guest is seated.
Similarly, it's ideal to allow 48″ between your table and any doorways or entries into the room.
Note: In this post, you'll see our wooden farm table paired with traditional wood chairs, as well as narrower teak outdoor chairs that we pulled in from outdoors for an event.

This is a good example of how many chairs you can fit at a traditionally sized rectangular dining table!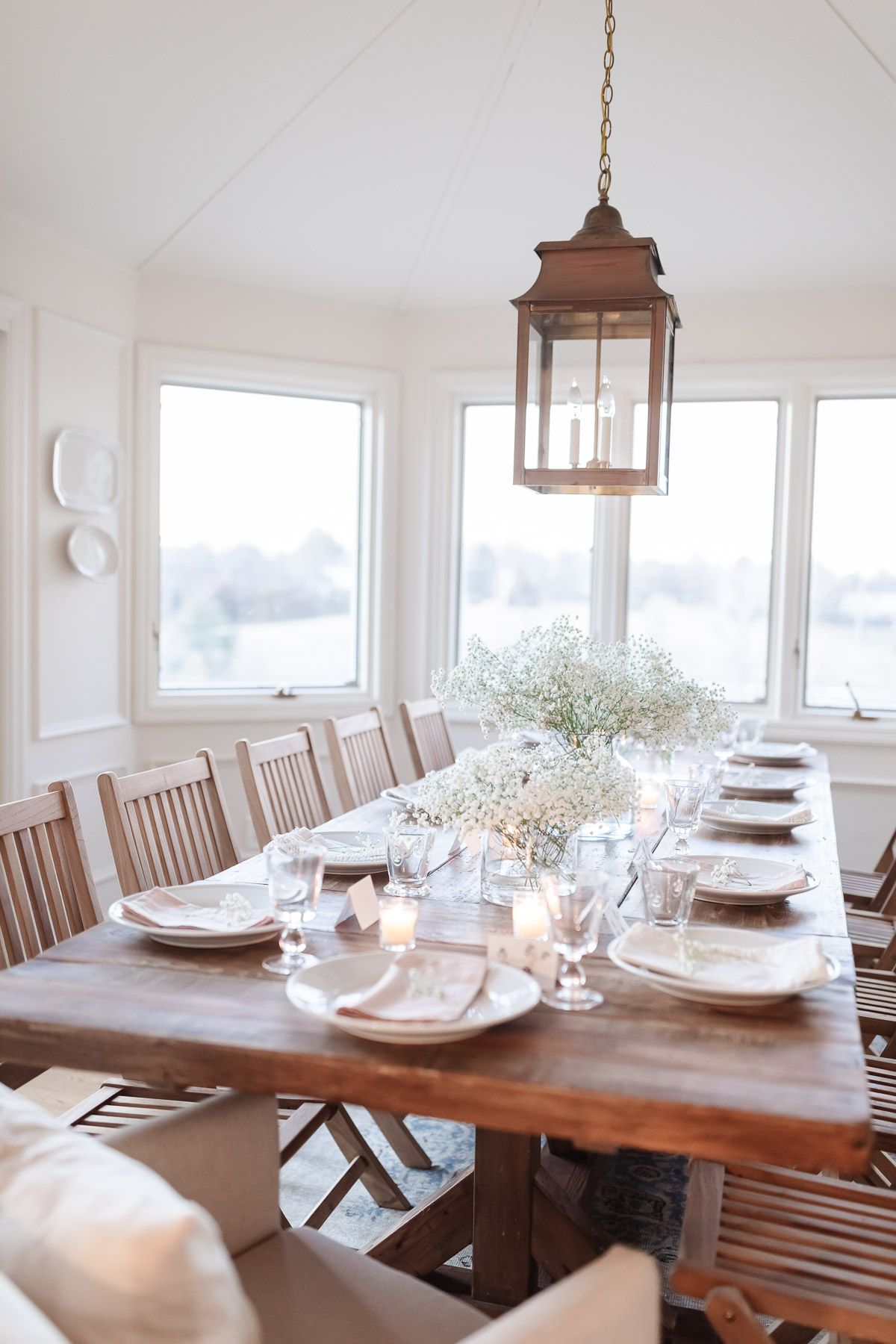 Seating Guidelines
These are just rules of thumb, and of course rules are meant to be broken. Here's a good guideline for how many you can seat at a variety of table sizes.
No matter if your table is round, oval, rectangular or square, allow at least 24 inches per guest.
A 48" long table seats 4
A 42-48" diameter round table seats 4
A 60-72" long table seats 6
A 60" diameter round table seats 6-8 (plan for 8 to be quite crowded, but it's doable in a pinch)
An 80-90″ long table seats 8
A 92-110" table seats 10
A 120" table seats 12
For another seating guideline that is so handy, check out Bar Stools for Kitchen Islands.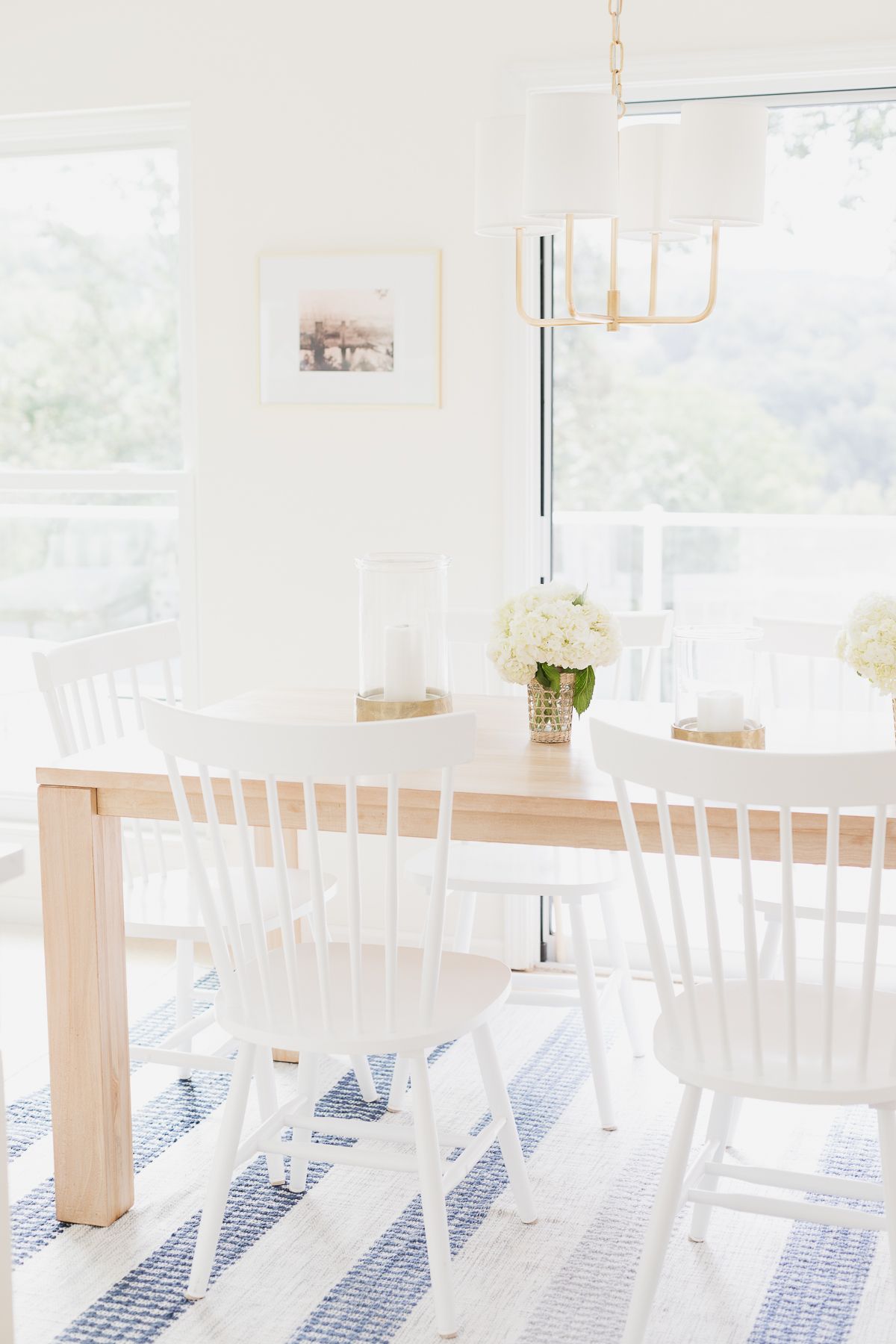 Frequently Asked Questions
Is 32 inches too high for a dining table?
While this is on the higher side of average, it might be a great fit for your family. Especially if you're on the taller side, and you can pair the correct height of chairs with this table, it can work out well.
What is a standard size dining table?
Standard width for a dining table is between 36-40 inches, while standard height is 28-31 inches. Length will vary according to how many people you're trying to seat, of course.